Not many people use a number pad anymore nowadays, so what's the point of having one?
Going for a tenkeyless mechanical keyboard instead of the traditional full-size is an excellent way to save on desk space without getting rid of any keys you may need.
Let's take a look at the best tenkeyless keyboards currently available on the market.
Before we jump into the full reviews, here's a brief overview of our top 3 favorite TKL keyboard picks.
The Best Tenkeyless Mechanical Keyboards: Our Top Picks
| The Award | The Keyboard | Special Features |
| --- | --- | --- |
| Best TKL Keyboard for Typing | Durgod Taurus K320 | Buttery smooth stabilizers |
| Best All-Around TKL Keyboard | Drop CTRL | Full aluminum build |
| Best Mechanical TKL For Gaming | HyperX Alloy Origins Core | Excellent linear switches |
| Most Customizable TKL Option | WASD Code V3 | Design keyboard to your preferences |
---
Let's go over each keyboard individually and compare them based on price, features, and how fun they are to use.
We've tested all of the keyboards on this list, so we'll make sure to give you our honest opinion of them.
1. Durgod Taurus K320: Best TKL for Typing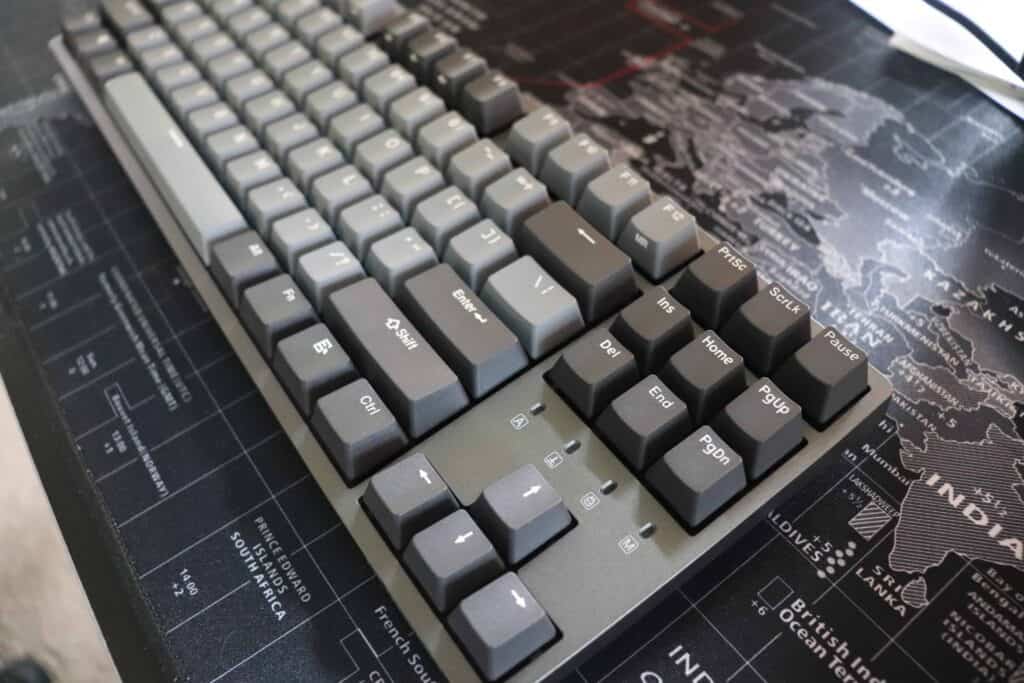 The Durgod Taurus K320 is a mechanical keyboard that delivers one of the best typing experiences on the market.
Coming with Cherry MX switches, extra smooth stabilizers, and PBT keycaps, you can't deny this keyboard is a dream to use. All of it coming packaged in a compact TKL layout.
For a pre-built keyboard, the K320 is sure to impress, giving one of the best out-of-the-box impressions we've seen.
One of the few issues with the K320 is it lacks in a lot of features that you may find in other tenkeyless keyboards such as, media keys, USB passthrough, and the other bells and whistles.
And the center-mounted USB port make it difficult to use a custom USB-C cable, so you're stuck with the standard cable.
But if you're looking for a keyboard that does the simple stuff really well, the Durgod K320 is the perfect no-frills keyboard for you.
You can find the Durgod K320 on Amazon for an affordable price coming a variety of switch options.
2. Drop CTRL: Best Hot-Swappable TKL Mechanical Keyboard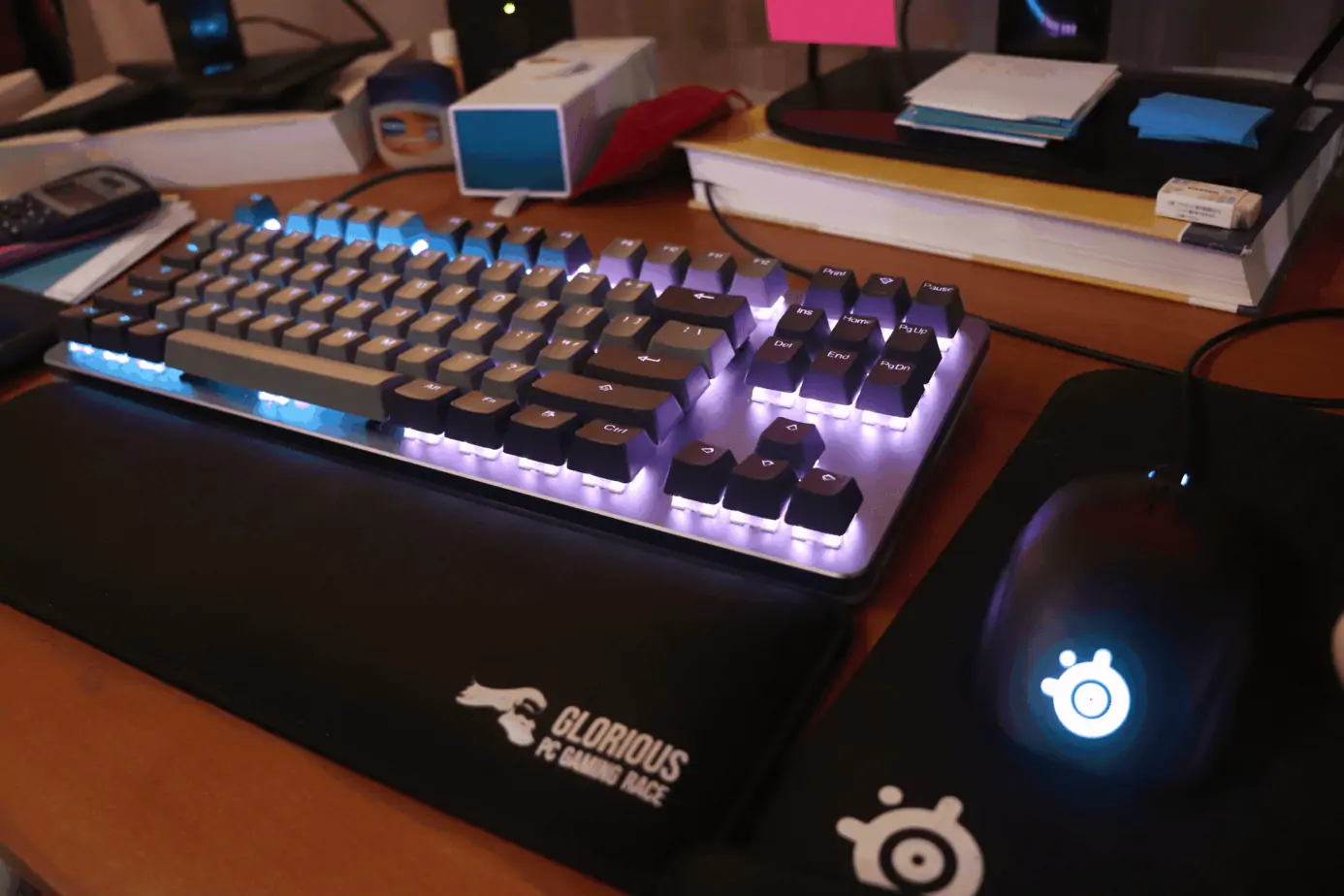 The Drop CTRL is a high-quality mechanical keyboard that needs little introduction.
This keyboard is what made me fall into the deep rabbit-hole that is mechanical keyboards and is partially responsible for this entire website.
The Drop CTRL is a tenkeyless mechanical keyboard that comes with some amazing features. You get a full-aluminum build, hot-swappable sockets, multiple USB ports, and carefully designed PBT keycaps.
The aluminum build feels super sturdy and has virtually no flex to it. This keyboard is built like a tank.
It's quite uncommon to find a keyboard with such high-level build quality.
The multiple USB ports allow you to choose exactly where you want to plug in your power cable, making it easy to use in any setup.
The hot-swappable switches allow you to easily test different switch options depending on what you want. We ordered ours with Halo Clear switches, a super heavy tactile switch.
The main downside to this keyboard includes the fact that it requires an exorbitant amount of power, so you need a specialized power cable to keep this bad boy running.
On top of that, the price is quite steep, it's one of the most expensive pre-built keyboards on the market. Considering the fact that the keyboard comes with a thick aluminum frame, the price makes sense.
You can check out the Drop CTRL on Amazon by visiting this link. If you're looking for a more compact size, you can also check out the Drop ALT.
It's the same keyboard but in a smaller 65% layout.
3. HyperX Alloy Origins Core: Best Mid-Range TKL For Gaming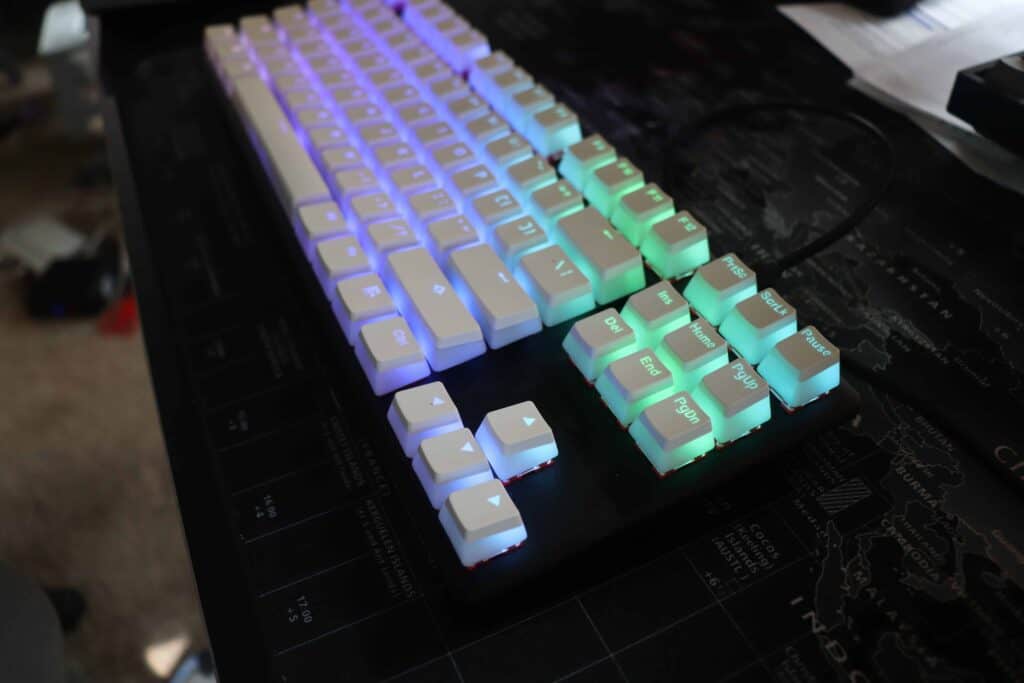 The HyperX Alloy Origins Core is a mechanical keyboard that we've raved about in the past.
The keyboard comes with an aluminum frame that feels really sturdy. And as a mechanical engineer I'm a sucker for good build quality.
Coming with fully customizable RGB lighting, you can change up the colors to match your battlestation and go for that next-level aesthetic.
The HyperX Red switches on this keyboard are one of the best linear switches I've ever used, to my surprise.
I might consider desoldering these switches and putting them on a custom keyboard if I ever find time to do so. The switches feel that good.
The only thing I really didn't like is the thin ABS keycaps that come with the keyboard. I found that replacing them with the HyperX PBT Pudding keycaps was a big upgrade.
The power port is also on the right side, which made it a little awkward to use. But that's just a nit-pick on my part, nothing too bad.
At it's price point, I would consider the HyperX Alloy Origins Core an absolute steal and an excellent value purchase.
You can check the keyboard out on Amazon here.
4. WASD Code V3: A Super Customizable TKL Keyboard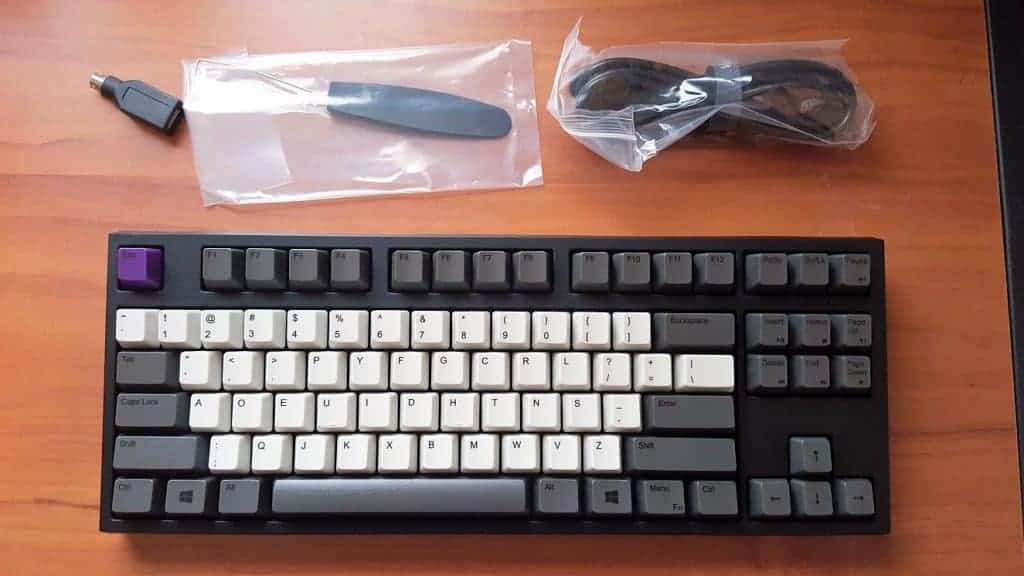 The WASD Code V3 is an excellent tenkeyless mechanical keyboard that comes with a ton of cool features and is highly customizable.
There are two different ways to get this keyboard:
Purchase a pre-styled design on Amazon.
Fully customize the keyboard yourself on the official WASD website.
If you have the free time, it can be a lot of fun to go to their website and fiddle around with the different design settings. Just beware the price can increase very quickly!
The Code V3 gives you the benefits of a custom mechanical keyboard without the effort required to build it yourself.
The keyboard comes with a ton of different switch options, everything from Cherry MX to ZealPC, depending on your budget.
The build quality of the keyboard is quite nice, but nothing to write home about. It's a solid feeling case composed of plastic with an aluminum plate.
We definitely recommend you check this keyboard out although it may be a bit pricey for some.
5. Varmilo VA87M: A Super Smooth Typing Experience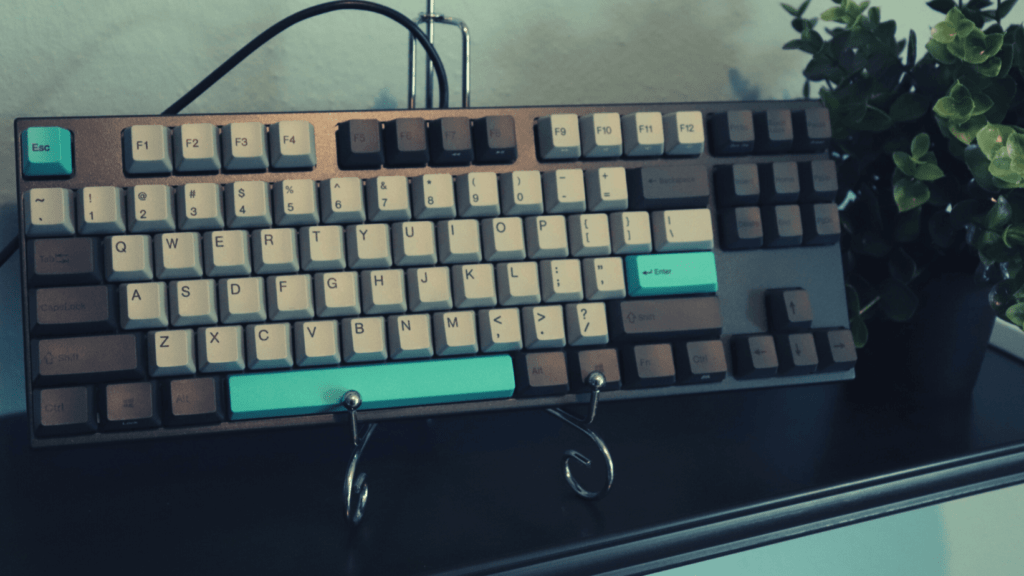 Varmilo has been known to make some of the best mechanical keyboards on the market.
When the New York Times gave this keyboard a glowing recommendation, we knew we had to try it out for ourselves to see if it lives up to the hype.
The keyboard comes with high-quality PBT keycaps in several different designs depending on what looks best with your setup.
The keycaps are doubleshot to make extra thick and so the legends will be clear and difficult to wear down after heavy usage.
The stabilizers are extra smooth and super satisfying. There is little-to-no rattle. It's quite surprising to see a pre-built keyboard with such nice stabilizers.
The variety of Cherry MX switches you get to choose between is also quite exciting, you have several options depending on if you prefer linear, clicky, or tactile.
We went with the Cherry MX Blacks and noticed there is little spring ping and the keyboard feels quite smooth.
I was not a fan of the center mounted USB port that is integrated into the back of the case. It makes it quite difficult to plug in a custom cable and feels a bit clunky.
Not to mention the rubber kickstands easily slide off. They aren't glued on or secured well enough.
Overall, the keyboard is really nice and fun to use, but I don't agree with NYT assessment that this is the best mechanical keyboard on the market.
6. Keychron K8: The Best Wireless TKL Mechanical Keyboard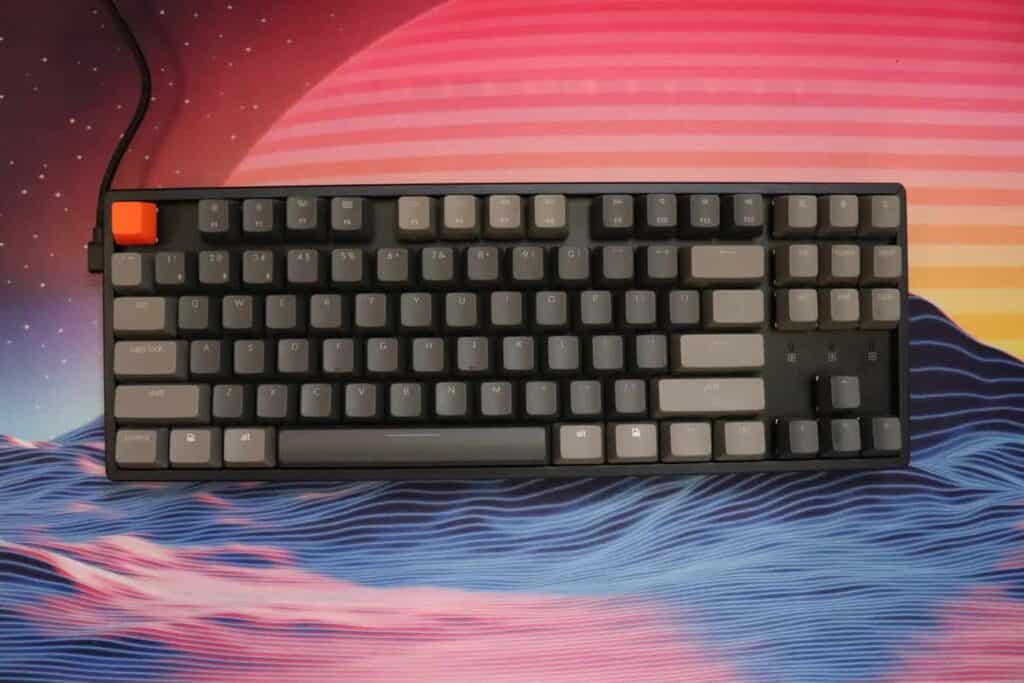 The Keychron K8 is a keyboard that recently made it through the Kickstarter phase.
The keyboard is packed full of useful features such as, a hot-swappable PCB, wireless connection, Windows/Mac compatibility, and an aluminum frame.
The sheer number of features on this keyboard are quite impressive and make it packed full utility – especially if you're a Mac user.
It can be quite difficult to find a keyboard that is so easily compatible with both operating systems, it even comes with extra modifier keycaps so you can have the correct keys at all times.
If you use an iPad and Windows desktop you can switch between both devices seamlessly via Bluetooth 5.1.
The thick design does make you question exactly how ergonomic the keyboard is, but the extra thickness does allow Keychron to store an extra large battery.
You can run this bad boy for weeks before needing to recharge.
Keychron never fails to impress with their constant evolution and always pushing the boundary of new innovation in the keyboard world.
You can check out the Keychron K8 on Amazon for a really good price.
7. iKBC CD87: A No-Frills TKL Keyboard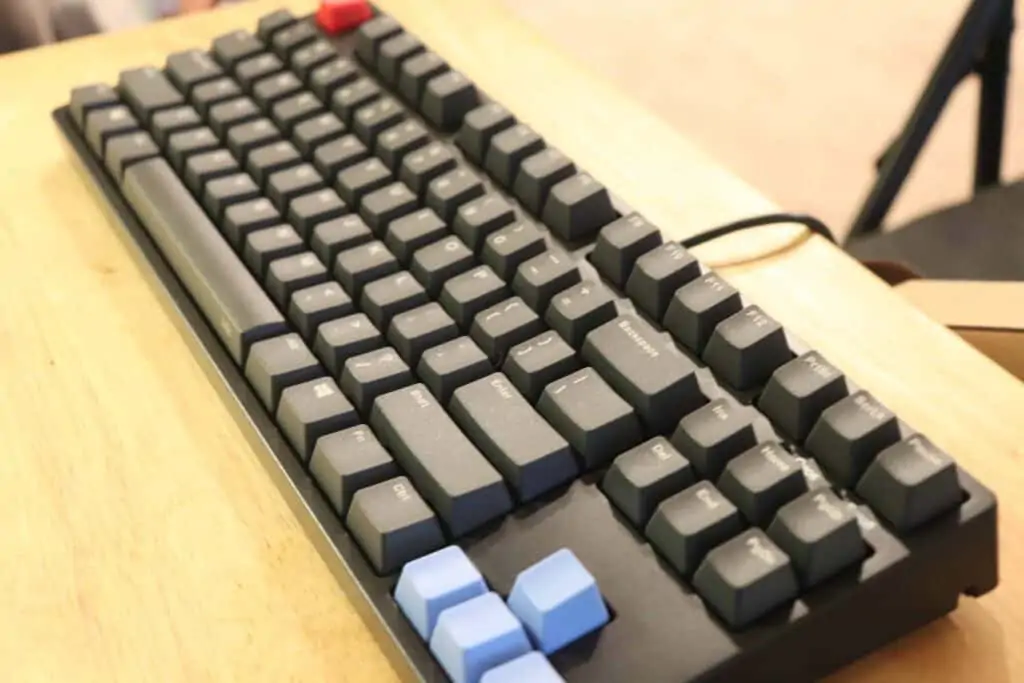 The iKBC CD87 is another excellent tenkeyless keyboard that made the list.
This is a prime example of a no-frills keyboard that gets the job done nicely.
Coming with PBT keycaps, multiple adjustable typing angles, and smooth stabilizers, this would make a great keyboard for writing long essays or a job with lots of typing.
The iKBC CD87 comes with different Cherry MX switch options, so you can pick a switch that fits your typing preference.
You can choose between red, blue, brown, clear, and black switches with heavy and light options depending on the switch type.
The non-detachable power cable does make the build a bit clunky and difficult to take on the go. iKBC could really step up their game by simply making the cable detachable.
The relatively simple design is great for some, but for those that need dedicated media keys among other convenient features, this may not be a good pick for you.
Overall, this is a pretty affordable keyboard considering it comes with Cherry MX switches and PBT keycaps.
You can check the iKBC CD87 on Amazon through this link.
8. Tecware Phantom: The Best Budget TKL Keyboard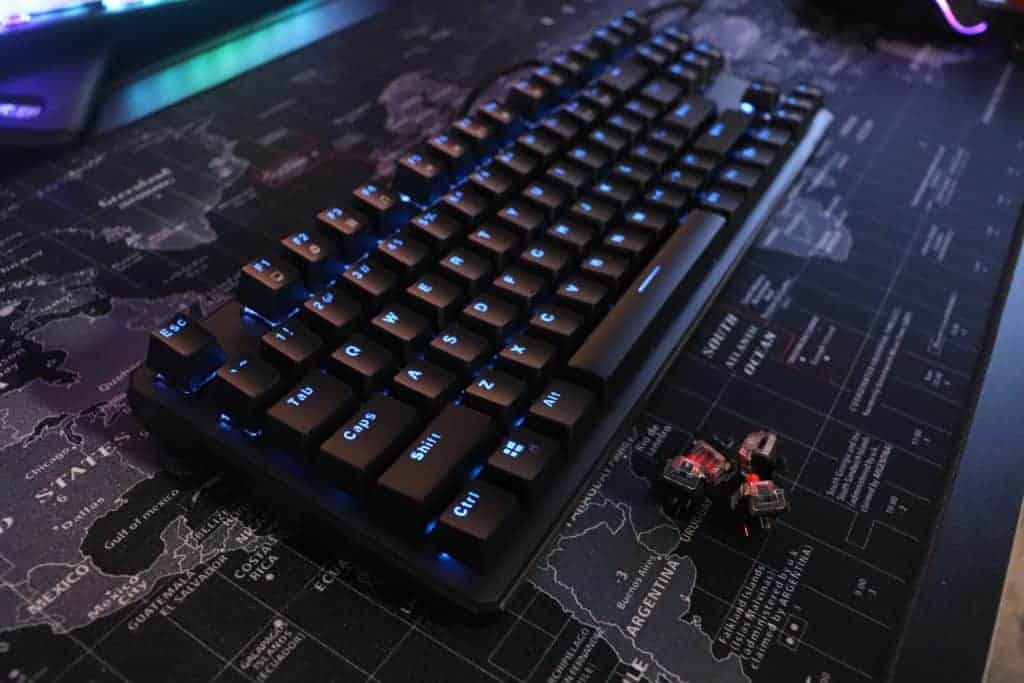 The Tecware Phantom is a budget-friendly TKL keyboard that knocked my socks off.
In fact, this keyboard ranked #1 on our favorite mechanical keyboards under $50 roundup.
At it's low price point, the keyboard comes with some awesome features including a hot-swappable PCB, smooth stabilizers, and RGB lighting.
It's quite uncommon to get hot-swappable switches on a keyboard this cheap, so that itself was quite impressive.
Another interesting aspect I want to highlight is the stabilizers, they are super smooth. Most budget keyboards come with awful stabilizers that just rattle like crazy.
Not to mention there was virtually no spring ping.
If you're looking for a budget mechanical keyboard that feels like it's not a budget keyboard, the Tecware Phantom is an excellent option for you.
You can check it out on Amazon here.
9. Realforce R2 TKL: Best TKL Topre Keyboard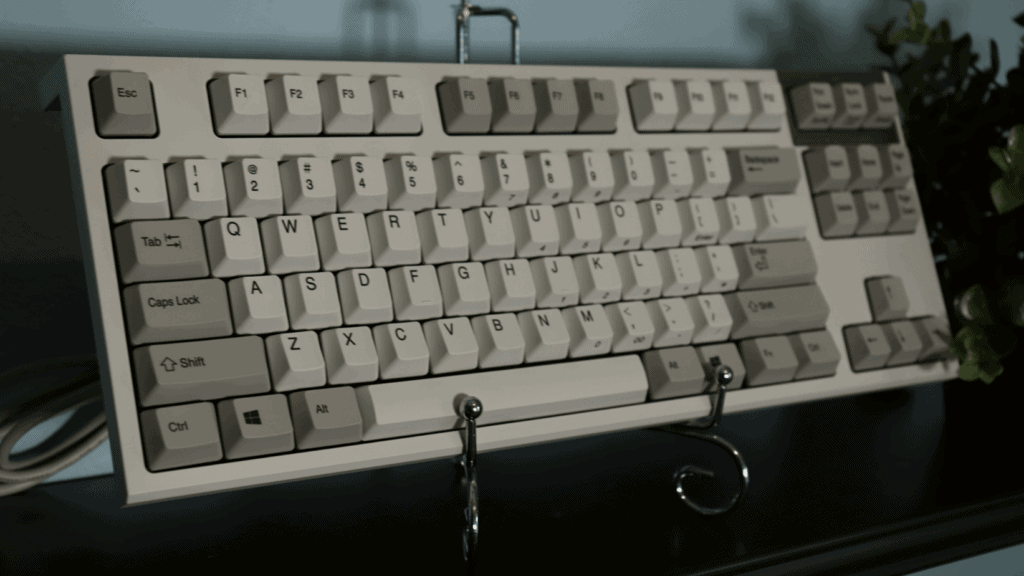 After being in this hobby for several months now, we were finally able to get our hands on a Topre keyboard. And let me tell you, they are NOT cheap.
The Realforce R2 TKL is a keyboard that comes in an old-school design with PBT keycaps and come with an electro-capacitive Topre switch.
Topre switches are quite unique as they are technically rubber dome, but the feel is often compared with a Cherry MX Brown. They are very similar except the Topre switches produce a slightly *thunkier* sound and feel more mushy.
The high-price point of this keyboard could be a turnoff for many, but the Topre switches drive the price up. You could always look at imitation electro-capacitive switches if you need another option – such as the NiZ Plum.
Overall, the keyboard feels quite nice, but I can't see how what you get is worth the price (hence why it ranked so low). The non-detachable power cable feels incredibly clunky and the whole keyboard feels a bit outdated.
If you are interested in checking out the Realforce R2 TKL, you can check out the difference options here.
10. SteelSeries Apex 7 TKL: Lots of Media Keys and Features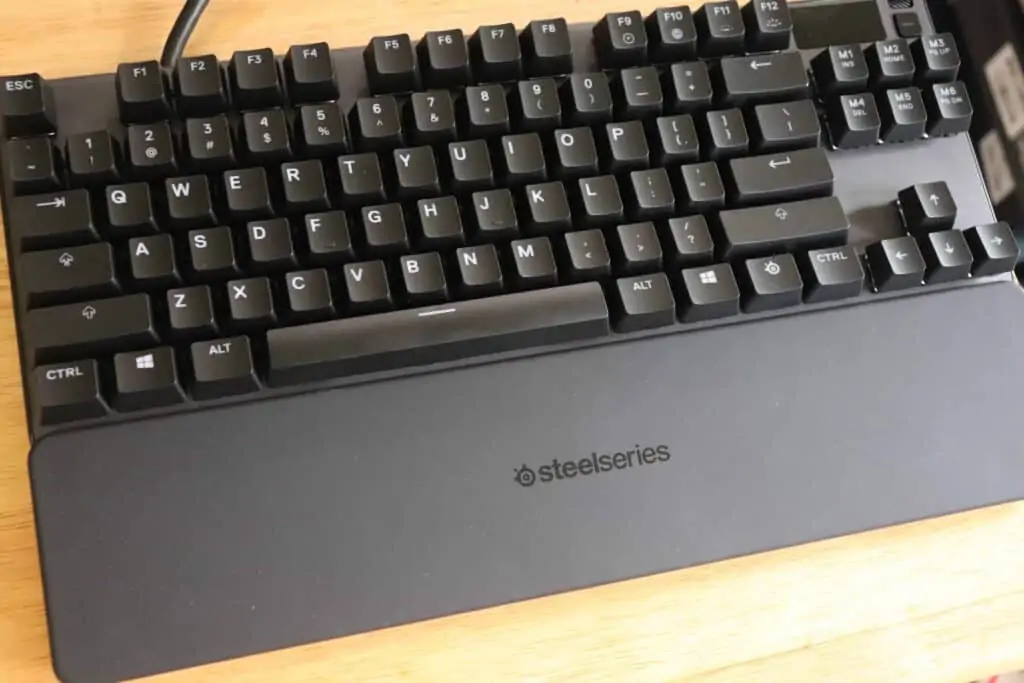 The SteelSeries Apex 7 TKL is another interesting keyboard to talk about.
The keyboard features some unique aspects you don't typically find on other tenkeyless boards. The OLED screen is very convenient to use to change your RGB settings without having to use software.
Not to mention the screen is integrated with other media key functions as well.
The volume wheel makes it easy to change your settings on the fly when you're in-game and don't want to exit the fullscreen immersion.
On top of that, the Apex 7 comes with one of the nicest wrist rests I've ever gotten with a gaming keyboard. It's magnetic and is made from a relatively soft leather-like material.
The main downsides to this keyboard are the thin ABS keycaps and non-detachable cable.
You can't complain too much about the cable in this case though because it's used for USB passthrough as well. It makes it easy to connect an extra device directly into your keyboard.
While we would've liked to see PBT keycaps, you can always order a new set on the side and replace them yourself.
You can find the SteelSeries Apex 7 on Amazon for a decent price.
11. Razer Huntsman TE: The Best TKL For Gaming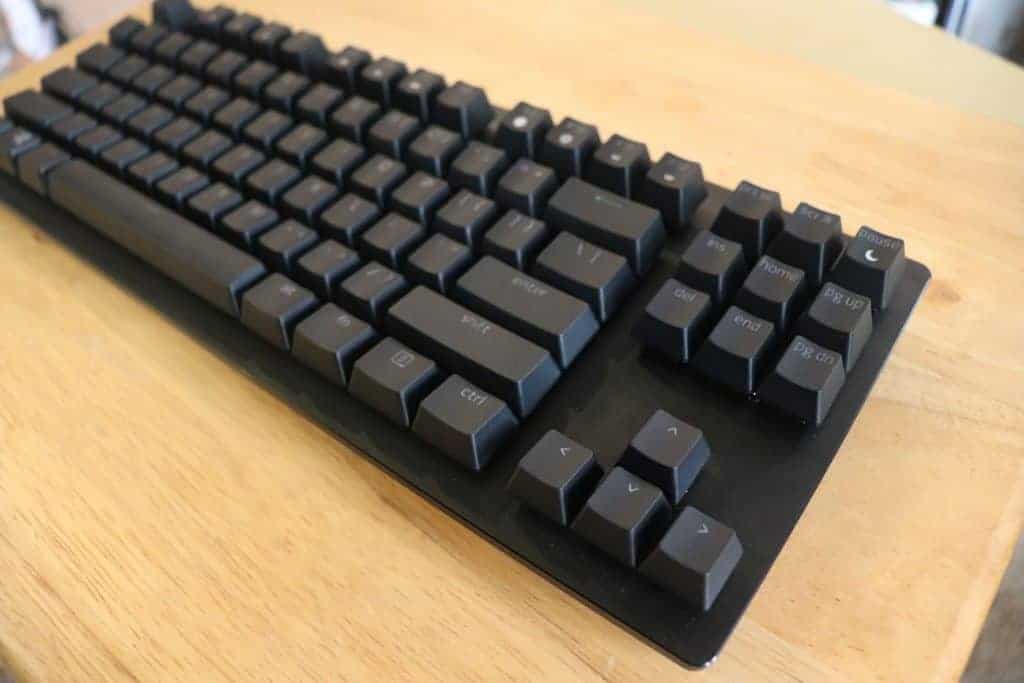 The Razer Huntsman is a keyboard that we're not the biggest fan of, but it made the list because it's a decent option for gamers.
The optical switches are screaming fast and can boost your reaction time when playing a super competitive game.
The Razer design of the optical switch is a little strange. Each switch has its own stabilizer bars that keep the switch from wobbling on each keystroke.
The problem is this design is very uncomfortable to use. The short actuation makes your fingers slam down on each time you type something.
While the keyboard is fast for gaming, there are huge tradeoffs in how comfortable they are to use.
The Razer Huntsman comes in two switch options, red (linear) and purple (clicky). Red is your best bet for gaming.
The overall build quality of the keyboard is a little flimsy. It has a thin top plate along with a plastic frame that creaks when you pick it up and twist it.
Overall, if you're really into gaming it's not a bad option, but for any other reason I would stay away from the Razer Hunstman TE.
Tenkeyless Keyboards: The Perfect Size for Most
Tenkeyless keyboards typically have 87 keys, the perfect layout to balance size and functionality. Unlike full-sized keyboards, they do not have a number pad which makes the keyboard more compact and easier to take on the go.
Most people don't use the number pad heavily, so they are able to get rid of the extra baggage without it impacting their typing too much.
A more compact keyboard also allows for more desk space, so you'll be able to more comfortably write notes into a notepad on the side of your keyboard without feeling to constrained by a lack of space.
Plus, your mouse will be much closer to your hand when typing, so you'll have to travel much less to reach for the mouse.
Tenkeyless keyboards still have the arrow keys, home cluster, and function keys, so you should still be able to game and type comfortably.
You'll be able to find a lot of different tenkeyless mechanical keyboards for sale, because usually most keyboards will come with a compact TKL equivalent.
Conclusion
Tenkeyless mechanical keyboards are an excellent option if you want to save on desk space and retain most of the functionality of your keyboard.
We went over our top 11 picks to help you figure out the best option. It was a tight race between the top five keyboards, so if you're looking for a good pick, you can't go wrong with any of those options.
We've hand-tested each of the keyboards on this list so we could give you the most accurate data about their features and how they perform. While we might be a little bias at times, we try to be as fair to the keyboard as possible.
Happy typing!