The Varmilo VA87M is probably the best prebuilt mechanical keyboard we have ever tested and used.
In fact, we ranked it as our favorite mechanical keyboard for typing.
The Wirecutter sure loves it too.
What exactly makes this keyboard so great? And is it a good purchase for you? Let's jump right into the review.
The Verdict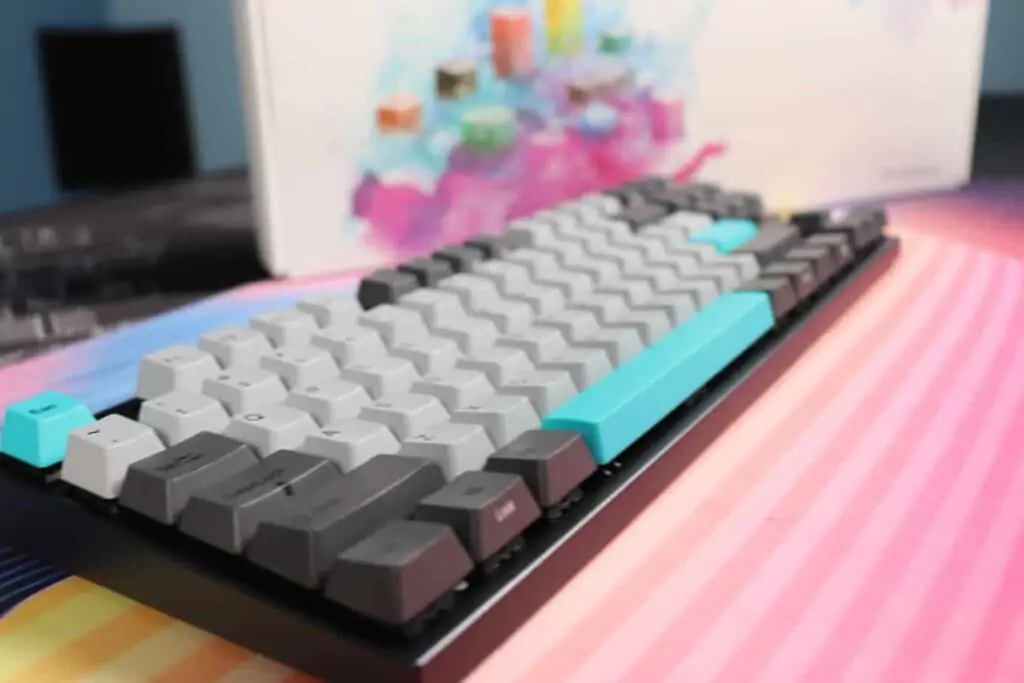 The Varmilo VA87M is perfect for anyone who intends to use their mechanical keyboard for gaming, typing, coding, programming, editing, or more. In fact, it's good for everything except number entry, RGB gaming, and macros.
It has no RGB, but because of the different colors available, you can get unique aesthetics that no one else around you will have. With the wide variety of switches, the versatility of the VA87M is amazing. Whether you are gaming, working in the office, or using your board in your own home, there is a switch for you.
Although, if you want RGB, there is a singular version with it. Most other versions come with White LED or none at all.
If you're interested in finding more about this keyboard, check it out here on Mechanicalkeyboards.com. Of course, you can go into the search bar and see all of the colors they offer.
---
In The Box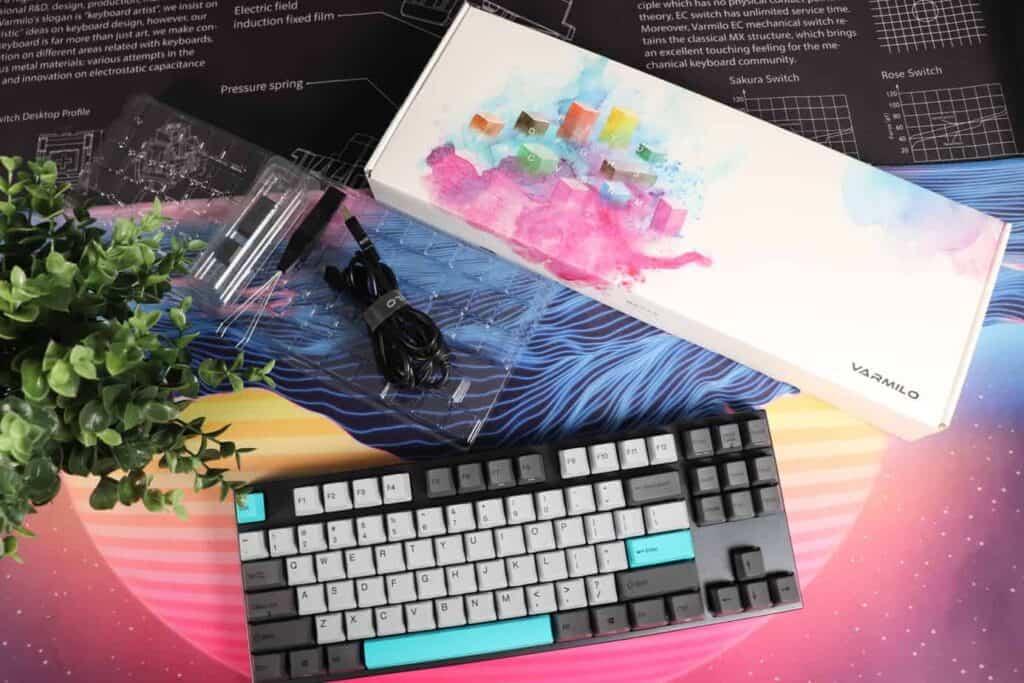 The Varmilo VA87M comes with a bunch of accessories. The box alone is a masterful piece of art that will look great in your background or backdrop if you want to display it.
Inside the box, you get:
Plastic dust cover: This cover can be used at night or during periods of standby for your keyboard to prevent cat/dog hair and dust from getting inside your board. Heck, it'll even prevent your hair from going inside.
Wire keycap puller: This convenient keycap puller will let you switch our your keycaps if you want to, and it won't even scratch up your keycaps.
Mini-USB rubber Cable: Unfortunately, the VA87M has a Mini-USB port rather than USB-C, but this is forgivable in this moment. The cable provided is nothing special, so I recommend getting your own custom cable for this board. It looks so pretty, can't let an ugly cable ruin the moment.
Scroll lock and Caps lock keycaps: The stock Caps lock and Scroll do not have a space for the indicator light to shine through. The replacement caps do, just depends on your preference.
Keyboard: Of course, you get this as well. It comes with the keycaps onboard in your switch of choice.
---
Build Quality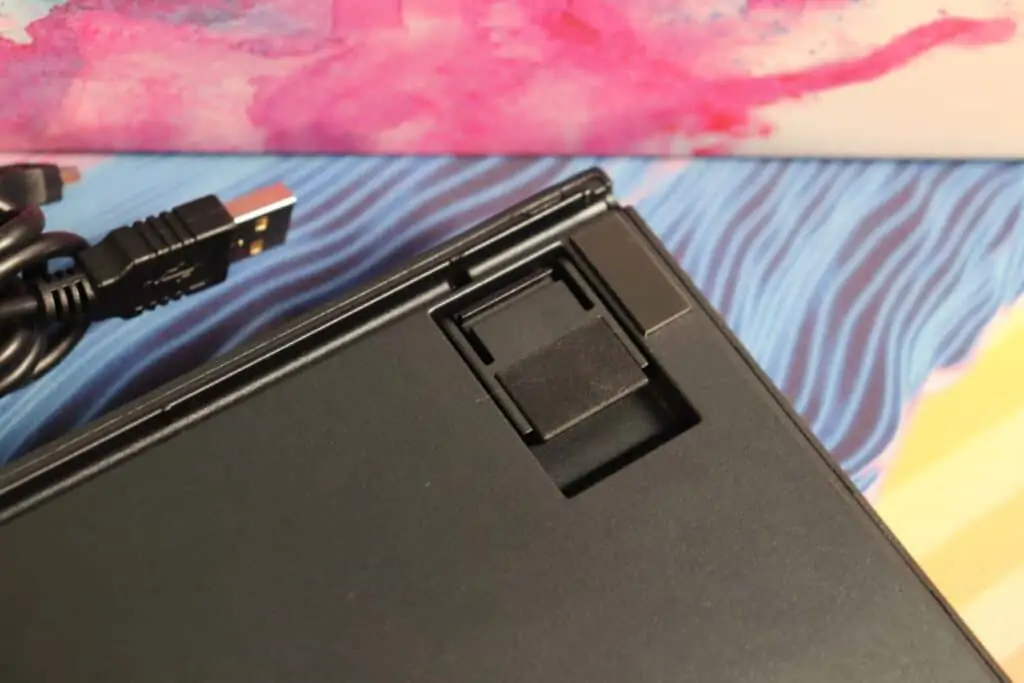 The Varmilo VA87M is quite sturdy. The outer case is made entirely of plastic with a metal plate in the middle. There is no creaking in the board or even movement when I try to manually flex it.
The back of the board has a small divot for the Mini-USB cable to route through and attach to the board.
It also has routing channels for the cable to go left, right, or straight up. Despite the channels looking quite small, the keyboard can work with a custom cable if you route it out straight forward.
There are five rubber feet to prevent sliding around, although they seem quite small. Alongside that, there are two kickstands on either side that go up one angle to make the keyboard steeper.
The side of the case has a fairly low height and angle. The keycaps appear to only float slightly over the case because there are recessed areas for each cluster of keys. But, it does have a floating keycap style, so keep that in mind.
You probably won't need a wrist rest to type on long periods with this keyboard, especially if you float your hands above the board to type rather than rest your wrists on the desk.
There is no branding on the case anywhere with the exception of the sticker on the back where the serial number is and all that.
Even if I drop this board, I expect it to work well afterwards. Build quality, check.
The Keycaps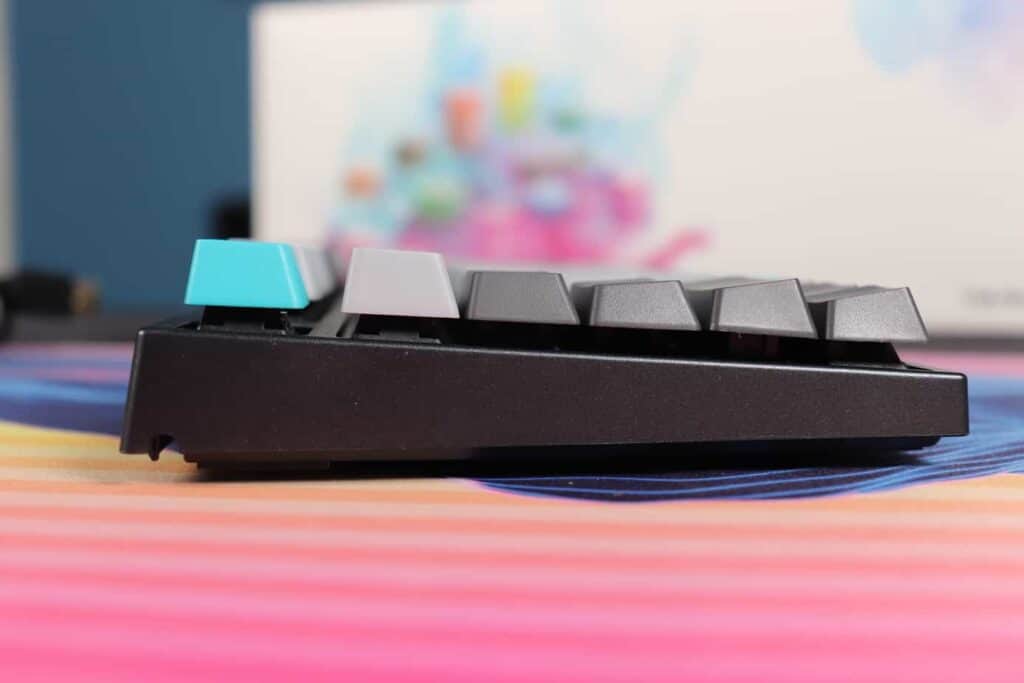 The VA87M version we got has the Moonlight keycaps with white backlighting. There are backlit options and even RGB options with an increase in price.
The Moonlight variation has light grey alphas with dark grey modifiers and teal accents on the enter, escape, and spacebar.
The legends are simple and sleek with side-printed legends for the secondary media functions on the function row.
They are dye-sublimated, so they'll last a lifetime of use without wearing out. A downside is that on the dark grey keycaps, the black legends don't stand out at all. It's quite difficult to read in the dark, unless you've memorize where everything is already.
The keycaps are Cherry-profile, which is a sculpted profile that varies from row to row. Read more about Cherry-profile keycaps and how they compare to other profiles.
There are many different colorways that they offer as well as different backlighting options. You'll have to see what works for you, whether you want something a little bit more flashy or something more subtle, yet unique.
The Stabilizers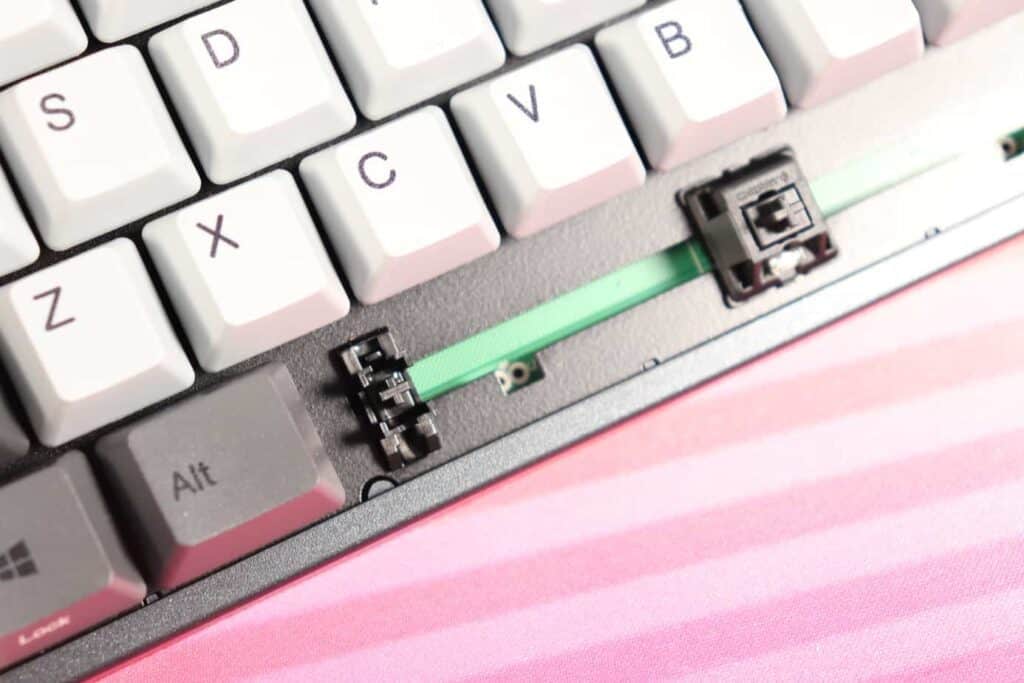 The stabilizers are where this board really shines. It has, undoubtedly, the best stabilizers on any prebuilt keyboard.
The spacebar has no rattle anywhere, doesn't matter where you press it. It has an amazing thocc with the Cherry MX Black switches that we got. All of the big keys sound amazing.
Under the hood, you can see that each stabilizer is adequately and correctly lubed to prevent any rattling within the wire's space.
You can tell they didn't just glob it on without thinking, there is clearly a process here on how to do it correctly.
The stabilizers are Cherry-style, plate-mounted stabilizers.
The Switches
The Varmilo VA87M has a variety of different Cherry MX options, more so than many other boards that feature Cherry MX switches.
The following options are available:
Black
Brown
Red
Blue
Clear
Silent Red
Silent Black
Silver
To read more about the different Cherry MX switches and about which one you should purchase, see our full in-depth guide with sound tests.
Surprisingly, the Cherry MX Blacks on the VA87M feel more smooth and slightly lighter than Cherry MX Blacks that we have on our Ducky One 2 Mini.
It's much less fatiguing to type on this board than the other one. So whether you're a gamer, typist, or otherwise, there is a switch option for you.
There aren't many boards out there that offer MX black, clear, or silver switches.
Some switches do cost more than others, so keep that in mind too.
There is some spring ping in these switches. However, it's quite little compared to other boards. At first, I actually thought Varmilo may have lubed them due to how smooth and good they feel as well as the minimal spring noise.
But if you put your head up really close and pound the switches repeatedly, you can hear a subtle ting coming through.
The Features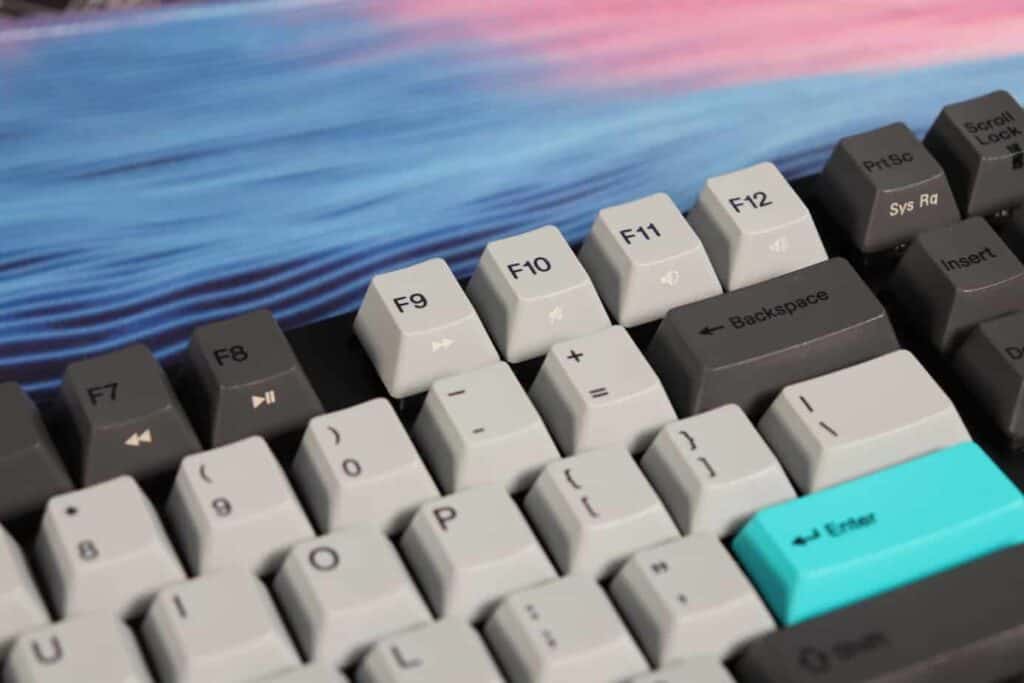 This is a very simple keyboard. There's no additional software or macro recording firmware.
In fact, the only feature I can think of is that it has secondary media functions on the top function row.
This can be accessed by holding FN and pressing the key you want. The side-printed legends tell you what function it is, so you don't have to memorize anything unless you switch out the keycaps.
These functions are entirely on the right side of the board, so you can use them all with just one hand rather than one hand holding FN and the other pressing the media button.
Although it is compatible with Windows and Mac, it doesn't come with special Mac keycaps or have anyway to switch the modifiers around.
Another feature is Windows Lock, which can be achieved by holding FN and the windows key. There's no indicator that it's on, but you change press Windows to see if it does anything or not.
And the last one is to switch the function of Left CTRL and Caps Lock (similar to an HHKB), to make it easier to use Ctrl if you need a more ergonomic position for it.
The white backlit version has two effects for the backlight (static and breathing). You can change brightness with FN and the up/down arrows. Fn and the right arrow switches between static and breathing.
---
Conclusion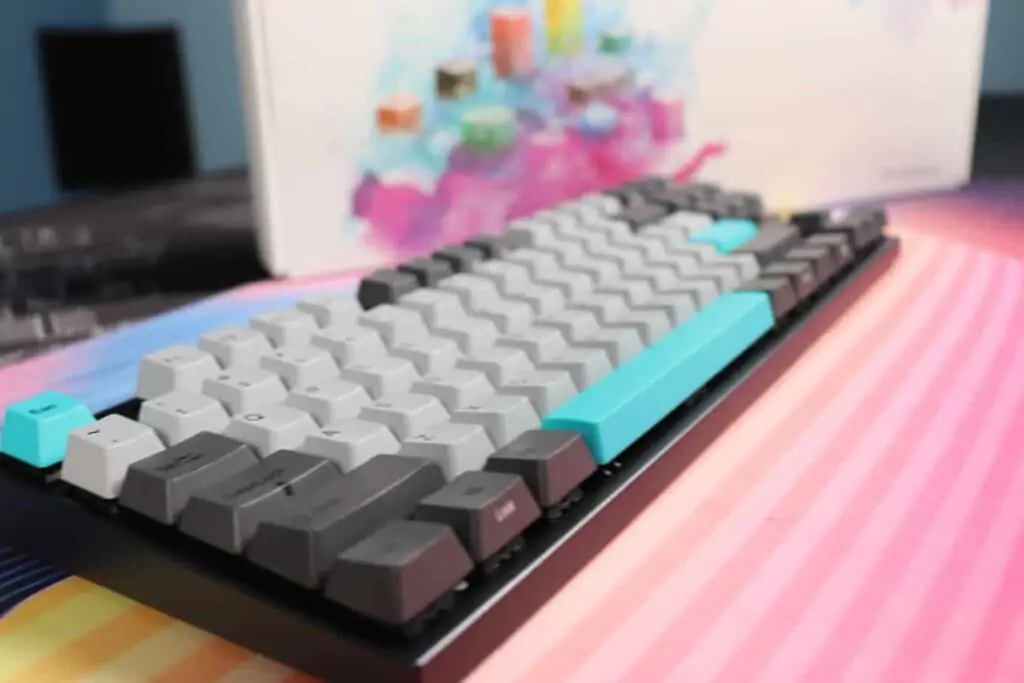 The VA87M really is a great mechanical keyboard. To those who are looking to just purchase one and be done with it, this should be the one. It is a timeless looking board with durable keycaps and switches.
It's low in height, comfortable for long-term use, and you can choose to have white backlight, no backlight, or even RGB. There are so many options.
So if you're looking for a nice-sounding, non-rattle stabilizers, and minimal spring noise, this is the one. No need to modify the stabilizers, lube the switches, finagle around with sound-dampening foam or any of that stuff. It sounds amazing straight out of the box.
You can check out the Varmilo VA87M here on mechanicalkeyboards.com and all of the colorways below.