The HyperX Alloy Origins Core is a tenkeyless mechanical keyboard that uses HyperX's proprietary red switches. These are quiet linear switches, and they're very similar to Cherry MX Reds.
This keyboard is priced at $89.99 on Amazon, on the HyperX website, and at Best Buy.
The Looks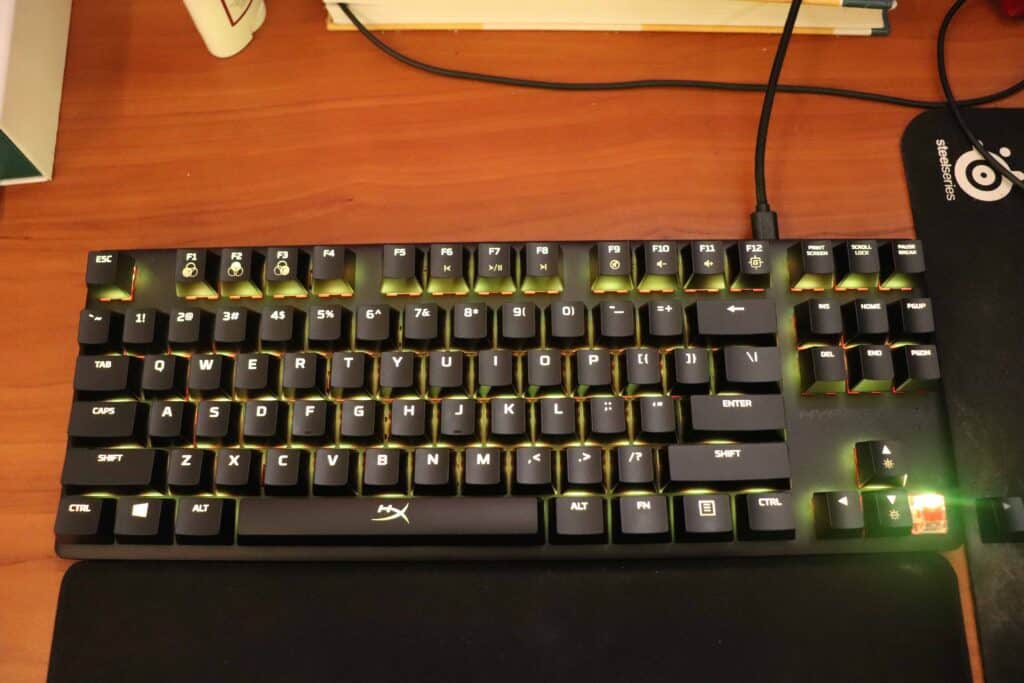 The case is made of aircraft-grade aluminum. It is a matte black on the top plate and base. It is sturdy and has a hefty weight to it. Despite this, it's still extremely portable. Just throw it in your backpack.
If someone is breaking into your home, you can probably grab this keyboard, disconnect it really quick, and slap the criminal with your keyboard base. It will sustain it.
The base has four rubber feet. It offers 3 different angles for personalization of typing/gaming angle. The kickstands have dual-adjusting feet. The three angles are 3 degrees (which is flat), 7 degrees, and 11 degrees.
It has a USB-C connector on the right-hand side of the keyboard. There is no USB-passthrough. The USB-C cable is braided, but it is very rigid and can accumulate kinks easily.
One downside I've noticed is that it doesn't fit all USB-C type cables. I tried using it with the USB-C cable that came with my Drop CTRL keyboard, but it didn't fit into the hole extending out of the port. Only the HyperX USB-C cable fit through it. So, unfortunately, using a custom-made USB-C cable might be difficult with this one.
The legends are super clean. The space bar has a simple HyperX logo (HX) on it. Despite this, it's still very nice looking. The keycaps have a matte black finish, although they are ABS plastic with double-shot molding. The legends are laser etched. Feels great on the fingers but can pick up finger oils easily. Same with the matte black aluminum plates.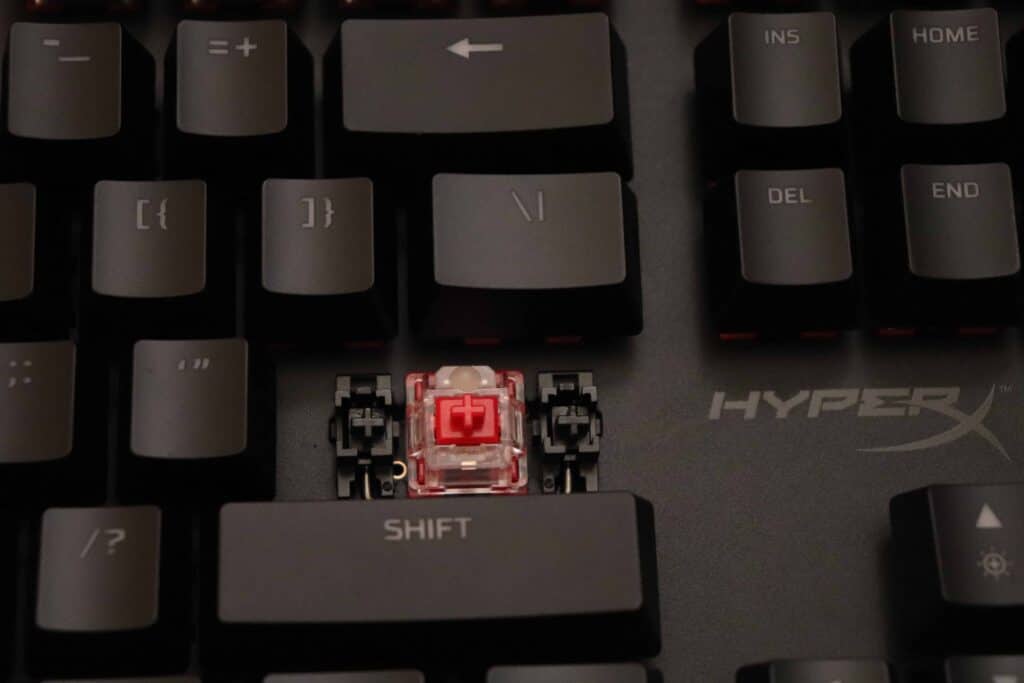 All the legends are capitalized, including modifiers. It doesn't have dedicated media keys, but the media functions are integrated within the function keys.
It has RGB lighting that is completely customizable using Ngenuity, which is an app on Windows. There are multiple pre-programmed effects that you can customize. Because the switches are red, when you use solid lighting effects, you will notice the red coming through.
It works great with a yellow color, looks like the sun. Also, very delicately, HyperX has their complete logo in a glossy black above the arrow keys.
The Functions
This keyboard is made for gaming. It has game mode, which prevents you from hitting the Windows key and exiting out your game accidentally.
It has onboard memory for three profiles, so if you change settings on one computer, you can take your keyboard and bring it to another one without worrying about it resetting on you.
The keys have 100% anti-ghosting and N-key rollover so you can button-mash away without any worries.
The bottom row is completely standardized. Feel free to switch out the keycaps depending on what you want your keycaps to look like.
The space bar has a bit of rattle, but it is still relatively quiet. The right shift key probably has the most rattle and noise. I might be bias because I mostly use my Right Shift key. The other keys that require stabilizers feel good. They are Cherry-style stabilizers, which means just easily pop out your keycaps without messing with those wired stabilizers.
Hyper X Red Mechanical Switches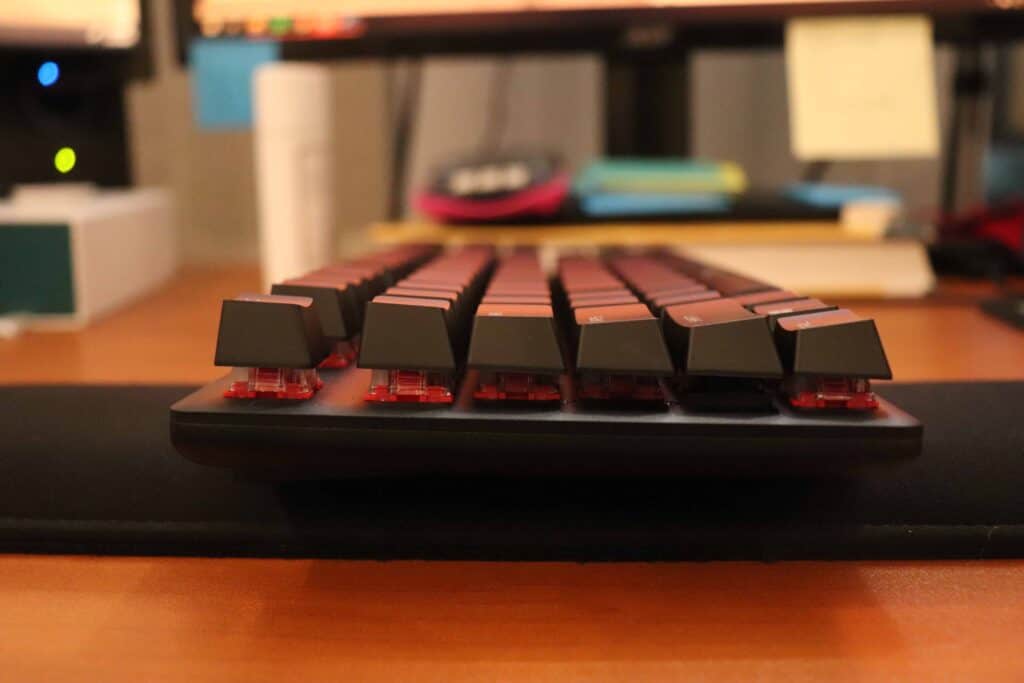 These are linear switches designed by HyperX themselves. They do not tell us which switch designs they based off their builds from.
The total travel distance is 3.8mm, and the actuation distance is at 1.8mm. The actuation force is 45g, and they boast a lifespan of 80 million keystrokes.
HyperX has a great information page with plenty of charts and information regarding these switches.
First Impressions
I'm starting to grow fond of linear switches. Compared to the Corsair K68 that had Cherry MX switches, this keyboard feels much sturdier and much more fun to type out. The better build quality means that the sounds that comes out of the switches and the case sounds dampened. It doesn't echo off the plastic case because it's not a plastic case.
The RGB lighting is very bright, and the red tint to every color doesn't turn me off in any way. The legends are clean. It is a bit strange that the numbers and symbols are next to each other on the number row instead of stacked on top of each other. It does help the lighting show through all the legends.
I was disappointed that I couldn't just connect this keyboard to the USB-C cable that I already had connected to my computer. I had to disconnect that cord and plug in the braided USB-C cord that came with the keyboard.
This is personal, but I did not like that the USB-C port was only on the right side of the keyboard only. My keyboard sits on the right side of my desk relative to my PC, so that was inconvenient having to route it behind my monitor and then to my PC.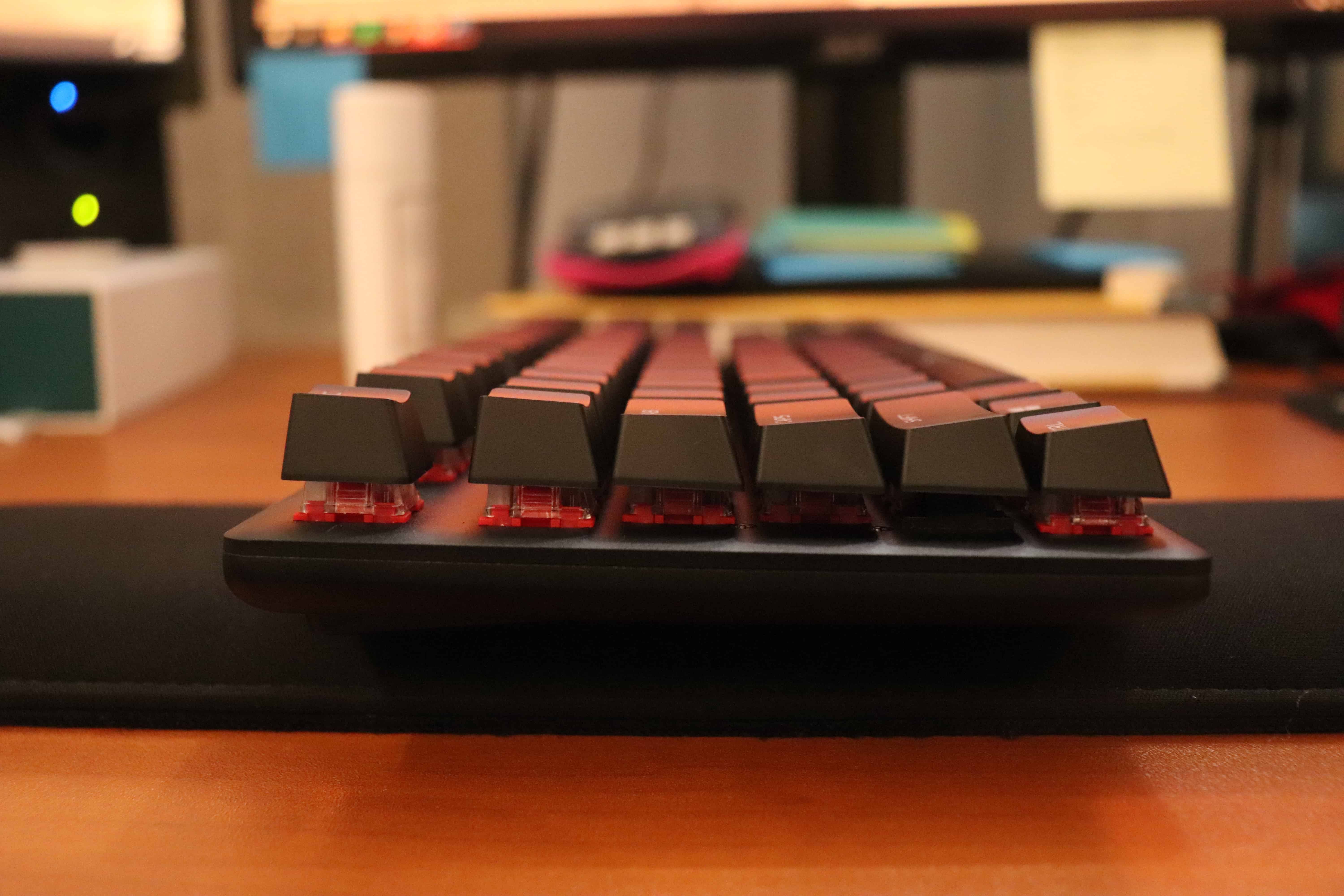 For the price, honestly, this felt like a $150 keyboard at least. The build quality is amazing. I love the aluminum top plate and case. The black matte is nice compared to the silver of my CTRL.
The firmware that is used to customize the lighting and keys is very easy to use. It's called HyperX Ngenuity. I installed it easily, but it did require me to have a Microsoft account because it was a Windows app.
My husband customized the colors on his PC, and then I transferred it to my PC. No problems since the colors were stored within onboard profiles.
I didn't need the rubber feet since I prefer to type on a flat keyboard. The feet are a plus though, because I love options.
I'm used to using a TKL mechanical keyboard, so no complaints about the lack of dedicated media keys. I don't mind using the FN key with some function keys. You can also change the onboard color profiles via the FN key with F1, F2, or F3. You can change the brightness settings to 100%, 75%, 50%, 25%, and 0% via the FN key and the arrow keys.
Compared to Cherry MX Red switches, I prefer these a lot more. The total distance and actuation distance are less than the Cherry MX Reds. These are fantastic switches. They're light and fast.
Design
As I've said before, this keyboard looks like a $200 keyboard. The only thing that would make it better is to have more open access to the USB-C port.
The keyboard has a floating keycap style design, which I absolutely love. Some people may not prefer this, but I think it's cool to be able to see your switches and RGB lights. It really lights up on your desk. Also, it makes it easy to pull off the keycaps (which might be a bad thing if you're traveling with your keyboard often) without using a keycap puller.
One problem with the design is that the keycaps are ABS plastic that's just sprayed matte. It looks cool and feels good and grippy, but I don't like the idea that my finger oils are slowly accumulating on this keyboard as I'm typing right now.
The keycaps can be easily replaced though, since it does have a standard layout. HyperX also offers their own lineup of PBT double-shot keycaps in white or black. How nice of them. They're also affordable as well and makes the RGB lighting stand out even more. Currently, they are $21.25 for a set of 104 keycaps. This TKL keyboard only has 87 keys, so you got some extras.
In the associated YouTube video, we will go over the design, RGB lighting pre-programmed effects, and more.
Typing
Despite being linear switches that I don't prefer to type with, I haven't had that many typos with this keyboard.
While typing, even quickly or harshly, there is no pinging or tinging sounds. They feel great, I am not as fast on these as on tactile switches.
That's it, really. They feel awesome. No noises, no shaking keyboards, just great performance in general.
Complaints
I only have two complaints. One is that the USB-C port is on the right side and that you MUST use the HyperX USB-C cable, which is stiff and can get kinks easily. The second is that the keycaps are sprayed a matte black and made of cheap ABS plastic which accumulates some nasty nasty over time.
These both could be personal preferences, since the keys do feel great to type on. Not slippery at all. They sure don't feel like the shiny plastic of other keycaps.
Summary
For a keyboard of this high of a build quality to be under $100 is amazing. This keyboard is only about $90. The HyperX red switches are great, they're like Cherry MX reds but shorter and faster. They boast a long lifespan of 80 million keystrokes, not as good as the 100 million of Cherry switches, but you'll never get there anyways.
The keycaps feel good but may be the downfall of this keyboard. Good thing the easy solution is just to get a new set of PBT double shot keycaps and put them on since it has a standard layout.
My primary love for this keyboard is in the aircraft-grade aluminum frame. It has rounded edges; it looks like a black stealth jet. Flying in the night sky. All in all, HyperX is absolutely winning! They're killing the gaming headset game and now they're branching into the mechanical gaming keyboards arena as well, and with a winning chance at that.