There are some really cool custom mechanical keyboard USB cables out there, but how do you get ahold of one of them?
We'll walk through all of the best places to find custom USB cables to make it a breeze! Here's a list of our favorite USB-C keyboards to fit your cable.
What are the Best Custom USB Cables?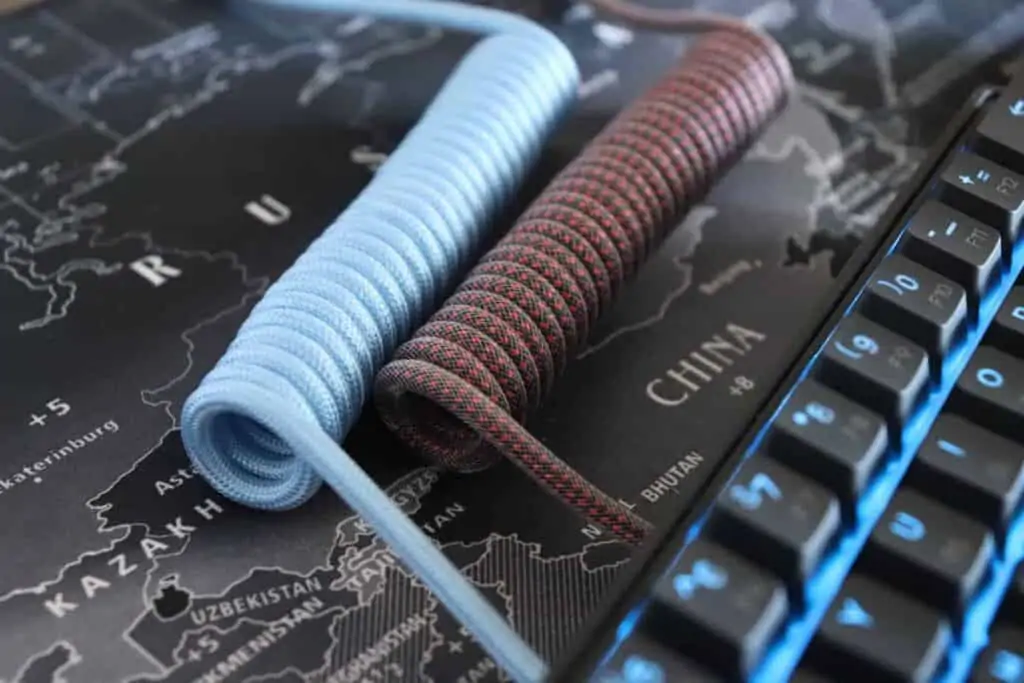 There are many places to find custom USB cables for your new keyboard build. We'll run you through all of the available stores to figure out the best.
Kraken Cables
Kraken cables offers a variety of different colors and they include all of the different cable variations (USB-C, micro-mini, and mini-USB) and are a bit more on the affordable side when compared to the other companies on this list.
They only offer the straight cable type, so not coiled, but the they are high quality and quite aesthetic.
I personally use the silver cable with an aviator. As someone who is constantly trying out and reviewing new keyboards, being able to swap between USB-C/micro-USB/mini-USB is a total lifesaver.
Plus I enjoy the clean look of a straight cable, a coiled cable can clutter your workspace a little bit.
You can find Kraken cables on Amazon for a really good price.
They also ship really fast which is a big benefit as most keyboard cables require you to wait weeks – even months – for your cable to arrive.
Tez Cables
Tez cables is a newer manufacturer of USB cables. Tez cables are unique in that they are super affordable and will get shipped to you within a few days.
While the quality is not as high as some of the other cable manufacturers on the list, the fact that coiled cables are so accessible is really convenient.
Usually you can only find straight cables available for such a low price, but with Tez cables, you can get your hands on them for a steal.
You can find Tez cables available in a few different colors and variations on Amazon.
Mechcables
Many people love Mechcables. You can order a custom cable, or choose from a few of the available options.
Mechcables started through word of mouth through forums such as /r/mechmarket, but lately they've designed their own website where you can order the cables from.
If you want a super customized cable in specific colors, there is no better place to go than Mechcables.
A grassroots cable manufacturer such as Mechcables is a great place to shop.
Melgeek
Another awesome cable manufacturer includes Melgeek. They are in stock right now and make cables that range from $50-$60.
These cables come with a small aviator connector that is unlike others. It keeps the design very sleek and non-intrusive.
Unlike Mechcables, you are unable to customize it with your own colors, but they have different colorways already made.
Currently, they offer 13 different custom-sleeved USB cables. I'll list some of the colors down below:
Classic black and grey
Green and purple
Skyblue and yellow
Purple and blue
Purple and pink
White and green,
Pink and brown
White and purple
Navy and red
Teal and blue
And so much more! Each product has their own colorways, so check them out.
Space Cables
Space Cables is a company that is gaining popularity fast. They offer super premium cables with unique designs, and the price reflects that.
They offer magnetic USB-C tips, which is convenient for when you don't want to manually insert the plug into your keyboard. Just swipe your connector near the general area and it'll put itself into the hole. Haha.
They also offer high-end custom cables with LEMO Cable connectors, starting at $85.
Pricing for these cables start at around $25, but the price is not available currently. To order, you can check out their website.
Juju Cables
Juju Cables is based out of Australia. They offer DIY cable kits, coiled cable kits, and custom cables.
The only downside to Juju cables is the cost of shipping is quite steep for anyone living in America. For that reason, if you are local to Australia, Juju is your best bet. For others, I would look at companies based out of China or the US.
Check out their website and social media.
Drop
Occasionally Drop (formerly known as Massdrop) will have group buys of custom USB cables. Be on the lookout. Here's what they have to offer right now.
The cables are often in limited amounts and they will collaborate with other companies such as Spacecables to design their own unique cable.
Definitely an option if you are willing to check the Drop website every once in a while.
How Do I Order Custom Cables?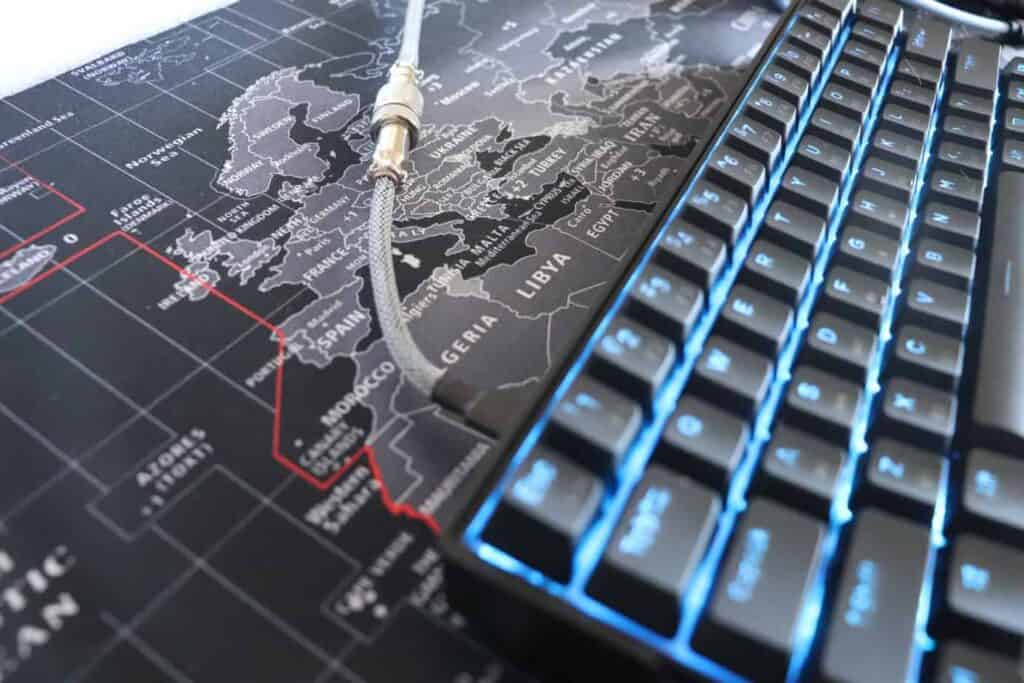 If you're looking for a single cable without the aviator connector, the first thing to consider is the length of the cable.
How far is it from your keyboard to your computer? Would you like some extra room in case you decide to switch desks one day?
They come in sizes from 1ft to 16ft, with jumps of 1ft in between.
Websites will have colors to pick some, so make sure you look at the images for each custom cable maker.
They give you the ability to pick the Techflex color (which will cost about $5 more).
For a single cable, the head of the device will be the side that connects to the keyboard. This could be USB-C, mini-B, or Micro-USB. Make sure you get the correct one for your keyboard.
The other end, the host end, will be the side that connects to your computer. Usually, this is USB-A.
To add a coil, this will cost about $10 or more extra. There are different size options for the cable diameter.
The last option to select is what color heatshrink to use. This is a rubber/plastic that covers everything and keeps the connectors held together.
Remember to heck each website for images of colors for color selection!
Another Option: DIY Cable Kits
Many manufacturers make DIY kits to allow yourself to put the cables together, coil them, and rep your self-made customized cables.
For example, 1UP Keyboards offers 2 different selections of DIY kits, one that involves soldering and one that doesn't.
The no-solder version lets you pick a length (cost varying based on length), pick the type of connector, the heat shrink color, and techflex color. It starts at $12, but a 5ft cable with USB-A connector with clear Techflex will cost around $16. They have an instructional video as well as PDF guide on their website.
The solder version lets you pick both ends of the connector, heat shrink color, paracord color, and Techflex color. You'll need the following materials to complete the product:
Soldering iron
Solder
Heat source such as hair dryer or heat gun
Wire strippers
Pliers
They have instructions on their website.
Space Cables offer DIY kits for the USB cable and for datable ones as well. They offer materials for different connects such as USB micro, USB-A 2.0 and 3.0, USB-B, and USB-C. Prices depend on what you pick but range from $3 to $13.
The DIY USB kit has just the cable itself with the connects, paracord, heat shrink, and cable. The detachable USB kit offers the choice to include an Aviator connector. Currently, these are both SOLD OUT.
What Are Custom USB Cables?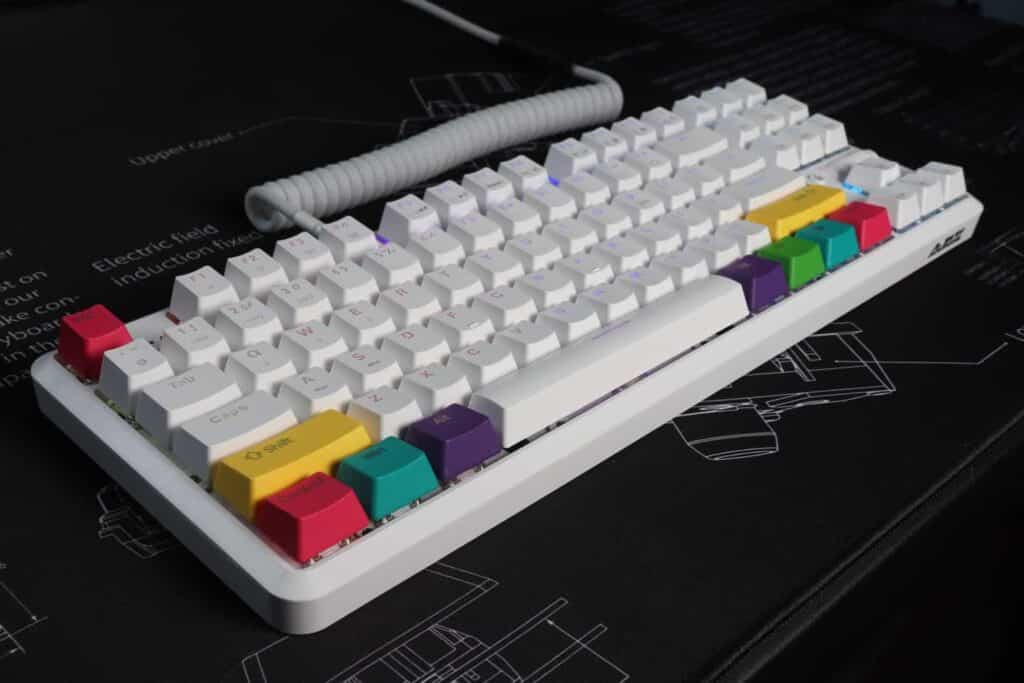 Custom USB-C cables usually come in any colors that you want. They are made to order only from different companies, but it's possible to get DIY cable kits to customize it yourself.
They can come straight or coiled.
The price can range anywhere from $30 to $60, depending on the materials that you choose. Typically, they are a para-corded cable with a heat-shrink wrap around them.
Currently, many websites are closed for orders or out of stock, but typical time from order to your door will be about 2-4 weeks. You can absolutely make these yourself with some equipment that we'll discuss further.
Cable Basics
Different Parts of the Custom Cable
These have 2 connectors on each side like regular cables. One side will be USB-A, the part that plugs into your computer. The other side will be the part that connects to the keyboard, USB-C or micro-USB.
Around the cable is paracord. This can come in various sizes such as standard, 550 or jumbo. It can optionally be covered in tech flex that can also come in different colors. The Techflex improves the memory of the coil, so it will bounce back to its original position if pulled out slightly.
Surrounding the cable second is the heat shrink. This is the plastic material that covers the cable.
They can come straight or coiled. A coiled cable takes more labor and time to make. Because it's coiled, it also uses a lot more cable to take up the same amount of space on your desktop.
What is the Aviator?
This is called an aviator connector. To use this, you will need to have two custom cables. One that connects to your keyboard and then to the aviator head. And the other will have an aviator head on one side and connect to your computer on the other side.
The aviator connectors are optional. They primarily are there to look cool and add some flair to your set-up.
Another purpose they offer is if you have several different custom cable sleeves and want to change it up easily without reaching over too far. It also lets you switch out keyboards easily if you have multiple daily drivers.
There are different options if you have a coil. The aviator connector can be on the left of the cable or to the right of the cable.
Manufacturing and shipping time
The manufacturing and shipping time for cables ranges a lot depending on the size of the company and where they are shipping from.
The cables that are sold on Amazon, such as Tez cables or Kraken cables will usually ship out in a few days.
Mechcables have a turnaround time of 2-3 weeks. This means that once they receive payment, they'll ship the item out after 2-3 weeks. It will take some additional time to get your order at the doorstep depending on where you live.
Melgeek has a turnaround time of 4-7 days, it could take up to a week or more to get the product shipped out. Expect a few more days after that for shipping time.
Space Cables has a turnaround time of around 4 weeks, but because they are out of stock right now, it is hard to say.
Conclusion
If you're looking for a way to spruce up your keyboard and desk set-up, a custom cable is the way to go.
You can match it with the aesthetic of your keyboard to make a truly unique battle station that is sure to make your friends and family jealous.
There are a ton of online stores you can find cables at. We condensed a list of the most popular stores so you can easily navigate all of the options available.
If you're looking for a cable to get fast and cheap, we recommend Kraken cables or Tez cables.
If you need a cable that is more customized and takes a bit longer to ship, definitely check out the other options as well.
Happy typing!