The Drop CTRL is an awesome mechanical keyboard with a floating keycap design and a sleek aluminum frame.
The Drop CTRL took the mechanical keyboard community by storm in late 2018. We absolutely love this keyboard and consider it one of the best hot-swappable keyboards currently out there.
Overview of the Drop CTRL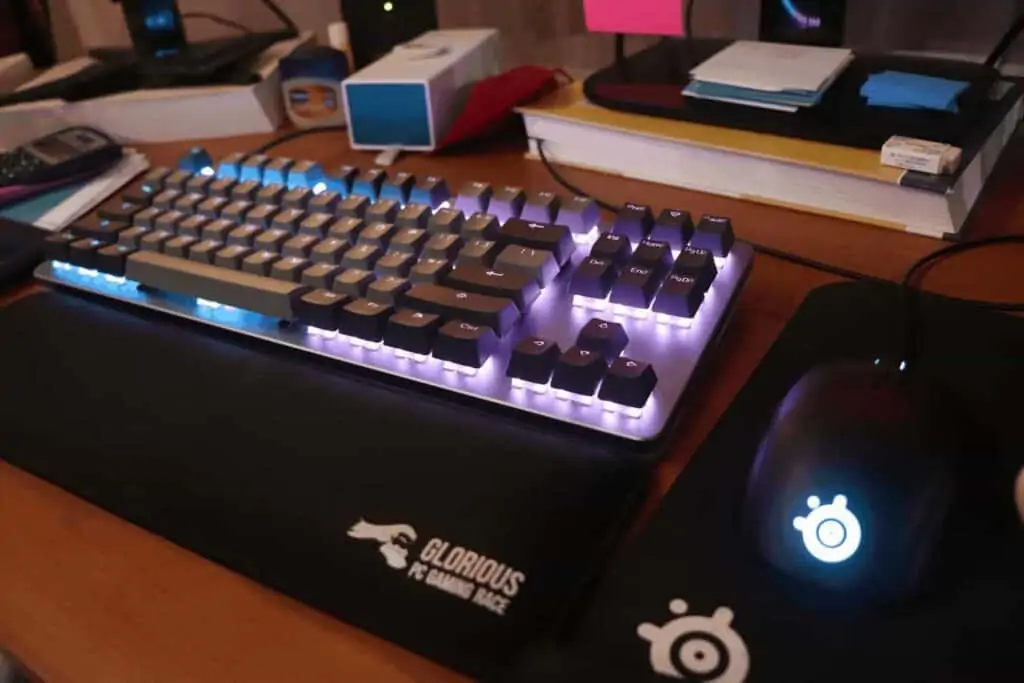 The tenkeyless sized board has an solid aluminum frame with a built-in switch plate. One of its best features is that it is hot-swappable.
The Features
Tight compact tenkeyless size
Sturdy with an aluminum frame
Hot-swap switch sockets
QMK firmware for easy usage
Plate-mounted Cherry-style stabilizers
Doubleshot PBT shine-through keycaps
Float key design
Dual USB-C connects
Weight: 34oz
Hot-Swappable = No Soldering
Being hot-swappable means that using the switch puller that comes with the keyboard, you can pull out each individual switch and put new ones in. Easy peezy just like that.
There's no need to desolder the old switches and solder new ones on. Other features include being fully programmable via QMK, which is available on Drop's website as well. Each side of the keyboard has its own USB-C connector as well. There is backlighting all through the outer rim as well as under each key.
Great Features for a Keyboard
The keycaps are shine-through PBT keycaps with a slightly rough feel to them.
A key important detail is that the keyboard is not cheap, you are paying a bit extra for features such as an anodized aluminum frame with hot-swappability.
You can find the product on Amazon through this link, so you can check for the most up-to-date price.
Several Switch Options
You can your pick of which switches it comes with. The options are the following: Halo True, Kaihua Box White, Kaihua Speed Silver, Cherry MX Blue, Cherry MX Brown, and Halo Clears. It's always nice to have such a diverse selection of switches, because most product offerings make you pick between one or two switch types. This allows you to truly the customize the board to what switch type feels the best for you.
You can also pick custom keycap kits for additional costs. The following are available for selection: GMK Red Samurai, MT3 /dev/tty, XDA Canvas, and SA Pulse Noire.
You can see the specs on the product page, but I'll summarize them below:
Included with the package:
USB-C cable
Keycap puller
Switch puller
Switches, keycaps, stabilizers
Performance
First Impressions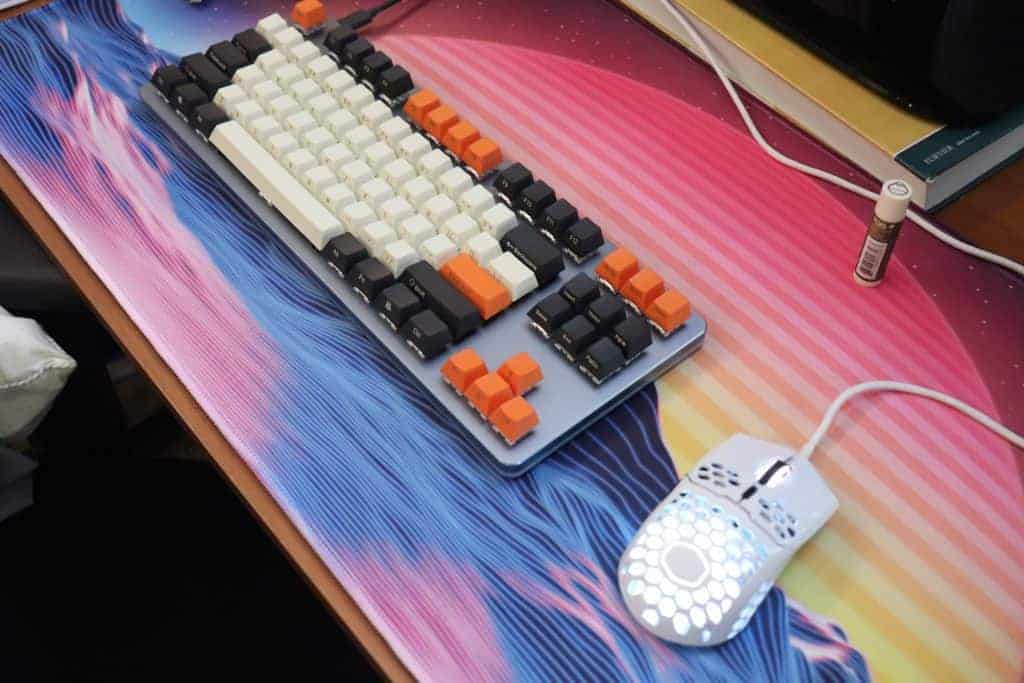 I received my keyboard on August 12, 2019 with Halo Clear switches and the original keycap kit. It's been about 5 months since then.
Keychatter was a Concern
At the time, I was especially worried about keyboard chatter or double typing that everyone was discussing in the reviews/comments section of the product itself.
There was a solution, which we'll talk about later. I'm currently typing up this review with my Massdrop CTRL itself, and so far, there are zero issues.
It was love at first sight. At this point I had never used a high-end keyboard, I had been using the 2014 Razer Blackwidow Tournament Edition for about 5 years. I grew tired of the loud intense clicks, especially when talking to friends on Discord or streaming on Twitch, it was just too distracting.
I knew I wanted something quieter, but I didn't know the difference between tactile and clicky switches even.
I talked about it on our first article, guide to Cherry MX switches, where I discuss the difference between common switches.
So I went with the Halo Clears, and trust me, I Googled the heck out of this thing. I looked up multiple sound tests on Youtube. But I was never sure until I got it in my hands.
Design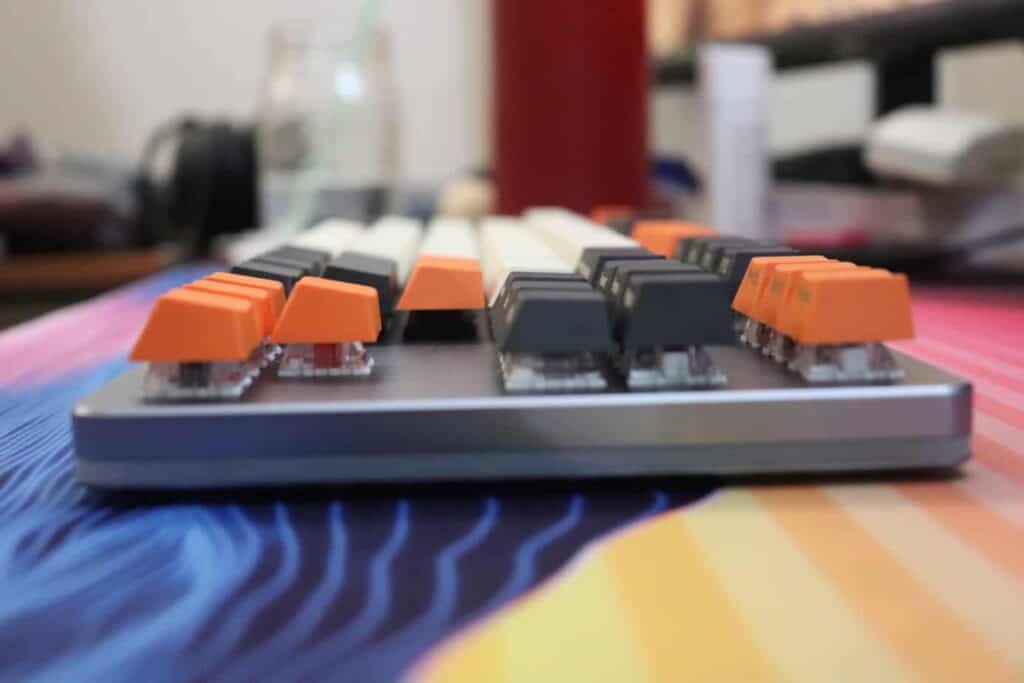 This keyboard is an absolute beauty. The solid aluminum plate is a shiny space grey, not like the Macbook space grey. It's more like the original silver than space grey, but it's a bit darker.
The doubleshot PBT shine-through keycaps have a slightly rough feeling to them. I really enjoy this tactile feedback, but others may not.
I love that it has two USB-C connectors, one of the right and one on the left. This makes it convenient for all sorts of desk set-ups and doesn't limit you from only using one side awkwardly.
There are two magnetic feet (optional) that you can attach to the bottom of the keyboard to raise the back or the front. It's up to you.
It has a bunch of RGB lighting features built-in. You use the function key and different letters on the keyboard to control the effects, brightness, turn on/off lights/rim light, and speed of pulsing.
For a look on the different RGB lighting, I recommend checking out my wife's Youtube video review for this keyboard.
Typing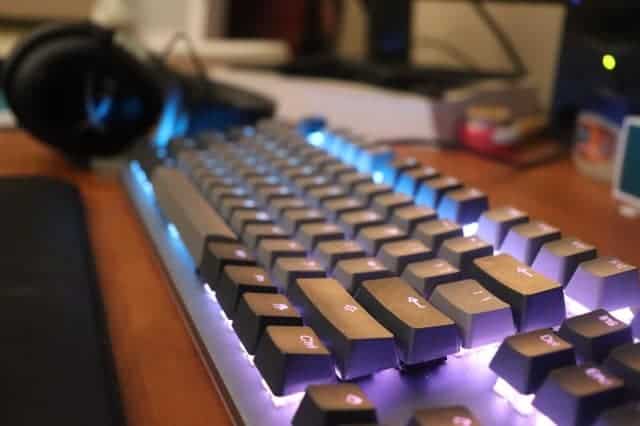 Like I said, I got the Halo Clears, which are a 65g tactile switch. I love them. Initially, it felt like too much pressure for each press. Over time, I got used to it and now I love it.
The tactile feedback is very satisfying. Heck, even the sounds are satisfying.I initially used it for gaming, but after I stopped gaming, I still completed a ton of typing on it.
Now to do the typing test. Typically, I type above 90wpm, but let's see how we do and if there's any chattering. I'm going to be honest with you guys right now, since I'm not selling this keyboard or gaining any affiliate whatever.
Since writing this entire article, there has been chatter about 5 times total. It happens most often with the space bar.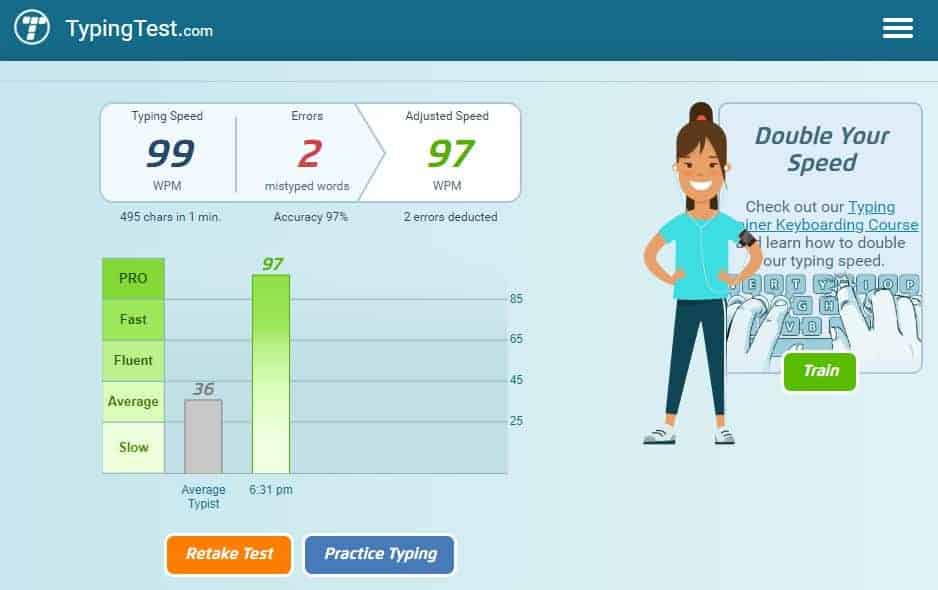 A side note I'd like to make is that I put O-rings on all of my typing keys since I prefer it not to have the loud echo sound when it bottoms out. I had extra O-rings from when I tried to quiet/dampen down my Razer Blackwidow with little success.
There is minimal rattle with the stabilizers. No complaints there. But I don't think I've ever experienced a super rattly keyboard in the first place.
We eventually ended up modding the stabilizers to make them sound and feel even better.
What Makes It Special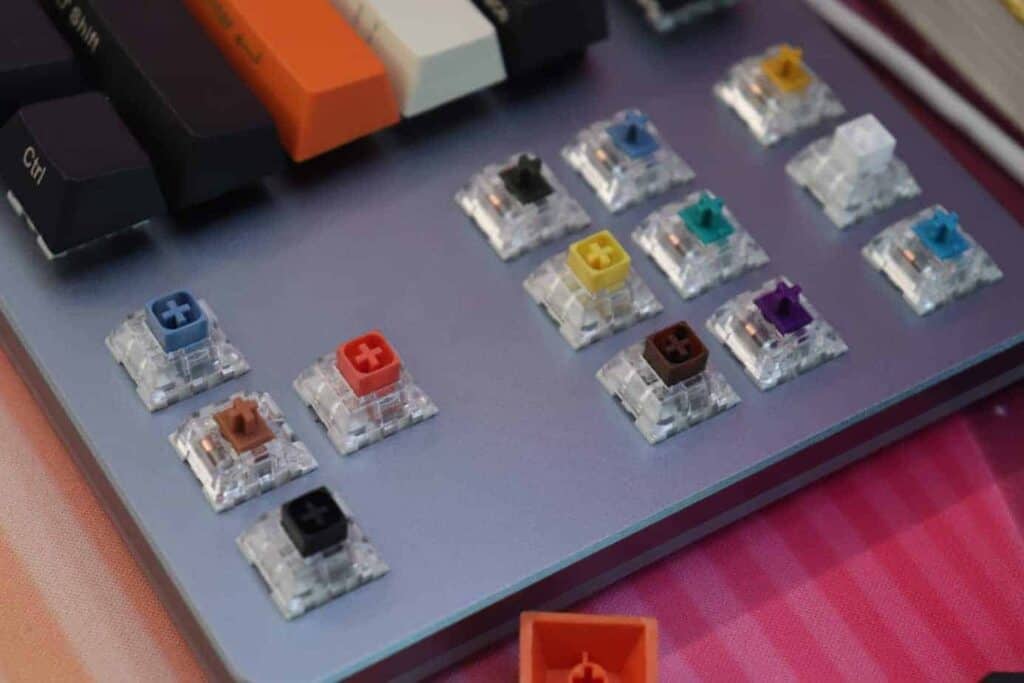 One of the most special things about this keyboard is that it features hot-swappable switches. As I've said before, this allows you to change the switches on this keyboard very easily without having to solder anything.
Just use the switch puller that comes with the keyboard and pull each one out individually. We've tested out several different switches on this keyboard to give them a go.
I also enjoy the magnetic feet and the double USB-C cable connectors, all things that are convenient to a casual typist and new mechanical keyboard enthusiast.
Complaints and Problems
Overall, this keyboard is great, but I have 3 main issues.
Primary complaint: Chattering
The first few months after I bought this keyboard, I did experience keyboard chatter and double typing. It absolutely sucked, and I was scared that I would have to return it.
After scouring the discussion boards, they came up with a fix, thank goodness. I'll attach a link to the fix that I used to configure it so that it would stop chattering.
For an expensive keyboard I was surprised there was such a glaring issue, although after further research I realized it was the Halo Clear switches and not the keyboard itself.
Secondary complaint: Resetting Every Restart
Another complaint I have is that every time I turn off and turn back on my computer, the keyboard will go back to its initial rainbow RGB lighting. I prefer the blue and purple lighting with no rim light at a low brightness. This may just be me being picky.
I know, there's a way to use the QMK software and program it myself to make my preferred setting the default, but as a noobie, I have no experience with QMK at all.
So every time I turn it on, I just press Fn+D a few times, Fn+Z to turn off the rim light, and Fn+S to turn down the brightness. If this isn't an issue for you, then just ignore this complaint entirely.
Another minor complaint include it doesn't have any media keys. It does have volume up and down, pause and play, but only if you memorize the keys. I think that it's Fn+PgUp or Fn+PgDn for the volume features.
Third Complaint: You Need a Specialized Power Cable
In addition, you need a specialized USB-C power cable for this keyboard, I tried using my custom cable, but ran into some issues with not having enough power delivered to the keyboard. Kinda lame.
Summary
All in all, I would recommend this keyboard to you guys to try out. The only gripe I have is that it still does chatter sometimes, although the frequency has decreased dramatically.
You can find the Drop CTRL on Amazon for a good price.
It is also expensive for a keyboard that might not behave the way it's supposed to, which is unfortunate. We really dig into whether or not the Drop Alt/CTRL are worth it in this article.
But keep in mind those keyboards may not have some of the features that the Massdrop CTRL may have such as being hot-swappable, having custom switch choices. With Razer you'll be stuck with the Razer switches, whatever those may be.
I was stuck with the Razer green switches for forever, and I'm not looking to go back anytime soon.
Another thing that I've read within the discussion boards is that the chattering issues are mostly occurring with the Halo switches, so perhaps using another switch may help you avoid the problem altogether.
Anyways, thank you so much for the read, and happy typing!