Topre keyboards are a special type of keyboard with an electrocapacitive switch that actuates very differently than a normal mechanical switch.
Today we're going to look at each Topre keyboard and decide which is the best.
Let's dig into our list of the best Topre keyboards currently available.
---
The Best Topre Keyboards: Our Top Picks
There are a limited number of keyboards available with Topre switches, so we're showing you basically everything currently available, along with some Topre clone keyboards.
Let's break them down a bit more and go over the differences.
---
1. Happy Hacking Keyboard (HHKB): Best Wireless Topre Keyboard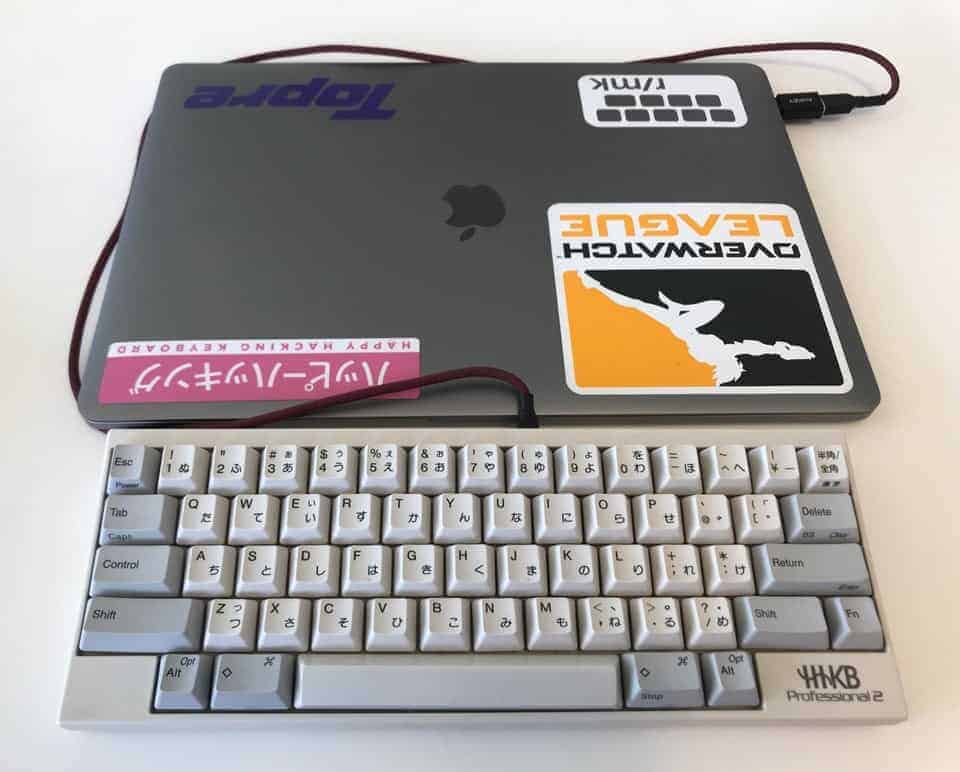 HHKB: One of the Most Popular Keyboards with Topre
The Happy Hacking Keyboard (HHKB) is legendary within the community for its design and Topre switches.
HHKB makes several different keyboards, all of which are relatively similar. The Happy Hacking keyboard's design first emerged in 1992 by Professor Eiiti Wada.
The HHKB is light and compact with a 60% layout with 60 keys. It easily fits in your bag for easy transportation and saves space on your desk.
The HHKB is primarily all plastic. It is a light and compact 60% keyboard along with two open spaces on the bottom left and bottom right spaces with the brand being on the bottom right side. It has a clean design in stealth black or grey.
Adjustable Features
The bottom of the keyboard has two rubber feet and 2 flip-out feet with 2 different angles. The back of the keyboard offers 2 low-powered USB drives, which you can connect mice or USB ports. However, being low-powered, it won't be able to power headsets.
There are six DIP switches on the back as well. The bottom of the keyboard explains exactly what each DIP switch does.
Non-Standard Layout
The layout of this keyboard is non-standard with the FN key being on the same row as the Shift key. It may be difficult to get used to this layout. The backspace is also lower than it normally is by one row, so it sits right above the Enter key.
A downside is that there are empty spaces on the bottom of the keyboard that are unused. Why not add 2 keys there instead of empty space? The CapsLock is also not a dedicated key. Instead, it exists on another layer. Where the CapsLock currently is, there is a Control button instead.
Overall, it takes time to get used to this layout. However, once people have gotten used to this keyboard, others were not able to switch back to the regular layout without feeling disadvantaged.
Topre Keyboard with a Wireless Option
The Pro Hybrid Type-S model and the Pro Hybrid can connect to PCs wirelessly via Bluetooth or via a USB-C cable. The Pro Classic is only able to connect via USB-C.
The Pro Hybrid Type-S and the Pro Hybrid both are fully programmable. You can make your own custom keymaps using their keymapping software. The curvature and layout of the keyboards reduce hand and finger fatigue because you leave the home row keys much less often due to the closer Backspace.
The keycaps are PBT plastic with dye-sublimated key legends that never fade. You can also choose to have blank keycaps rather than printed.
You can find the HHKB on mechanicalkeyboards.com for a good price.
2. Leopold FC660C: Best Quiet Topre Keyboard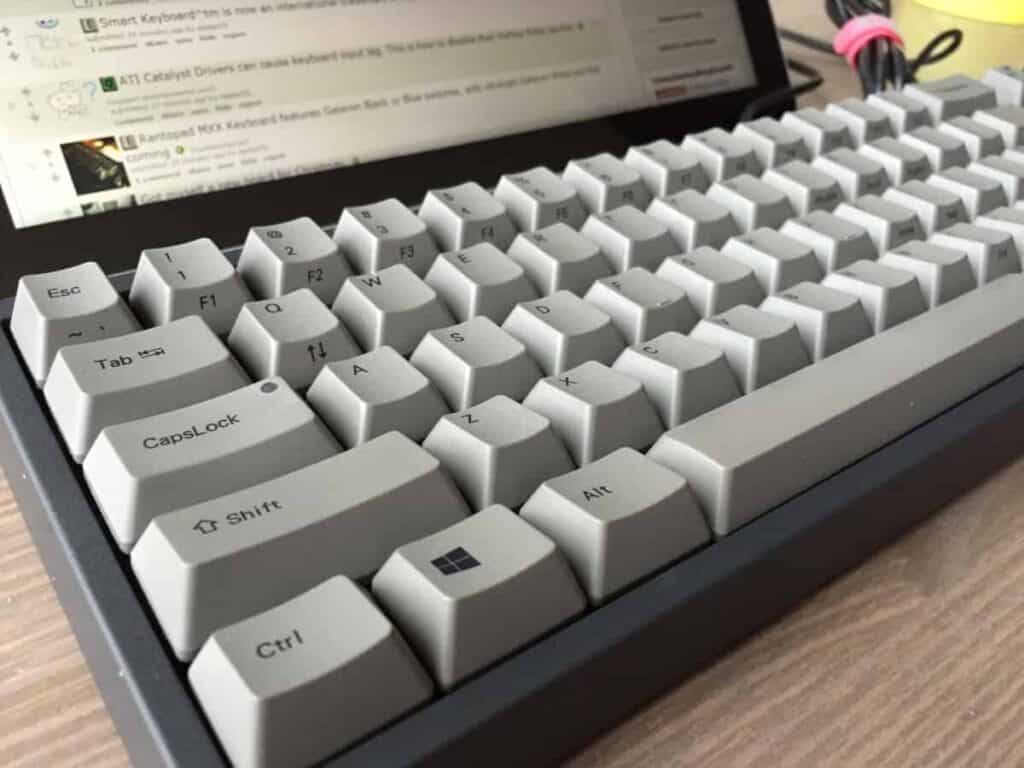 The Leopold FC660C is a 65% mechanical keyboard with electo-capacitive Topre switches. The base price of the FC660C is on MechanicalKeyboards.com, but it constantly fluctuating due to market demands, you can check the price here.
The FC660C comes in different colors, such as black, blue and gray, white, and gray. They come with two switch options, the Topre 45g and the Topre Silent 45g (for $10 more).
A Compact 65% Layout
The Leopold FC660C comes in a tight compact 65% layout, which is very similar to 60% except with arrow keys.
A 65% layout is ideal for someone who needs a smaller keyboard, but doesn't want to get rid of the arrow keys. If you find you don't use the function row, numberpad, or navigation cluster, a 65% keyboard is worth considering.
PBT Keycaps and Mini-USB
The FC660C comes with dye sublimated PBT keyboards with black/white legends depending on which keyboard color you go with.
The keyboard also has a detachable cable design with a mini-USB port, while also featuring four DIP switches on the back to swap key functions like Ctrl, Alt, Fn, etc.
FC660C Keyboard Sounds
Here is a sound clip of the Leopold FC660C with Topre 45g switches with the stock factory lubrication and lube stabilizers. In my opinion, Topre keyboards are some of the best sounding keyboards out there.
3. Topre Realforce: Best Tenkeyless Topre Keyboard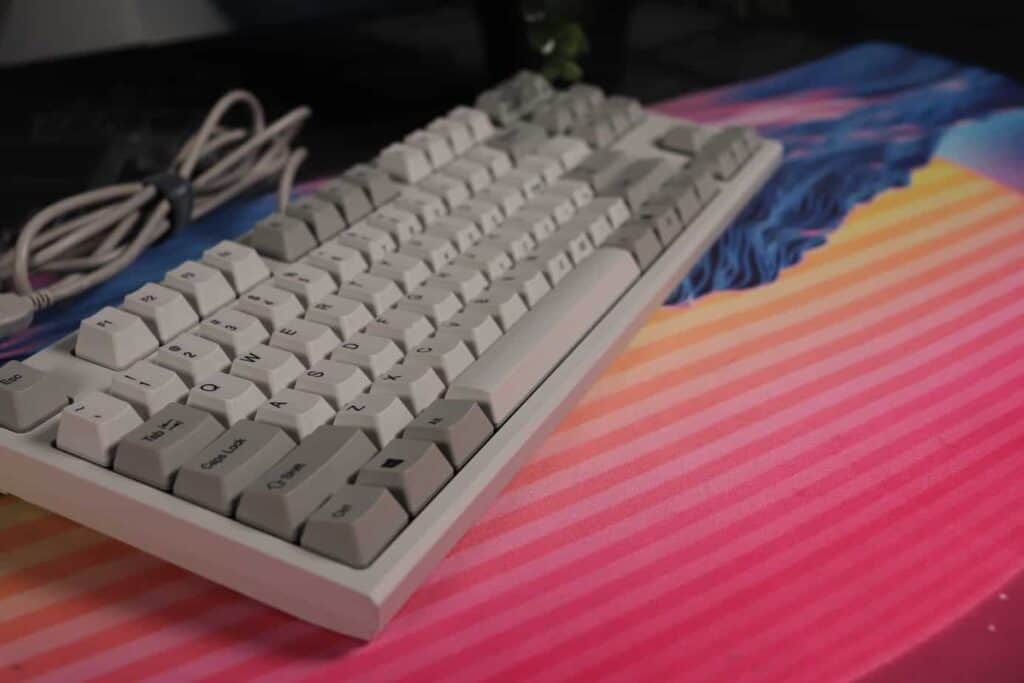 Only Topre Keyboard with RGB
If you're looking for a great Topre keyboard that has some different backlight options, the Realforce is really the only option. The Realforce RGB comes with colored backlighting and a Black case. There are other models that come without backlighting, which we'll talk about next.
Different Models Available
The Topre Realforce is available in different sizes and coloroways.
There is a full-sized black keyboard with RGB version with ABS keycaps, a full-sized white PBT keycap version, a full-sized black PBT keycap version, a TKL Dye Sub PBT white and gray version, a TKL Dye Sub PBT black version, and then the variable Topre versions in black or white.
Built-In Cable Management
They have cable management built into the back of the keyboard. There are 4 DIP switches on the back. There are four rubber feet with 2 kickstands for some typing angle adjustability. The typing angle without the kickstands are already slightly inclined.
Different Weighted Keys
The variable Topre keyboards have 4 different weights on the keyboard: 30g, 45g, and 55g. The Esc key has 55g of force. All of the keys have 45g of force except the following: 1, Q, A, Z, 9. 0, -, +, O, P, [, ], L, ;, ", >, and ?. Mechanicalkeyboards.com has this in visual form on their product page.
The prices of all the versions are over $200. They range from $209 to $259. The switch options range from Topre Variable, Topre 55g, and Topre 45g.
You can find the Topre Realforce RGB on mechanicalkeyboards.com through this link.
4. Leopold FC980C: Best 1800-Compact Topre Keyboard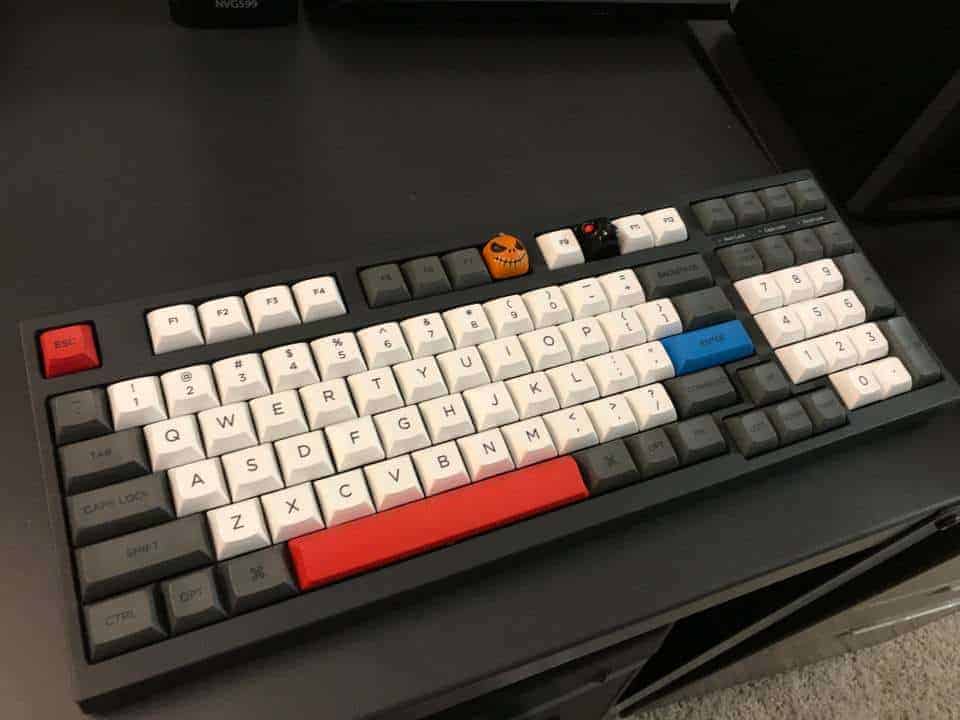 Unique 1800-Compact Layout
The Leopold FC980C comes in a super unique 1800-compact (96%) layout. The 1800-compact layout differs from full-size keyboards in the fact that it's a compact version. The arrow keys are positioned in a cut-out area between the number pad and the alphanumeric keys.
The browser buttons such as Home, Delete, PgUp, and PgDn are on top like the function row. The image below shows this.
Awesome Features
The FC980C comes with a lot of the same features as the FC660C, such as PBT keycaps, several colorways, a mini-USB cable, and four DIP switches on the back. You really can't beat the combination of a unique layout, Topre switches, and all of the features packed in.
Sound of the FC980C
Here is a sound clip of the FC980C. The keyboard has Topre switches with lubed stabilizers. If you want to improve the sound of Topre switches it is possible to lube them and silence them for the ultimate sounding switch.
You can find the Leopold FC980C on mechanicalkeyboards.com for a really good price in a ton of different colorways.
5. Cooler Master Novatouch TKL: Best Topre Clone Keyboard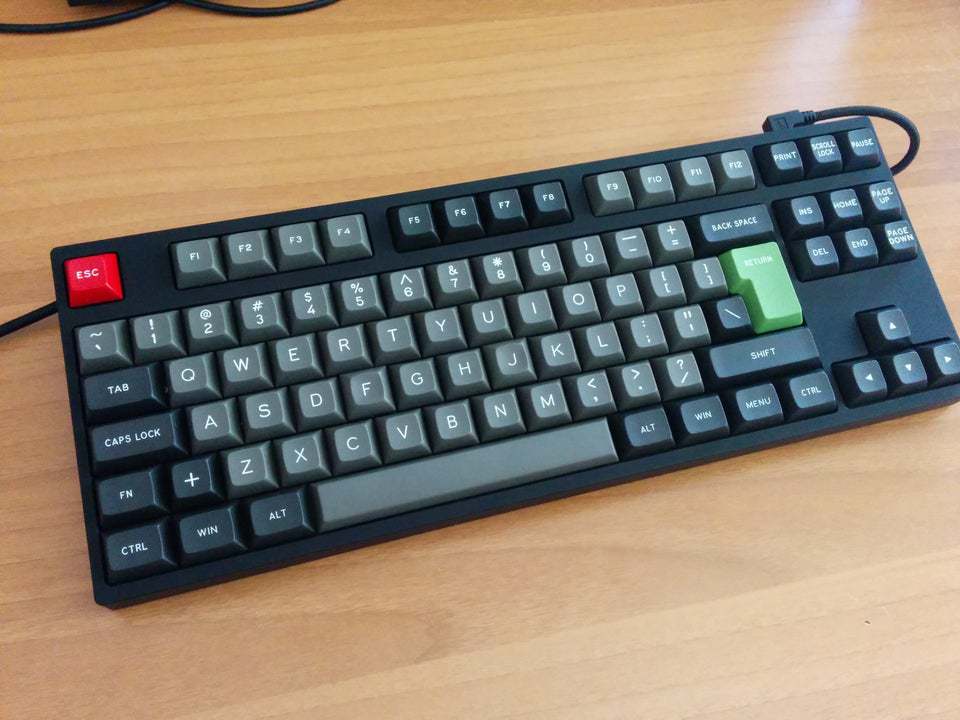 Note: This keyboard is no longer in production and will need to be purchased aftermarket.
Although not techinically Topre, the Cooler Master Novatouch TKL Keyboard has hybrid capacitive switches which are very similar.  The keyboard comes with N-key rollover for Windows and is not compatible with Mac computers. It's also a TKL keyboard with 87 keys.
Repeat Rate Modification
It also has a repeat rate modification, which changes what happens when a key is held down, ranging from 1x to 8x. I'm not sure why this would be super useful other than for gaming.
There are two kickstands in the back with 4 rubber feet. The Cooler Master branding is super subtly in the back of the keyboard. It has a Micro USB cable which is detachable.
Aesthetic Design & Keycaps
The Novatouch has a black case with white laser-etched legend keycaps. Unlike other keyboards that may not let you switch out your keycaps due to its non-standard stem, this keyboard does. It has a MX-stem, which is compatible with custom keycap sets.
Can Make it More Quiet
The keyboard comes with O-rings to make the keyboard quieter if necessary. However, the keyboard is very quiet in the first place. The switches have 45g of force for actuation and 4mm of travel distance.
One downside is that the Cooler Master Novatouch is not available in most retail stores, not even Amazon. It is available aftermarket, however.
6. Epomaker Niz Plum Atom 68: Cheapest Topre-ish Keyboard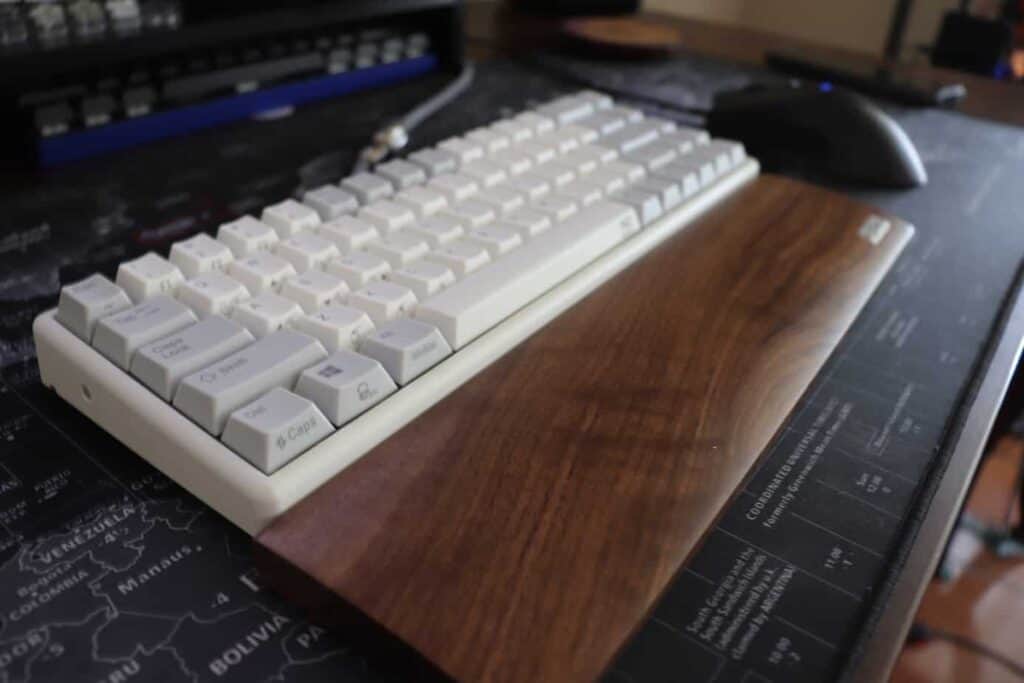 Cheap & Budget-Friendly Topre Clone Design
The Epomaker Niz Plum is a really cool keyboard that actually comes with Topre imitation switches, which are an off-brand electro-capactive switch that feel and sound very similar to Topre. A great choice for those who don't want to blow $200-300 on a Topre keyboard.
Different Layout Options
The NiZ Plum comes in a few different layouts, 66 key or 68 key, which are both slight variations of a 65% keyboard layout.
The 66 key is sort of a blend between a 60% and 65% keyboard, designed with arrow keys and none of the navigational cluster except the delete key. The 68 key variation, however, includes the keys for page-up and page-down, along with fully dedicated arrow keys.
Really Nice Features
Suprisingly, the NiZ plum comes with a ton of different features including PBT keycaps, fully programmable keys, detachable USB-C cable, wireless/wired connection, and RGB lighting.
This keyboard really has it all, you'll just have to decide if getting a clone Topre switch is worth it or not.
You can find the Epomaker NiZ Plum on Amazon for a super competitive price.
---
What are Topre Switches?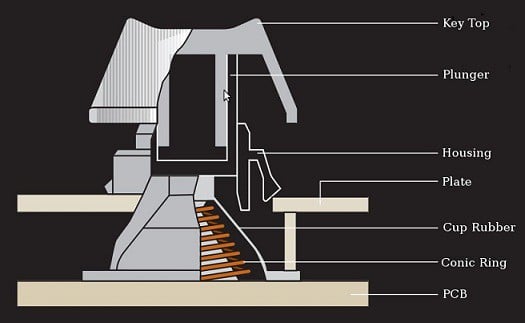 Topre switches are electrostatic, capacitive keyboard switches that have the feel of a rubber dome keyboard with all the benefits of a mechanical switch such as more tactility, less noise, and a non-mushy bottom-out.
They are available on a limited number of keyboards.
Topre vs Cherry MX Switches
Topre switches are similar to Cherry MX browns with more "thonk" and a crispier tactile feedback.
It is difficult to compare Topre vs. Cherry because there is a large variety of Cherry switches, and it is up to personal preference in the end.
Topre switches last for around 50 million keystrokes, while Cherry MX switches last for 100 million.
Topre switches are only available in certain keyboards and have a unique feel. Some love them, and others don't feel that they're worth the premium price.
Interesting History of Topre Switches
Topre switches are made by TOPRE Corporation. They are a Japanese manufacturer and are the only people that make Topre switches. TOPRE Corporation started making mechanical keyboard switches in 1983. Topre switches were first patented in 1986.
They are electrostatic capacitive non-contact keyboard switches. What does this mean?
When you press a Topre switch, the first thing that moves is the plunger, it gets pushed down. This compresses the rubber dome, and a spring lives inside of the dome.
When the electrical capacitance between the spring and the PCB (printed circuit board) reaches a certain amount, it registers a key press.
Each rubber dome and conical spring is easily replaceable if one happens to break as they are all their separate parts.
Here is TOPRE's patent for more information.
These are also some of the most expensive switches on the market. Many Topre keyboards are over $200.
How do Topre Switches Feel?
All of that history is cool and everything, but how do they feel? We'll dive into how they feel to use and why they're so unique compared to other switch types.
Snappy and Clean Feeling
Topre switches are comfortable and snappy to type on. They were designed with the primary goal of being a typing keyboard.
When typing on a membrane keyboard, the keyboard feels very mushy due to the membrane. Topre keyboards have a rubber dome that can be adjusted to change the tactile feedback. This enables Topre switches to not feel mushy when bottoming out or pressing the key until it's at the very bottom.
Many feel that due to Topre's special design, these switches must be tried out before committing to one due to its high price point. However, because of this, they also resell nicely without suffering much of a loss.
Similar to a Brown Tactile Switch, but Better?
If you're used to Cherry Browns, Topre switches can be described as similar, but with a better sound that's less rattly or noisy and a crisp tactile feedback. Typing on it is very smooth. Some say it's like "typing on pillows."
They come in different force options, ranging from 35g to 55g. These are average forces because it doesn't have a homed in actuation force or point.
There are many differing opinions on Topre switches. Some say that it's just an overpriced rubber dome keyboard. Others feel that Topre switches are the smoothest switches in the world to type on.
What do Topre Switches Sound Like?
As for what they sound like, here is a sound clip of a comparison of different Topre switches vs. Cherry Browns and another sound clip of Topre switches. And another sound clip.
If you're going to buy a Topre keyboard, it probably will be for the sound. It has a low-pitched bumpy sound and does not bother the ears while you're typing.
There is no springy or clangy sound that you may hear in Cherry MX switches. It's a mellow and soft sound.
Can I get a Topre Switch Tester?
It's not possible to trial Topre switches by themselves like MX style switches such as Kailh or Cherry because you need a special PCB, housing, spring, rubber dome, and plunger.
To get Topre switches, the only option is to cannibalize a pre-assembled mechanical keyboard with Topre switches.A big benefit for Topre switches is that you can replace the individual rubber domes if one starts feeling mushy or different than the others.
You can also get higher force rubber domes or lower force ones if you want. For the keyboards below, the "actuation" force ranges from 35g to 55g of average force.
Conclusion
Topre switches are a truly unique keyboard switch. They have their own distinct feel and sound.
Although they are pricier than most switches, they are incredibly satisfying to use and we recommend you all give them a shot. We think they are better than Cherry MX Brown switches, but they are also more expensive and don't last quite as long, so there is definitely a trade-off.
We also went over some of our top picks of keyboards with Topre keyboards such as the Happy Hacking Keyboard, Cooler Master Novatouch, Leopold FC660C/980C, Epomaker NiZ Plum, and Realforce RGB.
Any of these picks will leave you with an awesome topre keyboard, regardless of if they are a clone or genuine Topre switch.