ABS and PBT plastic are the two most common plastics used in the manufacturing of keycaps. Both types of plastic have a different feel, sound, and look to them. We'll go over what the differences are, and which one is better.
ABS keycaps are the cheapest and most common plastic used for keycaps. PBT plastic is less common but is usually higher quality than ABS. ABS keycaps feel smooth and develop a greasy shine over time, while PBT keycaps feel textured and are more durable.
As you can see, PBT keycaps are usually better, but in some situations ABS keycaps can be superior. We'll go more in detail about the main differences between the two and some other interesting keycap variations. For keycap recommendations, check out this post.
What are ABS Keycaps?
Acrylonitrile Butadiene Styrene(ABS) is a copolymer plastic that is commonly used in the production of keycaps for keyboards. ABS plastic is used because it is durable and resistant, but cheap to produce. It is impact resistant, so it can withstand millions of keystrokes before cracking or breaking. One of the downsides to ABS is that overtime it wears down. It's not uncommon that after heavy use, an ABS keycap will have the lettering start to fade away and the keycap will start to thin.
ABS keycaps have a smooth texture. The texture can be nice to glide your fingers across the keyboard. This comes at a cost though, because cheap and poorly manufactured ABS keycaps will develop a greasy/shiny look to it after usage. This is because the plastic gradually changes color from exposure to UV rays. ABS keycaps tend to be thinner, but it is possible to buy high quality, thick ABS keycaps for a slight increase in price.
Most ABS keycaps are made through injection molding to form the shape of the keycap. Afterwards, the legends are printed on the keycaps through several different processes, depending on the manufacturer. The most common ways are though pad printing, laser marking, and engraving.
Most mechanical keyboards come with relatively cheap ABS keycaps installed, but there are nice and expensive sets available online. Some of the more expensive sets include sets such as GMK Samurai for a higher-end price, available on Amazon. These expensive keycaps sets usually have a thicker plastic and come with custom designs on them.
What are PBT Keycaps?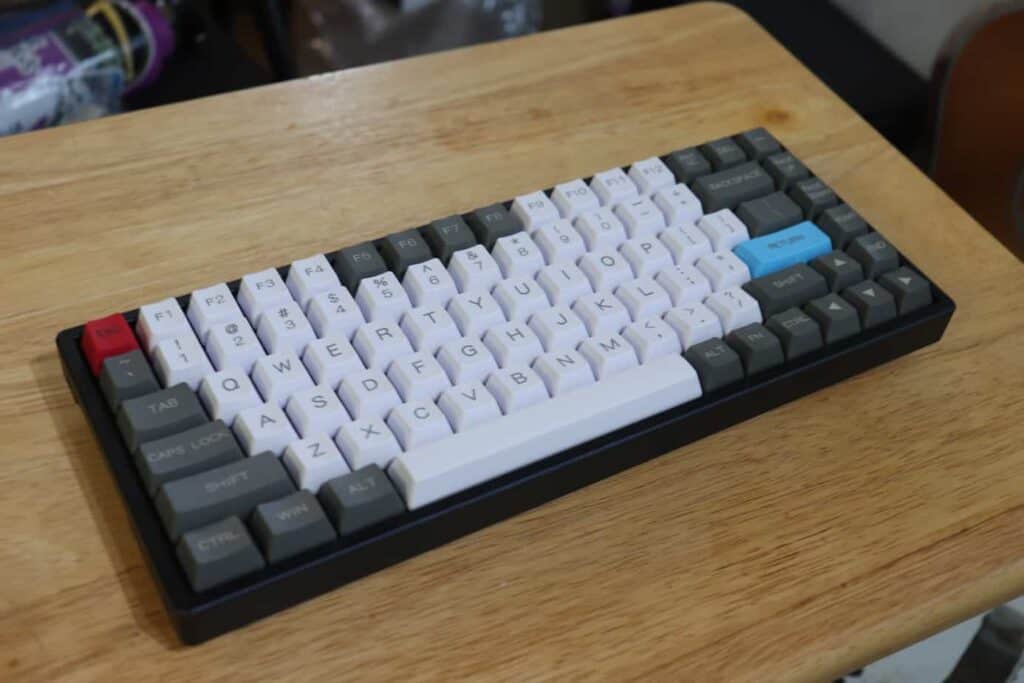 Polybutylene Terephthalate (PBT) keycaps is a less common material to find used in keycaps. PBT is usually more expensive to source and produce, so for a lot of keyboards you'll either have to buy them separately or pay a markup. PBT is more rigid and brittle than ABS so it wears down less overtime, this also is makes it so much more difficult to shape and produce. You can use PBT keycaps for a long period of time before they show any sign of deterioration.
The defining properties of PBT keycaps are the textured, sometimes sandy, feel to them. Usually more expensive PBT keycaps will have a nicer texture than the cheaper versions. PBT keycaps are matte and not very shiny. They also tend to be thicker.
ABS vs PBT
| | |
| --- | --- |
| ABS Keycaps | PBT Keycaps |
| Usually Cheaper | More Expensive |
| Shiny/Greasy | Matte |
| Smooth | Textured |
| Thinner (Not always) | Thicker |
| Quieter when typing | Louder when typing |
| Flexible | Brittle |
| Wears Over Time | More Durable |
Now that we've gone over each of the different plastic types, let's talk about the biggest differences between ABS and PBT.
Cost
Usually PBT keycaps will be more expensive than ABS. This is due to the fact that PBT keycaps are much more difficult to produce, because the material is harder to form into the proper keycap shape during the injection molding process. Some ABS keycaps can cost more than PBT, but that's generally due to a thicker ABS keycap design with some fancy designs on the legends.
Texture
ABS keycaps are smooth and shiny, while PBT is textured and matte. This is due to the different plastic material and compounds used in each type. Some ABS keycaps don't get the shiny look to them if they are higher quality, so just make sure to test them out first before buying.
Thickness
PBT keycaps are usually thicker than ABS. This depends on which keycap set you are buying. In some situations, you can buy a thick ABS keycap set.
Material
PBT keycaps are made from a different plastic type that is more brittle, durable, and textured than ABS.
Sound
From my experience using PBT keycaps, I've found them to have a different sound when typing. They are usually slightly louder than ABS keycaps, but the sound is crisper and cleaner. Sine the material is more rigid and thick, the keycaps themselves don't vibrate as much, which makes for the more crisp sound.
It's Up to Your Personal Taste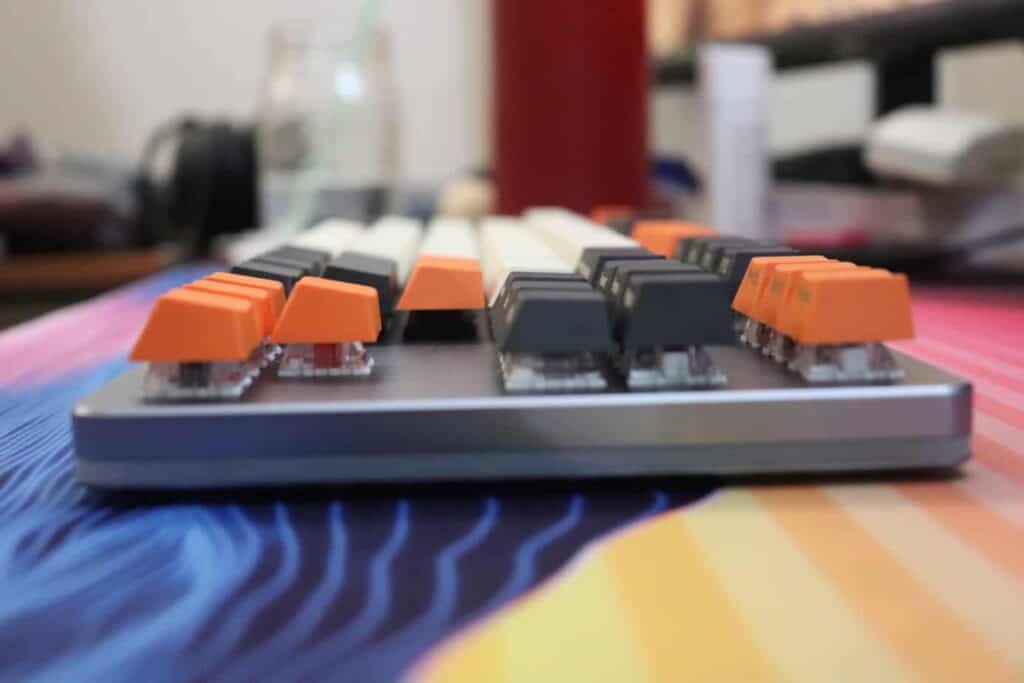 While PBT keycaps are generally considered superior to ABS, you can decide for yourself which type you prefer. Some people cannot stand the sandy textured feel of PBT keycaps, or they don't enjoy the matte color. It's totally normal to prefer the smooth and shiny ABS plastic. At the end of the day it comes down to personal preference and whatever you think looks more aesthetic and feels better. Both options have lots of higher end keycaps available, so you can get fancy keycaps regardless of the plastic type.
What are Doubleshot Keycaps?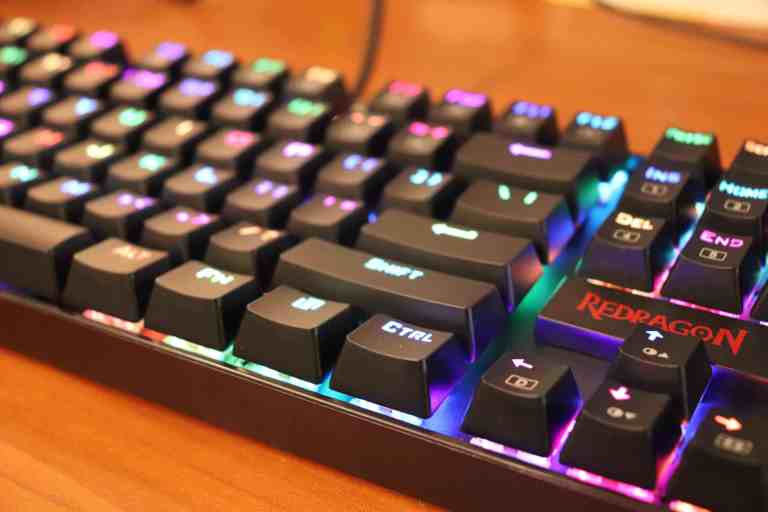 Double shot keycaps are made from a more complicated manufacturing process where two separate plastics are injection molded to make the keycap. Doubleshot keycaps are produced this way so that lighting can shine through the legends. If your keyboard has lighting for each individual key, these styles of keycaps are usually used so the backlighting can illuminate the legends and make them easier to read. Double shot keycaps are available in both PBT and ABS plastics.
What are Pudding Keycaps?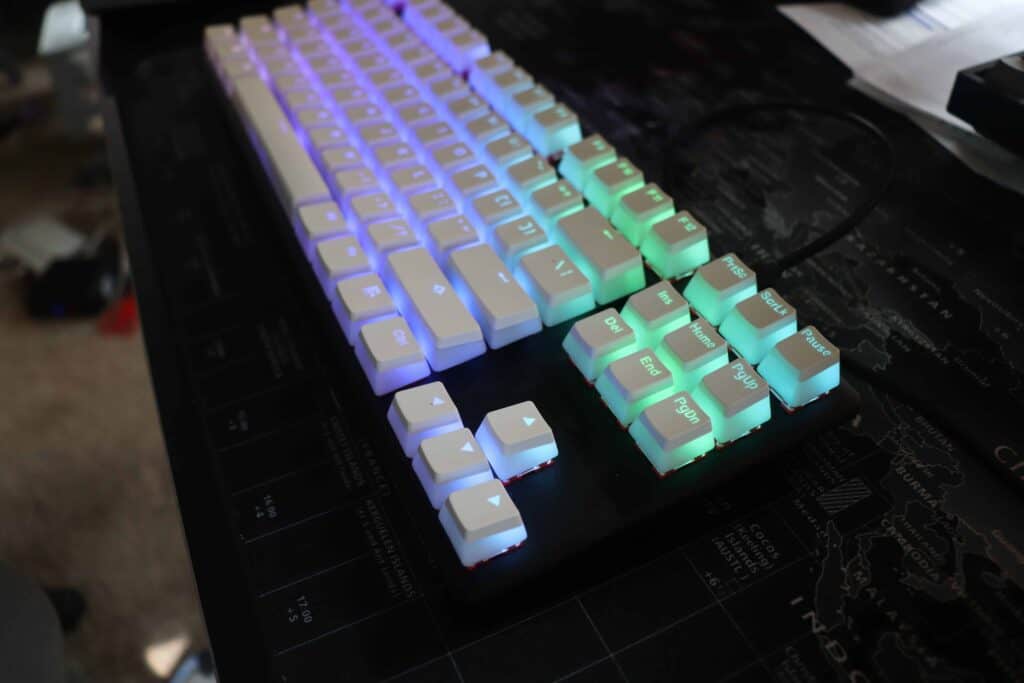 Pudding keycaps are a way to really show off your keyboard's lighting. These are also doubleshot, but instead of just illuminating the legends, the light can also shine through the sides of the keycaps as well. This makes for some awesome looking keyboard set-ups. Some of our favorite pudding keycaps are by HyperX, they are quite affordable and are a nice upgrade for any mechanical keyboard.
Keycap Profiles
Keycap profiles are another important aspect of keycaps to understand. The profile refers to the overall shape and height of the keycap. There are dozens of different profiles, so you can test them out to figure out what feels the best. Here is our full guide on keycap profiles.
Conclusion
Overall, there are a lot of differences between PBT and ABS keycaps. PBT are considered to be superior, since they are more durable and don't develop a shiny look to them over time. That being said, there are some really nice ABS keycaps sets available and at the end of the day, it comes down to user preference. It's up to you to decide which type you think is better, but if you want my opinion, it's PBT all the way. Unless I'm able to finally get my hands on those GMK camping keycaps.
Happy Typing!