The Razer Huntsman TE (Tournament Edition) is a tenkeyless (TKL) mechanical keyboard that Razer produced as an alternative to the Blackwidow. There are many new features about this keyboard that gives you advantages over your opponent's when gaming.
We'll go over the features, pricing, and what we like and dislike about this keyboard to give you an honest review of the product.
You can view the Huntsman TE on Amazon through this link.
A Razer Keyboard That Gives You Options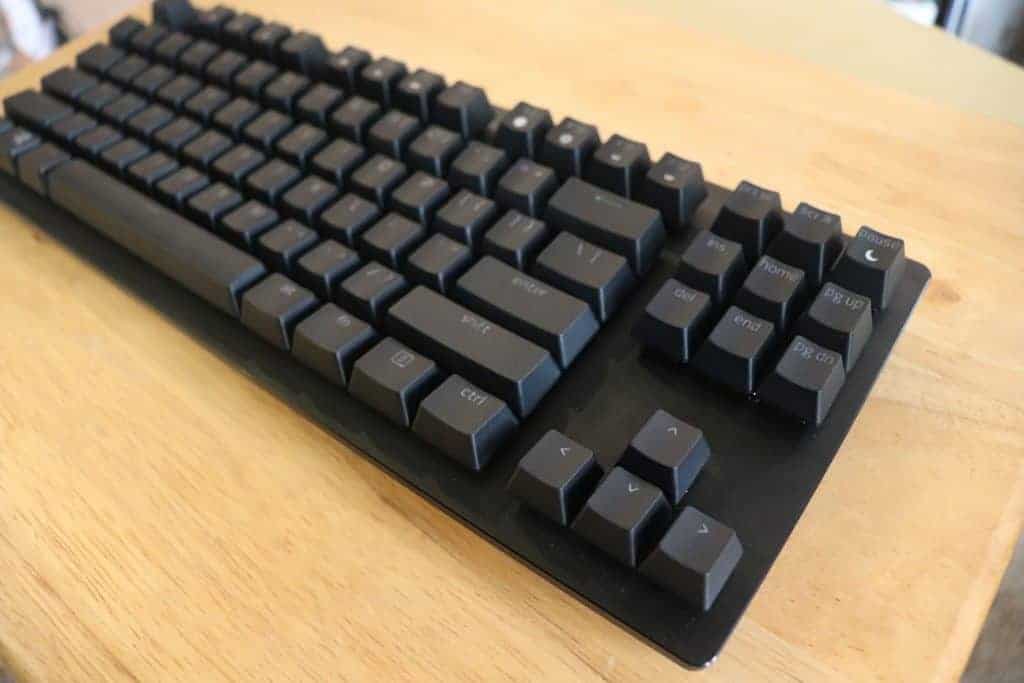 There are so many different mechanical keyboards to choose from and Razer has ton of product offerings. How do I know which one is the best for me to excel at my games and win over my opponents?
However, with the Razer Huntsman TE, many of the features found on the keyboard clearly are made for gamers. Rather than using a keyboard that's used primarily for typing to play games on, I can now play games on a keyboard made just for it.
Unlike the Blackwidow, the Razer Huntsman has optical switches, PBT keycaps, a detachable USB-C cable, and a standard layout. All of these will be looked at further into the review, as well as why they matter.
An Honest Review of the Razer Huntsman TE
The Razer Huntsman TE claims that with its new optical switches that it separates the winners and the losers between high-level athletes in competitive games.
Within the box, you receive a braided detachable USB-C cable. Both ends come with protective caps that you can place back on when you transport the keyboard.
Like other Razer products, you also receive a Razer sticker to show off that you support their company or use their products.
And then of course, you get the keyboard itself. The packaging is clean and simple.
The Razer Huntsman TE is for people who are looking for an edge over others when it comes to situations where the smallest of seconds makes the biggest difference. It is for gamers, not for people who work in an office or work from home.
Even amongst gamers, it is geared more towards competitive games such as FPS games and PVP modes rather than casual games like farming games or role-playing games.
For those who do want to find a mechanical keyboard that is appropriate for working from the office or at home, there are other alternatives that we will talk about later as well.
Pros of the Razer Huntsman TE:
Compact layout that still allows dedicated access to arrow keys and navigational cluster
High-quality, thick, durable PBT keycaps with shine-through for RGB
Detachable USB-C cable for improved portability and overall durability
Optical switches that are the fastest on the market to improve response times
RGB lighting and macros that can be customized through Razer Synapse
Macro profiles can be saved onto onboard memory after closing Razer Synapse
Two dual-angle adjustable kickstands to customized angle
Cons of the Razer Huntsman TE:
Razer Synapse is a bulky software that MUST remain open on the computer to allow custom RGB profiles
Loud and rattily stabilizers on the bigger keys makes it hard to be around other people when in use
Primarily plastic build, which lacks sturdiness and heft
Thin metal top plate, much thinner than other keyboards out there
Floating keycap design lets dust and hair get stuck under keycaps quick
What the Razer Huntsman TE Has to Offer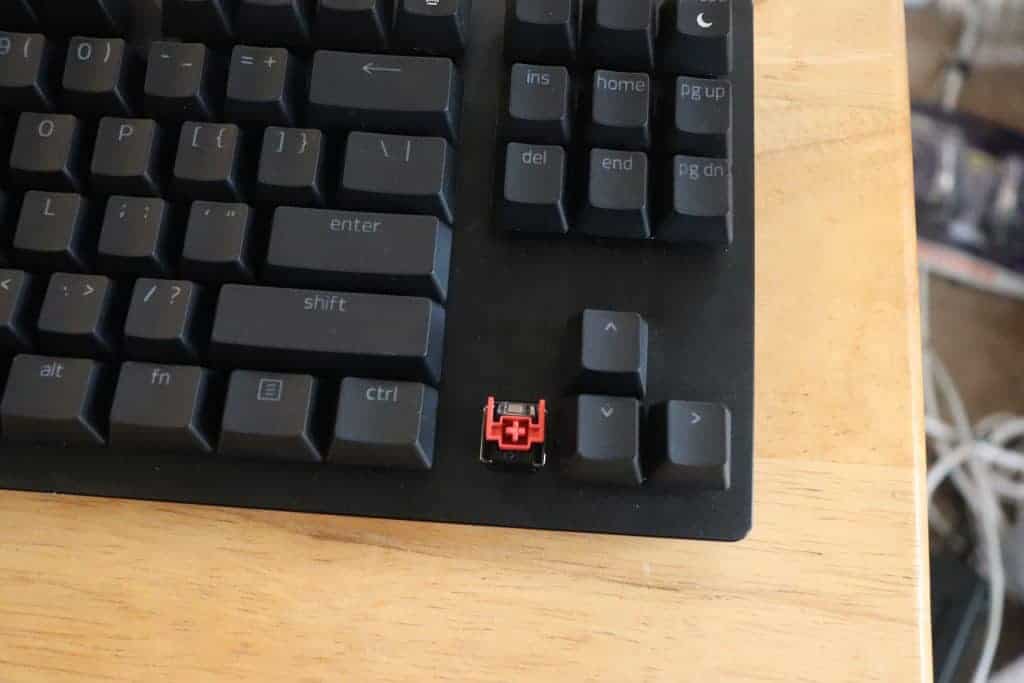 Razer Optical Switches
Razer's new optical switches actuate via light rather than through an electrical contact. When these switches are pressed, they cross a light that then tells the PC that a keypress was registered.
They offer two new switches: Optical Reds and Optical Purples.
Optical Reds are a linear switch that has no tactile bump. It is consistent throughout to prevent distractions while gaming because every little distraction matters. They actuate at 1.0mm with 40g of force. These are the more quiet switches between the two.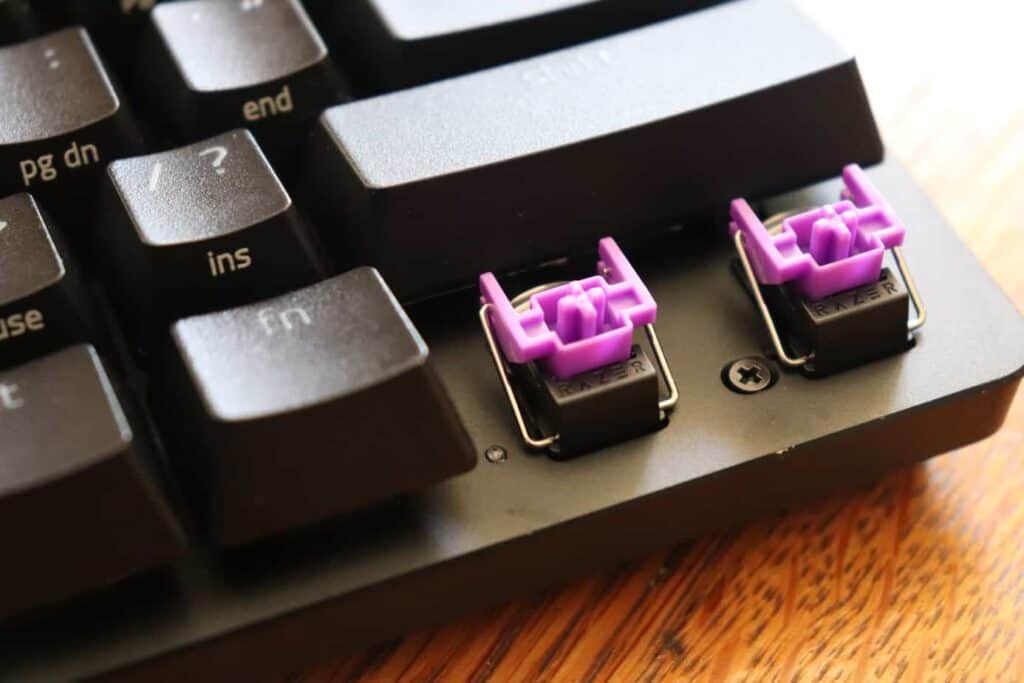 Optical Purples are a clicky switch with an audible click and a tactile bump. They actuate at 1.5mm with 45g of force. This makes it slightly "slower" than the reds. However, if you are a gamer that loves to hear your keyboard while gaming, this is the switch to pick.
With these optical switches with low actuation distance and light force, your fingers are less prone to fatigue. When keys are pressed, they can bounce up quickly to be repressed if your games have those situations where a certain key needs to be pressed many times within a small time frame.
Doubleshot PBT Keycaps
Doubleshot means that the keycap is made out of two different injections of plastic: one for the keycap itself and then one layer for the legends (the letter or symbol) on the keycap so that RGB can shine through.
It is a more high-quality and durable plastic than stock ABS-plastic keycaps that most keyboards come with. The Razer Huntsman TE keycaps are also much thicker than other stock keycaps from other companies. This allows it to sound better and also feel better.
The keycaps are slightly rough and textured. To some, this may feel strange. Others like having that roughness on their keycaps.
The doubleshot legends means that they will not disappear over years and years of use unlike laser-etched legends.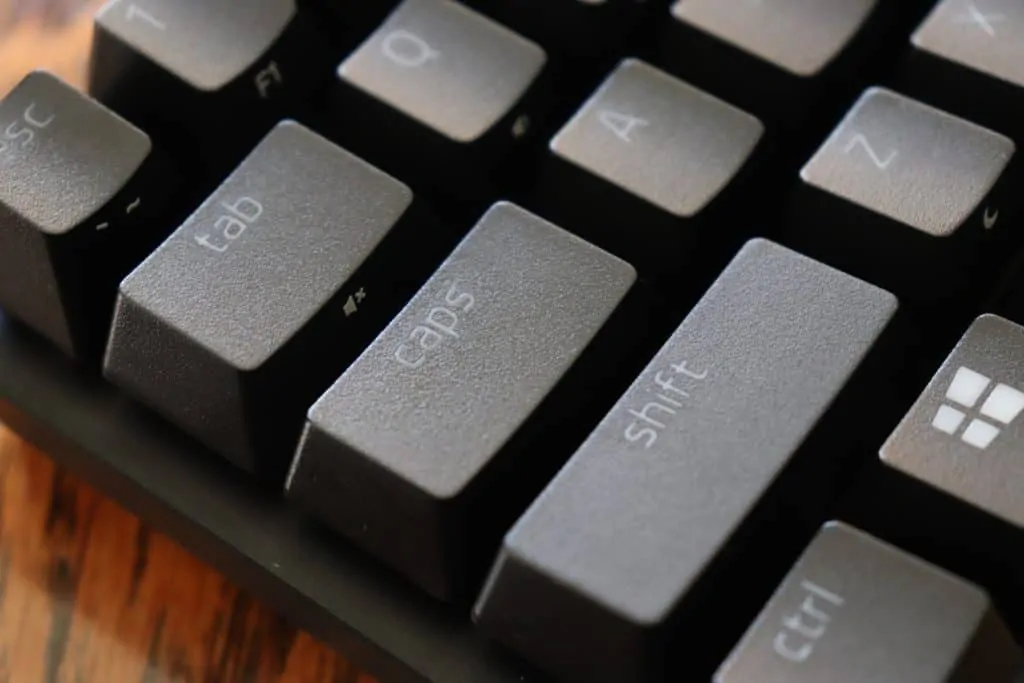 Onboard Memory to Store Profiles
The Huntsman TE comes with onboard memory, and this allows you to create and customize macros and key remapping on your keyboard to give you that competitive edge over others.
Unfortunately, this onboard memory does not store custom RGB profiles. In order to use custom RGB profiles, you must have Razer Synapse open. This is a big downside because the program is quite big.
The keyboard comes with a default lighting mode: spectrum cycling. It's a nice-looking effect, but it may not match with everyone's gaming setup.
Tenkeyless Layout
This compact form factor is perfect for people who actually do not use their number pad at all. The number pad takes up a lot of space on a desk and intrudes into the space that the mouse needs to perform properly.
It also helps with overall comfort to have your mouse arm closer to your keyboard, so you don't have to reach out as far.
It also looks much cleaner on a desk setup to have a compact keyboard.
This is a standard layout, which means that if you do decide to change the keycaps later on to aftermarket keycaps such as fancy higher-end keycaps with different color combinations, it's possible to do so without thinking too hard about whether it'll be compatible or not.
The standard layout and cross-shaped stems on the switches means most, if not all, keycap sets will be compatible with this keyboard.
If dedicated arrow keys and a navigational cluster are not high on your priority list, the little brother of the Huntsman TE, the Huntsman Mini is a 60% keyboard that is worth looking at for a more sleek and compact setup.
Detachable USB-C Cable
The cable that comes with the keyboard is a braided USB-C cable. That color that it comes with will match the color that you pick for your keyboard.
Having a detachable cable is very convenient because then you don't have to worry about the wire breaking and incapacitating your keyboard forever. It's also possible to use custom cables, some of which have nice coils or custom colors.
Opinions From Gamers
Many gamers swear by using these "fast" optical switches. Compared to regular mechanical switches, the latency is decreased and feels to be the difference between winning and losing.
Even people within the mechanical keyboard enthusiast community see this mechanical keyboard from Razer to be their best one yet. The reason is that Razer is listening to its community and making changes to their keyboards to reflect these requests such as the PBT keycaps, detachable USB-C cable, standard layouts, and clean and simple legends and design.
There are some who question how fast the optical switches really are. Many people think Razer is just trying to market a faster alternative to mechanical switches, when in reality they feel the same. Either way, we appreciate Razer's effort to try and innovate in the mechanical keyboard field.
Keyboards Similar to the Razer Huntsman TE
Some alternatives to the Razer Huntsman TE are the HyperX Alloy Origins Core, the Durgod K320 TKL, and the Drop CTRL. Each one has its benefits and differences as well.
Budget Alternative: HyperX Alloy Origins Core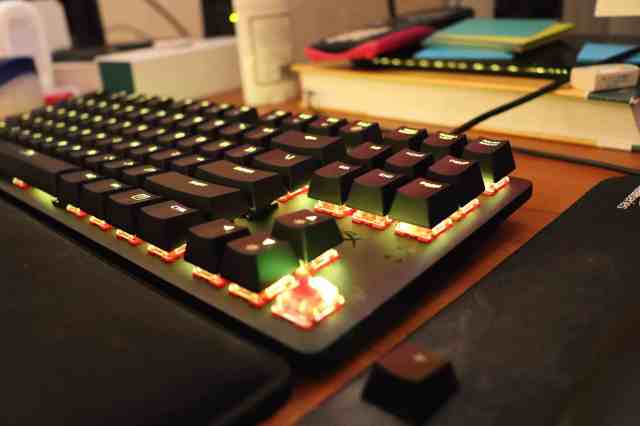 For a more budget gaming mechanical keyboard, the HyperX Alloy Origins Core is an awesome option. It has a TKL layout, a detachable USB-C cable, and software to customize RGB and macros.
It features HyperX Red (linears) or HyperX Aquas (tactile) switches which are both lightweight and actuate quickly.
This keyboard has ABS shine through keycaps that has a matte finish. They do accumulate fingerprints quicker, but HyperX also allows you to purchase a keycap upgrade kit to pudding PBT keycaps in either black or white.
The Alloy Origins Core is great for gamers without breaking the bank. Check it out here on Amazon for an affordable price.
Simple and No-Frills Alternative: Durgod Taurus K320 TKL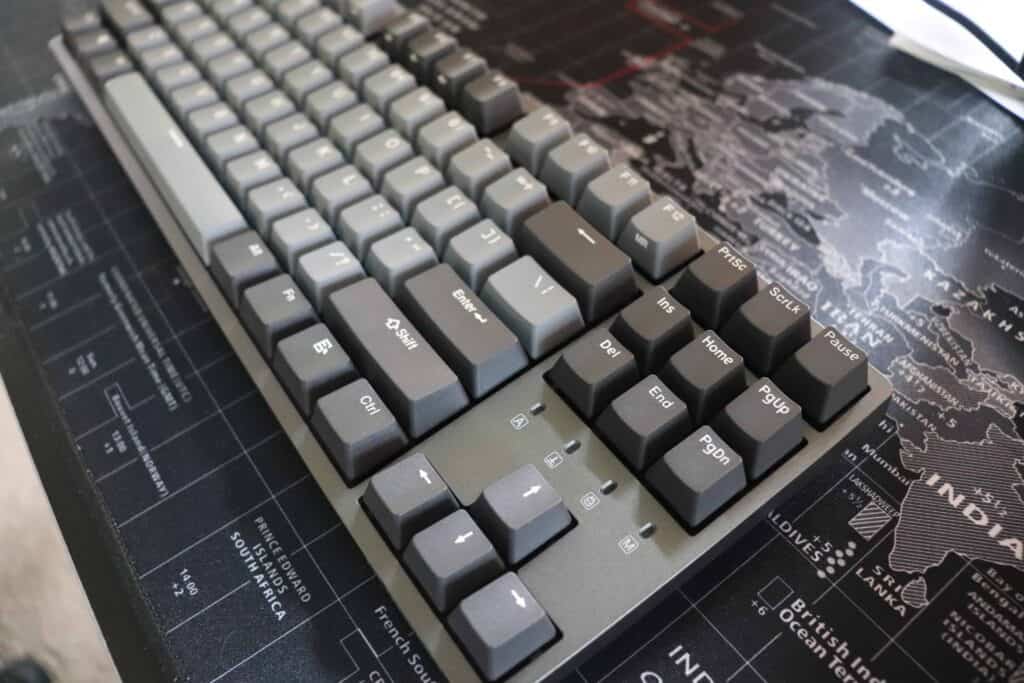 The Durgod K320 TKL does not have RGB lighting, but it does come with nice PBT keycaps that have simple and professional legends.
It also has a detachable USB-C cable and software to remap macros or keys. Durgod has made alternatives such as the Corona, with white backlight, and the Nebula, with RGB lighting. However, these cost a bit more.
The Durgod K320 comes with a variety of different Cherry MX switch options. For more information on Cherry MX, see our in-depth Cherry MX switch guide for sound tests too.
This keyboard is extremely comfortable to type on and comes with different case and keycap colors, all very neutral with different tones of greys, whites, and blacks to fit your professional look.
Check out more information on this keyboard on Amazon here.
Drop CTRL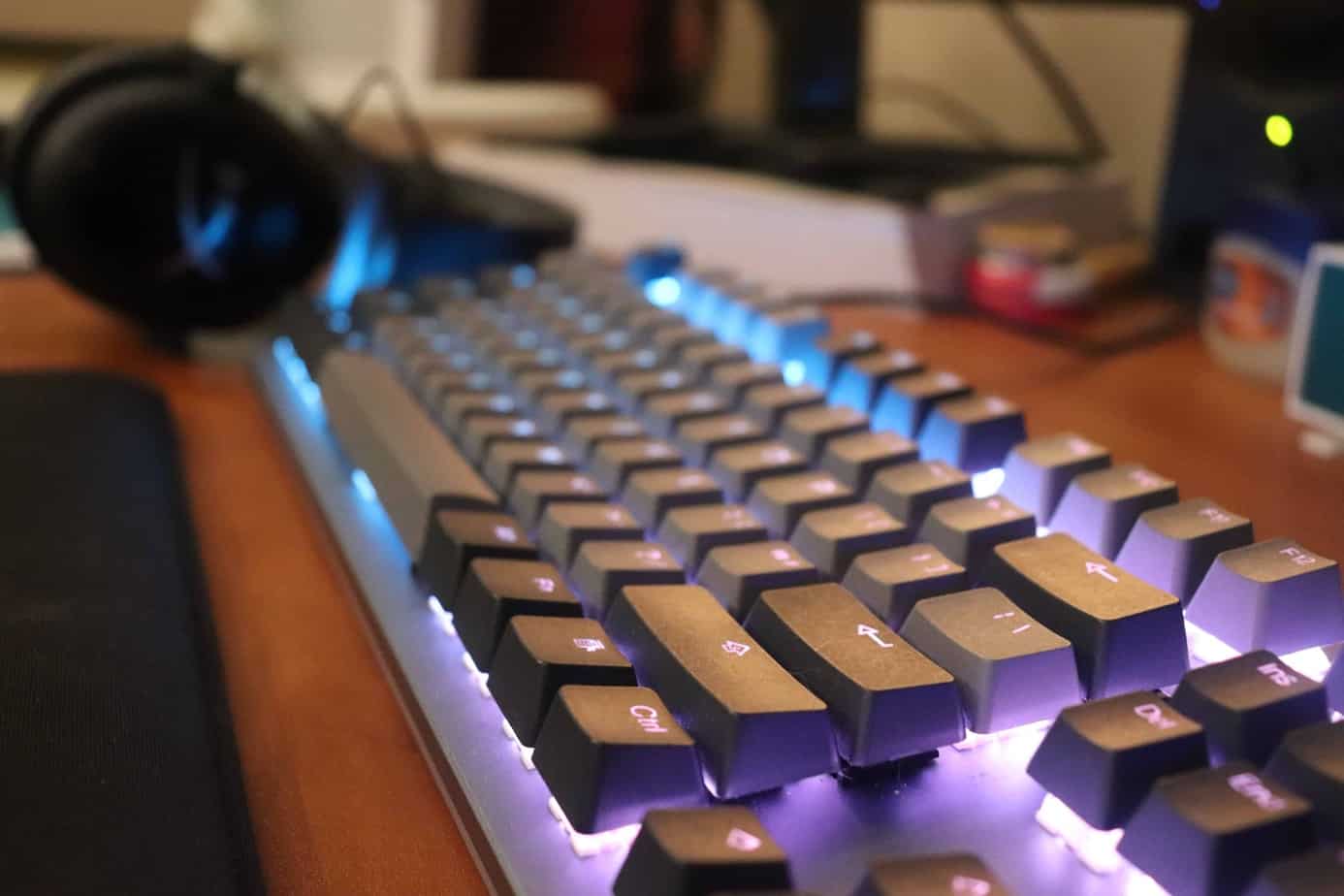 The Drop CTRL is a much more expensive TKL mechanical keyboard. However, a benefit it has is that it is hotswappable. This means that you can replace the switches easily and quickly without desoldering and soldering via just pulling the switches out and pushing new ones back in.
This lets you explore different switch options before settling down on the perfect switch for you. It has RGB, floating keycaps, a full aluminum frame for sturdiness and durability.
Out of all of the alternatives, it is the only one with a full aluminum frame with no plastic on it.
It also has side lighting around the entire perimeter of the keyboard for those looking to spice up their desk setup.
The keycaps are PBT doubleshot shine through with two-toned grey and dark grey. The keyboard also lets you pick switches from Kailh or Cherry. However, you're not limited to these. You can buy the barebones Drop CTRL with no keycaps or switches, and just buy your own to customize it even more.
To check out the Drop CTRL on Amazon, see it here.
For more options for mechanical keyboards that are similar to the Razer Huntsman TE, see this post.
Things to Consider Before Buying a Mechanical Keyboard
Mechanical keyboards are typically geared towards gamers because of their noise and overall aesthetic with RGB lighting and gamer fonts on the keycaps. However, not all mechanical keyboards need to be loud, clicky, and brightly colored.
Before buying a mechanical keyboard, it is recommended to look at the mechanical keyboard layout, size, switches, and overall experience.
Switches
There are many different kinds of switches that can come in a mechanical keyboard. These switches come in three types: linear, clicky, or tactile.
The three main switch types, Linear vs Tactile vs Clicky:
Linear: Smooth and consistent keystroke with a quiet noise.
Tactile: A small bump on each keystroke with a moderate noise.
Clicky: A small bump on each keystroke with a loud click noise.
Depending on the activity you are doing with your keyboard, you may want to pick a specific switch type.
For example, many people find it easier to game with linear switches because the bump distracts them from their gameplay.
For typing, many prefer tactile switches because they are quiet yet have a bump to signify the letter has been pressed, and it's time to move onto the next letter.
Clicky switches are for people who want a tactile bump but also enjoy hearing their keyboard sounds while using it.
For more information on linear vs tactile vs clicky switches, you can read more in this article. 
Layout and Size
Mechanical keyboards come in all different sizes ranging from a small and compact size to a full-size keyboard, with the number pad.
Having a tenkeyless layout means that the keyboard has no number pad. For people who need the number pad to complete work or drive vehicles within games, this might be an issue.
A smaller compact layout such as TKL or even smaller is beneficial because it leaves more room for your mouse to move and aim while in-game.
For a brief explanation, we will cover the main sizes here in this infographic. To read more about different keyboard sizes, see this article. 
Conclusion
The Razer Huntsman TE is a mechanical keyboard geared towards gamers. However, Razer adds that extra flair by allowing users to customize their keyboard even more through having a standard layout that lets you change keycaps as you want to or having a detachable USB-C cable that you can change to a custom coiled on.
It also has advantages for gamers with the new optical switches that react faster than any other switch on the market.
The RGB light is amazing, the keycaps are durable, and the cable is braided and high-quality. Overall, Razer really stepped it up with this keyboard model.
The main downside to this keyboard was the typing experience was pretty lackluster. Typing on the optical linear switches was quite uncomfortable and very loud, not to mention the stabilizers were a bit funky.
If you are interested in learning more or checking it out, see it on Amazon for an affordable price here.
If you can find it on sale, it's a great deal! We did, and we added it to our best mechanical keyboards under $100.