If you have been searching for a mechanical keyboard with an optimal typing experience, you're in the right place.
After months of working through dozens of keyboards, we've been able to hone in our list of favorite mechanical keyboards, all tried and tested by yours truly.
Here are our favorites.
---
Best Mechanical Keyboards For Typing – Our Top Picks
---
Now that we've given you an idea of our top picks, we'll explain why they have earned their place on this list.
We'll give you the full story, the good, the bad, and the ugly.
If you want more information, we have a full review on each product that you can read as well.
1. Varmilo VA87M: Our Favorite Pick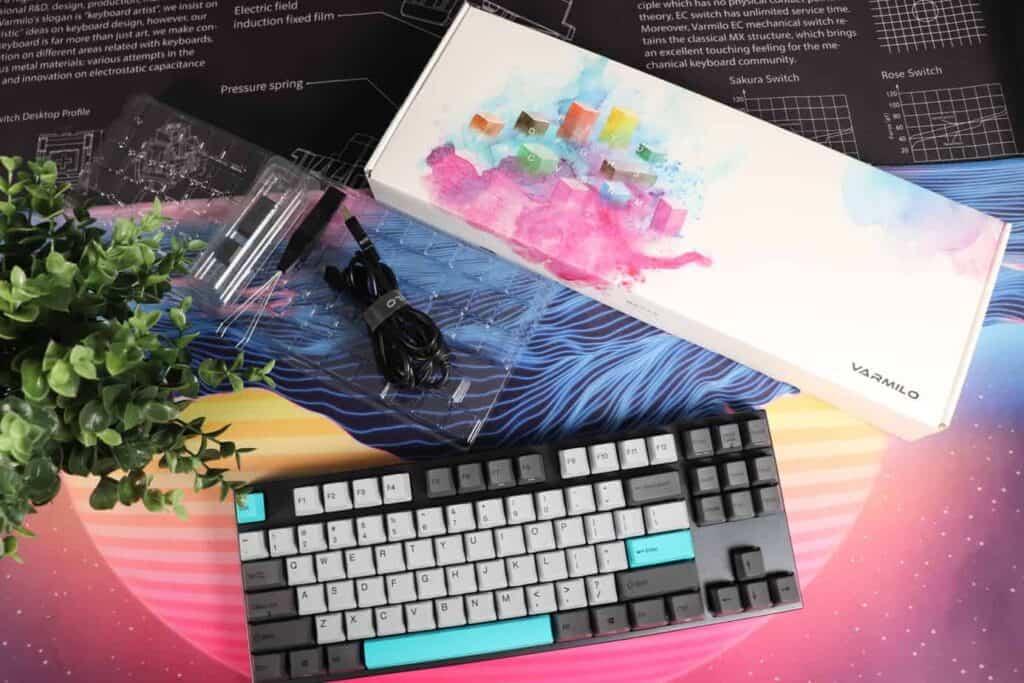 To start off this list we have the Varmilo VA87M, a keyboard well-known for its stellar typing experience right out of the box.
Though a simple keyboard without high tech features, the Varmilo VA87M delivers comfort and consistency for the long hours you will spend typing away.
One of the coolest things about this keyboard model is that there are tons of design options. The bright colors and graphics on the Varmilo VA87M are eye-catching and fun.
I recommend checking out the all of options just to see how creative they are, here are our favorites:
The keycaps are made of ultra-durable PBT plastic, so they will retain their texture with extended use.
On the model I have, there is white backlighting that shines through the keys, but not all of the versions are backlit.
The keycaps are sculpted in Cherry profile, which I personally like best as it is more comfortable on the hands/fingers when typing. If you want to learn more about keycaps and profiles, check out our whole article on the topic here.
What makes the user experience so great on this keyboard?
Well, it starts with the build. The Varmilo VA87M has a metal plate in the middle of the solid plastic case, so there is absolutely no flex during use.
The stabilizers are some of the best I've ever used, requiring no lubing or modding on my end. I can tell that they have been factory-lubed, which results in the rattle-free typing.
With tons of Cherry MX switch options, this keyboard can be customized to get the exact feel you are looking for.
It is rare to find a keyboard with this many options; the full range offered is: Black, Brown, Red, Blue, Clear, Silent Red, Silent Black, and Silver.
I heard a slight pinging of the switches, but it was hardly noticeable and much quieter than on other keyboards.
A (forgivable) downside to this keyboard is the Mini-USB port, I would have preferred it to be USB-C. The port is located on the back of the keyboard, with a cable-routing system to divert the cable in a way that suits your desk setup.
All-in-all, the Varmilo VA87M will not disappoint.
This keyboard has an excellent reputation in the mechanical keyboard community, and the endless customization options for both looks and feel will ensure you find exactly what you're looking for.
2. Durgod Taurus K320: Best TKL Keyboard For Typing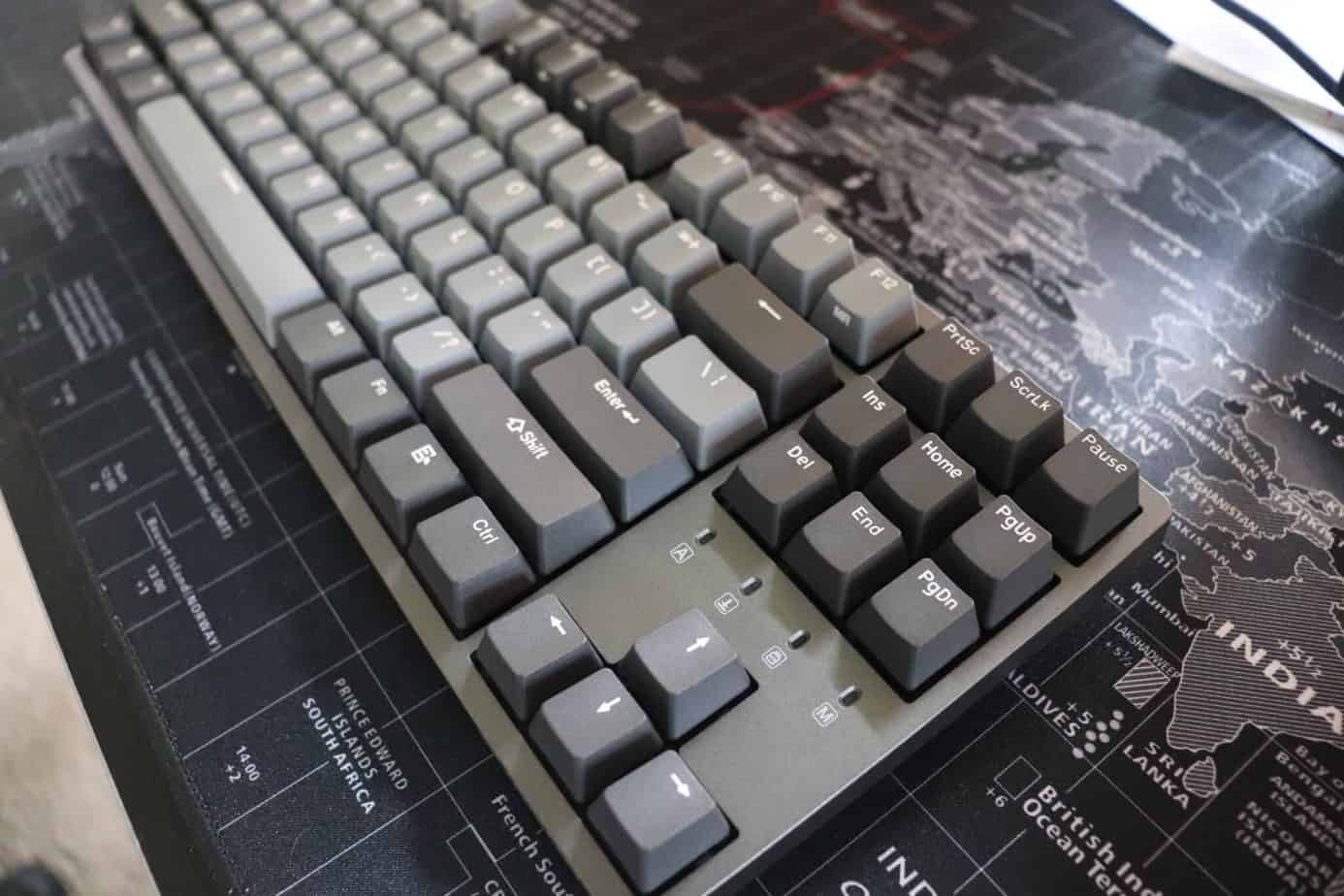 Under $100, the next keyboard we have is the Durgod K320. This tenkeyless keyboard embodies the "no-frills" concept, with a straightforward design and superb typing experience.
The Durgod K320 I own has an attractive two-tone grey design with white legends (colorway name is space grey).
The keycaps are made of a smooth PBT plastic, and the high contrast between the keycaps and the legends allows for great visibility even with a lack of backlighting.
This keyboard is in Cherry profile, often the preferred profile for typists due to the ergonomics and relief it offers for prolonged typing.
If backlighting is something you would prefer though, there are other versions of the K320 with this feature, but it will come with a higher price tag.
There is an all-black version with RGB lighting and space grey with white backlighting. The options without backlighting are space grey, white/grey, and blue/grey.
You won't experience any give to this keyboard if you try to bend it, the aluminum plate built-in reinforces its sturdiness. On the bottom of the keyboard, there are kickstands with two height adjustments if you would like to change the height/angle.
Similar to the previous keyboard, the Durgod K320 has plenty of Cherry MX switch options to choose from: Black, Blue, Clear, Red, Silent Red, Silent Black, Speed Silver, and White.
Cherry MX switches are the original mechanical switch design and always guarantee quality and durability.
Great stabilizers are essential for smooth typing, and the Durgod K320 does not let down. The stabilizers are excellent and contribute to a satisfying "thocc" sound when you press keys.
The Durgod K320 comes with two USB cables (USB-C to USB-C and USB-C to USB-A), which is helpful for Mac with newer laptop models.
While keycaps with Mac functions are not included, you can change the functions of keys via the Durgod Zeus Engine software. The software can also be used to control the RGB lighting effects if you opt for one of those versions of the Durgod K320.
Not only does the Durgod K320 look super sleek, but it also hits all of the marks for what makes a great typing experience.
Every component of the Durgod K320 is made with the highest quality, which is why this keyboard is cemented as one of our top picks for this list.
3. Ducky MIYA Pro: Best Mac Keyboard for Typing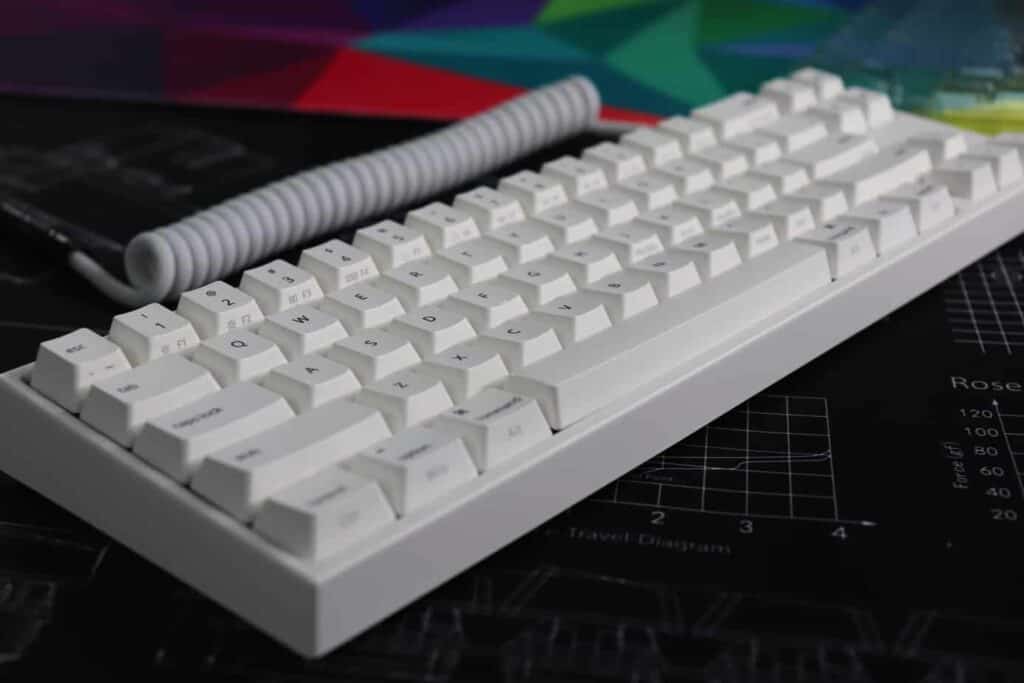 The next keyboard we have for you is the Ducky MIYA Pro.
As a collaboration between Ducky and Varmilo, the MIYA Pro brings the interesting designs and buttery smooth stabilizers found on Varmilo keyboards to combine with the powerful Ducky firmware.
The Ducky MIYA Pro is a 65% keyboard, so there are fewer keys in a more consolidated layout than found on the Varmilo VA87M. O
n many compact keyboards, it can take some adjustment to find the arrow keys, so I love how the Ducky MIYA has these keys slightly detached.
The keycaps are made of textured PBT, and the font of the legends will vary based on the design you choose. I have the Mac White LED color-way, so the design is super clean.
There are so many cool designs for this keyboard, so if you are looking for something unique and compact, definitely check out all the options.
A great switch variety is also offered with the MIYA Pro, you can choose between Cherry MX Black, Brown, Blue, Red, Clear, Silver, or Silent Red. Do note that the price may vary between the switch options given availability.
The stabilizers don't fail to impress either, they are super smooth coming pre-lubed from the factory. Though every keyboard on this list has great stabilizers, I can assure you that a large portion of mechanical keyboards out there tend to lack in this department.
Aside from mechanics that contribute to the typing feel, the Ducky MIYA Pro has exceptional functionality.
You are easily able to switch the mode of the keyboard and key functions, helpful for creating gaming configurations or to transition between Mac and Windows.
If the previous keyboards we discussed in this article seem too large for your desk set-up, definitely check out the Ducky MIYA Pro.
While I would eventually like to see an updated model with hot-swap or Bluetooth, the effortless typing experience of this keyboard alone justifies the purchase.
4. Das Keyboard 4C TKL: Best Utility Mechanical Keyboard For Typing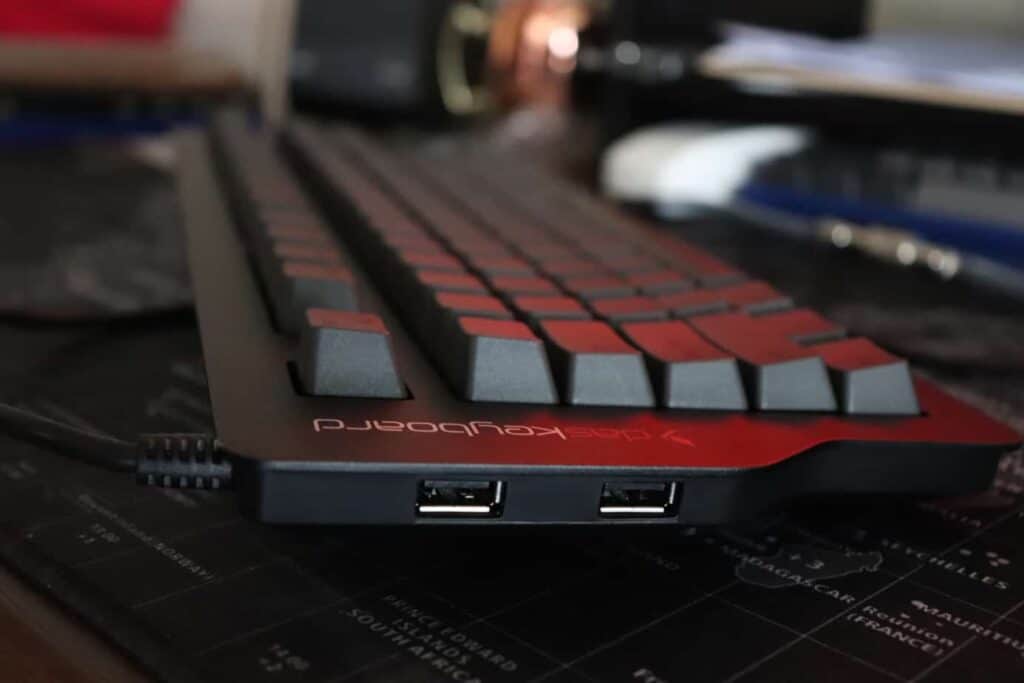 Coming in at a higher price point, the Das Keyboard 4C TKL offers some rare features in addition to its sturdy build and reliable Cherry MX Brown switches.
At first glance, you will notice the shape of this keyboard is a little different, as there is a section on the left side that juts out to accommodate two USB ports.
While I think it looks kind of strange, the usefulness of these readily-accessible ports outweighs the aesthetics. Having these two ports is great for charging your phone or plugging in other devices, so this feature really sets apart the Das Keyboard 4C TKL.
The thick aluminum top plate makes this keyboard super rigid, providing a nice stable base for typing.
With dark grey PBT keycaps and black legends, the visibility of keys is definitely limited on this keyboard.
In good lighting it is fine, but in dimmer light and the dark you will struggle to see the legends due to the low contrast and lack of backlighting.
The only switch type available is Cherry MX Brown, considered one of the best switch types for typing due to the tactility.
It is a bummer that only one type of switch is offered with the Das Keyboard 4C TKL, but Cherry MX Browns are a multi-purpose switch and favorited by many.
I can tell the stabilizers on this keyboard have been factory lubed, so they feel pretty nice. There is a slight rattle when larger keys are pressed, but the overall typing experience is appreciable.
I was a little disappointed with the non-detachable cable, especially given the high price point of this keyboard.
A detachable cable makes packing up and transporting the keyboard easier, but if you plan to just keep it on your desk at all times this will not be an issue for you.
A unique feature on this keyboard is the detachable red ruler that dually functions as a footbed. It attaches magnetically to raise the height of the keyboard, equipped with rubber feet to make sure there is no sliding on the desk.
I like how this added feature adds some personality to the keyboard, and you never know when it might come in handy!
The Das Keyboard 4C TKL stands apart from other keyboards due to its distinctive combination of features.
While there are some drawbacks such as the non-detachable cable and dark legends, I think this keyboard would be a great choice for someone looking for a no-fuss keyboard for work or school.
5. Leopold FC660M: Best Sound Dampened Keyboard For Typing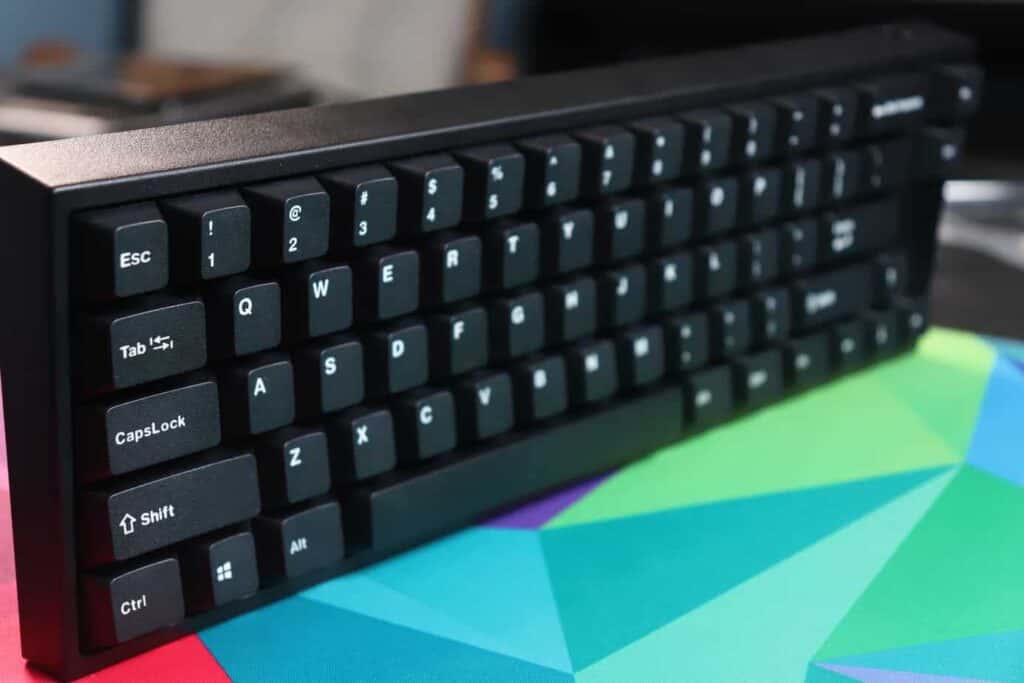 The Leopold FC660M is a keyboard that, despite its age, continues to be sought out for its novel typing experience.
This 65% keyboard may look pretty standard from the outside, but the keycap structure and smooth stabilizers make for super satisfying typing.
As an all-black keyboard with simple white legends, the Leopold FC660M is very professional and simple. The font of the legends is clear, and there are some sub-legends on the front-side of the keycaps to denote secondary functions.
The PBT keycaps on the Leopold FC660M stand out because they are built with a sound-dampening foam on the inside, which I found to really make a difference in the typing feel.
You can notice when pressing the spacebar especially, the foam gives it a little more weight and it is really satisfying.
The stabilizers feel great, despite not being lubed. I'm sure they would feel even better if you lubed them yourself, but it isn't necessary.
The switch options on the Leopold FC660M are Cherry MX Black, Blue, Brown, Red, and Silent Red.
Cherry MX switches have a lifespan of 100 million keystrokes, lasting years before you would need replacements.
This keyboard also has an array of DIP switches, which are really helpful because they allow you to change key placements without the use of software.
For example, if you would like to swap the Ctrl and Caps Lock, you would switch DIP 1 on.
Additionally, the Leopold FC660M comes with some extra keycaps to adjust the visual layout to go with the functional changes.
Some qualms I have with this keyboard have to do with the build.
The keyboard is pretty solid and inflexible, but the rubber feet on the kickstands kept coming off causing the keyboard to slide a bit when typing.
This keyboard also shows its age with the Mini USB port rather than USB-C, but this is a matter of convenience rather than actually affecting the keyboard use.
Even though the Leopold FC660M has some outdated components, I still believe it is a top contender as a typing keyboard due to the unique keycap foam.
If you are looking for a keyboard for the office or a home desk, definitely check out the Leopold FC660M.
6. Keychron K1: Best Low Profile Keyboard For Typing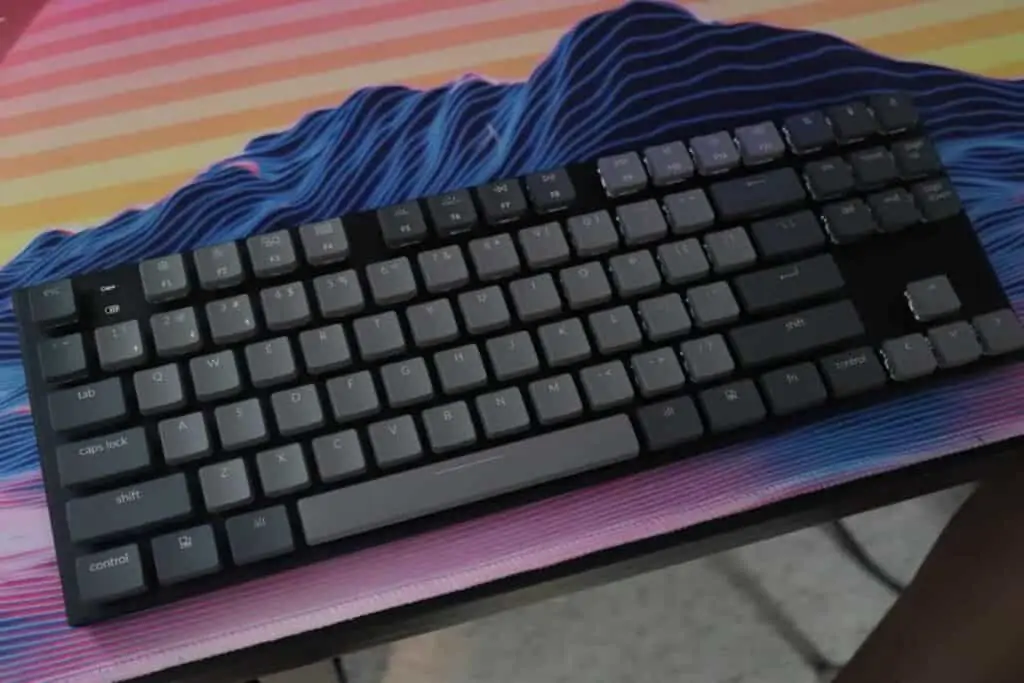 Next up we have the affordable, low-profile Keychron K1 (version 4).
I have to admit that the earliest versions of this keyboard were certainly lacking in quality, but the updates and work put in by Keychron have transformed this keyboard into a solid budget option.
Since the Keychron K1 is a budget keyboard, the keycaps are made of ABS plastic. While I typically notice oil accumulation soon after using a keyboard with ABS keycaps, on the K1 I did not notice any.
The keycaps are in a floating, two-tone grey design, the white legends having high visibility especially with the backlighting shining through. This keyboard has over 15 RGB lighting mode/effects that you can utilize, or you can keep it simple with white backlighting.
If you have ever used a Mac keyboard you know that the keycaps are spaced slightly apart, it is no different on the Keychron K1.
While I have no problem with this, some may have to adjust to the different layout. I found that some keys did not register if you failed to press directly in the middle of the keycap.
The switches available on the K1 are low-profile Gateron Blue, Brown, or Red, offering a choice of each feel (clicky, tactile, and linear respectively).
While Gateron switches are mimicked after Cherry MX, there are slight differences. I always prefer Cherry MX for their quality and durability, but Gateron switches are a great budget alternative.
The stabilizers on this keyboard are an unconventional low-profile plate-mounted style, which work nicely but limit modifications or adjustments.
One of the most desired qualities of the Keychron K1 is the Bluetooth capability.
Though the battery life is shorter on this keyboard (2000mAh) in comparison to other Keychron boards (4000mAh), you will still get a good 36 hours of use between charges. Helpfully there is a battery indicator light to warn when you need to plug it next.
On the top left side of the case, there are a series of switches, one to turn on Bluetooth/Cable/Off and one to switch between Mac and Windows. These switches allow for effortless transitions in how this keyboard is used.
If you are a Mac user, extra keycaps are included to make necessary changes to support the different key functions.
In addition to the battery indicator light, there is a Caps Lock indicator, a screenshot button, and a button to enable Siri/Cortana. Having all of these additional features expands the user experience and results in greater efficiency.
While this keyboard sits lower than most mechanical keyboards, there are no kickstands to heighten the angle. The K1 is built at a slight angle, but unfortunately, if you want to have it be higher you don't have any other options.
If you don't like the tall keycap style of traditional keyboards, this low-profile option by Keychron is an excellent budget keyboard that includes sought-after features of Bluetooth and RGB.
You can find the Keychron K1 on Amazon.
7. Realforce R2 TKL: Best Topre Keyboard For Typing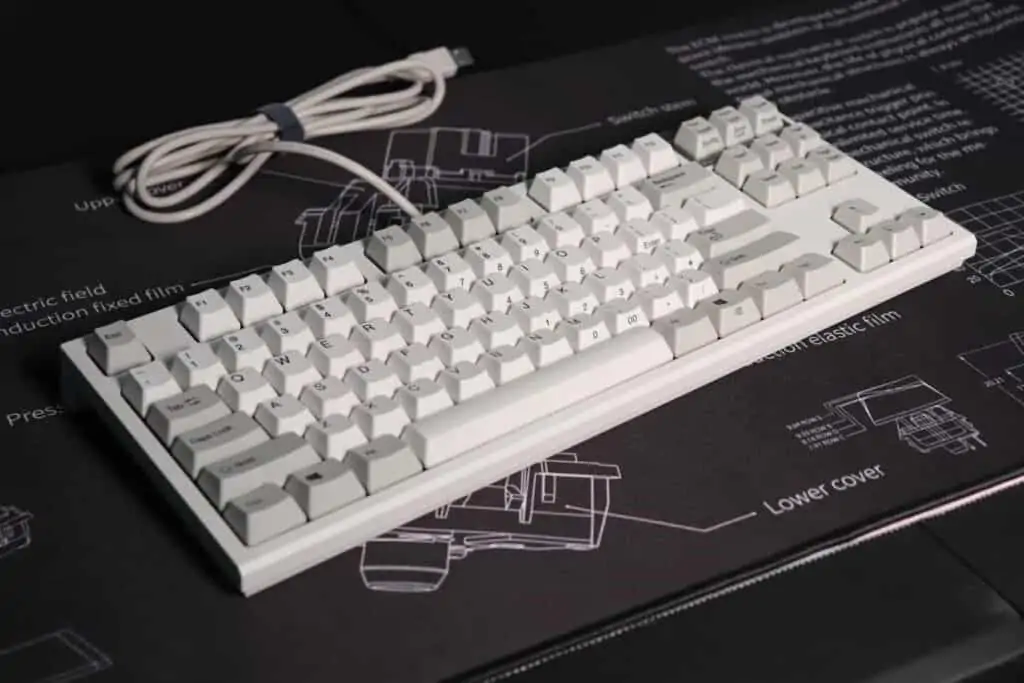 If you prefer Topre switches over the widely utilized mechanical switches, the Realforce R2 TKL might be the pick for you. This tenkeyless keyboard, while extremely pricey, offers an extraordinary build and the unique feel offered by the electro-capacitive switch design.
Unlike most keyboards that have a uniform, brick-like casing, the Realforce R2 TKL has a more interesting design. The all-plastic build is reinforced with a stainless steel plate, ensuring no flex.
There are a few aspects of the build that I do not like- this keyboard has a non-detachable cable and only one kickstand setting.
If this were a budget keyboard these shortcomings would be permissible, but with a high-end keyboard like the Realforce R2 TKL I expect better.
There is a cable management system to route the cables in a manner of your choosing, but I would still prefer a detachable cable.
I found the keycaps to be a great component of this keyboard.
They are made from dye-sublimated PBT, so they will be durable and retain their feel with use. The profile of the keycaps is interesting in that it is sort of a mix between Cherry and OEM, unlike any profile I've used because they are specifically designed to fit Topre switches.
The height of the keycaps is shorter, so your wrists won't experience much strain from typing. Aside from all of the positives about the keycaps, with close observation, I noticed a few imperfections in keycap shape, spacing, and peeling plastic.
The Topre switches are the main attraction when it comes to the Realforce R2 TKL, and I find the concept to be fascinating. Rather than the keys registering through the contact of the switch hitting a metal plate, with electro-capacitive switches there is a magnetic field that actuates keys when a certain level of compression is reached.
As an avid fan of mechanical switches, I personally don't love the rubbery feel of these switches. I enjoyed how tactile they were, but the typing wasn't as crisp as the experience with mechanical switches.
That being said, there are many people who altogether prefer this unique Topre feel for typing, so that is why I have included this keyboard on this list.
I have mixed feelings about the stabilizers on this keyboard.
I found the spacebar to be stable and satisfying to press, but the other large keys were lacking. The shift, enter, and backspace keys do not have stabilizers, so is rattling when I press these keys.
Whether you enjoy Topre switches is really a matter of personal preference, so I know the steep price point of the Realforce R2 TKL can really be worth it to some.
I personally think this keyboard is over-priced for what you are given, but the hype around Topre switches suggests they have formed a significant fan base in the keyboard community.
8. NiZ Plum Atom 68: Best Keyboard For The Fastest Typing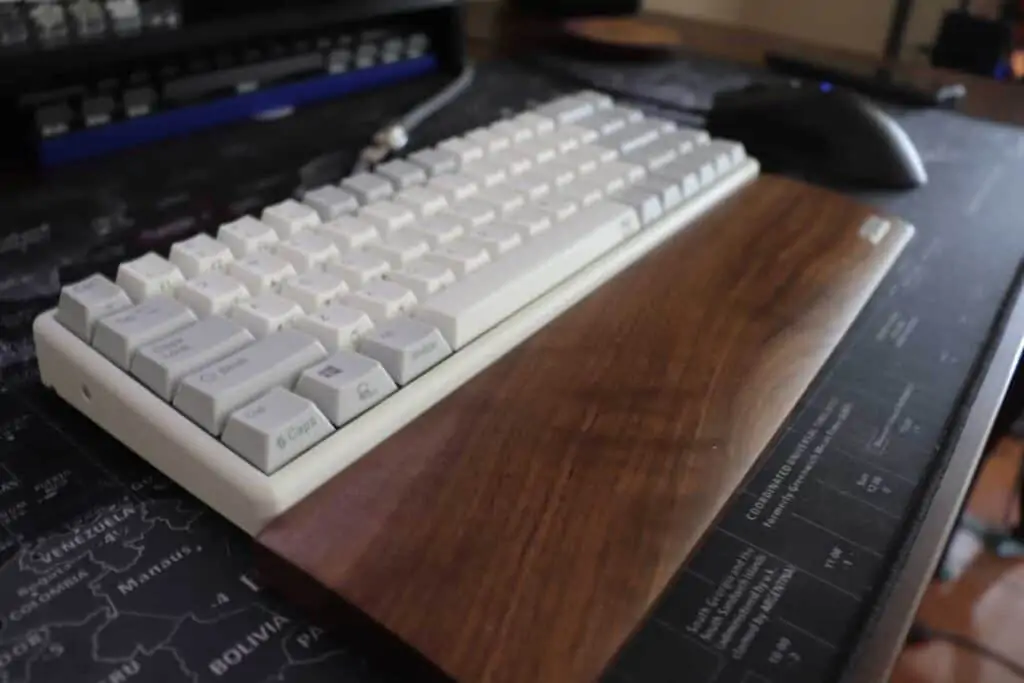 If the previous keyboard was too far outside your budget, the next keyboard we have for you is a more affordable alternative that still brings the coveted electro-capacitive switch design.
The Epomaker NiZ Plum Atom 68 is a 65% keyboard that will deliver a unique, high-quality typing experience that you are sure to enjoy.
The NiZ Plum Atom has an attractive, clean-looking grey and white design, with the keycaps sitting in a Cherry-like profile.
With this profile, comfort for your hands and wrists is maximized. There are also kickstands with two adjustment angles, allowing you to raise the keyboard height if preferred.
The USB port for this keyboard is in a bit of an inconvenient spot, integrated into the back of the keyboard. There is a cable routing system to direct the cable out to either side, but I would have rather had a simpler port on the outside of the case.
I do appreciate the USB cable itself though, it is braided and pretty long.
While the switches on the NiZ Plum operate via the electro-capacitive design, they are not Topre brand.
These clones have a pretty low spring force but are still tactile, which allows you to type quickly while making few mistakes. I really like how these switches feel, and they have a Cherry-style stem so almost any keycap set can be used with them.
The keycaps on the NiZ Plum Atom 68 are great though, made from PBT plastic and with helpful sublegends printed on the sides. There are a variety of functions that can be reached with this lower layer, including operating the mouse.
While the stabilizers on the NiZ Plum contribute to a pretty smooth typing experience, the hook-in Costar type creates a lot of frustration if you plan to remove your keycaps at any point.
This type of stabilizer requires a lot more effort to hook/unhook, and the process can become tedious. However, if you don't plan on taking off the keycaps, which many of you probably won't ever do, this will not be an issue.
I think this keyboard is a fantastic "entry" keyboard into the electro-capacitive switch niche, as you don't have to shell out for a super expensive Topre keyboard.
The NiZ plum offers tons of great features that clearly overshadow the few minor negatives.
9. Drop CTRL: Best Built Keyboard For Typing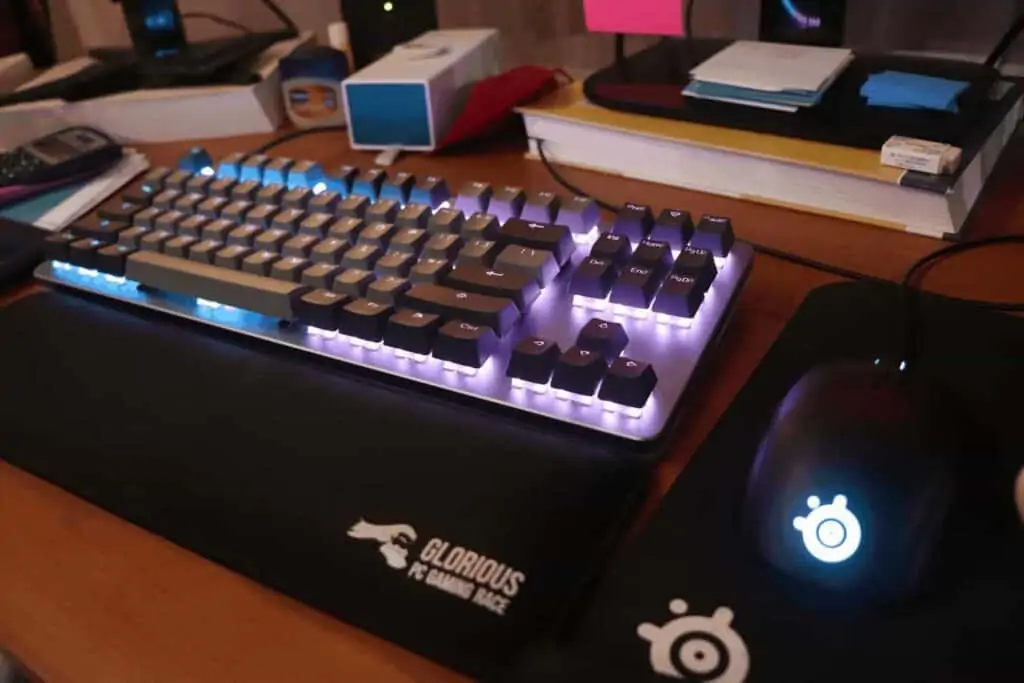 Nearing the end of our list we have the Drop CTRL, a keyboard made by and for mechanical keyboard enthusiasts. This keyboard has a unique aesthetic and array of features, with aspect done with the highest quality.
Just by looking at the base of the Drop CTRL you can tell will sustain long typing without any flex.
The frame is made of solid aluminum, so it really isn't messing around. I also enjoy the coloring of the base, it is a metallic grey with some hints of other colors.
There are two magnetic feet attachments that can be placed on the bottom of the keyboard to raise the height.
I like how these work, but since they are not a part of the case design I feel like I might lose them.
One of my favorite features on the Drop CTRL is the presence of a USB connector on each side of the keyboard. This is just a convenient addition that helps you configure cables on the desktop in a manner that is best for you.
The keycaps are made of a rough PBT, which I liked the feel of but may be more textured than many are used to.
The keycaps are floating, so the RGB lighting shines out underneath the keys in addition to through the legends.
The RGB is super vibrant and colorful, and it is easy to cycle through the different effects. If you don't program the lighting through the QMK software though, beware that it will reset to the initial rainbow setting each time you turn it back on.
This is only a minor annoyance though that can be easily alleviated.
There are tons of switch options to choose from with the Drop CTRL; Halo True, Halo Clear, Kaihua Box White, Kaihua Speed Silver, Cherry MX Blue, and Cherry MX Brown.
I got this keyboard with the Halo clears and I loved the tactile feedback provided. However, I experienced some chattering and double-typing, but I eventually was able to trace that problem to the Halo switches themselves and not the actual keyboard.
Even if you end up wanting to change the switches on your Drop CTRL, the keyboard is hot-swappable so you have that option. This keyboard is especially valuable because of this feature, as you can transform the whole feel by replacing the switches.
If you are ready to level up your mechanical keyboard game, the Drop CTRL is a fun, well-made keyboard that won't let you down.
Its distinctive aesthetics and functional features make the Drop CTRL so appreciated in the keyboard community.
10. Keychron K6: Best 65% Keyboard For Typing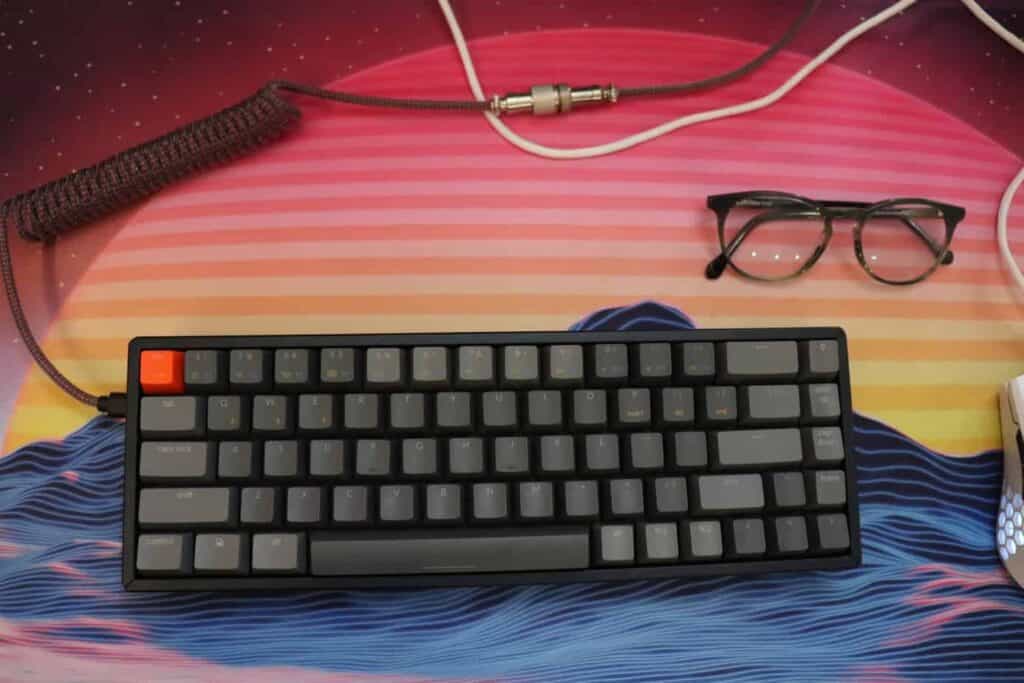 The final keyboard we have for you today is the Keychron K6, a model that allows you to customize many aspects of the build during purchase.
While the price of this keyboard will vary depending on the features you want, it is still an affordable option that allows you to pick and choose among the most valued mechanical keyboard features.
As mentioned, there are many aspects of this keyboard that can have different qualities depending on the options you choose.
With the keyboard build, you have the choice between all-plastic or the insertion of an aluminum plate, which each come with their own advantages.
The keyboard would be more rigid and sturdy with the metal plate, but the all-plastic would be lighter and might be preferred if you intend to bring it on the go a lot.
If you were to choose the aluminum build, the final price would come in higher though.
You can also choose between an RGB (pricier) or white backlighting configuration, which I think is a smart option because many people are split on their preferences with this one.
I think RGB can be fun and on the K6 there are over 18 effects, but I know a lot of people like to keep it simple with just white.
The last "option" to choose is whether you want your keyboard to be hot-swappable. If you have the room in your budget, I say go for the hot-swap option.
You have the ability to change the switches whenever you want, which means you can experiment to figure out your favorite switch type without having to buy a new keyboard every time.
Now on to the keycaps, a pretty weak point of the K6 but expected at this price level.
The keycaps are made of a thin ABS plastic, which I soon replaced with a nicer PBT set.
It's not necessary to replace them, but I found it to transform the keyboard and improve the quality of the typing experience. The set included with the K6 comes in a two-tone dark grey design, with an orange escape key.
The stabilizers on the K6 were good, but I ended up doing some mods and lubed them, ultimately resulting in a fantastic typing experience.
This keyboard also has Bluetooth 5.1, and the extraordinary battery life allows you to use this feature constantly.
The 4000mAh battery means you only need to charge this keyboard 1-2 times per month. This is one of the features of the keyboard that makes the K6 worth it, as not many affordable keyboards have Bluetooth and
One complaint that many people have about Keychron keyboards is that they are too tall, causing strain on the wrists when in use.
Luckily, Keychron listened to customers and made the K6 significantly shorter than previous models. There are also adjustable feet to make the angle more comfortable if needed.
It's rare that you find a "build-your-own" keyboard like this with so many options for customization, so I really think the K6 is worth its price.
While the stabilizers and keycaps aren't the best out of the box, with a little bit of work this keyboard can rival some of the more expensive options on this list.
You can find the Keychron K6 on Amazon.
---
The Best Switches For Typing
After seeing all of those keyboard options, you may be trying to figure out which switch to choose for the purpose of typing.
I have tried almost every switch variety, and while there are tons of great options, it can be hard at times to figure out what you want.
The switches that are best for gaming may not be what you want for long hours spent typing, and you don't want to get a keyboard with loud clicky switches if you plan to take it to the office.
Below I have included what I believe to be the best switch choices for typing.
Best All-Around Typing Switch: Cherry MX Brown
Cherry MX Browns are a favorite switch type among typists due to the smooth yet tactile feel.
With a tactile bump, there is an actuation force of 45g and a bottom-out force of 55g, so typing for a long time won't fatigue your fingers.
The tactile bump in the middle of the switch provides the feedback to know you have registered a certain key, which helps to prevent mistakes in typing.
Typing with Cherry MX Browns creates a medium noise level, which may cause annoyance to others in a quiet setting.
Best For Silent Typing: ZealPC Zilent
While not commonly found on pre-built keyboards, I've found the ZealPC Zilent switches to be perfect for those who want the tactile feel but silent enough to bring to the library or office.
These switches have a tactile bump and a decent actuation force (62g- 78g), but the sound dampening material on each of the stem legs absorbs all movement and sound.
Best Feeling Option: Topre or Topre Clone
If you have used any standard office keyboards, the type was likely a membrane or rubber dome keyboard.
The more advanced, mechanical version of this are Topre switches. Topre switches generally have great tactility while still feeling reminiscent of rubber dome switches.
They produce a super satisfying sound when pressed. While the noise level is moderate, the switches sound can be reduced with lube.
If you want to learn more about these switch types and hear sound tests, check out our article: The 3 Best Switches for Typing.
Silence Your Mechanical Keyboard For Quiet Typing
If you purchase a mechanical keyboard that is a bit too loud for your liking, luckily there are many simple actions you can take to make your keyboard feel better and in the process making it quieter.
I have included our main tips below, but we have a whole article on this if you are interested: How To Silence Your Mechanical Keyboard.
1. Use a Desk Mat
This may seem like a simple solution, but adding a desk mat can really help dampen the sounds of your keyboard.
A desk mat reduces the vibration and movements of your keyboard while typing, which I've found to noticeable reduce the noise.
Desk mats can also add some more color and personality to your desk space, the design options are endless.
2. Add Foam to the Inside of Keyboard
Requiring a little more work, adding foam to the inside of your keyboard will serve to absorb the movement and pinging from typing.
This will only require a screwdriver and the foam itself, which will be placed between the bottom casing and the PCB.
This method is helpful especially if you are experiencing loud pinging from typing.
3. Install Rubber O-Rings
If your switches are extremely loud, an easy and affordable fix is to place rubber O-rings over them.
These rings can be found on Amazon for really cheap, and you can get them in different colors so they don't change how RGB lighting looks.
I've found these O-rings to be great for reducing sounds, but they do also change the feel when typing and may seem mushy.
Regardless, they are affordable, easy to put on and remove, and work to eliminate noise, so I definitely recommend you to try them out.
4. Mod Stabilizers (Band-Aid, Clip, and Lube)
If you really feel like rolling up your sleeves and putting in some work, modding your stabilizers can transform your keyboard feel and noise level.
The three-step process of applying a band-aid between the stabilizer and PCB, clipping the bottom feet of the stabilizers, and applying lube is a sure way to see a change in your keyboard.
To see exactly how to do this, check out our article: How to Mod Stabilizers: Band-Aid, Clip, and Lube.
5. Lube Your Switches
This next tactic I think is the most effective to reducing sound output, so what you need to do is lube your switches.
This helps alleviate the friction going on in the switch when you press a key as there are moving springs and stems.
For more on this, check out: Ultimate Guide: How to Lube Your Switches
6. Replace Switches
Ultimately, sometimes your switches may be the problem.
Some switches are designed to be clicky and loud, so no matter how much work you put in you won't get a silent typing experience.
This is why hot-swappable keyboards are so great, you can change out the switch type just by pulling them out and replacing them.
If you don't have a hot-swap keyboard, you can still replace the switches, but through the more complicated, labor-intensive process of desoldering.
How To Choose A Mechanical Keyboard
There are a lot of factors that go into choosing a mechanical keyboard, so navigating the process of finding the right one can be tedious.
We have listed below some of the major considerations, but if you need more guidance we have a full article about this: How To Choose A Mechanical Keyboard: A Buyer's Guide.
The Price
Likely the biggest consideration when searching for a mechanical keyboard will be the price, and there are tons of great options from the budget level to super fancy models.
Budget keyboards are typically considered to be around $50+, moderately priced keyboards between $70-100, and the high-end price point around $150+.
We have plenty of guides and lists of our favorite keyboards at all different price points, so if you want more recommendations give those a look.
The Switches
We've talked about switches a lot already in this article, but I really can't stress the importance of choosing the right style for your intended keyboard use.
The different feels and sounds of switches are what draw a lot of people to mechanical keyboards, so you will want to do some research before ordering for the first time. W
e also have tons of guides and sounds tests for many different switch varieties, so those may be helpful to you.
The Keyboard Size
You probably have an idea of what sized keyboard you want, but you may not be aware of all of the options.
We have a full guide on keyboard sizes, but we will give you a quick rundown here.
Full-sized (100%) keyboards have the entire key offering, including the full number pad and function row. These keyboards are great for people who need to do number entry.
The next size down are 1800 compact (96%) keyboards, that retain all of the keys of a full-sized board but get rid of the spacing between them.
Tenkeyless keyboards have 87 keys, and lack the number pad. Most people don't use the number pad regularly anyway, so this is a preferred keyboard size for a lot of people that want the separate spacing of the arrow keys.
75% keyboards aren't very common, but they are interesting nonetheless as they are just a smushed-together version of a TKL keyboard (arrow keys not detached).
65% keyboards are without the function row, so the shape is more compact without that top level of keys.
60% keyboards don't have the arrow keys, but you can usually program other keys to act as arrow keys on a lower-level function layer.
And then there are always 40% keyboards, but these are much rarer and less practical.
Other Important Features
As you've seen with this list of keyboards, there are some features that can be really valuable or just plain fun.
You'll want to decide if you want RGB backlighting, Bluetooth, hot-swap, additional USB ports, media keys, and more. While none of these features are necessary, they can improve your efficiency and overall satisfaction with your keyboard.
If you are tired of searching for a mechanical keyboard that doesn't have every component you are looking for, you can always build your own!
I know this may seem a little crazy, but we have a guide to walk you through the whole process if you are willing to put in the effort. To find out more, read: How to Build a Custom Mechanical Keyboard.
Conclusion
I hope after seeing all of these options you have found a keyboard that is perfect for you, or we have offered some guidance to help you in the search process!
There are so many things that affect how your keyboard feels and sounds while typing, so it is worthwhile to do some research and see the options.
We have tons of resources and guides to help you find a keyboard with the typing experience you are looking for, so if you want to learn more check out some of our videos or other articles (we have linked many in this article!).