Cherry MX Browns are some of the most popular tactile switches on mechanical keyboards.
In this article, we go over the best mechanical keyboards that offer Cherry MX Brown switches as an option.
---
Best Cherry MX Brown Mechanical Keyboards – Our Top Picks
---
For more information on each individual mechanical keyboard, feel free to keep reading. We've also attached individual reviews of each board in more detail if you're interested in learning more about any specific product listed here.
1. Durgod K320 TKL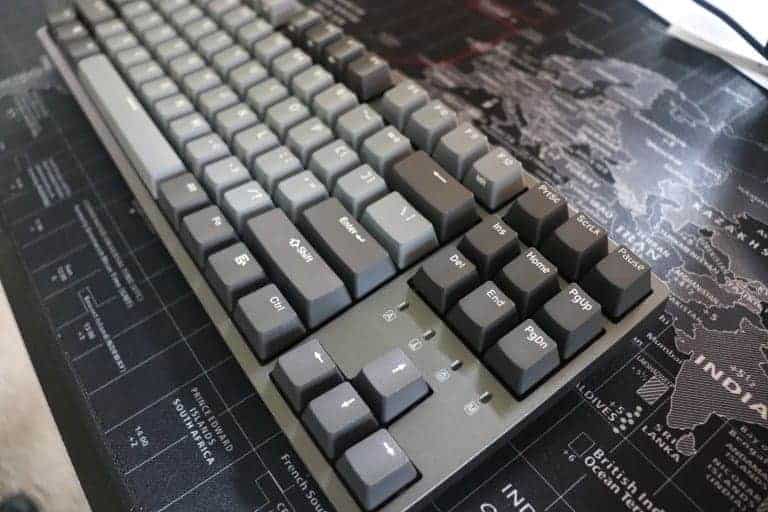 The Durgod K320 TKL is a simple and no-frills mechanical keyboard. It has a clean design and is available in two-toned colors that make it perfect for any environment, whether it be the office or at home.
It is a TKL mechanical keyboard, which means it has no number pad on the right side. This is a more compact layout and allows you to have more room for your mouse arm.
This is also a better layout for gaming as well.
This keyboard is also available in a full-sized version as well, called the K310. There also is an RGB version, at an additional cost, if you want something a little bit more exciting.
The special aspects of this board include dye-sub PBT keycaps that don't get oily or fade over time.
Alongside that, it has a detachable USB-C cable, so you can swap out the cable to any custom one if you want more color.
The Cherry-profile keycaps are slightly lower than the usual OEM-profile keycaps that come on most keyboards. These are much more comfortable and less straining on the wrists.
The keyboard also sits quite low to the ground as well, but there are two adjustable feet on the back with two angles each for more customizability of the typing angle.
For a keyboard that sits right under $100, this keyboard has some of the best stabilizers on the market. They are pre-lubed and have no rattle at all.
There are secondary legends on the function row that allow you to access the media keys to control volume and songs without having to change settings or windows.
It also comes with software that lets you remap keys and record macros for better productivity or for gaming. The software is very easy to use.
This keyboard is available in various Cherry MX switches, including browns.
2. Das Keyboard 4C TKL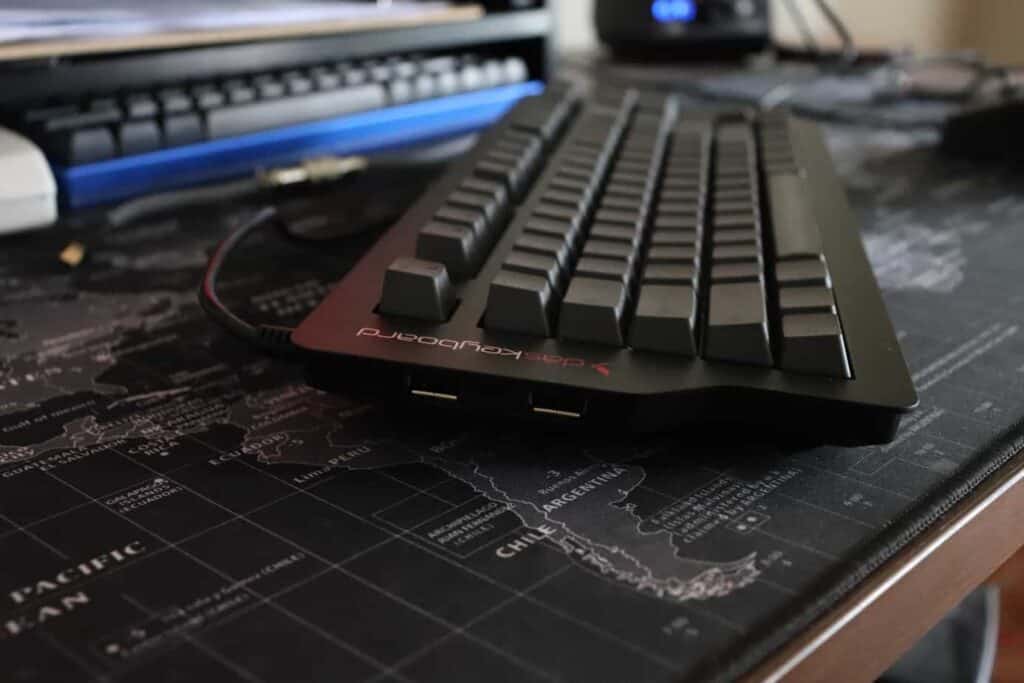 The Das Keyboard 4C TKL is made from high quality materials. The PBT keycaps are oil-resistant and will last a lifetime without the legends wearing down.
It is a TKL layout, which lacks the number pad on the right side. If you really need a number pad, consider the other Das Keyboard boards such as the Das Keyboard 4 or Model S.
The keycaps are grey with black legends. The whole look of the keyboard is quite dark, but clean. However, the jutting left edge of the board may be too much for some (it does serve a purpose though).
The board features a nice aluminum top plate that is thick and resists any flex or manual bending of any kind.
On the far left side, it features a USB hub that supports up to 2 additional USB devices. This is a rare feature in any mechanical keyboard and is great for the office or gaming when you need to plug in any additional accessories such as a headset/headphone, controller, USB drive, etc.
However, there are many limitations of this board as well. It is simple. However, the contrast of the legends are too low to see in dim lighting.
There is a magnetic ruler that also acts as a raiser to the typing angle. This is a unique feature as well, if you do find yourself needing to use a ruler regularly.
The overall typing experience on the Das Keyboard 4C TKL is a pleasant one. The stabilizers can be a bit rattly, but they're not super noticeable.
The stabilizers are lubed from the factory, and the tactility of the Cherry MX Browns minimize typos during long typing sessions.
The power cable is nondetachable, but this is understandable because the USB hub is present. Most keyboards with USB-passthrough will have a nondetachable cable.
This keyboard is an ideal choice for students, engineers, or even programmers. The ruler is interesting, although I rarely see myself ever using one (or even owning one), and can be useful at times.
3. Varmilo VA87M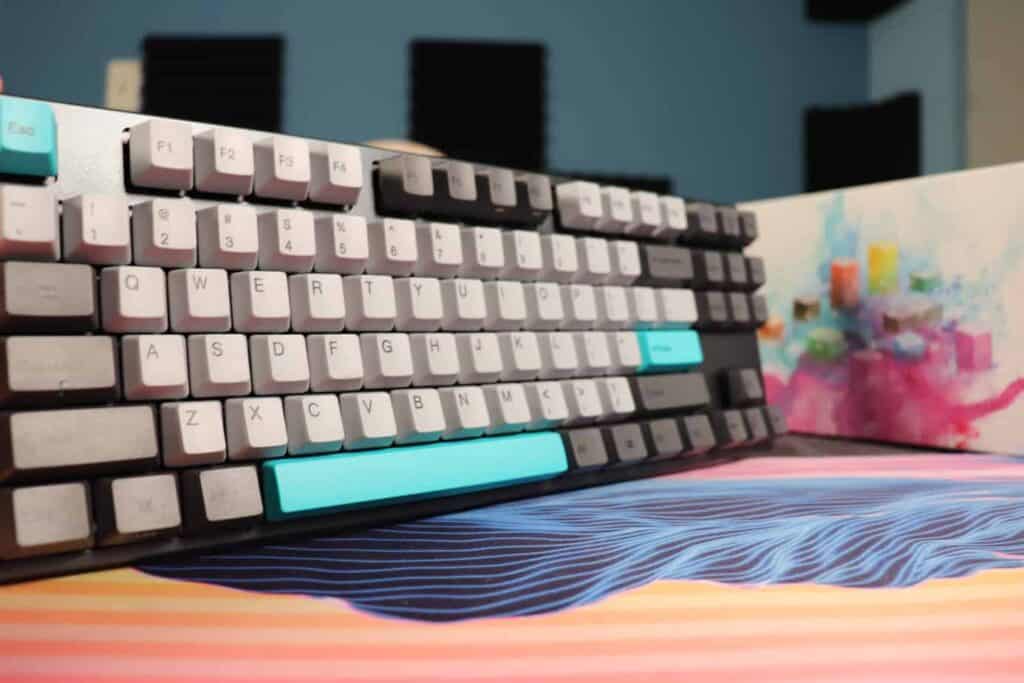 The Varmilo VA87M is one of the highly regarded mechanical keyboards. It is the number one mechanical keyboard on The Wirecutter.
And it's there for a reason. The Varmilo VA87M is an amazing board with high-quality build, great keycaps, a variety of switch options, typing experience, and great stabilizers with no rattle in sight.
The VA87M comes in very many unique colors, all of which can be found on Mechanicalkeyboards.com using the link below.
It is perfect for gamers, typists, programmers, editors, and more. It is not good for number entry, macros, or RGB gaming.
It is a TKL mechanical keyboard, with no number pad. Although there's no RGB, the unique keycaps and colorways can stand out quite enough.
There are versions of this board (at a slightly higher price) that do feature RGB. There are versions with just white LEDs as well.
The keycaps are Cherry-profile, which are slightly lower than most mechanical keyboards with OEM-profile keycaps. This makes it much more comfortable to use and decreases wrist discomfort over long periods of use.
The switches are Cherry. However, they feel much smoother on this board than on other boards. There is very little spring ping, but it is noticeable if you put your ear up right to the board.
The typing experience on this board is optimal. There is no unsatisfying stabilizer rattle, minimal spring ping, and minimal echo within the board.
There is no software for remapping keys or recording macros. It's simple and straightforward.
Although this keyboard is a bit more expensive than the other boards, it will last a lifetime and greatly improve the typing experience.
4. Ducky One 2 Mini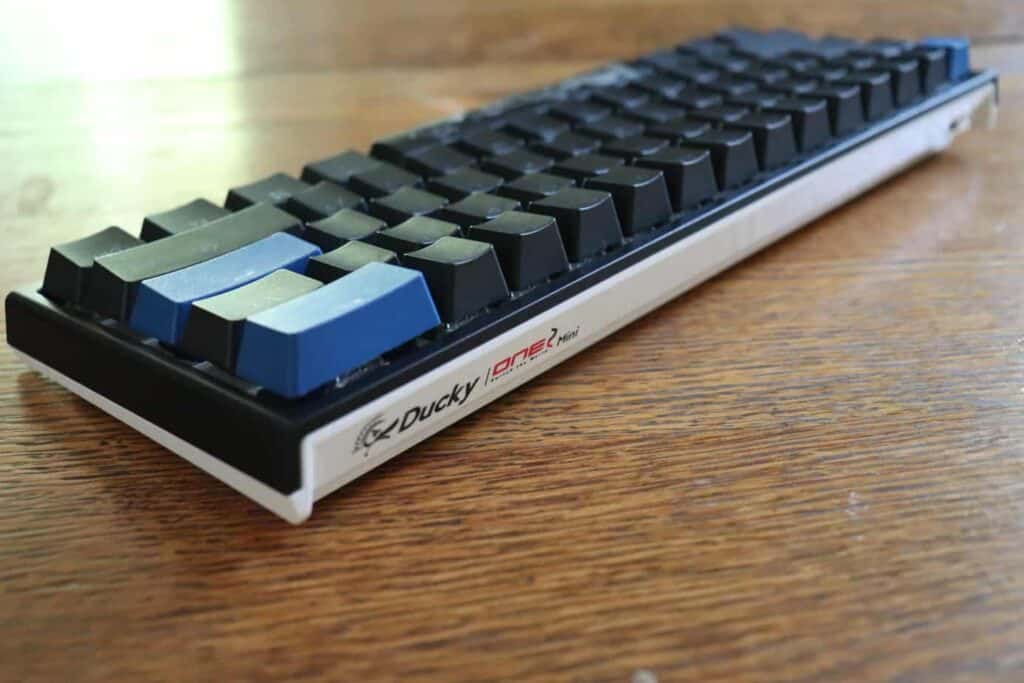 The Ducky One 2 Mini is a classic keyboard, and it is well known in the mechanical keyboard enthusiast community.
This board has a recognizable two-toned design with a black top and white bottom and the cable port on the left side.
It is a 60% mechanical keyboard, which means there isn't much to work with. However, with what it does have, it does it all really well.
60% boards are great for gaming because they give your mouse arm plenty of space to move while having full functionality with the use of different layers.
This keyboard has double-shot PBT keycaps that are shine-through and oil-resistant. These keycaps are durable and won't wear out.
The board comes with a special spacebar in the year of the Zodiac (we got the rabbit?) as well as keycaps in another color that is completely random (chosen out of the colors of the rainbow).
There is no software, but the onboard firmware is very strong. The board lets you change the RGB lighting through key combinations alone as well as record macros via that same method.
It may be hard to do this at first, but the manual has all of the necessary information. There are also sub-legends on the keycaps, so you won't have to memorize the manual.
Another special feature the board has is that there is mouse movement through the key combos as well.
The Ducky One 2 Mini works for Windows only and not at all on Mac. The board also only connects via wire through USB-C.
The One 2 Mini is perfect for gamers, typists, and casual keyboard users. It is not for programmers or number entry.
If a high-quality 60% board is what you are looking for, this board will not disappoint.
It is available in black or white with many different options for switch options, including Cherry MX Browns.
5. Durgod Venus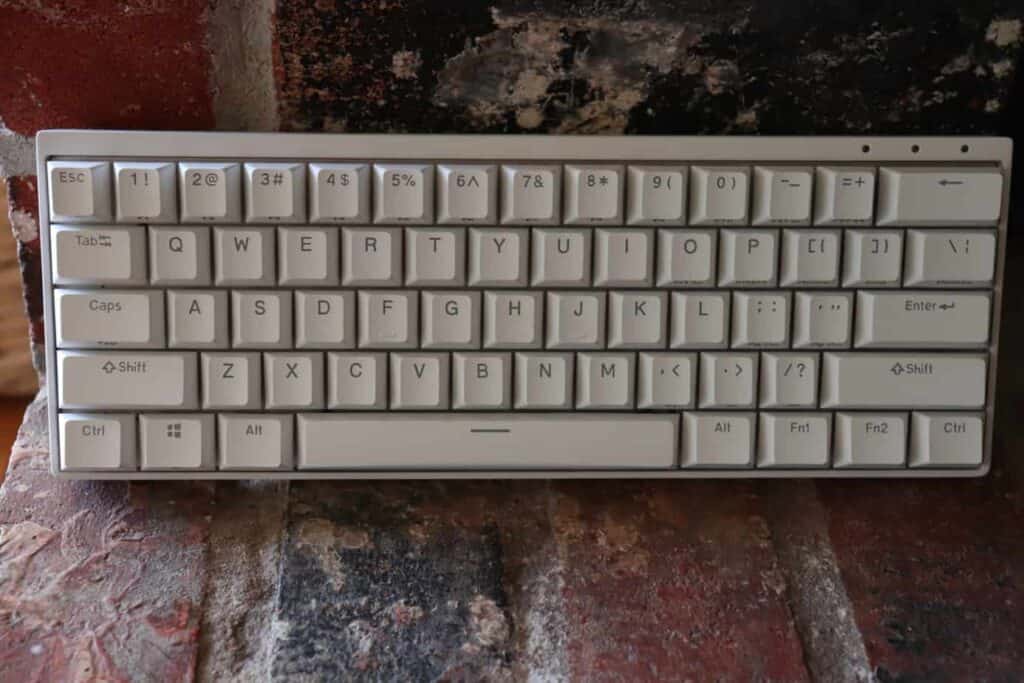 The Durgod Venus is another 60% compact board worth mentioning, as it is one of the best options out there.
For starters, it has a full aluminum case that is solid and sturdy. This is rare to see on a board of this price point.
The Durgod Venus can be purchased in white or black, and it comes with RGB lighting as well.
However, the bottom of the case has no height adjustments. Only rubber feet that will prevent sliding.
The case, though, does already have a slight angle that would satisfy most users.
The stabilizers are also near perfect with the factory lube. There is no rattle at all, and the board makes for a great typing experience.
Not only is it good for typing, but it is also a great board for gaming as well.
Due to the small size, there is plenty of room for your mouse arm to move around.
The keycaps are made of PBT plastic, which will last a long time and be oil-resistant. They are Cherry profile as well, which is very low and ergonomic to use. They're also shine-through, and PBT, Cherry-profile, shine-through keycaps cannot be found anywhere else.
There is a small forehead that protrudes off the top off the board, that really serves little purpose other than to house the indicator lights.
The keyboard connects detachable wire a USB-C port, which happens to be slightly recessed. It's difficult fitting any custom cables into this board. Most likely, you'll have to connect the cable they provide.
Durgod has software that is easy to download and use to change the lighting effects, macros, and key remapping. The software is intuitive and easy to use.
Also, there are a variety of switches to pick from, including Cherry MX Browns.
6. Mistel X-VIII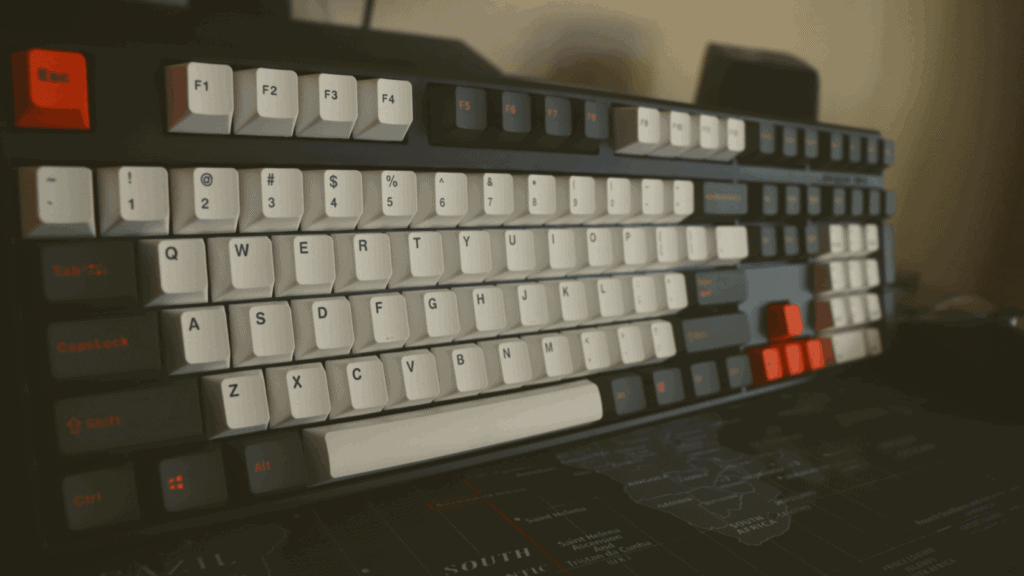 The Mistel X-VIII is a higher-end keyboard with custom keycaps that you won't see on any other board.
The board comes with multiple different accessories that bring the whole theme of gloaming, which are the colors in the sky during twilight or dusk (with orange, whites, blacks, and olive green).
It has a grenade custom switch tester with a Cherry MX Blue switch on it. Also, there are artisan keycaps for the Escape key in the form of an airplane.
The keycap puller also has a special look to it, although it's hard to distinguish whether it's a deer or an airplane as well.
The board has a USB-C connector at the back of the board. However, it could be difficult getting custom cables to fit into the slot that they provide. But it does offer a detachable USB-C cable, which is nice for the longevity of this board.
It is compatible with Mac and Windows. If you need macros for programming or gaming, this keyboard lets you record macros on 3 storable layers.
The keycaps are double-shot PBT keycaps that are high-quality and oil-resistant that will stand the test of time. The keycaps are OEM-profile, which is probably what you're used to because this is a common keycap profile on many keyboards.
The keyboard is extra sturdy and there is no flex at all. There are two kick-up feet on the back of the board that allow you to change the angle of the board to a higher angle if you would like to.
On the top right side of the board, there are dedicated media keys that let you change your volume and music settings on the fly without having to go into settings or press FN like on other boards.
The stabilizers on this board are buttery smooth with pre-lubed stabilizers. There is no rattle on any key and they do produce satisfying sounds when typing.
In addition, the keyboard offers a variety of Cherry MX switches, including Cherry MX Browns and Blues.
7. Logitech G512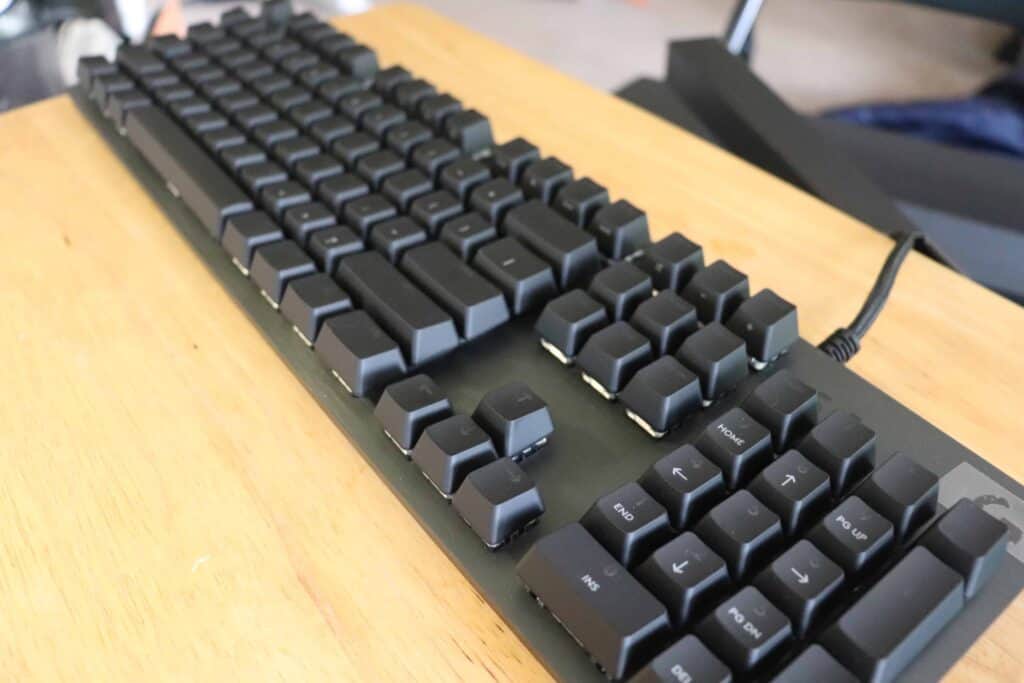 The Logitech G512 is a sleek full-sized mechanical keyboard. The keyboard is a clean black color with black keycaps as well. The top plate is a brushed black aluminum.
For a full-sized keyboard, it feels relatively compact with the case being just large enough to contain all of the keys. there is no extra forehead or bezels on the side.
The back of the keyboard has a nice ribbed design to it with six rubber feet and some kickstands for height variability.
The keyboard feels sturdy and is well built.
The G512 has a non-detachable power cable coming out of the right side of the keyboard. As we've mentioned before, this makes the keyboard difficult to unplug and take on the go.
It does have a USB passthrough, so you can plug your mouse or some other device into the keyboard as well. We would have liked to see a detachable USB-C cable though.
The switches are marketed as Logitech Browns, but after closer inspection the switches have Kailh printed on them.
The switches don't feel bad by any means, you can't go wrong with a Brown tactile switch, we we're just excited to try out the "Logitech" switches only to realize they we're just Kailh switches.
If you're looking for a full-sized keyboard, you can't really go wrong with this one.
It's a pretty solid keyboard, we're just not a fan of the non-detachable power cable and the stabilizers aren't the best.
It is a simple keyboard with a floating keycap design. The keyboard also has RGB colors and uses Logitech's G Hub software to edit the lighting.
At the top right of the board, there is the Logitech G logo as well as indicators for Caps and Scroll Lock. The legends on the keycaps are extremely clean and professional looking despite being a gaming keyboard.
This board is available in Logitech's GX Brown switches as well as their GX Reds and GX blues as well.
8. Corsair K95 Platinum RGB XT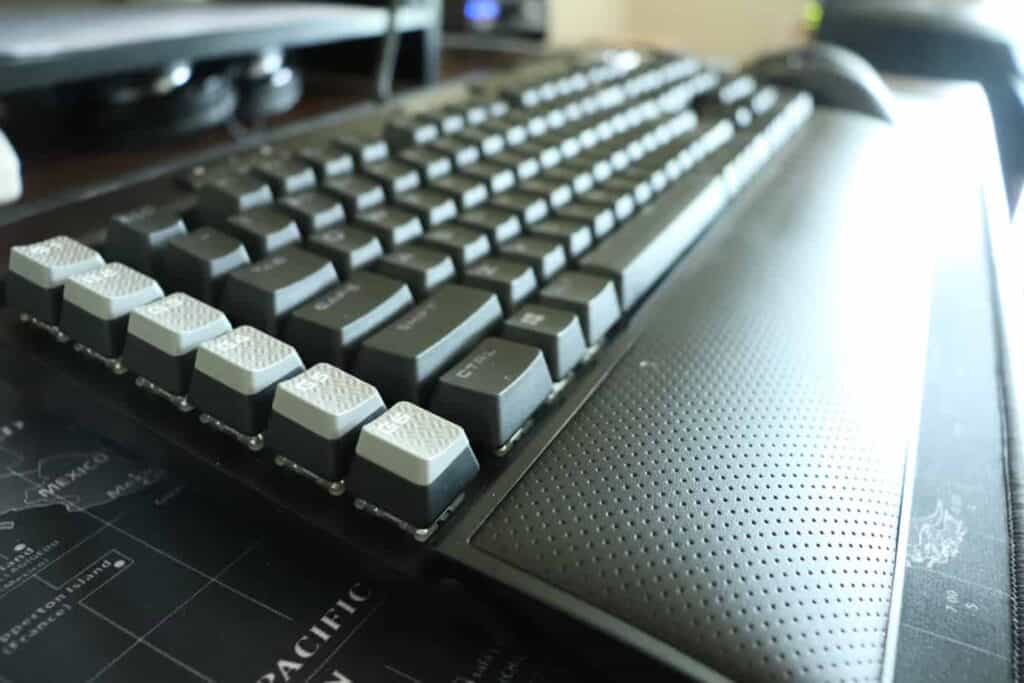 The Corsair K95 Platinum RGB XT is the previous flagship from Corsair, starting at right under $200.
The keyboard happens to be quite pricey, but it does have a lot of features to offer.
The keyboard itself is enormous and takes up a lot of space. It does come with a detachable wrist rest, a row of macro keys on the left side, and USB-passthrough.
The K95 Platinum RGB XT comes with Cherry MX switches that are rated up to 100 keypresses, which is a very long time.
Using Corsair's iCue software, the RGB on the board can be edited for each key. Alongside this, you can edit the macros, lighting effects, key remappings, and more.
The macro keys on the left side can also work with Elgato's software and be used to change screens or use effects during your stream.
Alongside this, the keyboard offers PBT keycaps that are double-shot and shine-through. This is much better than their previous ABS keycaps. PBT tends to be more durable and resistant to oil and fingerprints.
There are also dedicated media keys along with a scroll wheel that can be used to change the volume up and down without using FN or going into settings.
Quite convenient for changing volume while in-game. With the USB-passthrough, you can connect relevant accessories such as a controller, headset, mouse, and other accessories.
The main downside to this keyboard is that the stabilizers are not very well designed or mounted into the board. They are extremely rattly and loud. The stabilizers are very loose within the plate.
This can be fixed with a few modifications, but it won't make the stabilizers suitable for use when in a public environment.
9. WASD Code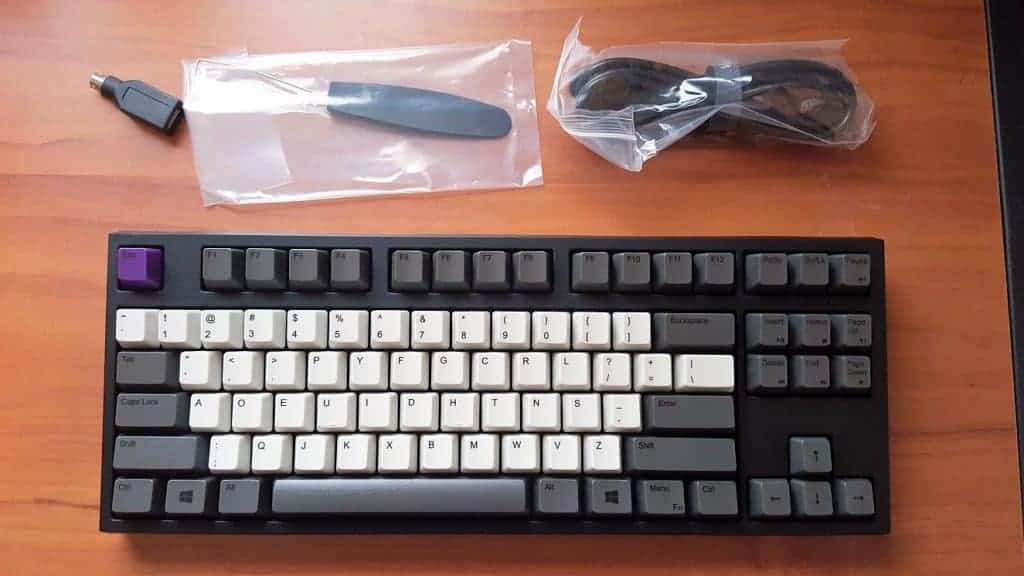 The WASD Code is another simple no-frills mechanical keyboard that will be pleasant to type or game on.
The Code features ABS keycaps that are doubleshot with legends that will last a lifetime.
The board comes with a steel backplate that is solid and sturdy. There is no flex on the board at all, and it weighs more than 2lbs. That's a tank!
There is no RGB, however. There is only white backlight. Even in the dark, you'll be able to see your keys and numbers. The backlight comes with 6 brightness levels.
The keyboard has NKRO and 100% anti-ghosting, which is great for typing quick or gaming. You won't have to worry about your keyboard not registering all of the keys that you press.
The onboard memory of the board will save the brightness setting of your backlight, so you don't have to change it every time you turn your computer on.
There are two kick-up feet on the back along with large rubber pads, so there's no slipping at all.
It's a simple board, and there is no branding that can be seen anywhere on the board. The legends on the keycaps are clean. However, they are a little bit small.
For programmers and gamers, this board is programmable with four different layers. You can program all kinds of macros directly on the board without any software needed.
The keycaps have sub-legends that will tell you where the secondary media keys are as well, which is on the navigational cluster. These things can be changed via the DIP switches though.
On the back, there are also different cable routing channels so you'll have a clean and organized desk setup.
There are some downsides to this board, though. It's definitely pricey, and some of their CODEs go over $200, depending on what switch you decide to go for.
It's available in a variety of different Cherry MX switches, including MX Browns.
10. Durgod Fusion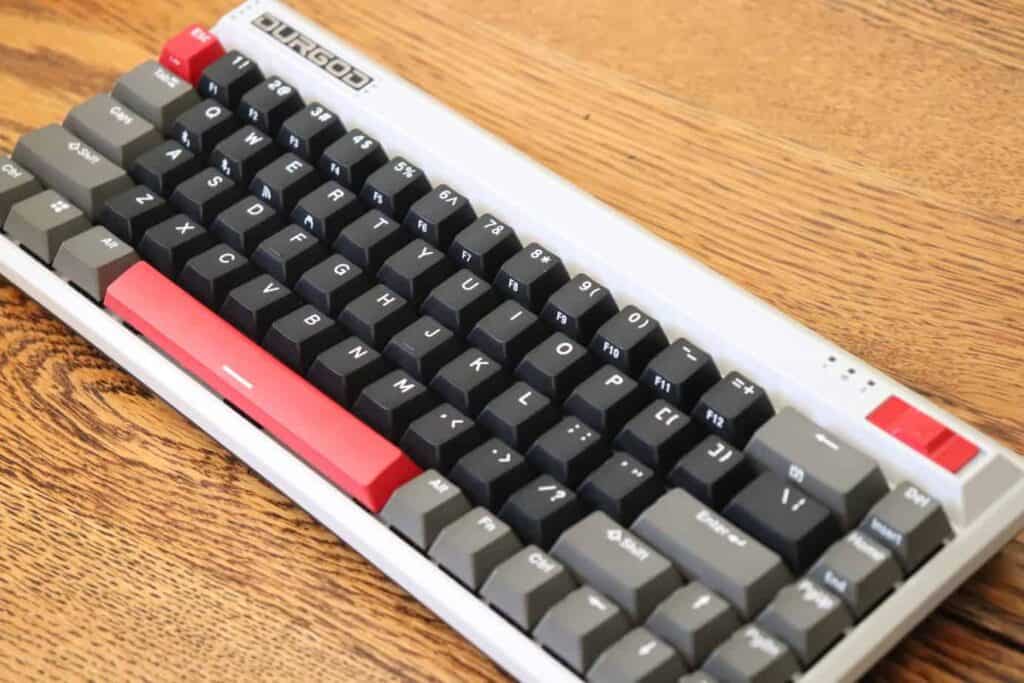 The Durgod Fusion a definitely a board that you'd be interested in if you want to be a little nostalgic about the good ole' days.
The different designs and colors are based off of the NES, Commodore, and more.
The board itself has a ton of great features such as three different ways to connect: 2.4G with a hidden dongle underneath the Durgod logo on the board, Bluetooth, and via USB-C cable.
The battery in the board is huge, and without RGB to burn through it, the board lasts up to 40 days. We made it through more than a month on a single charge with a lot of use. Pretty amazing.
The Durgod Fusion comes with several different Cherry MX switches including Black, Blue, Red, Brown, Speed Silver, Silent Black, and Silent Red.
The only downsides are the lack of secondary media keys and the fact that there isn't much software support if you want to remap keys or create macros.
It's also a bit difficult to use with a custom cable due to the recessed port. The keycaps are Cherry-profile and super comfortable, as they are lower to the board than most keycaps.
They're also a unique color way and have sub legends for secondary functions that you may need.
Not only is the Durgod Fusion the ideal layout for compactness and functionality, the board is also really fun to type on with their pre-lubed stabilizers.
There is absolutely no rattle at all on any key. Overall, this board is amazing and looks great too (if you can make it work).
You can find the Durgod Fusion on Kickstarter.
---
Don't Like The Options on This List? Go Hot-Swappable
Finding a mechanical keyboard with a specific switch, even if it's a common option, can be quite difficult.
If you struggle to find a keyboard you like with Cherry MX Brown switches, we recommend checking out our list of the best hot-swappable keyboards.
With a hot-swappable keyboard, you'll be able to install/remove the switches yourself with no soldering required.
This means you can choose almost any hot-swappable keyboard and swap out the switches for Cherry MX Brown. So instead of being stuck to the keyboard on this list, you now have another dozen options to look at.
Hot-swappable keyboards offer a lot of other cool benefits too, such as being able to improve the stabilizers and switches with relatively easy mods.
You can check out a few of our guides here:
If you need a keyboard with a specific switch (such as Cherry MX Brown), it's nice to know hot-swappable keyboards are an option.
The Benefits of Cherry MX Brown Switches
Cherry MX Browns are commonly recommend for people who do a lot of typing, especially for long periods of time.
It has a distinguished tactile bump that lets you feel when you can lift up your fingers again.
This improves typing accuracy without wasting too much energy on bottoming out.
In addition, there is relatively little noise when typing with MX Browns as opposed to clicky MX Blue switches.
Conclusion
There are a lot of great Cherry MX Brown keyboards out there. Many have different features.
We definitely recommend you check out the mechanical keyboards we listed out here, they do not disappoint. Finding the ideal keyboard with a Cherry MX Brown switch can definitely be difficult at times.
Our goal was to cut through the confusion and recommend nothing but the best options for you to choose from.
If none of the options on the list fit your needs, we recommend browsing the best hot-swappable keyboards and swapping the switches out for MX Browns yourself.
Good luck and happy typing!
Other Suggested Reading