Sixty-five percent mechanical keyboards are one of the best well-kept secrets in the keyboard world, they optimize size and layout to make an ultra-compact, comfortable keyboard to type on.
We also have a list of our favorite 60% mechanical keyboards, so make sure to check that out too!
We'll compare each 65% keyboard by features, price, durability, and much more to help you pick out the perfect keyboard.
---
The Best 65% Keyboards – Our Favorites
| The Award | The Keyboard | Special Features |
| --- | --- | --- |
| Favorite Pick | Ducky MIYA Pro | Custom keycap designs |
| Best Hot-Swappable Option | Drop ALT | Full aluminum construction |
| Most Budget-Friendly Keyboard | Keychron K6 | Budget-friendly and wireless |
| Perfect for Gamers | Ducky One 2 SF | Year of the Dog spacebar |
We're going to be looking at 10 different ready-mades or build your own 65% mechanical keyboards.
Let's start to dig into our list of favorite 65% keyboards.
---
1. Ducky MIYA Pro: Favorite 65% Keyboard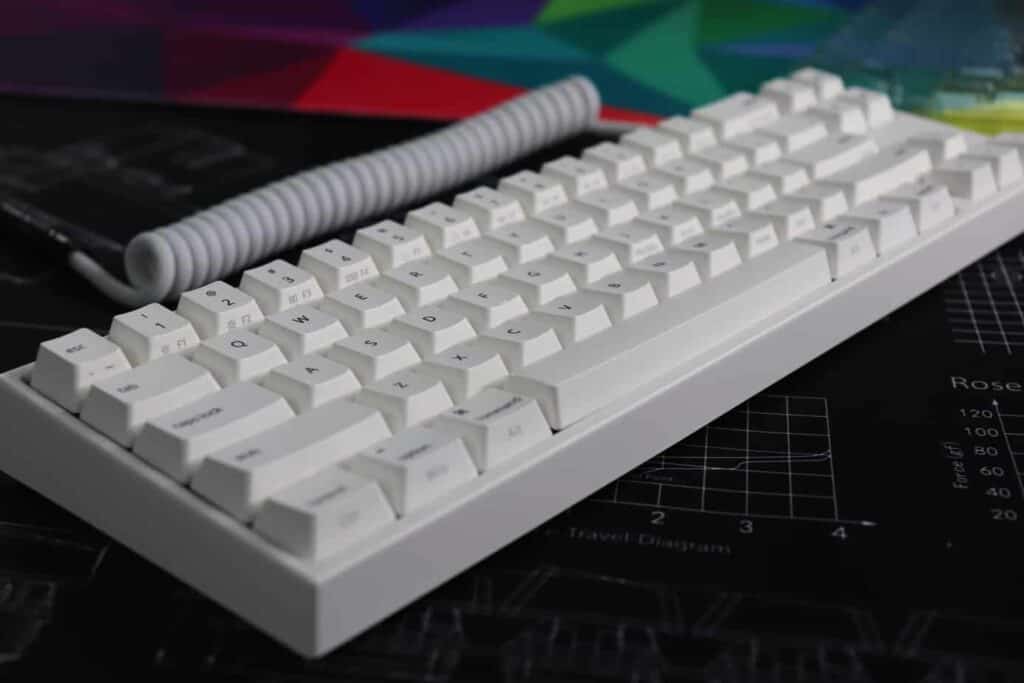 The Ducky MIYA Pro is an awesome keyboard coming from Ducky with a sleek compact design and several different keyboard designs.
These keyboards are truly unique with several different keycap design and themes. If you want a keyboard with an aquatic theme, there's a design for you.
So Many Cool Designs
I'll link a few different models below for your viewing pleasure, you can click on them to check out the prices on mechanicalkeyboards.com as they usually have the most diverse stock available.
Loads of Switch Options
The MIYA Pro comes with several different switch options including the Cherry MX Brown, Blue, Black, Red, Silver, Clear, and Silent Red. So if you're looking for a linear, clicky, or tactile switch theirs an option that fills that need.
Best 65% Keyboard
Ducky MIYA Pro Panda 65% Keyboard
Our favorite 65% keyboard of all time. Use code SWITCHANDCLICK at checkout to support us.
Check Price
As a mechanicalkeyboards.com affiliate, I earn a commission on your purchase at no extra cost to you.
2. Drop ALT: Best Hot-Swappable 65% Keyboard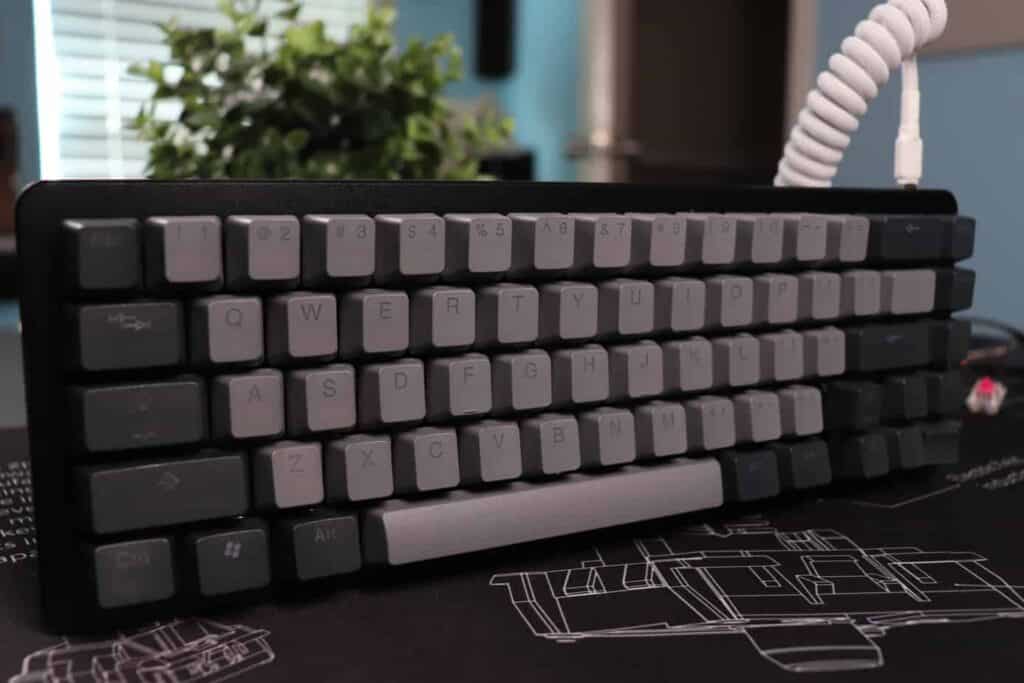 Second up, we have the Drop ALT keyboard. You can find the Drop ALT 65% keyboard listed on Amazon. Overall, it's well known and people love it. It has 67 keys and is compact.
Out of all the keyboards on the list, the Drop Alt sits at the highest price point, but believe us, it's well worth the price.
Unique Switch & Keycap Options
The switch options are: Halo Clears, Halo Trues, Kaihua box whites, Kaihua speed silvers, and Cherry MX Blues.
So many cool switches you can't normally find on other keyboards. It also has optional custom keycap kits for additional cost as well, available on the Drop.com website:
Beautifully Constructed
I have a Drop CTRL, so I might be a little biased on this one. This keyboard is beautiful. It has an aluminum plate and body.
It's sturdy and has a hefty feel. The Drop ALT has hot-swappable sockets. You can pull switches out and plop new ones in easily with just a switch puller. No soldering required.
Loaded with Features
With QMK firmware, it is fully programmable. It has a USB-C connector on either side at the top, letting you pick the direction for your desktop setup. At the bottom are two magnetized rubber feet that you can move or turn around however you like.
There are pre-programmed lighting effects that can be customized using the firmware. To switch between effects, just press Fn + D.
It also has an RGB strip surrounding the bezel of the keyboard that you can optionally turn off/on. The keycaps are PBT double-shot plastic. The keycaps have a textured feel to them.
Awesome Unique Case Designs & Pricing
You can pick from different versions: the floating key design or the high-profile design. We went with the floating keycap design, but we would probably purchase the high-profile design if we could rewind time.
The high-profile case helps to keep the dust from settling under the keycaps and boosts the acoustic sound of the switches.
3. Ducky One 2 SF: Best 65% Keyboard for Gaming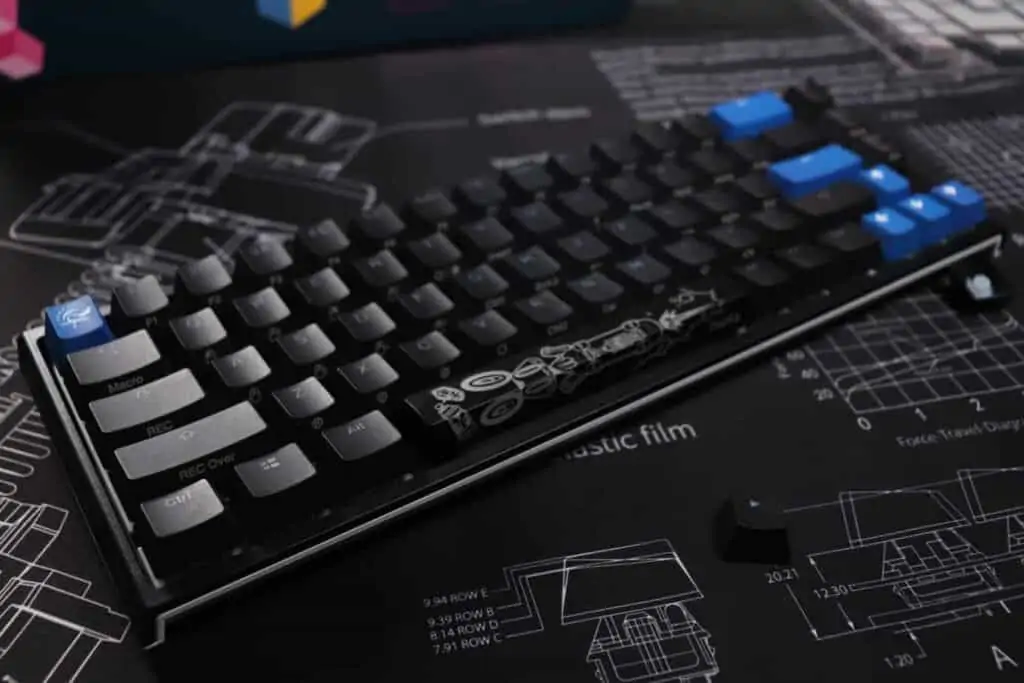 Different Colors Available
Coming in hot at number 3 on the list is the Ducky One 2 SF (the SF part here stands for sixty-five percent). The Ducky One 2 SF is currently selling in either black or white design, whichever works best for your aesthetic.
It comes in two colorways with RGB LED lighting. Both colorways come with double shot PBT plastic keycaps, which are sturdy and long-lasting.
Awesome Features and Customization
The switch options are: Cherry MX Black, Brown, Red, Blue, Silver, Silent Red. The case it well-constructed with an ABS plastic case. The black version looks black from a top view but has a white bezel and white bottom.
It features USB-C connectivity on the left side with rubber feet on the bottom with two kickstands with 2 different angle adjustments.
Like many other 65% keyboards, this keyboard has a non-standard bottom row, so switching out keycaps will take more effort. Ducky also sends you some extra colorful keycap sets to add some style.
Both colors are pretty. Overall, this keyboard performs very well. Ducky is a well-recognized brand within the keyboard community, and there are no complaints.
4. Keychron K6: Best Budget 65% Keyboard
The Keychron K6 is an exciting new keyboard released through a Kickstarter campaign that absolutely crushed its funding goal.
LOADED with Features
The K6 is absolutely loaded with features, if you can think of a feature this keyboard has it.
Wireless? Check. Mac compatibility? Check. Hot-swappable? Check.
We found this keyboard to be fun to use, and the hot-swappable feature can be incredibly hard to find on a keyboard this size unless you're willing to shell out some serious dough.
This Keyboard is THICK
The main downside we found to the K6 was how THICK this keyboard is. You need a proper wrist rest to use this bad boy comfortably. Besides that one complaint, everything works very well.
We Swapped Out the Keycaps
Another complaint is the keycaps are quite low-contrast and hard to see unless you have the RGB turned on.
The ABS keycaps also feel thin and flimsy. We found that upgrading our keycaps to a nice thick PBT set really improved the overall typing experience of the K6.
5. Akko 3068: Best Wireless 65% Keyboard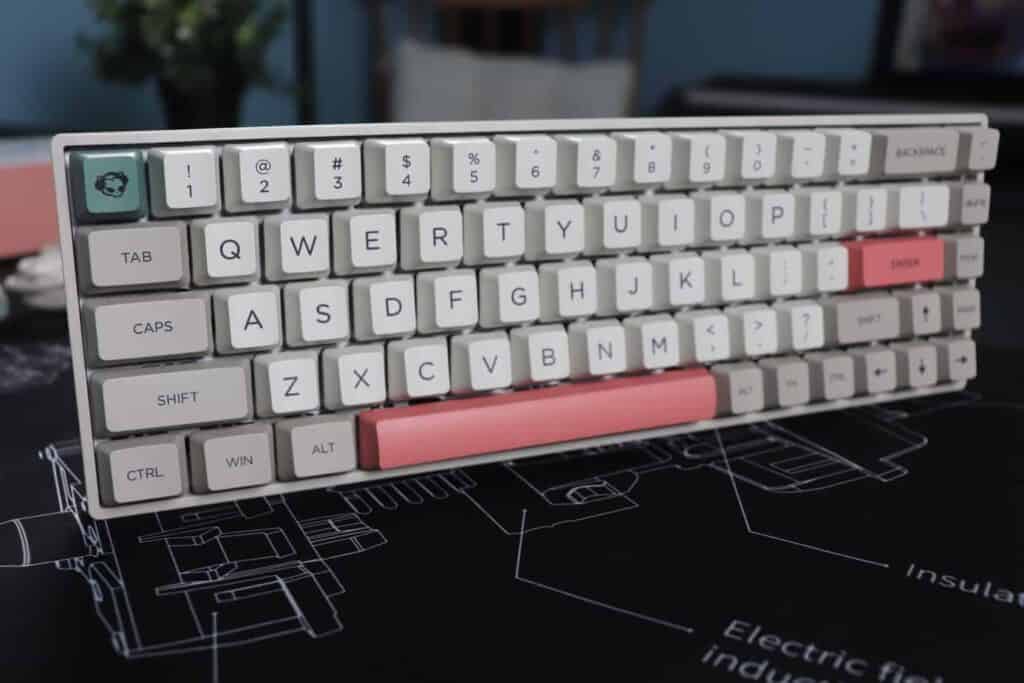 The Akko 3068 is also another popular 65% keyboard. This is a 65% keyboard that comes with blue switches on Amazon. It has different colors and keycap designs and range in price depending on what you get.
On other websites, it's possible to find different versions of this keyboard.
Basic Features for a Nice Keyboard
This one on Amazon has Cherry MX blue switches, which are clicky. It has 68 keys and a USB-C connection. From other stores, it is possible to get other Cherry MX switches, such as reds or browns.
The keyboard has a plastic case with some natural angle. It has rubber feet on the bottom with no flip-up feet.
Wireless/Wired with a Serious Battery Life
This keyboard can be used wirelessly or wired with Bluetooth technology that can connect with up to 3 devices. It has PBT plastic keycaps in a Cherry profile with dye-sublimated legends.
It has the exact layout as Tada68(up later in the list) and the legends are durable and classically simple.
In wireless mode, it is advertised as lasting 120 hours. They keyboard has no backlighting or RGB, so this might be why it lasts so long. Overall, it is a beautiful and affordable keyboard.
6. MagicForce 68: Cheapest 65% Mechanical Keyboard
The MagicForce(Qisan) 68 keyboard is a wired 65%.
This is an all-white keyboard with black legends. It is currently selling for a budget price with Outemu brown switches (MX-style equivalent switches). This keyboard has 68 keys.
Affordable, No Frills Keyboard
It has a floating style design which lets you see the switches as you type. Very aesthetic from the side. It also has 2 kickstands, one on each side, and rubber feet on the bottom.
It has a plastic case with an aluminum plate and finish. The connection is Mini USB (which is uncommon with mechanical keyboards nowadays). This cable is removable, so you can also use a custom USB cable.
This keyboard has standard keycaps, including a standard bottom row. You can replace all the keycaps with your own set without trouble like the other keyboards we've looked at. They have Cherry style stabilizers as well.
It has LED lights underneath that are exposed by its floating design. It has a blue and orange lighting effect. On the aluminum plate, the brand, Magicforce, is engraved into it on the right side above the arrow keys. Unlike other 65% mechanical keyboards, this one has a bit emptier space in its layout.
The Keycaps Need A Little Work
We're not a huge fan of the legend's font. The keycaps are ABS plastic with double-shot injection. Over time, they'll probably get grimy due to the white keycaps and plastic type.
The legends of the 2nd layer is printed in dark grey, which will fade and wear over time. These keycaps are smooth and may not be for people are like textured keycaps such as myself.
DIP Switch Options
It has 3 DIP switches on the back. They'll let you switch specific layouts on your keyboard and you need to reset your keyboard to get it to switch after you toggle them.
1: swaps CapsLk with Left Ctrl key
2: swap Windows key with FN key
3: lock Windows key
For the cheaper price tag, this is not a bad keyboard at all. It's got a lot of features.
7. Vortexgear Cypher 65: Best No-Frills 65% Keyboard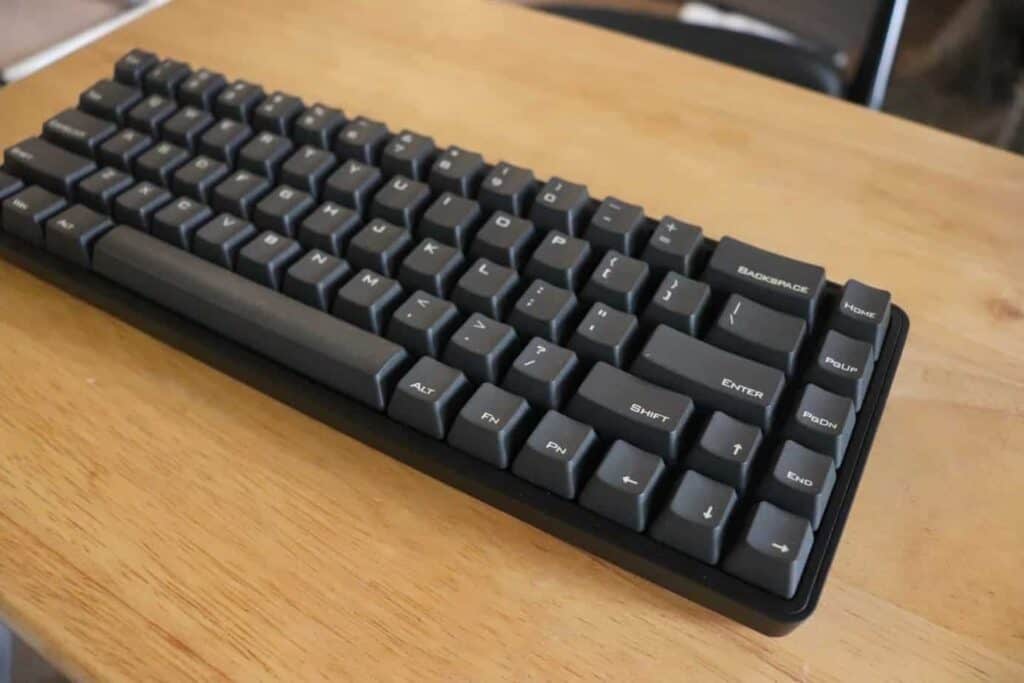 Clean and Simple
The Vortexgear Cypher is a clean, simple 65% mechanical keyboard. We reviewed this keyboard on our YouTube channel and had some positive thoughts on the Cypher. The Cypher features a black case with a plastic body and durable PBT keycaps.
The keyboard had all of the basic features you could want on a no-frills keyboard: nice typing experience, detachable USB-C cable, and PBT keycaps.
Cherry MX Switches
The Vortexgear Cypher comes with your choice from the Cherry MX switch line-up, including: Blue, Brown, or Silver switches. Most keyboards don't come with the option of Silver switches, which are often used for gaming. We would've liked to see more switch options to give the user more switch variety.
Should you Get the Vortexgear Cypher 65%?
The Vortexgear Cypher is a satisfying keyboard to type on with a relatively simple and effective build. The build quality is very nice with secure and great stabilizers.
Finding a simple, no-frills keyboard with the 65% layout is a hard find, which makes this keyboard the perfect niche board for someone looking for those two qualities.
The Vortexgear Cypher 65% ranked #3 in our favorite mechanical keyboards under $100, and is an awesome deal. You can find the Vortexgear Cypher on Amazon for a great price.
8. Durgod Fusion: Newest 65% Keyboard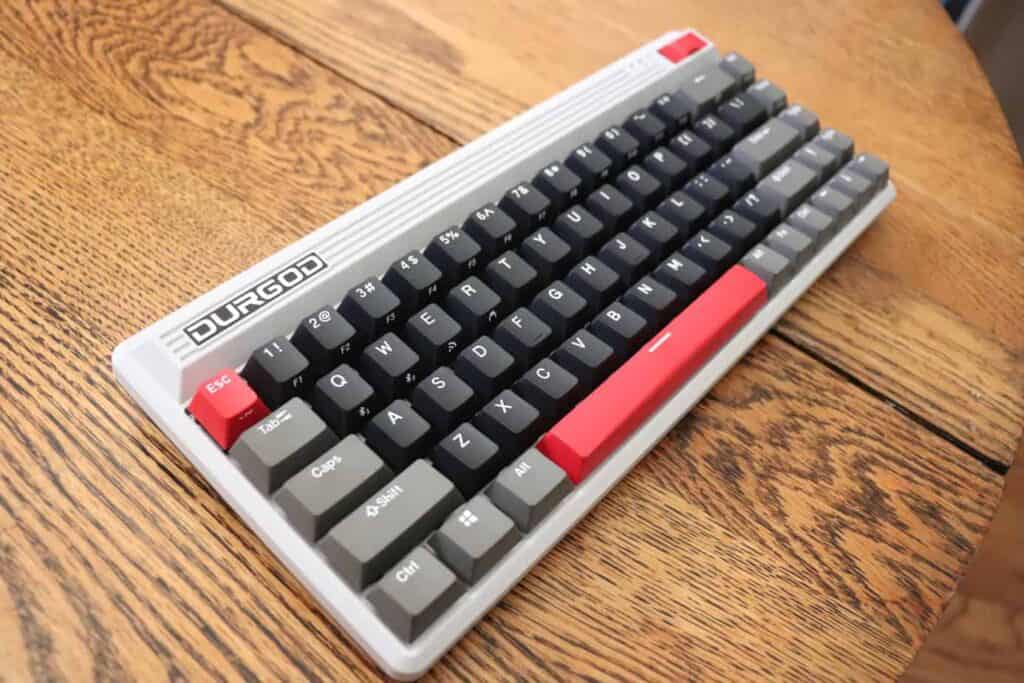 The Durgod Fusion is the newest drop on this list. You can find it on Amazon if you're interested in the retro theme.
The New Kid on the Block
The Durgod Fusion is a new up-and-comer getting released through Kickstarter this year.
The GK68XS boasts some pretty awesome features including retro-themed keycap colors, detachable USB-C cable, wireless capability, and much more. This keyboard checks all of the boxes for a sweet retro-themed keyboard.
Cherry MX Switches
For a keyboard in this price range, it's uncommon to get Cherry MX switches. Cherry switches are typically reserved for the higher end keyboards due to the rigourous testing and durability standards they go through.
The Durgod Fusion comes with several different Cherry MX switches including Black, Blue, Red, Brown, Speed Silver, Silent Black, and Silent Red. Your options are not limited if you need a keyboard with switches that fit your needs.
Retro Design but Performs Great
One of the coolest features of the Durgod Fusion is retro theme that gives it IBM Model M feel, but while also having the newest Bluetooth technology under the hood.
9. Leopold FC660C: Best Topre 65% Keyboard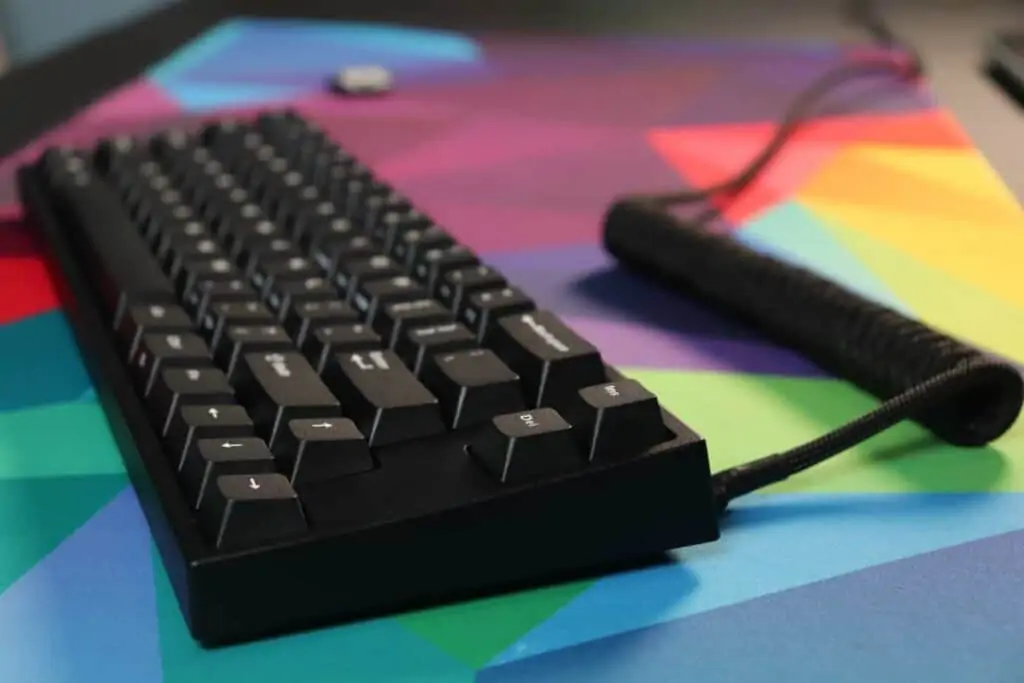 Old & Reliable Leopold
Leopold and their keyboard lineup have been around for a long time, but they have always had the reputation for being a high quality producer of mechanical keyboards, especially those with Topre switches.
The FC660C is no exception with PBT keycaps and Topre switches,
Feeling Fancy? Try Topre Switches
The Leopold FC660C comes with the unique electro capacitive Topre switch. Topre switches actuate completely different than the typical Cherry MX switch but feel similar to Cherry MX Brown, only better.
Many find the Topre switch to be the best tactile switch option for their keyboard, and the unique feel and sound to be superior to the typical mechanical switch.
Utility Features
There are 4 DIP switches on the back of the FC660C along with four rubber feet and 2 kickstands for some typing angle adjustability. The typing angle without the kickstands are already slightly inclined. N-key rollover, & DIP switches.
Should you Get the Leopold FC660C?
If you're looking for a keyboard that's a little different from your typical mechanical keyboard, the FC660C with Topre switches might scratch that itch. Keep in mind, the keyboard is on the pricier side, but for good reason.
You can check out Leopold FC660C on mechanicalkeyboards.com.
10. Tada 68: Best Custom 65% Keyboard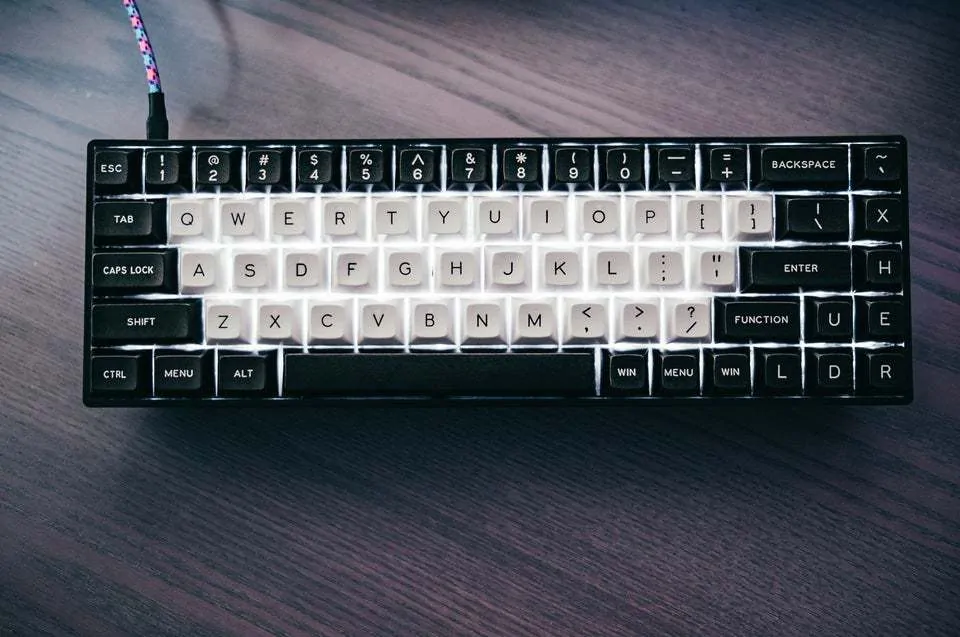 Photo by u/aeclasik
The Tada68 mechanical keyboard is a 65% layout keyboard that you can pick different parts to build it yourself, and it's also available pre-assembled but is tricky to find sometimes.
If you're interested in building a custom keyboard, you can read about how to do it here.
Availabe Pre-Built or Assemble it Yourself
The fully assembled keyboard has keycaps are made of high-quality PBT plastic with dye-sublimated keycaps with black legends.
It has a plastic case and an aluminum plate under that may be prone to scratching. The keyboard completely programmable using TMK firmware.
You can buy this keyboard from KBDfans for $99 to $119, depending on which switches you pick.
Switch Options: Gateron or Cherry
The switch options are: Gateron blacks, reds, browns and blues. Picking any of these switches will be $99. The Gateron switches are high-quality and are imitation MX-style switches. They perform well but are not as revered as the genuine Cherry MX switches.
The other switch options are Cherry MX blacks, blues, browns, reds or Gateron silent reds, Gateron silent blacks, and Gateron silent browns. Picking any of these $119.
Sleek and Elegant
These keyboards do not have RGB lighting or see-through keycaps, but they are clean and simple. Many users on Reddit show off their Tada68 keyboards with special keycaps.
If you choose to go to the keyboard kit route, you can pick between plastic case in black ($89) or aluminum cases of different colors (that would make the price up to $149.
Building your Own Tada68
To fully complete, the keyboard you'll need to buy your own switches and LEDS if you want RGB lighting. Make sure to read our guide with essential equipment to build your own custom mechanical keyboard for a comprehensive checklist of you what you need before you start.
One downside to this keyboard among different users is that the firmware can be a hassle to configure.
It also has a non-standardized bottom row, meaning it'll be difficult to change all the keycaps if that's what you want, but we figured that was the case already since it's a 65% keyboard.
Wrapping Up the List
As you can see we included some awesome different keyboards for you look at and consider for your next keyboard. The Ducky MIYA is one of our absolute favorites and they have so many different cool and custom layouts.
The Drop ALT is also a super cool keyboard (definitely pricey), but the build quality is outstanding and you can't complain about hot-swapability.
The Keychron K6 is the new kid on the block and is definitely the best bang for you buck. It's wireless, mac-compatible, and loaded with other cool features such as hot-swaps.
We'll go over some of the main differences between the different 65% layouts and clear up whatever confusion you may have.
---
What Are 65% Keyboards?
Sized Between 60% and Tenkeyless
You may be wondering, what the heck is a 65% keyboard? In simple terms, a 65% keyboard is very similar to a 60% keyboard, but with arrow keys. For people who are used to using tenkeyless keyboards, and don't need to use the number pad or function row then making the switch to a 65% will save some much-needed desk space.
Number of Switches: 68
Number of Keys: 68
Stabilizers: 6.25u, 3x 2u (Can vary by keyboard)
Save on Desk Space
These keyboards typically have between 66-68 keys in general. You'll find the 65% keyboard helps with mobility, space, and aesthetics. You read about all of the unique keyboard sizes.
The form factor of a 65% is compact and aesthetic. If you need to use your keyboard between work and home, then this might be the keyboard for you. It fits easily in a small bag and weighs very little. If your desk is small like mine, then using a smaller keyboard will create space for all the other clutter. Or if you're super neat, then it'll look clean.
All of the Important Keys
A 65% keyboard has all the important keys. It has an extra row on the right side with the Del, Page Up, Page DowHon keys as well as the arrow keys in the correct position. There is no function row as well.
Slight Differences Between 65% Keyboard Layouts
There are usually two different 65% layouts and which one you choose usually comes down to preference. We'll go over some of the basic differences to help you decide.
65% Layout #1: All Keys Smushed Together
This layout is basically what it sounds like.
All of the keys are closely located together so the keyboard is ultra-compact. The home cluster is laid out vertically instead of the usual box shape and the arrow keys are blended into the rest of the keyboard.
If you're looking to save on size and willing to get used to the keys being close together, this one is for you.
65% Layout #2: Separate Home Cluster and Arrow Keys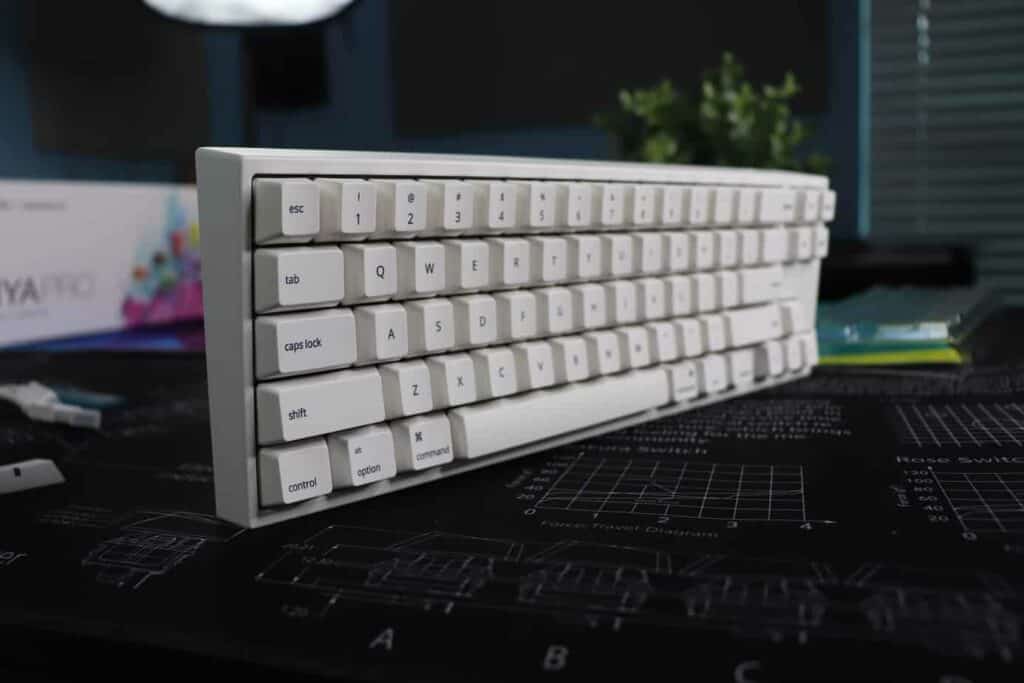 This 65% layout is my personal favorite. It's slightly wider than option #1, but in my opinion feels much for comfortable. The arrow keys on this layout are usually spaced out slightly further away from the rest of the keys and the home cluster is also spaced away.
This layout is similar to a TKL, but without the function row or a few keys from the home cluster.
The bottom row is standard which makes buying keycaps and swapping them out a breeze.
Things to Consider Before Buying a 65% Keyboard
A few things you should be aware of before you buy a 65% keyboard, just so you know what you're getting into. You don't want to get a 65% keyboard, but then realize you don't like it!
Non-Standard Layout
A downside of using a 65% keyboard is that they might have non-standard keys, so swapping keycaps might be difficult. Definitely do some research beforehand if you plan on buying a 65% keyboard and switching out the keycaps.
No Function Row
If you use the function row regularly, you may run into some difficulty adjusting to the 65% layout. To operate these keys, you'll need to activate the layer under the number row, so this may take a small adjustment period and can feel a little uncomfortable.
Conclusion
We talked about 10 different 65% keyboards today: Ducky MIYA Pro, Ducky One 2 Mini, Keychron K6, Akko 3068, Tada68, MagicForce 68, Vortexgear Cypher, Epomaker GK68XS, Leopold FC660C, and the Drop ALT. That's a LOT of information.
We didn't talk about any ergonomic options, as they are quite difficult to find in the 65% layout.
If it were up to me, I would go with one of the Ducky MIYA Pro keyboards, they have so many different cool designs and they are exteremly well-built. But choosing any of the keyboards on the list should leave you satified because they are the best of the best and we recommend all of them.
We also went over the advantages of a 65% layout, what you should look out for, and some of the minor differences between each 65% keyboard design.
Anyways, hope this helps you in your decision-making in trying to find an awesome 65% keyboard if that's what you're looking for. There are a ton of benefits to having one!
Happy typing!