If you love mechanical keyboards, but struggle to find the right style switch, do not worry. With a hot-swappable keyboard, you don't have to pick! Switches have never been easier to change, no soldering required.
Let's take a look at the 12 best hot-swappable keyboards and compare them based on price, features, and more.
---
The Best Hot-Swappable Keyboards: Favorite Picks
---
1. Drop CTRL: Best Tenkeyless Hot-Swappable Mechanical Keyboard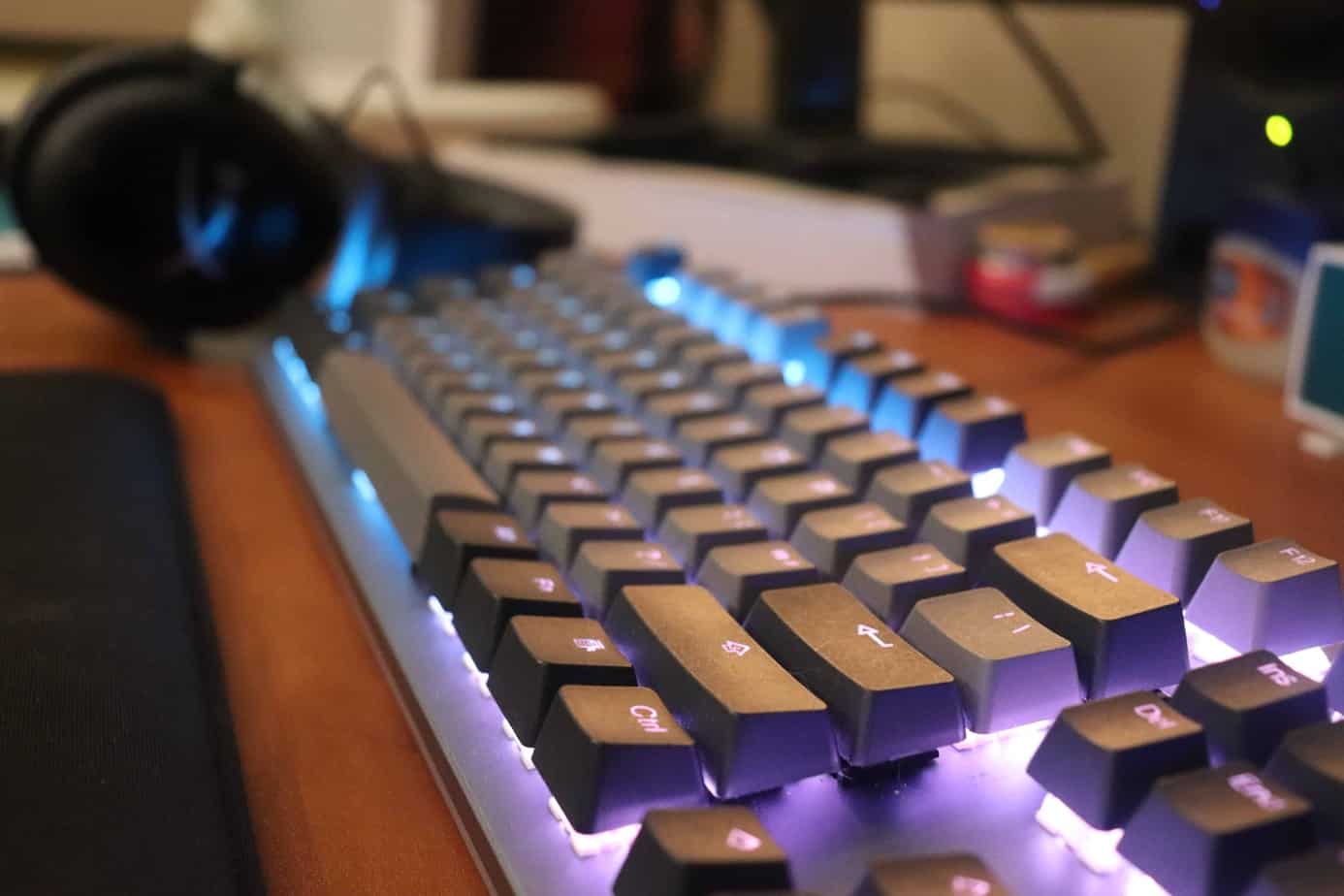 The Drop CTRL is a tenkeyless keyboard without a number pad and a sturdy aluminum frame.
There is also a 65% percent version of this keyboard called the Massdrop ALT. The 65% version has 67 keys instead of the 87 keys like the CTRL.
Both versions of this keyboard are hotswappable and come with a switch puller, making swapping out the switches easier than ever.
In addition, the keyboards are fully programmable with QMK. Coming with a detachable USB-C cable, which makes it easy to plug and unplug.
The keycaps come in PBT plastic and have a nice textured feel to them, and don't develop a shiny or greasy look over time.
You can pick which switches the Drop CTRL comes with. The options are the following:
Halo True – Tactile
Kailh Box White – Clicky
Kailh Speed Silver – Linear
Cherry MX Blue – Clicky
Cherry MX Brown – Tactile
Halo Clear – Tactile
You can also pick custom keycap kits for additional costs. The following are available for selection: GMK Red Samurai, MT3 /dev/tty, XDA Canvas, and SA Pulse Noire.
To be entirely honest, we're a little biased about this keyboard, because we actually own and use the Massdrop CTRL keyboard on a daily basis.
This keyboard is durable, made from a metal case and metal plate. The CTRL is solid, rigid, and does not mess around. We would recommend this keyboard to anyone who can stomach the price tag of $200.
We have very few complaints about this keyboard, and you can check out our more in-depth review here.
2. Keychron K6: Best Wireless Hot-Swappable Mechanical Keyboard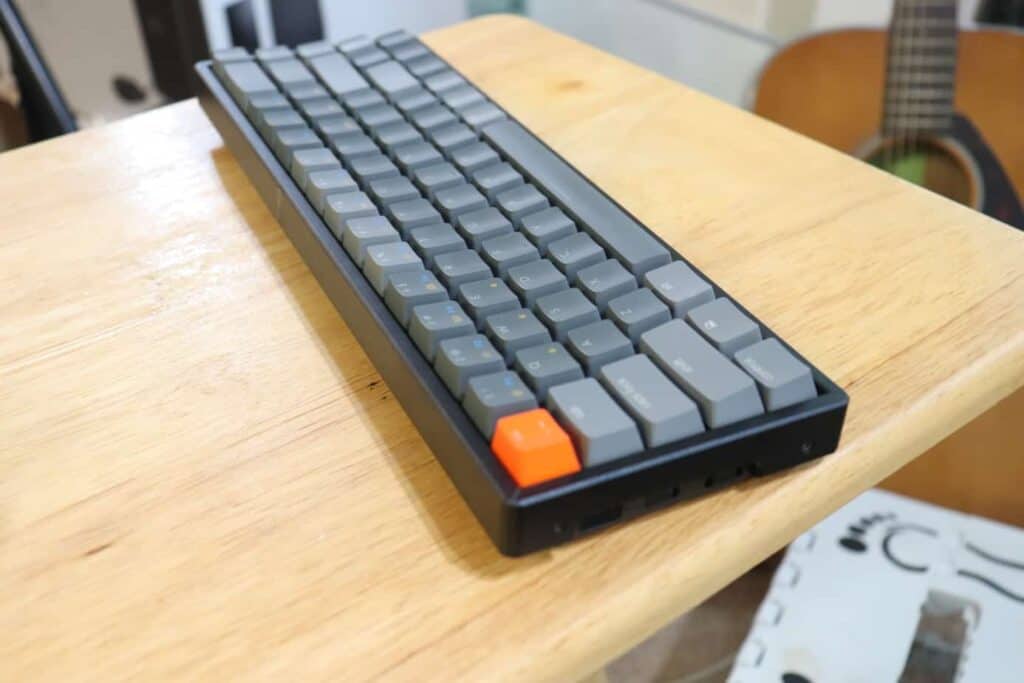 The Keychron K6 is a 65% sized keyboard, which means it does not come with a number-pad or the very top row.
The K6 is an incredibly affordable keyboard with hot-swappable switches and is loaded with so many other awesome features.
The keyboard comes with RGB, aluminum bezel, wireless connectivity, and Mac/Windows compatibility.
The overall design is very similar to the Keychron K2, but instead of being a 75% layout (meaning no number pad), the K6 it is scaled down to smaller, more bit-sized 65% layout.
The K6 is a 65% keyboard and will have options for wireless/wired connection and RGB backlight. The wireless option is quite impressive as the battery will last up to 4 weeks without the usage of the RGB, that's crazy good. The charging port will be USB-C with a detachable power cable.
My favorite feature of the K6 is the choice of getting hot-swappable switches.
It's easier than ever to swap out keyboard switches. Without having to solder a single switch, all you need to do is pull out the old switches with a switch puller, and press the new ones into the PCB.
The K6 comes with a variety of switch types, including LK optical, Gateron hotswappable, and standard Gateron switches; coming in brown, blue and red colors.
The variety of switches really let you choose what sort of feel you want to go for, whether that be linear, clicky, or silent.
We highly recommend the Keychron K6, it's one of our top favorites. You can find the K6 on Amazon, for a really good price.
3. Tecware Phantom: Best Budget Hot-Swappable Mechanical Keyboard
This keyboard is absolutely packed with features, but on top of that, it does the basic stuff really well. Overall, this keyboard is a steal.
The hot-swap feature alone is quite rare to find on a keyboard under $150, let alone under $50. This allows you to swap-out and test different switches on the same keyboard without having to solder.
The keyboard is plastic, but it has an aluminum back-plate that improves the build quality and makes the keyboard feel more rigid.
It doesn't fall into the trap of ringing too much or having the keys rattle with each keystroke.
Of course, there is some slight ring and rattle, but it's not bad for a keyboard in this price range.
The stabilizers are very impressive. The spacebar and other larger keys have minimal rattle and are nice and secure. This is big for cheaper keyboard, because they tend to feel cheap and flexible, but this keyboard is solid.
We noticed the stabilizers were actually lubed at the factory which is quite rare and explains why they feel so smooth.
The only feature we don't like is the non-detachable power cable. It's clunky and awkward.
It makes the keyboard less-portable and can lower the overall lifespan of the keyboard if the cable breaks.
A detachable cable would be a BIG upgrade if Tecware ever decides to implement that feature.
You can find this keyboard for an affordable on Amazon by following this link.
4. GMMK TKL/Full-Size: Best Full-Sized Hot-Swappable Mechanical Keyboard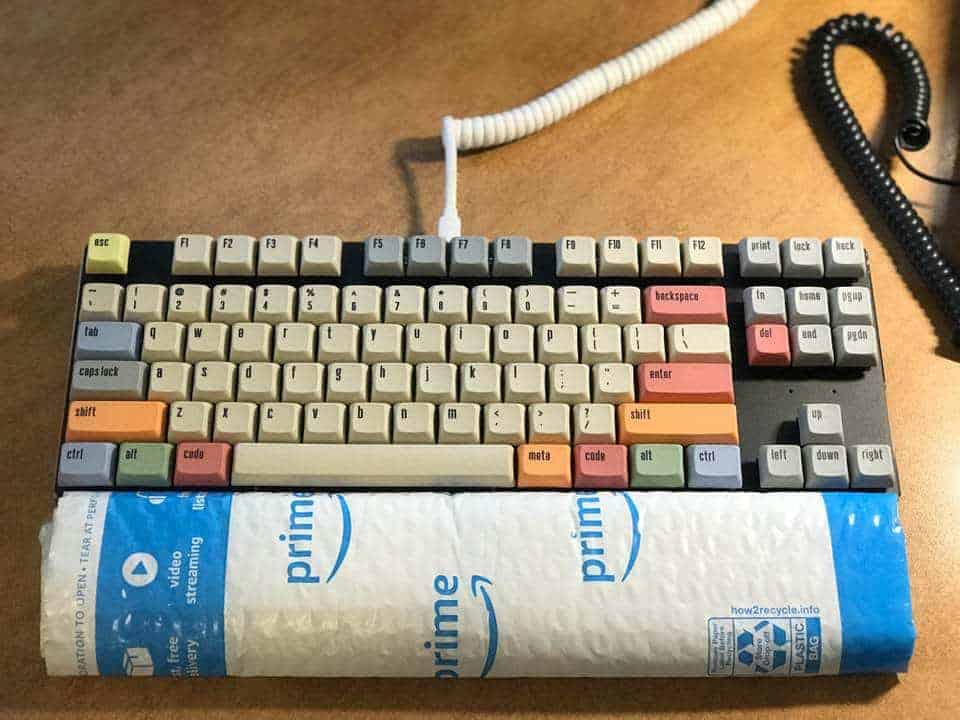 The GMMK TKL/Full is one of the most affordable hot-swaps currently available. The keyboard is made out of a mix of plastic and aluminum for a really solid feeling build.
The TKL is an easily hot-swappable keyboard with RGB backlight and a plastic case.
The keyboard also comes with a built-in keycap puller and a braided micro-usb power cable. The plastic case is not quite as sturdy as the all metal cases/plates, and the keys tend to rattle a bit to reflect that.
In addition, the case is a little flexible, but overall that does not impact the overall functionality of the keyboard.
A couple unique features include a keycap puller built into the back of the keyboard for easy access, in case you ever need to swap out a switch quickly.
The TKL also comes with a braided power cable with micro-usb head. Although we would have liked to see USB-C, the micro-usb is not that big of a deal.
Overall the RGB for this case is a little lackluster, the lighting is not too bright and is dull and dim.
There are a lot of different lighting options, it's just the LED's are not quite strong enough. But if RGB lighting is not very exciting to you anyways, this feature won't impact you at all.
Check it out on Amazon for an afforable price if you're interested in the GMMK TKL.
5. Kemove Shadow/Snowfox: Best Hot-Swappable Keyboard for Gamers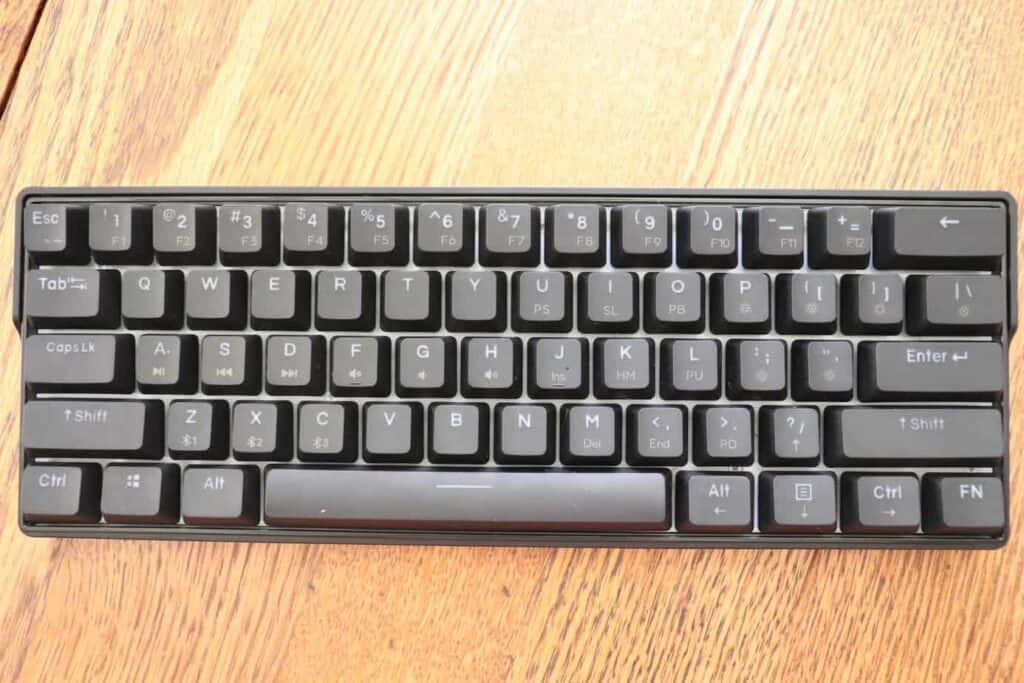 The Kemove Shadow & Snowfox are keyboards from Kemove that finally offer the hot-swappable feature. We we're able to get our hands on it and review the keyboard.
The Shadow and Snowfox refer to the same keyboard, but with different colors. The build is the exact same but they offer it in different colors with some cool sounding names for advertising purposes.
The keyboard is offered in several different switch types, such as the Black, Blue, Brown, and Red Outemu switches.
Outemus are a budget Cherry MX knock-off, so the quality of the switch won't be the best, but if you need a hot-swappable 60% layout you can easily swap the switches out to whatever kind you prefer.
The Shadow was made to be in direct competition with the widely popular Anne Pro 2.
The Shadow one-ups the Anne Pro 2 by offering the hot-swappable feature at the same price or in some cases, a slightly cheaper price.
If you're looking for a hot-swap 60% keyboard, the Kemove Shadow could be an awesome pick for you.
You can pick up one of these beasts on Amazon for a decent price in the mid-to-low price range.
6. The Hexgear Impulse: Hot-Swap with RGB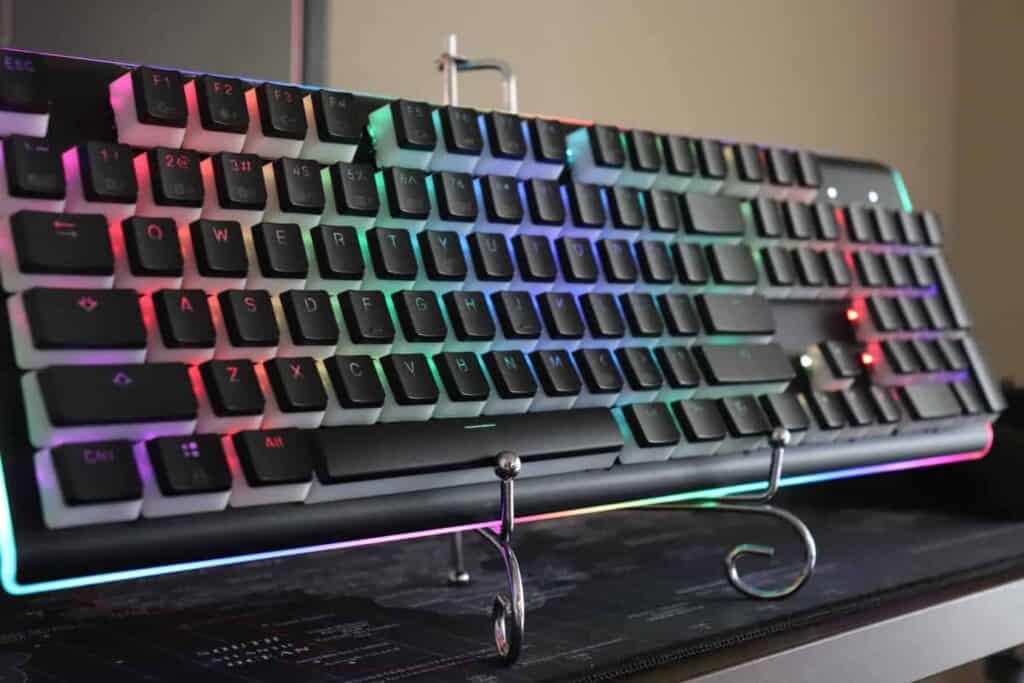 The Hexgear Impulse is another new and exciting hot-swappable mechanical keyboard.
This Impulse was made for the purpose of having the best RGB possible.
The keyboard has per key RGB lighting and side-lighting making the keyboard pop in your desk set-up.
The PBT pudding keycaps are also the icing on the metaphorical RGB cake.
The pudding keycaps allow the RGB to shine through the sides of the keycaps and illuminate everything with more wow-factor.
The Impulse is truly one-of-a-kind and we were quite excited when we had the chance to review it for ourselves.
The Kailh BOX switches are also quite interesting to type on. Most keyboards will come with Cherry MX, Gateron, or Outemu, so it was fun getting a chance to test out the Kailh BOX switches.
Overall, the Impulse is a beast and a lot of fun to use.
If you need a hot-swappable full-sized keyboard that will light up your desk, you can't pass up on the Hexgears Impulse, available on Amazon.
7. Redragon Draconic K530: An Excellent Gaming Hot-Swappable Keyboard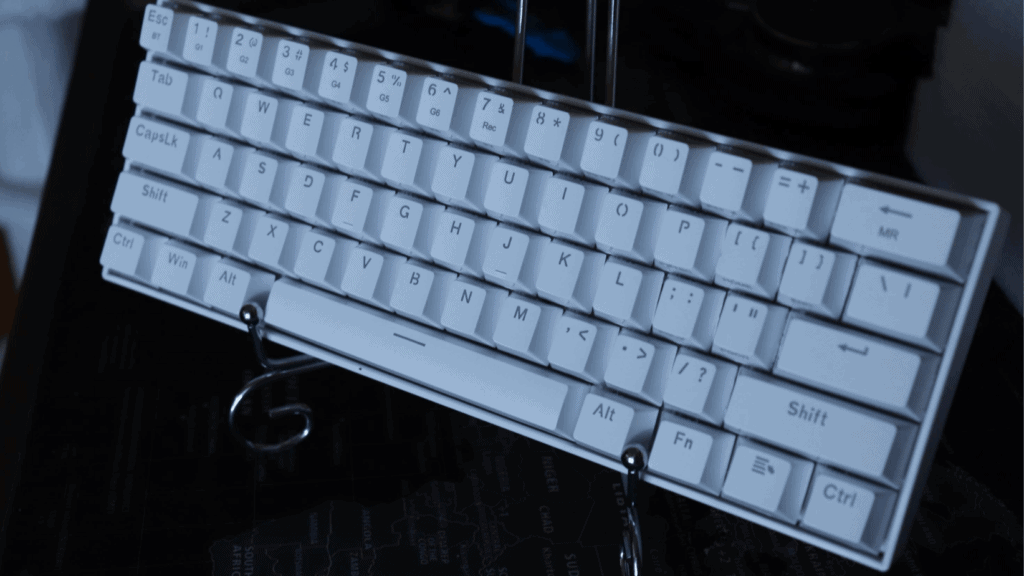 The Redragon K530 is a budget-friendly 60% mechanical keyboard with Redragon-branded Outemu switches that are easy to swap out with the hot-swappable sockets.
The K530 is in a tough race against other 60% keyboards such as the GK61 and Epomaker SK61, but really separates itself with how high-quality and well-thought out the design is.
Finding a mechanical that is a 60% layout, with Bluetooth technology and hot-swappable switches all wrapped up in a fantastic build is no easy feat, but the K530 does it very well.
This keyboard is perfect for those who enjoy a compact layout that's packed with features, but the 60% layout may be off-putting to those who enjoy typing on a larger sized keyboard.
There are fit nit-picks where Redragon could have done a little bit better, but across the board this keyboard is an excellent choice.
You can find the Redragon K530 on Amazon for a really good price.
8. Epomaker SK61: Best Optical Hot-Swappable Keyboard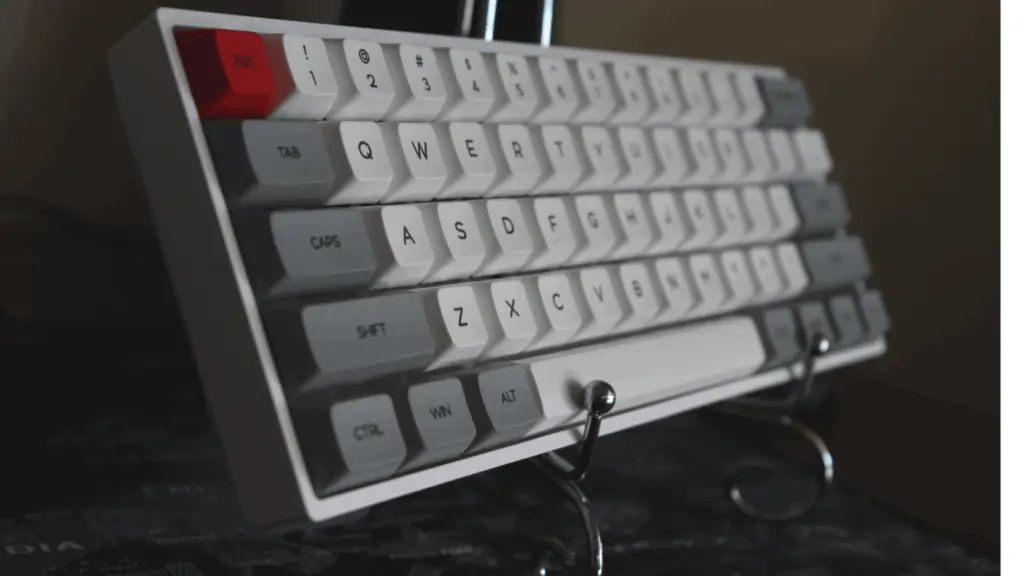 The Epomaker SK61 comes with Gateron optical switches that are also hot-swappable. Usually you only get to pick one, hot-swappable or optical, but with this keyboard, you get both.
Optical switches tend to be smooth. The Gateron Optical Black switches in our keyboard were extremely smooth. The spring force is not as much as Cherry MX Blacks, which makes them mildly strong.
There are many benefits to using optical switches, and one reason is latency. Optical switches actuate via light. When you press on the key, the switch will move and obstruct the light. Thus, they have a more reliable and consistent latency.
Another benefit is being water resistant. Optical switches do not have electrical parts in them that will become damaged when exposed to moisture.
Despite it being a budget-friendly keyboard, you can modify the keyboard to feel and sound much better.
The Epomaker SK61 is a budget-friendly 60% mechanical keyboard that is available in three colorways with RGB lighting and will fit your desk setup quite nicely.
You can find the SK61 available on Amazon for a budget price.
9. Keychron K2: Best 75% Hot-Swappable Keyboard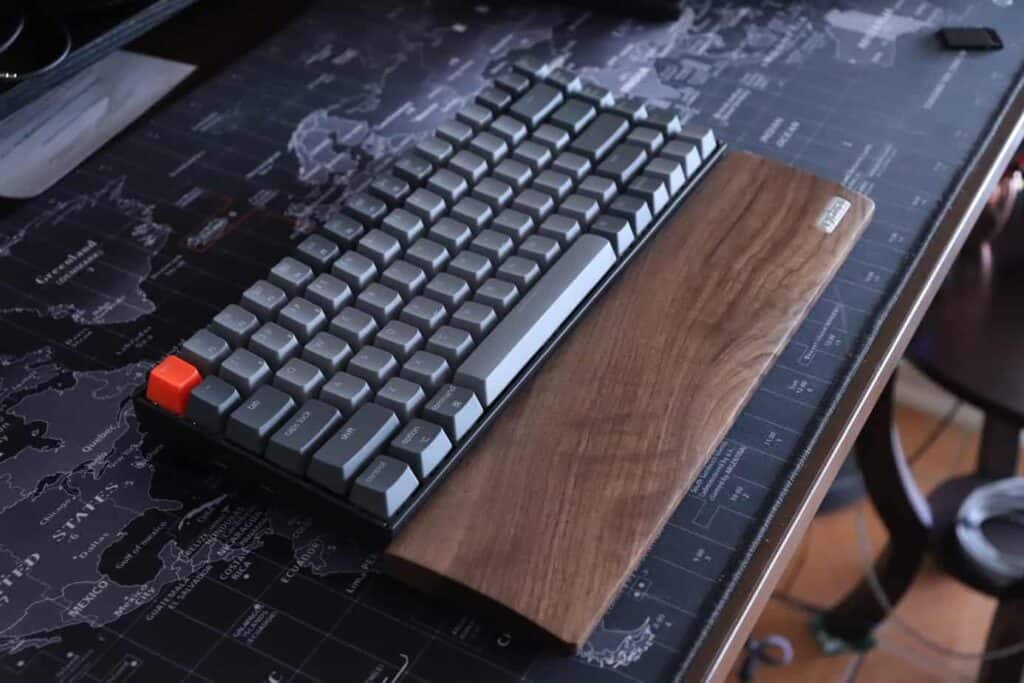 If you're looking for a 75% layout, you can't pass up on the Keychron K2. This keyboard is loaded down with so many features.
With a new improved ergonomic design and the recent addition of hot-swappable switches, this keyboard is a tough contender.
Not to mention the other features standard on a hot-swappable keyboard, such as: Windows/Mac compatibility, Bluetooth connectivity, and RGB lighting.
You also have the option to deck this keyboard out with an aluminum frame.
On the Keychron store you can also choose to add a wooden wrist rest and PBT keycaps if you want to bring your setup to a whole new level.
With a scaling pricing design, you can basically choose the number of features that you want and get a keyboard within the price range you desire.
You can take a look at all of the different options on Amazon with the button below.
10. Epomaker GK68XS: Best Wireless Hot-Swappable Keyboard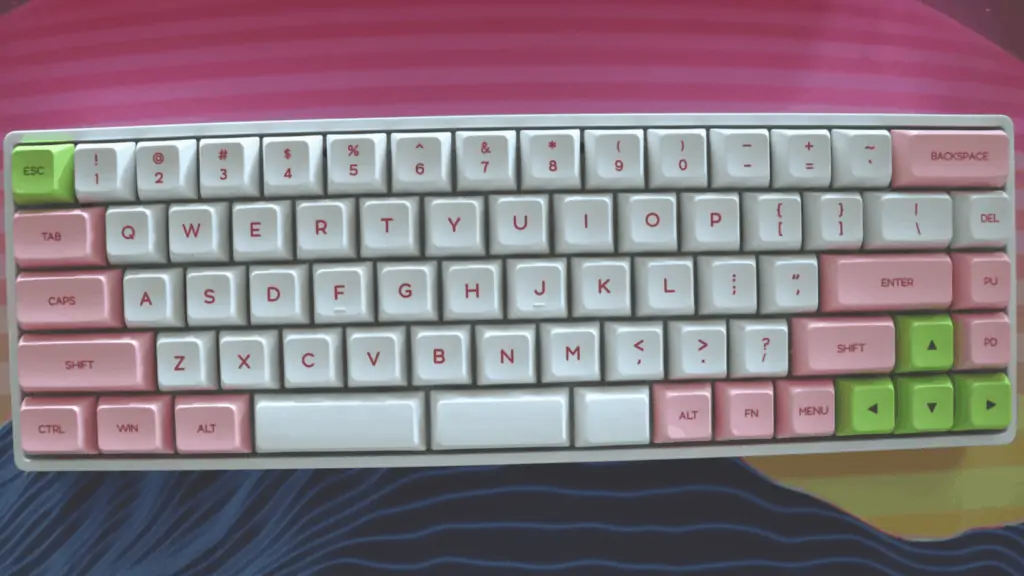 The Epomaker GK68XS is a keyboard that went through a very successful Kickstarter launch and is now available regularly on Amazon.
The keyboard has many interesting features including multi-color PBT keycaps, an optional split spacebar design, and a compact 65% layout.
Not to mention you can connect via Bluetooth to multiple devices. This keyboard was made in response to the Keychron K6 and is an attempt by Epomaker to beat their design.
Whether you decide between the sleek design of the K6 or the vibrant, colorful design of the GK68XS, you won't be disappointed by the quality of either build.
This keyboard is definitely worth taking a look at, just keep in mind the keycap design is not for everybody as it uniform and a unique shape that may be difficult to adjust to.
11. Geek GK6: Best Hot-Swappable Budget Gaming Keyboard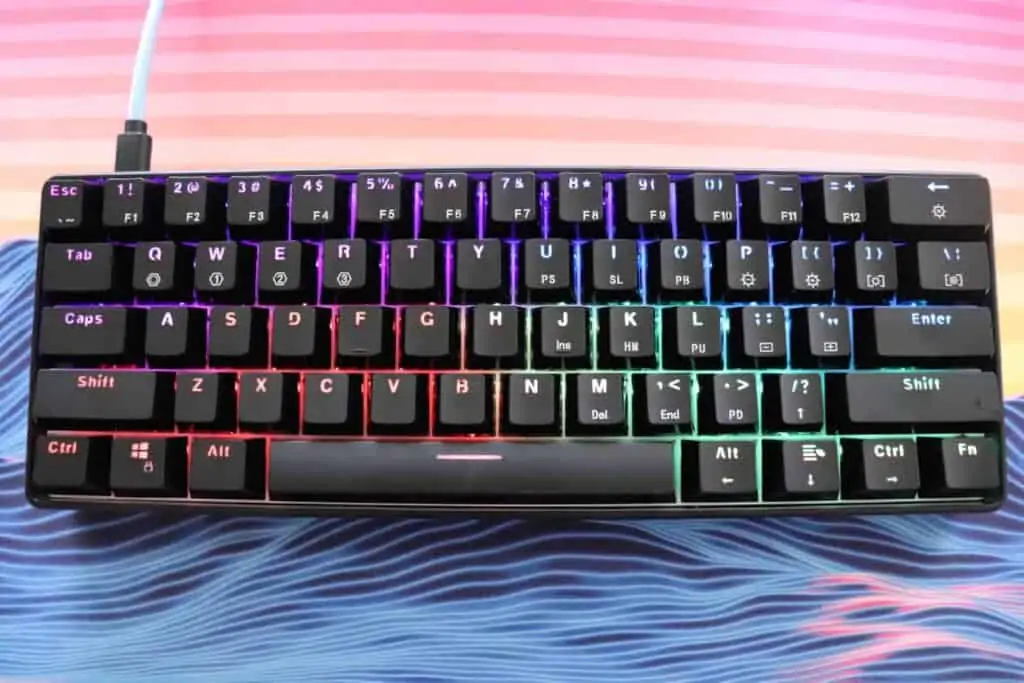 The Geek GK61 is a keyboard that's widely known amongst gamers who need a budget compact keyboard with screaming fast optical switches.
The keyboard has a 60% layout, which basically means there is no arrow keys, number pad, or function row. The rest of the design is pretty basic with ABS keycaps, plastic construction, and RGB lighting.
The basic design makes the keyboard very budget-friendly and the optical switches are a way for gamers to get a slight competitive advantage for a cheaper price.
Basically, if you need a fast budget keyboard, the Geek GK61 is an excellent option.
Just beware, this is not a keyboard for someone who enjoys typing on a normal-sized layout, as lacking so many keys can be quite uncomfortable for those who like to enter data on a number pad.
12. Keychron K8: Best Tenkeyless Hot-Swappable Keyboard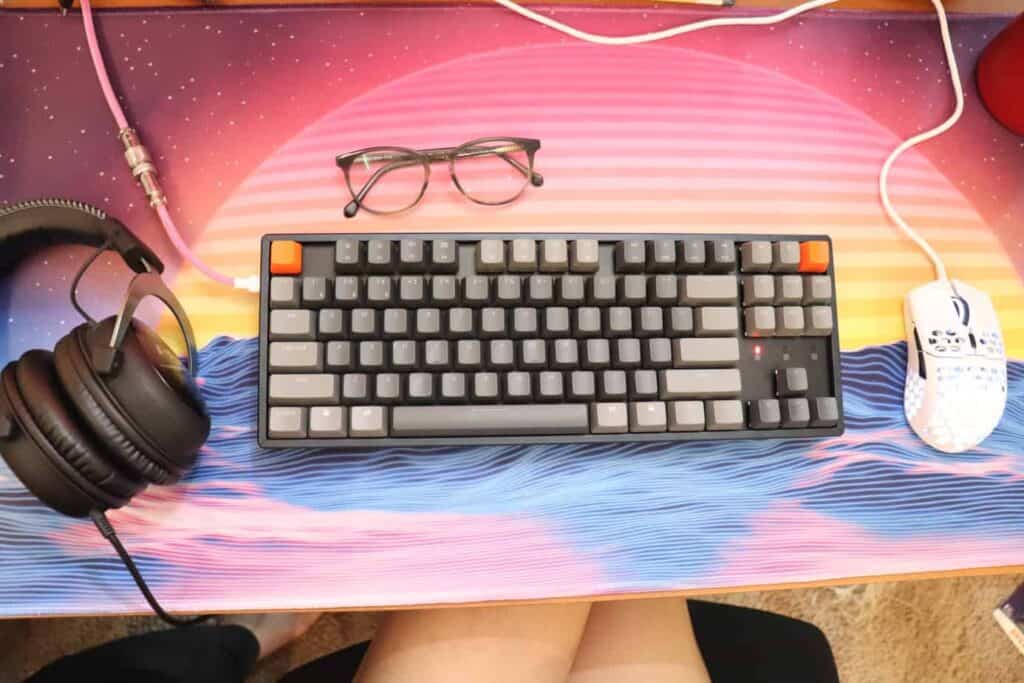 The Keychron K8 is another keyboard that is a product of a successful Kickstarter launch, notice a trend here?
Coming with the standard Keychron package of an aluminum frame, RGB lighting, hot-swappable switches, Windows/Mac compatibility, and Bluetooth connectivity, the K8 can knock your socks off.
The only downsides to this build are the relatively thick design and thin ABS keycaps.
Luckily, all you might need is a comfy wrist rest and your wrists will be happy. And with a standard bottom row, it's easier than ever to swap out the keycaps to a higher-end option.
The difficult part is choosing between the Keychron K2, K6, and K8. It all depends on what sized keyboard you prefer the most.
---
What is a Hot-Swappable Keyboard?
Switching between switches has never been easier with hotswappable keyboards, because the switches are not soldered to PCB at all.
Instead they are pressed in to holes in the PCB and held in place by a plate.
This makes it easy to install several different styles of switches into your keyboard or swap them out whenever you get bored of a certain style.
Whether they are clicky, tactile, or linear, you can try them all, and install with ease.
No Soldering Required
Soldering requires having the right tools on hand, along with a dedicated workstation with good air ventilation.
A lot of people don't have the time or dedication to the learn how to solder in their free.
In addition, if you live in an apartment and don't have a good area to work, soldering may not be feasible or be too much of a hassle for you.
Hot-swappable keyboards make it easier than ever to install and remove switches from your keyboard and don't require the skills, equipment, or work area that soldering switches normally requires.
We recommend hotswappable switches to anyone who is not interested in learning how to solder, or to someone who likes to try lots of different switch types.
How Do You Find a Hotswappable Keyboard?
With the booming popularity increase of hot-swappable keyboards, you can find them almost everywhere nowadays.
There are hot-swappable keyboards in all sizes, some even with optical switches.
We want to be able to review them all so we can let you know how good they really are.
There is no easy way to find a hot-swappable keyboard, so our list was meant to make is super easy for you find them!
Hot-Swappable PCBs for a Custom Keyboard
For those of you that are looking to build a custom keyboard, finding a hot-swappable PCB can be quite difficult.
The most difficult part is finding the PCB when it is in-stock, as the parts tend to sell out really quick.
Usually the easiest PCB to find is one for a 60% layout, the other layouts need a custom plate and custom case meant to fit those PCBs, specifically.
We recommend checking out the latest group buys for those components.
A couple of sites that we like to check are KBDfans and Banggood for 60% hot-swappable PCBs.
For those of you looking to purchase a PCB for a 65% or 75% hot-swappable PCB, we recommend checking out the latest group buys on https://mechgroupbuys.com/.
Conclusion
Picking out a hot-swappable is a really fun process because they are starting to become more and more common.
It seems like every month we hear about the release of a new hot-swappable mechancial keyboard.
Hot-swappable keyboards are perfect for those who don't have the equipment, space, or time to solder their keyboards, and want to try out a ton of different switches on their keyboards.
Without a doubt our favorite hot-swappable keyboard at the moment is the Drop CTRL, but due to the high price-point, I could see how that option may not be feasible for most.
For those on a budget, we highly recommend you check out some other really cool builds including the GMMK Compact, Keychron K6, and the Kemove Snowfox/Shadow.
We also have a guide on how to remove and replace the switches on your hot-swappable keyboard so make sure to check that out as well.
Happy Typing!