Tenkeyless (TKL) keyboards have 87-keys. They don't have a number pad, are compact, minimalist, great for portability and gaming, yet still have all of the functions of a full-sized keyboard. Here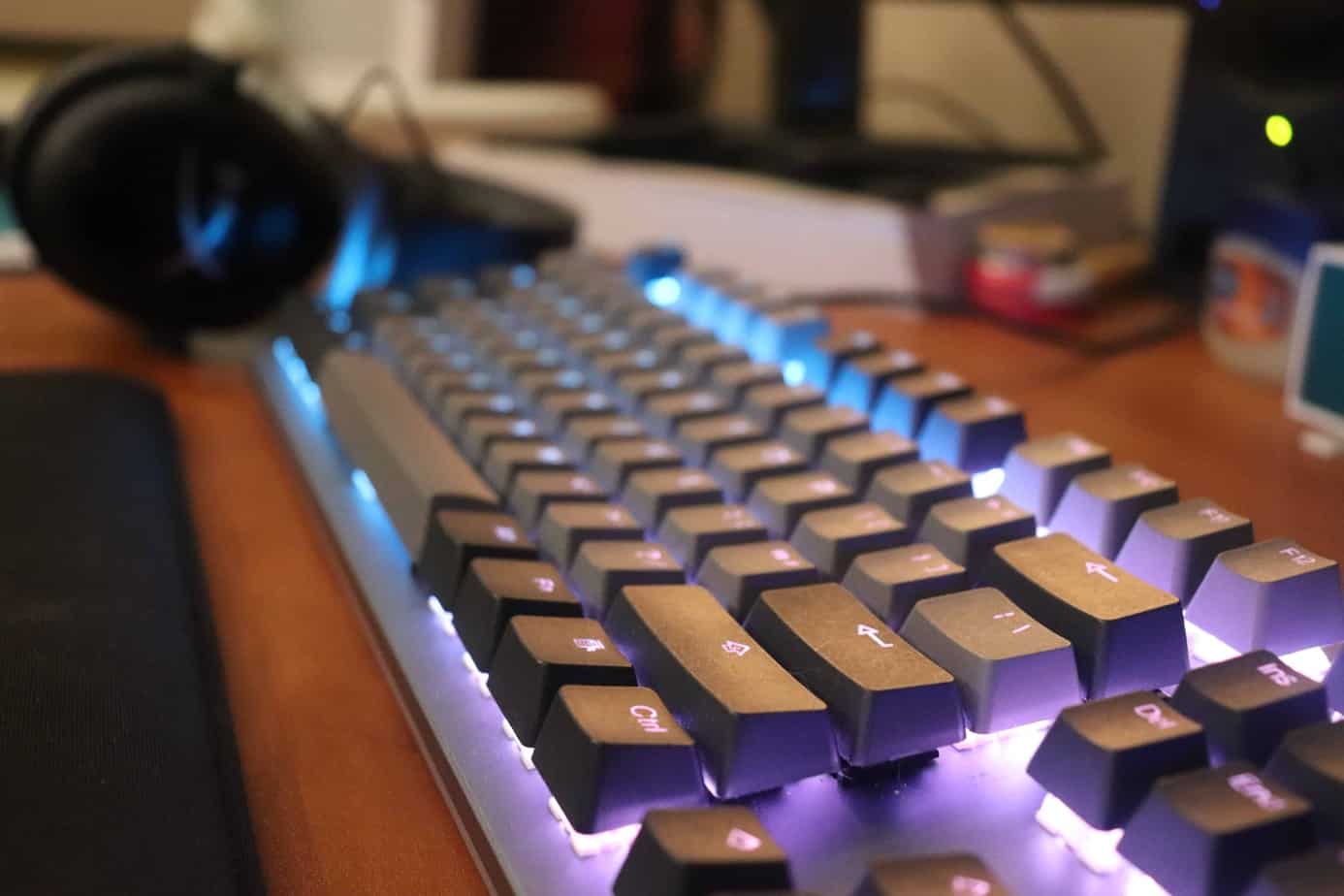 What Are Tenkeyless Mechanical Keyboards?
Tenkeyless mechanical keyboards are 87-key mechanical keyboards that do not have the number pad. They have the top function row, the arrow keys, and the browse keys such as PgUp, Home, End, and PgDn.
These mechanical keyboards are often called tournament keyboards because they are much more portable than full-sized mechanical keyboards, that have 104-keys. This design also lets you use your mouse closer to your keyboard, which enables a more comfortable position and less strain over long periods of time.
Many people can live without a number pad, but they won't sacrifice the other keys such as the arrow keys and function row. Many TKL keyboards do not have dedicated media keys due to their compact design. However, this can be done through the FN key or the function row.
Here are Switch and Click, our top keyboard size is the tenkeyless layout. This is something we have used for many years, and there is no downside to using a keyboard of this size. Unless you're doing number-input at work, then this will lead to many inaccuracies over many inputs.
We have tried and tested many TKL keyboards with more coming on the way, that we're super excited to review and discuss.
How We Tested
We have ordered and used these keyboards for an extended period. Some for many years, some for a few months, and some are on the way with features and benefits that we are looking forward to. We'll test those accordingly, and then see if they can make the list of not.
We looked at price points and features to see if the keyboard was deserving of the price. Alongside that, we looked at many testimonials, videos, articles, and whatever else was available on the keyboard in question.
What We Looked For
Size: We primarily only looked at tenkeyless mechanical keyboards in this article. The reason is that TKL keyboards are the perfect size. They're compact, minimalist, yet they still have all the features needed on a keyboard to fully function without any sacrifices. It might not have a number pad, but you can always get a separate number pad (put it on the left side because this is more efficient). We looked at the best mechanical number pads in another article. We have other "Best Of" articles covering the other keyboards of different sizes as well as in-depth reviews in our Archives.
Switches: Tactile switches will always be our favorite because they give you a tactile bump mid-way. It lets you know that the key press registered, or actuated, and that you can now lift your finger off the key to type another letter now. Linear switches are known to be good for gaming because of the quick response. Clicky switches are tactile, but they make so much noise. Due to our line of work, we prefer keyboards that are quiet. There are many great brands of switches. Many companies make their own such as Logitech's Pro X switches or Romer-G switches, Razer's Mechanical or Optical switches, Cherry MX, and so many more. We go over the most quiet mechanical switches, clicky mechanical switches, Cherry MX switches, as well provide a comprehensive guide on all switches.
Case Material: We prefer a full aluminum build. That may cause additional weight, but it offers noise dampening as well as being sturdy and unbreakable. Plastic cases allow more noise to echo inside them and are easily bendable given enough force.
Keycap Material: There are two common keycap materials: ABS and PBT. ABS plastic is more common and are not as preferred. Over time, they tend to develop a grime on top of them or an oil shine after heavy use. PBT keycaps can come textured or not, but they are more durable and do not develop that shine.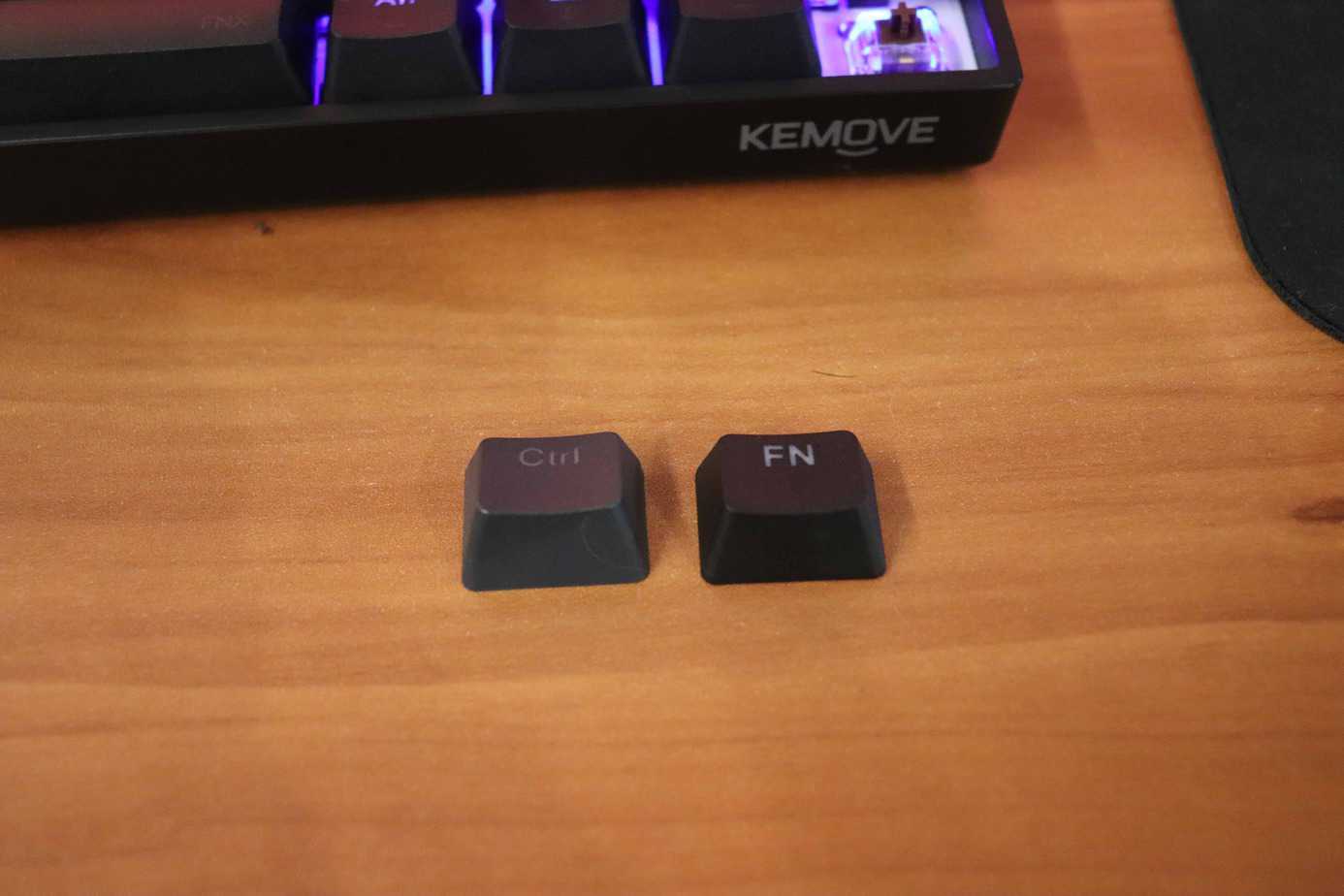 Cable: Ideally, a USB-C cable would be preferred instead of a Micro USB one. Also, a removable one is better since the keyboard is meant to be portable. When your cable is attached to the keyboard, it takes up more space and the likelihood of that cable breaking is higher.
Hot-Swappability: Being hot-swappable means that the PCB (printed circuit board) allows you to pop in and out switches, switching them out easily without desoldering and soldering. It adds price, but it adds a lot of convenience. Unfortunately, pre-assembled hot-swap sockets come with a limited number of hot-swaps, although this is a relatively high number still.
Wireless: There are many wireless mechanical keyboards out there. We talked about our top picks in another article. Being wireless is not something that we look for since we just connect our keyboards to our personal computers at home. For people on the go or using their mechanical keyboard with their laptop, this would be a great option. There are definitely benefits to being able to go wireless.
Backlight: Many people prefer RGB lighting to customize the colors to their set-up. Backlight is almost a requirement because many times, we type in the dark or dim lighting. White backlight is probably the most versatile because it can go with any set-up. The other colors are okay, depending on your set-up.
Our Top Picks
Our First Pick for Gaming Under $100: HyperX Alloy Origins Core
Our top pick for TKL mechanical keyboard of 2020 would be the HyperX Alloy Origins Core. It is the best tenkeyless mechanical keyboard due to its high build quality and minimalist design and appearance. It's available with HyperX Red switches and comes in at $89.99. For people new to mechanical keyboards and hoping for that competitive edge when it comes to gaming/typing, this keyboard is a really good choice.
HyperX also offers another TKL keyboard, the Alloy FPS Pro. This keyboard is available with Cherry MX Blue or Red switches (you can pick between tactile clicky or linear), but a downside is that it only has red LED backlights and a Micro USB instead of USB-C. This keyboard costs $69.99. They're both high-quality and affordable mechanical keyboards. Both of them excel at gaming due with their linear switches and compact, minimalist design.
We wrote an in-depth review of the HyperX Alloy Origins Core here and loved it so much.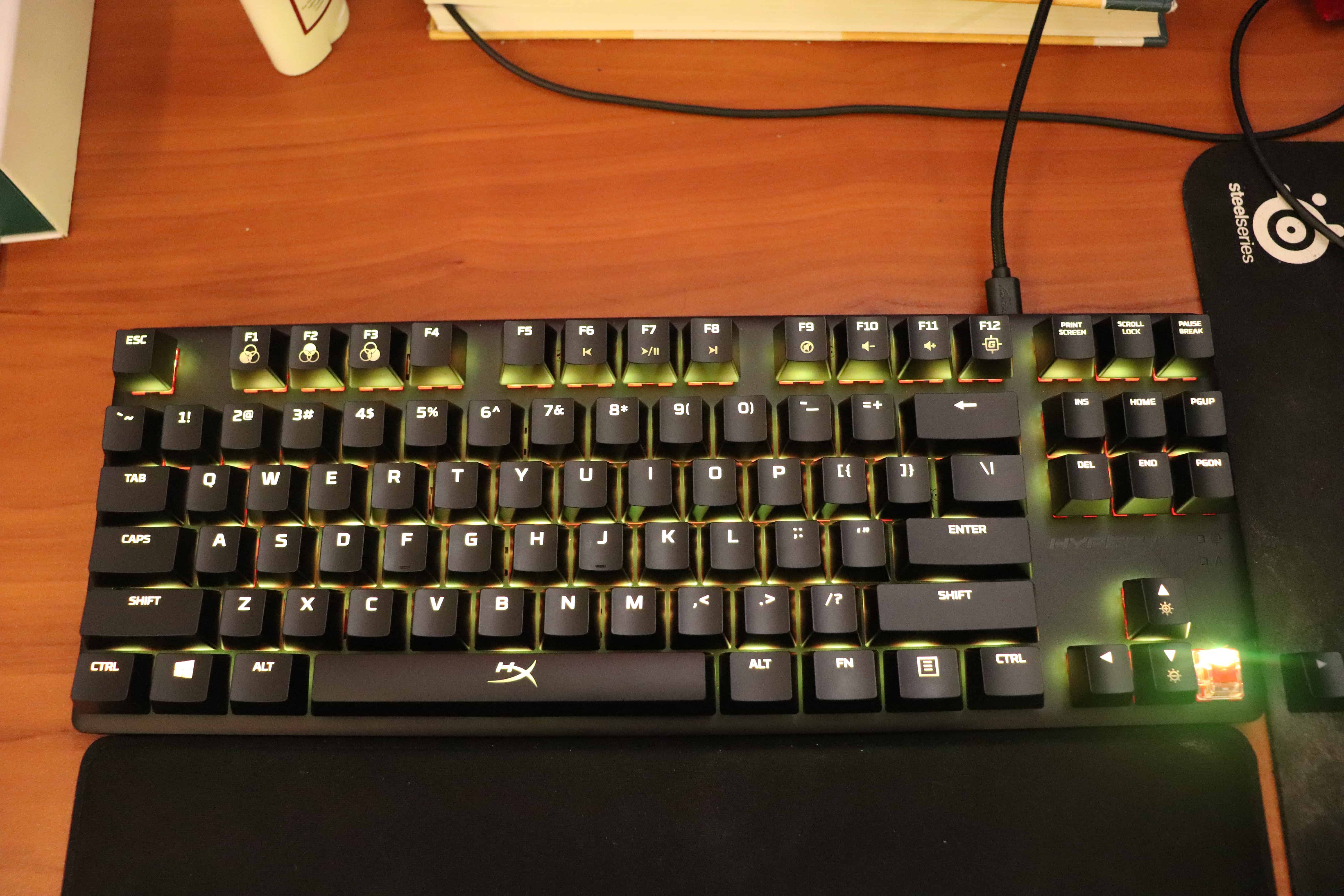 HyperX Alloy Origins Core
Aircraft-grade full aluminum top plate and case – matte black
Four rubber feet at the bottom with 3 different angles for personalization (3 degrees, 7 degrees, and 11 degrees)
USB-C connector (removable and braided) on the right-hand side
Clean legends, lights shine through brightly
ABS plastic keycaps with double-shot molding with laser-etched legends
Fully customizable RGB lighting using their Ngenuity firmware
Floating keycap style design
Subtle branding on top of arrow keys and on the spacebar
Onboard memory for 3 profiles
100% anti-ghosting and N-key rollover
Standard bottom row
Cherry style stabilizers
HyperX Red linear mechanical switches

Actuation distance is 1.8mm

Up to 80 million keystrokes

Two downsides:

USB-C port only fits the original cable due to the intrusion of the case

Keycaps are sprayed matte black and made of cheap ABS plastic, easily replaceable with HyperX PBT Pudding Keycaps for about $20
How is the Alloy FPS Pro different?
The Alloy FPS Pro has Cherry MX switches instead of HyperX switches. These are pretty much the golden standard of mechanical keyboard switches, but many companies nowadays have made Cherry MX clones with comparable quality.
The Alloy FPS Pro offers only red backlit keys. It costs cheaper at $69.99. It has 6 preset lighting profiles that all involve the red backlight. It also has a detachable Micro-USB cable instead of a USB-C cable.
Which one should I get?
We highly recommend the Alloy Origins Core due to its build quality, RGB lighting, detachable USB-C cable, and fully customizability. It costs about $20 more but has a lot to offer. The keycaps might be the only downside, but they are easily replaceable due to its standard layout.
The Next Best Thing with Tactile Switches: Razer Blackwidow Lite
If you're looking for a TKL mechanical keyboard with a tactile switch or the option to be tactile, then the Razer Blackwidow Lite is a good and affordable option. It uses the Razer Orange Mechanical Switches, which are tactile but quiet. They also come with O-rings for more silence. This keyboard currently costs $89.99. It has white backlighting, so you can work or gaming in the dark and has a floating keycap style design.
It has excellent build quality and is available in 2 colors: black or white. They're both good colors to use at the office, but the mechanical switches also offer quick responsiveness for whenever you're gaming.
Blackwidow Lite Features
Available colors: black or white
White backlighting for work in dim lighting
Clean, minimalist, compact design for work at the office or at home
Razer Orange Mechanical Switches, rated up to 80 million keystrokes, quiet tactile switches
Comes with O-rings to make it even more quiet ($10 value separately) that are easy to install and remove
Floating keycap style design
Adjustable kickstand
Detachable braided Micro-USB cable
10-key rollover with anti-ghosting
Fully programmable keys
I've never used this keyboard, but I have been using my Blackwidow Tournament Edition for over 6 years. It's high-quality and lasts forever pretty much. Razer offers high-quality gaming peripherals for a decent price. They have their own switches that are all rated up to 80 million keystrokes. They offer quiet to loud switches. We picked this specific model because it has the Orange switches, which are tactile and quiet. Many of Razer's lineup has their loud, clicky switches or the linear switches.
This would be the best pick for typing in the office or at the library. Even at home for video game streaming or typing up articles with your significant other in the room too. It has a nice and clean design. It has very minimal Razer branding right above the arrow keys, you can almost not even be able to tell that it's a Razer keyboard.
Budget Pick: Razer Blackwidow X Tournament Edition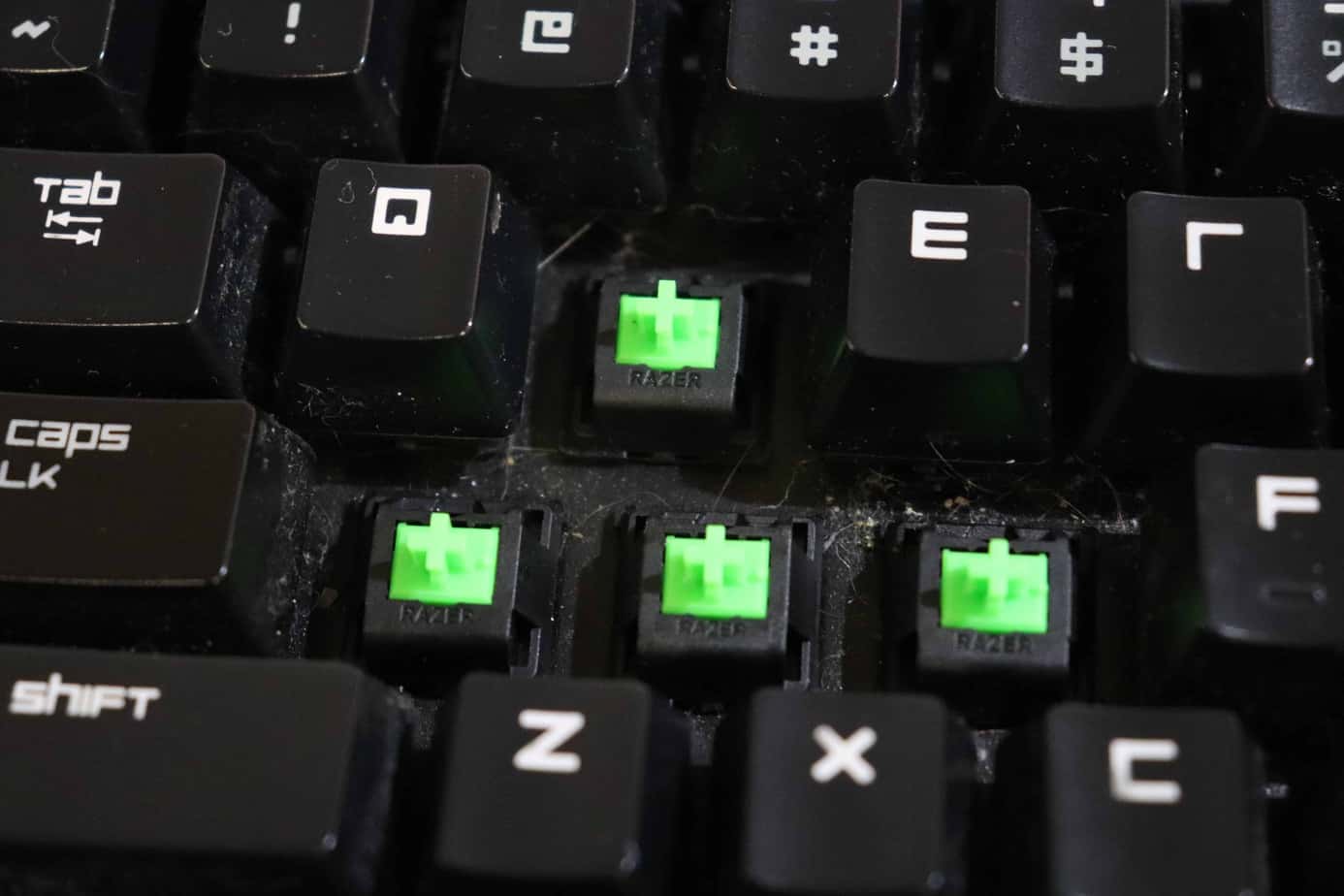 Our budget pick comes in currently at $55.99. It is the least expensive TKL mechanical keyboard on this list. It is the Razer Blackwidow X Tournament Edition. It is a TKL keyboard that comes in all black, with Razer Green Mechanical Switches (super clicky and rated up to 80 million key strokes), military grade metal top plate and plastic frame, 10-key roll-over anti-ghosting, fully programmable keys, a braided cable, and gaming mode.
This keyboard is very similar to the Blackwidow Lite except that it is clicky, only comes in black, and has no backlight. For some people, backlight isn't necessary. The legends are white and offer nice contrast, so it's possible to type even with dim lighting.
From personal experience, this is an amazing first mechanical keyboard. It lets you experience high-quality mechanical switches that offer nice clicks. It's also at a reasonable price and doesn't come with all the extra bells and whistles (which may not even be necessary).
It's great for gaming, super portable, and easy to throw in your backpack without feeling guilty for it.
Additional Great TKL Mechanical Keyboards
Drop CTRL: Customizable Options, yet Pricey
This keyboard costs $200 on Drop and is currently available for pre-order. It initially came out in late 2018 and has been in several group buys since then. It has a 4.25-start rating with over 450 ratings on Drop.
The original has a floating keycap style design, but they also have a high-profile version as well for $250, if you do not like floating keycaps.
Special features:
Floating keycap style design, or high profile ($250)
Hot-swappable
Fully programmable via QMK
Dual USB-C ports on either top side of the keyboard
Magnetic feet for angle adjustment
Shine-through PBT textured keycaps
Variety of different switches to pick from (price varies)
Variety of custom keycap sets to pick from (price varies)
Solid aluminum frame
RGB lighting, also fully customizable
Variety of pre-programmed lighting settings
Cherry style stabilizers
For a more thorough review of this keyboard, we did one awhile back.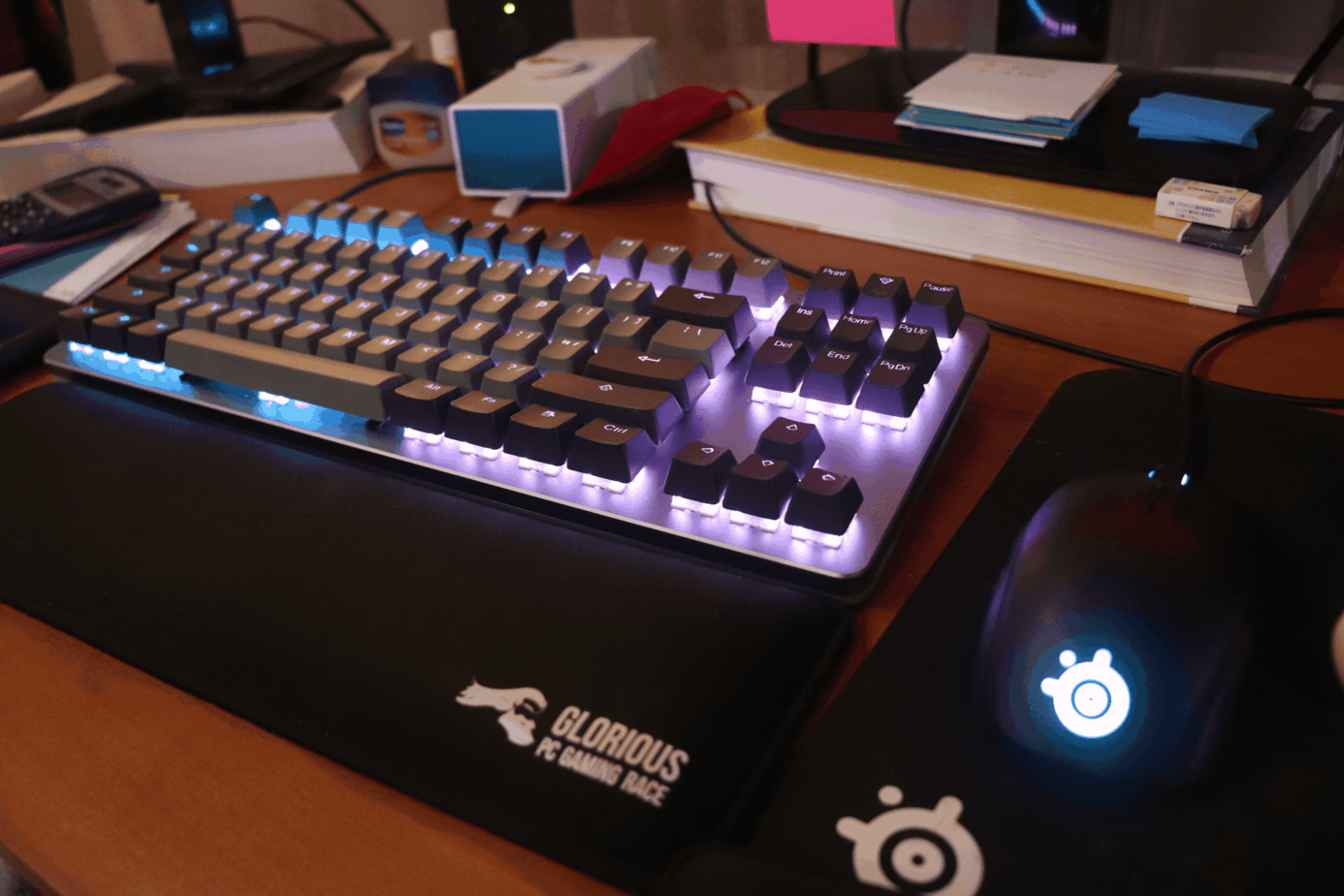 Some Complaints
Some important things to note are the downsides to this keyboard. One primary problem was key chattering, when you press one key, but it registers twice, such as double spacing. Another complaint is that the colors reset after every restart.
It's been six months since I've started using this keyboard daily. It still does the key chattering despite the attempted fix that Drop put out in its discussion boards. The chattering does not occur regularly, and from what I've read, it's not a universal problem among all users of this keyboard. Many people do complain about this problem though.
For a $200 mechanical keyboard, one might expect a high-quality braided USB-C cable, but it's not. It's a simple 6ft rubber-coated USB-C cable. There are no problems with it, but it's just not special for that price point.
Logitech G Pro (X)
There is the Logitech G Pro and the Logitech G Pro X.
The Logitech G Pro Gaming Keyboard is currently priced on sale at $79.99 on Amazon. It has a 4.5-star rating with 580 reviews. The original price for the Pro Keyboard is $129.99, and they also have a Pro X keyboard at $149.99. We'll talk about both in detail and the differences.
A special product of theirs is their switches. They sell their Pro X switches separately at $49.99 for a pack.
The Logitech G Pro
Out of the box, this keyboard comes with GX Blue switches, which are as clicky as it gets.
It has RGB lighting that is programmable to your setup's specifications, but it also has preset lighting effects for quick use.
It has a detachable braided Micro USB cable for quick and easy connection or disconnection for travel. As special feature is that it has prongs on each side to secure the connection, so it doesn't accidentally fall off.
Unlike other keyboards, the rubber feet offer three different angles (flat, four degrees, and eight degrees) of customization to enhance your comfort while gaming. It also features a fully programmable row of F keys to put in your custom macros via their firmware, the Logitech G HUB.
It is a sturdy keyboard with no flex. The top right hand has an LED light button to easily turn on and off your lights.
The actuation distance for these switches is 2.0mm with 50g of force to activate. The LED lights are directly in the middle of the switches, enhancing the light through the keycaps.
The only downside is that the bottom row is a non-standard bottom row. It will not fit some custom keycap sets, so make sure you check for compatibility prior to buying.
Differences Between Pro and Pro X Keyboard
The Logitech G Pro X Keyboard is slightly more expensive and for good reason. Pretty much everything is the same.
One of the differences is that you can pick the type of switches you can get out of three different sets: GX Blue (clicky), GX Brown (tactile), or GX Reds (linear).
The GX Browns have an actuation distance of 2.0mm with an actuation force of 50g. It is not as loud as the GX Blues.
The GX Reds have an actuation distance of 1.9mm (slightly less) with an actuation force of 50g.
Another big benefit is that the PCB is hot-swappable! That means you can mix and match these GX switches however you want. Inside the box is a keycap puller and a switch puller as well.
The switches are mechanical switches with a clear top housing. The stabilizers have a decent amount of rattle, which isn't a good thing.
A super cool thing is that you can use any switches you want to with this keyboard, considering they're MX-style.
A downside is the price. It sells at $150. The keyboard still has a Micro-USB, which is a little outdated for 2019. For this price, there are many other keyboards out there that have a USB-C cable, hot-swappable switches, and with a more aesthetic look as well.
Logitech Pro X Switches
These switches are only available on the Logitech website. They come in boxes of 92 switches, so you get a few extra in case you need some replacements.
They are currently selling for $50 for a box of 92 switches.
Ducky One 2 TKL: Something You Might Not Have Heard of So Far, but High Quality
Ducky is not a commonly recognized brand outside of the mechanical keyboard community. They offer the Ducky One 2 in all sorts of sizes: 60%, 65%, TKL, and full-sized.
This keyboard can be found at MechanicalKeyboards.com for $125. The switch options are all Cherry MX: Red, blue, brown, black, natural white, and silver.
Ducky always sends you a nice special spacebar with some extra colored keycaps. They let you do something special and customize your keyboards a little bit more. The keyboard is black with a white bottom bezel, which makes it unique from other mechanical keyboards.
It's a fully plastic build. There is a 3-level kickstand design with 4 rubber feet. It also has 3 DIP switches on the back, letting you change the layout a little bit.
One thing that the other keyboards did not have that the Ducky has is PBT Double-shot keycaps.
Ducky One 2 TKL Features:
PBT doubleshot keycaps
Cherry MX switches
Detachable USB-C cable
3 level angle adjustment
RGB lighting with fully customizability
Anti-ghosting with N-key rollover
Comes with special keycaps for modifiers and spacebar as well as a keycap puller
Ducky firmware to customize new layers
Has pre-set lighting modes that's accessibility onboard
Related posts that you might be interested in reading:
The Best Budget 60% Keyboards Under $75
Best wireless mechanical keyboards of 2020
Best Low-Profile Keyboards of 2020
Best Hot-Swappable Keyboards of 2020
Best Mechanical Numpads of 2020
Best Mechanical Keyboards for the Office
Top 5 Most Quiet Mechanical Keyboard Switches
The Five Best Mechanical Keyboards For Typing of 2020
Happy typing!