Finding the perfect keyboard outfitted with Cherry MX Red switches can be difficult.
There are dozens of different keyboards and brands out there, so we filtered it down to only the best options.
Let's dive right into the list.
---
Best Cherry MX Red Keyboards – Our Top Picks
---
1. Varmilo VA87M: Best All-Around Pick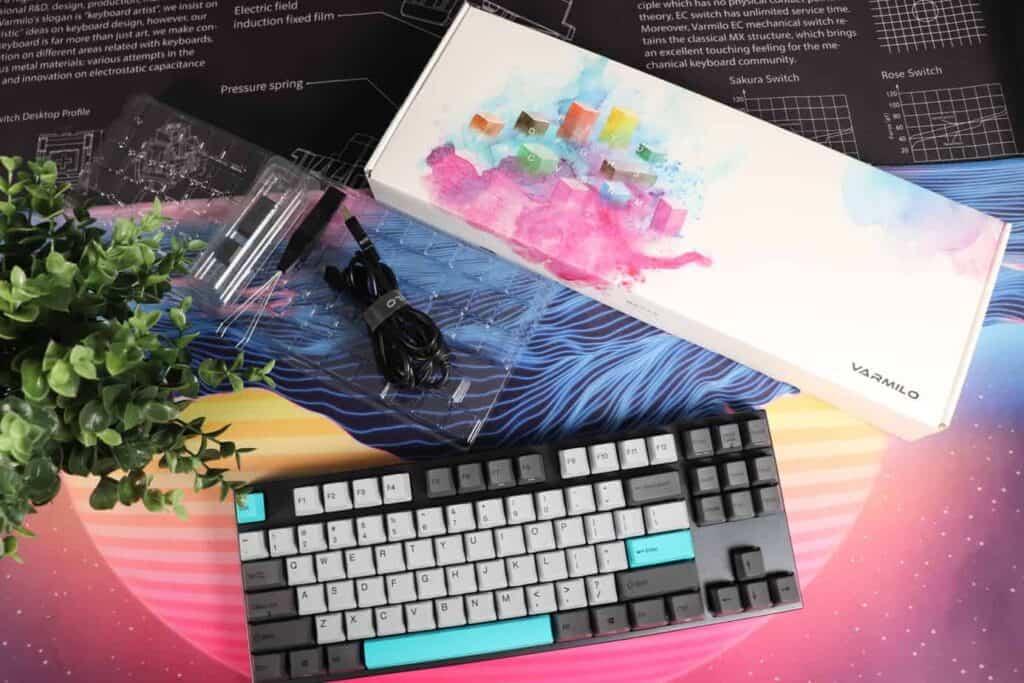 In the mechanical keyboard world, the name Varmilo is synonymous with a high-quality typing experience.
Coming outfitted with multi-color keycaps that offer a unique colorway and aesthetic, the keyboard really pops on your desk.
Not to mention the extra-durable design will keep the keycaps from wearing down and will stay in excellent shape for a long time. The dye-sub PBT manufacturing method ensures a long-lasting lifespan.
The most outstanding aspect of this keyboard is how it does the simple stuff really well.
You buy a keyboard because you expect to type on it for long periods of time and this keyboard offers one of the best experiences out-of-the-box.
The stabilizers keep the larger keys from shaking, but they come pre-lubed from the factory, making them extra-stable and buttery smooth. Virtually zero rattle at all.
The case design is also quite solid making this keyboard an all-around great pick regardless of what you plan on doing with your keyboard.
The only downside is the detachable micro-USB cable could use an update to the more widely accepted USB-C head. The non-reversible design of a micro-USB cable makes it unnecessarily cumbersome to use.
Besides that small hiccup, this keyboard is basically perfect.
The keyboard is available in a wide variety of Cherry MX switches, including MX Reds.
You can check out the Varmilo VA87M for a pretty good price.
2. Ducky One 2 Mini: Best For Gaming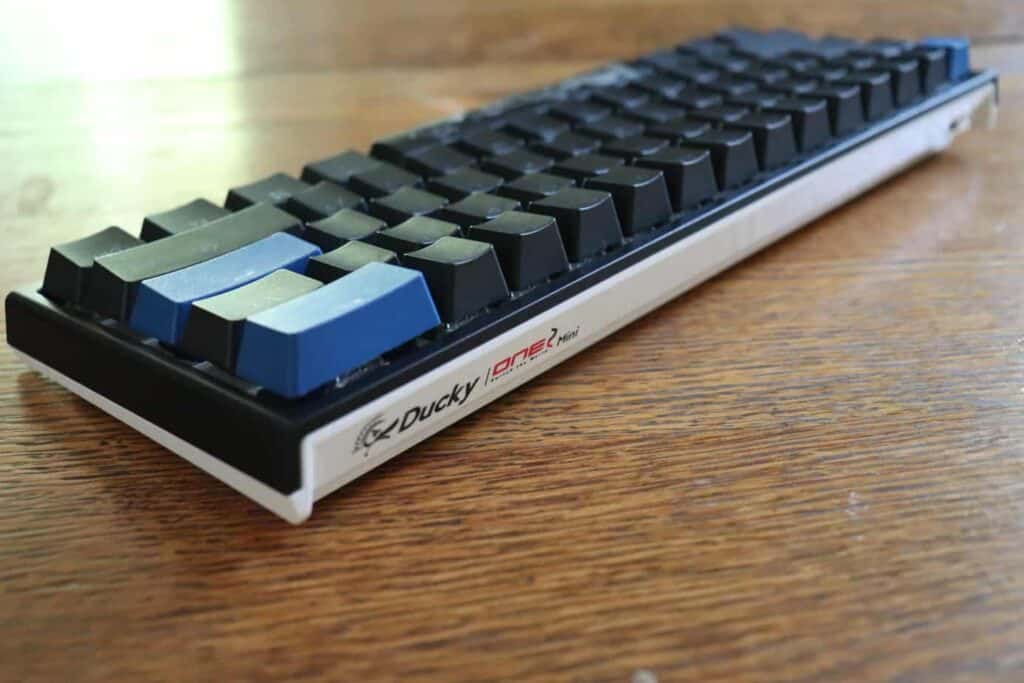 The Ducky One 2 Mini is a 60% mechanical keyboard that set the standard for compact mechanical keyboards.
The keyboard has a unique two-color appearance and comes with eye-catching accessories such as a stylized spacebar in the zodiac year and some extra keycaps in a random color.
This keyboard is an excellent companion for whatever purpose you plan on using your keyboard for, whether that be work, gaming, typing, or programming.
The Ducky One 2 Mini does everything very well.
The keyboard comes in a variety of great switch options including Cherry MX and Kailh options.
Cherry MX switches are a great option because they are incredibly well-produced and have a lifespan of 100 million keystrokes.
Not to mention, you have the option between the entire lineup, including the specialty switches.
Kailh switches are also a good option if you're into clicky switches.
Kailh clicky switches come in a click bar design which means they make a clicking noise in both the up and down direction for the ultimate auditory feedback.
Here are all of the switches available:
Cherry MX Black, Red, Blue, Brown
Cherry MX Speed Silver
Cherry MX Silent Black, Silent Red
Kailh Box White, Speed Copper, Speed Pro Burgandy
The case design of the Ducky One 2 mini is all plastic, which feels well-assembled and adds a nice bounce when typing.
At the price point, I would've liked to see an aluminum frame, but if you have the extra dough you can opt for the Ducky One 2 Mecha Mini instead.
One of the coolest aspects of the Ducky One 2 Mini is that it comes with additional keycaps in a random color, which allow you to customize the aesthetic.
The stylized Zodiac spacebar is also thrown in which adds a nice touch to the design.
Overall, you can't deny that the Ducky One 2 Mini is an excellent choice.
You can find the keyboard on mechanicalkeyboards.com for a good price.
3. Durgod K320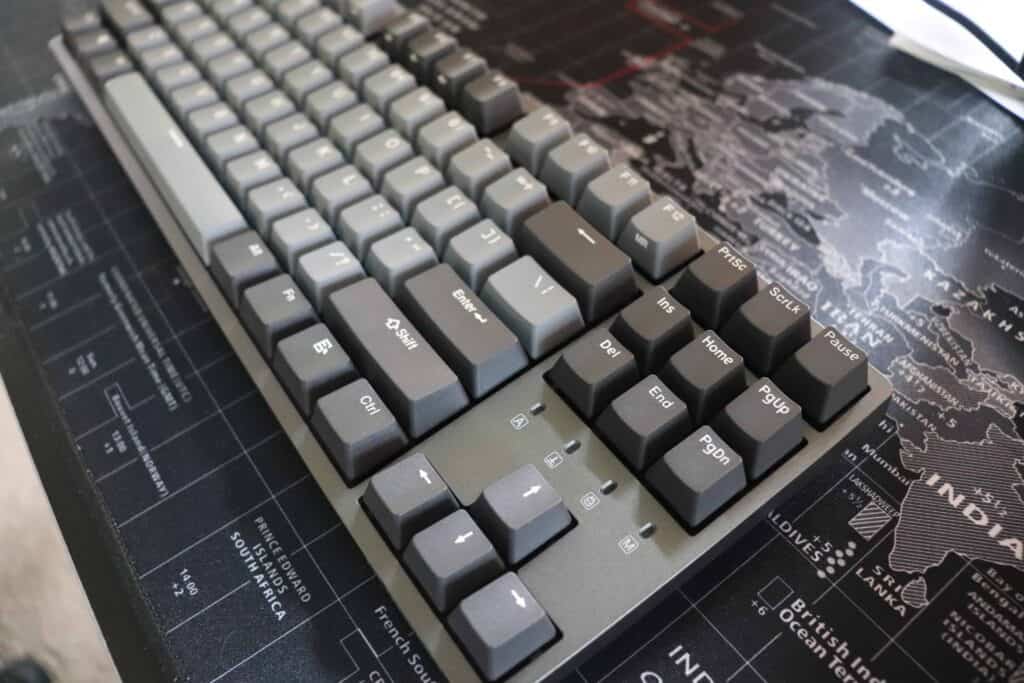 The Durgod Taurus K320 is a mechanical keyboard that offers one of the best feeling experiences out there.
Coming with Cherry MX switches, extra smooth stabilizers, and PBT keycaps, you can't deny this keyboard is a dream to use. All of it coming packaged in a compact TKL layout.
For a pre-built keyboard, the K320 is sure to impress, giving one of the best impressions we've seen, right up there with the Varmilo VA87M.
One of the few issues with the K320 is it lacks in a lot of features that you may find in other tenkeyless keyboards such as, media keys, USB passthrough, and the other bells and whistles.
And the center-mounted USB port make it difficult to use a custom USB-C cable, so you're stuck with the standard cable.
But if you're looking for a keyboard that does the simple stuff really well, the Durgod K320 is a perfect no-frills keyboard for you.
The keyboard comes with a wide variety of different switch options including almost the entire Cherry MX switch lineup. So if you want to outfit the keyboard with Cherry MX Red switches, that's an option.
But if you want a heavier linear option, Cherry MX Blacks are also a good pick. But if you need to stealthily type away with minimal noise, we recommend the Silent Red switch as an alternative option.
You can find the Durgod K320 on Amazon for an affordable price coming a variety of switch options.
4. Mistel X-VIII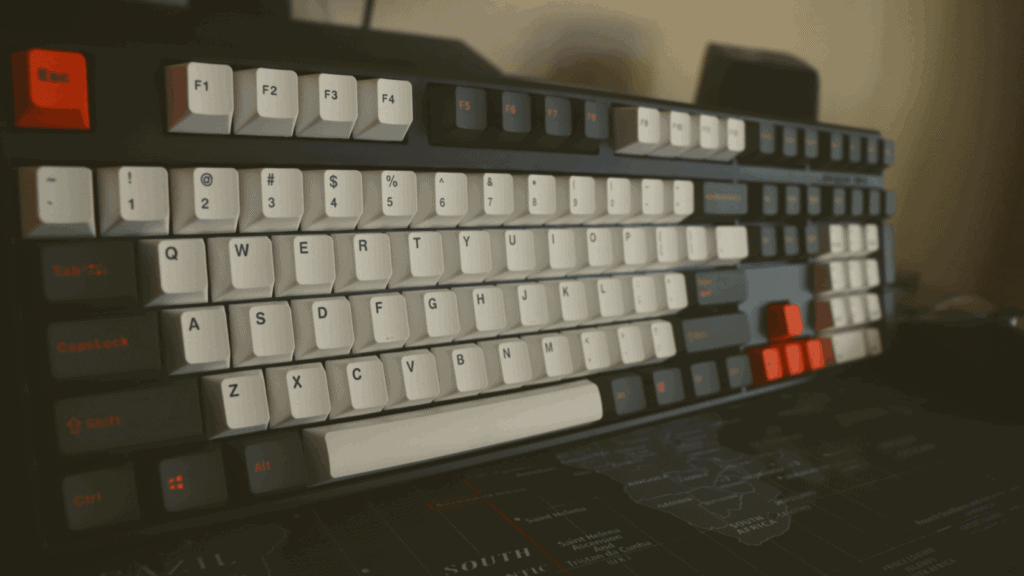 If you're looking for a custom(ish) keyboard that comes with an awesome theme and make makes you feel like you're driving a Bentley, you can't pass up on the Mistel X-VIII.
The keyboard comes with multi-color PBT keycaps which tie the entire the build together. You also get an few additional novel keycaps which add an extra element of customization.
The build of the keyboard feels great. There is little flex and the kickstands are very adjustable so you can type at multiple angles.
The thoughtfully-placed dedicated media keys make it convenient to change your music on the fly without having to open the settings, they also don't take up extra space on the keyboard or stand out too much. A very sleek design.
You can tell the entire keyboard is carefully designed with attention to detail in almost every aspect of the design.
Not to mention there are some really interesting components thrown into the box to make unboxing process more exciting.
A Cherry MX Blue grenade is always a cool add-in to get. Not to mention, the noise it makes is accurate.
Coming outfitted with your choice of Cherry MX switches lets you pick which style is best for you (my guess is you're going to pick Cherry MX Reds).
You can check out the the Mistel X-VIII on Amazon for an affordable price.
5. HyperX Alloy FPS Pro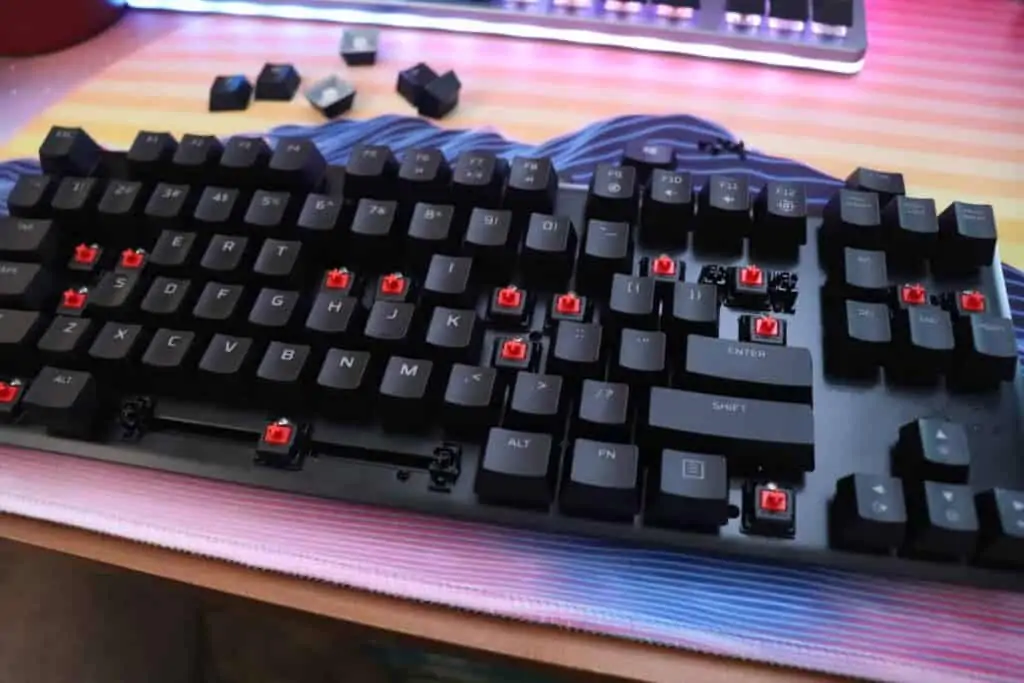 The HyperX Alloy FPS Pro is a budget-friendly gaming keyboard that offers Cherry MX Red switches.
As the cheapest keyboard option on this list outfitted with Cherry MX switches, the FPS Pro offers an interesting value proposition.
With a focus on providing a keyboard with high quality Cherry MX switches, you get a durable keyboard for a lower price than usual.
The backlight on the keyboard is red only which ties into the whole HyperX Red aesthetic (and Cherry MX Red switches). It would have been nice to have the option for RGB lighting, but at it's current price point it makes sense that's not an option.
The case features a thin aluminum top plate along with a plastic underbelly. As far build quality goes, it feels a little flimsy but has a nice rounded clean look to it.
If you want a much better built keyboard, consider opting for the HyperX Alloy Origins Core instead. While costing slightly more, it features a full aluminum frame.
Overall, this is your best bet for a Cherry MX Red keyboard if you're on a budget but there are better options out there if you're willing to spend a bit extra.
You can check out the HyperX Alloy FPS Pro on Amazon.
6. iKBC CD87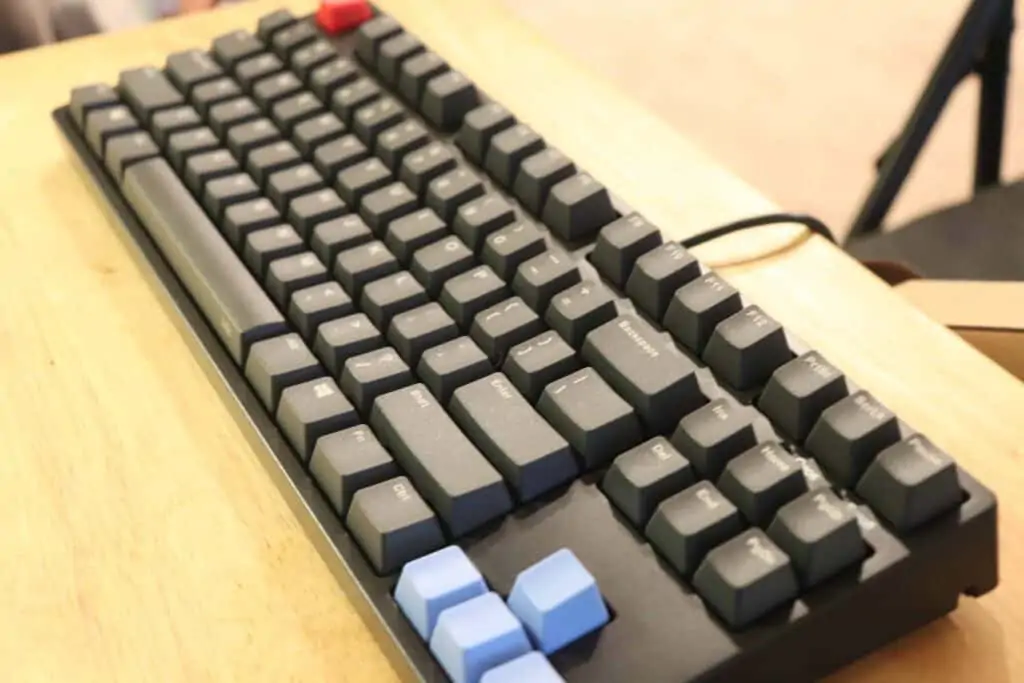 > See Full Review <
The iKBC CD87 is a tenkeyless mechanical keyboard with a simple, old-school design.
We really like the overall build of the keyboard, coming standard with PBT keycaps and some additional colored keycaps that you can use custom the design to your own tastes.
The keyboard feels solid and is well built. The keyboard comes with a variety of different Cherry MX switch options, so Cherry MX Red switches are on the table.
The only feature we found to complain about was the non-detachable power cable (of course) that attaches to the center of the backside of the keyboard.
You're given some routing aids to send the cable to the left or right side of the keyboard depending on which side your PC is on.
Of course, we would have preferred a detachable power cable, but unfortunately, that is not always an option.
The kickstands on the back of the case allow for two extra height settings, so you're able to have a few different options for how high the keyboard sits to get that ideal typing angle.
We found the stabilizers to be very smooth and sound very nice when typing on the larger keys. The typing experience is very nice overall.
We think the iKBC CD87 is a great tenkeyless keyboard that is very enjoyable to use with a very simple and clean aesthetic.
There's really not much to complain about this keyboard except for the non-detachable power cable, and we would recommend this keyboard to anyone who likes a simple and reliable keyboard with some nice features.
You can find the price of the iKBC CD87 to view on Amazon.
7. Corsair K70 RGB
When looking at gaming mechanical keyboards, at this point everybody has heard of Corsair.
The K70 RGB is absolutely packed with utility, including USB passthrough, customizable per-key RGB lighting, all of which can be further tweaked through the powerful Corsair iCUE software.
What this keyboard brings in utility makes up for the poor typing experience. With rattily stabilizers and a decent amount of spring ping, K70 RGB produces a lot of shaking noises.
The case design is also quite bulky, which makes sense considering the number of features packed into it, but you'll notice a bit of creakiness when you twist the case.
If you are willing to opt for speed silver switches instead, we highly recommend the K100 RGB instead. The upgraded design fixes many of the issues found in the K70.
The K70 RGB comes outfitted with Cherry MX Red switches which make the keyboard perform quite well for the purpose of gaming.
If you need a keyboard that allows for a ton of customizability through the software for key remapping, macros, and RGB lighting, you can't pass up on a Corsair keyboard.
8. Vortexgear Cypher 65%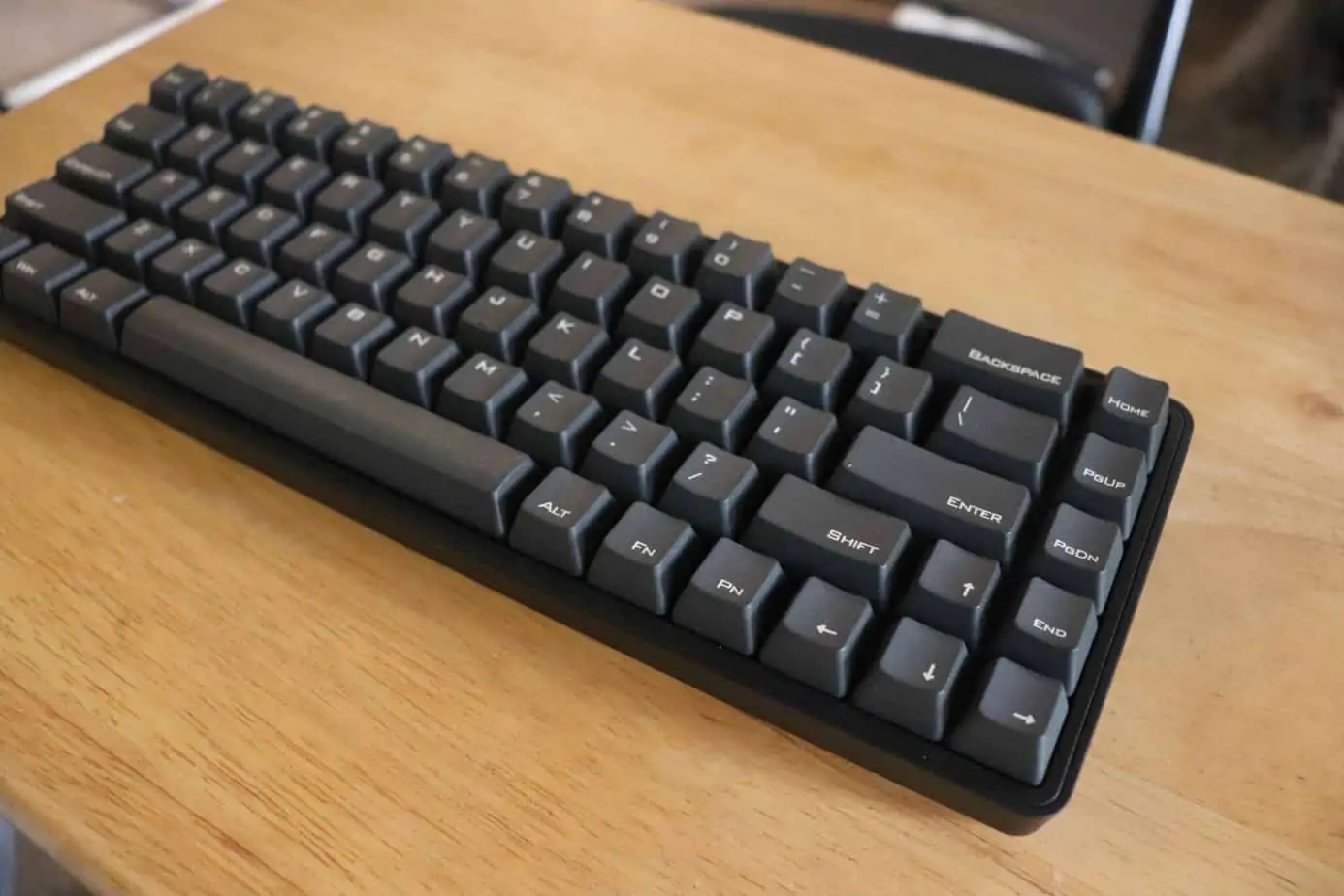 The Vortexgear 68 is a mechanical keyboard coming in a tight 65% layout.
A 65% keyboard is a smaller more efficient size, that cuts out all of the extra fluff. No numberpad, function row, or navigational cluster required. This keyboard will save tons of desk space but still be quite comfortable to use.
The Vortexgear Cypher has a black plastic case that feels well-built with grey-colored PBT keycaps and very clean legends.
The PBT keycaps offer an extra amount of durability that you wouldn't otherwise find on a keyboard with ABS keycaps.
It comes with a detachable USB-C cable that connects on the left side of the back-end of the keyboard, the perfect location for using a custom cable and convenient plugging.
The keyboard feels very nice to use, the Cherry MX switches are as good as ever and the stabilizers feel great. The case (while plastic) feels very stable and well put together.
We would highly recommend this keyboard to anyone looking for a smaller keyboard as this one is light and very easy to take on the go.
Just keep in a mind the smaller layout may not be for everybody.
An interesting aspect of this keyboard is that you can also order it with a split spacebar for slightly more if you're interested in a different style.
You can find the keyboard on Amazon for an affordable price through this link.
9. WASD Code V3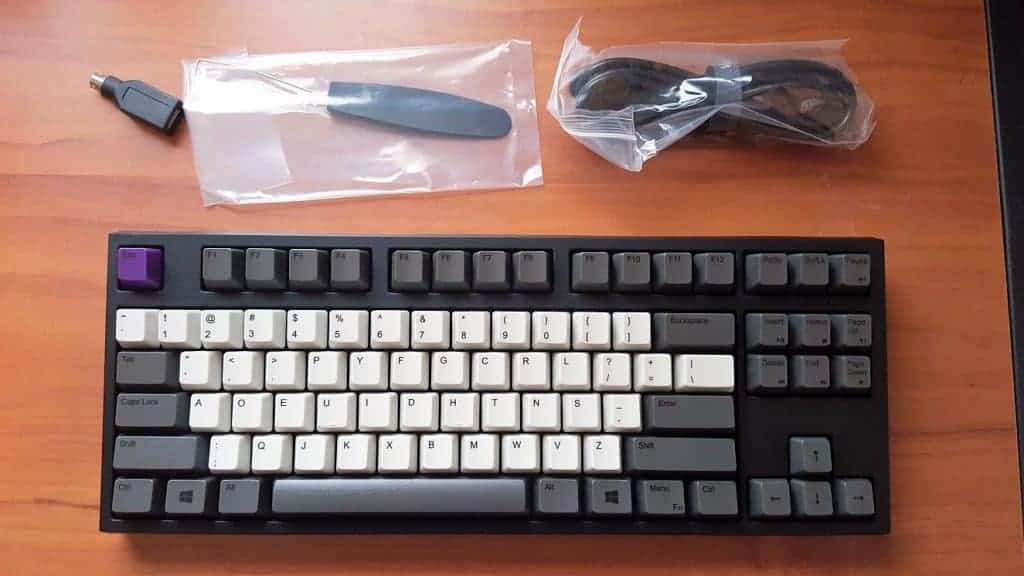 The WASD Code V3 is an excellent tenkeyless mechanical keyboard that comes with a ton of cool features and is highly customizable.
There are two different ways to get this keyboard:
Purchase a pre-styled design on Amazon.
Fully customize the keyboard yourself on the official WASD website.
If you have the free time, it can be a lot of fun to go to their website and fiddle around with the different design settings. Just beware the price can increase very quickly!
The Code V3 gives you the benefits of a custom mechanical keyboard without the effort required to build it yourself.
The keyboard comes with a ton of different switch options, everything from Cherry MX to ZealPC, depending on your budget.
If you need Cherry MX switches, you can opt for that, but we recommend trying one of the other exciting switches offered.
The build quality of the keyboard is quite nice, but nothing to write home about. It's a solid feeling case composed of plastic with an aluminum plate.
The main advantages of this keyboard definitely lie in the ability to really make it fit your preferences and style choices.
We definitely recommend you check this keyboard out although it may be a bit pricey for some.
10. Durgod Fusion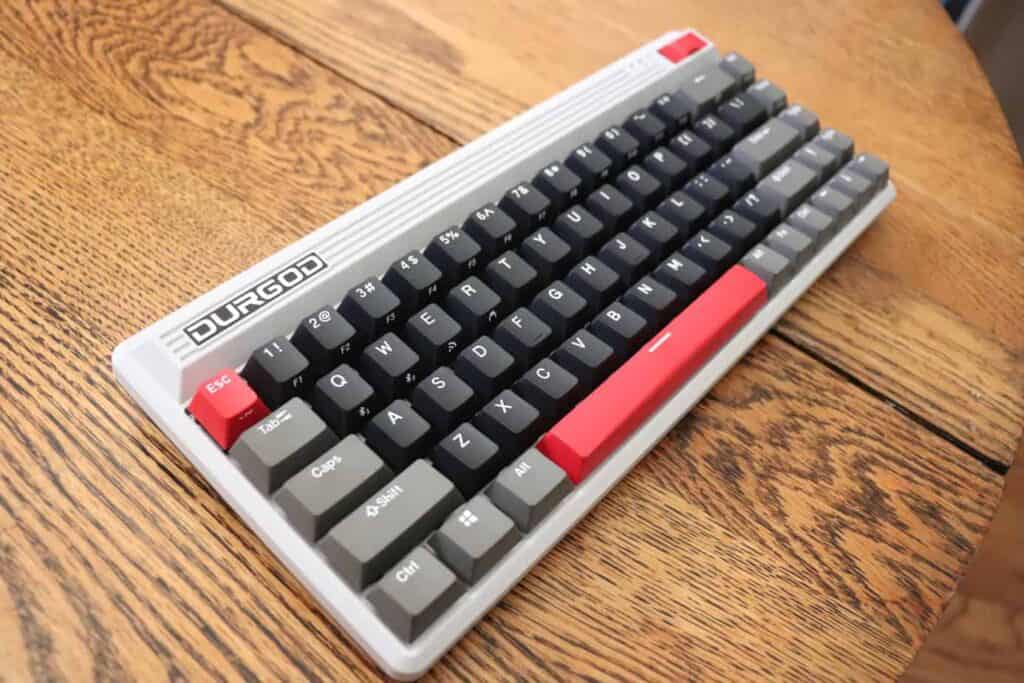 The Durgod Fusion is an excellent option for those who want to address the nostalgia of the good ol' days.
The Durgod Fusion comes with several different Cherry MX switches including Black, Blue, Red, Brown, Speed Silver, Silent Black, and Silent Red.
So if you need a Cherry MX Red switch you get to choose between both silent and non-silent options.
For a keyboard in this price range, it's uncommon to get Cherry MX switches. Cherry switches are typically reserved for the higher end keyboards due to the rigorous testing and durability standards they go through.
One of the coolest features of the Durgod Fusion is retro theme that gives it IBM Model M feel, but while also having the newest Bluetooth technology under the hood.
The only downsides are the lack of secondary media keys and the fact that there isn't much software support if you want to remap keys or create macros.
It's also a bit difficult to use with a custom cable.
But the battery life on this keyboard is quite impressive. Durgod boasts that the battery can last up to 40 days without a charge.
You can find the Durgod Fusion on Kickstarter.
---
Don't Like The Options on This List? Go Hot-Swappable
Finding a mechanical keyboard with a specific switch, even if it's a common option, can be quite difficult.
If you struggle to find a keyboard you like with Cherry MX Red switches, we recommend checking out our list of the best hot-swappable keyboards.
With a hot-swappable keyboard, you'll be able to install/remove the switches yourself with no soldering required.
This means you can choose almost any hot-swappable keyboard and swap out the switches for Cherry MX Red. So instead of being stuck to the keyboard on this list, you now have another dozen options to look at.
Hot-swappable keyboards offer a lot of other cool benefits too, such as being able to improve the stabilizers and switches with relatively easy mods.
You can check out a few of our guides here:
If you need a keyboard with a specific switch (such as Cherry MX Red), it's nice to know hot-swappable keyboards are an option.
The Benefits of Cherry MX Red Switches
When choosing a switch for your next keyboard, there are a lot of different things to consider before deciding on a specific switch.
Cherry MX Red switches can be used in a wide variety of different situations, but they really excel in a few cases.
Let's go over when Cherry MX Reds are the best option.
Better For Gaming
When looking at gaming, you want a switch that is super consistent and smooth. For this reason, tactile and clicky switches are often not recommended.
Linear switches (such as Cherry MX Reds) have no tactile bump and are extremely reliable in the heat of the moment.
If you need to press a key in rapid succession (button-mash), the smooth nature of a linear switch will make sure every keystroke is registered with zero distraction.
For this reason, linear switches are considered superior for the purpose of gaming.
If you want more information on the best switches for gaming, check out this article.
Low Noise Output
Another great benefit of Cherry MX Red switches is how relatively quiet they are.
With linear actuation, they make almost no noise, especially when compared to MX Browns and MX Blues.
Out the most popular switch options, Cherry MX Red is your best bet if you want a quiet keyboard.
The lack of tactile bump and clicking noises means there is less friction so it will vibrate less and the noise output will be lower.
If you want to make your switch even quieter, consider opting for a Cherry MX Silent Red. The switch will have rubber padding on the inside to minimize the amount of sound the switch makes on bottom-out and bounce-back.
Lubing your switches will also remove any scratchiness or spring ping noises found inside a Cherry MX Red switch and can help minimize the noise production even further.
How Does Cherry Compare To Other Brands?
There are a ton of different switch brands out there in addition to Cherry, so how does Cherry stack up against the competition?
We've written extensively on this topic as it can go pretty deep, but there are definite advantages to Cherry MX switches along with some downsides.
For starters, Cherry MX switches are incredibly durable and well-produced.
They go through extensive testing to make sure everything is manufactured perfectly. They are a product of German engineering, after all.
With a lifespan of 100 million keystrokes, they will last a super long time and you don't need to worry about them breaking down anytime soon.
I will say, however, that Cherry MX switches tend to be a bit on the scratchier side when compared to other switches.
Gateron switches on the other hand, are a much cheaper price but feel much smoother and less scratchy.
If you need an excellent budget alternative to Cherry MX, definitely check out Gateron. They don't last quite as long, but offer other advantages.
You can read more about the differences between Cherry MX and Gateron, if you are interested.
Conclusion
There are a lot of great Cherry MX Red keyboards out there.
We definitely recommend you check out the mechanical keyboards we listed out here, they do not disappoint. Finding the ideal keyboard with a Cherry MX Red switch can definitely be difficult at times.
Our goal was to cut through the confusion and recommend nothing but the best options for you to choose from.
If none of the options on the list fit your needs, we recommend browsing the best hot-swappable keyboards and swapping the switches out for MX Reds yourself.
Good luck and happy typing!
Other Suggested Reading