A loud and clicky mechanical keyboard can be the perfect choice for you.
For many, the loud clicks on each keystroke is incredibly satisfying and with Cherry MX Blue switches, you can scratch that clicky itch perfectly.
We'll be looking at the best mechanical keyboards outfitted with Cherry MX Blue switches.
---
Best Cherry MX Blue Keyboards – Our Top Picks
---
1. Drop CTRL: Favorite Pick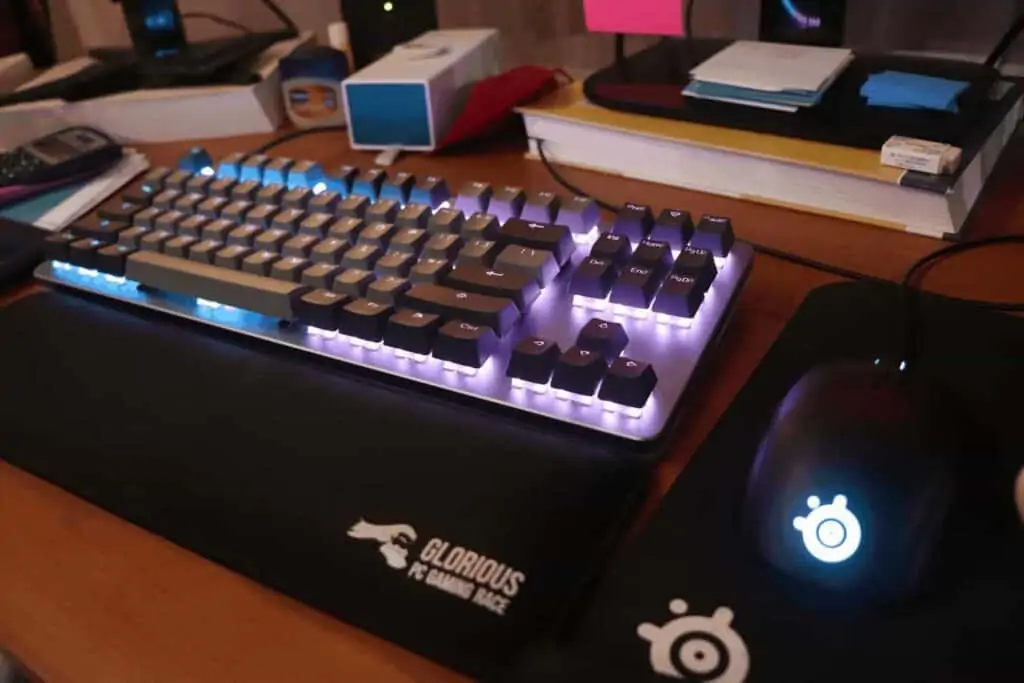 We are starting off this list with the Drop CTRL, a tenkeyless keyboard with a truly unique design and features.
The shiny, space grey aluminum plating of the Drop CTRL distinguishes it from other keyboards in terms of aesthetics. It is unlike any keyboard I've seen, the floating PBT keycaps allowing the colorful light to reflect off the keyboard in a really pleasing way.
Without the keycaps encased, the sound of typing is heard fully. One could consider this a downside, but luckily the sounds are very satisfying and I find it to be a plus to this keyboard. If you are a fan of Cherry MX Blues for their clicky sound and feel, the Drop CTRL will highlight those effects.
A huge draw of the Drop CTRL is the hot-swappable feature. Though this article is about Cherry MX Blue switches specifically, being able to change the switches on a keyboard increases its versatility and gives you more room to figure out what works best for you.
A feature of this keyboard that I really appreciate is the presence of two USB ports, one on the left and one on the right. This not only allows you to fit your desktop setup with the cable placement, but you can plug in other devices conveniently with the other free port.
The QMK firmware can also be easily utilized to customize keyboard functions and the RGB lighting (which you can also do on the board).
Sitting at a higher price point, the Drop CTRL is directed at mechanical keyboard enthusiasts who want to have the ultra-functional basics and greater customization capabilities. We have the Drop CTRL situated so high on this list because of those factors, but also because it is the perfect complement to Cherry MX Blues in how it amplifies the well-loved clicky feedback.
2. Corsair K95 RGB Platinum XT: Best For Gaming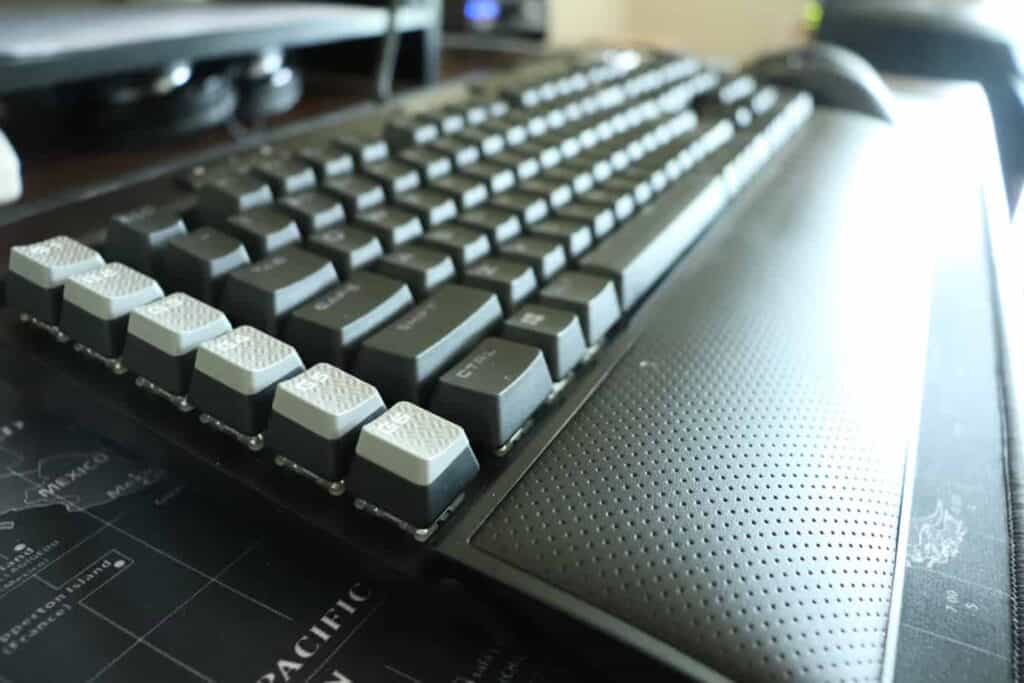 Next, we have the Corsair K95 RGB Platinum XT, a massive keyboard with all the bells and whistles.
This keyboard takes up a lot of room, so if you are looking for a compact design, the Corsair K95 RGB Platinum XT is not for you. With an attached wrist rest, it fills up your whole desk.
The wrist rest is quite nice though, and makes for a really comfortable typing experience. Some mechanical keyboard models can be pretty taxing on the wrists, so its nice that Corsair includes this.
The keycaps on this keyboard are made of PBT plastic, and on the left side of the keyboard, there are textured macro keys. There are also some dedicated media keys and a volume knob. Having these added controls on the keyboard is really helpful, definitely a major advantage of larger keyboards.
The typing experience on the Corsair K95 RGB Platinum XT is honestly not great. With rattly stabilizers, typing on this keyboard can get pretty loud. At times the switches can get scratchy too, but with continued use or lubing/modding, these problems can be dissolved.
Despite these shortcomings, we have this keyboard on this list because it is still a fantastic option for those who enjoy using Cherry MX Blue switches.
In addition to the features already mentioned, the Corsair K95 RGB Platinum XT has RGB lighting and a USB passthrough, which will allow you to plug other devices directly into the keyboard.
This keyboard is not for everyone and it comes with an expensive price tag, but if you are looking for an all-encompassing keyboard that gives Cherry MX Blue switches as an option, be sure to check out the Corsair K95 RGB Platinum XT.
3. Ducky One 2 Mini: Best Compact Option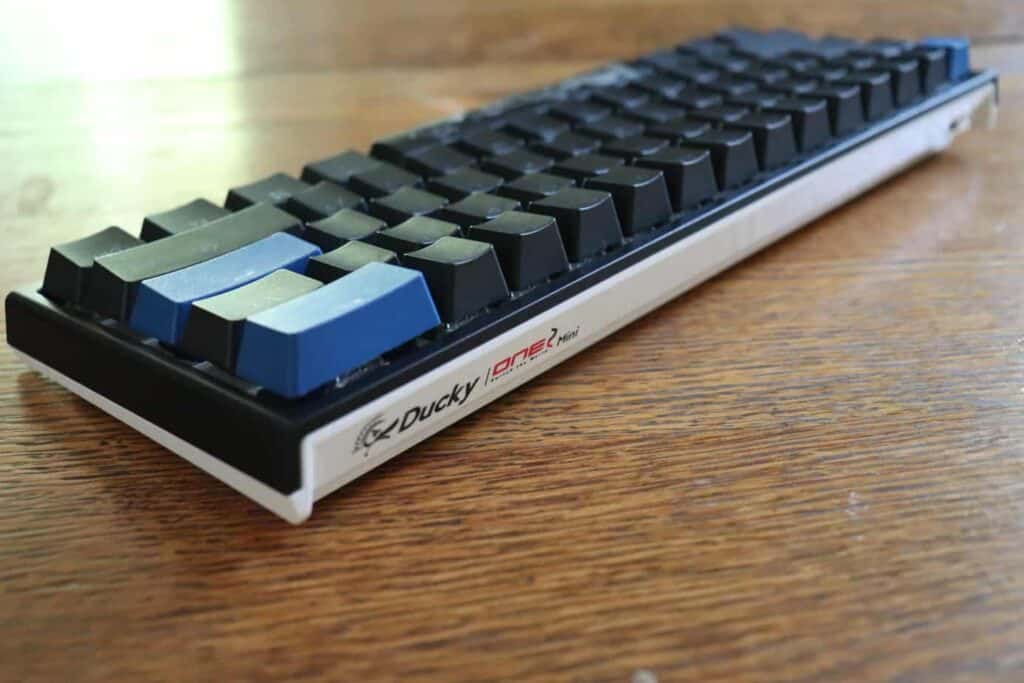 If you've been a mechanical keyboard user for a while, I'm sure you've at least heard of the Ducky One 2 Mini. Well-known for its lasting excellence, this 60% keyboard is a solid affordable option for Cherry MX Blue switch lovers.
Though there are plenty of Cherry MX, Gateron, and Kailh switch options available, if you are reading this list you are interested in the Blues for their bumpy feel and audible clicks.
With a plastic build, the One 2 Mini is surprisingly sturdy and has little flex. Though the keyboard has a slight angle already, there are two adjustable kickstands that allow you to change the height.
With a detachable cable, the Ducky One 2 Mini can be easily packed up and taken on the go. This keyboard does not have Bluetooth, a disadvantage that is reflected in the price and age of the One 2 Mini.
Included with the Ducky One 2 Mini is a zodiac spacebar and 10 additional keycaps in random colors. These allow you to add some fun pops of color and personality to the otherwise simple keyboard.
The RGB lighting and boundless effects also add to the customizability of this keyboard. You can really make it your own, one of the many reasons people love the Ducky One 2 Mini.
If you are looking for a compact gaming keyboard with a Blue switch option, the One 2 Mini might be the perfect choice for you. Popular among gamers, this keyboard optimizes its space by having DIP switches on the back, which allows you to change the key function layout.
While the Ducky One 2 Mini is starting to show its age in lacking hot-swap and Bluetooth features, we continue to recommend it to our readers because it can still compete among the top budget 60% keyboards today.
4. Durgod Taurus K320: Best for Typing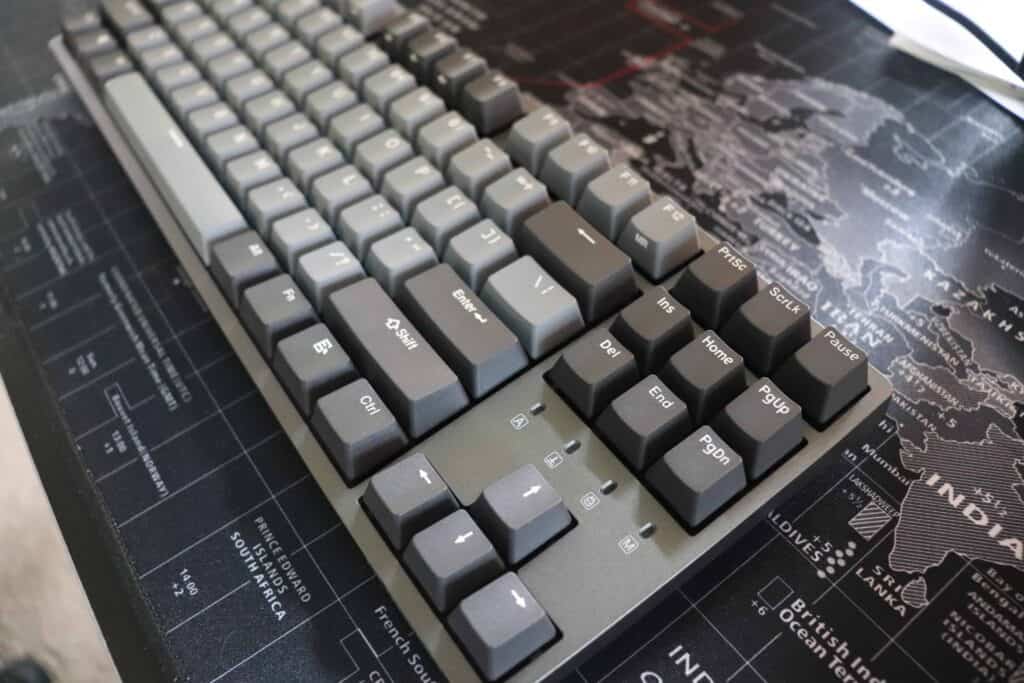 Up next we have one of my favorite keyboards both for its design and typing experience, the Durgod K320.
This keyboard has an aluminum plate, so even though the case is made of plastic it is super rigid. The case isn't too thick or bulky either, making the Durgod K320 look clean and sleek.
The stabilizers on this keyboard are unexpectedly excellent, like some of the best out-of-box I've felt. Typing on the Durgod K320 is super satisfying with this combination of awesome stabilizers and steadfast Cherry MX switches.
The keycaps on the Durgod K320 are made of PBT plastic, arranged in a nice two-tone grey design. We have this keyboard in the space grey colorway without backlighting, but the high contrast white font makes the legends super visible.
There are other colors and lighting options available- white/grey, grey/blue, space grey with white backlighting, and black with RGB- but I am very happy with the version I have.
This would be a great keyboard for Mac users too, it is compatible with both Mac and Windows operating systems and includes two cords (USB-C to USB-C, USB-A to USB-C) to fit a range of devices.
Similarly to the Ducky One 2 Mini, this keyboard does not have Bluetooth or hot-swappable switch sockets. Though these features aren't necessary and the keyboard is fantastic as is, they are still always nice to have.
The Durgod K320 is just an all-around solid keyboard that provides a near-perfect typing experience, something uncommon for keyboards at this price point. If you type a lot for work or school, you really can't go wrong with the K320, which of course has Cherry MX Blues as a switch option.
5. Varmilo VA87M: Best For The Office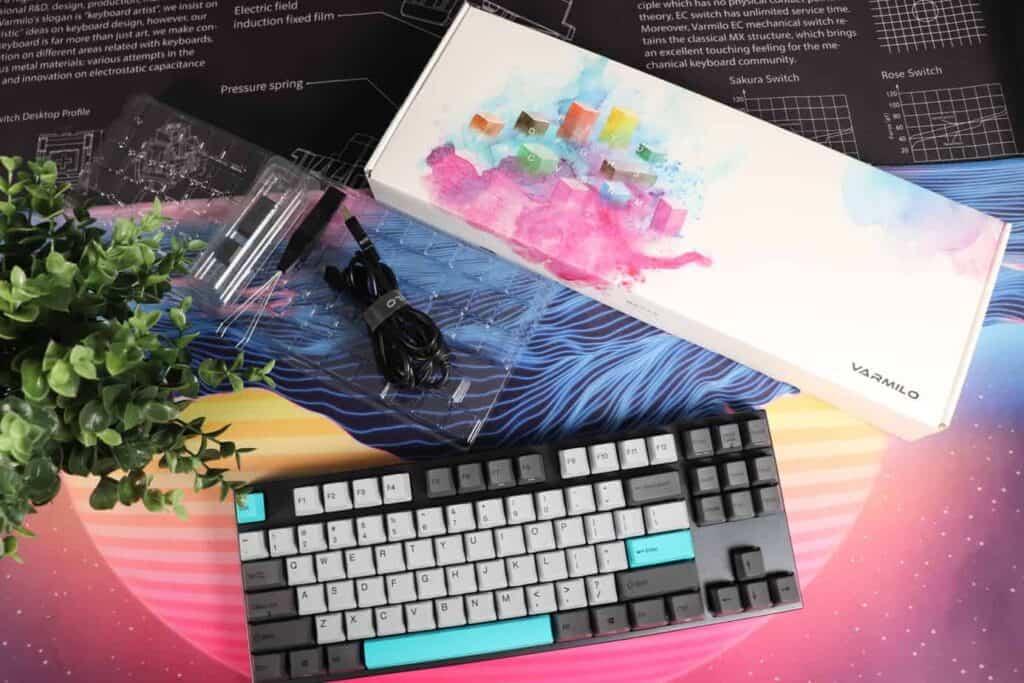 The most fun option we have on this list is the Varmilo VA87M, coming in range of colorways and cool designs. This TKL keyboard has great, smooth stabilizers, another keyboard on this list providing a phenomenal typing experience.
With floating keycaps attached to an aluminum plate, this keyboard has no flex despite its plastic case. The keycaps are in Cherry profile, which I think is the optimal profile for typing.
The multi-color keycaps on the Varmilo VA87M are one of the draws to this keyboard, but a problem I found was with the low contrast between the dark grey keycaps and the legends. At times, especially when lights are dim/off, it can be hard to read these keys.
There are sublegends on the front of a few of the keycaps to denote media functions.
There are other color options available and different choices for white backlighting, RGB, or none. You can really find any option that will fit your preferences, of course at varying price points depending on the features.
We have the Varmilo VA87M with the Moonlight keycaps, but some of the other interesting designs are: Sakura Pink, Forest Fairy, Sea Melody, Koi, and more. In a market of mainly monochrome colored mechanical keyboards, I appreciate the playful approach with the VA87M (though there are the basic color options available in this model).
A downside to this keyboard is the mini-USB port, a little outdated as most keyboards now use USB-C. Don't let this aspect deter you, as it doesn't affect the use of the keyboard at all.
Known to be one of the best keyboards of 2020, the Varmilo VA87M will not disappoint. Great for typing in any capacity, this keyboard would work for gamers, writers, programmers- anyone who doesn't need the number pad.
6. HyperX Alloy FPS Pro
We have yet another TKL keyboard up next, the HyperX Alloy FPS Pro. This keyboard is super affordable and would make a great beginner gaming keyboard.
Taking a look at the build of this keyboard, with a steel plate and plastic casing, it's not going to flex while typing. It's quite sturdy for a budget keyboard. The angle this keyboard sits at was good enough for me as is, but there are kickstands on the back (only one level) if you would like to make it steeper.
The HyperX Alloy FPS Pro has floating keycaps and a pretty standard black design, but I'd say it's targeted toward a gaming audience.
With red backlighting, it won't match everyone's preferences but it creates a good gaming ambiance. There are a few lighting effects that you can utilize such as breathing, reactive waves, or having only keycaps used for gaming light up.
The keycaps are made of shine-through ABS plastic, which I found to get greasy pretty quickly. ABS keycaps are cheaper to produce, so the price of the HyperX Alloy FPS Pro reflects this. If you really hate the keycaps, you could find an affordable set of PBT keycaps to replace them.
The font used for the legends is pretty game-y, and there are some secondary functions on some keys (media keys, gamer mode keys, etc .
A braided red and black USB cord is included, matching the colors of the keyboard. With this color scheme, I feel like people either love it or they hate it, personally, it's not my favorite.
The HyperX Alloy FPS Pro would be great for a gamer seeking a first-time mechanical keyboard. Choosing Cherry MX Blues for the switches on this keyboard would be sure to convert a newbie into a mechanical keyboard fan with their satisfying clicky feel.
7. Corsair K70 RGB Mk 2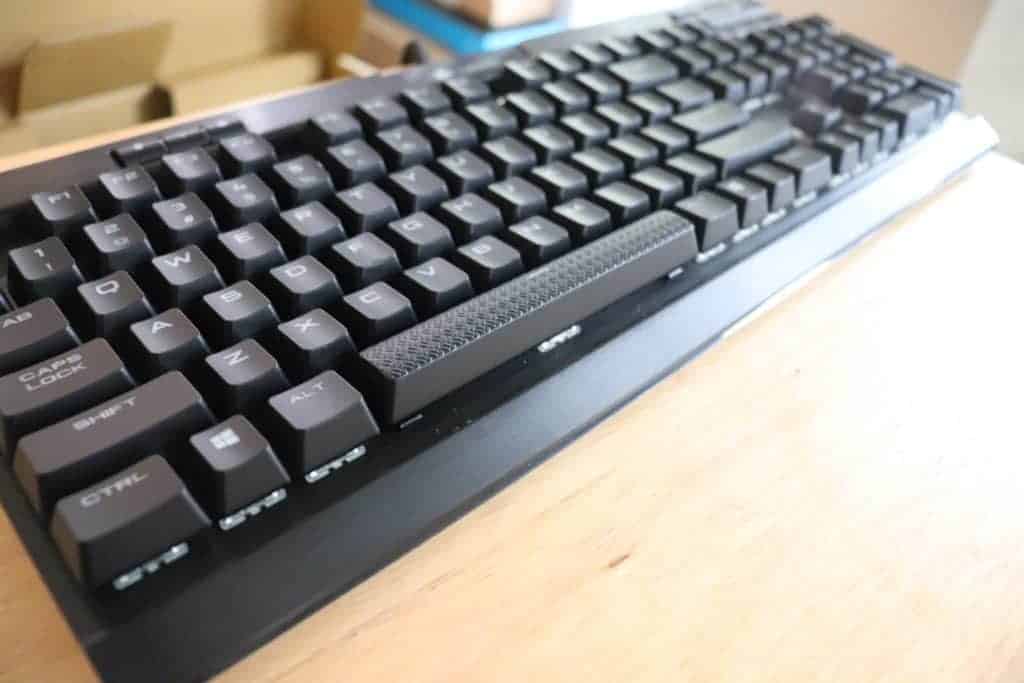 On this list, we have shown you a lot of sleek and space-efficient keyboards, so next up we have an option that is quite the opposite. The Corsair K70 RGB Mk2 is a tank of a keyboard, for users who want every key and function available at their fingertips.
This large powerhouse is another keyboard directed at gamers through its aesthetic and functionality. Though clunky and seemingly sturdy, the Corsair K70 RGB Mk2 is made entirely of plastic and is pretty light.
The design of this keyboard is… loud to say the least. Not only does it take up a lot of room, but it has large game-y legends, a big Corsair logo, and a super thick USB cable (non-detachable).
The Corsair K70 RGB Mk2 requires to be plugged into 2 USB ports, which is quite annoying. It is slightly redeeming that this keyboard has a USB passthrough next to where the cable protrudes.
The Corsair K70 RGB Mk2 has RGB lighting With an easy-to-use, comprehensive software, you have tons of options to customize the lighting and key functions.
Lets talk about the interesting keycap situation on the Corsair K70 RGB Mk2. First of all, the keycaps are made from a super thin and flimsy ABS material… pretty disappointing.
This keyboard comes with some extra textured, grey keycaps for the following keys: Q, W, E, R, A, S, D, F. These keycaps are sculped, which I honestly found to be helpful while gaming. The spacebar is also made from this textured material, but is black to match the rest of the keyboard.
One last note about the keycaps- the bottom row is non-standard, meaning you can't change out these keycaps. If the keycaps were nicer quality this wouldn't be a problem, but it is unfortunate to not be able to replace the keycaps with a set of nicer ones.
Cherry MX Blue switches on this keyboard produce their normal pinging sound, but where this keyboard really lacks is with the stabilizers. Producing an awful rattle every time the spacebar and large keys are pressed, the stabilizers on the Corsair K70 RGB Mk2 need work. They could probably improve with some lubing and modding though.
The Corsair K70 RGB Mk2 has a lot to offer but is definitely not for all users. If you are a gamer looking for a large mechanical keyboard, the dedicated media controls, RGB lighting, USB passthrough, and specialized sculpted keycaps on this keyboard are sure to provide you with an optimal gaming experience.
8. iKBC CD87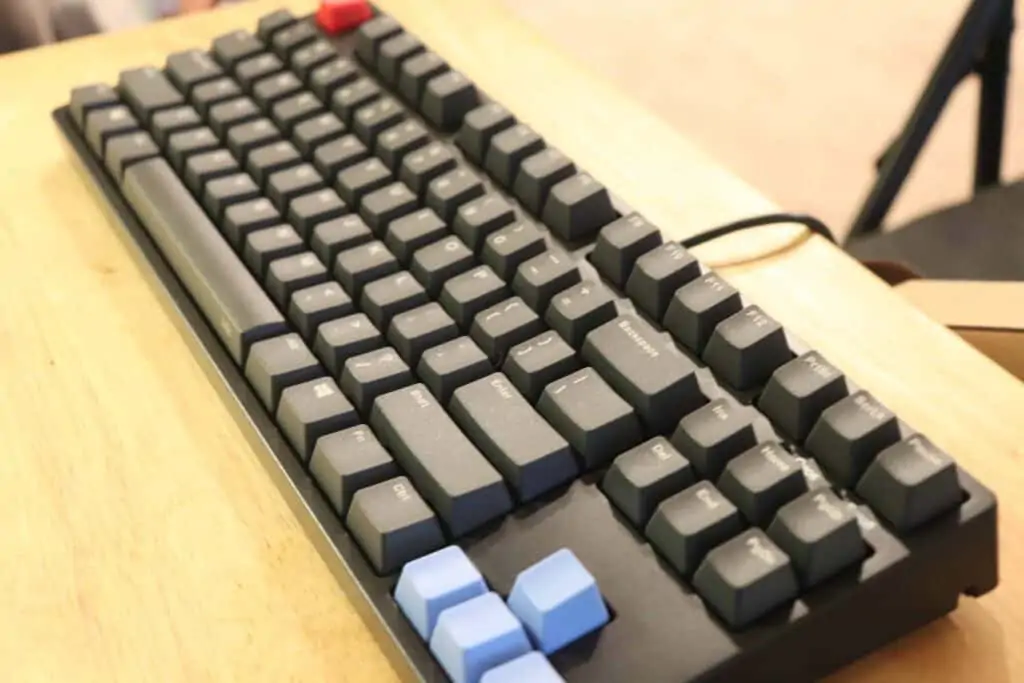 We have the iKBC CD87 next, another tenkeyless keyboard that may be your best Cherry MX Blue switch companion.
Coming in a single all-black colorway, the iKBC CD87 has a pretty standard design but doesn't look clunky like larger keyboards can. It includes a mix of extra red and blue keycaps to add pops of color if you want.
The lack of a detachable cable on this keyboard was kind of disappointing, but not a deal-breaker. There is a Bluetooth version of the iKBC CD87 that can go wireless, but it will cost more.
Without backlighting, it is nice that the legends are in a white font to provide contrast from the dark keycaps. The keycaps are made of PBT plastic, something I don't expect at this price point but I am grateful for!
PBT keycaps cost more to make, but they are more resistant to oils and grime compared to ABS keycaps.
This keyboard is another affordable option that makes typing painless and enjoyable. The stabilizers sound really great and there is no rattling/shaking while typing.
I actually have this model with Cherry MX Blues, and I have thoroughly enjoyed using it. The sounds are crisp and exactly what you are looking for if you enjoy the clicks of typing.
This keyboard does the basics and does them well, but lacks certain features such as backlighting, detachable cable, media keys, etc. The iKBC CD87 is going to deliver a no-fuss typing experience, so if that is what you are looking for this keyboard could be perfect for you.
9. Durgod Fusion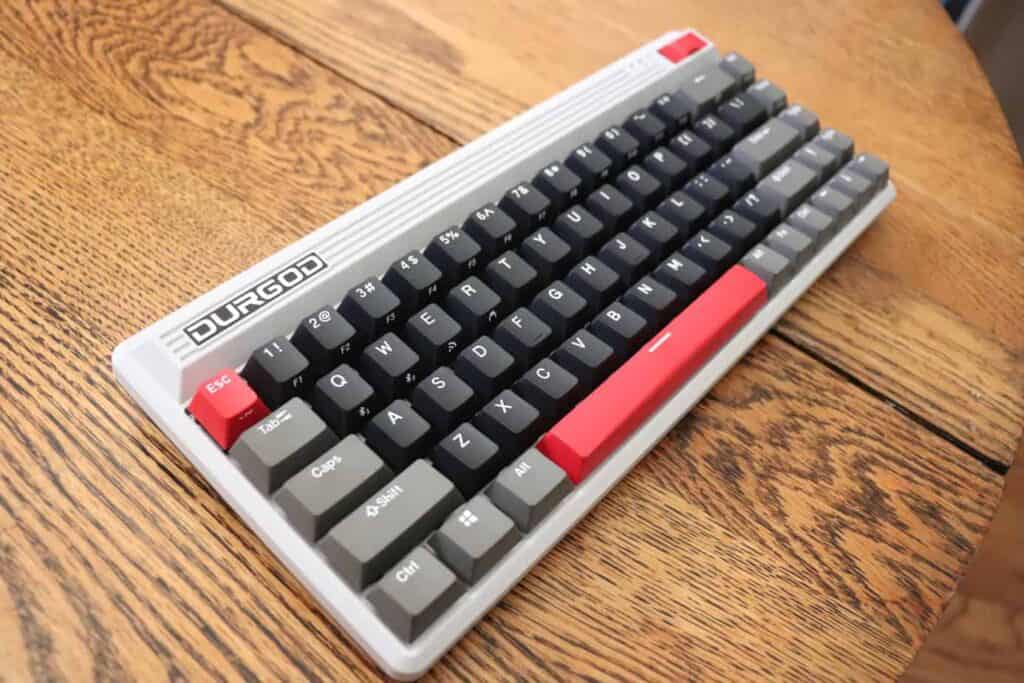 With a design inspired by Nintendo, the Durgod Fusion truly stands out among other mechanical keyboards.
This 65% keyboard comes in three retro colorways: Navigator (blue, white, yellow), Original (orange, white, grey), and Steam (black, red, grey). I love the different approach taken with the design of this keyboard, the different keycap color design looks cool and unique.
Though the Durgod Fusion is a more expensive keyboard, the quality and phenomenal build can justify its price. The stabilizers are really nice, and won't require any lubing or modding.
Typing on the Durgod Fusion is entirely free of problematic shaking, sounds, or rattling, and the keycaps are in OEM profile which I find most suitable for typing. Not only are the doubleshot injected PBT keycaps durable, but they also have a matte feel that won't turn oily.
Another highly coveted feature on the Durgod Fusion is the Bluetooth capabilities, which allow you to operate cable-free. The cables included for charging and wired use are USB-C to USB-A and USB-C to USB-C, it's helpful that they include a Mac-compatible option.
The Durgod Fusion has a metal plate, but the grooved plastic case allows a little flex (only noticeable if I actively twist the keyboard, not during typing). There are kickstands on the back, but there is only one level, they are not adjustable.
If you are looking for a compact, functional keyboard with Cherry MX Blues, the Durgod Fusion should definitely be on your radar.
10. Durgod HK Venus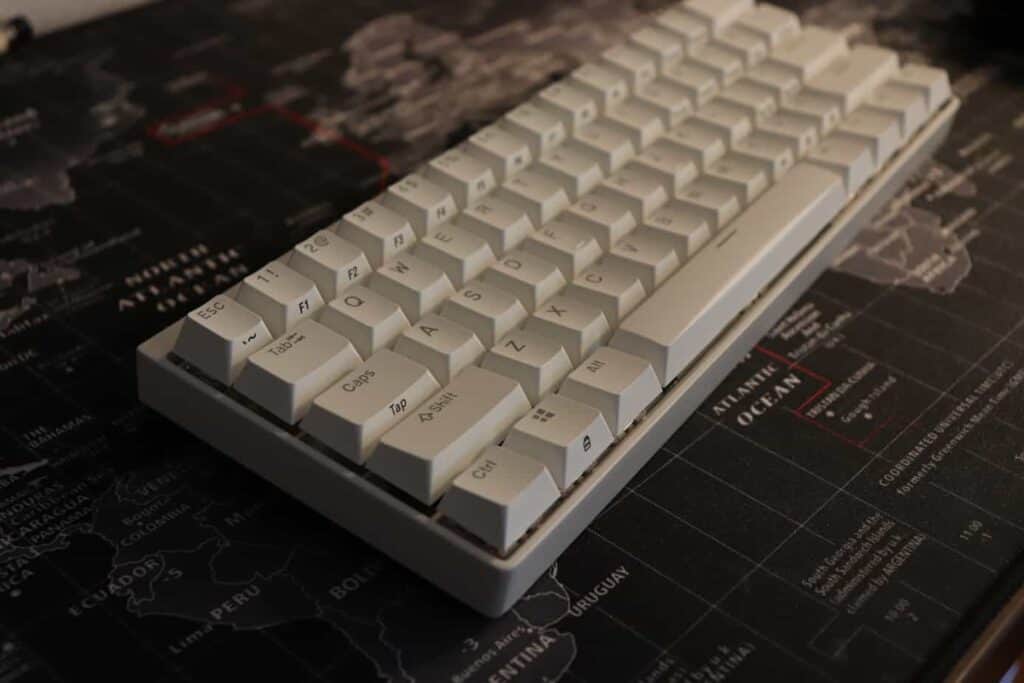 To finish out our list of best keyboards for Cherry MX Blue switches, we had to include the Durgod HK Venus. This extraordinary keyboard is built with utmost quality, distinguishing itself from other 60% models with its solid frame, Cherry profile, RGB lighting, and perfect keycaps and stabilizers.
When I say this keyboard has a solid frame, I mean the case and integrated plate are made of aluminum, Durgod was not messing around with this one!
One complaint I have about the build is the location of the USB port, it is slightly recessed so you may have trouble fitting a custom cable. Luckily for Mac users, the Durgod HK Venus includes two cables, the Mac friendly USB-C to USB-C cable and the standard USB-C to USB-A.
The keyboard also has no kickstands, which can be a problem for some but I found the keyboard angle to be sufficient.
The super-smooth stabilizers are an aspect of this keyboard to get excited about, typing on the Durgod HK Venus feels like a dream. With Cherry MX Blue switches, you would get the unobstructed clicky experience you are looking for.
The keycaps on the Durgod HK Venus are made of PBT plastic, the best keycap material, and are arranged in Cherry profile. By now you know that Cherry profile is my favorite, as the keycaps are sculpted to your hands but sit lower than OEM profile (which I think is less straining on my hands).
This keyboard additionally has RGB lighting, and on the white version I have the colors pop really nicely. The Durgod HK venus comes in a black colorway as well.
As one of the best compact keyboards out there, the Durgod Hk Venus is definitely worth looking into if you are willing to spend a little bit more. You will get buttery smooth stabilizers, RGB, and a super sturdy build with the Durgod HK Venus, but in the future I would like to see hot-swap and/or Bluetooth added.
---
Consider Getting A Hot-Swappable Keyboard
If you are unsure of the switch type you should get as a beginner or if you want to be able to change your typing feel without the effort of buying a whole new keyboard or soldering, getting a hot-swappable keyboard may be the best option for you.
Traditionally, if you buy a keyboard with switches you don't like it requires a time-consuming process to remove and replace the switches.
This process is called soldering, and you can read more about it here.
If you don't want to put in that work, you could also just purchase a hot-swappable keyboard, which means you can easily change the switches. This way you can change the entire typing experience with minimal effort.
It can also help you find your favorite type of switch, testing them all out on the same keyboard.
The Benefits of Cherry MX Blue Switches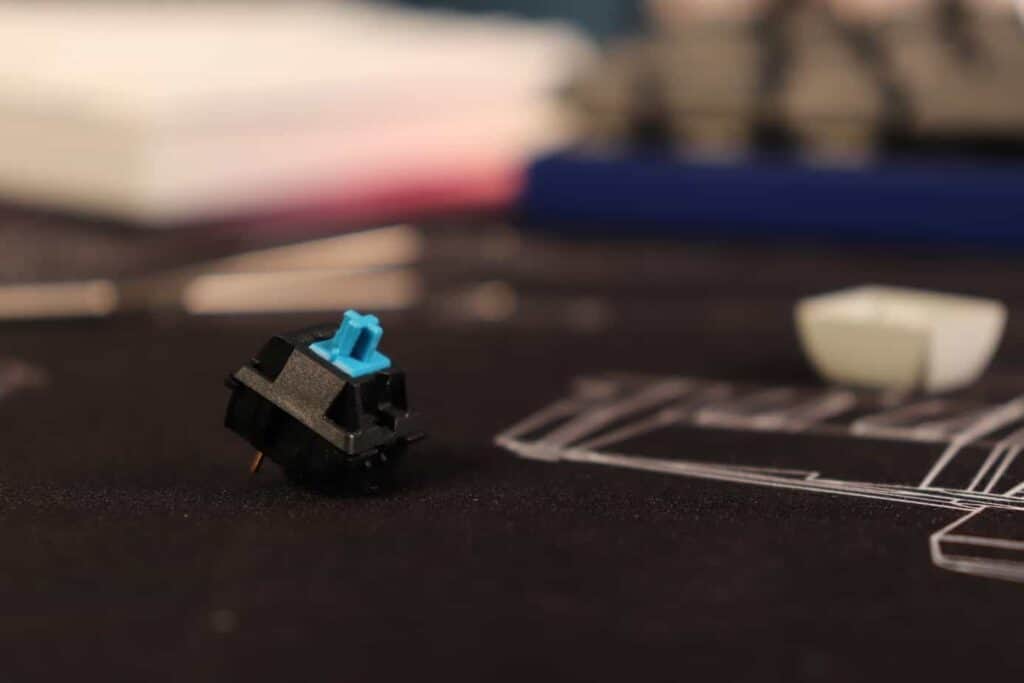 If you haven't used Cherry MX Blues before, you are missing out on the "stereotypical" mechanical keyboard experience, akin to tying on a typewriter.
After reading this list you probably have the gist of what these switches are like: loud and clicky.
Let's go into what contributes to the unique typing feel offered by Cherry MX Blues.
Loud Audible Feedback
What everyone around you will immediately notice about Cherry MX Blues switches is their signature "clicks" when you press keys.
The sound of these switches is hardly ignorable, enjoyable to you while typing but extremely annoying to those around you!
I personally like to have some form of audible feedback while typing, it helps me mentally register what I have pressed.
A lot of people begin using mechanical keyboards because of this more fruitful typing experience and the range of different sounds that mechanical switches create.
Large Tactile Bump
What makes Cherry MX Blues so satisfying to type on one may ask?
Well, they have a large tactile bump that is felt when you press on a key, so it seems like you are actively pressing a button.
This snappy feel is often preferred by typists because it can help with accuracy, you will make fewer mistakes while typing when there is this a nice bump.
The tactile bump simply means that greater force is required in the initial press, after which the operating force decreases. The actuation force is 60g for Cherry MX Blues, as compared to 45g for Cherry MX reds.
Long Lifespan
Cherry MX switches are some of the longest-lasting switches you can find. They can last up to 100 million keystrokes, and you may find that they get better with use.
Sometimes switches can feel scratchy at first, but with time this scratchiness will fade and the actuation will occur smoothly.
How Does Cherry Compare To Other Brands?
Cherry MX switches are consistently known to be some of the top mechanical switches available, the popularity coming from their reliable excellence.
Cherry MX switches are the baseline of comparison for all other switch types, as they are the original switch design.
For one, Cherry MX switches have greater durability than most other options, with a lifespan of 100 million keystrokes.
Gateron switches, which I consider to be the most comparable to Cherry MX, are estimated to have a lifespan of 50 million keystrokes.
Gateron switches are probably closest in quality to Cherry MX, and some even prefer Gateron linear switches to the Cherry MX equivalents. Still, I would rank Cherry MX higher, but they do come at a cost.
If you are looking for a more affordable alternative to Cherry MX switches, Gateron or Outemu switches would provide a similar experience. Other brands such as Kailh and Razer might work for you as well, but these are a pretty big step down from the other brands.
Ultimately, switch preferences are different for everyone, and the only way you can find what works best is by trying out different kinds!
Conclusion
Hopefully, this list gave you some guidance on our favorite keyboards that offer Cherry MX Blue switches.
We tried to incorporate a variety of price levels, sizes, and features to give you an idea of what options are available.
However, this list was not entirely comprehensive, there are tons of other keyboards out there that have Cherry MX Blue switches or their Gateron/Outemu/other brand equivalents.
While these switches aren't for everyone, they remain one of the most popular switch varieties for their specific typing experience.
And always remember, if you ever get any keyboard with Cherry MX Blue switches, for the sake of everyone else do not bring it to the library or office!