Corsair is a brand synonymous with serious performance both in custom PC components and peripherals.
The new Corsair K100 brings that tradition into a new innovative full-size keyboard meant for high performance in gaming and workstation uses.
Is it the new keyboard for you? Let's check it out!
The Verdict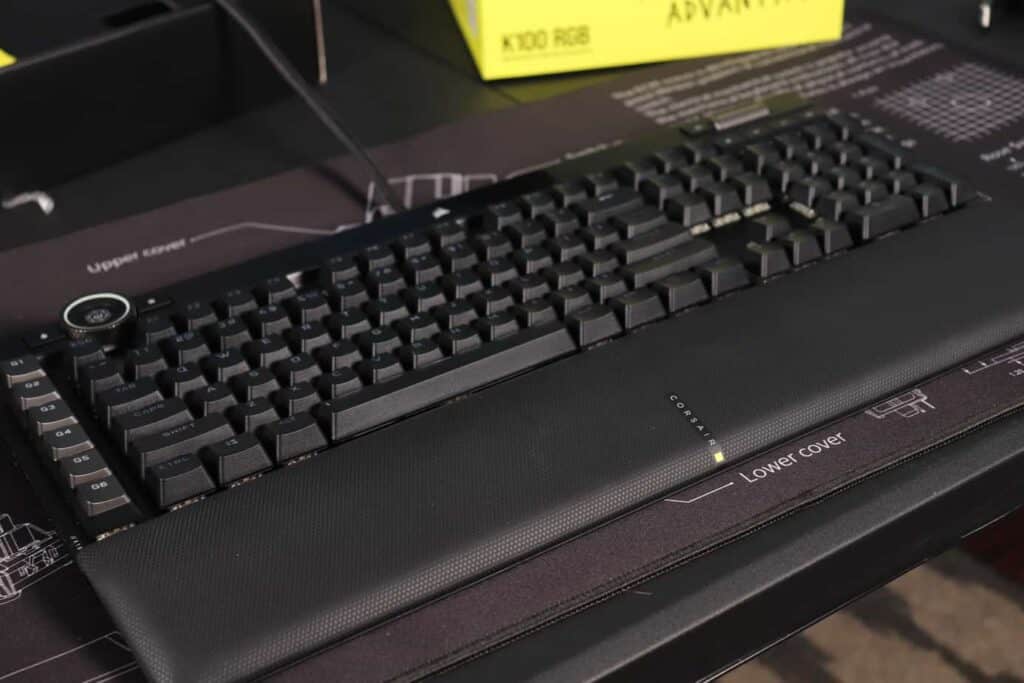 The K100 is absolutely loaded with features.
With features and innovation, however, comes a premium cost. For that reason, this is not the most attainable keyboard for everyone, but will be ideal for gamers and professionals that take their work seriously and need a serious keyboard for the task.
You do get quite a lot for your money in terms of technology. Its boasts the highest polling rate currently available in a keyboard at 4000hz, a new productivity wheel along with dedicated volume wheel and media keys, and an option to try Corsairs new Opto-Mechanical Switches.
All these features and benefits are why the K100 is one of our recommendations for optical keyboards.
If that all sounds good to you, check out the price on Amazon. It may not be cheap, but as you will see in the review, it may very well be worth the price.
---
In The Box
While you don't get too many accessories in the box, this is more about the quality keyboard than the quantity of extras. Still, what you do get is respectable.
Included in the box are:
Extra Textured Keycaps – You get both textured and metallic caps to cater your keyboard to your needs.
Plastic Keycap Puller – This serves as a way to remove and change your keycaps, but this plastic style is not preferred. If you want to make a simple but better wired keycap puller, check out our guide here.
Plush Wrist Rest – A very welcome addition commonly offered with premium gaming keyboards is the wrist rest. This one is a nice padded wrist rest featuring minimal Corsair branding on the vertical center-line. With the already low-profile case, it should provide you a very comfortable experience.
Start Guide with Warranty
---
Build Quality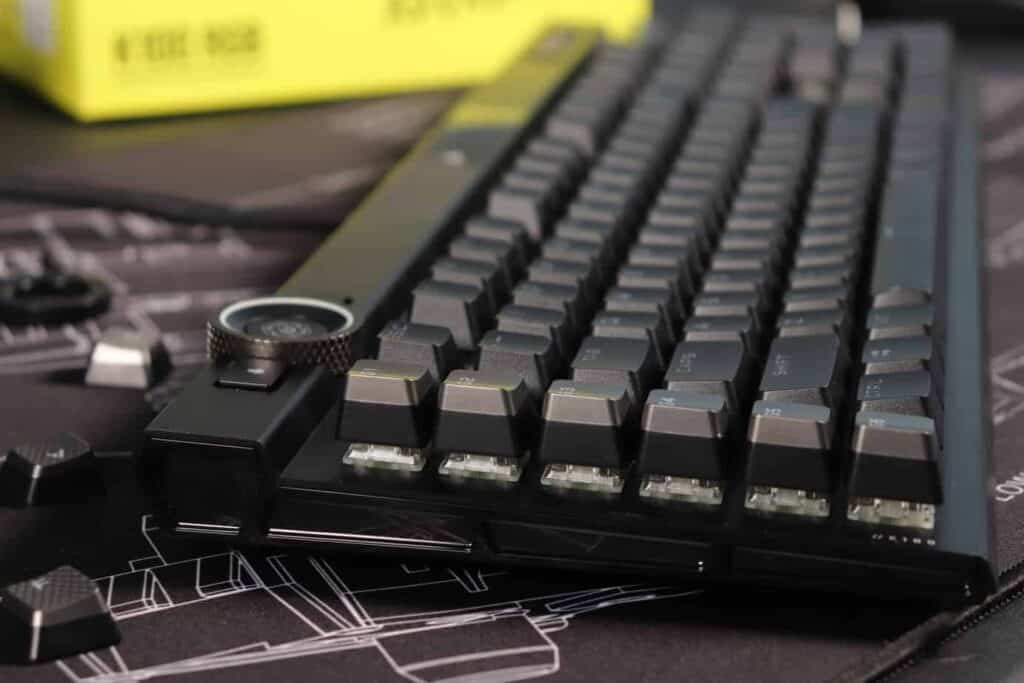 The K100 is built fairly well, and is quite hefty.
The layout is a standard full-sized 104-key layout, with 6 additional macro keys for a total of 110 keys not including dedicated media keys.
The bottom row layout sizing is also standard, which is great to see on a gaming keyboard. This will increase compatibility with aftermarket and third-party keycap sets significantly.
The case is a low-profile, floating keycap design with a ton of RGB lighting visible from all sides. This should make it both more comfortable and easier to keep clean.
The top plate is a thin sheet of brushed aluminum. The bottom is made of plastic. There is a bit of flex.
While flex is common among some longer full-sized keyboards, such a premium pre-built keyboard geared for gamers should have a strong, sturdy case to match its price-point and intended use.
For the premium price, it would be nice to see heavier materials, or a full metal jacket case.
Still, it provides enough to prevent noticeable flex when typing or gaming.
The case also allows for RGB lighting to shine through cutout windows long the sides of the keyboard. It seems to be the most FPS you can get out of a Corsair keyboard at the moment.
A single USB-A pass-through port sits at the back edge of the keyboard, just next to the attached cable.
On the bottom of the case are two adjustable feet that actually flip out sideways rather than vertically. This may or may not be an issue for you while using the keyboard, but seem sturdy enough for most cases.
The Keycaps
The keycaps here are Doubleshot PBT keycaps with backlit shinethrough legends.
The legends themselves, while less "gamer-y" than before, still retains a bit of flair that adds style without sacrificing legibility.
Doubleshot PBT is appreciated here at a premium pricepoint, especially when other similarly priced options come with low-quality engraved ABS caps.
In addition to these, you also get some rubberized and textured keycaps, as well as knurled metallic keycaps for your macro keys.
A nice touch if you need some added feedback for certain keys such as WASD, or want to distinguish particular hotkeys.
The Switches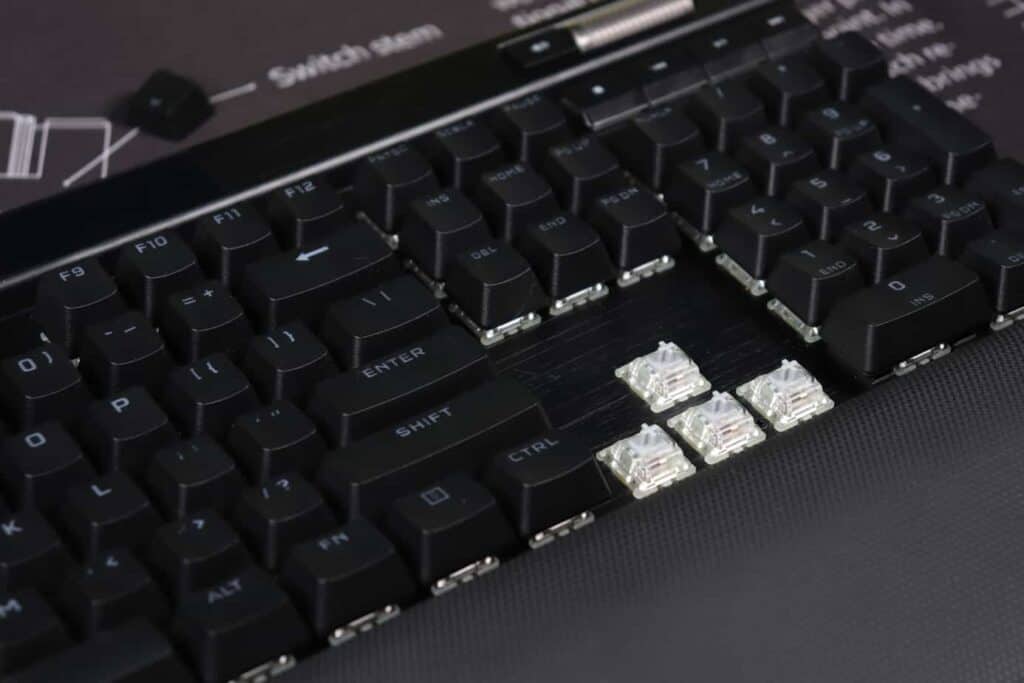 Like many mechanical keyboards, the K100 comes with your choice of switches. You can choose between the Cherry MX Speed Silver switch that we all know, or you can opt to try the new Corsair Optical-Mechanical switches, or OPX as they call them.
The Cherry MX Speed Silver is a linear mechanical switch with an actuation distance of 1.2mm and a 45g operating force, making it a similar weight to an MX Red switch but about 40% faster.
The linear switch type and short distance make this switch an ideal choice for those who want a traditional mechanical switch where speed is a concern.
The Corsair OPX switches are not typical linear mechanical switches. Rather they are optical technology similar to recent offerings from Gateron, Lightstrike, and Razer.
They are very much meant for gaming, boasting zero debounce time and an actuation distance of 1.0mm! This switch is almost twice as fast a normal Cherry MX Red.
Debounce time is important because it determines how much delay there is before you can press the same key again. As long as you lift the key over the actuation point, you can immediately press again.
Even faster than the MX Speed, but may also take some getting used to.
The Optical switches are also rated at a mean failure rate of 150 million actuations. This means that during testing, it took on average 150 million keystrokes for a switch to fail.
It was a challenge before to get to even the 50 million that traditional mechanical switches boast, but if anyone is to take on the challenge, of course it is one best accepted by gamers and power users.
The Stabilizers
Corsair seems to have taken notice and improved their stabilizer game. Noticeably less rattle than its predecessor the K95 RGB.
These stabilizers also come pre-lubed from the factory and show little-to-no wobble.
You won't have to worry about distracting, unstable keys and spacebar taking away from your gaming or productivity.
The Media Controls
The media keys are rather nice to press, and the volume wheel is a nice textured aluminum as well, though may feel slippery for some. Very smooth to the the touch and a light scroll, so not much effort is needed to use it.
The large control wheel is a bit wobbly, which would lead you to believe that you can use it as a jog stick as well but this is not the case, and we don't recommend you testing just how secure it really is.
A bit of knurling on the wheels may be more ideal to allow for easier use with a fingertip without slipping.
It does feels better than the rubberized ones you may find on similar volume wheels on Logitech G610.
The Wheel Reinvented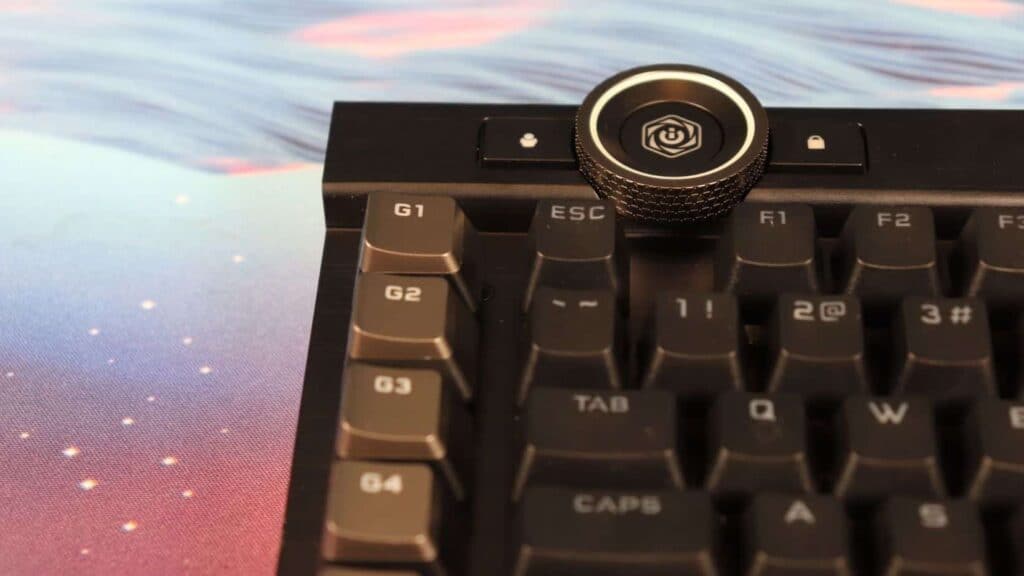 One of the more obvious features of the K100 is the glaring control wheel on the top left side of the keyboard.
This large aluminum wheel encircles a round backlit button. Clicking this button allows you to go through a color coded list of functions meant to be controlled by the wheel.
Flanking the wheel are a game-lock key and a profile key.
While this may add much needed functionality to the keyboard, it may not be implemented in the most effective way.
Currently you lack any on screen display which allows you to select your control mode.
Rather, you should be familiar with the color coding as the button's backlighting is the only indicator made available.
Hopefully this is changed in a future software update, or at least the option to show it.
The Cable
One thing you may notice is that this keyboard has an attached cable.
A detachable cable would have been more ideal at this price tag to allow for more customization or convenience of use.
This may have been a choice due to the decision to implement USB pass-through. This cable features two male plugs, one to power the keyboard and the other to power the USB port.
It would be unfortunate to have to stop using such a premium keyboard all because the un-replaceable cable with two male plugs necessary for pass-through stops working.
If you never really move your keyboard, this shouldn't be much of a concern, though.
The Software
Speaking of the software, the Corsair software is crucial for this keyboard. Be aware though, that it is a hefty application, weighing in at roughly 500MB.
In order to activate the 4000hz polling rate, you must first set it in the software. The default is 1000hz, so do not expect it to be at max polling out of the box.
The software allows you to save up to 200 profiles directly to on-board memory and 20 layers of hardware lighting.
Excellent for Gaming
The high polling rate here is, in a way, future-proofing your keyboard. By investing in a keyboard with 4000hz such as the K100, you will ensure that you will not be experiencing any noticeable input latency.
To put the numbers into perspective, at 1000hz, there is a 1ms delay from actuation to response.
At 4000hz, you have dropped to 0.25ms, or one quarter of the delay time.
Whether or not this is even perceptible with your current display is arguable, but it is measurable.
If you are worried about your key-presses actuating in between your polling rate timing, this should provide you with an even higher probability of confirm.
While such a high polling rate may seem like overkill, the future will also bring higher refresh rate displays, seemingly able to match the high polling rate of modern peripherals.
Yes; Displays with refresh rates of 1000 to 4000hz are coming.
It is also worth noting that because Corsair decided to improve speed on the software side with polling rates, they added an additional layer of speed to the already-fast Speed and OPX switches.
Imagine 4 times quicker response times paired with switches that already give you up to twice the speed of a normal switch.
Sweet overkill, thy name is K100.
Pairing this with either switch option, but especially the OPX, means you won't have to worry about anyone getting ahead of you or anything holding you back. Well, except maybe your internet connection or PC hardware…
You may find increasing your polling rate also increases your CPU usage, so use it at your own discretion. With most modern gaming setups, it shouldn't make a noticeable difference.
---
An Alternative Pick: Corsair K95 RGB Platinum XT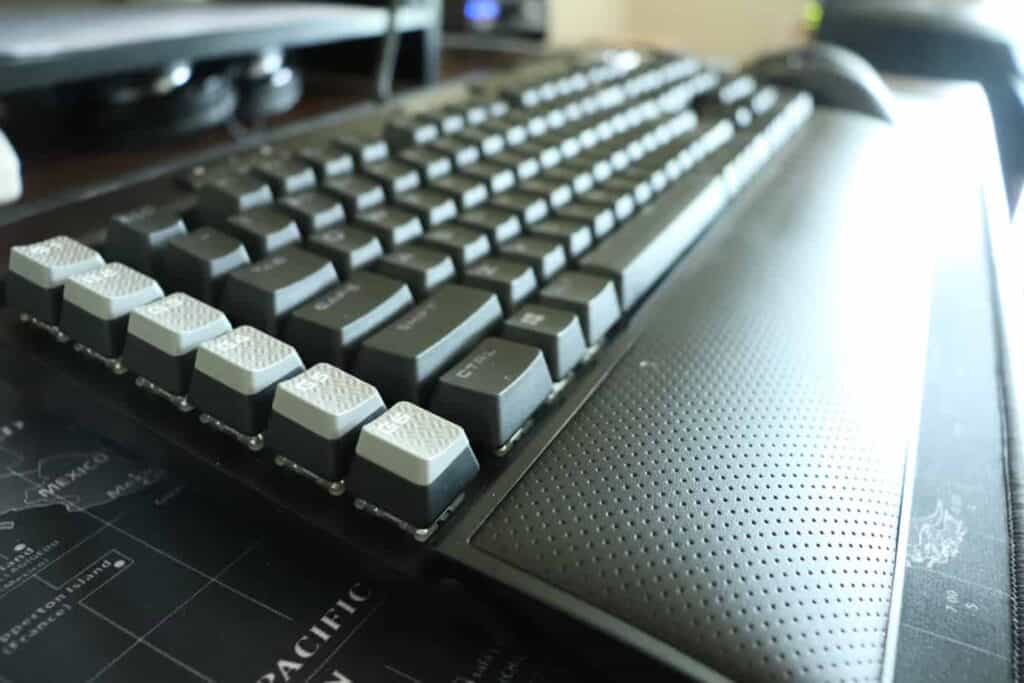 If you are looking for something with the same polling rate, there are no alternatives…yet.
But if you don't require all the new innovation that the K100 provides, consider its predecessor, the Corsair K95 RGB.
It provides much of the same functionality, minus the control wheel and improved speed. You will sacrifice a bit on build quality due to poorer stabilizers, but the savings may make it worth it for you.
We have a full write-up on the differences between both keyboards if you are interested.
You can check the price of the K95 RGB Platinum XT on Amazon.
---
Conclusion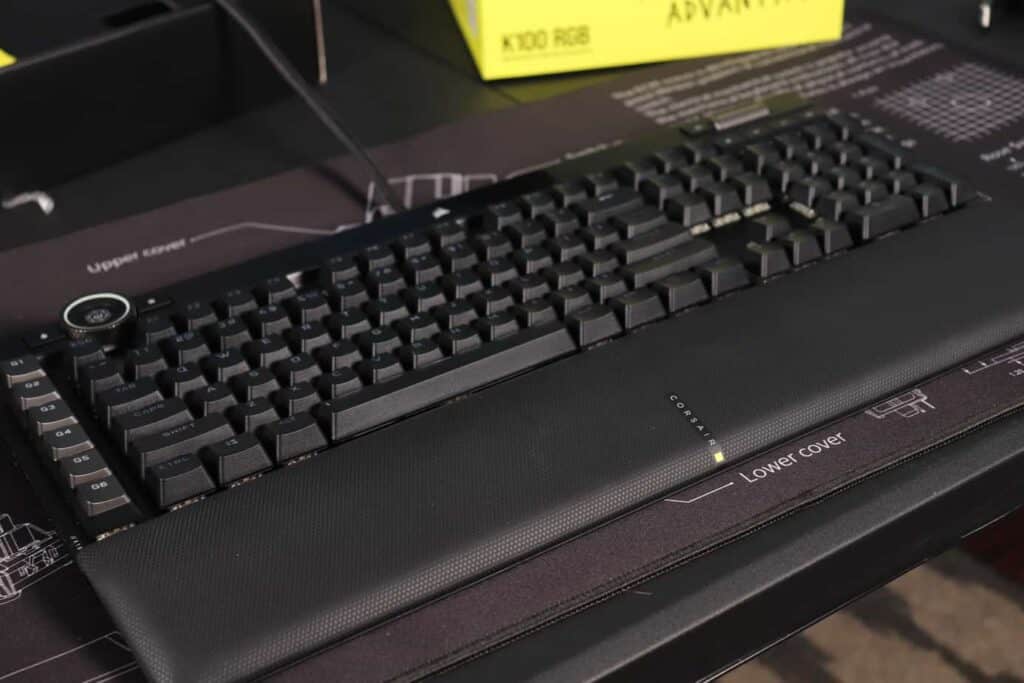 If all of these improvements over the K95 and the competiton are appealing to you or match your needs, the Corsair K100 RGB may be the keyboard for you.
From gaming to video production and everything in between, this keyboard offers a plethora of new innovating features that will be sure to give you the ultimate gaming and productivity experience.
From speed to comfort to efficiency, the K100 covers all the bases.
It does come with a hefty price tag, but as with all things, you often get what you pay for.
If you are interested in taking your gaming to the next level, check out the Corsair K100 on Amazon through this link.
Happy typing!