The Ducky One 2 Mini has been popularized by professional gamers and streamers since 2018.
The keyboard took the world by storm, being the first super high-quality 60% mechanical keyboards.
Since the release of the Ducky One 2 Mini in 2018 there have been many innovations and changes since then.
Is Ducky One 2 Mini still a good mechanical keyboard to this today, or is outdated?
You can see how the keyboard stacks up against other options in the best 60% keyboards of 2020.
---
The Verdict: An Excellent Gaming Pick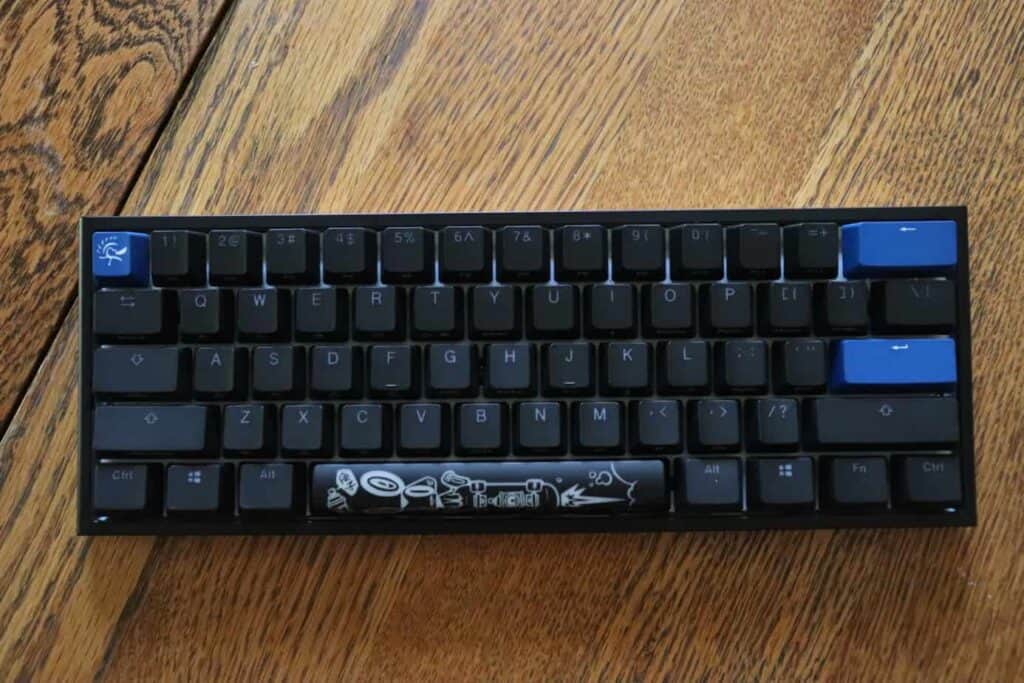 The Sound Test
Overall, the Ducky One 2 Mini is an exceptional mechanical keyboard that offers the highest of quality.
There are definitely some features that are missing that are becoming more common with 60% mechanical keyboards.
These features include being hot-swappable, wireless, and being compatible with different operating systems.
In the age where people want to be able to swap out their switches without desoldering and type wirelessly while changing between their Window's computer and Apple iPad, the Ducky One 2 Mini is starting to show its weaknesses.
Even the Razer Huntsman Mini has new optical switches (although they're not the best).
Compared to other mechanical keyboards at its price point, it is not a bad contender.
However, there are more budget-friendly mechanical keyboards that offer what the Ducky offers and more (with the exception of the fancy spacebar and strong onboard firmware).
The overall build quality of the One 2 Mini and the reputation that it has is nothing to scoff at.
However, Ducky does need to step its game up and update its keyboards.
We still recommend getting a Ducky One 2 Mini, as you can't beat the detailed programming and design, but the keyboard is really starting to show its age.
You can find the Ducky One 2 Mini on Amazon through this link or on mechanicalkeyboards.com.
We recommend checking both places out because the keyboard is constantly in and out of stock.
---
Introducing the Ducky One 2 Mini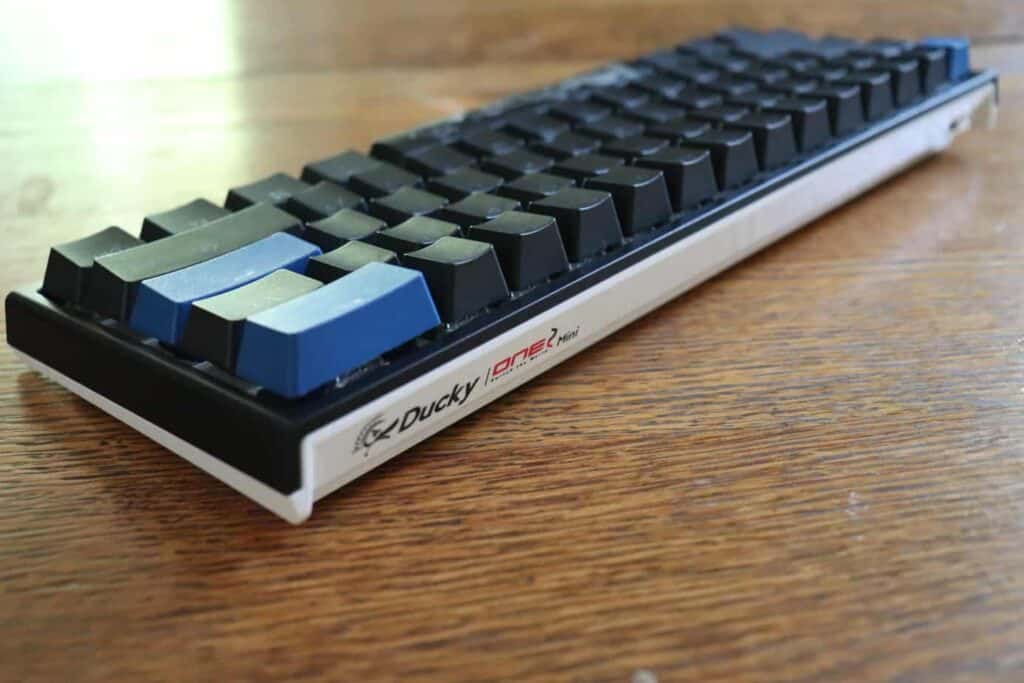 The Ducky One 2 Mini is a 60% mechanical keyboard that set the standard for compact mechanical keyboards.
The keyboard has a unique two-color appearance and comes with eye-catching accessories such as a stylized spacebar in the zodiac year and some extra keycaps in a random color.
Compared to many new mechanical keyboards, the Ducky One 2 Mini seems to be lacking in features such as hot-swappability, wireless capabilities, and Mac/Windows compatibility.
That being said, the keyboard still has knockout features such as doubleshot PBT keycaps, a detachable USB-C cable, highly customizable keys and macros with firmware to boot, variety of options of Cherry MX switches, and a sleek and clean design.
All of these combine to make the Ducky One 2 Mini a game-changing mechanical keyboard in its time.
Even to this day, it can still compete against many new keyboards.
But is it still one of the best? Let's find out.
In the Box: Lots of Accessories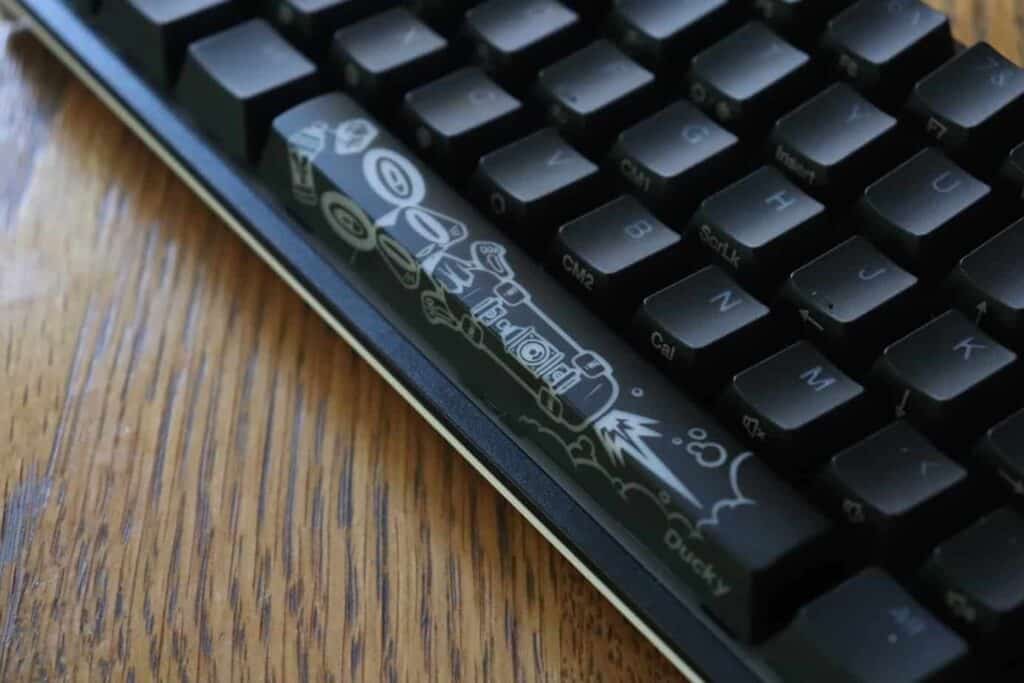 Additional keycaps in a random color
Keycap puller
Plastic dust cover
Rubber USB-C cable
Spacebar in the current zodiac year
The keyboard comes nicely packaged from mechanicalkeyboards.com, with a ton of additional add-ins.
Ducky provides a few useful tools such as a keycap puller and a dust cover which makes changing out the keycaps and protecting the keyboard from accumulating dust a breeze.
The keyboard comes with a custom spacebar that changes every year based on the Zodiac calendar.
We received our spacebar in the Year of the Rat edition, but to be completely honest, we thought it was a rabbit until we looked up the Zodiac calendar.
There is no user manual, you'll need to go to their website to download it. For convenience sake, the manual can be downloaded through here.
The secondary layer and RGB lighting are not intuitive to use, so we highly recommend getting the user's manual to test out all of the different functions.
Build Quality: Not Bad for Plastic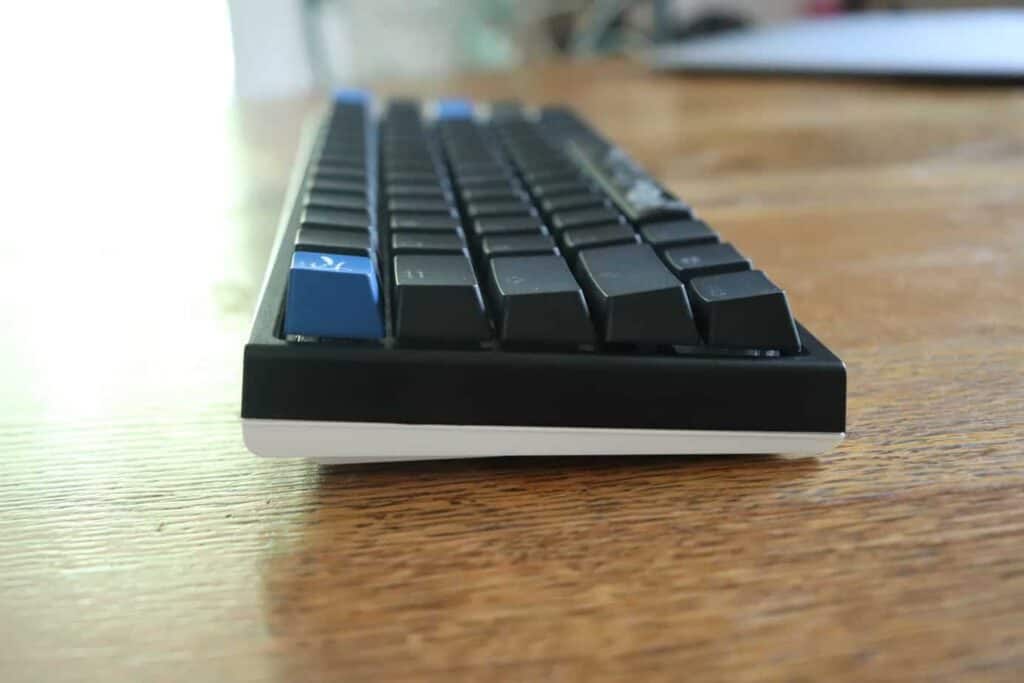 The overall design of the keyboard is a white plastic case with an interior plastic plate to hold the switches in place.
Although being constructed completely out of plastic, the keyboard is quite rigid and not too flexible, which was definitely a surprise.
The keyboard has an interesting colorway with matte black on top, and a glossy white on the bottom.
The One 2 Mini almost has a floating keycap design, but the shallow bezel around the edge of the keyboard says otherwise. Overall, the One 2 Mini looks quite nice and we enjoy the aesthetic design.
The switches cannot be seen from the side, which looks sleek, which also allows you to not see any dust and hair that fall into the crevices. However, when dust and hair do fall in, it will be a bit harder to clean up.
The mounting plate of most keyboards is aluminum to ensure a sturdy build and to reduce flex. It would've been nice if the Ducky One 2 Mini also had an aluminum plate.
If that is something that matters to you, there is a fully aluminum version of this keyboard called the Ducky Mecha Mini. 
The Keycaps: Customize the Look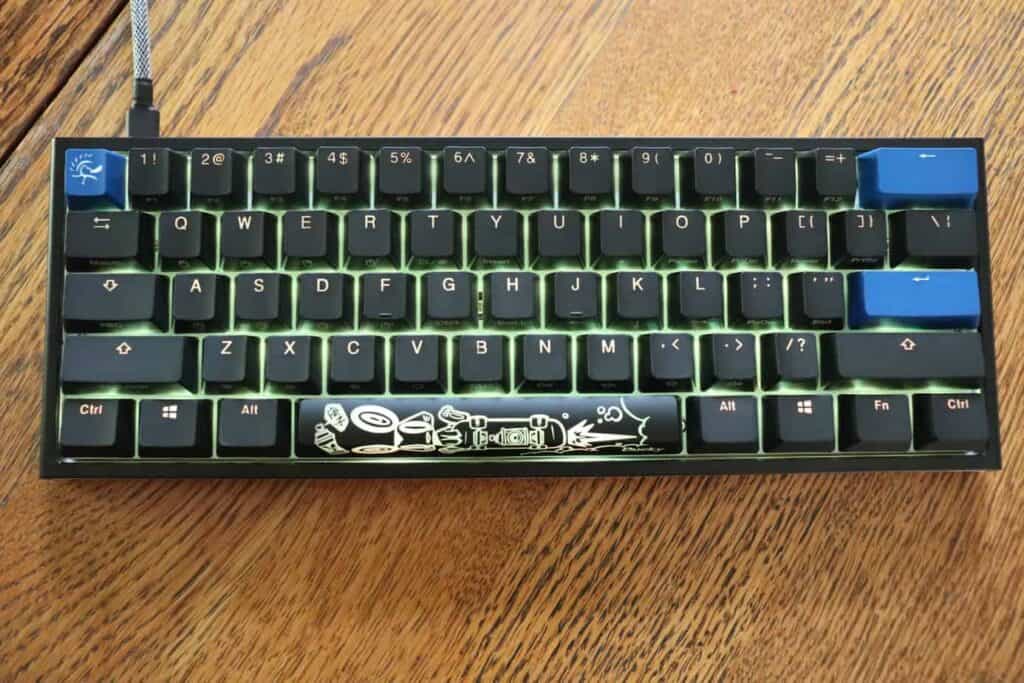 The keycaps are a nice thick doubleshot, shinethrough PBT plastic in OEM-profile. The keycap profile is common amongst pre-built mechanical keyboards.
PBT plastic is generally rougher and less prone to shine than ABS plastic keycaps. Big brand prebuilt mechanical keyboards typically come with ABS plastic keycaps, which attract oils quickly and feel smooth to the touch.
OEM-profile keycaps are a sculpted keycap profile, which means that the height varies between different rows, and it is designed to decrease the distance you need to stretch your fingers when typing and gaming.
To learn more about keycap profiles, click here to read an in-depth guide. 
The keycaps have clean legends with solid letters. Most cheaply made doubleshot keycaps will have spaces in the lettering to save on manufacturing costs, but Ducky opted for the higher-end design.
The different layers are side-printed onto the keycaps, so that you do not have to memorize all of the functions of each key.
The white backplate helps the RGB lighting reflect onto the side-printed legends, making them a lot easier to read in the dark.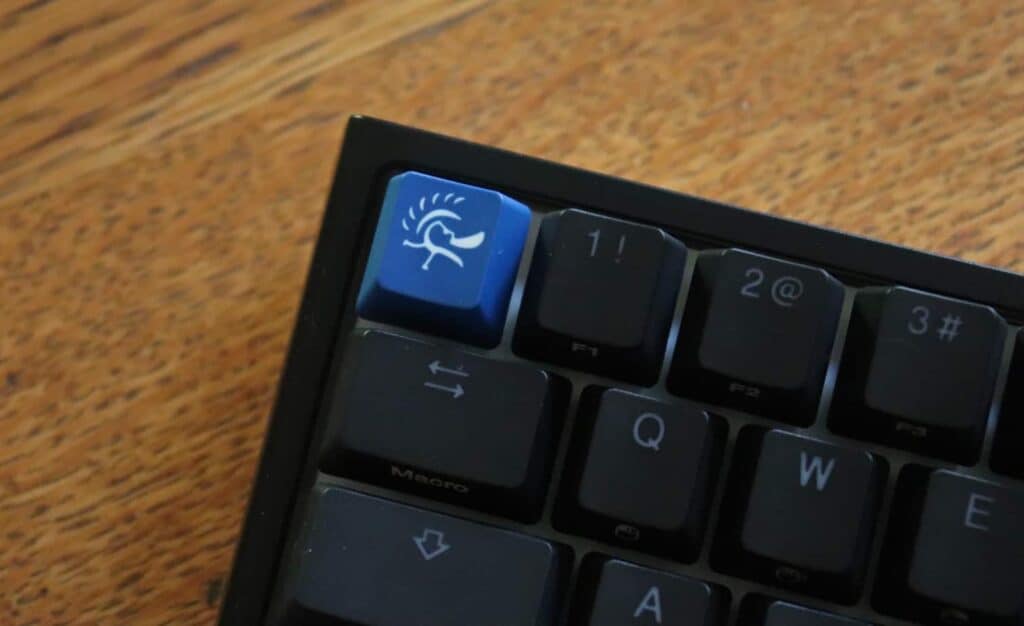 The extra keycaps that come with the keyboard are also doubleshot, shinethrough PBT. The additional keycaps are: enter, backspace, two logo keys, arrows for I/J/K/L, and the Zodiac year spacebar.
The Zodiac spacebar is thinner, but this allows the lights to shine through much brighter.
Many gamers prefer to flip the spacebar for the better feel, but with the Zodiac spacebar, it will reverse the lettering and design on the spacebar, which can be a turn off to some.
Overall, the keycaps that the Ducky One 2 Mini provides are made of high-quality material, durable, and they are well designed and thought out. The legends are made of a simple font, which deem the keyboard appropriate for everybody and not just gamers.
Even if you were to change out the keycaps, it would be easy because the Ducky One 2 Mini has a standard 60% layout with no surprises in keycap sizing.
Detachable Cable: Easy to Take On the Go
The Ducky One 2 Mini comes with a detachable USB-C cable, which makes the keyboard incredibly easy to pack up and take on the go.
The USB-C cable design is reversible, which means you don't need to constantly flip the cable until it plugs in.
The cable is gold-plated at the ends and rubber-coated. Overall, the cable isn't anything too special, it's not braided or soft.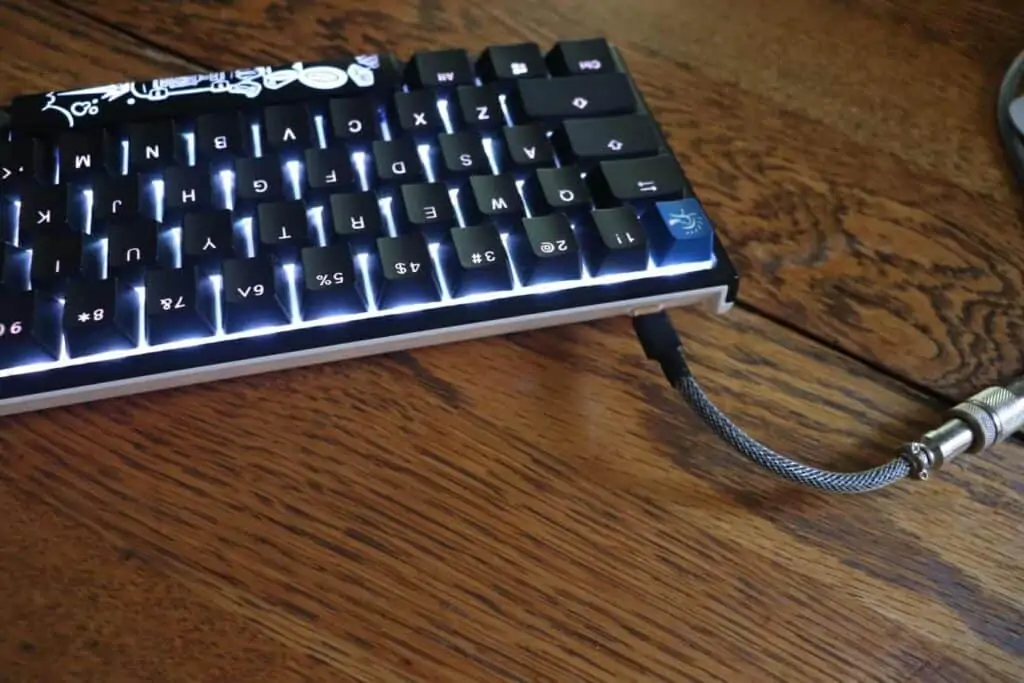 Due to its material, it has kinks right out of the box and needs to be straightened out over time. Let's just say it's nothing to write home about.
We definitely would have preferred a braided cable instead, Ducky definitely dropped the ball with the cable design, although USB-C was a nice touch.
Switch Options
The Ducky One 2 Mini comes with an assortment of switch options from Cherry and Kailh.
The Cherry MX options are black, brown, blue, silver, red, and silent red (for an additional few dollars). The Kailh switch options are BOX white, speed copper, and speed pro burgundy.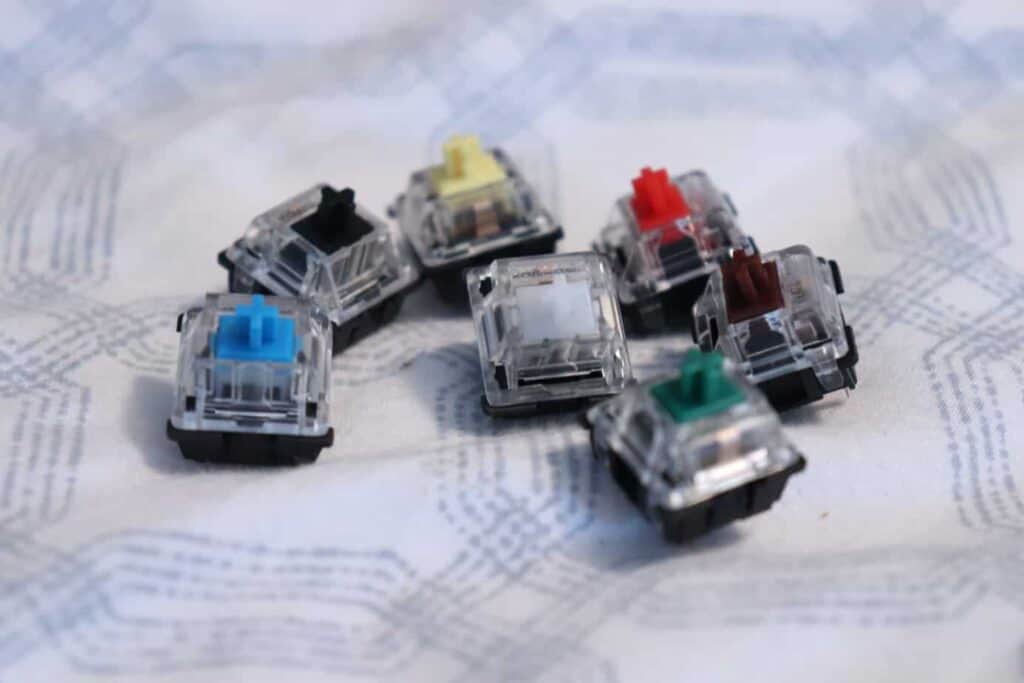 The typical options (red, blue, and brown) are provided as well as different ones for people who are looking for a more customized experience.
For more information on the different Cherry MX switches, we have an in-depth guide that covers all of their switches and sound clips of each type. 
Here is a general overview of the more common Cherry MX switches.
| | | |
| --- | --- | --- |
| Switch Color | Description | Usage |
| Cherry MX Red | Smooth switch with light resistance. No bump and relatively quiet. | Gaming |
| Cherry MX Black | Smooth switch with heavy resistance. No bump and relatively quiet. | Gaming |
| Cherry MX Brown | Bumpy switch with medium resistance. Moderate sound level. | Typing/Gaming |
| Cherry MX Blue | A clicky and bumpy switch with medium resistance. Very loud. | Typing/Gaming |
Common Cherry MX Switches
Kailh BOX White is a clicky switch that uses the clickbar mechanism to produce its click. This means that it clicks on the way up and the way down, and it is a very crispy and clean click. Box switches are also dustproof and waterproof due to their design.
Kailh Speed Copper switches are also clicky switches. They're called Speed because they have a shorter actuation distance than other Kailh switches.
Kailh Speed Pro Burgundy is a speed switch as well. It is a linear switch that has less actuation and total distance than typical Cherry switches. However, it is a slightly heavier linear than Cherry MX Red.
This is a vast variety of switch options, and there is an option for everybody and their needs, whether it be gaming, typing, productivity, or anything computer-related.
Features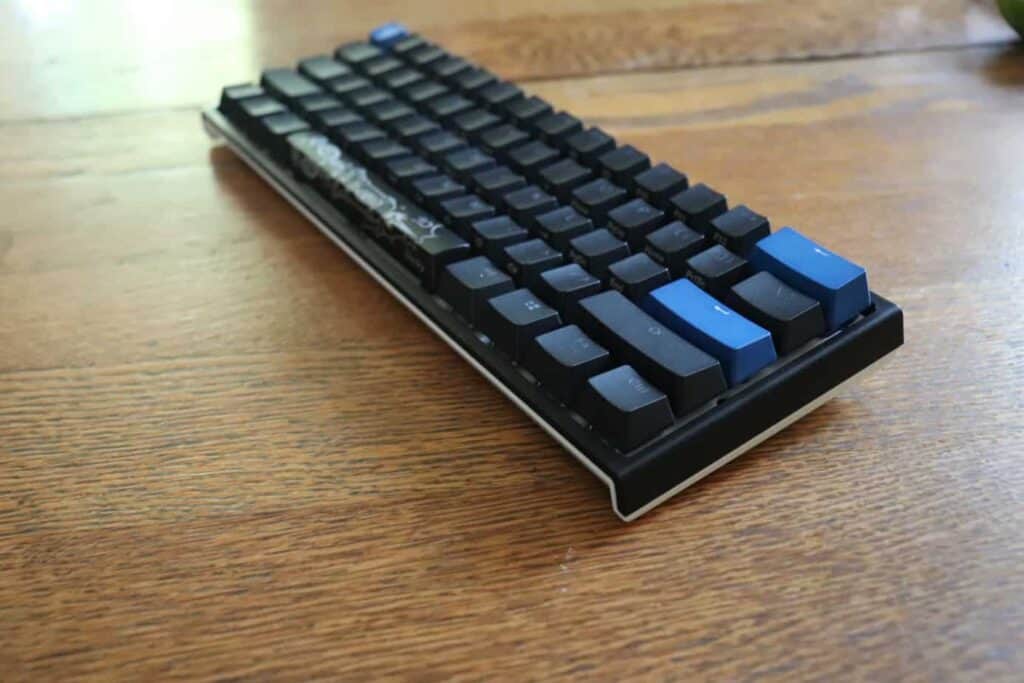 Powerful Firmware
The primary feature of the Ducky One 2 Mini is that it has very powerful firmware. It doesn't require any software to record macros and change RGB effects. This can be a downside though because this process can be a steep learning curve.
With software, things can be easily changed through some mouse clicks. With the firmware, you have to learn the firmware and button combinations and different methods to change what you want to.
Mouse Movement Through Keyboard
One of the coolest things it has is the ability to move the mouse, right click, and left click through some button combinations on the keyboard.
With this feature, it would've been really awesome if the Ducky One 2 Mini came with wireless capabilities, through Bluetooth or through a USB dongle.
If that was a thing, you can use the Ducky One 2 Mini with your TV connected to your PC/laptop, sit on the couch, and browse the internet.
DIP Switches on the Back
DIP switches enable you to change different key configurations or options with the switch of a button.
There are four DIP switches total. To see the effect of a DIP switch, be sure to disconnect and reconnect your keyboard.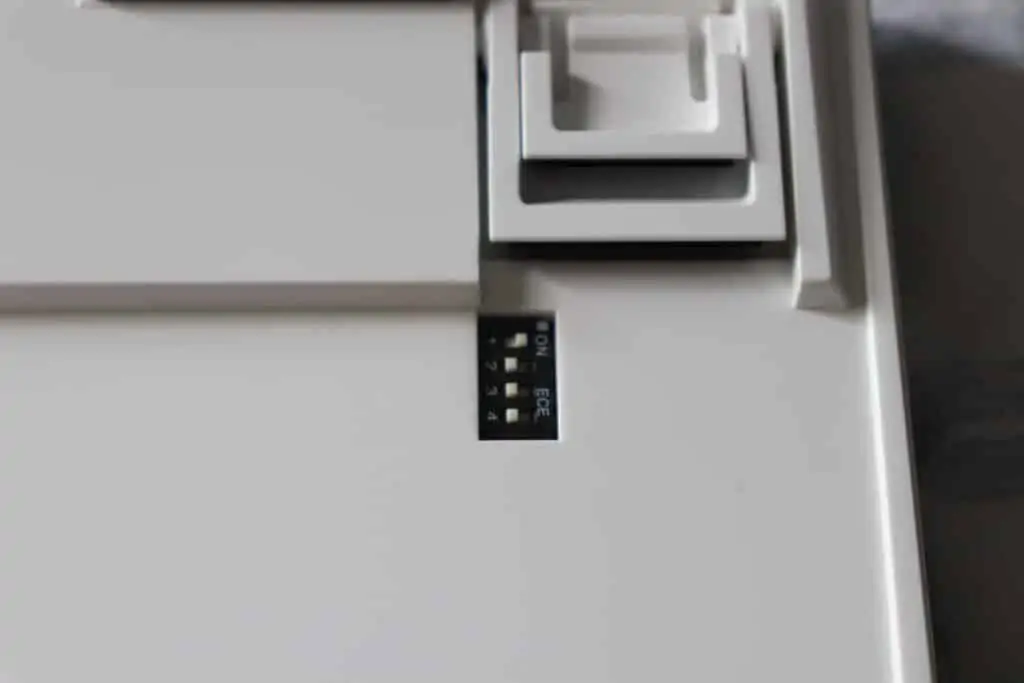 The first DIP switch turns the Windows key on or off. By default, it is set to off, which means that Windows key does work.
The second DIP switch switches between N-key rollover and 6-key rollover. There aren't many reasons to go to 6-key rollover. N-key rollover means that you can press a bunch of keys at once, and your keyboard will register them accurately.
The third DIP switch looks at the Ducky Vendor ID. I'm honestly not sure what this is used for.
The fourth DIP switch changes between standard mode and display mode. By default, it is turned on standard mode. Standard mode means that the keyboard works like a keyboard. In display mode, typing on it and pressing buttons does nothing. It displays all of the RGB lighting on spectrum cycling.
Ergonomics
The angle of the Ducky One 2 Mini is about 3-4 degrees, although it is difficult to estimate without a protractor.
There are two dual-angle adjustable kickstands in the back, which allow customization to your liking.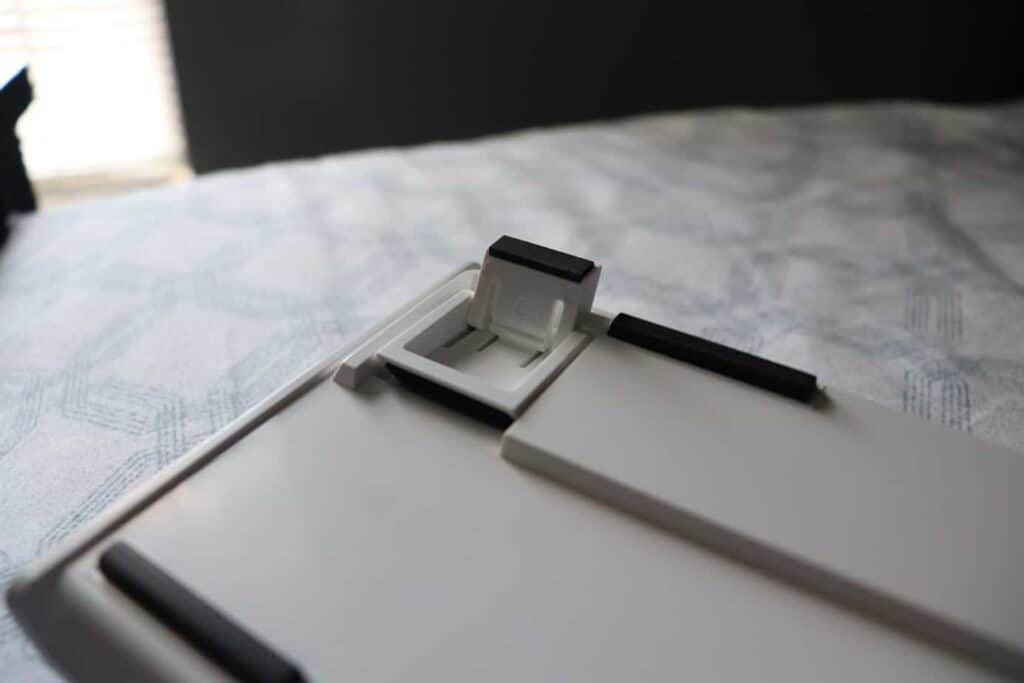 The small compact form of the One 2 Mini allows you to move your mouse during work and gaming, improving overall posture.
Portability
Due to its small size, design, and detachable cable, the Ducky One 2 Mini is extremely easy to carry around to other places, whether it be tournaments, a friend's house, school, library, or coffee shop.
The One 2 Mini also stores profiles for macros and RGB completely on the board itself, so you don't have to have any specific software open to use all of your personalized functions.
The design is a bezel design without floating keycaps. Even if you just throw this keyboard into your bag or backpack, it's unlikely that a keycap will rattle its way off of a switch. This can occur on other boards that do have a floating keycap design.
Does The Ducky One 2 Mini Have Software?
The Ducky One 2 Mini has no software to download. However, you can do everything you want to from recording macros to changing the per-key RGB lighting using key combinations on the keyboard itself. More about customizing lighting will be in the Lighting section down below.
For macro recordings and directions, please see the updated manual. There are 6 different macro profiles that you can program. 
The process starts by turning on macro recording, choosing a key to record, recording the macro, and then finishing the recording.
Operating System Compatibility
The Ducky One 2 Mini is unable to be used with Mac, even for typing only. When I plugged it into my Macbook, it did not get past recognizing the keyboard.
Many others see the same results, which is unfortunate because Mac users are common worldwide.
On Windows, it works without any problems at all.
How to Turn On RGB: Ducky One 2 Mini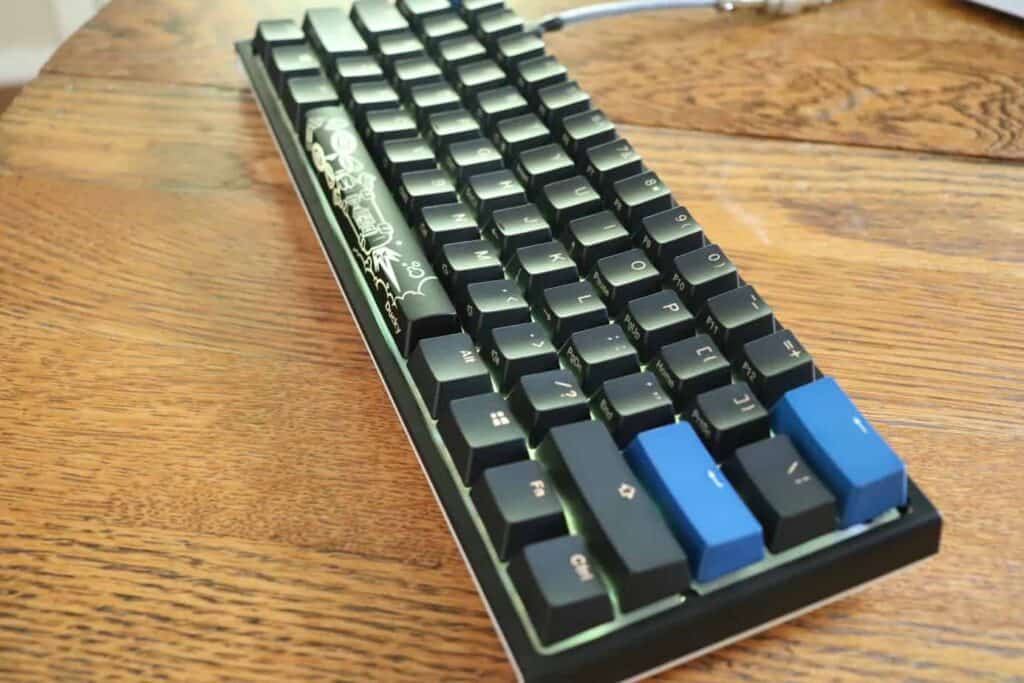 The lighting effects can be controlled completely on the keyboard itself through its firmware. With the white backplate, the lights bounce back up, shining the side-printed legends as well cleanly through the doubleshot keycaps.
The preset lighting effects can be changed through pressing FN + Alt + T.
The color effects are the following:
Wave mode
Color cycle
Rain drop
Ripple
Random reactive
Reactive
Breathe
Static
Radar
Off
The colors can be adjusted via using FN + Alt + Z/X/C to cycle through different levels of red, blue, and green brightness to pick the color that you want. Each color has 10 levels.
Another easy method is to press FN + Alt + Spacebar, which shows you the color palette. Each key will glow a different color, press the key associated to the color that you want to change to that color.
To adjust the effect speeds, you can hold FN + Alt + J/L. As you can see, pretty much everything can be done through just the keyboard.
Another way to edit the RGB effects is through per key customization. This involves a series of steps, but after doing it once, it's not all too complicated.
As explained in the manual, it starts off by holding a series of keys to turn on edit mode. After that, you have two different profiles to pick from (1 and 2).
After picking a profile, you can use the color palette or individual levels of red/blue/green to pick a color.
After picking a color, you press the keys that you would like to be in that color. Repeat until the entire keyboard is customized to your needs.
Then you can turn the edit mode off and be set on your way.
If you want it to be back to the factory settings, that is easy as well.
Overall, this keyboard has some of the best lighting customization options I've seen. Without software, it can do per-key editing with no problems at all. It has the special feature of storing up to 2 custom color profiles onboard as well.
However, it would've been nice to be able to do this on software as well, since that would be much quicker.
Is the Ducky One 2 Mini Hot-Swappable?
The Ducky One 2 Mini is not hot-swappable. You will need to desolder the switches to remove them from the keyboard.
If you want to remove and replace the switches, we recommend following this guide.
For many, soldering/desoldering is not feasible due to the equipment and time required to do so. For that reason we recommend trying out the following mods where soldering is not required.
Such as:
Is The Ducky One 2 Mini Wireless?
The Ducky One 2 Mini is not wireless. The keyboard can only be connected through a wired connection using a detachable USB-C cable.
At the moment, there is no wireless option available for the Ducky One 2 Mini.
Is The Ducky One 2 Mini Compatible With PS4 Or Xbox One?
The Ducky One 2 Mini is compatible with both PS4 and Xbox One. Simply plug in the keyboard and you're good to go. No issues with connectivity.
Alternatives to the Ducky One 2 Mini
As mentioned before, although the Ducky One 2 Mini is still an awesome keyboard, it does lack some much-needed features. Here are a few alternative options we recommend.
Kemove Snowfox/Shadow: All of the Features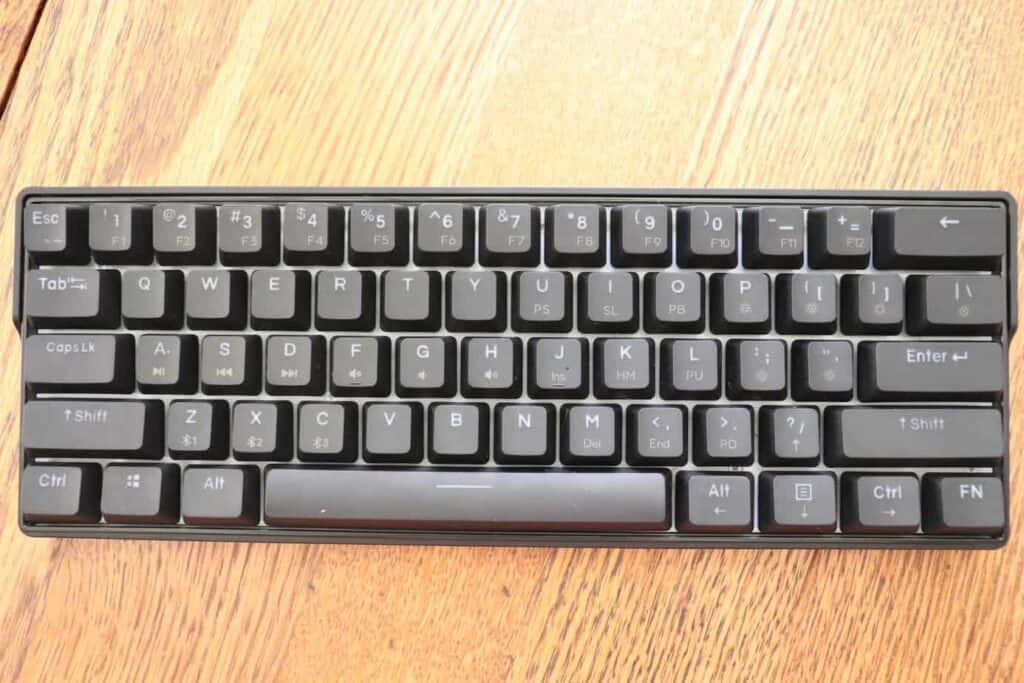 The Shadow/Snowfox is a 60% mechanical keyboard that has doubleshot, shinethrough PBT keycaps. They are not as nice-looking as the Ducky One 2 Mini's, though.
This keyboard has hot-swappable sockets, Bluetooth 5.1, and Windows/Mac compatibility. It also comes with a dust cover and a keycap puller. It comes with a variety of different Gateron switch options, which are known to be really smooth switches.
This keyboard sits at just under $90 in most places. If you are interested in checking out this keyboard, see it here on Amazon for an affordable price. 
We have a complete written review here if you want to know more details as well as our thoughts on it.
GMMK Compact: Hot-Swappable and Budget-Friendly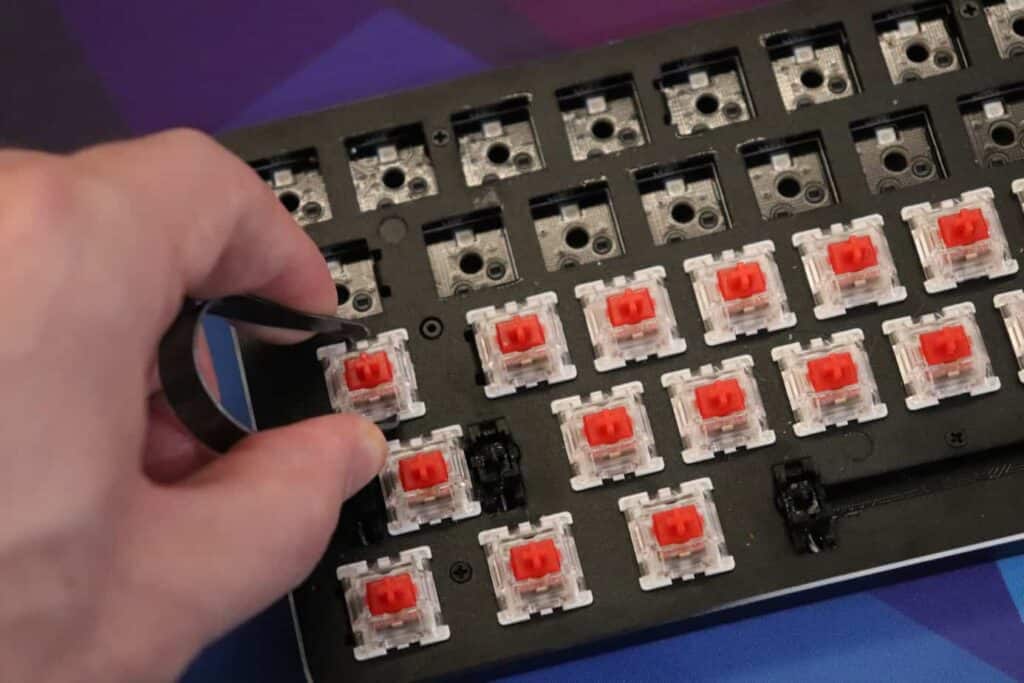 The GMMK Compact is also a 60% mechanical keyboard. It is more budget-friendly if you choose the barebones option (which comes with no keycaps or switches).
The GMMK has a detachable cable. However, it's with USB mini rather than USB-C. The keyboard has RGB and a floating keycap style design. The case is half aluminum and half plastic, but the keyboard has quite a bit of heft in it due to additional weights in the bottom casing.
This allows you to customize it with the switches of your choice and custom keycaps without having to "ditch" what comes in the box.
It is possible to buy this prebuilt already with their ABS doubleshot keycaps and Gateron/Kailh switches for around the same price as the One 2 Mini here on Amazon. 
For the barebones version, see the Glorious PC Gaming Race website. 
We also have a video review of this keyboard on YouTube if you would like to see all of its features and what we think about it.
Keychron K6: Hot-Swappable and Compact Without Losing Arrow Keys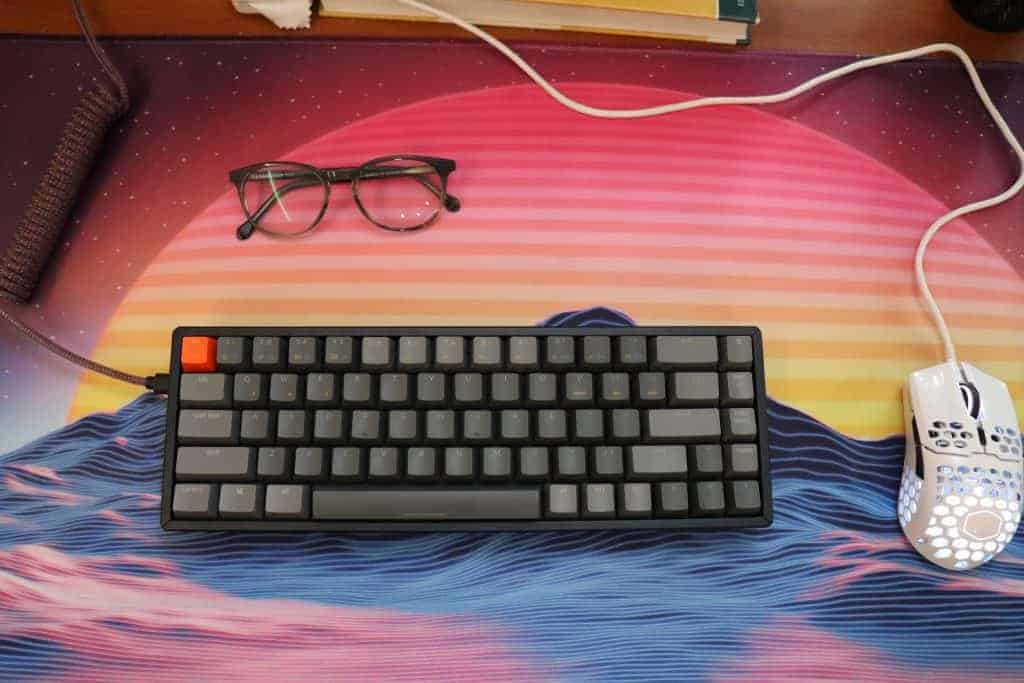 The Keychron K6 is a 65% mechanical keyboard. However, it shares a lot of the same portable features and is quite small as well.
Being 65% means that it has arrow keys along with some keys from the nav cluster such as Home, PgUp, and PgDn.
This keyboard has hot-swappable sockets, Bluetooth 5.1, and compatibility with Mac and Windows via the flip of a switch. It comes with a braided USB-C cable, and extra keycaps for Mac.
The ABS-plastic keycaps that are stock on the keyboard are thin and shine quickly with a lot of use.
A downside of this keyboard is that it does not have any proprietary software that you can use to customize RGB or macros.
To get around this, you can install programs such as Karabiner or SharpKeys to remap and program macros.
The RGB does have 15+ preset effects, but there is no per-key lighting editing that you can do. This keyboard sits under the price of the Ducky One 2 Mini as well.
If you're interested in learning more about this keyboard, see it here on Amazon for an affordable price. 
For an in-depth review, you can read it here.
Conclusion: Worth It for Some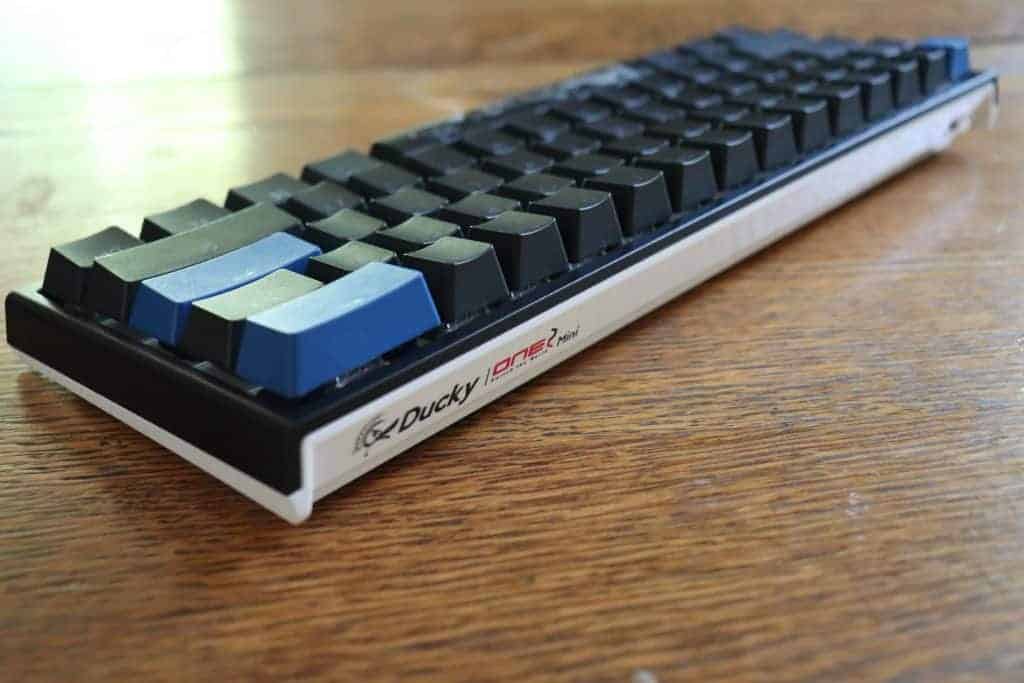 The Ducky One 2 Mini remains one of the top 60% mechanical keyboards to this day. The keyboard set the standard for compact keyboards when it was released and only just now the competition is starting to get an edge on them.
However, because of the growth of the mechanical keyboard offerings and innovation, Ducky does need to update some of their features to compete with the competitors.
The Ducky One 2 Mini can still be worth it if you put build quality, customizable keycaps, and programmable layers above all else, but if you want wireless, hot-swappable, or Windows/Mac compatibility, check out some other product offerings.
If you're interested in the product, you can check it out at Mechanicalkeyboards.com or on Amazon depending on current availability and price.
Switch and Click is a participant in the Amazon Services LLC Associates Program, Glorious PC Gaming Race affiliate program, and the Creator Program for Mechanicalkeyboards.com.