When looking for a budget gaming keyboard, there are certain features you want to look for to get the most bang for your buck.
Let's pick apart the best budget gaming keyboards on the market to help you get the perfect option to fit your setup.
As you can see from above, there are a ton of great options to choose from. Let's tear each keyboard apart and dive into the features.
1. Ducky One 2 Mini: Best Under $100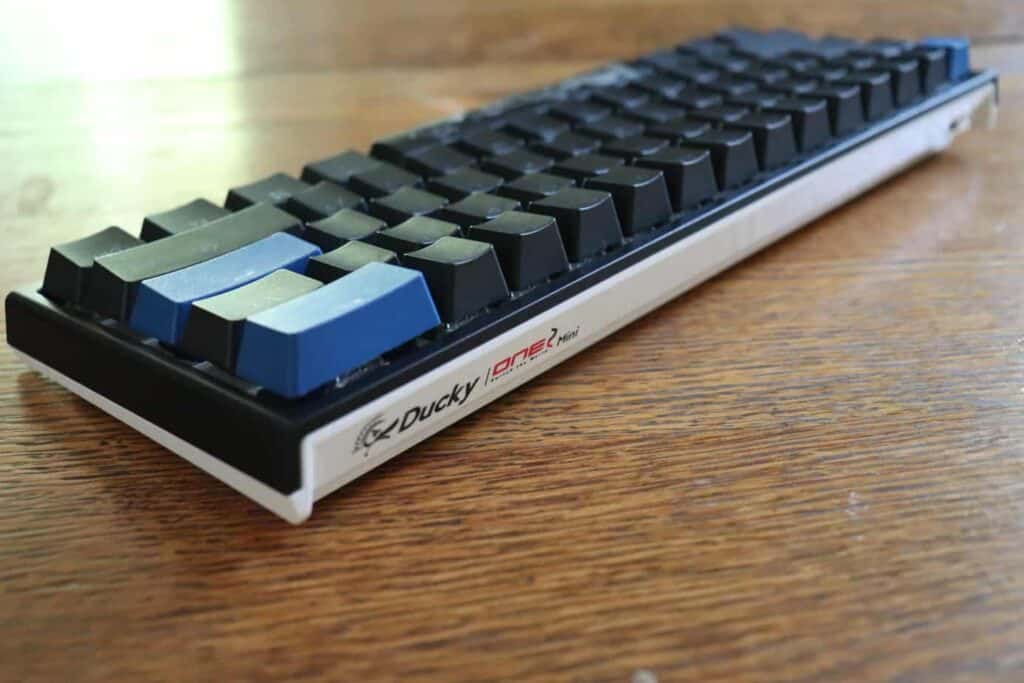 The Ducky One 2 Mini is a fan favorite that has been around the block for a while now. This keyboard also came in number one on the best 60% keyboards.
The compact size is great to save space on your desk but can be too small for some. It's currently Ninja's keyboard.
This keyboard is an excellent gaming keyboard and does other things very well too. The design is perfect for gaming, typing, programming, and more.
The Ducky One 2 Mini does everything very well.
The keyboard comes in a variety of great switch options including Cherry MX and Kailh options.
Cherry MX switches are a great option because they are incredibly well-produced and have a lifespan of 100 million keystrokes.
Not to mention, you have the option between the entire lineup, including the specialty switches.
Kailh switches are also a good option if you're into clicky switches.
Kailh clicky switches come in a click bar design which means they make a clicking noise in both the up and down direction for the ultimate auditory feedback.
Here are all of the switches available:
Cherry MX Black, Red, Blue, Brown
Cherry MX Speed Silver
Cherry MX Silent Black, Silent Red
Kailh Box White, Speed Copper, Speed Pro Burgandy
The case design of the Ducky One 2 mini is all plastic, which feels well-assembled and adds a nice bounce when typing.
At the price point, I would've liked to see an aluminum frame, but if you have the extra dough you can opt for the Ducky One 2 Mecha Mini instead.
One of the coolest aspects of the Ducky One 2 Mini is that it comes with additional keycaps in a random color, which allow you to customize the aesthetic.
The stylized Zodiac spacebar is also thrown in which adds a nice touch to the design.
Overall, you can't deny that the Ducky One 2 Mini is an awesome keyboard that does not disappoint, you can find it on mechanicalkeyboards.com for a good price.
2. Keychron K6 RGB: Best Under $75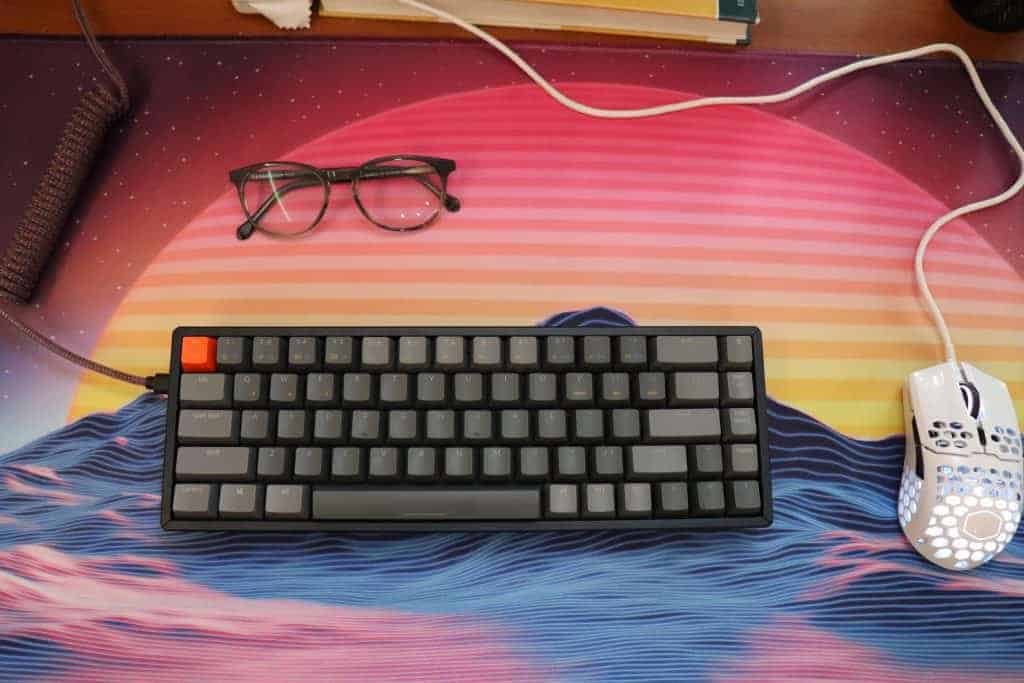 The Keychron K6 is a keyboard that is absolutely loaded with features, if you can think of a feature this keyboard has it.
Wireless? Check. Mac compatibility? Check. Hot-swappable? Check.
We found this keyboard to be fun to use, and the hot-swappable feature can be incredibly hard to find on a keyboard this size unless you're willing to shell out some serious dough.
The main downside we found to the K6 was how relatively thick the keyboard is. A proper wrist rest will go a long ways to make this bad boy comfortable to use. Besides that one complaint, everything works very well.
Another complaint is the keycaps are quite low-contrast and hard to see unless you have the RGB turned on. The ABS plastic keycaps are a bit on the thin side as well.
But this keyboard makes up its downsides with a lot of awesome features and it comes with a scaling price structure, so you can include more and more depending on your budget.
We highly recommend the Keychron K6 if you're looking for a compact budget gaming keyboard that is highly versatile.
3. Redragon K552: Best Under $50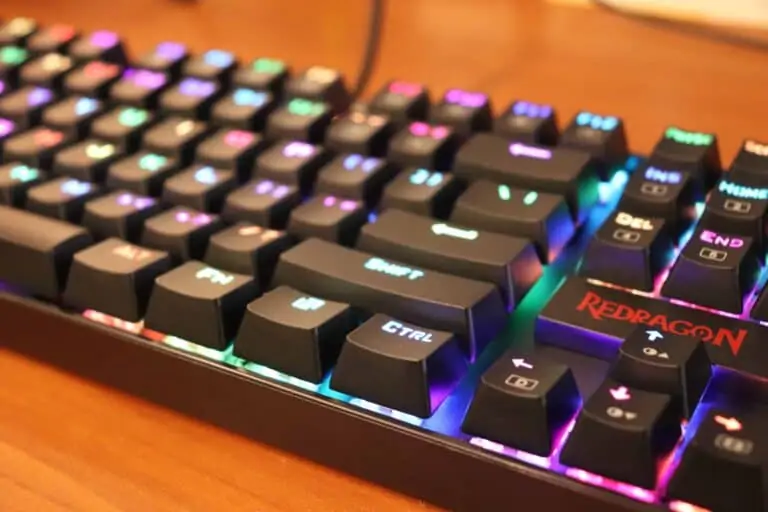 Redragon is a company that makes a wide variety of budget mechanical keyboards and is considered a reliable source of cost-effective keyboards.
The K552 is no exception and definitely makes the list for being one of the best gaming keyboards. Coming with RGB lighting, full N-key rollover, and anti-ghosting, this keyboard is sure to impress many.
There are a lot of different canned RGB effects that you can choose between to customize your setup on the fly along with the Redragon software to further customize.
The main downside to this keyboard was the protruding Redragon branding, they were not subtle about it in the slightest. Not to mention, the non-detachable power cable make it difficult to transport.
Overall, the Redragon K552 can make an excellent gaming companion and won't break the bank. You can find the K552 on Amazon for a good price.
4. Velocifire TKL02: Best Under $40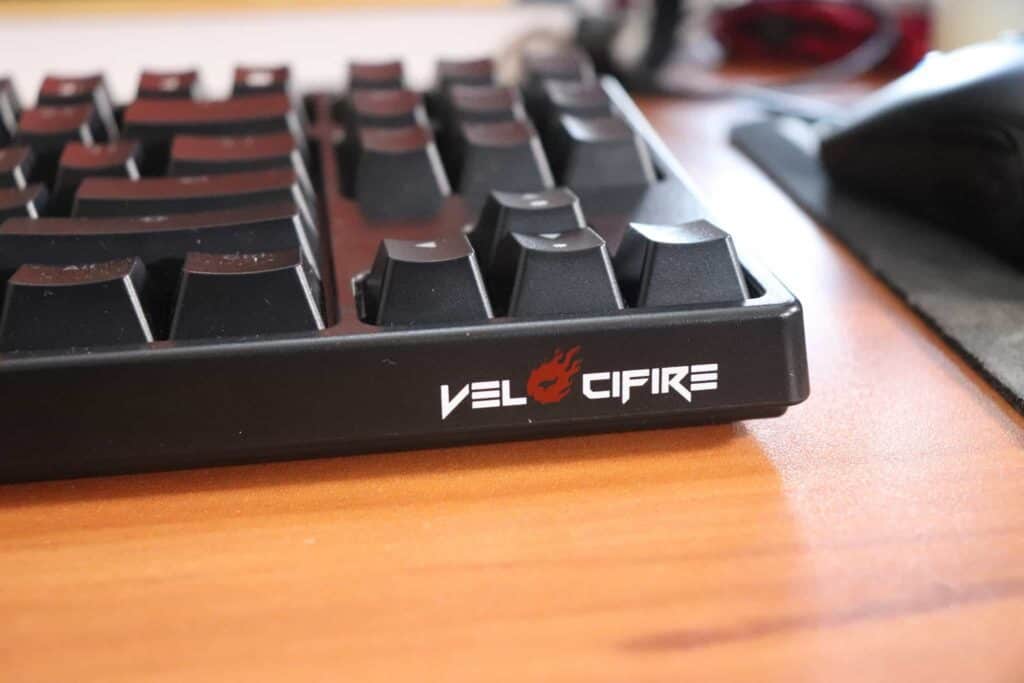 Out of all the keyboards on the list, this mechanical keyboard is the most clean and sleek looking, making it great for gamers who don't want a keyboard that's too far over the top.
It would be a great keyboard for the office or for gaming late at night with friends, it can be used for any purpose.
There are two light settings for this keyboard: on or off, and the only color is only white. Not exactly the right lighting for someone who enjoys a light show when typing away.
The switches are unique, they use Content Brown switches which are a Cherry MX knockoff. Most of the keyboards on this list use Outemu's. The Content switches rattle less than the Outemu's and are slightly better, which is a win for the Velocifire.
The keys sound nice and have minimal rattle except for the spacebar. The stabilizers on this keyboard are decent, although the spacebar could use a little work.
This keyboard does the basic stuff really well, with the exception of the stabilizers, but you can't always get what you want with a budget keyboard.
5. Havit 104 Blue: Best Under $30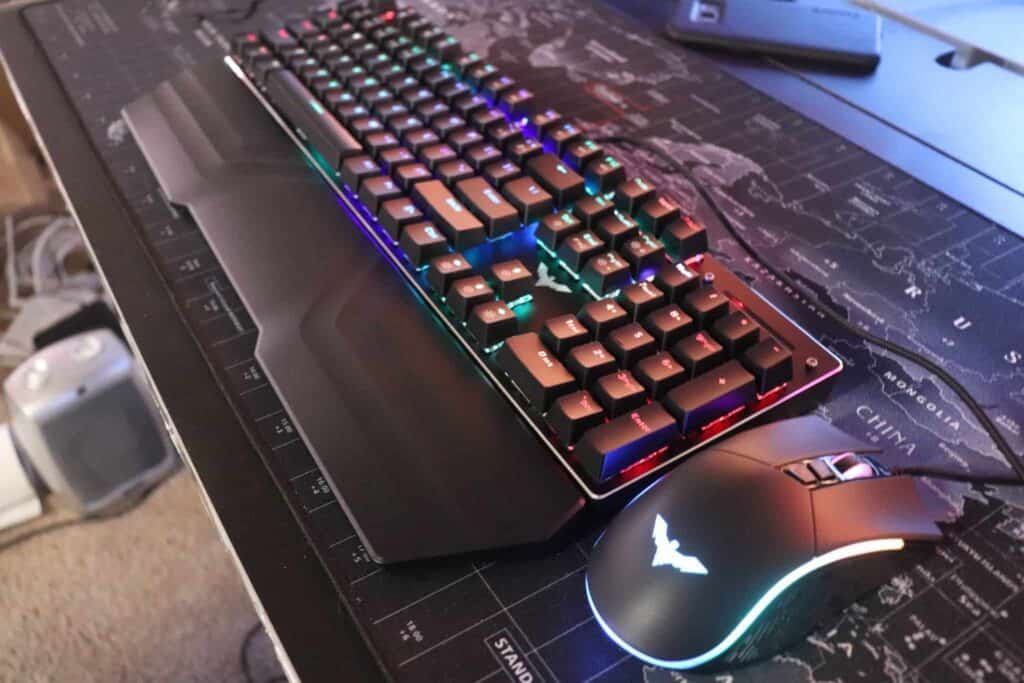 When we ordered the Havit 104 off of Amazon to review for our website, we were actually quite surprised with the amount of value this keyboard had to offer for such a low price.
For under $30, you get access to a mouse and mechanical keyboard combo along with a wrist rest and RGB lighting.
Not to mention, the keyboard brings some batman-esqe feel to your setup, which many is a plus.
Although you technically get a lot for the price, the components you get definitely feel cheap. As you would expect, this isn't a super premium keyboard and mouse, but it's definitely passable for a gamer on a budget.
The blue switches don't make an excellent option for gaming, but can satisfy those with a bad case of clickys.
It's hard to recommend going this cheap on a mechanical keyboard, if it were up to me, I would save an extra $20-30 for a better keyboard.
You can find the Havit 104 on Amazon for a cheap price.
6. Geek GK61: Best Budget Optical Keyboard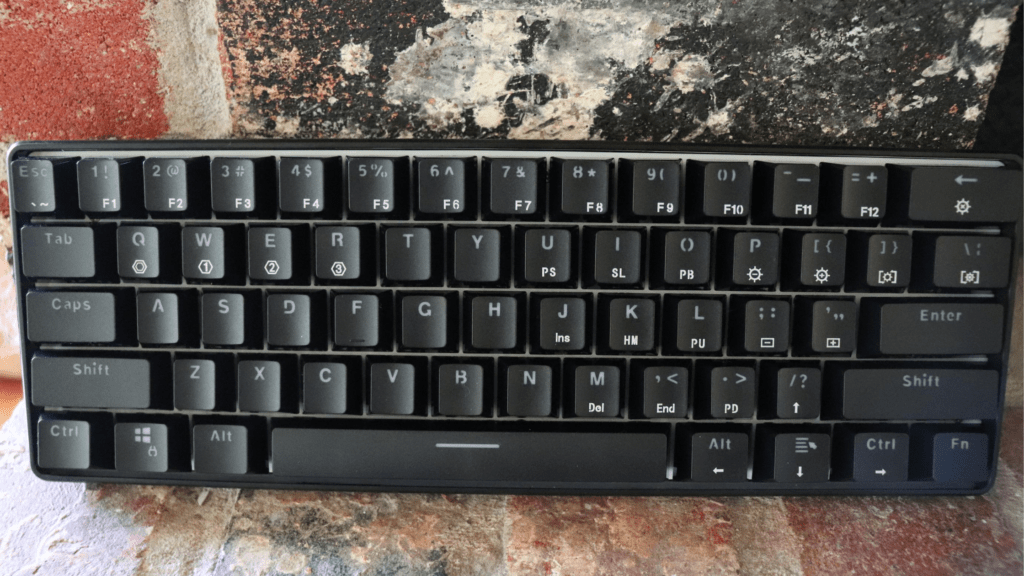 For a gamer on a budget, this is by far one of the best bang for your buck keyboards, and here's why.
The optical switches on this keyboard will give you slight advantage over the competition as their slightly faster actuation will give you a few milliseconds to react quicker.
Not to mention, the switches are hot-swappable, so you can swap between other Gateron optical switches if you want a different experience depending on what game you're playing.
The keyboard is also waterproof, making it protected from accidental water and soda spills.
The only downside is the optical switches don't have the true mechanical feel and the ABS keycaps can feel a bit thin at times.
Considering the standard layout though, it shouldn't be too difficult to swap out the keycaps to a superior PBT set.
The Geek GK61 is a super fast keyboard for the price and would be an excellent choice for gamers. You can find it here on Amazon.
7. Tecware Phantom: Best Budget Mechanical Keyboard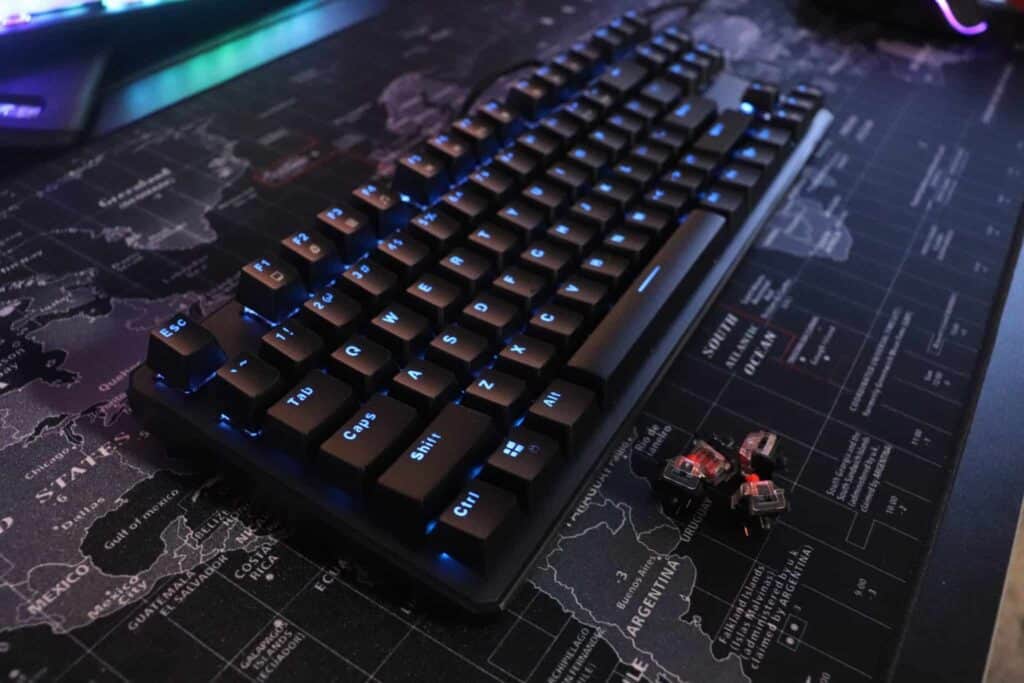 The Tecware Phantom is a budget-friendly TKL gaming keyboard that knocked my socks off.
In fact, this keyboard ranked #1 on our favorite mechanical keyboards under $50 roundup.
At it's low price point, the keyboard comes with some awesome features including a hot-swappable PCB, smooth stabilizers, and RGB lighting.
It's quite uncommon to get hot-swappable switches on a keyboard this cheap, so that itself was quite impressive.
Another interesting aspect I want to highlight is the stabilizers, they are super smooth. Most budget keyboards come with awful stabilizers that just rattle like crazy.
Not to mention there was virtually no spring ping.
If you're looking for a budget mechanical keyboard that feels like it's not a budget keyboard, the Tecware Phantom is an excellent option for you.
This keyboard is absolutely packed with features, but on top of that, it does the basic stuff really well.
Overall, this keyboard is a steal.
The hot-swap feature alone is quite rare to find on a keyboard under $150, let alone under $50.
This allows you to swap-out and test different switches on the same keyboard without having to solder.
The keyboard is plastic, but it has an aluminum back-plate that improves the build quality and makes the keyboard feel more rigid.
The only feature we don't like is the non-detachable power cable. It's clunky and awkward. It makes the keyboard less-portable and can lower the overall lifespan of the keyboard if the cable breaks.
A detachable cable would be a BIG upgrade if Tecware ever decides to implement that feature.
But overall, this keyboard is on another level compared to some of the keyboards on the list, with only a few complaints.
You can find the Tecware Phantom on Amazon for a really good price.
8. Redragon K582: Best Budget RGB Keyboard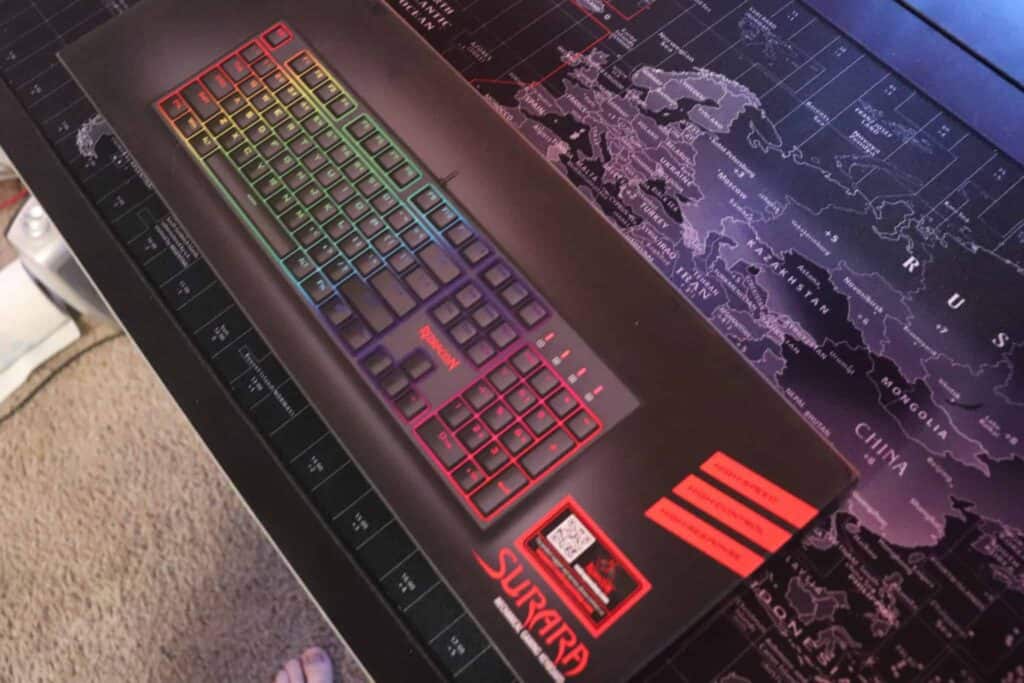 One of the best gaming keyboards with RGB is the Redragon K582. Out of the entire Redragon lineup, the K582 is our favorite.
This keyboard is full-sized with lots of RGB lighting options.
The silent linear switches are nice and smooth, and make for a quieter gaming experience. This is great for those who get tired of loud and clicky switches.
Although the keyboard is still pretty loud even with the quiet switches due to the plastic case making everything rattle and flex a little bit.
The stabilizers were pretty nice too, considering the cost.
In the box they also included a keycap puller, switch puller, and extra switches. You have the option to take out the switches and replace them with another type.
Overall the K582 is a decent price and is great for someone looking for a budget full sized mechanical keyboard.
We would recommend this to someone who is into gaming and wants the full RGB mechanical keyboard experience. You can find the Redragon K582 on Amazon for a decent price.
---
What to Look for In A Gaming Keyboard
When looking for a gaming keyboard there are always a few features that you should look for to optimize it for gaming. Here's a quick breakdown of some important features:
N-Key Rollover: Full N-key rollover is a feature found in most mechanical and gaming keyboards, it basically allows you to press as many keys at the same time and all of them will register. You can test this on your keyboard to make sure you have it.

Anti-Ghosting: Similar to N-key rollover, anti-ghosting allows multiple keys to register at the same time, although unlike N-key rollover there is a limit to the number you can press at once (usually 6 keys).

Specialized Switches: A specialized gaming switch can give you a small advantage in-game. With a faster response time you can beat out your opponents by having a millisecond or two faster reaction time. Common specialized switches include optical, shorter-actuation, or both.

Compact Size: Many gamers prefer a more compact size, because it allows them to rotate their keyboards slightly for comfort and ease of usage. With a smaller size, the ends of the keyboard won't hang off of the desk.

RGB Lighting: While not necessarily beneficial in-game, most gaming keyboards offer RGB lighting to help customize your setup. I mean, can you truly be a gamer without RGB lighting?

Programmable Keys: Having easy access keys that are programmable or that can be set with macros can be a big advantage in games where you need to customize the controls so you can press a button faster.

Software: Sometimes software can improve the customization of your keyboard and make your battlestation even more efficient and stylish.
The Best Switches For Gaming
When looking at the best switches for gaming, you typically want to look at only linear switches. Linear switches offer a smooth and consistent actuation that don't interfere with pressing the keys in rapid succession.
When comparing the three switch types (linear, tactile, and clicky), linear is leaps and bounds better for gaming.
Most people will usually opt for a red switch, such as Cherry MX Red, but for a budget keyboard Gateron or Outemu Red is typically more affordable.
If you want to make your keyboard even better for gaming you can look at optical switches to boost your reaction speed further. You can read more about optical vs mechanical here.
Conclusion
Finding the ideal budget keyboard for gaming mainly comes down to what features you want and need.
If you want RGB lighting that's highly customizable or a keyboard that's sleek and efficient, it all comes down to your preferences.
With keyboards there are dozens of budget options out there, so my best advice is to find something that you think you would enjoy.
Good luck!