When you're a programmer, the tools you use can make or break your working experience.
You want to be coding with a super satisfying and highly-functional keyboard that can perform to the standards required to get the job done efficiently.
Let's take a look at our recommended mechanical keyboards for programming.
---
Best Mechanical Keyboards For Programming – Our Top Picks
| The Award | The Keyboard | Special Features |
| --- | --- | --- |
| Best All-Around Pick for Coding | Corsair K100 RGB | Tons of software customization |
| Best Optical Keyboard for Programming | Epomaker SK71 | Compact keyboard with numberpad |
| Best TKL Mechanical Keyboard for Programming | Drop CTRL | Full aluminum build |
| Best Mac Keyboard for Programming | Keychron K4 | Unique 96% layout |
---
1. Corsair K100 RGB: Best All-Around Pick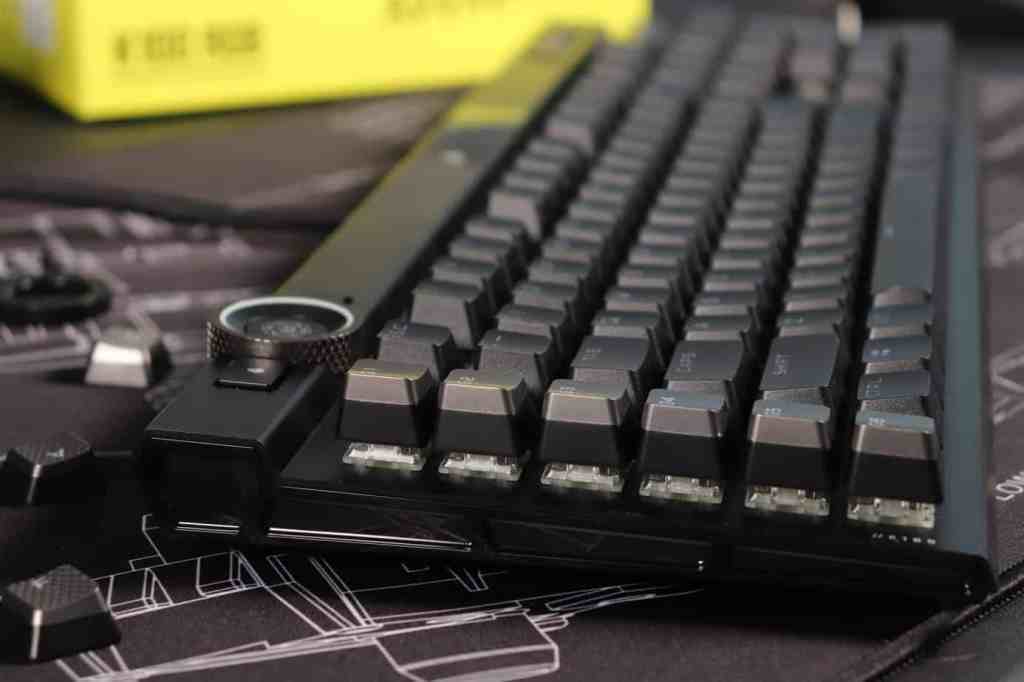 The Corsair K100 is the perfect battlestation for your programming and coding needs.
Coming with comprehensive software and lots of programmability, you're able to customize almost every aspect of this keyboard including the control wheel, RGB lighting, key locations, macros, and more.
You can perfectly craft your ideal layout along with macro keys that can help boost your coding speed and efficiency.
On top of that, the control wheel lets you seamlessy switch between open applications and can be programmed to control different functions.
The dedicated media keys also make changing your music a breeze without opening Spotify and needing to close your full-screen application or programming environment.
This keyboard has absolutely everything you could want in a programming keyboard.
Not to mention, you have access to USB-passthrough, so you can plug a device into your keyboard without needing to reach to your PC.
The PBT keycaps and decent build quality ensure that this keyboard will last a long time before breaking.
The typing on experience on this keyboard is also enjoyable, just keep in mind you are only able to use linear switches with this keyboard.
If you enjoy gaming on the side, the 4000 hz polling rate combined with the Corsair optical switch will give your keyboard a faster response time than any other keyboard on the market.
The plush wrist rest also improves the ergonomics for long coding sessions at work so you'll feel more well-rested.
The only downside to this keyboard is relative bulkiness with a non-detachable power cable, wrist rest, and full-sized layout make it difficult to take on the go.
You can find the Corsair K100 on Amazon through this link.
2. Epomaker SK71: Best Optical Keyboard for Programming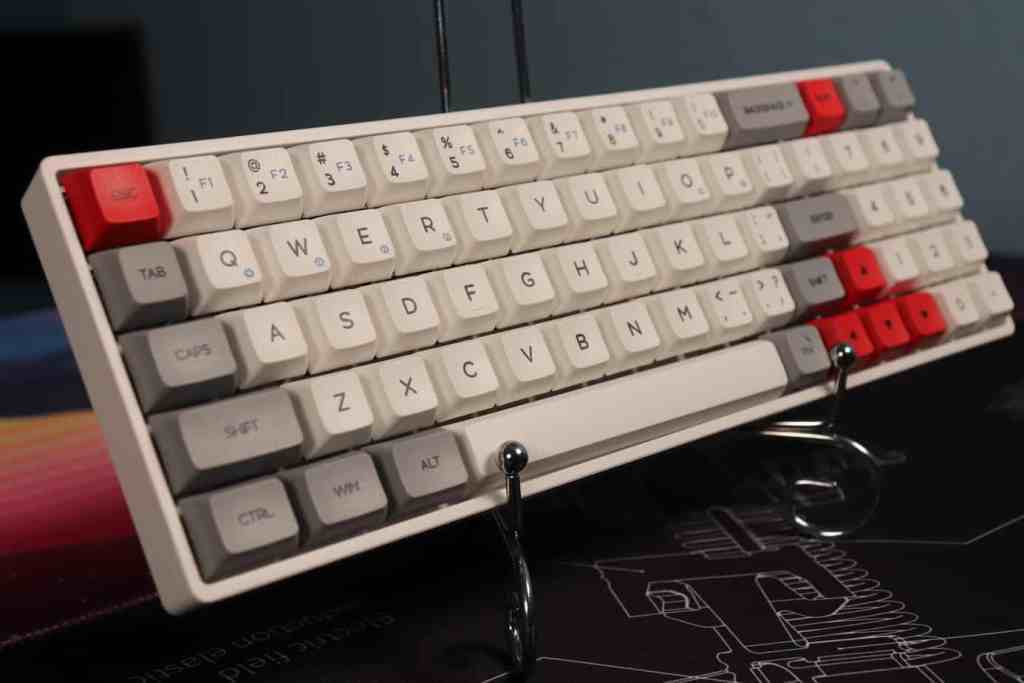 This pick is a bit of strange one, but I recommend it only because programmers would be crazy enough to try it out.
Coming in a compact 65% layout but with a number pad smushed onto the side, this keyboard cuts out all of the fluff. With no function row or navigation cluster, this keyboard is lean and mean.
With the Epomaker software, you are able to set macros and change up the layout, so although the key placement is a bit goofy out-of-the-box, you should be able to customize it to your preferences.
The layout will require a bit of a learning curve, especially because some common keys (such as the question mark), are only accessible on the lower layer.
An attractive feature of this board is the fact that the switches are hot-swappable.
So if you don't enjoy the clicky blue switches found on the board out of the box, you're able to swap them out for something that matches your preference.
The optical switches feel a bit more hollow and strange than mechanical switches, but they get the job done well enough. You can read more about the differences between optical and mechanical switches, if you are interested.
The overall build quality of the SK71 is quite nice, it's sturdy and has little flex. The only downside is it's shaped like a brick. Nothing much interesting going on with the case design.
Anyways, if you're interested in trying out something a little different, you can find the Epomaker SK71 on Amazon for a decent price.
3. Drop CTRL: Best Tenkeyless Mechanical Keyboard for Coding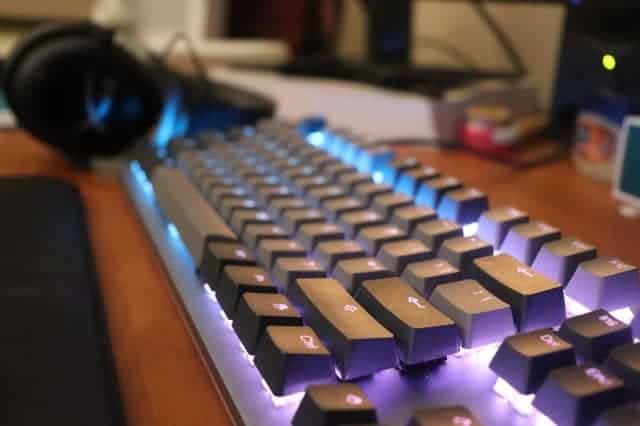 If you put premium build quality and a supreme typing experience above all else, look no further than the Drop CTRL.
With a full anodized aluminum build, this keyboard is machined to be one attractive and durable cookie.
The case features multiple power port locations making it easier to route the cables to your keyboard in a way that fits your setup better.
If you hate keycaps that wear down quickly and develop a greasy shine shortly after touching, this keyboard fixes that issue with keycaps constructed from double-shot PBT plastic. You can read more about ABS vs PBT keycaps.
When it comes to customization, the sky is the limit.
The hot-swappable sockets allow for changing out the switches to almost any type you like, with no soldering required. Whether that be linear, clicky or tactile options.
Other than the steep price, the only downside to the Drop CTRL is the fact that it requires a specialized power cable.
Due to the high power draw, a standard USB-C cable does not work. For this reason, you probably won't be able to use a custom USB-C cable with your keyboard.
If you're interested in a premium aluminum keyboard, you can find the Drop CTRL on Amazon through this link.
4. Keychron K4: Best Mac Mechanical Keyboard for Coding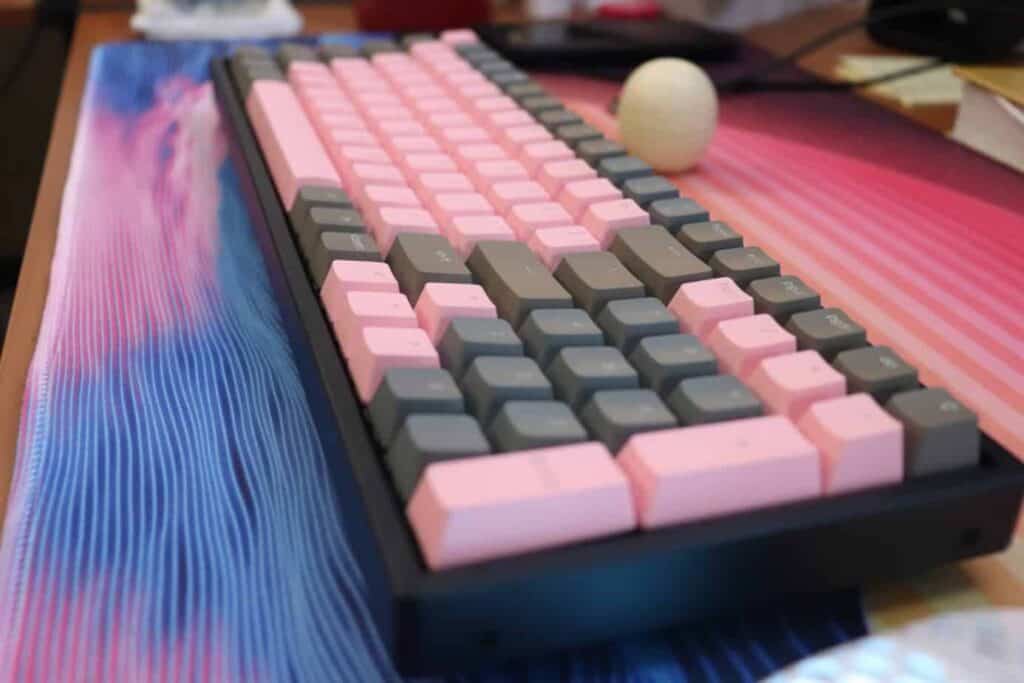 If having a number pad is non-negotiable, but you still need a keyboard that is highly portable, look no further than the Keychron K4.
With a unique 96% layout, this keyboard opts for no navigational cluster and puts the numberpad right up against the alphanumeric keys.
The K4 is perfect if you enjoy moving to different work environments throughout the day. With a detachable power cable and wireless connectivity, the keyboard is highly portable.
You are able to pair the keyboard via Bluetooth to up to three devices and it's compatible with both Windows and Mac, so you can switch between your iPhone, Windows computer, and tablet seamlessly.
You also have the option to opt for an aluminum frame if you prefer a heavier, sturdier build.
The scaling price structure of the Keychron K4 allows you to decide what features you want to put on the keyboard in-turn for an increase in price.
With options for RGB, aluminum frame, and more – you can choose exactly how you want the keyboard to be decked out.
The Gateron switches that come with the keyboard are well-known in the keyboard community to be super smooth and satisfying to type on although they don't last quite as long as Cherry MX switches.
You can read our full guide on Gateron switches for more info.
The biggest let-down of the K4 is there is no software support at the moment, so customizability is lacking in that department. However, Keychron has announced the software is in the development stage, so it may be available soon.
If you are interested in the Keychron K4, you can find it Amazon for a decent price.
5. Kemove Shadow/Snowfox: Best 60% Mechanical Keyboard for Programming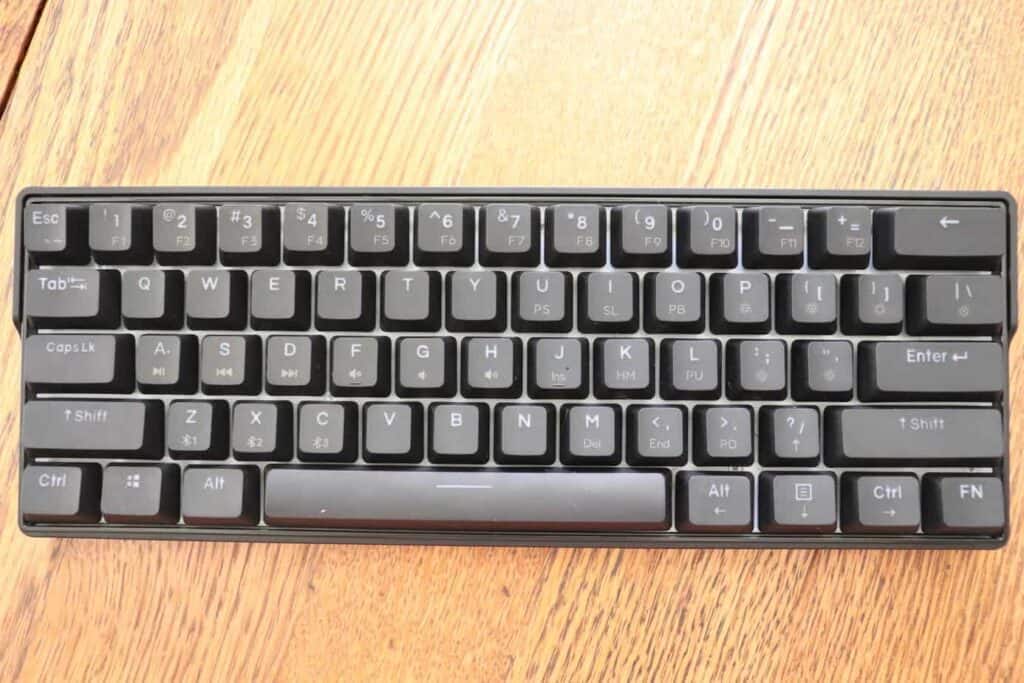 The Kemove Snowfox is a keyboard that I really enjoyed using for a period of time.
The hot-swappable sockets make the Snowfox/Shadow extremely versatile as its super easy to remove the switches and try out a bunch of really cool mods.
The keyboard comes in a plastic case with an aluminum top plate. The overall case design is pretty good, but nothing special.
The PBT keycaps are high-quality. You know they won't wear down slowly over time and develop a greasy shine to them. Plus, the rough texture feels nice.
The arrow keys are located on a lower layer but are really easy to access. This keyboard puts them all on the right side of your keyboard so you can use them without needing your left hand.
The only downside to the Kemove Snowfox/Shadow is the strange case design. It has this weird inner-layer that looks kind of strange.
Not to mention, it's really easy to scratch the backplate when adding and removing the switches.
If you're looking to get a keyboard that you can easily mod, this keyboard is an excellent option.
The keyboard also comes with software so you can customize the key placements and setup your ideal layout for programming.
You can check out the Kemove Shadow/Snowfox on Amazon.
6. Mistel X-VIII: Best Custom Mechanical Keyboard for Programming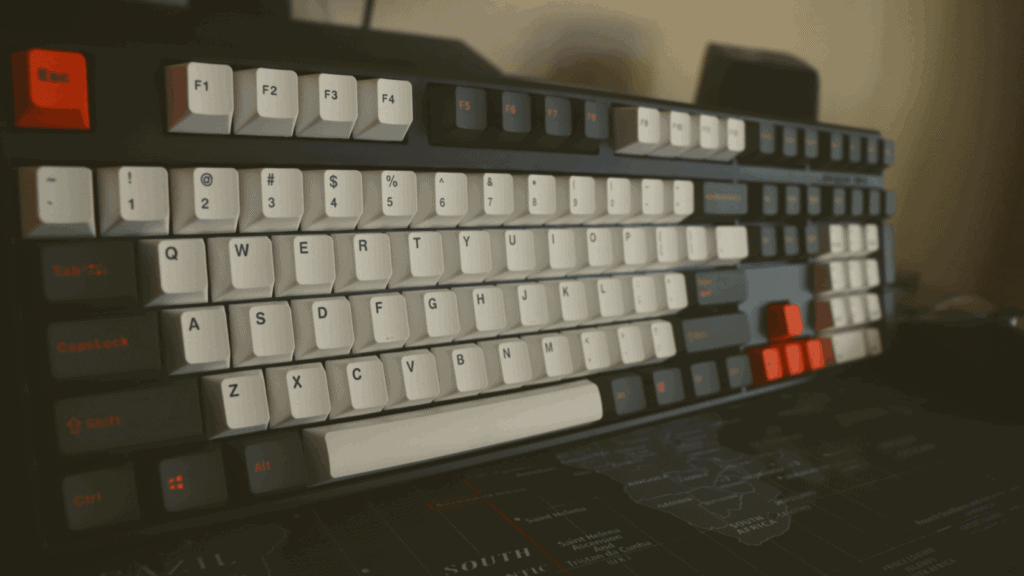 If you're looking for a higher-end keyboard that comes with an awesome theme that makes you feel like you're typing on a cloud, you can't pass up on the Mistel X-VIII.
The keyboard comes with multi-color PBT keycaps which tie the entire the build together. You also get an few additional novel keycaps which add an extra element of customization.
The build of the keyboard feels great. There is little flex and the kickstands are very adjustable so you can type at multiple angles.
The thoughtfully-placed dedicated media keys make it convenient to change your music on the fly without having to open the settings.
You can tell the entire keyboard is carefully designed with attention to detail in almost every aspect of the design.
Not to mention there are some really interesting components thrown into the box to make unboxing process more exciting.
The switches are made by Cherry MX, a highly regarded switch manufacturer that focuses on making extremely durable switches. They last for up to 100 million keystrokes.
We have a full guide on Cherry MX switches, if you want more information.
The layout is also customizable and comes with the ability to set macros for the ultimate control.
You can check out the the Mistel X-VIII on Amazon for an affordable price.
7. Durgod HK Venus: Best Keyboard For Typing and Programming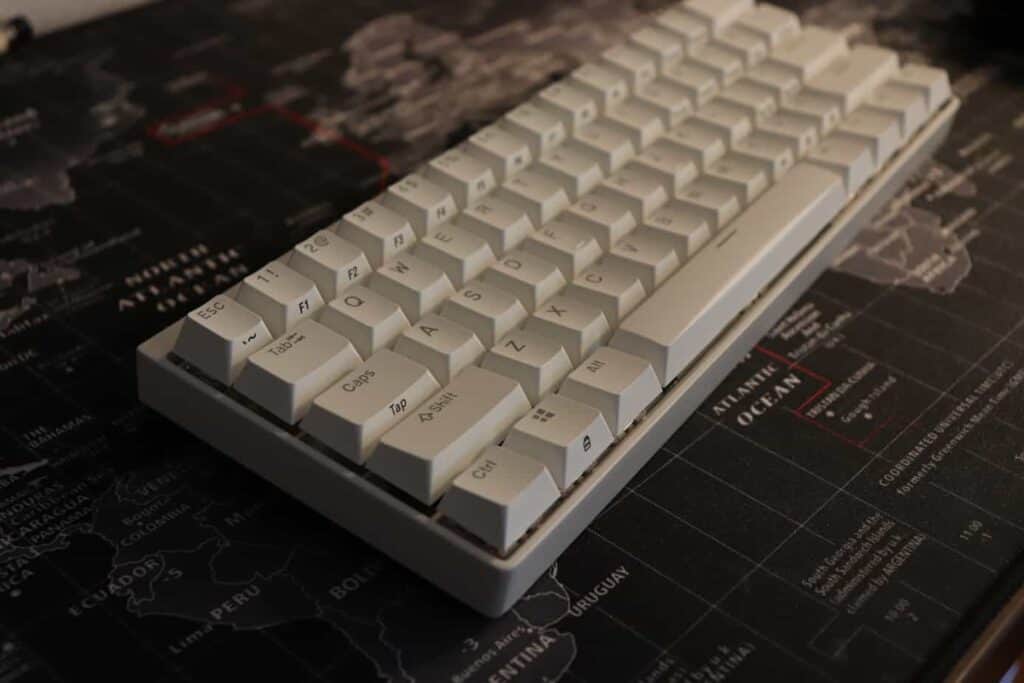 I'm not going to lie, I was blown away by the Durgod Venus.
This keyboard has the best typing experiences on all the keyboards on the list.
The Durgod Venus has buttery smooth stabilizers that make typing feel like a dream. The keyboard makes the perfect *thocc* sound we all want to acquire. The stabilizers are pre-lubed and have absolutely zero rattle.
The keycaps are also a point of interest for me.
The keycaps are made from PBT plastic which is much more durable than the standard ABS, in addition, they come in the Cherry profile.
It's very uncommon to find a stock keyboard come with keycaps in the Cherry profile, usually it is OEM.
Cherry profile is different because it has a slightly lower profile and a more aggressive incline on the keycaps which make it more comfortable for programming.
I stand firmly by my belief that Cherry profile is the best and usually you have to buy the keycaps separately and replace them. Not with the Durgod Venus.
The case construction is quite impressive as well. The keyboard comes in a full aluminum case which makes everything feel really sturdy. There is no flex.
The RGB also really pops on this keyboard due to the white color. The RGB has a nice fuzzy glow to that really pops on your desk.
There were a few small nitpicks about this keyboard that I didn't like.
The case design has a small forehead which takes up precious desk space, in addition the power cable is recessed which makes it difficult to use a custom USB cable.
While 60% might be a little small for most programmers out there, the software allows you to set the key placements and customize where the keys are located.
You can find the Durgod Venus on Amazon, we highly recommend that you check this one out.
8. Keychron K1: Best Low-Profile Keyboard for Programming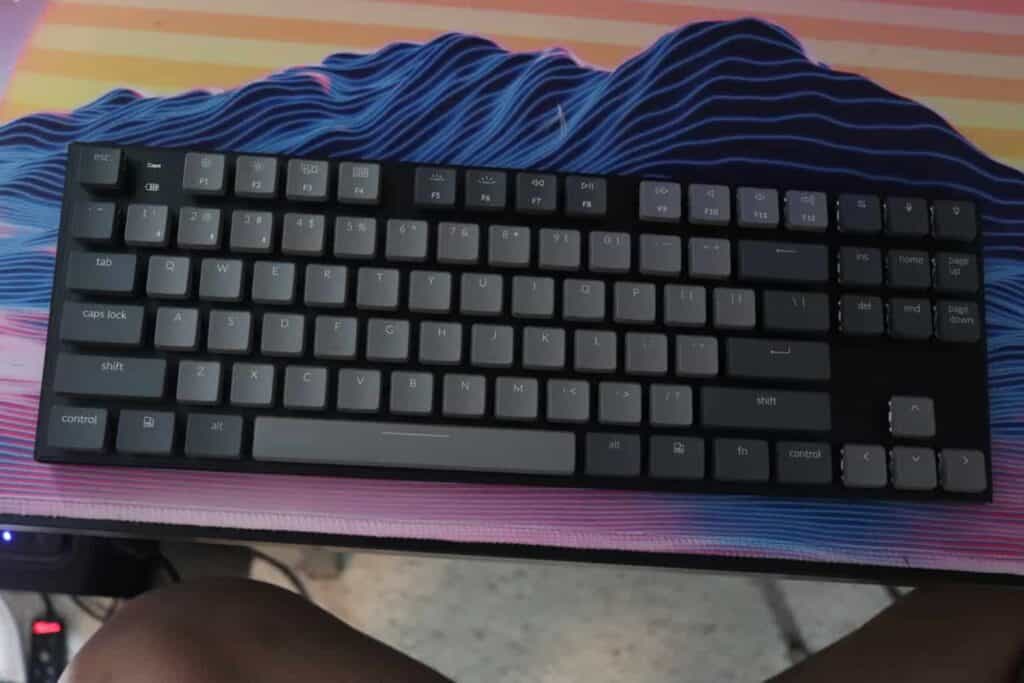 For those who experience a bit of wrist pain with a traditional mechanical keyboard, let me introduce a low-profile board that sits lower to the ground.
The Keychron K1 is a popular keyboard that has undergone multiple redesigns and upgrades to constantly make the keyboard better with each version.
The K1 is already on version 4 and features several upgrades including new keycaps that are two-toned instead of just black and flat.
The keycaps have a nice curved profile to reduce typing mistakes and improve comfort. The keycaps are also more resistant to oil and shine with a nice rubbery texture.
The K1 also comes in a Gateron low-profile Brown switch, so instead of being limited to just Red or Blue switches, now there is an option for a semi-quiet tactile switch. In addition, the keyboard has a slight incline instead of being completely flat like version 3.
The Bluetooth is faster than ever coming in at the latest 5.1, so speed should not be an issue when typing.
Much like the K4, there is no software support at the time, although it's currently in development.
9. Corsair K60 Low Profile: Best Low Profile Keyboard for Coding and Gaming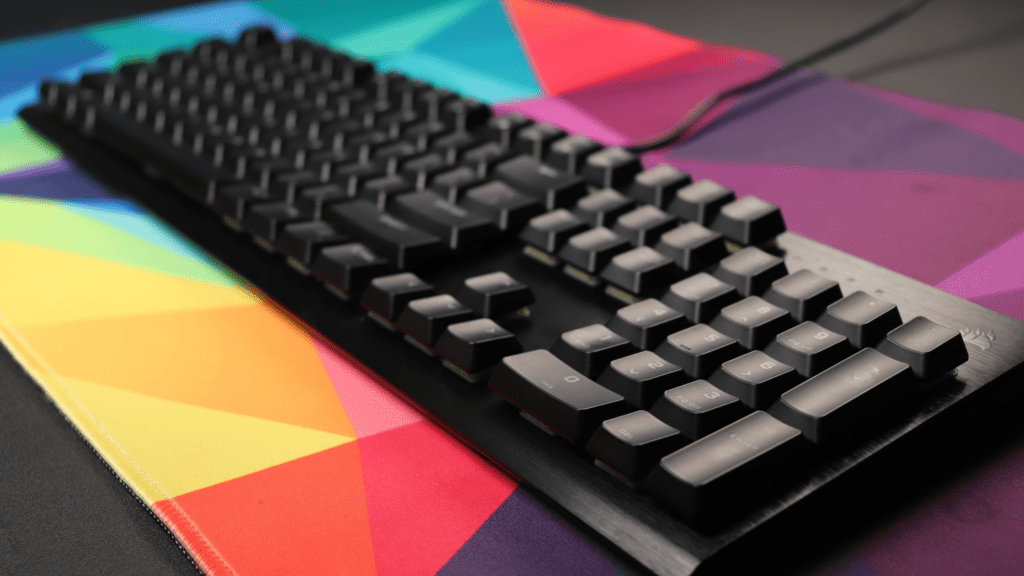 The Corsair K60 RGB Low Profile is a keyboard that is excellent for programming.
With an enjoyable typing experience, great build quality, and an attractive aesthetic, this keyboard separates itself from the pack of mediocre low-profile keyboards.
Out of all of the low-profile keyboards I have tested, this one offered the best feel and sound, and is perfect for long coding sessions.
While I wish it was packed full of a few more features, the basic functionality this keyboard has should be enough for most to get the job done.
With the usage of the robust Corsair iCUE software, there are plenty of settings to play around with. You can set macros, change up your layout, tweak with the RGB lighting, and more.
The only downside is the keyboard has no on-board memory, so you'll need to have the software open at all times for it to save your settings.
At the current price, it's a good deal, although at surface-level it may not seem worth it due to the low number of features.
But trust me, the fun experience this keyboard brings to the table makes it worth it for the price.
You can find the Corsair K60 RGB Low Profile on Amazon for a good price.
10. Das Keyboard 4C TKL: Best Keyboard Without Software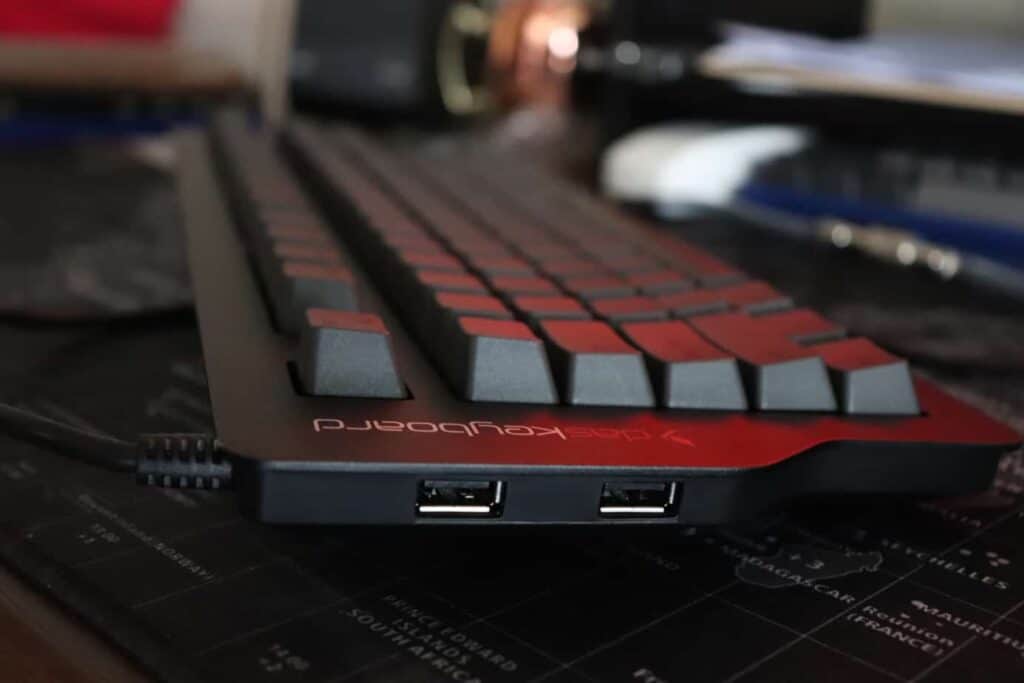 Built like a tank and with functionality that would make Inspector Gadget blush, the Das Keyboard 4C TKL is one to impress.
PBT keycaps, a nice aluminum top plate, convenient USB hub, an impressive built-in ruler, and the always great Cherry MX switches can alone tell you that this keyboard will provide a great typing experience.
But the lack of lighting, Mac compatibility, Bluetooth, and detachable power cable (among other features) are all things that take away from the excellence and user-friendliness of the Das Keyboard 4C TKL.
The tactile experience provided by the Cherry MX Brown switches make this a great keyboard for someone who needs to write/type a lot, but they might not be preferred for a gamer.
This keyboard contains a variety of features; if you value the smaller size a tenkeyless provides while offering USB ports and excellent performance, the Das Keyboard 4C TKL is definitely worth looking into.
The major downside is the lack of software, so you're stuck with the standard TKL layout without the option to set macro keys.
If you would like to check out the Das Keyboard 4C TKL, you can find it here on Amazon.
---
The Ideal Features For A Programmer's Keyboard
When looking for a keyboard for coding, there are a few features that you should really look for to get the most out of your keyboard.
Portability: If you plan on taking your keyboard into different rooms to change up your surroundings, a portable keyboard can make this a breeze. We recommend looking at smaller sizes along with detachable cables or wireless connectivity.

Programmable Keys: Being able to change up your layout and program your keys is a great way to boost productivity and improve efficiency. Software support is the best way to ensure you have this option, otherwise you're stuck with the standard layout.

Macros: Macros and shortcuts set to specific keys can make coding a breeze, especially for actions that you can automate away.
Along with these main features, we also recommend looking at the standard stuff, such as good build quality, a fun typing experience, and an ergonomically-friendly keyboard.
The Best Switches For Programming
While there is no "best switch" for programming, I can make a few recommendations based on my experiences testing hundreds of different switches.
When it comes to mechanical switches, there are three main types: linear, clicky, and tactile.
If you work in an office, stay away from clicky switches at all costs, don't be THAT guy.
This leaves you to choose between tactile and linear.
Tactile is more typing friendly, which means you should experience fewer mistakes and a more controlled typing experience. The small tactile bump will provide feedback on each keystroke to let you know when the key has registered.
Linear on the other hand, is a bit harder to get used to if your new to mechanical keyboards.
You may experience "bottoming-out" which refers to slamming the switch down and possibly hurting your fingers. After a while, you'll adjust to this switch type, but it may feel a bit foreign at first.
For this reason, we usually recommend tactile switches for programming, unless you are already used to linear.
If you plan on gaming, however, linear is considered much better for that purpose do to the smooth and consistent actuation. So if you plan on gaming and coding, a Red/Black switch could be a better option.
You can read about our favorite switches for gaming.
Conclusion
Finding the ideal mechanical keyboard for programming usually comes down to choosing the perfect layout that comes with the ideal features to fit your needs.
We went over our top picks to help you find the perfect keyboard, along with some tips out-lining exactly what you should look for in a programming keyboard.
While some of the picks may be a little out there, having a wide variety of options will allow you to choose something that's unique to you.
Good luck and happy typing!