The Epomaker SK71 packs a unique new layout into a compact form factor. If you've been struggling to balance functionality with a compact layout, the SK71 could be an excellent option for you.
Let's check out the keyboard and its features, and you can see for yourself!
The Verdict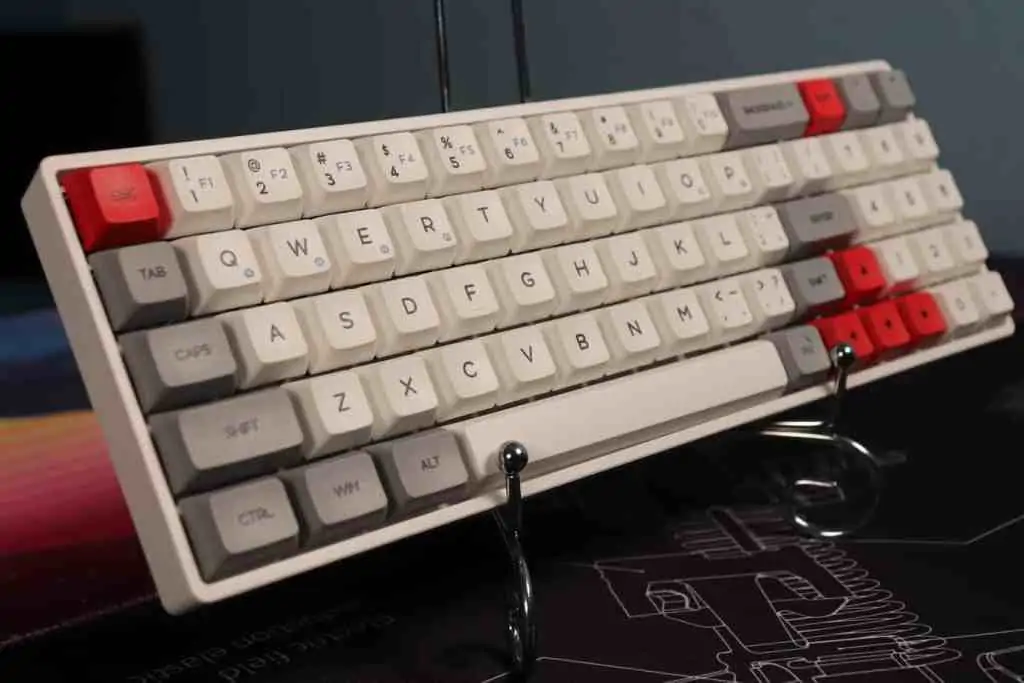 The Epomaker SK71 a unique and unexpected entry into the compact keyboard arena. The layout will take some getting used to, especially the lack of certain keys and combination of others.
While the numpad would be a welcome addition to a compact form-factor, the execution may be lacking; this particular keyboard makes too many sacrifices and compromises to make it work very well.
If you really require a numpad, a more practical choice may be a full-size keyboard, 96% layout, or an external numpad.
Though the Optical switches are quicker and may be more ideal for gamers, the layout might not be.
The SK71 may be more of an important experimental stepping stone in the history of Epomaker keyboards and layouts than it is a worthwhile addition to your workstation setup.
Still, it does present an exciting new possibility: the compact 60% keyboard paired with the productivity of an additional numpad. For the right person, it could be an ideal keyboard.
This keyboard is a great choice for those who value a compact form factor with numpad, are willing to make some compromises, and are willing to learn a new layout. We don't recommend this one for casual users.
You can purchase the Epomaker SK71 on Amazon for a decent price.
---
In The Box
Included in the box behind a cardboard tab are: USB-C cable, keycap puller, switch puller, Mac modifier keys, and manual.
The USB-C cable is braided and relatively color matched to your case; black cases come with a black cable while white cases comes with a silver cable. It is roughly 1.5 meters in length.
The keycap puller is a plastic-handled wire puller with a finger hole for better grip. Wire pullers are nice because they fit between your keycaps and will allow you to pull 3 or more caps without having to unload them. Saves times if you plan on changing them. A nice addition especially when other Epomaker boards include an inferior plastic puller.
The switch puller is a smaller device made of spring steel. It is large enough to accommodate switches without having to pull the arms open. It works ok and gets the job done, but the small size may lead to cramped hands. As always if you plan on hot-swapping, we recommend one of the larger rubberized switch pullers commonly sold in green.
The double-sided manual is printed in both Chinese and English. It lists all the necessary shortcuts and Fn commands, as well as bluetooth commands (depsite this board not having bluetooth) and where you can download the software to customize lighting and macro functions.
---
Build Quality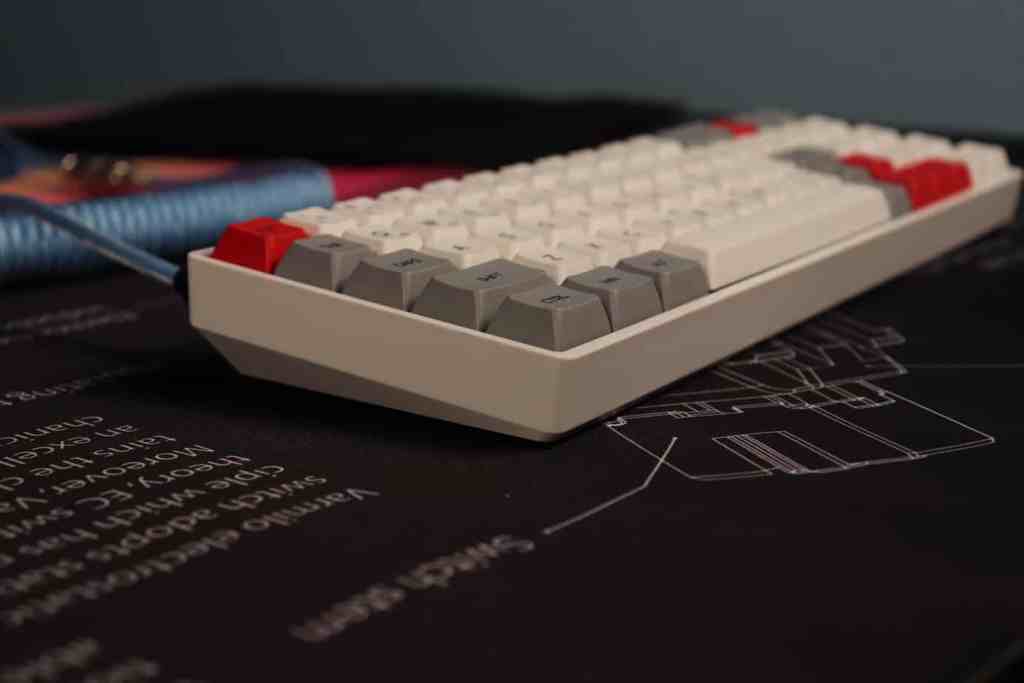 The white case is a standard matte ABS-plastic tray-style case. Nothing special, but a simple and effective design that will go well with many keycap sets.
It is a very sturdy build with little-to-no flex or bend. It feels heavier than expected on the desk.
The bottom of the case is simple with minimal branding, but only uses rubber pads instead of adjustable feet. We would have like to have seen the adjustable feet, just to have the option if nothing else. With that said, the angle seems good enough for most applications.
It can be rather tall at the front of the case, but the short keycaps make up for the height. You may benefit from a wrist rest to elevate your hands a bit, especially if you switch to Cherry, OEM, or SA profile keycaps.
The case is hollow plastic under the PCB, so adding foam or silicone for sound dampening will be beneficial. Popular choices include foam shelf liners, polyurethane foam, or Sorbothane. You can follow our guide on case modification here.
The strange layout is a huge selling point for this board, but also seems to be polarizing.
The Layout
The layout is extremely unique. Typing on this seems to come with a learning curve and requires some time to adjust, which will be difficult for many.
It is similar to a 96% layout layout without the function row. The SK71 does include an abridged numpad packed into a 65% footprint.
The numpad is not a full numpad, and it does not include the addition and subtraction buttons in their normal spots. Instead, you get a 10-key numpad.
The add/subtract keys normally found on the number row are now swapped with backspace, moving them above the numpad.
Some of the keycaps also include multiple sub legends for punctuation keys, meaning you will need to learn new key combinations to access certain things.
The left modifiers and right shift are shortened, and the right modifiers are completely gone.
The backspace key is now two units to the left, which shortens the distance to backspace but may cause you to mistype at first.
Getting used to the strange layout will require an adjustment period.
The Keycaps
The keycaps included are dye-sublimated keycaps in Epomaker's GSA Profile, a short and uniform profile similar to DSA. They are very flat, so laptop users should feel more comfortable on a keyboard like this.
Those of you that are used to more standard keycap profiles may have a hard time adjusting to these.
They are a textured PBT cap and while smooth, they feel different from other PBT options. Still, they provide a more pleasant sound and feel than ABS keycaps.
The grey, white, and red colorway are a classic and safe choice. It is also available in both black and pink color schemes.
The keycaps are not backlit, so you may have trouble seeing the legends in a dark environment if you choose the black colorway.
It's an interesting choice to include non-backlit keycaps with a keyboard that has so many lighting options, but many people end up choosing dye-sublimated keycaps anyway. There is little-to-no light bleeding present when the LEDs are on.
Because of the different non-standard sizings and additional sub-legends, it may be difficult to find keycaps to fit the board. If you do, it will likely be a future set from Epomaker, or a group-buy set that will end up costing twice as much as the keyboard itself does.
The Stabilizers
Nothing too special about these standard cherry-style stabilizers, except for the fact that there are ONLY TWO?!; one for the spacebar, and one for the backspace.
They have minimal rattle and feel fairly stable for a pre-built option. They are pre-lubed, but it more closely resembles a glob of hot glue than it does a proper lubing job.
It would be best to pull these out to re-lube and modify yourself. As these are clip-in plate-mounted stabilizers, removing, improving, and reinstalling should be a snap!
You can follow our guide on lubing, clipping, and modding stabilizers here.
The Switches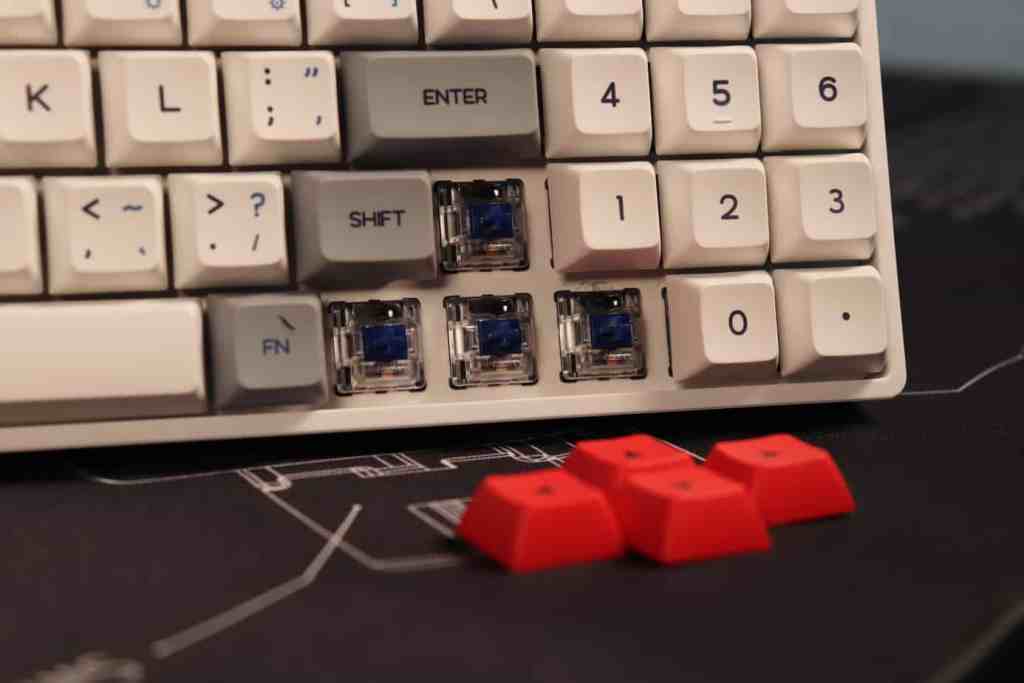 This hot-swappable PCB supports Gateron Optical switches. They are actually easier to remove and replace than regular mechanical switches. While not a true mechnanical switch, they have fewer moving parts and have a higher rated lifetime.
As with many mechanical boards, you get your choice of red, blue, brown, and black switches.
Typing on them, the feel and sound are no more or less different than traditional mechanical switches.
They may feel smoother out of the box than traditional switches, but might also benefit from additional lubing. Lubing should be fine as long as the hole in the bottom of the switch is clear for the optical sensor to detect actuation. Try this at your own risk.
They also have a slightly lower pitched sound to mechanical switches, which may be more pleasing to you.
The only real downside is the lack of wide variety in your hot-swap options.
The Features
The keyboard boasts full NKRO and anti-ghosting for multiple simultaneous inputs, customizable RGB lighting effects with on-board controls, fully programmable keys via the Epomaker software, and support for both Mac and Windows OS.
The keyboard should also be compatible with Linux, but the software is not.
This keyboard actually has 4 different programmable layers, which may be needed considering the layout. You can change between these layers, but the first layer is fixed and unchangeable.
Make sure to check out Ruby Jackson's amazing and thorough Epomaker Extended Manual here. It is written for the GK68, but much of the software and hotkey methods remain the same throughout Epomaker's entire line of GK and SK keyboards.
---
Alternatives to the Product
Drop Shift
The Shift is a compact-1800 layout hotswappable mechanical keyboard from Drop. It features 3-pin hotswap, full RGB, QMK programmability, and an aluminum case. Comes as a pre-built with many switch choices including Cherry and Halo.
Keychron K4
The K4 is a Bluetooth enabled 96% layout. This one does not yet include hotswap, but hopefully will in the future. It may not be as small as the SK71, but it packs all the functionality of a full-sized keyboard without wasting any space. The 96% layout is a space-saving version of a full-size keyboard.
Epomaker GK21S
The GK21S is an external wired/Bluetooth numpad with aluminum case and hotswap sockets. If a numpad is truly important to you, why not invest in an external one that will give you more freedom in dexterity and desk-space? This way you can use whatever keyboard you like, or none at all.
One honorable mention is the upcoming Epomaker GK96. Going into Kickstarter soon, it is a hot-swappable 96% keyboard with bluetooth, full Mac support, and options for not only Optical switches on the SK96, but a left-handed "southpaw numpad" version as well.

---
Conclusion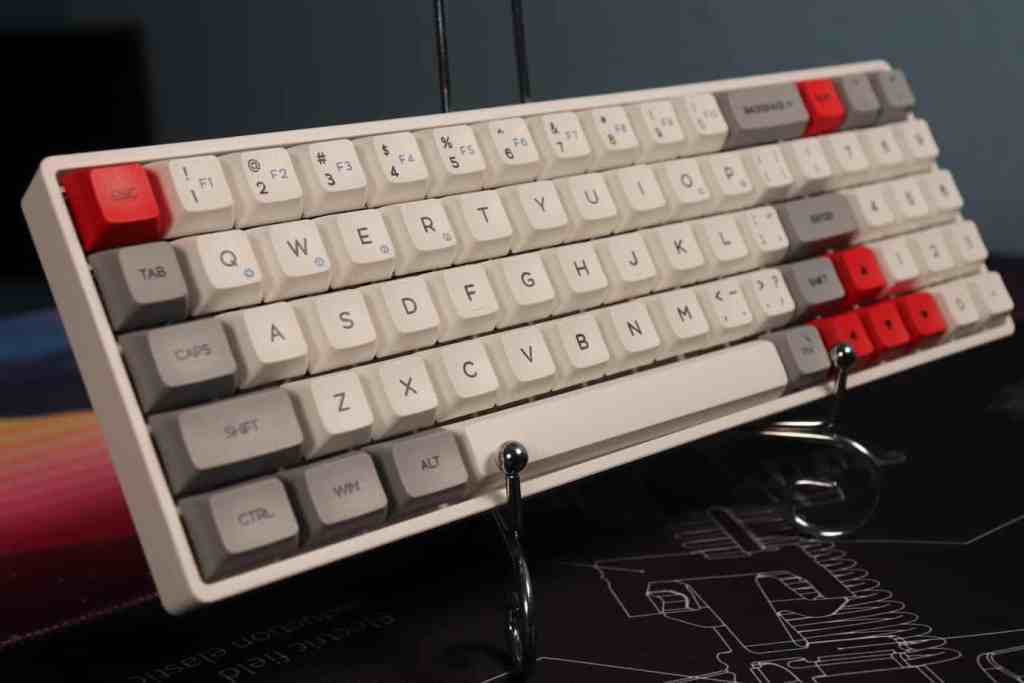 While not perfect, the SK71 does fulfill the need for a compact layout with a numpad.
Though the layout is very unique, it could be the answer for you. There are more practical choices available like the alternative recommendations suggested above, but they may not tick the right boxes for you if this is what you need.
Where this keyboard really succeeds may also be where it fails: the ability to fit so much functionality into such a small footprint.
That said, if you are in need of what is essentially a 60% layout with numpad, or are eager to try out some new layouts that could help your productivity, then feel free to check out the Epomaker SK71.