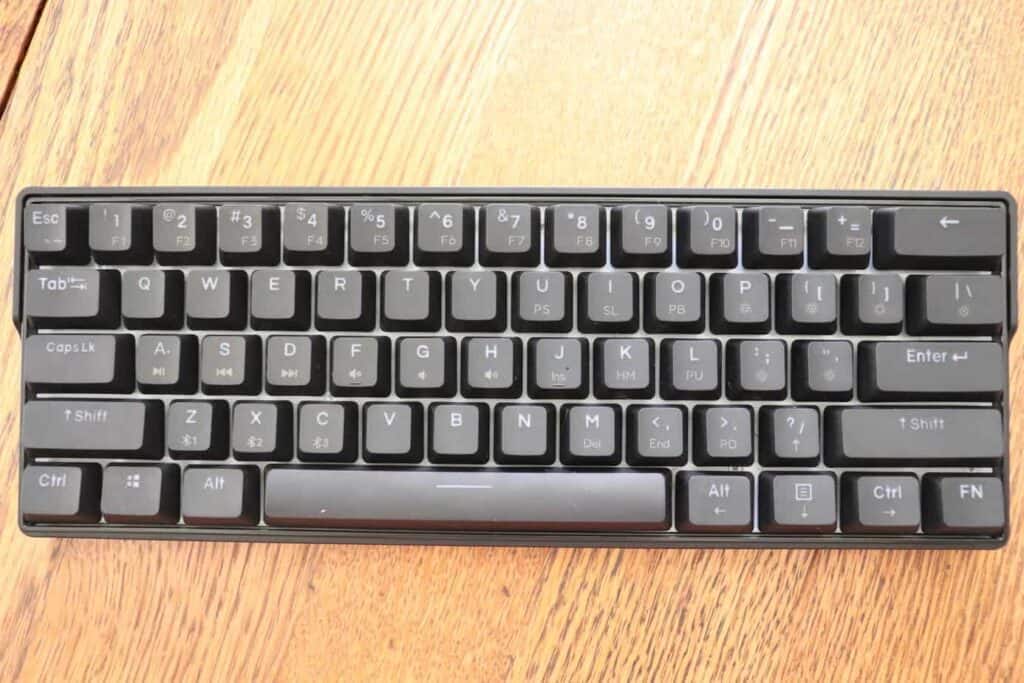 Finally, a Budget Hot Swap for an Affordable Price.
The Kemove DK61 Shadow/Snowfox is a new, hotswappable, and wireless mechanical keyboard that is super affordable and competes with the big brand keyboards.
For people who have been looking to get into the mechanical keyboard hobby, but don't want to splurge for a hotswap keyboard, this is a great option.
Being hotswappable means that the switches on the keyboard can be pulled out and replaced with other mechanical switches via just pushing them in rather than having to desolder the old ones and soldering in new ones.
In this review, we'll go over why this keyboard checks many boxes for most people who are looking to switch to a mechanical keyboard or want to experiment more and dive deeper into the mechanical keyboard hobby.
You can see how the Kemove Shadow compares to other popular 60% keyboards in this post.
An Honest Review of the Kemove Shadow Keyboard
The Kemove DK61, also known as the Shadow or Snowfox, depending on what color you end up choosing to purchase, is a compact 60% mechanical keyboard with a high-quality build that will look sleek on your desk without cluttering it up.
It competes with many well-known mechanical keyboards at its price point such as the Anne Pro 2 or the Ducky One 2 Mini. There are benefits to choosing the Kemove over those two keyboards, and we'll look at why in this review as well.
Despite it being a mechanical keyboard that sits right under $100, you can modify it with simple upgrades that can level it up to feel more high-end and even premium.
Pros of the Kemove DK61:
Durable doubleshot PBT keycaps that don't rub off over years of typing or accumulate fingerprints
Hotswappable sockets enable you to experiment with different switch types as well as have easy access to the PCB without desoldering
Bluetooth capabilities with up to 3 devices allow a clutter free setup with no wires
Mac and Windows compatibility with the switch of a button means no changing settings around when you're switching operating systems
Compact 60% build allows for more room for your mouse to move around and portability
Detachable USB-C cable lets you choose custom cables and safely transfer the keyboard and cable when moving places
Easy access arrow keys on the secondary layer when you need to use those functions
Cons of the Kemove DK61:
Inside glossy plastic case within the outside case has a strange look
Rubber feet on adjustable kickstand comes off easily
Backplate is a white, which looks not ideal with the black design, and gets scratched easily when swapping switches
Keycap legends are unclear with certain keys
Software is in Beta mode and not intuitive to use
3-pin (plate-mounted) hotswap sockets rather than 5-pin, meaning you'll have to clip some plastic legs if you choose to change to switches that have 5-pins (PCB mounted)
What's in the Box?
The Kemove DK61 comes with a clear plastic dust cover, if you choose to use it at night or during times when the keyboard is not in use to protect your keyboard from accumulating dust or hair from you or animals.
It comes with a metal wire keycap puller, which lets you pull off the keycaps without damaging them. It's very easy to use and makes the process pass by quick.
It comes with a metal switch puller, which lets you replace switches easily. It also comes with three additional Gateron switches to test the hotswap feature with: green, clear, and yellow. We have a full guide on Gateron switches here.
Inside the box, you'll find the keyboard as well as an in-depth guide on how to use the keyboard.
Additionally, you get a USB-C cable that is braided and matches the color of your keyboard. It ends with a right-angle, which is a little awkward.
In-Depth Look at the Kemove DK61
Hotswappable Sockets
As we've said, being hotswappable is very beneficial for people just getting into mechanical keyboards. The Kemove DK61 supports 3-pin mechanical switches.
This means that most mechanical switches are compatible with this PCB. When you decide to buy new switches and find that it has 5-pins, a common solution is to clip the 2 plastic feet on the side of the switches. This does not ruin the switch in any way.
The switches that come with the keyboard are Gateron switches in either red, blue, brown, or black. They also provide you with three other Gateron switches to experiment the hotswappable feature with: a Gateron green (clicky), Gateron clear (linear), and a Gateron yellow (linear).
Gateron Greens are a lightweight and more quiet version of Gateron Blues. Gateron Clears are extremely lightweight linear switches, and Gateron Yellows are slightly heavier than Gateron Reds.
It comes with a switch puller, which is a tool that lets you pull out switches easily. However, it is metal and can scratch the white backplate of this keyboard if you're not careful. For a guide on how to replace switches, see this step by step guide with pictures.
Doubleshot PBT Keycaps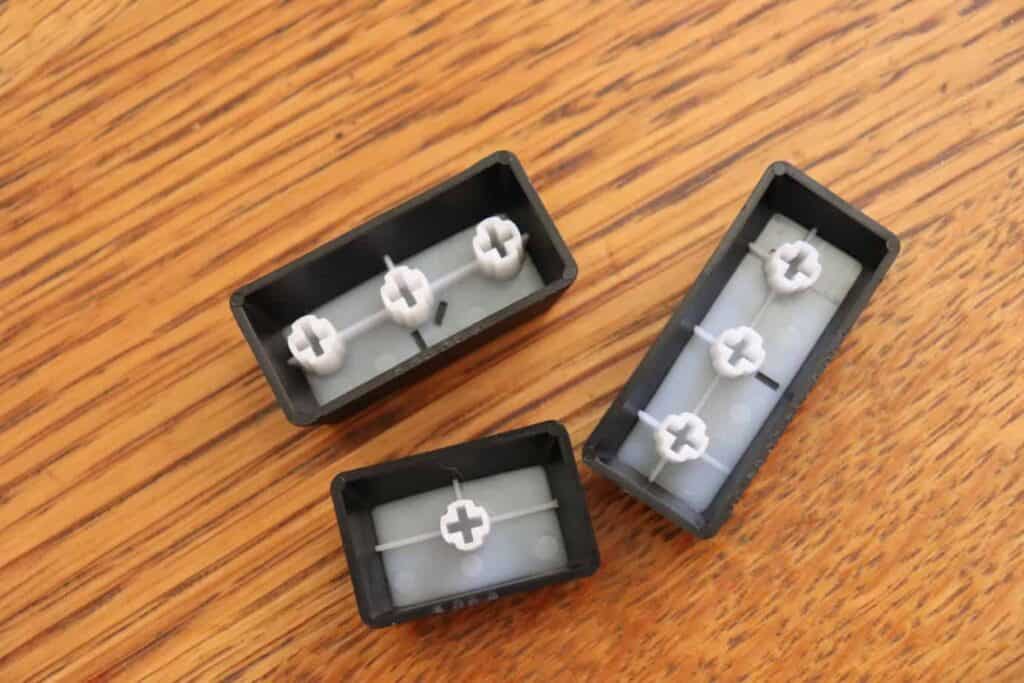 The DK61 comes with PBT keycaps, which have an improved feel and lifespan than stock ABS-plastic keycaps that come with usual big brand mechanical keyboards. ABS-plastic tends to shine faster and get grimy quicker as well.
PBT keycaps are often more textured and rough. The DK61 PBT keycaps are doubleshot, meaning that the legends (keycap letter or symbol) is made out of another layer of plastic rather than being engraved. This means it'll last much longer and not wear down through years and years of use over time.
The keycaps can be replaced if that is what you choose to do. The 60% layout is completely standard, and most, if not all, keycap sets will fit it perfectly.
The legends on keys such as Tab, Enter, and Shift are slightly muddled. They're not clear with the RGB lighting shining through. Spots are uneven at times with the lights.
The keycaps are quite thick and exude quality overall, especially compared to other companies' keycaps.
The keycaps come in the color that will match your keyboard, whether black or white. Unfortunately, even though the keyboard is compatible with Mac and Windows, there are no replacement keycaps to use with Mac OS.
For more information on ABS vs PBT keycaps, see this comparison post here.
Mac and Windows Compatibility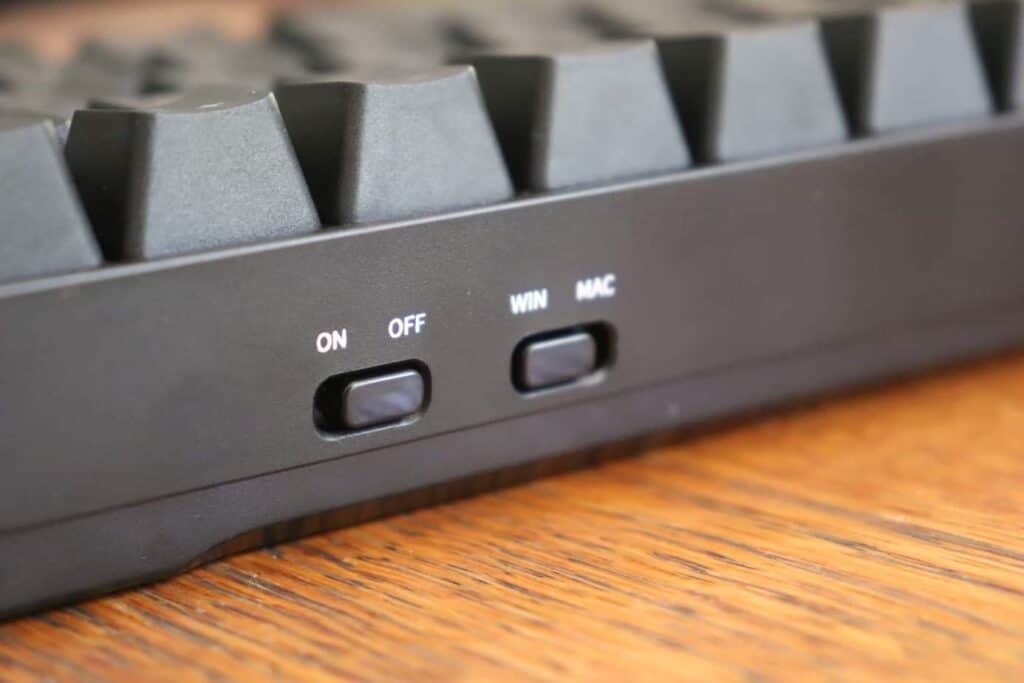 On the back of the keyboard, there are two buttons. One is for turning the keyboard on, off, or on Bluetooth. The other is to switch between Mac OS and Windows. They functions of the bottom modifiers change depending on which setting you put it on.
Unlike other keyboards, whether you'll have to go into settings to change those keys manually, this keyboard does it for you.
It makes it really easy to use your keyboard with your PC at home and then take it with you somewhere to use with your Macbook.
High Profile Case Design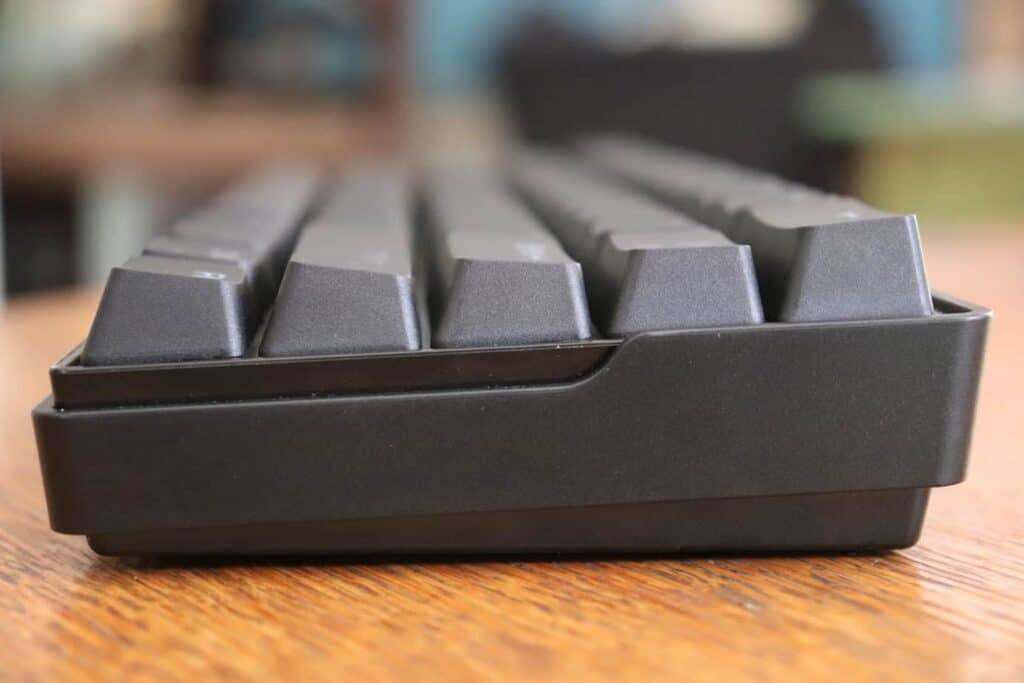 The DK61 has a high profile case design. This means that the keycaps are not floating, and the switches are not exposed. What this means is that even if you throw your keyboard into your bag or backpack to carry it around, the keycaps won't just suddenly be lodged out of place and then be lost.
It is also a great choice to decrease the amount of dust that can be seen from a bird's eye view. However, the downside is that when dust does accumulate underneath, you'll have to take off all of your keycaps to really clean it.
Smooth Gateron Switch Options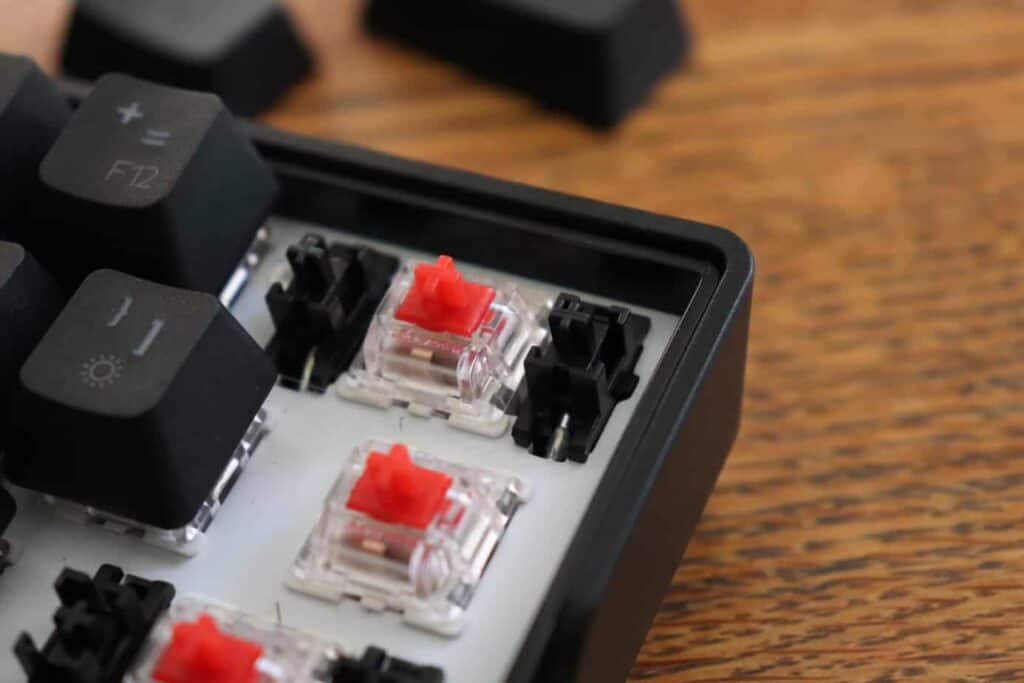 The DK61 comes with different options for Gateron switches. These options are Gateron Red, Brown, and Blue.
Gateron switches are known to be very smooth despite being budget-friendly as well. Gateron Reds are known to be smoother than Cherry MX reds.
There is an option for anyone to pick from. With the hotswap feature, you're not stuck with just these switches. It would've been nice to see more switch options available such as Yellow or Black.
For more information on all of the Gateron switches, see our Gateron switch guide.
Two Case Colors To Choose From
There are two options: one is white (Snowfox), and the other is black (Shadow). Each one comes with the matching keycaps and matching cable. Not only this, they also have matching keycap and switch pullers.
With the white case, the inner glossy plastic is still black. On this colorway, it looks a bit strange. But it can also provide a nice contrast as well.
The white backplate matches more with the Snowfox. However, on the black version, it does provide a nice background for the RGB to bounce off of.
Bluetooth Up to 3 Devices and a Large Battery
The Kemove Shadow/Snowfox both have Bluetooth 5.1, which is updated for decreased latency and improved connection, but we still don't recommend gaming wirelessly.
It allows you to connect to devices via FN +Z/X/C just by holding it down. Once you have your device connected, pressing it again will connect it.
To switch between devices, press the key combination. BT connects very quickly without delays. The keyboard does go to sleep after long periods to disuse to save battery.
The battery is 3000mAh battery. I have not tested it to see how long it would last, but based on my experience with other BT batteries, I would estimate approximately 40 hours of use, although your mileage may vary based on RGB effects and brightness.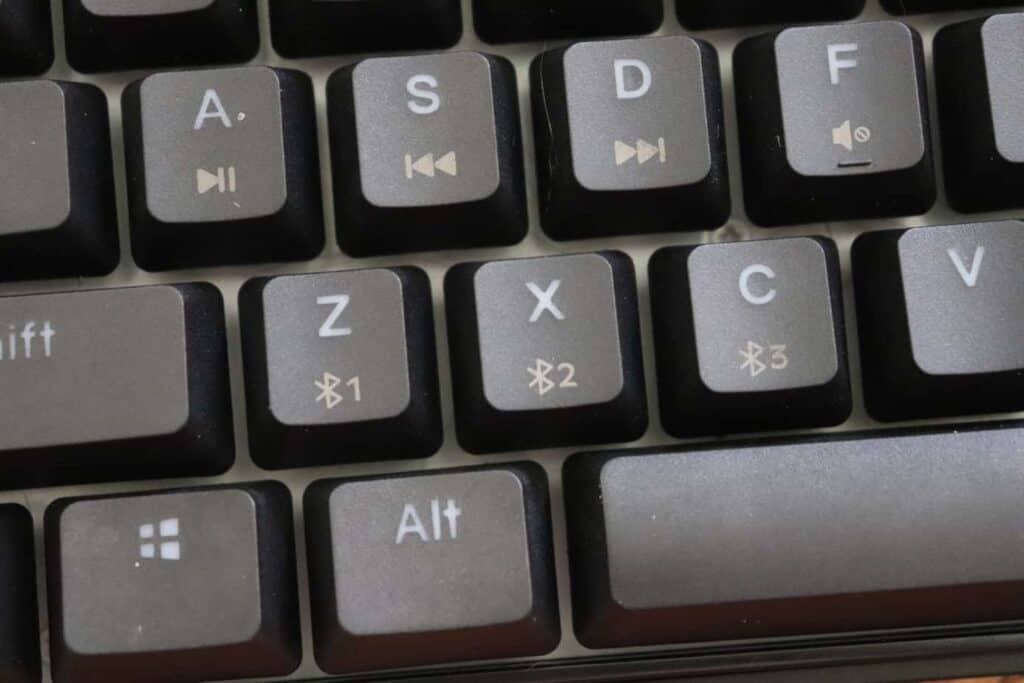 USB-C Detachable Cable
The detachable cables that come with the DK61 are not ideal for using in wired mode. They are great as charging cables because the overall look won't matter.
The USB-C side ends with a right angle. The USB port sits on the top left back of the keyboard. With the right angle, that means rather than going back towards the wall or end of the table, the cable will go left/right and then turn, depending on where your computer is located.
The cable is 1.5m, which is a bit short for USB cables.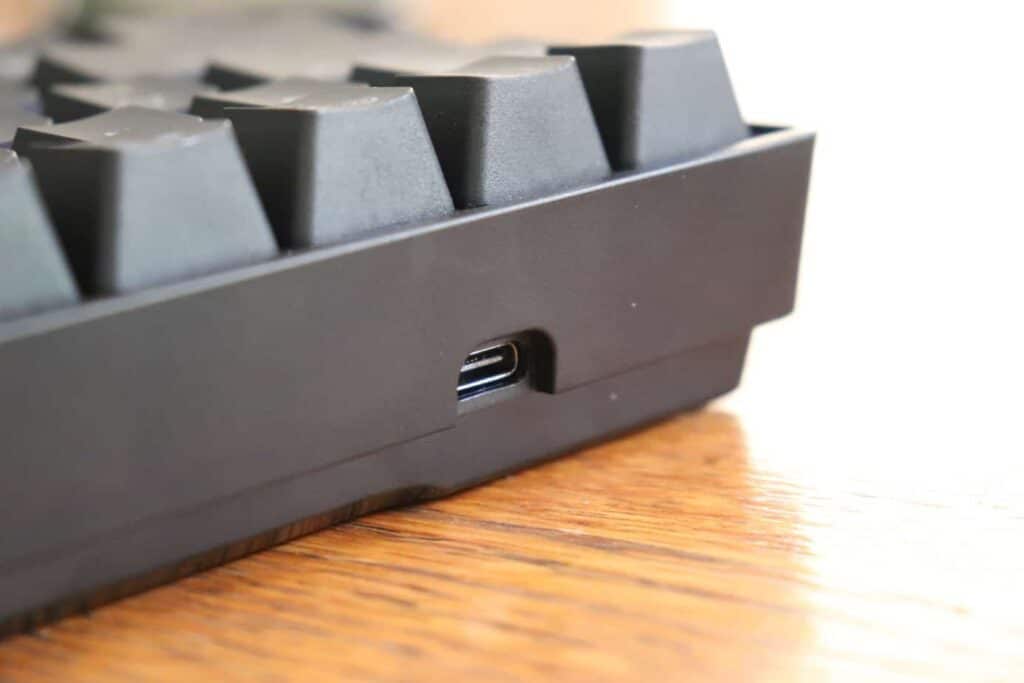 Easy Access Arrow Keys
The FN sits on the far bottom right and the arrow keys are close to it on the second layer.
To use arrow keys, you can hold down FN with your right pinky finger and then use your index, middle, and ring finger to press arrows. It is super convenient to do.
Compared to other keyboards, where the FN key sits an awkward place that you need to move your whole hand to reach, the Kemove Shadow does a great job with key placement.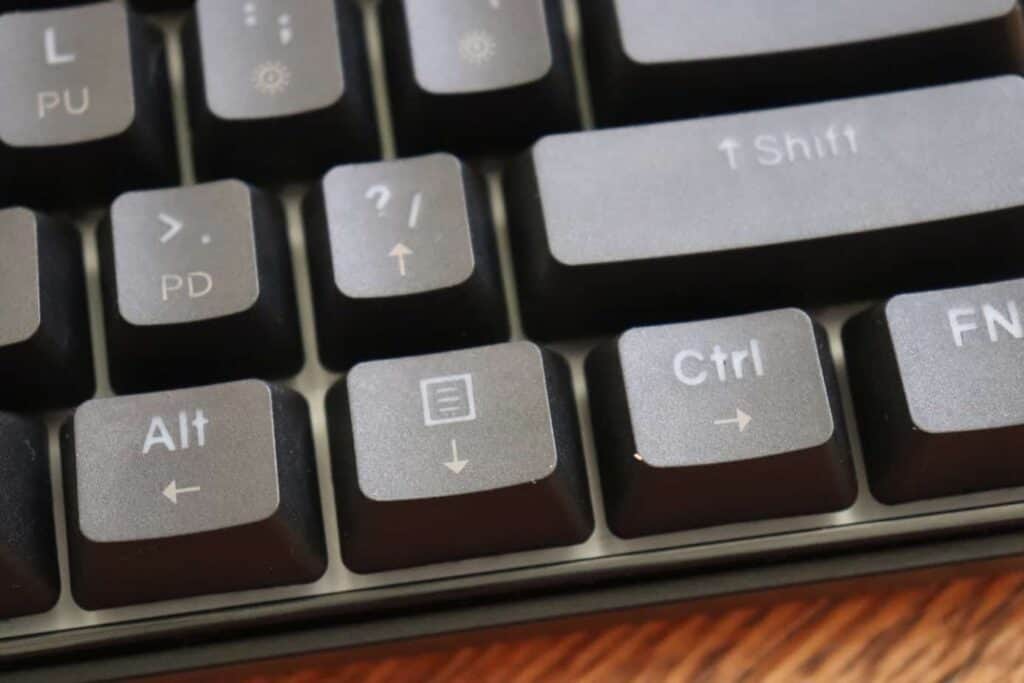 Adjustable Kickstands
In the back, there are two kickstands that can be used to adjust the angle of the keyboard. We never use this, as the keyboard itself already has a great angle to begin with.
The rubberized coverings on the feet slide off very easily because they are not glued or secured onto the legs with any adhesive materials.
This makes them easy to lose if not careful.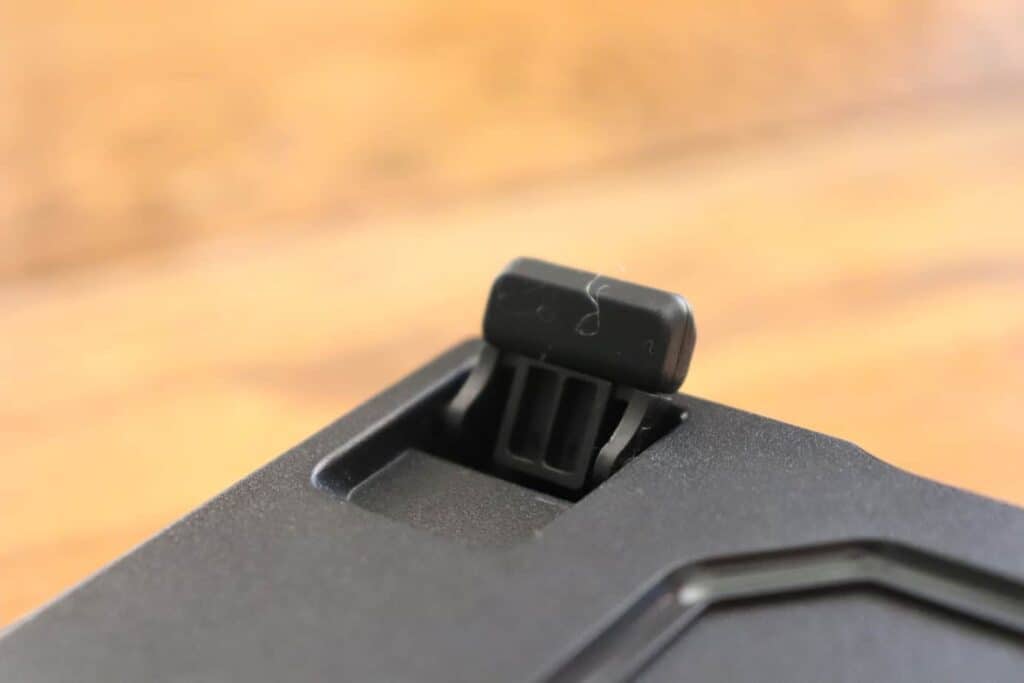 Beta Software
The software is currently in beta for these two keyboards. To download it, you must make an account with Kemove first, and then you'll have access.
The software is not intuitive, and it takes a little finagling just to get a static white backlight.
It is easy to create macro recordings, however. There are also preset RGB settings to play with on the software.
Preset RGB Effects Onboard
The keyboard has different RGB effects and patterns that can be easily accessed with FN + backslash. There are plenty of effects, and you'll probably find one that fits your look.
Overall Positive Experiences from Customers
Many people who do use the Kemove Shadow/Snowfox have had wonderful times with it. Most tend to modify their keyboard to make it sound even better through the use of the following methods:
For all of our guides on how to do these mods, see the top menu bar under keyboard mods. For a quick summary, see this post.
Alternatives to the Shadow/Snowfox
The Shadow and Snowfox sit at the same price point as commonly known compact keyboards such as the Anne Pro 2 and the Ducky One 2 Mini.
The Anne Pro 2 (review here) is a mechanical keyboard there is offered in all white. It also has Bluetooth, although it is 4.0 rather than 5.1. It does not have hotswap sockets, and you are stuck with what you get. To modify it, you would have to desolder the switches. If you want to check it out, it's here on Amazon.
The Ducky One 2 Mini has better PBT keycaps. However, it does not have any wireless capabilities at all. On top of this, the Ducky One 2 Mini is completely unable to be used with Mac due to its firmware. The Ducky One 2 Mini comes with many Cherry MX switch options, which are the standard for mechanical switches. These switches last up to 100 million keypresses. Check it out here on Amazon for more information.
A more budget compact option that also has hotswap features is the Glorious Modular Mechanical Keyboard (GMMK). It comes in different sizes (60%, TKL, and full-size). The barebones versions are much cheaper than the Kemove, although it doesn't come with switches or keycaps. It also has no wireless, and only connects via mini-USB or there is no detachable cable at all for the full-sized version. See it here on Amazon if you want to learn more.
Things to Consider Before Buying a Mechanical Keyboard
When it comes to mechanical keyboards, there are so many aspects to look out for. In this section, we'll cover the basics such as sizes, switches, features, and more.
Having a mechanical keyboard over a regular membrane keyboard means more accuracy in typing and a responsive feel for each individual keypress, reducing overall errors and improving your experience with typing/gaming.
Primarily, you may think that mechanical keyboards are only for gamers, but that's not true at all. Many people take their mechanical keyboards into the office or work at home. Most primarily use their keyboards for typing and gaming on the side.
What Size Should You Get?
When it comes to sizes, it mainly depends on what you plan on using the keyboard for. Sizes range from having a full-sized board with the number pad all the way to 40%, with no arrows, number row, function row, or number pad.
In our size guide, we explain the differences between each size level and what each size layout has in it.
Here, we will talk about the most common layouts: 60%, TKL, and Full-Sized.
Full-sized keyboards are what you see normally when you think keyboard. It has the number pad on the right, the navigational cluster, arrow keys, and all of the alphanumeric keys and modifiers such as ctrl, alt, fn, and keys such as shift, enter, backspace, and space.
TKL, also known as tenkeyless, is a more compact size that just cuts off the number pad from the keyboard. It is for people who don't find themselves doing number entry often or at all.
60% is often used by gamers and is even smaller than tenkeyless. This layout takes the tenkeyless layout and chops off the function row on top and the arrows and navigational keys. It is a barebones keyboard, but offers the full functionality of a TKL keyboard through different layers.
The size that you end up using depends on you and what you think you really need in a mechanical keyboard.
What is the Difference Between the Switches?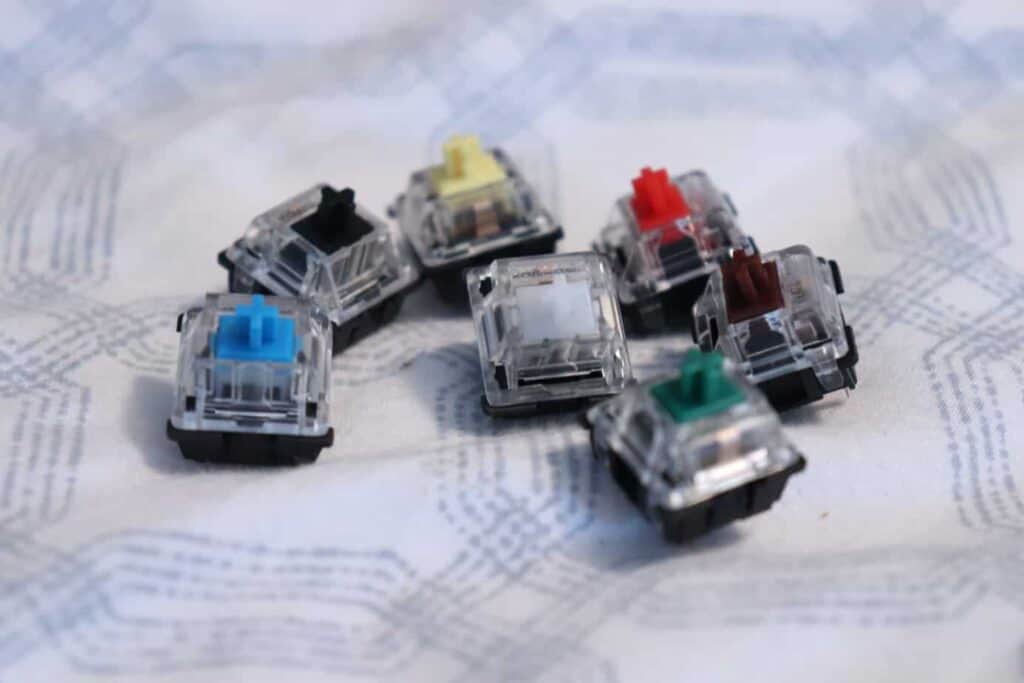 When picking out a keyboard, you'll see switch options labeled as colors: usually red, blue, or brown.
What do these mean?
These colors are based on the original Cherry MX switches. To read more, you can see our complete Cherry MX guide that covers all of their switches and the differences between them.
Along with different colors, you'll also see that there are many different switch brand manufacturers out there as well. We compare some of the biggest switch brands in this article.
In this section, we'll go over the most commonly seen red, blue and brown switches and the primary differences between them.
Red switches are linear. Linear means that there is no bump throughout the keypress, and it is entirely uniform and smooth. Linears are generally geared towards gamers but can be used for typing as well.
Brown switches are tactile. Tactile means that during the keypress, there is a bump in the middle, which occurs near the point of actuation (when the keyboard tells the PC a switch as pressed) that lets you know that you typed out the letter, and it's time to move on. Browns are geared towards typists, but they can be used for typing as well.
Blue switches are clicky. Clicky switches have a tactile bump, and they also have a loud click noise that occurs at that bump as well. These switches are more for people who type and game by themselves and don't have to worry about disturbing others or not.
The switch that you choose depends on what you prefer to feel when using your keyboard. Linear switches tend to be smoother and make less noise. The only noise they make is when the switch bottoms out, which means that it can no longer be pushed down.
Tactile switches tend to resemble membrane keyboards the most. It is generally recommended for beginners new to mechanical keyboards.
For more information and examples on tactile vs linear vs clicky switches, read this post here.
What Features Should You Be Looking Out For?
There are many features that signify a high-quality and well-thought out design for a mechanical keyboard, and then there are optional features that appeal to certain people.
Detachable USB Cable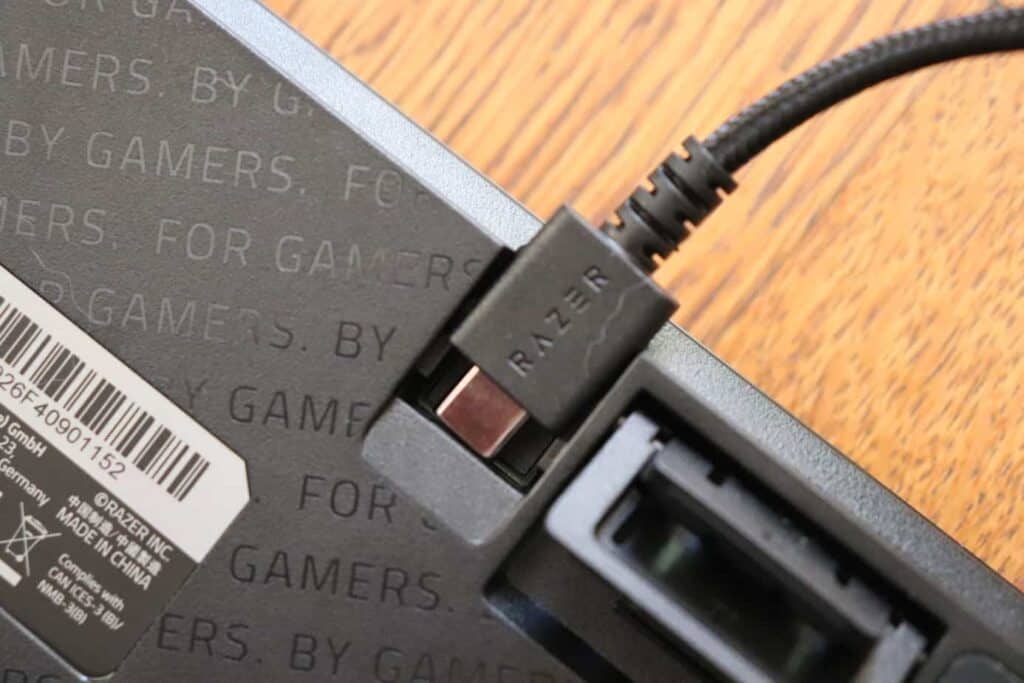 Having a detachable cable is nice just in case if the cable ever dies. When that happens, rather than replacing the entire keyboard, you can just find a new cable instead.
It also allows you to use your own custom cables with color schemes or designs that match with your overall setup.
If you really want to go fancy, then opt for a custom coiled cable that is all the rage nowadays.
Hotswappability
Being hotswappable allows you to change the switches of a keyboard without desoldering and soldering. This makes it super easy to try out new switches.
If you realize you don't like linear switches, then you can just buy new switches and replace them. It is an easy process that takes about 15 minutes for an entire keyboard. In this guide, we go over how to do this process as well as tips to make it as smooth as possible.
Being hotswappable also encourages you to mod the keyboard by lubing the switches, modding the stabilizers, and more. We have specific guides (with step by step pictures) on how to do all of these things at the top bar if you're interested in learning more.
Bluetooth
Being wireless is a plus for some people. It enables a clutter-free setup as well as portability and compatibility with many different devices. Many bluetooth keyboards can connect with up to three devices and alternate between them via key combinations.
Conclusion
If you are looking for a hotswappable mechanical keyboard that is also Bluetooth that won't break the bank, the Kemove Shadow and Snowfox are great options.
Not only do they have these features, but they also meet the standards with doubleshot PBT keycaps, smooth Gateron switches, a detachable USB-C cable, and more.
It is a great mechanical keyboard for those who are looking to enter the hobby or just get their first mechanical keyboard and want to start experimenting around.
If you are interested in the Kemove DK61 Shadow or Snowfox, you can check it here on Amazon for an affordable price.
For more hotswappable mechanical keyboards and our recommendations, see this list of the best hotswap keyboards.