Optical switches are quickly become more and more popular in both budget options and premium gaming keyboards alike.
While there isn't nearly as much choice or variety when compared to mechanical MX-style switches, even brands like Razer and Corsair have released their own gaming-oriented switches.
So which is the best? What's the difference between these optical boards?
Take a look at our top picks for the best optical keyboards so far.
---
Best Optical Keyboards – Our Top Picks
| The Award | The Keyboard | Special Features |
| --- | --- | --- |
| Best Optical Keyboard For Gaming | Corsair K100 | Crazy fast polling rate |
| Best Optical for Gaming and Typing | Keychron K8 | Hot-swappable sockets |
| Best Optical Keyboard with Unique Layout | Epomaker SK96s | A rare size and layout |
| Best Optical With RGB Lighting | Roccat Vulcan TKL Pro | Super smooth switches |
---
From fullsize to compact 60%, optical keyboards come in all shapes and sizes now.
With so many choices and price points, let's see which board fits you best, listed in order of size and layout.
1. Corsair K100: Fastest Optical Keyboard for Gaming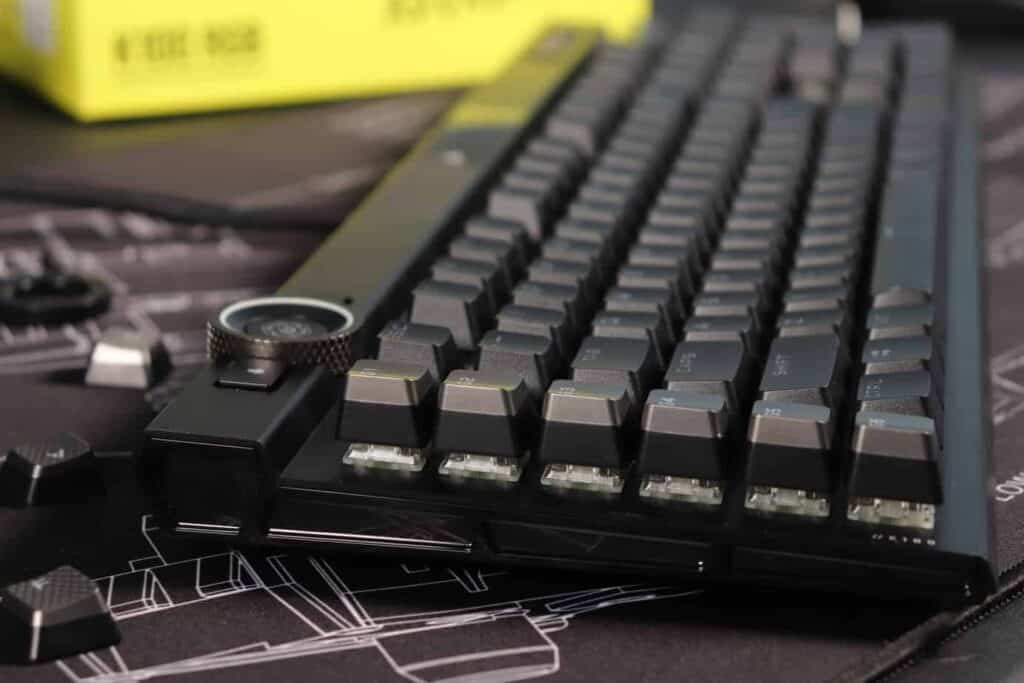 The K100 is the newest flagship gaming keyboard from Corsair which features a ton of macro and media controls, fast switches, and the highest polling rate to be offered in a keyboard to date at 4000hz.
Such premium features come at an equally premium price, and the K100 is not the most affordable keyboard, being easily the most expensive offering on this list.
The K100 is heavy and the build quality is good for a fullsize keyboard.
For such a high price, though, you would hope for less plastic than is on the K100, and would prefer a full aluminum build rather than just a top frame.
Doubleshot PBT keycaps are a nice addition, allowing the RGB to shine through without sacrificing quality.
You have the choice of MX Speed Silver mechanical switches or Corsair's new OPX optical switches. Both will be plenty fast with any polling rate you choose, but the optical switches will have a slight edge in speed.
Speaking of polling rate, the 4000hz polling rate is the fastest on the market, but will be more demanding on your computer. Many games may not even be able to handle 4000hz polling, so at most the keyboard may be "future proofing".
You can also charge or connect your devices and peripherals directly to the keyboard thanks to its USB passthrough ports. Though this will also take an extra port on your PC, it may be worth the convenience.
The included cable is attached, which is understandable for power concerns but is not ideal on an expensive keyboard when detachable USB-C is so common.
Corsair's iCue software is powerful, allowing you to control all aspects of RGB and macro programmability, but is a heft, bloated application at close to 800MB for the download.
A detachable magnetic plush wrist-rest is included to help with comfort.
The Corsair K100 is ideal for anyone who needs a fast keyboard with a ton of functionality for gaming and vfx workstation tasks.
2. Keychron K8: Best Optical Keyboard for Gaming and Typing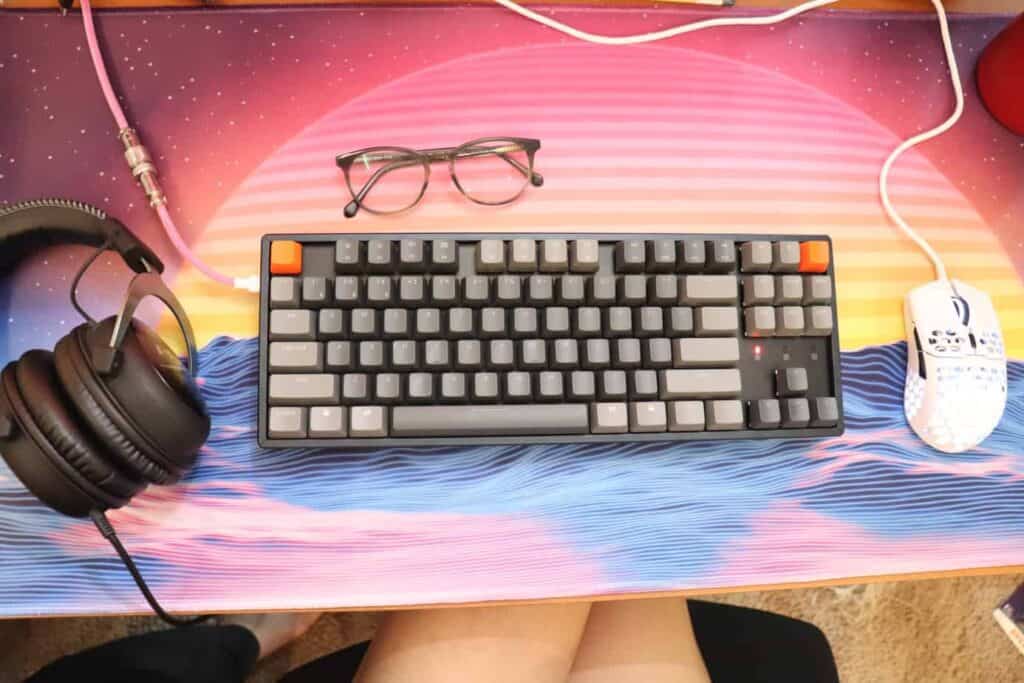 An 87-key TKL Keyboard from Keychron, the K8 is a mac-centric keyboard with bluetooth and USB-C connectivity.
The switches are Keychron Optical switches, and you get the standard choice of clicky blue, linear red, and tactile brown.
Keychron's keyboards all have polling rates reported at 1000hz, but really have a response of 13ms in wired mode, and 30ms in Bluetooth wireless mode.
This could be an issue for games that require fast input and low latency, like OSU or other rhythm games.
The stabilizers are not the best, but with hotswappable optical switches paired with plate-mount clip-in stabilizers, you can modify these stabs fairly easily, or even replace them entirely.
The K8's case is a full plastic construction, but you get the option of adding an aluminum frame, consisting of 4 panels that slide and screw onto the sides of the plastic case.
A large 4000mah battery gives you power and Bluetooth connectivity for up to 10 days depending on your RGB usage. Some users report that the Bluetooth may drop or disconnect, so your mileage may vary.
The keys and RGB lighting cannot be altered with the software, unfortunately, so you will need to try a third party program like Autohotkey if you want to program your layout, hotkeys, and macros.
For a 65% layout, check out the Keychron K6
The K8 is ideal for Mac-users looking for a TKL layout.
3. Epomaker SK96s: Best Optical Keyboard With A Unique Layout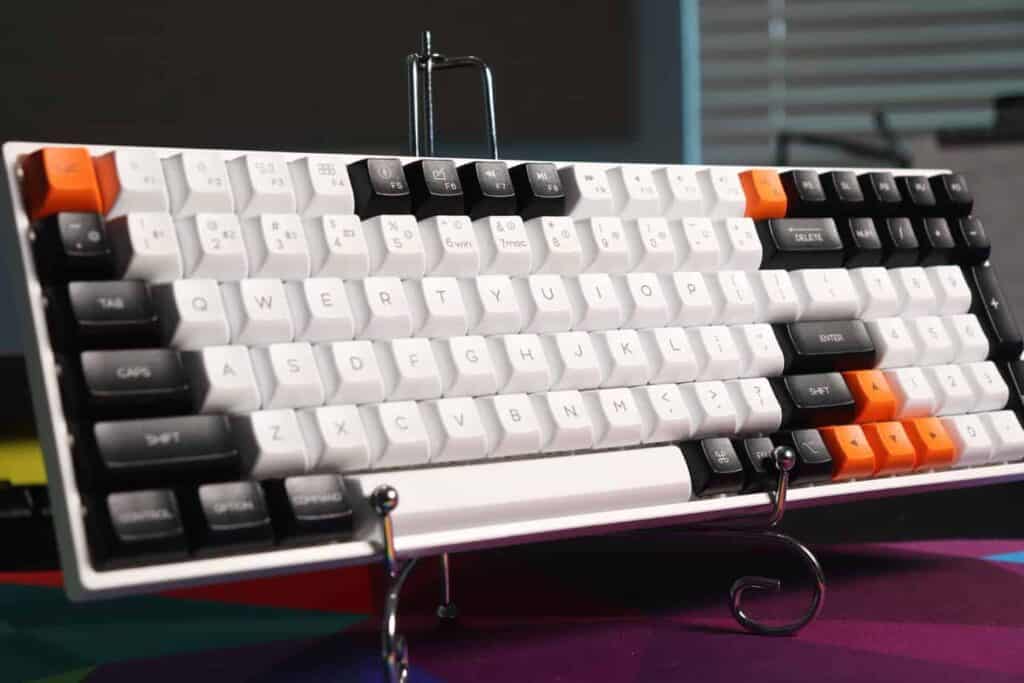 A 96% keyboard from Epomaker, the SK68 is a bluetooth, hotswappable layout with an option for southpaw numpad.
The Southpaw layout differs from the standard 96 layout in that the Southpaw has no dedicated arrow keys, and is instead more like a 60% with function row and numpad.
This also means that the Southpaw has superior keycap compatibility by essentially being a fully standard layout.
The build quality is exceptional for a budget keyboard, with the plastic case showing no signs of creaking. The stabilizers are factory lubed and quite good for a pre-built, and perhaps the best to be featured on an Epomaker keyboard.
You have the option for Gateron mechanical or Optical switches, both options being hotswappable.
For Optical switches, you get the choice of seven different Gaterons, including Blue, Red, Brown and Black. Yellow, Silver, and Green optical switches can be chosed with an added $5 premium.
This is probably the most choice of any Optical keyboard.
You also get choice of backlit doubleshot ABS keycaps in OEM profile, or Dye-Sublimated PBT keycaps in a proprietary sculpted GK1 profile.
The ABS option may shine quicker from skin oils and sweat, but will allow the RGB to shine through making your legends visible.
The PBT keycaps are a great value in that they are a comfortable sculpted profile and the plastic will resist shine while providing a deeper sound.
With high mac compatibility, bluetooth and wired dual mode, and software that lets you customize your layout, keys, and RGB, the GK96 is a great budget option for those who want full sized functionality in a TKL size.
The SK96S and SK96LS are currently on Kickstarter, and will be available from Epomaker shortly after.
The SK96 and SK96LS are great options for anyone looking for a hotswappable 96% or Southpaw numpad option.
4. Roccat Vulcan TKL Pro: Best Optical Keyboard with RGB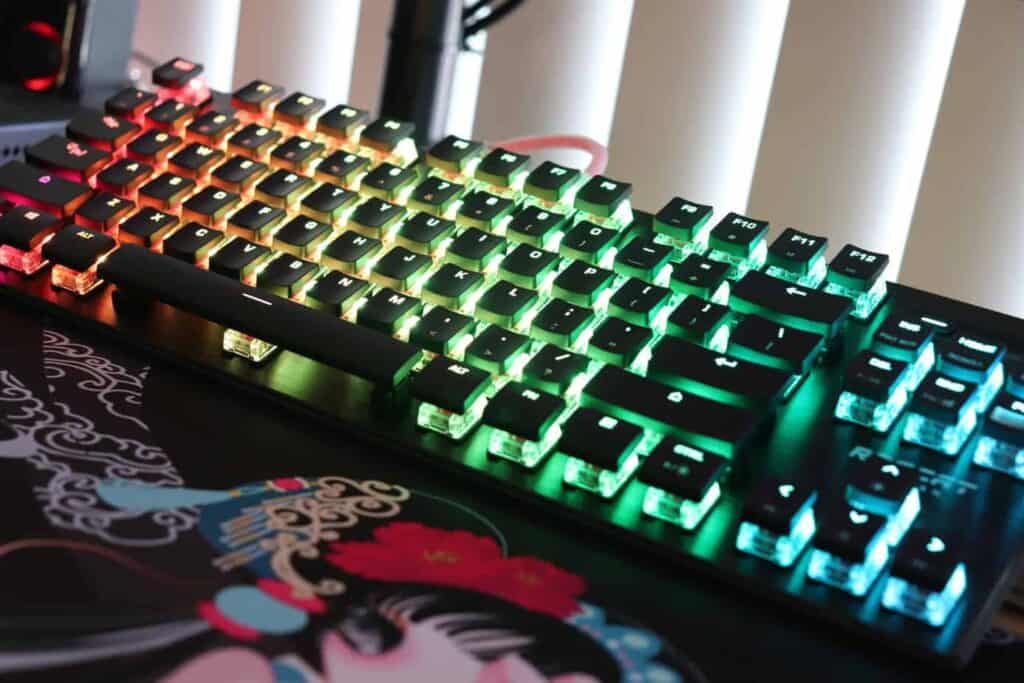 The Roccat Vulcan TKL Pro is a surprisingly enjoyable keyboard to use and game on, but sports a higher than expected price tag.
The switches are fast optical linear switches with a red box-style stem.
The red switches may be great for gaming but might be difficult to type on accurately for some due to the low force required to actuate the switch.
The connection is supported by a fast 1000hz polling rate with a 32-bit ARM processor, giving you reliable speed in every gaming scenario.
All keys have standard sizing and spacing, so finding aftermarket keycaps should be no problem if you don't like the included ones.
Roccat's stabilizers are a proprietary design, and don't seem to be moddable, but they are fairly smooth as-is.
The build quality is fairly solid, similar to the Corsair K100 mentioned earlier with a solid alloy top with plastic bottom.
The adjustable feet are strong enough to support the board without moving.
The cable is detachable and the type-C port is centrally located. You should have no problems using custom cables with the Roccat Vulcan.
An integrated volume knob and mute button are nice features to have on any board and make media volume adjustments convenient.
The keycaps are very smooth doubleshot keycaps that are also very low profile and the negative space between the keys allow for a ton of RGB to shine through brilliantly.
The Roccat Vulcan is ideal for demanding gamers searching for a fast TKL.
5. Razer Huntsman TE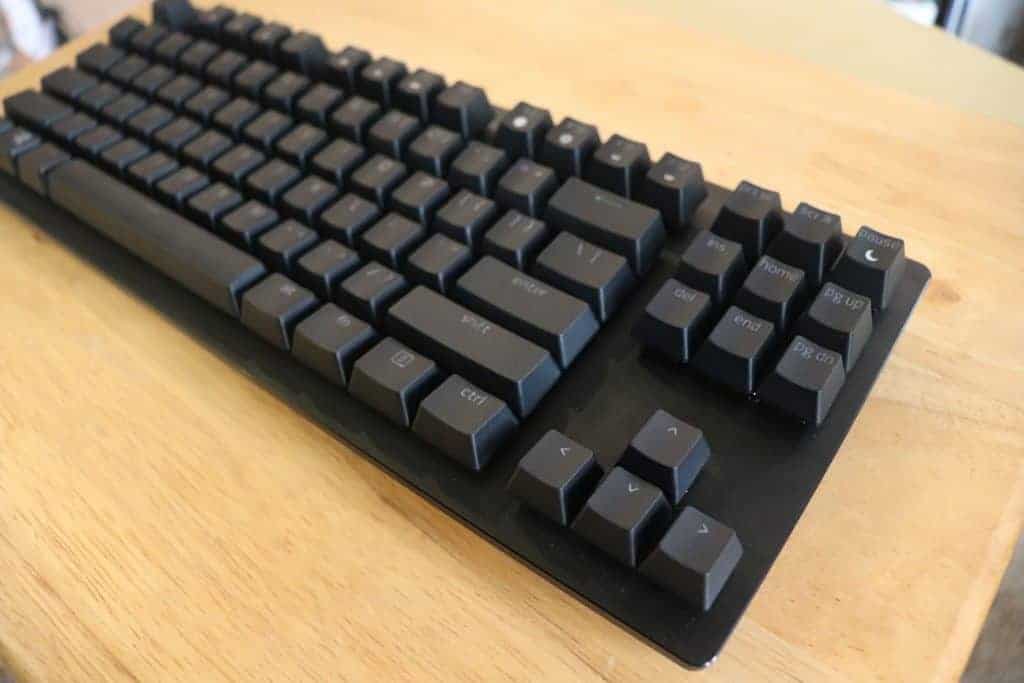 The Razer Hunstman TE is a fast TKL layout from one of the world's biggest gaming brands.
With a 1000hz polling rate and Razer's own optical switches, you won't miss a beat in any game you play.
The build quality is fairly solid, but the keyboard displays a lot of wobble and rattle when it comes to the switches and stabilizers.
The switches each feature a stabilizer wire that may be distracting when used due to the instability, which is a bit ironic.
The keycaps are a quality doubleshot PBT which lets the brilliant RGB effects shine through without risking the legends rubbing off.
Due to proprietary stabilizers and a nonstandard botttom row, though, you won't be able to find many keycap sets that offer full compatibility.
You will likely have a few mismatched keys including spacebar, ctrl, and alt.
Synapse software allows you to program hotkeys, macros, set your custom RGB lighting, and even sync lighting across all of your Razer devices.
The software itself though is quite bloated and can be a bit buggy, but is quite powerful.
For a 60% Option, check out the Huntsman Mini
The Hunstman TE is a good choice if you're a fan of Razer's products and need a convenient TKL that is fast and widely available.
6. Epomaker SK68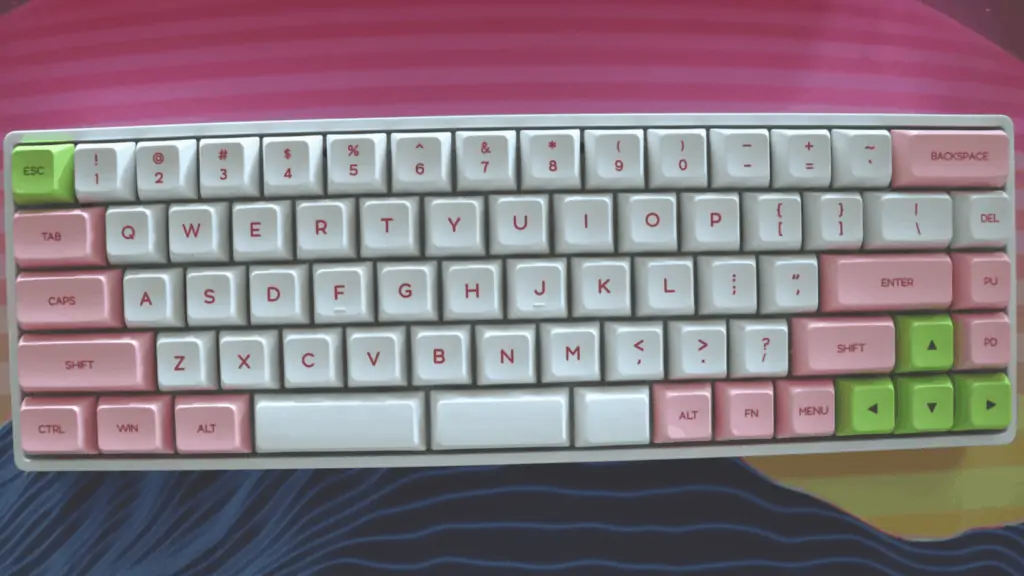 Epomaker's SK68XS is the optical version of their popular GK68XS board. Featuring a 65% layout, bluetooth connection, and split spacebar module, the SK68XS is an efficient optical keyboard on a budget.
The case is a standard ABS plastic tray case with no adjustable feet, but 4 rubber bumpons that help keep it from moving around too much.
There is no flex or creak, as the case is one solid piece, reinforced by the aluminum plate. The case can be quite hollow, so you may need to foam or sound-dampen your keyboard.
An Aluminum case option is also available for a more premium feel.
The keycaps are smooth but textured dye-sublimated plastic that has long-lasting legends, but won't allow for any RGB backlighting.
The layout is a typical 65% layout with 68 keys except for one key difference: the backspace position has been moved to the right by one unit, its position switched with the tilde key.
This small change means you might need some time to adjust to the new layout.
Thankfully with the split-spacebar unit, you can also try assigning the backspace, or any other function, to one of the two extra keys you get.
The software allows you to customize your layout, program macros, and adjust your RGB lighting profiles, then save them directly to the keyboard.
Check out Ruby from Epomaker's Extended Manual for more info on the software.
The SK68 is a great keyboard if you're looking for a compact keyboard with split spacebar, and you don't mind adjusting to new layouts. You can find Epomaker SK68 here on Amazon.
7. Keychron K6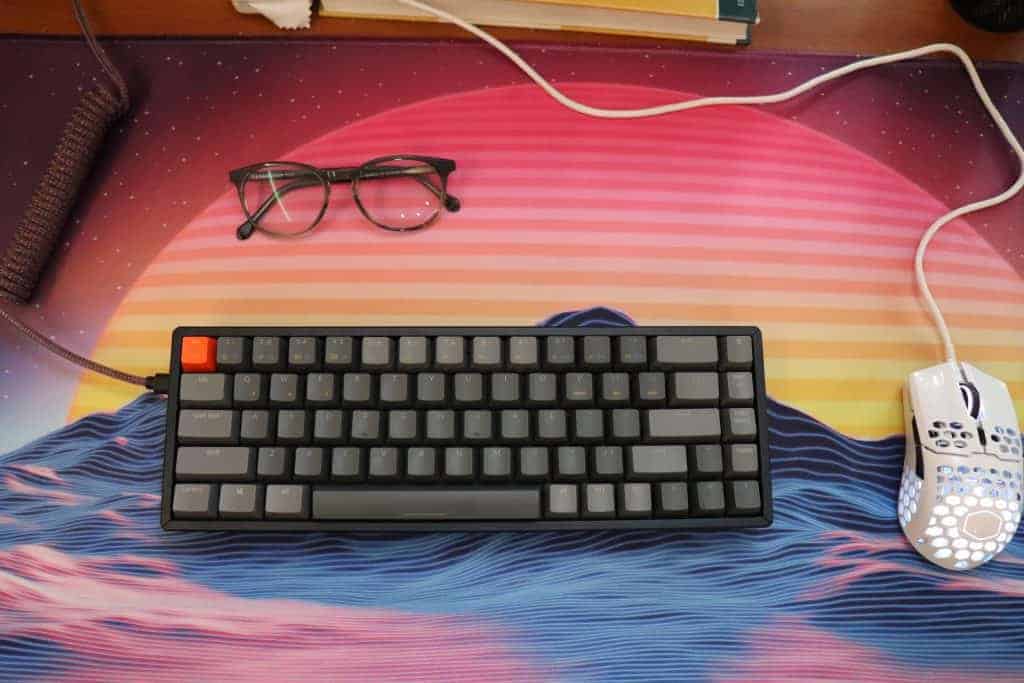 Keychron's K6 is similar to their K8 TKL in most ways, except that the K6 has a 65% layout similar to that of the SK68.
The K6 has a more standard 68-key layout than the SK68, with the backspace being in the "normal" position.
Instead of a tilde key, Keychron opts for dedicated lighting key which cannot be reprogrammed.
This lighting key lets you conveniently cycle through all of the available lighting profiles rather than restorting to multiple keys.
The stabilizers are not the best, but again these can be easily modified or replaced.
The K6's build quality is again an all-plastic build, but the 65% layout allows for much less exposed surface area than a TKL.
You do of course have the option for an aluminum frame if you want a little bit of extra reinforcement.
The bluetooth connection may be good and convenient, but might not be ideal for gaming or situations that require a low-latency connection.
Keychron offers a right-angle USB-C cable to help you connect when you need to.
You won't be able to program the keyboard or its lighting profiles, but you can always try using a third part program like Autohotkey to compensate.
The Keychron K6 is ideal for Mac users looking for a compact mechanical keyboard.
You can find the K6 coming in a ton of different options on Amazon.
8. Epomaker SK64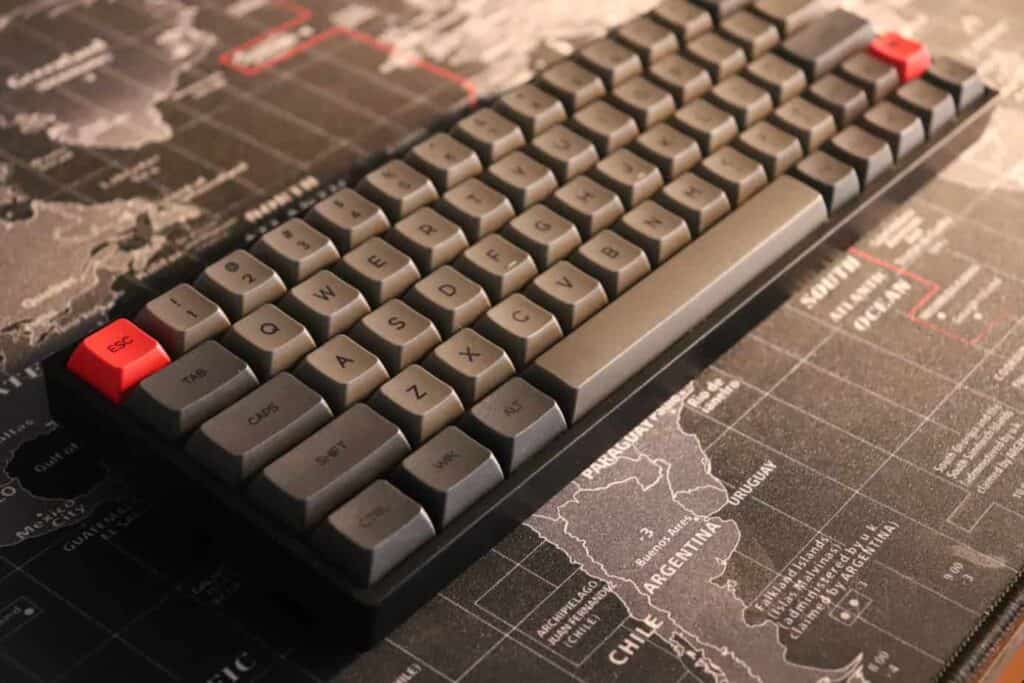 The Epomaker SK64 is a compact hybrid of the 60% and 65% layouts seen in the SK61 and SK68 respectively.
While it still has the same footprint as a 60% layout, it adds not only dedicated arrow keys but a delete key as well.
This could make the 60% layout much more convenient for you to use, but this change comes at the cost of keycaps sizing as well as the right "alt" and "ctrl" modifier keys.
The left shift and right shift both shrink significantly in order to make room for the added keys.
This could mean a bit of time needed to adjust to the layout, especially if you find yourself hitting the up-arrow or delete key instead of right shift, and not being able to use the right side ctrl and alt.
While the case is the same basic plastic case design as the SK61 and SK68, the SK64 PCB actually has standard 60% layout standoff holes.
This means all you need is a new plate to be able to replace the case with any of a number of plastic, aluminum, and wooden cases, including Tofu" cases.
The SK64 is a great introduction to the world of custom 60% keyboards, as long as you can get used to the layout.
9. Razer Huntsman Mini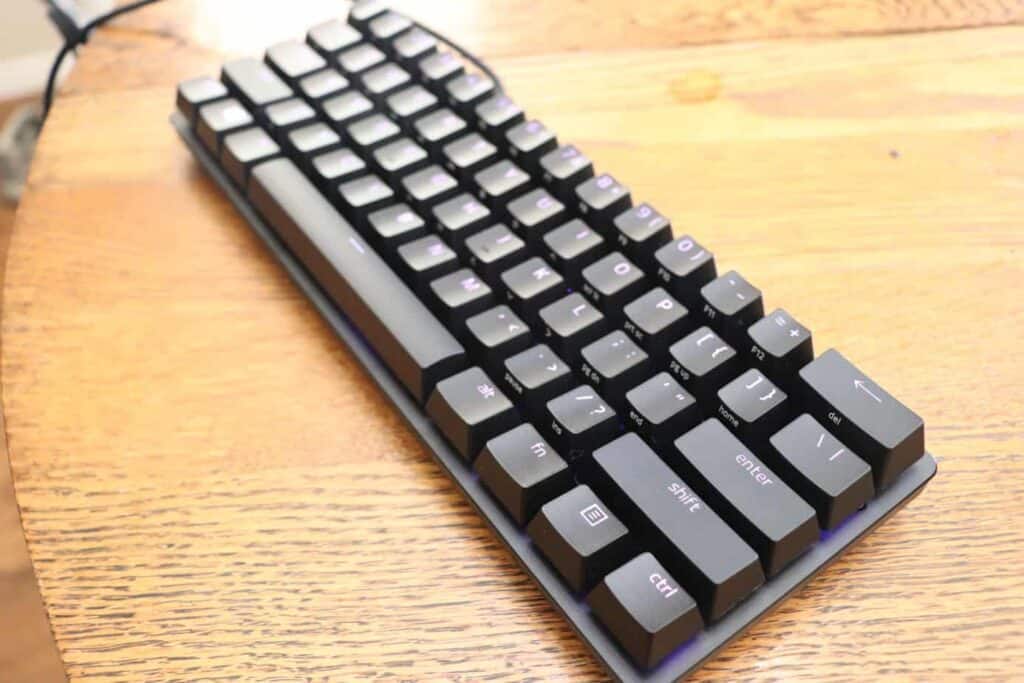 Razer's Hunstman Mini keyboard is a 60% compact layout that is one of the first Razer keyboards to offer a standard-spaced bottom-row.
The Huntsman Mini is also one of the faster optical keyboards, with polling up to 1000hz.
Ideally this means you can change your keycaps to any number of higher-quality, but Razer's proprietary stabilizers require you to retain the included adapters or else your keycaps may still not be compatible.
The switches are Razer's proprietary Opto-Mechanical switches which are fast and reliable but exhibit a large amount of wobble, despite included per-switch stabilizer wires that exhibit a ton of rattle.
The included keycaps are doubleshot PBT plastic with a smooth black plastic finish. The legends are shinethrough and allow your RGB to pass through to get all your gamer goodness.
Razer's Synapse software is bloated and can be a bit buggy, but hopefully you will only have to use this once and never touch it again.
You can use Synapse to program macros, lighting profiles, and even sync your RGB lighting effects across all of your Razer peripherals.
The Razer Huntsman Mini is a good choice if you are a fan of Razer peripherals and need a fast optical gaming keyboard in a compact layout.
10. Epomaker SK61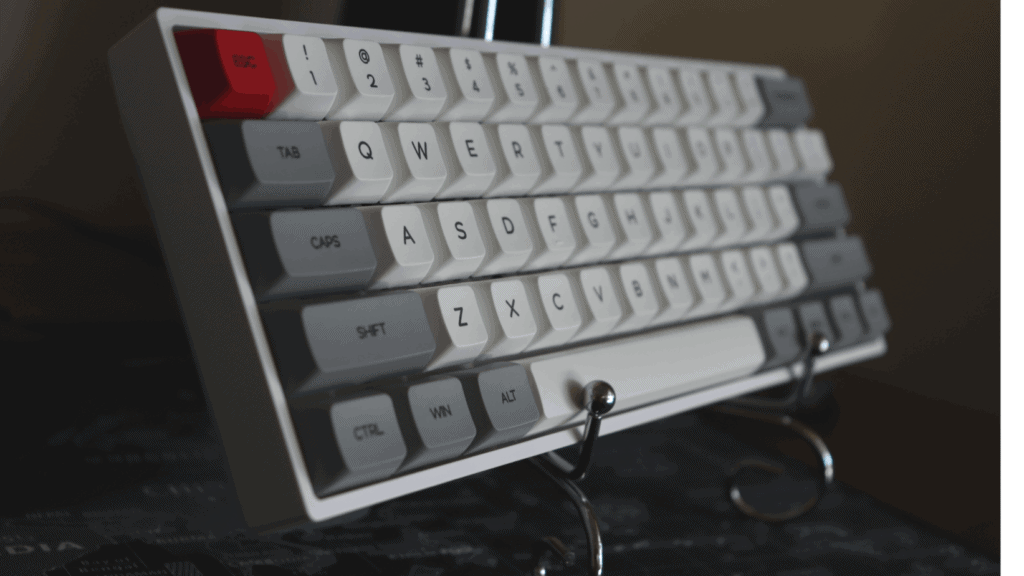 The SK61 rounds out Epomaker's keyboard lineup with a compact, 60% layout.
This keyboard isn't ideal for gaming with a polling rate of only 125hz, but the fast Gateron optical switches will help make up some of that time.
Dye-sublimated keycaps are included in the proprietary Epomaker GSA profile, which is like a uniform profile hybrid of DSA and XDA profiles.
This means that all the keys are flat like a on a laptop, and may make it easier for you to glide your fingers around the key tops while typing.
The stabilizers do not wobble and are pre-lubed from the factory, but could definitely do with a better lube job.
You might have trouble getting used to the 60% layout if you have never used a 61-key before.
These layouts depend heavily on fucntion layers to access everything from F1-F12 to arrows and navigation.
Thankfully you can customize your layout with the provided software, which also allows you to record macros for efficiency and program your RGB lighting profiles.
The SK61 is a great compact option with standard layout, but may not be the fastest choice for your gaming needs.
11. GK61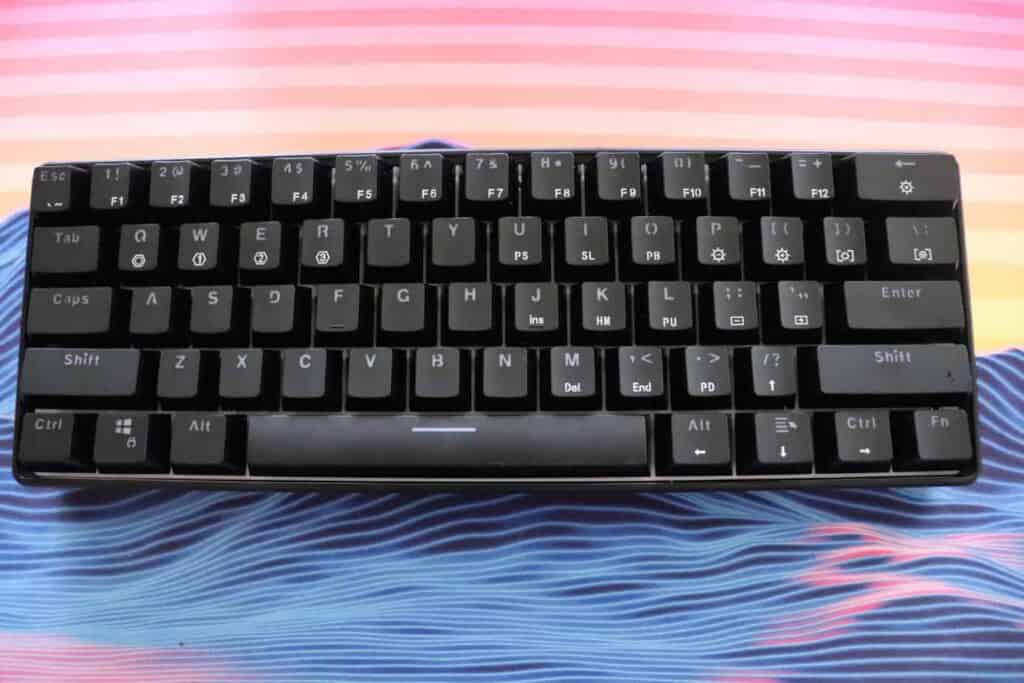 The Geek GK61 is a generic version of the SK61 available from HKGaming and YMDK.
The GK61 is very similar to the Epomaker SK61 in layout and switch choice offerings, but differs in the keycaps and colorways made available.
The GK61 uses doubleshot ABS keycaps instead of dye-sublimated PBT, which means you will be able to see the RGB through the layers of plastic, but they may also shine quicker from skin oils.
The build quality is otherwise mostly the same, also sporting a plastic tray style case with rubber feet and USB-C cable.
The naming scheme can be a bit confusing, as the Geek GK61 is offered in both mechanical and optical variants with no change in model number.
Check out this video for a more in depth look at the GK61 vs SK61.
The Optical GK61 is a good choice that is similar to the SK61, but in a slightly different aesthetic.
---
Why Is Optical Faster Than Mechanical?
Optical switches are not truly mechanical in the fact that it relies on fewer moving parts to achieve actuation.
This technology is also what gives an optical switch its edge.
Instead of relying solely on mechanical parts, and optical switch uses a laser sensor that actuates whenever the signal is established by the stem passing over it.
The signal is near instantaneous and as a result, the switch actuates faster than a traditional mechanical switch with all other things being equal.
An optical switch even actuates faster than a speed switch which has a shorter actuation distance.
Switch Bounce and Debounce
Switch bounce and debounce refers to when multiple values are measured in a single keypress.
This effect is caused by metal parts of a switch making contact and rubbing or vibrating against each other, with possible surface inconsistencies.
These imperfections may cause the signal response to "bounce" (higher and lower values being registered on a graph), and over time could lead to things like "chatter" or multiple inputs.
An optical switch, however, does not rely on metal leafs and stem legs to open or close a signal.
By using an optical laser, these switches can not only actuate faster and more accurately, but do so for a longer time than mechanical switches.
What To Look For In A Gaming Keyboard?
If you are a gamer who demands the most from your keyboard, there are certain things you should look for in a keyboard that you rely on daily.
Fast, reliable switches, 1000hz or higher polling rate, and solid stabilizers are arguably the most important things in a gaming keyboard.
While weight and overall build quality are indeed very critical factors, weight and materials won't win you a game.
With optical switches, you are able to give yourself that extra competitive edge when all other factors are equal due to decreased travel distance and fast, reliable signal.
A fast polling rate guarantees that your keypresses are being sent to your computer as quickly as possible and as many times as possble, to ensure that your keyboard can keep up with the game and competition.
Though your keyboard uses scanning rate to check over each key, polling rate helps your signal go through faster when your input is scanned.
Look for polling rates of 1000hz or more if possible and if needed. Low polling and scannig rates could affect speed, accuracy, and input latency.
If play rhythm games or you require fast inputs and low latency in your games, don't settle for slow keyboards.
Solid, smooth stabilizers will help you maintain a consistent feeling and sound in every keypress, keeping your focus on the game instead of the rattling coming from your keys.
The ability to modify or even replace these stabs is invaluable if you demand perfection from your peripherals.
Interested in affordable gaming keyboards? Check out our guide on the Best Budget Gaming Keyboards for more info.
Or perhaps a gaming mouse to go with it?
Conclusion
Optical switches are quickly proving to be a popular gaming choice in keyboards.
With speed, reliability, and longevity, optical switch keyboards could help you gain an extra edge over your competition.
Though you may not have as much in terms of choice when it comes to optical switch types, perhaps for now you simply don't need that many options and just want to get to gaming.
We hope that this guide helps you navigate the world of optical keyboards and how they could benefit you when it really counts.
If you'd like to find out more about the differences between mechanical and optical switches, make sure to check out our informative article comparing Mechanical Keyboards vs Optical Keyboards.
Thank you for reading. Now go play some games. With lasers.