USB Type-C cables have become a universal standard in electronics and peripherals.
It is an innovation that has proven to be user-friendly and has become a common addition to almost everyone's collection that helps us remain untethered.
Here we have complied a roundup of 7 great keyboards that all feature detachable keyboards.
---
The Best USB-C Keyboards: Our Top Picks

Let's take a closer look at each pick and really dive into why we chose these products.
1. HyperX Alloy Origins Core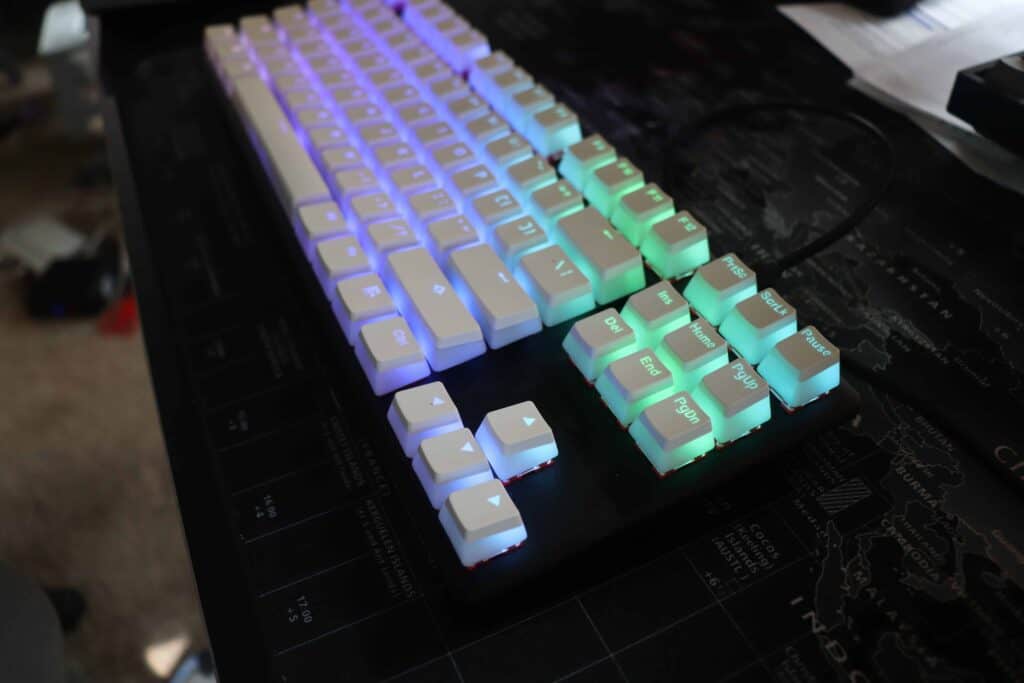 If you're looking for a great budget TKL with sturdy build quality, look no further than the Hyper X Alloy Origins Core.
With a body made entirely of aircraft grade aluminum, this low profile floating keycap design is a hefty and well-built keyboard.
As a TKL, this 87-key layout is a popular form factor for gaming and writing as it saves space and allows your mouse to be closer to center.
It features two sets of adjustable feet to get the right typing angle for you. Most keyboards come with one or none, so this is a thoughtful design element.
Hyper X has also developed their own switches, and two of them, the Aqua tactile and Red linear switches, are standard options for this keyboard.
They are rated at 80 million keystrokes and are slightly faster than Cherry MX Browns and Reds due to a shortened actuation and travel distance.
The keycaps are laser engraved ABS keycaps, and while they are quite comfortable, they will accumulate finger oils rather quickly.
Hyper X offers their own PBT Pudding keycaps if you want to improve the RGB lighting even further and make your keyboard a lightshow.
As a standard layout with standard bottom row sizing, you have wide compatibility for aftermarket keycap sets, making it easy to swap out the keycaps without worry if they will fit or not.
Typing on the switches is quite smooth and the stabilizers, while nothing special, display minimal rattle for a prebuilt gaming keyboard.
It has a detachable USB cable that is a bit stiff, and the recessed port may mean lower compatibility with custom cables.
While it may not be a perfect board with many options, it is a great option that is accessible and is widely available online and in big-box electronics stores.
The Hyper X Alloy Origins Core is perfect for anyone looking for a fun but functional and feature-packed keyboard that is easy to find and provides great bang for the buck.
2. Durgod K320 Taurus TKL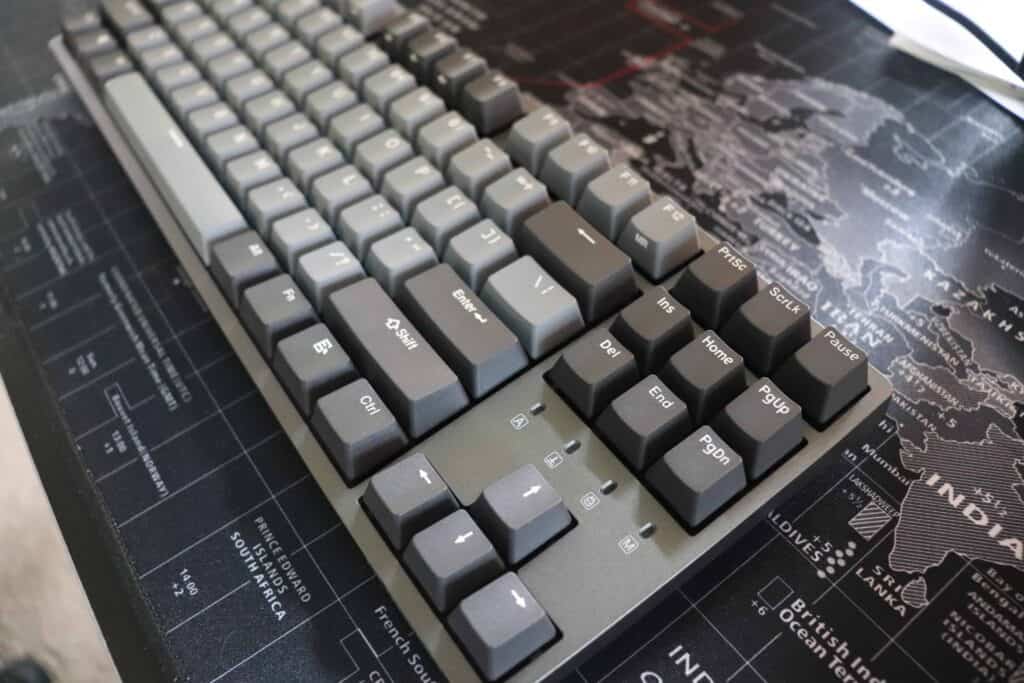 Durgod packs a ton of great features into an affordable, no nonsense package with the K320 Taurus.
The build quality on the K320 is immediately apparent when picking up the keyboard. The top of the keyboard is made of plastic that doesn't flex at all while typing, and the unit weighs in at roughly 2lbs or 0.9kg.
Whether you use a PC with USB-A ports or a notebook with USB-C ports, Durgod has you covered by providing two cables in the box for both situations.
Durgod gives you the choice between several types of Cherry MX switches including Speed and Silent variants.
Speed switches would turn the K320 into a fast gaming choice, while Silent switches would be perfect for the office.
The K320 uses Doubleshot PBT keycaps, which is one of the better options for keycaps providing a better feeling and potentially better sounding typing experience.
If you ever decide to change them out, Durgod provide a nice wire keycap puller to make the process easier.
The stabilizers are always the star of the show on Durgod keyboards, and the K320 stabs are nice and smooth. They are generously lubed from the factory and should provide you with a nice and satisfying thock.
Durgod Zeus software allows you to customize and remap your keys and assign macros. You can save profiles to the board and acces them directly from the board.
There is no RGB on this particular keyboard, so if you would prefer a backlit board then check out the K320 Nebula.
For the build quality and list of features, Durgod offers up a compelling budget-minded choice.
Durgod K320 Taurus is perfect is you're looking for a TKL that isn't flashy but means serious business, you can find it here on Amazon.
3. Keychron K6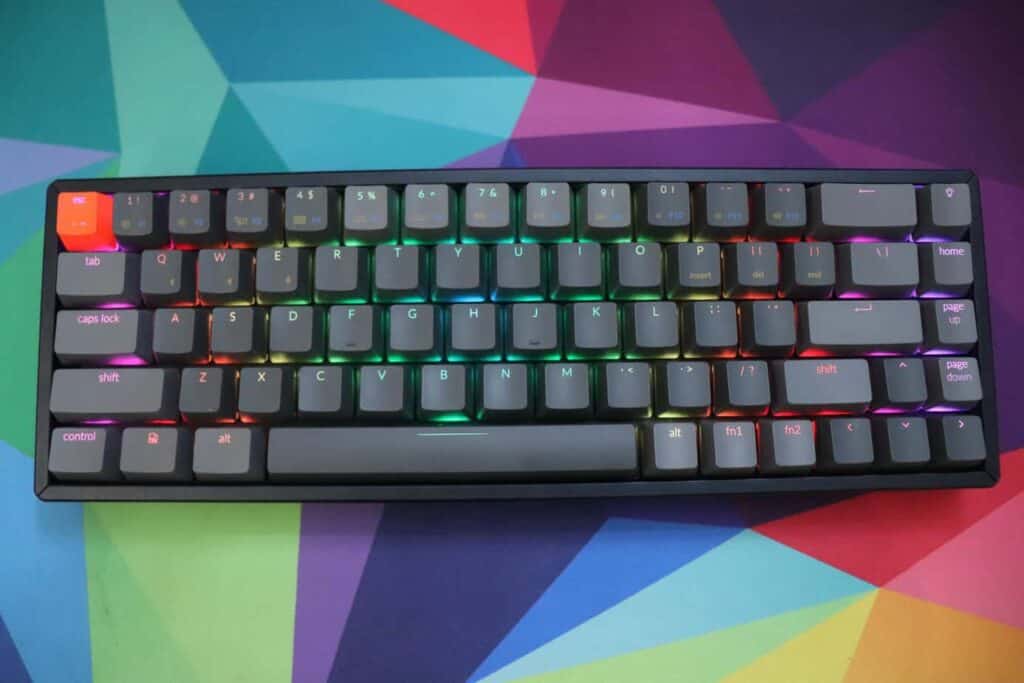 If you're a Mac user in search of a good mechanical keyboard, Keychron should be at the top of your list.
Keychron has built a reputation on Bluetooth enabled Mac-centric keyboards since their inception,and the K6 adds a hotswap 65% layout to that legacy.
It has the best Mac-compatibility out-of-the-box than any other wireless mechanical keyboard solution available on the market as of this writing.
You won't have to worry about messing with any software or even finding compatible keycaps.
The Bluetooth works well out of the box and the battery allows for up to 10 days of wireless connectivity with the RGB turned off.
Speaking of RGB, this keyboard comes in both a work safe white LED and a more fun RGB LED version.
The aluminum frame is only an option on the RGB backlit version, but you may find you don't need the frame on such a compact form factor.
The USB port is located on the left side of the case. This may be awkward for those who like to use a custom cable, but it makes using the keyboard quite convenient when the K6 is placed right up against a Macbook's front edge.
As far as switches, you can choose between several different Gateron switches including normal, hot-swap Gateron, or Lightstrike Optical switches.
Hot-swap would give you a lot of freedom in being able to change out your switches easily should you want to try something beyond the Gateron Red Blue and Browns.
Lightstrike Optical adds an exciting new option for those who want something nntraditional and more innovative, and potentially faster for gaming.
The keycaps are laser engraved ABS, but Keychron is planning to release a set of PBT caps for the K6 in the near future, which will make the keycaps much more durable.
The software is available on both Mac and PC, but is really only for RGB lighting profiles. The keys are currently not programmable, so you may need to use a program like Autohotkey.
Packed with features that make it a true contender, Keychron's K6 is an ideal choice for anyone looking for a wireless hotswap 65% board with the best Mac compatibility out-of-the-box.
You can find the Keychron K6 on Amazon for a really good price.
4. Durgod Venus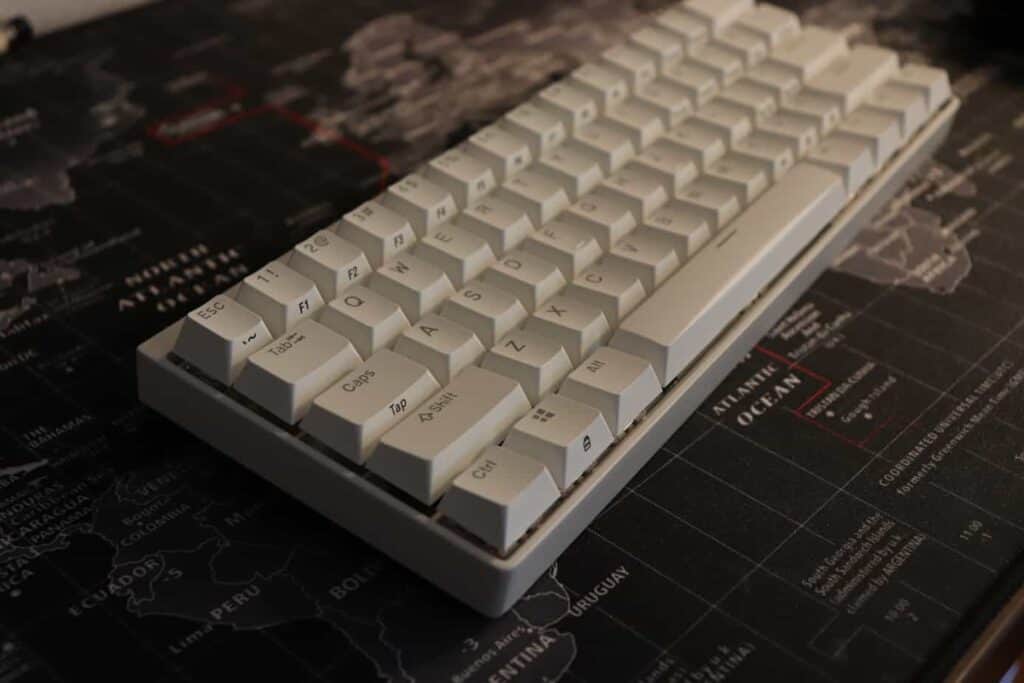 Our pick for best build quality goes to the Durgod Venus.
It has a compact 60% layout that lends itself well to sturdiness, as well as a full aluminum body.
There is no kickstand for adjustable angles, but the built in angle is comfortable enough to type on while still promoting a minimal angle in the wrist. There are rubber feet on the back to help from slipping.
You get your choice of several switches at different price points starting with Gateron at the most affordable price point, Cherry MX switches in the middle, and the robust Kailh Box Jade clickbar switch as the most expensive option.
Like its big brother the K320 Taurus, the Venus comes with not only a USB-A to USB-C cables, but also a double ended USB-C cable for any device you might need to connect your keyboard to.
The compatibility with custom cables is not the best though, as the port is slightly recessed into the case. If your cable has a larger housing surrounding the plug, it may not fit.
The forehead or top bezel of the case which houses 3 indicator lights is disproportionate to the other side bezels. This is a very small design gripe, but enough of one to make it look slightly unbalanced.
As with all Durgod products, the Venus comes with excellent Cherry-style stabilizers that are generously pre-lubed from the factory.
The included doubleshot PBT keycaps are great quality and allows the RGB to shine through beautifully.
The legends are not particularly classy, but they have some additional helpful sub-legends and are not a "gamer" font.
Durgod Hera software allows you to remap, program macros, and set up even more RGB lighting profiles. Unfortunately there is no Mac version of the software.
Packing a powerful punch in such a compact form factor, the Durgod Venus is a practical choice for anyone searching for the best build quality with an efficient layout.
5. Epomaker EP84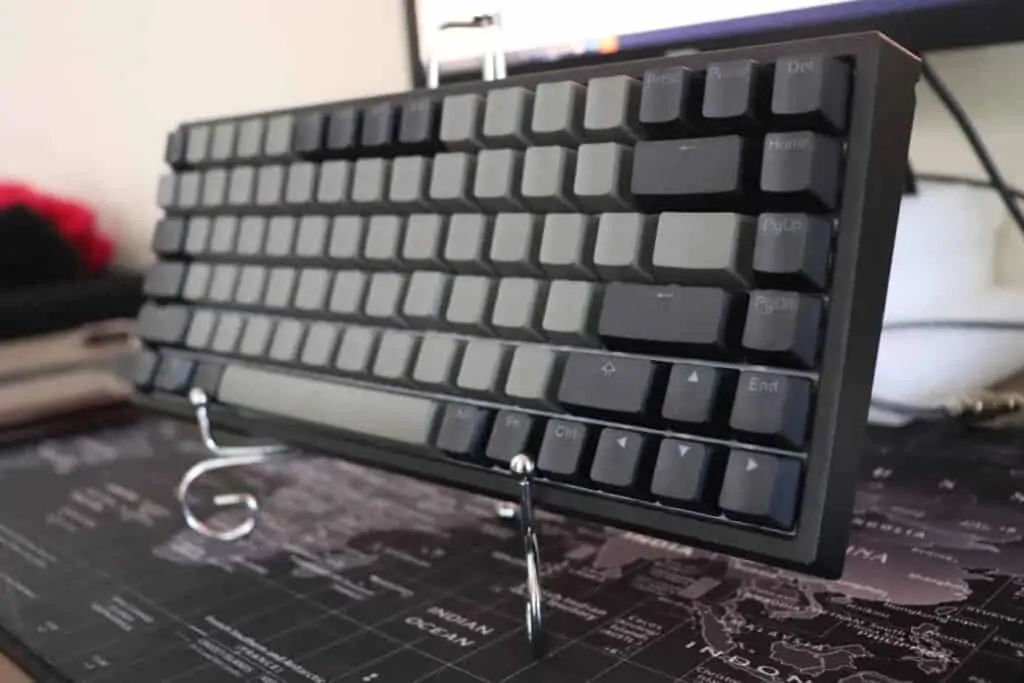 The EP84 is a 75% layout hot-swappable keyboard that is one of our favorite Epomaker offerings so far.
This layout packs the functionality of a TKL into a more compact and efficient footprint.
The case provides a slight angle that can be further adjusted with the kickstands on the bottom.
You get your choice of Gateron Red, Blue, Brown, and Black switches, but thanks to the hotswappable PCB, you can swap them out with any Cherry-style switch of your choosing with the help of a switch puller.
The EP84 is loaded with backlit double-shot PBT keycaps that are roughly 1.2mm thick.
The retail listings say these keycaps are dye-sublimated, but the shine-through legends are more similar to double-shot PBT. Mac modifier caps are included in case you need Mac compatibility.
The stabilizers come pre-lubricated from the factory, but can be further improved easily with lubing, clipping, and band-aid modding.
One of the benefits of having hotswap board is being able to unplug and lube your switches. The EP84 supports 5-pin hotswap for full compatibility with Cherry-style switches.
The LED's are North-facing on the board, so you may encounter bottom-out interference and incompatibility with Cherry-profile keycaps that are thicker than 1.5mm in thickness.
The recessed port limits cable compatibility but allows you to route and manage your cable as you see fit.
The top function row is placed on the same height as the number row, so you may feel the edges of the number row keys more than usual when using the function row.
As far as software, as this shares much of the same parts as the Keycool KC84, you can also use the KC84 software to program the board should you need additional functionality. It is not the best solution, but one that works.
A 75% layout is a great option that mixes efficiency and productivity for fans of the TKL.

While there aren't many 75% options available, the Epomaker EP84 is one the best choices for anyone looking for an affordable hot-swap 75% keyboard.
6. Mistel X-VIII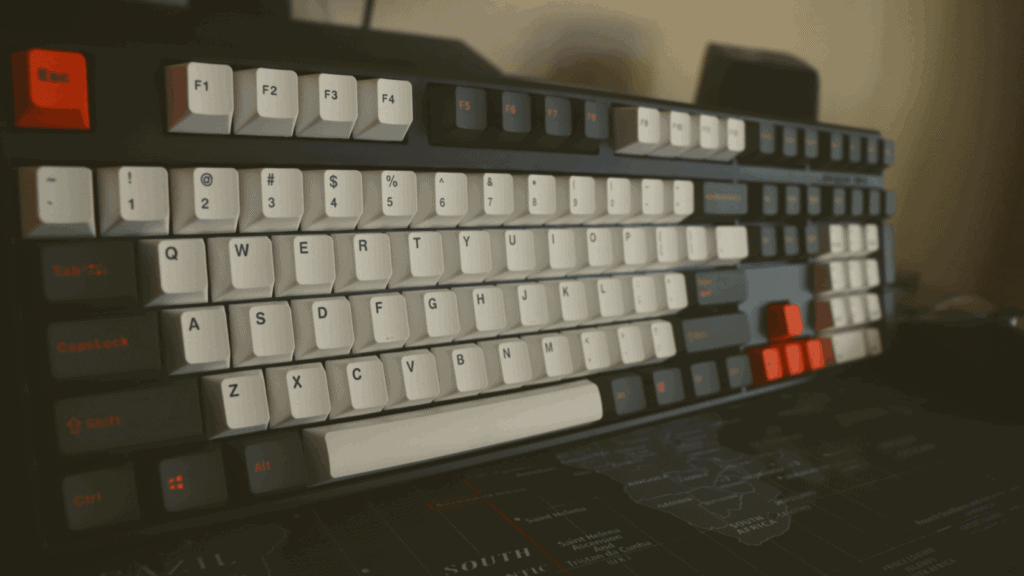 The Mistel X-VIII is a fun fullsize keyboard from a company well known for its quality split keyboards.
The high profile case is an all-plastic build but is quite heavy and feels quite sturdy.
There are two sets of adjustable feet, and similar to the EpomakerEP84 above, the USB port is recessed to allow for cable routing.
Mistel also includes a few fun extras like a grenade-shaped keychain, novelty keycaps, a dedicated dust cover, and a keycap puller reminiscent of hunting gear.
You get a choice of Cherry MX Blue and Brown switches, so this keyboard seems to geared towards writers, general use, and anyone who might need tactile feedback.
The stabilizers feel like butter. They are pre-lubed well from the factory, and are nice and thocky.
The quality double-shot PBT keycaps are smooth but not slick like some laser-engraved ABS sets can be, and the legends won't fade over time because the cap and the legend are both cast in plastic.
A welcome feature on the Mistel X-VIII is the inclusion of dedicated volume shortcuts above the numpad, as well as a key to launch your calculator app.
DIP switches are located on the bottom of the keyboard. These 4 toggle switches allow you to switch between layouts pre-programmed on the board.
Switch 1 toggles the Mac layout.
Switch 2 changes the position of the Caps Lock and Left Ctrl keys.
Switch 3 toggles on Macro Mode.
Switch 4 changes position of the Caps Lock and Fn keys.
The X-VIII itself is fully programmable and remappable and supports up to 3 layers. This gives you massive freedom in customization for gaming, fx/content creation, and productivity.
Mistel may not be a household name yet, but they offer a well-built keyboard that soars above the rest and is ready to take the competition head-on.
The X-VIII is ideal if you're looking for a well-built fullsize keyboard with quality you can feel.
7. Razer Huntsman Mini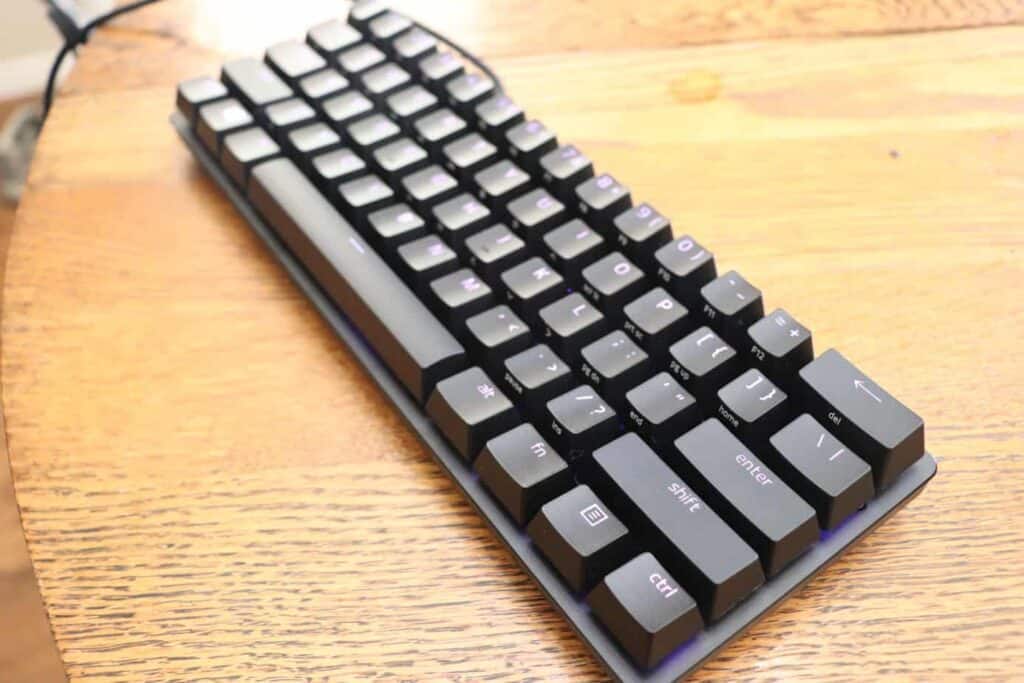 Razer Hunstman Mini is a compact 60% standard layout from Razer.
It's equipped with Razer's own optical switches, clicky purple and linear red, which are much faster but have noticeably more rattle than normal mechanical switches and even competing optical switches.
The case is made of aluminum and the build quality is good for a 60% keyboard. The Type-C port is recessed, and the supplied cable slides on guide rails to plug into the port. It is incompatible with some cables with thicker housings.
The keycaps are doubleshot PBT keycaps which are actually of fairly good quality and show off the brilliant RGB.
The legends on the modifiers are in all lower-case, while the alphas are all caps. It is a youthful and fun aesthetic that is an improvement on the typical "gamer" font, but may clash with each other and seems a bit contrived.
The stabilizers are proprietary stabilizers, which also means the stabilized keycaps are proprietary.
Rather than being Cherry-style stems, the keycaps snap directly onto the stabilizer wire.
Synapse software is also a bit bloated and is not the most pleasant experience to use.
If you are used to Razer products and want to match the rest of your peripherals, or a gamer looking for a board with super fast, short-travel switches that have a long lifetime and long warranty, then this may be the gaming keyboard for you.
---
Honorable Mention: The GMMK and White Ice Edition
Glorious PC Gaming Race is a brand you may have been hearing of more and more lately with its keyboards, mice, and controversial tactile switches.
They are a brand that is shaking up the industry by challenging the high price point and difficult accessibility of group buys.
The GMMK line of keyboards is no different, with Glorious offering options in 60%, TKL, and Fullsize versions, all of which are standard layouts with aluminum plates, low-profile design, and hotswap sockets.
They are offered in prebuilt and kit options, including barebones.
The USB-C port is centrally placed, but lies flush with the back of the case, giving it full compatibility with any type-C cable you throw its way.
The White Ice Edition brings detachable USB-C cables to the 60% and TKL boards out-of-the-box.
While this colorway only comes in a pre-built option with Gateron Browns and ABS Keycaps, 3-pin hotswap gives you the option to switch them out for a number of other options like the new Glorious Panda and a set of PBT keycaps.
Glorious also offers Gateron and Kailh switches in packs of 110.
While the black GMMK keyboards were previously only offered with mini-USB, Glorious will be rolling out updates on all boards, including detachable USB-C and pre-lubed stabilizers. Watch out for these updates soon.
You can watch Betty's full review of the mini-USB equipped GMMK 60% here.

GMMK White Ice is available directly from Glorious PC Gaming Race.

---
Benefits of a USB-C Cable
Having a detachable USB-C cable brings with it a host of added conveniences that should be standard on peripherals.
Portability
One of the most obvious benefits is the added portability of the keyboard.
If you need to bring your keyboard anywhere, having an attached cable means one more added point of stress that could fail.
It forces you to store your keyboard a certain way to avoid harming the cable. Leave the days of wrapping your cable around the keyboard behind.

Carrying Cases
If you're interested in purchasing a dedicated keyboard carrying case, chances are it will be one with a rectangular molded tray that does not account for an attached cable.
This includes most sleeve and clamshell style cases .

Universal Standard
Type C cables have become a universal standard among not only peripherals like keyboards and mice, but as charging cords and device cables for phones, laptops, and all manner of electronics.
Convenience here means being able to use minimal cables for multiple devices, and if your keyboard cable ever stops working, it is nice to know you likely have several more compatible cables laying around.

No Incorrect Position
One annoying feature of micro and mini USB connectors is that they have a correct positioning for the cable to fit into the plug.
While not quite as annoying as the USB-A "superposition" that seems to display properties of quantum physics, having a single orientation for the plug is tedious compared to the symmetrical shape of the type C plug.
You won't have to worry about your cable not being able to lay flat or getting kinks in the wires. Upside-down? Right-side-up? It's all the same to the type-C plug.

Magnetic USB-C Plugs
One of the cooler features of USB-C is the magnetic plug.
You can now purchase cables that plug into the type-C port like any normal cable, but features a magnetic detachment point that makes it similar to an Apple Magsafe design.
You won't have to worry about carefully attaching and unplugging a cable, rather it just snaps into place and adds longevity to the port.
If you thought aviator connectors were convenient, wait until you try magnets. You can check these out on Amazon.

Custom USB-C Cables
A growing and popular trend in the keyboard world is the "custom" cable.
Often times they are of higher quality materials and feature not only a braided paracord sleeving, but a PET plastic mesh sleeving as well that creates a pleasing premium aesthetic.
The cables may also come coiled and with metal "aviator" style connectors that allow you to have a more modular cable option. Some even glow in the dark.
They aren't usually offered with pre-built keyboards, but there are a few places where you can find them, and brands that you can look out for.

Where To Find Custom USB-C Cables?
It's a growing world of cable makers and suppliers out there, so here's a list of options you can trust:
Tez Cables – Quality cables for an affordable price. They are braided and coiled Aviator cables with plastic sleeving, and come in several common colorways to match your keyboard. Be aware that the cable may be too long to power some keyboards like Drop and HHKB. While they are also available on Amazon for a decent price, you can find them directly on Tezcables.com
Kraken Cables – A popular choice for custom aviator cables, these are straight, uncoiled aviator cables that come in 10 colors. Instead of plastic sleeving, the plugs are heat-shrinked, and should have improved compatibility with most keyboards. Release the Kraken at KrakenKeyboards.com or on Amazon for a good price.
Asceny Cables – Affordable double sleeved coiled cables and aviator cables. Avaiable in 4 colors. The plastic plug housing may be a bit thick for some recessed ports. The aviator cables come with artisan animal plug covers which add a cute personal flair. Ascend with affordable coiled cables on Amazon.
Spacecables – A more exclusive option, Space-cables are made to order, with windows of availability once per month. These custom sales windows are announced on their Discord server, and the website lists any group buys which may be available. Discover the final frontier at SpaceCables.net
Jujucables – based in Australia, Jujucables provides many different options from fully custom coiled and straight cables, as well as DIY kits and unique colorways. Juju also has helpful tutorials regarding how to make your own cables. Become one with Juju at Jujucables.com
Thok Artisan Cables – A premium option from a cable and keycap artisan, these cables are made to order and come in both coiled and straight cable varieties, and option for black connectors instead of the standard silver. Thock on at Thok.click
Noble Cables – An enthusiastic member of the reddit mechanical keyboard community, this Las Vegas based cablemaker gained momentum fast and offers an affordable, fully custom artisan cables with multiple options that rival its more expensive competitors. Claim your nobility at NobleCables.com
---
Conclusion
If you're in the market for a new keyboard with a USB-C cable, you may have to sift through dozens of options.

We tried to choose a variety of different layouts and feature sets to match a number of preferences.

We hope these choices helped with making a decision, and finding a keyboard that is right for you.

May your cables be coiled and your thocks extra buttery.