The Epomaker GK68X mechanical keyboard is a unique 65% layout that offers you the opportunity to separate the single space bar button into three distinct buttons instead.
This keyboard came into Kickstarter in early spring of 2020 with many backers for its unique layout and design. In this review, we'll be looking at the wired version with a split space bar, hot-swappability, and Gateron black switches.
The Verdict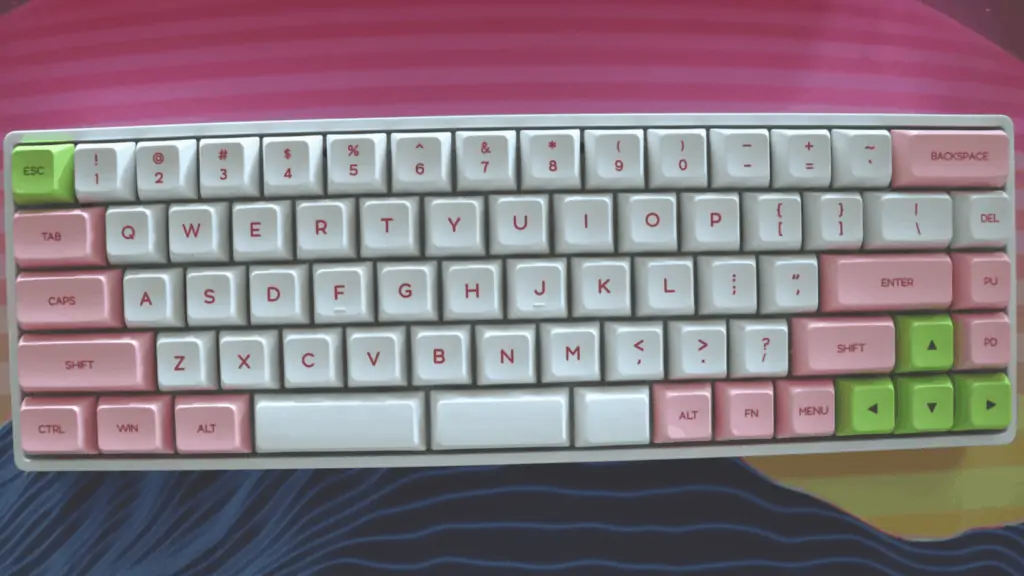 The Epomaker GK68X is a 65% layout for people who want a compact design to their keyboard without sacrificing a lot of the function such as arrow keys, navigational keys, and more.
It is not for people who are stuck in their ways and unwilling to try new layouts and new product designs.
The GK68X definitely has its ups and downs, but it is really fun to use and type on.
On top of that, it's also a budget-friendly mechanical keyboard that looks great, sounds great, and feels great.
You can check it out on Epomaker for an affordable price as well as check out the other options such as the wireless version or the version with a full CNC aluminum case.
This product will be available on Amazon soon, but you can check it out on the Epomaker website here.
---
In The Box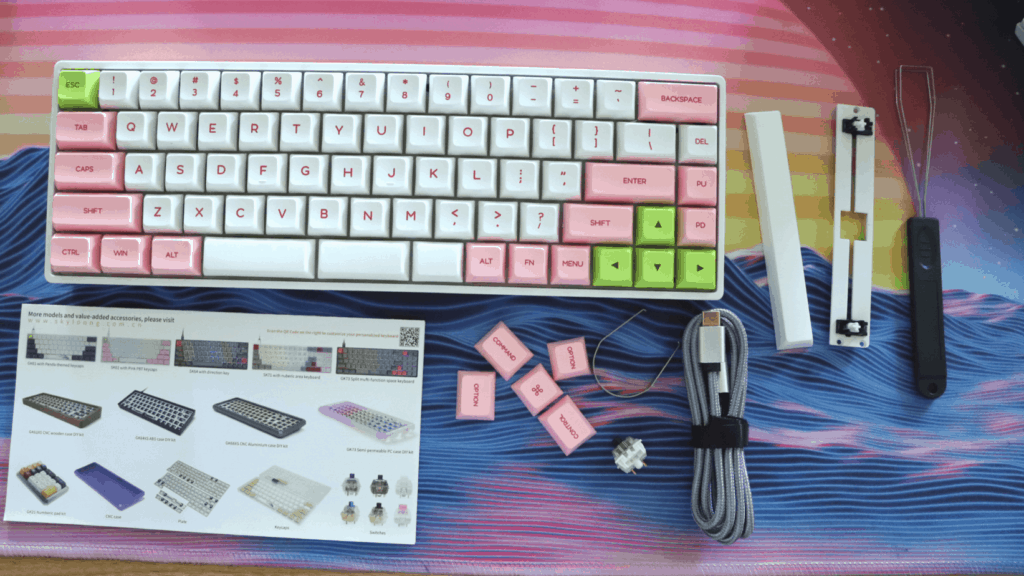 Inside the box, there are a lot of different parts.
Upon opening, you will receive the following parts:
Keyboard: The keyboard is a 65% mechanical keyboard with PBT keycaps installed and the switch of your choice.
Spacebar module: This can be swapped with the big space bar to allow more buttons and function for your thumbs. It is installed via three small screws that are found on the board itself.
Additional 3 switches: These switches will match the switches you chose and will be used for the additional spacebar buttons.
Wire keycap puller: This keycap puller won't scratch any of your keycaps and is easy to use. We prefer wire keycap pullers to plastic ones because of this.
Additional space bar keycaps: These keycaps will come in the original color of your keyboard (either white or light grey) to fit the additional spacebar keys.
Additional Mac compatible keycaps: There are 5 additional keycaps for Mac: Command, Option, Control, and the Mac symbol key. The Mac keycaps are in the accent color of the board.
Detachable braided USB-C cable: This cable is exceptionally well built and looks very nice.
Switch puller: The keyboard is hot-swappable and will require a switch puller. However, this puller is large and hard to use. We recommend using this switch puller for better ergonomics.
Manual: The manual will explain all of the secondary functions, show you where to download the software, and tell you how to change RGB effects. Make sure you read the manual.
That's a lot of extra things inside the box than other keyboards we review. But this keyboard does require a lot of different parts due to its vast quantity of features.
---
Build Quality
The build quality of this keyboard is similar to the other Epomaker keyboards, such as the SK64 and the SK61 that we reviewed previously.
Simple No-Frills Case
The case is entirely made out of plastic with an aluminum plate to mount the switches. Additionally, there are no adjustable kickstands on the back of the board.
Depending on the color you choose, the outside case will either be black or white.
However, it is already at a slight incline which is comfortable for your hands and fingers. It would have been nice to see some adjustable feet though.
Epomaker does sell this keyboard with a CNC aluminum case. However, the price is much higher, and it still doesn't have any adjustable kickstands.
High-Quality USB-C Cable
The USB-C cable of this board is impressive, similar to the other Epomaker boards with the GK or SK name in them as well.
It is a braided silver cable with metallic silver plastic accents on each end of the cable. Additionally, it is a very long and will reach your PC to your keyboard.
If you bought the version that is GK68XS, then it also has Bluetooth features that can connect up to 3 keyboards. Keep in mind that the GK68X does not have wireless.
The Keycaps
The keycaps of the GK68X and GK68XS are made out of PBT plastic. They are GSA-profile, which is a mix between DSA and XDA keycaps.
The keycaps are uniform with dye-sublimated legends on top. They are not shine through or doubleshot keycaps.
The dye-sublimated PBT keycaps are durable and slightly textured at the top. They are oil-resistant and will not fade or wear off over time.
Some interesting aspects to note are that all of the keys are slightly concave to hug your fingertips as you type and feel for each individual keycap.
However, the spacebar and additional spacebar keys are convex and curve outwards. This looks a bit odd at first because it seems as it the spacebar keycap doesn't belong into this keycap set.
If you've never typed on a uniform keycap set before, it may be hard to get used to at first because there is no distinguishing feel between one row versus the next.
With the additional space bar keycaps, it will be hard to find a replacement keycap set for this keyboard at an affordable price.
It is possible to find replacements such as GMK, ePBT, and other group buy keycap sets. You will have to invest in the additional spacebars kit as well as the base kit, which definitely adds up.
The Stabilizers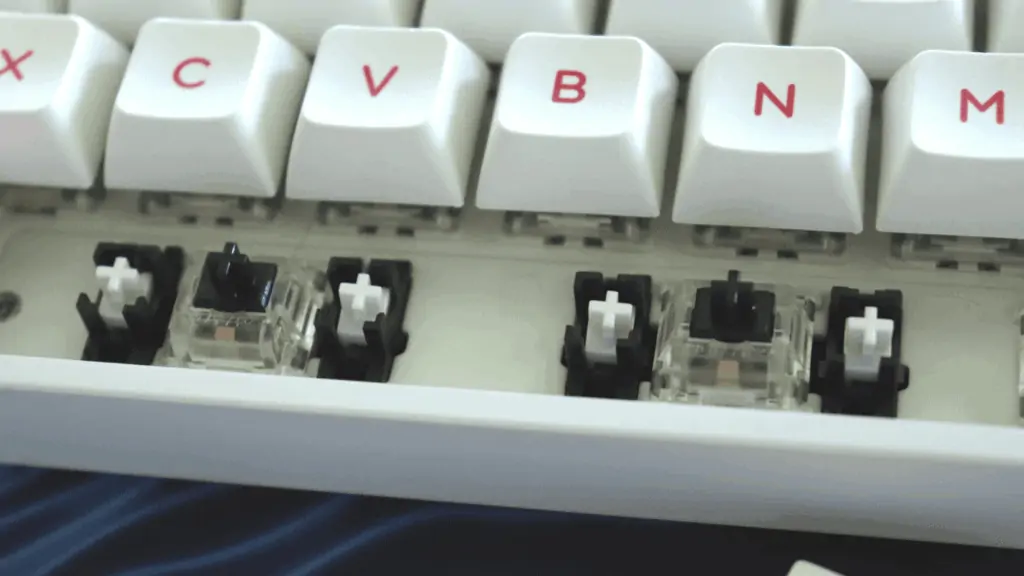 The stabilizers on the GK68X and GK68XS are plate-mounted, Cherry-style stabilizers. And they do come pre-lubed from the factory.
At first glance, they sound and feel great. The only key that has some rattle is the large spacebar. However, if you switch to the 3-key spacebar module, everything sounds and feels more uniform.
In total, the keyboard has 5 2u stabilizers and 1 6.25u stabilizer to account for every large key.
The spacebar module comes with 2 stabilizers pre-installed. Because the keyboard is hot-swappable, we recommend re-lubing and clipping the stabilizers for better feel.
They are cool looking, The stabilizer housings are black, and the stems are white for a high-contrast look.
The sound on these stabilizers, compared to Epomaker's other boards, is better and less hollow with less rattle as well.
With some elbow grease on your end, there is no doubt this keyboard can feel and sound extremely premium for a budget-cost.
The Switches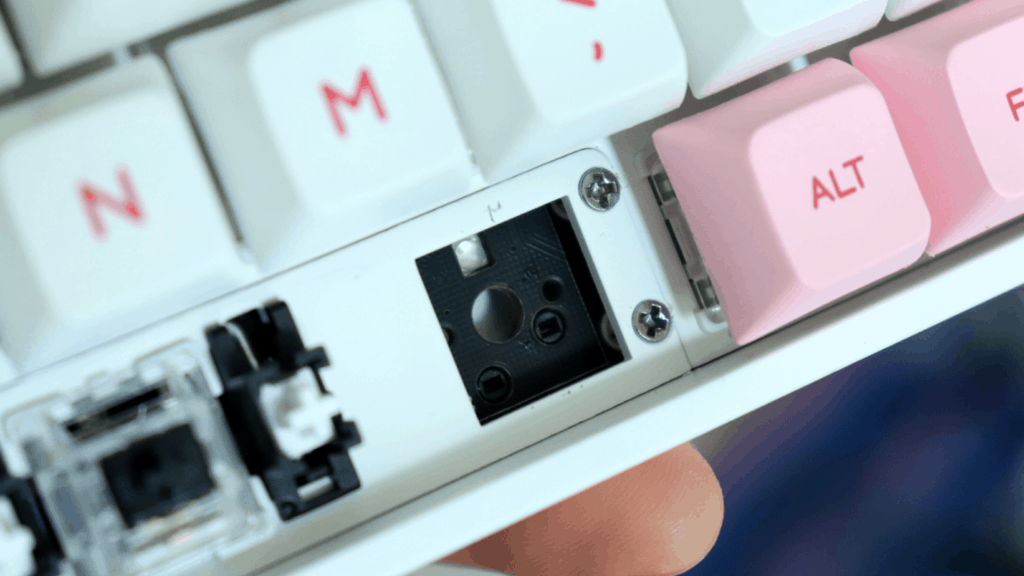 The GK68X and GK68XS comes with many switch options. These include:
Gateron Black
Gateron Blue
Gateron Red
Gateron Brown
Cherry Brown
Cherry Red
Cherry Blue
If you do pick the Cherry switches, there is an additional $14 upcharge. The switch choices will depend on your preferences, but we picked the Gateron Black switches, which are a heavy linear switch.
The Gateron switches are a 3-pin mechanical switch, although the hot-swappable sockets are 5-pin sockets.
The 5-pin hot-swappable sockets can fit most, if not all, mechanical switches such as Kailh, Cherry MX, ZealPC, Gateron, Novelkeys, and more.
Since the keyboard is hot-swappable, it is recommended to lube the switches to reduce additional noise such as spring ping and to improve the feel to be buttery smooth.
If you're interested in lubing your keyboard, see our full how to lube your switches guide with step-by-step descriptions and photos.
The Layout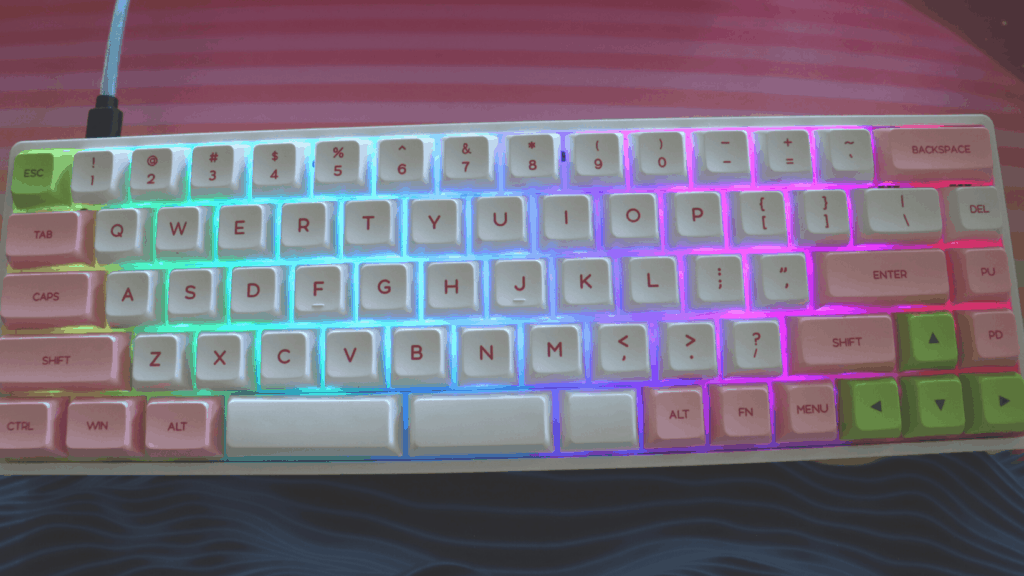 The GK68X and GK68XS are both 65% layouts, but they're different than other 65% keyboards that we've seen.
On typically compact keyboards, the tilde key will be programmed into the secondary layer of the Escape key. On this board, they've made a dedicated tilde key and moved it to the right of the top row (where the backspace used to be).
This causes the backspace to move to the right of the new location of the tilde.
On the right hand column are the keys delete, PgUp, PgDn, and down arrow. Overall, it's not a hard layout to get used to, especially if you remap the pipe key or the tilde key to be backspace as well.
Now to the cool stuff! The spacebar module can fit three keys. Depending on whether you use space with your left or right hand, one of the larger keys can be programmed to be space.
Personally, I use space with my left hand. Then the other large key can be anything you want, I'm currently using it as another shift key rather than reaching my fingers for left or right shift.
It could also be backspace if that location is better. No matter what you program them to be, it will take some time to get used to.
There is also another small key, this one isn't used as often as the two large ones. I've programmed mine to be another Ctrl key. It can be useful sometimes.
The layout of this keyboard can take some time to learn and use, but the additional keys make it really convenient and ergonomic to not spread your hands too far to reach for often-used keys such as Ctrl and Shift.
The Additional Features
The GK68X and GK68XS are Mac and Windows compatible. The software works with both operating systems as well.
The additional Mac keys are very convenient for people who don't want to be looking at Windows keys all day too.
Another feature is that there are four different layers to choose from to use. The standard layer, which is the default, cannot be edited through the software.
However, the other three layers can be remapped however you want. You can also remap the secondary layers. These different layers can be accessed with FN and Q/W/E/R.
Windows Lock is available with FN and the Windows key. This is useful when gaming to make sure you don't accidentally exit the gaming window somehow.
---
Conclusion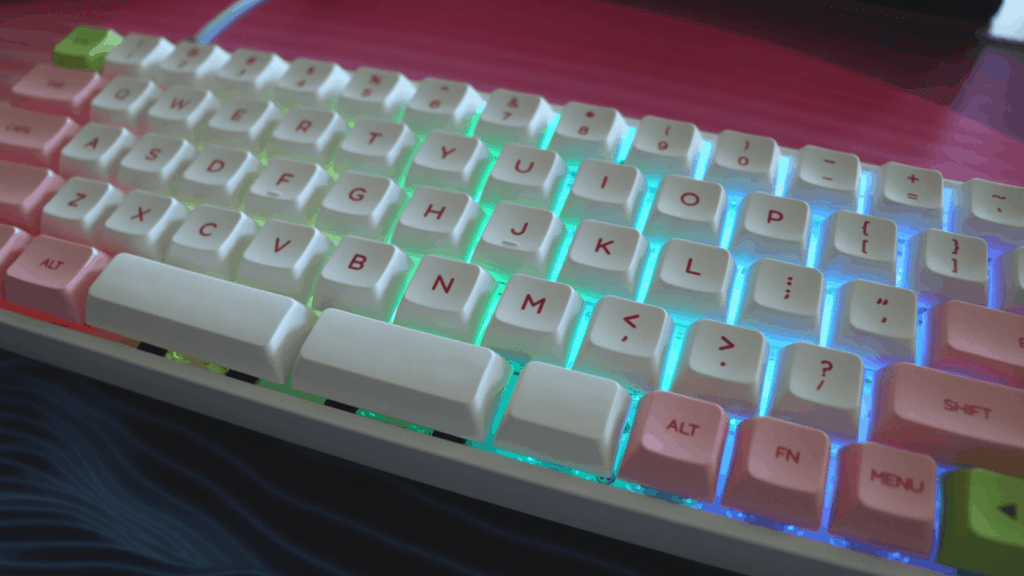 The GK68X is a very unique and affordable mechanical keyboard. It sits under $100 and it's hot-swappable, has PBT keycaps, an additional modifiable three-button spacebar module, detachable USB-C cable, Mac and Windows compatibility, RGB lighting, software, and more.
It's hard to pass something like this up. However, there are definitely some downsides to this board as well such as the layout and uniform keycaps. With the software, it is possible to fix the layout problems. And keycaps can always be changed.
If you are interested in checking out the keyboard, check out the Epomaker website here.