The Razer Huntsman Mini is a brand new 60% mechanical keyboard geared towards gamers.
This marks the first time that a PC peripheral company such as Razer, Logitech, or Corsair has created a compact mechanical keyboard by branching out to a 60% layout. 
We purchased this product in black with the Razer optical purple clicky switches to test it out and see if it is a good mechanical keyboard to use for gaming.
For people who have trouble finding mechanical keyboards in stock, this mechanical keyboard is a great option to look at and consider. You can find the Razer Huntsman on Amazon for a competitive price.
Overview of the Razer Huntsman Mini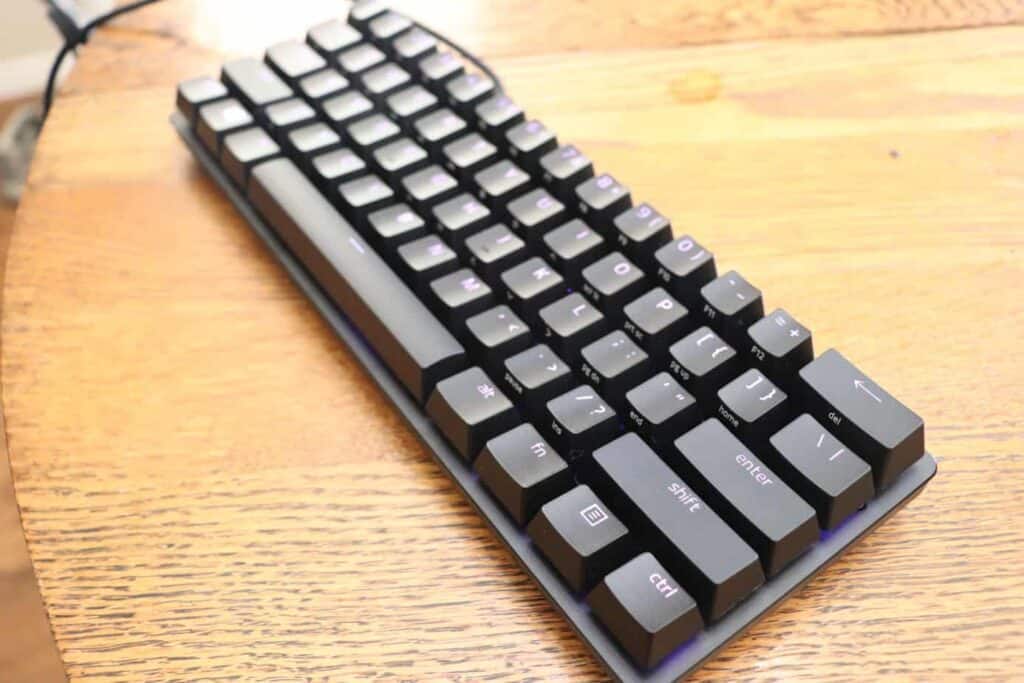 This mechanical keyboard is a 60% compact size with proprietary Razer optical switches. It has all of the features of the Razer Huntsman TE, except in a more compact size. 
The Huntsman Mini is the first of its kind, the first big brand 60% mechanical keyboard. Within the mechanical keyboard enthusiast community, there exists many 60% keyboards such as the well-known Ducky One 2 Mini, Anne Pro 2, and Vortex Pok3r, all popularized through professional gamers.
The Huntsman Mini was released recently in July 2020 and has many of the features of these other well-known boards but also has the reputation and support from a bigger company.
Razer claims that the Huntsman Mini will be perfect for anyone with a clean gaming setup or wants to take their mechanical keyboard to different places such as tournaments by being portable. 
The Razer Huntsman Mini is perfect if you are looking for a compact mechanical keyboard that has well-supported software, highly responsive switches, and a high-quality overall build to last through countless years of gaming and typing.
Pros:
Compact layout without sacrificing the function – all can be accessed through layers or customized via Razer Synapse software
Variety of different optical switches to pick from: linear, silent linear, clicky
Durable keycaps with a clean font and great shine-through for RGB lighting
Standard 60% layout allows you to put any standard custom keycap set on it
Detachable USB-C cable lets you mix with custom cables and carry it around without wires everywhere
Cons:
Hefty price tag compared to its competitors
Razer Synapse software is a big download and only compatible with Windows operating systems
Loud and rattly stabilizers on the bigger keys makes it hard to be around other people when in use
Primarily plastic build, which lacks sturdiness and heft
Thin metal top plate, which looks flimsy at a first glance
Floating keycap design lets dust accumulate under the keys faster.
What Makes the Razer Huntsman Mini Special?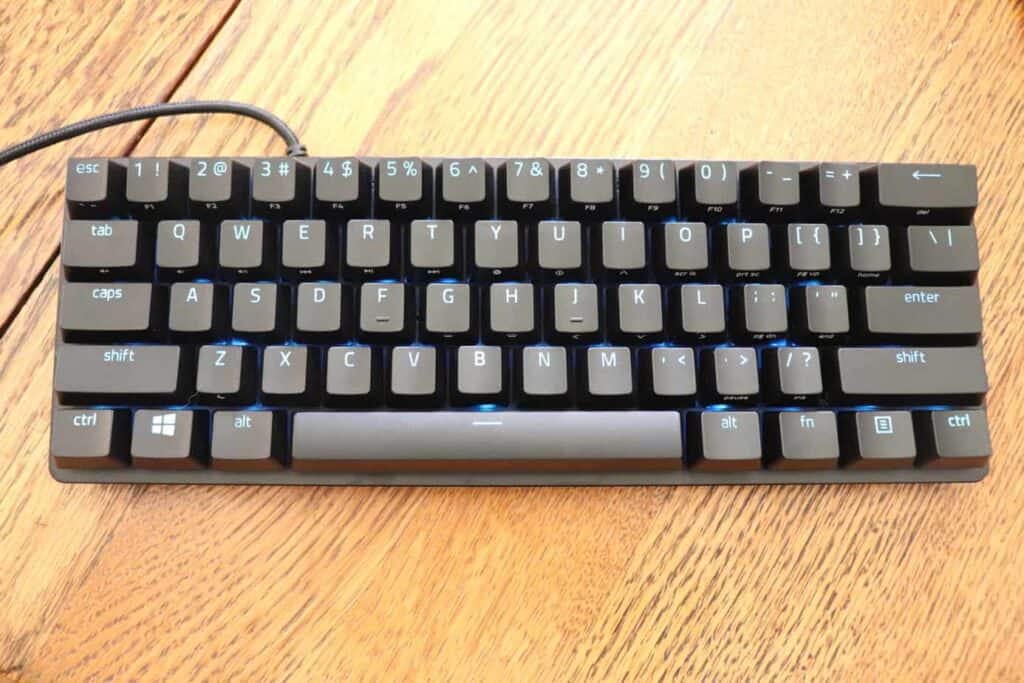 Let's take a quick look at what sets this keyboard apart from the competition.
Compact Form Factor
The Mini has a 60% layout. This allows you to have more room to move your mouse when going against enemies in competitive situations in-game. It also lets you have a very clean desk setup with less clutter.
The downside of a 60% layout is having to use the secondary layer to access arrow keys, the function row, and other functions that would typically be available on a tenkeyless mechanical keyboard, a keyboard without the number pad. 
However, after getting used to the layout and memorizing more commonly used functions such as delete and arrow keys, the Huntsman Mini does not leave anything out.
It is possible to edit videos from start to finish as well as write complete articles all on this keyboard. For gaming, it may be difficult with games such as Fortnite where the Function row buttons are required to build walls quickly when facing off your opponents.
If you do need the function row, dedicated arrow keys, and dedicated navigational keys, then the big brother of the Huntsman Mini, the Huntsman TE (Tournament Edition) may be more beneficial for you.
Optical Switches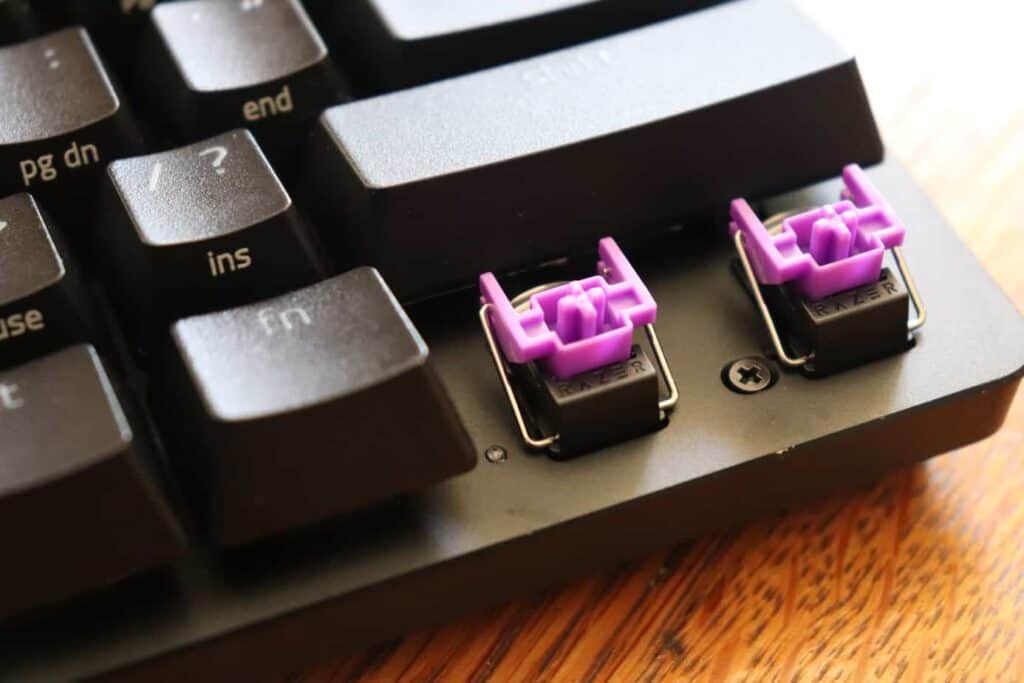 Razer has designed and created special optical switches specifically geared towards gamers, who are in dire need to have fast reaction and response times.
These Razer optical switches actuate via light. When you press down on a switch, part of the switch then blocks an infrared light within the keyboard. That tells the computer that a specific key was pressed.
We don't believe in the hype behind optical switches, it doesn't improve gameplay much and is generally just marketing done by keyboard companies.
Razer current offers two different optical switches: Optical Red and Optical Purple.
Optical Red is a linear switch. It actuates within 1.0mm (the shortest distance out of all switches out there from our experience) and with 40g of force. This makes them lightweight and reduces finger fatigue over long typing/gaming sessions.
Optical Purple is a clicky and tactile switch. It actuates within 1.5mm with a force of 45g. Overall, this switch is slightly heavier and needs a bit more distance to actuate. For people who need accuracy and a tactile bump while using their keyboards, this one is the one to pick.
The downside to the Optical Purple is that it is quite loud and is inappropriate to bring to an office or even to stream/record videos with because the microphone will pick up these sounds quite easily.
Razer also has their Optical Silent Reds, that have silent pads attached to their stems to reduce the sounds of bottoming-out (when the bottom of the switch hits the PCB). For those who have used Razer's Optical Red but did not like how noisy it was, then this switch would be the one to pick.
Overall, Razer's switches prompte fast response time and might be good for competitive gamers or those looking to have a slight edge over their opponents, even in a casual environment.
The Stabilizers: Rattle Rattle Rattle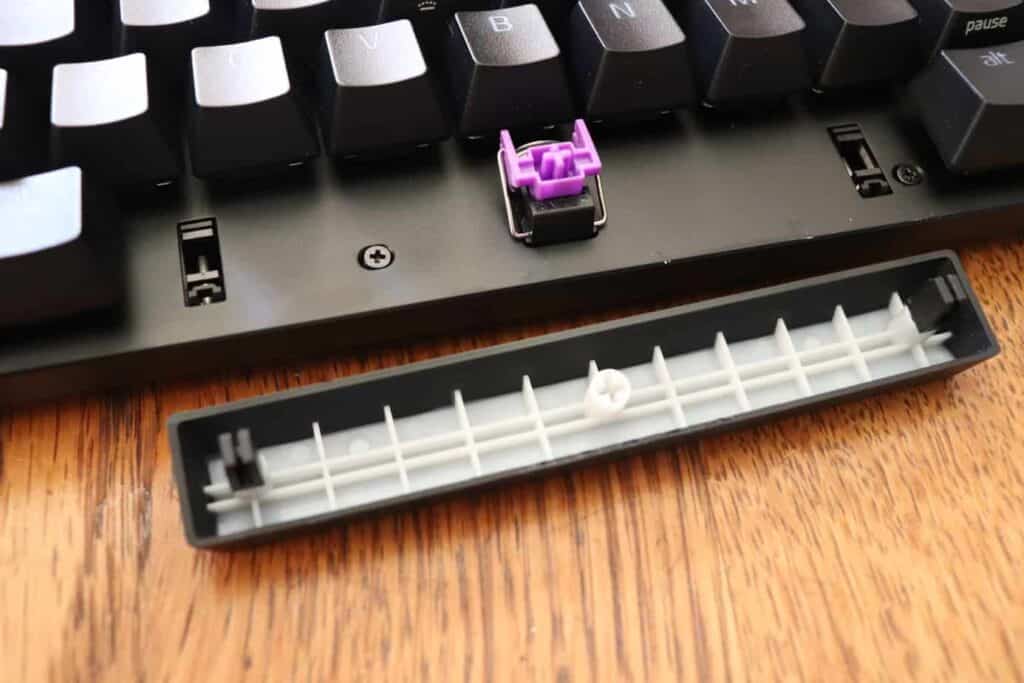 Razer uses their proprietary stabilizers, which clip onto the wire within the keyboard. These are not like Cherry-style stabilizers at all, and they cannot be modified to sound better.
With the Optical Purples, a keyboard that is already loud, it is hard to notice the loudness of the stabilizers in comparison.
However, with the Optical Reds and Silent Reds, the extra sound from the stabilizers is apparent and hard to ignore. For gamers who have their headsets on their heads while playing games or listening to music, this won't be a major problem.
For streamers, these sounds will be sub-optimal for your audience unless there are noise reduction softwares active or noise gates in place to reduce extraneous sounds.
Razer Synapse
The Razer Synapse software is only compatible on Windows 7+ operating systems. Unfortunately, if you're on a Mac, you won't be able to use all of the features of this keyboard.
However, this keyboard is still compatible with a Mac. It is possible to access the keyboard shortcuts via pressing Win + other keys to create key combinations. The downside is that you will only be able to use the lighting effects already preset on the board itself. And you won't be able to create custom macros.
With that being said, if you have a Windows 7+ PC, the Razer Synapse prompt to download opens up as soon as you plug this keyboard into your computer. It is a hefty download at around 350MB.
After that the software is quite intuitive and easy to use to customize the colors and macros. It's recommended that you go into settings and stop Razer Synapse from opening on startup every time you turn your PC back on.
It's also possible to save the macros onto the keyboard itself due to its onboard memory, and then delete the software forever.
However, if you want to use the custom lighting software, you have to have Razer Synapse open. This means you can't take it to a friend's house and expect to use the colors you made.
Compatible with PS4 and Xbox One
The Razer Huntsman Mini supports Microsoft functionality, so it should be compatible with the Xbox One. In addition, the TKL Razer Huntsman is compatible with both consoles, so it should be safe to assume the Huntsman Mini will work with PS4 and Xbox One.
Secondary Layer
When using any 60% keyboard, there are secondary functions. Some keyboards print those functions on the legends itself.
The Huntsman Mini has these legends side-printed on the keycaps, which makes it very easy to see when using it. The placements of the functions make sense, such as having number 1-0 being F1-F10.
And having the arrows be FN + I/J/K/L and delete as FN+backspace. Other keyboards have their arrows on the bottom right modifier keys and then delete on either semicolon or right bracket.
The secondary layer also has media functions on the QWERTY row, letting you quickly change volume, pause/play your music, and skip tracks.
Another convenient feature that Razer put into this keyboard is that when the FN key is pressed, all of the other keys that can be pressed with it light up in white. This lets you decide what to press quicker without having to think too hard.
Doubleshot PBT Keycaps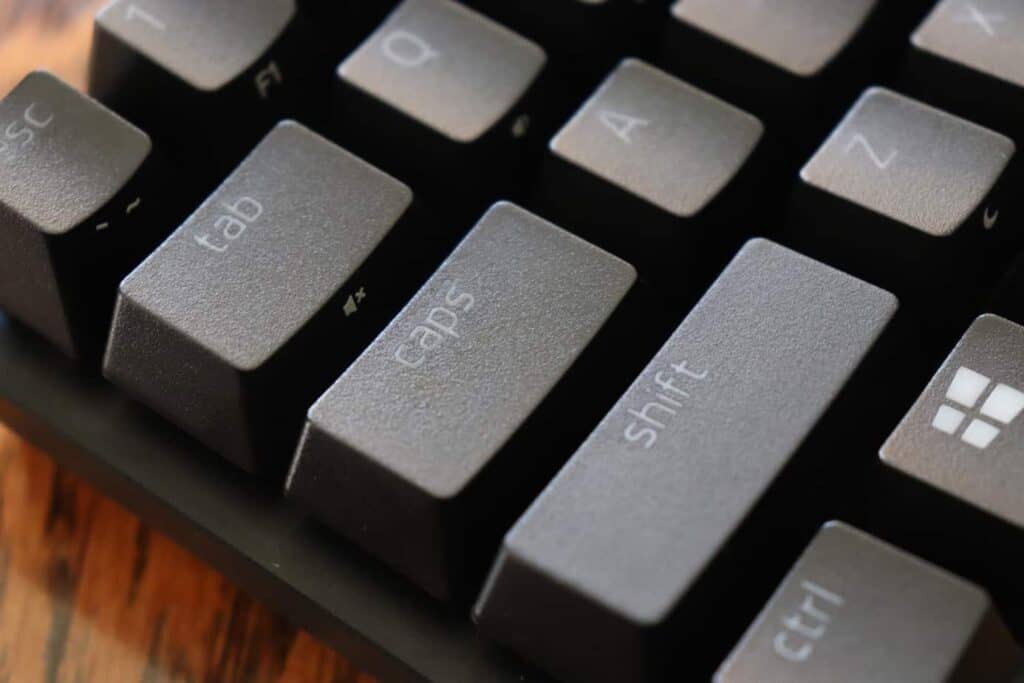 Compared to Razer's previous thin ABS plastic keycaps, Razer has upgraded their Huntsman lineup with doubleshot PBT keycaps. This is a rougher plastic that lasts longer and doesn't shine as quick as ABS plastic.
Being doubleshot allows the legends (letters or symbols on the keycaps) to last much longer because it is another layer of plastic rather than being printed or engraved on.
These keycaps have a nice texture to them and don't feel smooth or oily at all after extended use. They are thick, and the shine through allows the RGB to shine through very nicely.
A downside if you do decide to change out the keycaps is that the secondary side-printed legends will be lost. Razer does sell their PBT keycaps in different colors: black, white, pink, and greek that can be mixed and matched with the original keycap sets for more flair.
Because of the standard layout, it is easy to replace all of the keycaps for a custom keycap set without worrying about keycap size compatibility. The stems are regular cross-shaped stems, and are compatible with most keycap sets.
Onboard Memory and Lighting Presets
Having onboard memory on a keyboard is very convenient because after customizing the macros, it is possible to close/delete the software and move on. The settings will be saved on the keyboard itself.
Without the software, it is possible to switch via different lighting presents, which is convenient. On the Razer Huntsman TE, it was stuck in a rainbow breathing without using Synapse to change it.
The different lighting effects can be switched via FN +CTRL + numbers 1-7.
1: Off
2: Static Razer Green, press again to cycle through colors for all of the single color options
3: Breathing Rainbow
4: Spectrum Cycling
5: Wave Rainbow
6: Reactive with Green
7: Starlight with Green
Many of the presets are only available with Razer Green. For more colors, you must use Razer Synapse.
Detachable Cable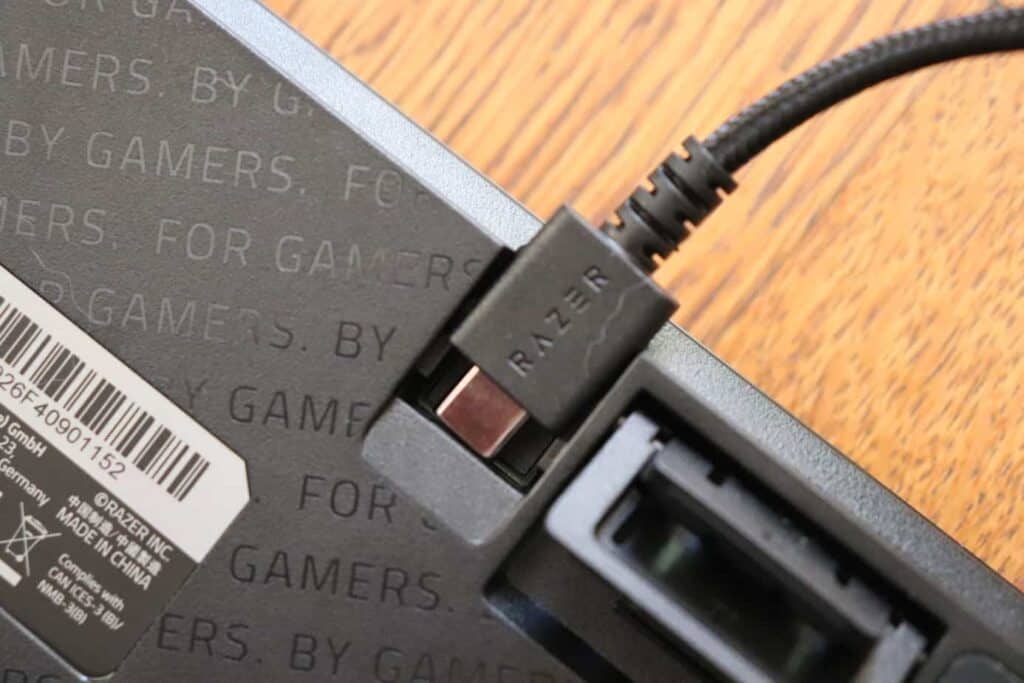 The USB-C cable is braided, which makes it more durable and less prone to breakage. The cable comes with caps for each end, but they are easy to lose once you actually use the cable.
By being detachable, the keyboard can be stored in compact places or thrown into a backpack without worrying that the cable will have a kink when you take it out.
It's also possible to customize it further with a custom coiled cable of any color and design you want. With the large hole that they made for the cable, other cables will fit into this keyboard with no problem.
Aluminum Construction and Frame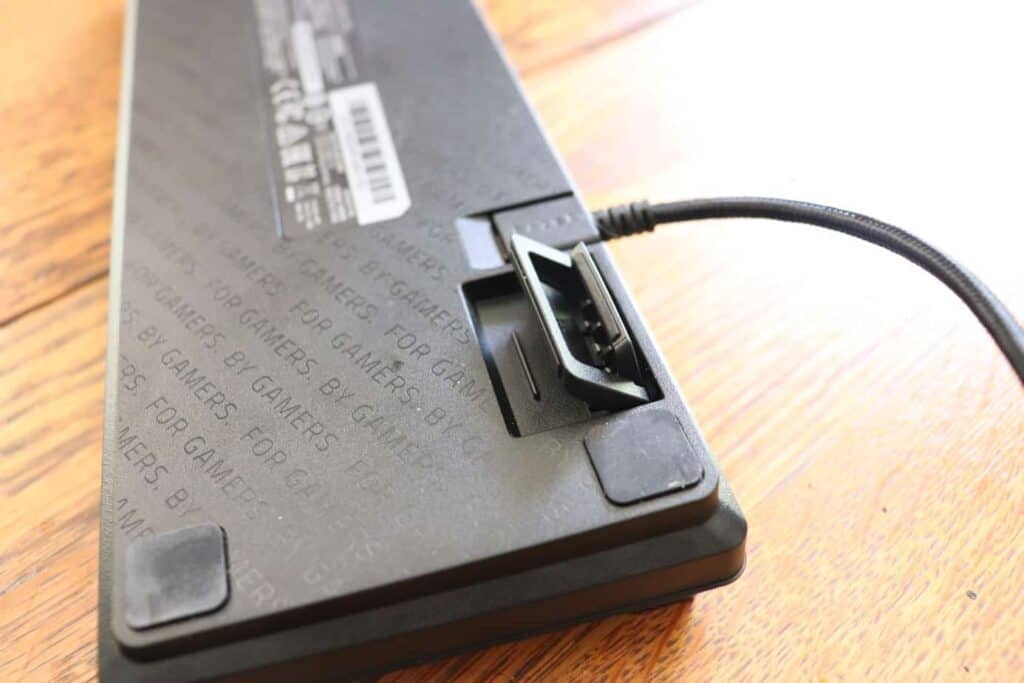 The top plate of the keyboard is aluminum. This prevents any creaking, bending, or flexing when you try to bend it. It also makes it more durable in case you accidentally drop it.
However, only the top plate is aluminum. The entire case bottom is made out of plastic. This could be a good thing because the keyboard is so lightweight but also sturdy. It could be a not-so-great thing because plastic tends to echo and be more flimsy looking.
The back has dual-angle adjustable kickstands if you do want to use it at a higher incline. The degrees offered at its base angle, 6 degrees, and 9 degrees. Without the kickstands, the keyboard already has a decent angle.
The OEM-profile keycaps also make it easy to move your fingers between keys without feeling uncomfortable.
What Keycaps Fit The Razer Huntsman Mini?
The Razer Huntsman Mini has a standard 60% layout with a standard bottom row. This means that most, if not all, keycap sets will be compatible for this keyboard. It has a standard cross-shaped stem on each switch, which makes it compatible with all mechanical keyboard keycaps.
What Are The Different Variations of the Razer Huntsman Mini?
The Razer Huntsman Mini comes in four variations. There are two colors to choose from: Mercury White or Black for the case and keycap color. Then there are two switch types for each case color: Optical Red or Optical Purple.
Razer's Response to Its Community
Razer has listened to its customers and is giving them what they asked for. Many people asked for a detachable USB-C cable, and Razer has provided it. Others have asked for thick PBT shine-through keycaps, and here they are. Standard layout? Check. Compact form factor? Yes.
After this, it wouldn't be surprising to see other large gaming companies design and manufacture their own compact mechanical keyboards as well and follow in Razer's footsteps.
Keyboards Similar to the Huntsman Mini
There are many other keyboards that are 60% and offer many of the same features as the Huntsman Mini at a similar price range.
The Ducky One 2 Mini is widely known among gamers. It has RGB lighting, a wide variety of switch options including Cherry MX switches, PBT keycaps, and a custom spacebar that has unique designs. The Ducky One 2 Mini also is slightly less expensive than the Huntsman Mini. 
An upgraded version of the Ducky One 2 Mini, the Ducky Mecha Mini has the same features except also has a full aluminum construction instead of being plastic. This keyboard is in the same price range as the Razer Huntsman Mini.
If you are looking for a compact keyboard with Bluetooth and hotswappability (the ability to change switches without desoldering and soldering), checkout the Kemove Snowfox or Shadow. It also has RGB, PBT keycaps, and a 60% layout. It has BT 5.1, which allows wireless connection to up to three devices.
For a much more budget-friendly option with hotswappability, look at the GMMK Compact (Glorious Modular Mechanical Keyboard). It has RGB, hot-swappable sockets, and a detachable cable. It's available as a barebones kit if you want to pick out your own switches and keycaps to go with it.
Things to Consider Before Buying a Mechanical Keyboard
Mechanical keyboards are typically geared towards gamers because of their noise and overall aesthetic with RGB lighting and gamer fonts on the keycaps. However, not all mechanical keyboards need to be loud, clicky, and brightly colored.
Before buying a mechanical keyboard, it is recommended to look at the mechanical keyboard layout, size, switches, and overall experience.
Switches
There are many different kinds of switches that can come in a mechanical keyboard. These switches come in three types: linear, clicky, or tactile.
The three main switch types, Linear vs Tactile vs Clicky:
Linear: Smooth and consistent keystroke with a quiet noise.
Tactile: A small bump on each keystroke with a moderate noise.
Clicky: A small bump on each keystroke with a loud click noise.
Depending on the activity you are doing with your keyboard, you may want to pick a specific switch type.
For example, many people find it easier to game with linear switches because the bump distracts them from their gameplay.
For typing, many prefer tactile switches because they are quiet yet have a bump to signify the letter has been pressed, and it's time to move onto the next letter.
Clicky switches are for people who want a tactile bump but also enjoy hearing their keyboard sounds while using it.
For more information on linear vs tactile vs clicky switches, you can read more in this article. 
Layout and Size
Mechanical keyboards come in all different sizes ranging from a small and compact size to a full-size keyboard, with the number pad.
Smaller sizes means that more keys are missing from the layout, but those functions are integrated into the keyboard via different layers. This means you'll hold FN and then press another key or a key combination to use these functions.
For a brief explanation, we will cover the main sizes here in this infographic. To read more about different keyboard sizes, see this article. 
Conclusion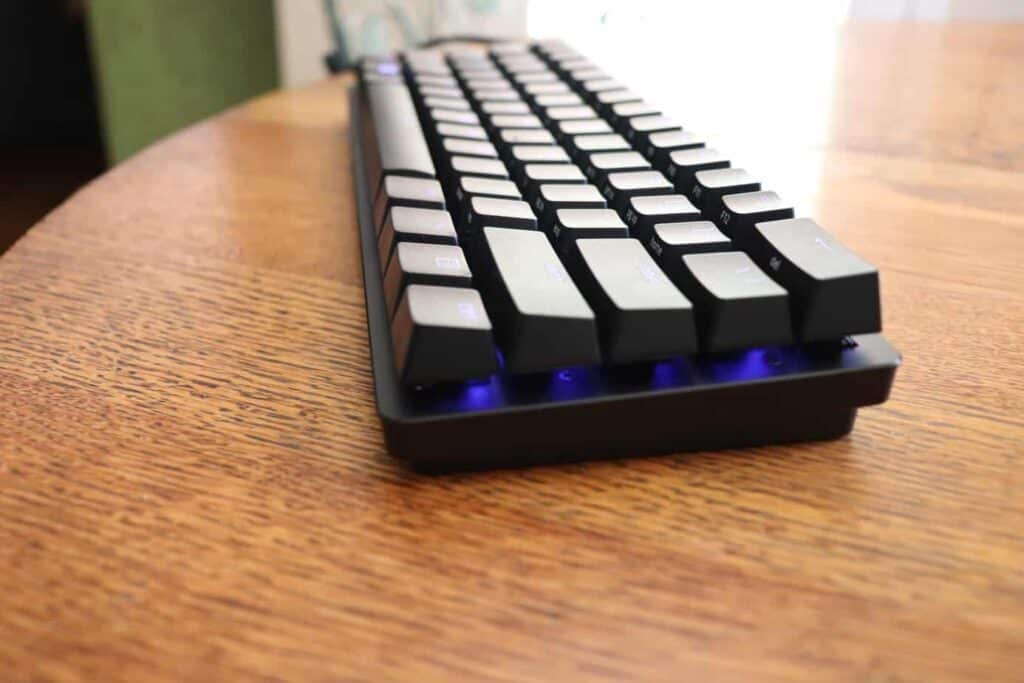 The Razer Huntsman Mini is a good mechanical keyboard for its price. Although there are competitors that offer a lot of the same features at a lower price point, Razer is a reputable company that supports its products and any problems that arise.
Razer is also innovating and moving forward into the mechanical keyboard community by offering a compact 60% layout that has only been seen by smaller manufacturers within the community.
The Huntsman Mini is easy to plug in and use right away, its switches are smooth and respond quickly, and the keycaps feel very nice to type and game on. Despite the stabilizers being loud and the software being large, these things can be minimized by gaming with headphones, picking out the quieter switch, and using the software once and then deleting it once you're done.
If you're interested in checking the product out, see it here on Amazon. The silent red switch will be coming out in late summer 2020, so be on the lookout for that.