Looking to replace your standard Mac keyboard for a more fruitful typing experience?
Not all mechanical keyboards are suited well for Mac users, so today we are going to share our top 10 mechanical keyboards that are sure to pair excellently with your Mac.
---
Best Mechanical Keyboards for Mac – Our Top Picks
---
Now let's get into the full, detailed list of our favorite Mac-friendly mechanical keyboards!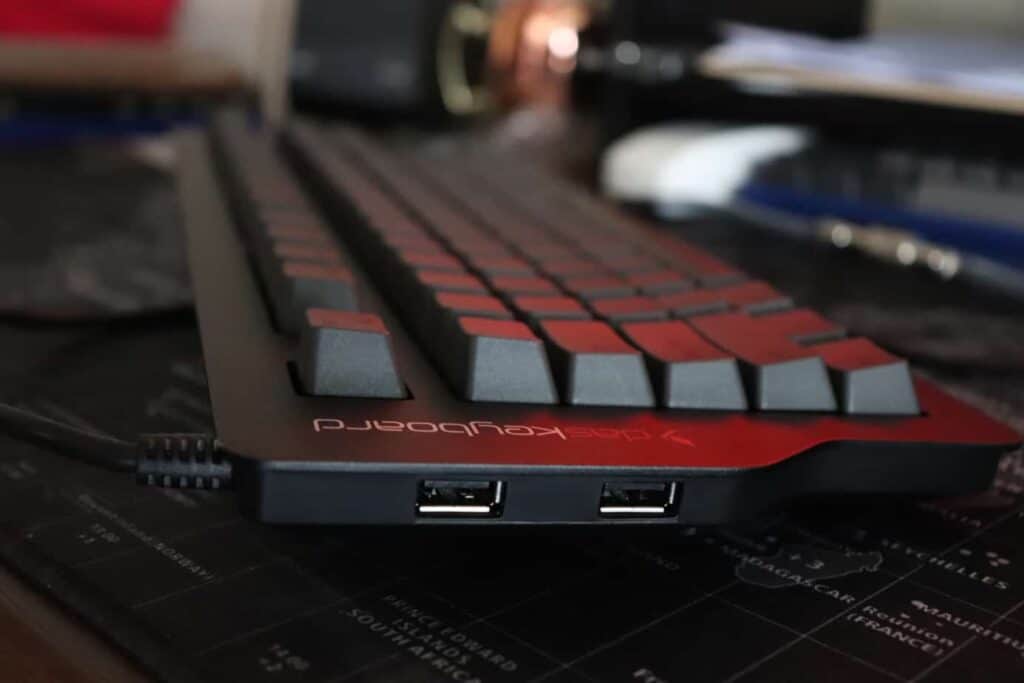 While not matching the sleek, clean aesthetic of Mac products, the Das Keyboard Professional 4 for Mac may be better suited for comfort than your standard Apple keyboard.
Coming in at a higher price point, the Das Keyboard Professional 4 for Mac offers the same noteworthy typing experience of Das Keyboard products, now perfectly suited for use with a Mac desktop or laptop.
Some of the highlights of the Das Keyboard Professional 4 for Mac are the dedicated media controls, volume control knob, and Mac function keys.
The presence of these features is extremely helpful and boosts compatibility.
Another fantastic feature is the presence of 2 USB super-speed ports, which is really helpful for charging or getting data from devices.
This keyboard is quite clunky with its shape and size, and the non-detachable cable protruding from the center of the board stands out.
At this price point, I would expect to have a detachable cable. At least the cable is super long, which is pretty nice to know it will work it with any setup.
The switch options for the Das Keyboard Professional 4 for Mac are Cherry MX blues or browns.
Cherry MX switches are preferred among mechanical keyboard users for their outstanding quality.
Cherry MX blues are very loud and clicky, while Cherry MX browns provide a nice tactile experience with a more moderate sound.
The Das Keyboard Professional 4 for Mac has the signature footbar/ruler feature. This ruler attaches magnetically to the bottom of the keyboard to add an angle to the keyboard, there are even rubber stops on it.
Though likely not helpful to all users, this is Das Keyboards' design feature that adds personality to their keyboards.
The Das Keyboard Professional 4 for Mac is quite an investment, but it will definitely deliver if you are seeking a more comfortable typing experience.
We have this keyboard ranked so highly because it is perfectly tailored for use with Mac systems, it won't let you down if you are thinking about making a keyboard upgrade.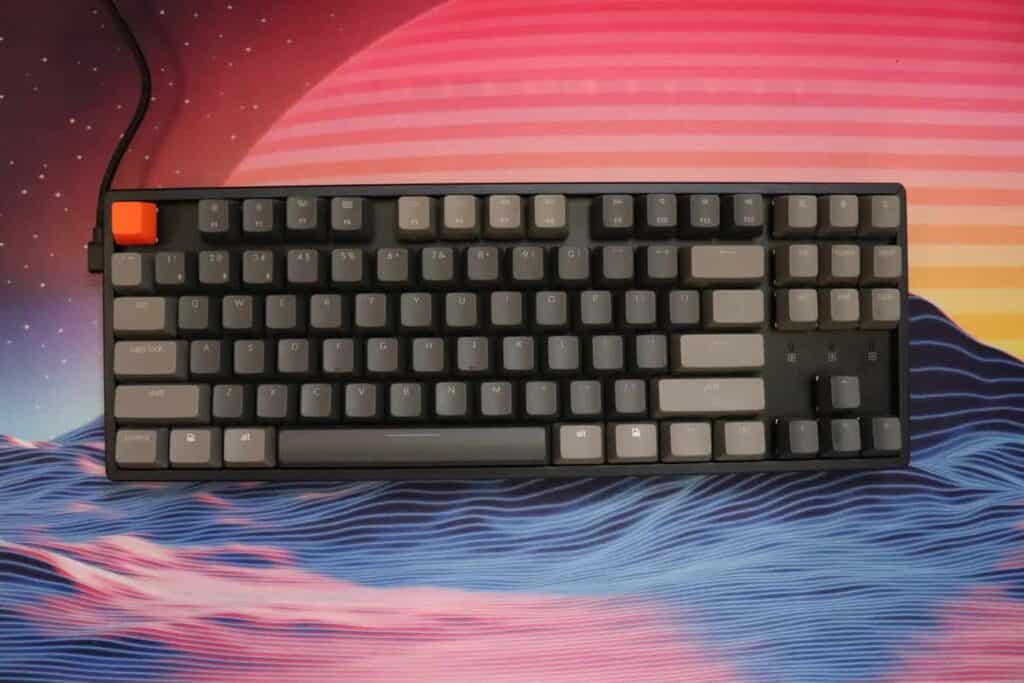 The Keychron K8 is an awesome tenkeyless keyboard that can quickly transition between Windows and Mac just by sliding a switch.
The K8 is packed with tons of desirable features, the most notable being the Bluetooth 5.1 and super smooth stabilizers.
The switch types available for the Keychron K8 are Gateron, which are pretty similar in quality to Cherry MX but with less durability (50 million keystrokes, Cherry MX has 100 million).
The color options for the Keychron K8 are red, blue, and brown. I recommend getting the hot-swappable version of the K8 if you would like to experiment with different switch types.
The Keychron K8 has RGB backlighting, but for some reason, it appears duller than RGB on other keyboards.
It doesn't look bad, but it's definitely something worth pointing out so you don't expect vibrant lighting. But if you don't care for bright colors, the toned-down look might suit you well (and there is always the option to just do white backlighting).
One area where the K8 lacks is the keycaps. The keycaps are made of ABS plastic, which is a cheaper, thinner material that will attract oil and wear quickly.
I would like to see PBT keycaps on the Keychron K8, but since this is a budget keyboard the price has to be reflected somewhere!
I have no complaints about the stabilizers of the Keychron K8, which is surprising given its price!
Many keyboards, regardless of price, have rattly stabilizers out of the box, but luckily the ones on the K8 come pre-lubed and work excellently.
As mentioned earlier, you can easily switch between Mac and Windows by using the sliding switch on the side of the keyboard, and you can even access Siri (or Cortana for Windows) via one of the multi-media keys.
There are additional Mac function keycaps included to achieve full compatibility, so we definitely recommend the Keychron K8 for Mac users.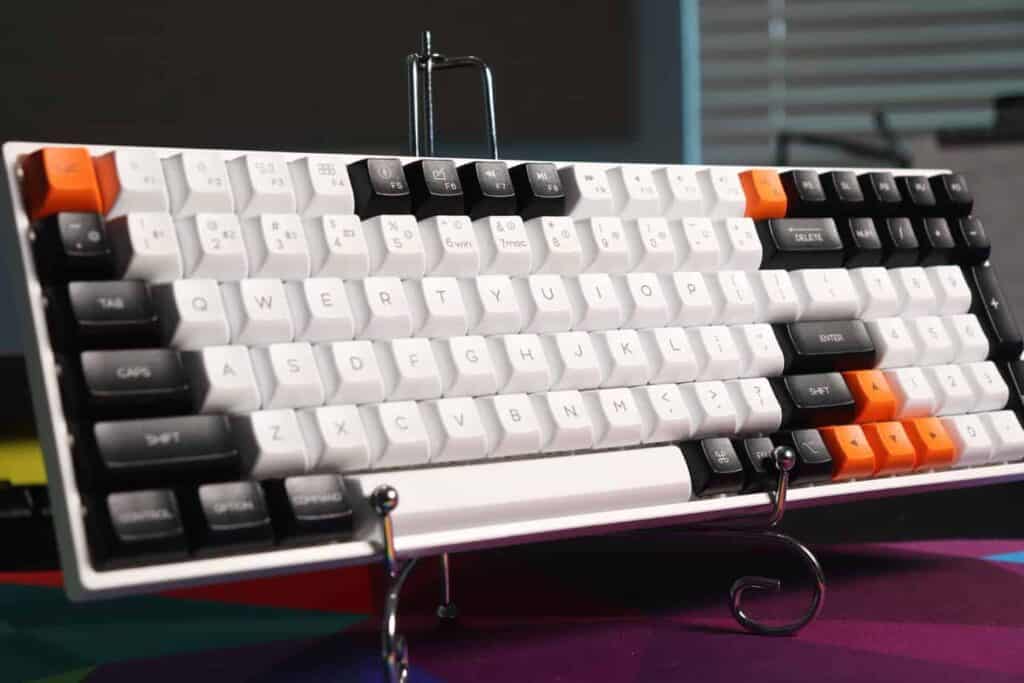 We have the Epomaker GK96 up next, a new 96% model with all the bells and whistles… it is hot-swappable, has RGB lighting, Bluetooth 5.1, and keys that match the specific Mac function row.
With PBT keycaps, you are sure to enjoy the feel of typing on the Epomaker GK96.
These keycaps are thus extra durable and resistant to wear, Epomaker even claims their keycaps are waterproof.
You can get Gateron mechanical or optical switches on the GK96, but this model is also hot-swappable so you can make switch changes if needed. This keyboard supports both 3-pin and 5-pin switches.
This keyboard would awesome for Mac users due to the printed Mac function keys and the quick ability to switch between systems.
The Bluetooth capabilities are tremendous on the GK96, you can connect up to four devices (including tablets/phones).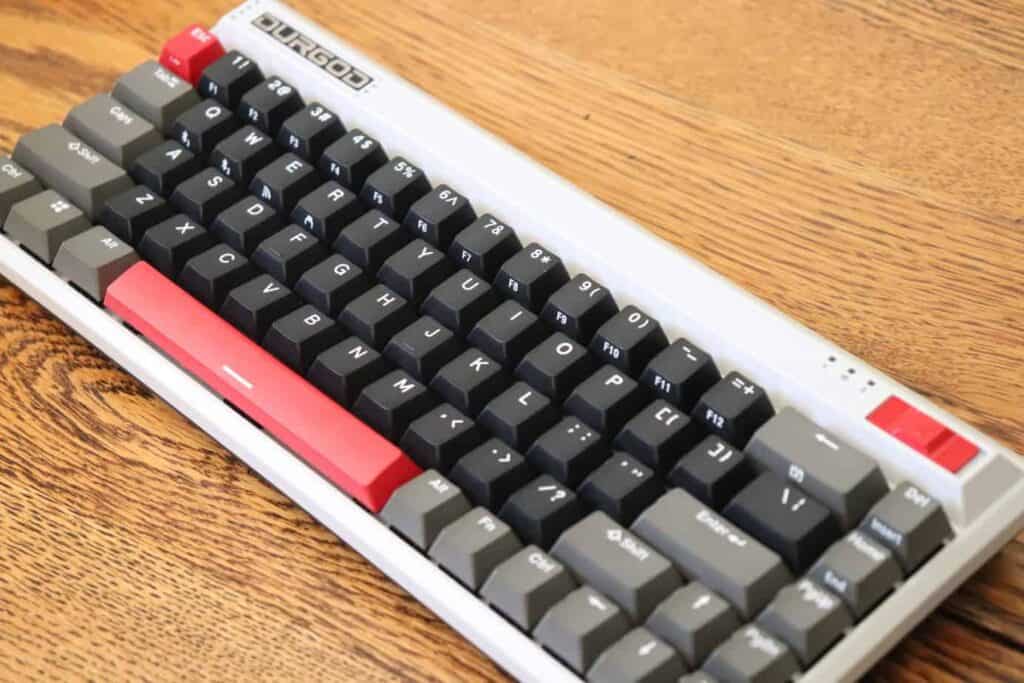 The Durgod Fusion is a 65%, retro-looking keyboard that would be another great option for Mac users. Coming in many different colorways, this keyboard is sure to add a personalized flair to your desktop.
A cool design feature of the Durgod fusion is the hidden Bluetooth dongle underneath the Durgod logo.
This keyboard can also connect to your computer without the dongle if it has its own Bluetooth signal. The instructions were a little difficult to understand for Bluetooth configuration, but once we got it up and running it worked seamlessly.
The keycaps are made out of high quality PBT plastic, and they have a really nice matte feel.
One of my favorite things about this keyboard is that the keycaps are in Cherry profile, which I find provides an optimal angle for comfortable typing.
For more about the difference between Cherry and OEM profile, check out our article on it here: Cherry vs. OEM: Which Keycap Profile is Better?
There are tons of Cherry MX switch options for the Durgod Fusion: black, blue, red, brown, speed silver, silent browns, silent reds (silent/speed switches cost extra). I really like to see the variety, it will allow you to find something that will perfectly fit your intended use.
There are two USB power cables included with the Durgod Fusion (one USB-C to USB-C, the other is USB-C to USB-A), so it will be able to work with your Mac device regardless of the version you own. Unfortunately, the USB port on the keyboard is a little bit recessed, so you may have trouble if you decide to try using a custom cable.
Coming in at a higher price point, the unique Durgod Fusion aesthetic may not be for everyone. However, this keyboard is extremely well-built and comes with highly coveted features, which I think justifies the lofty price tag.
5. Kemove Shadow/Snowfox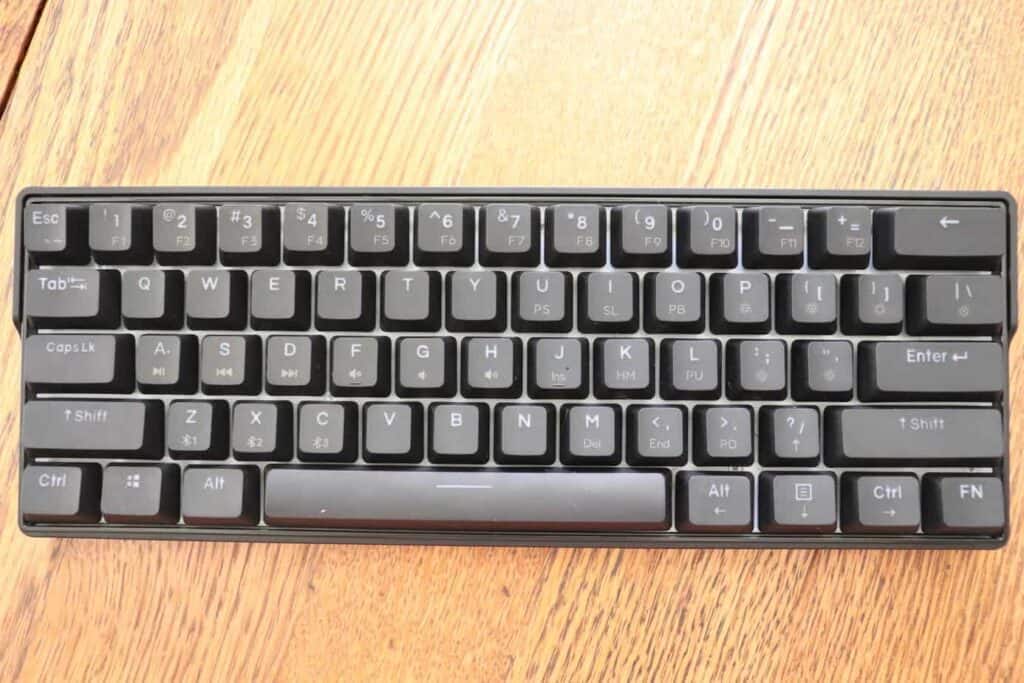 Another affordable Mac-friendly keyboard is the Kemove Shadow/Snowfox. This compact, 60% keyboard is hot-swappable, wireless, and has RGB lighting.
With two color options, white (named Snowfox) and black (Shadow), this simple keyboard design would look great on any desk.
I really enjoy the clean look of the Kemove Shadow, and the different colorways come with matching USB cables (beware, the cable is on the short side!).
The RGB lighting on the Kemove Shadow can be enabled onboard, but if you want to use the software it may take awhile to configure.
The software is in beta and is not the easiest to access, but I'm sure if you dedicate some time to it you can figure it out.
The Kemove Shadow/Snowfox comes with doubleshot PBT keycaps, which you won't find on many budget keyboards.
While some may think the legends and sublegends are a little overwhelming altogether, I don't have a problem with it. I found that some legends were a little unclear though, the Tab, Enter, Shift keys specifically are at times hard to read.
This hot-swappable keyboard is now updated to support 5-pin hot-swappable sockets. You no longer need to clip anything off switches to fit them in this board. How nice!
The switch types available for use with the Kemove Shadow/Snowfox are Gateron red, blue, brown, or black. Three additional switches are included to play around with the hot-swappable sockets: a green, clear, and yellow switch.
As with a couple of the other keyboards on this list, the Kemove Shadow has a button that allows quick changing between Mac and Windows.
Unfortunately, there are not additional keycaps with Mac functions, but you could definitely find a cheap set online to put on your keyboard.
The Kemove Shadow or Snowfox would be a really great choice for someone who seeks an affordable, portable keyboard to use with their Apple products!
6. Keychron K4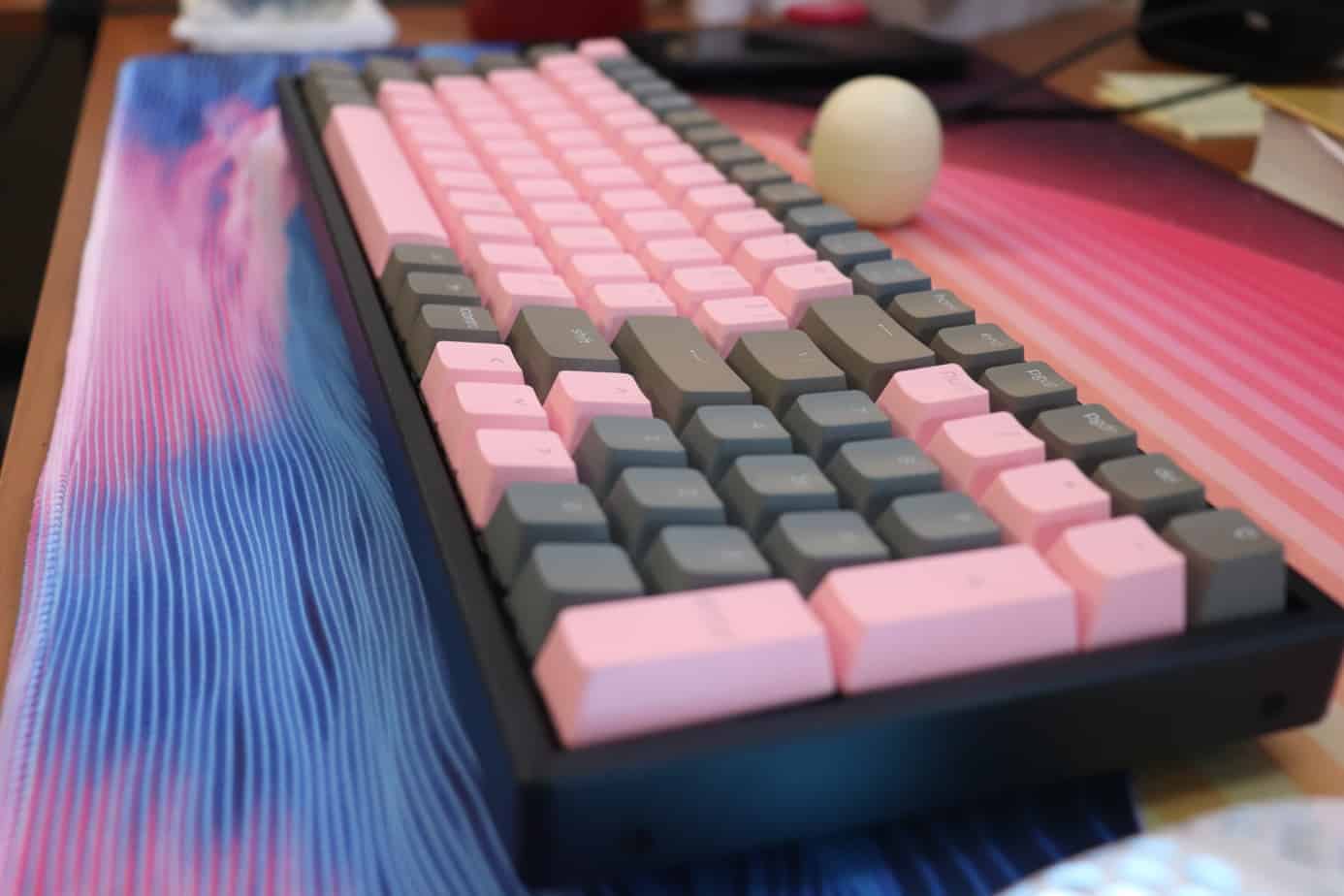 Next up we have the Keychron K4, a keyboard specifically designed for Mac that comes in the rare 1800 Compact size.
1800 Compact keyboards are technically 96%; there are no spaces between any of the keys so it is still super consolidated and space-efficient.
The format of the keys on the Keychron K4 (and other 1800 Compact keyboards) may require a little bit of adjustment, but if you seek the boxy, concise look while maximizing keys, this is would be a great affordable choice.
This model also has RGB lighting, so your keyboard can be lit up in a variety of colors/modes.
A problem I've found with the K4 and other Keychron keyboards is the height, which can cause wrist pain if using for long periods of time. You will likely need a wrist rest to deal with the discomfort.
As a budget keyboard, it's not surprising that the keycaps on the Keychron K4 are ABS. A
s mentioned earlier, I prefer PBT keycaps for their lasting quality, but the material is more expensive so it's not often you will find them on affordable keyboards.
The switches you can get on the Keychron K4 are Gateron blue, brown, red, or yellow.
Since this keyboard is not hot-swappable, you won't be able to change out the switches (without desoldering), but luckily these options are sufficient.
Made to be used with Macs, the Keychron K4 already has the Mac function keycaps, but can also work with Windows. This keyboard has Bluetooth, so you can pair up to 3 devices and switch quickly between them.
1800 Compact keyboards are hard to find, so if you want to try this layout with your Mac I would advise you to try the K4. In addition, the Bluetooth/wireless is always really nice to have.
7. Keychron K2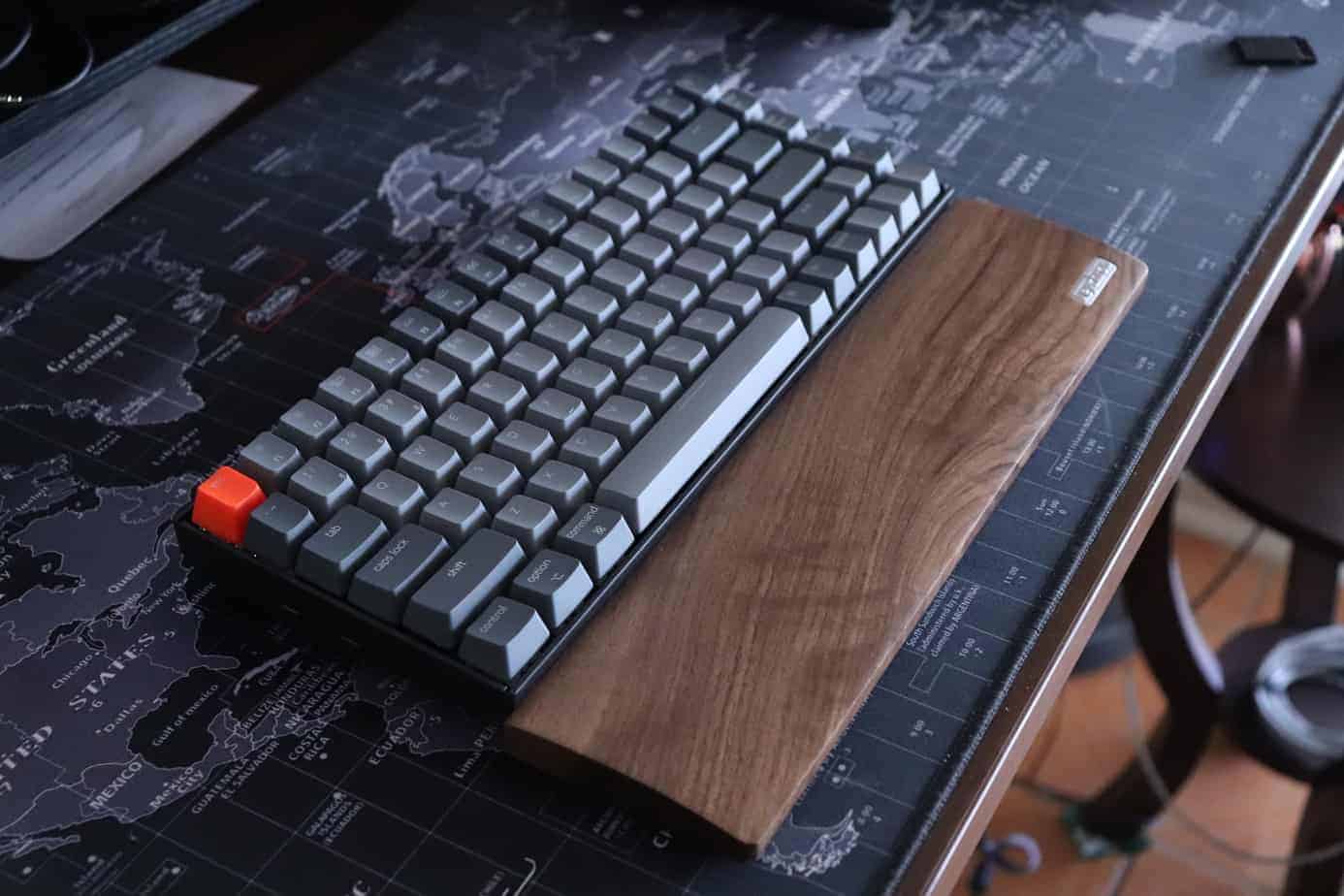 The Keychron K2 is up next, very similar to the other Keychron keyboards on this list but still has its own shining features.
Like the other Keychron keyboards, the K2 has Bluetooth 5.1, which works phenomenally and is always a score to find on affordable keyboards. This keyboard is a 75% layout, so it is smaller and has fewer keys than the K4.
The K2 also has ABS keycaps, but there is an option to get this keyboard with PBT keycaps (just a slightly different color scheme). I really like how Keychron has both versions to allow user choice.
One area of improvement on the K2 V2 (from the original model released) is the reduced height. The keyboard is now much more pleasant to type on and so much easier on the wrists!
Like the K4, the K2 is not hot-swappable. The switch options for the Keychron K2 are red, blue, and brown Gateron switches. As mentioned earlier, Gateron switches are modeled off of and perform similarly to Cherry MX switches, just more affordable and less durable.
The stabilizers on the Keychron K2 could use some work, as they are pretty rattly. Surprisingly most of the keyboards on this list have great stabilizers, but that's definitely not a common factor amongst all keyboards! Budget keyboards often don't have the best stabilizers, but can definitely improve with lube or mods.
To switch to using this keyboard with Mac devices, all you need to do is slide over the switch on the side of the K2, its super easy! There are Mac function keycaps included too, so you would be able to start using the Keychron K2 immediately with your Mac device.
8. Keychron K6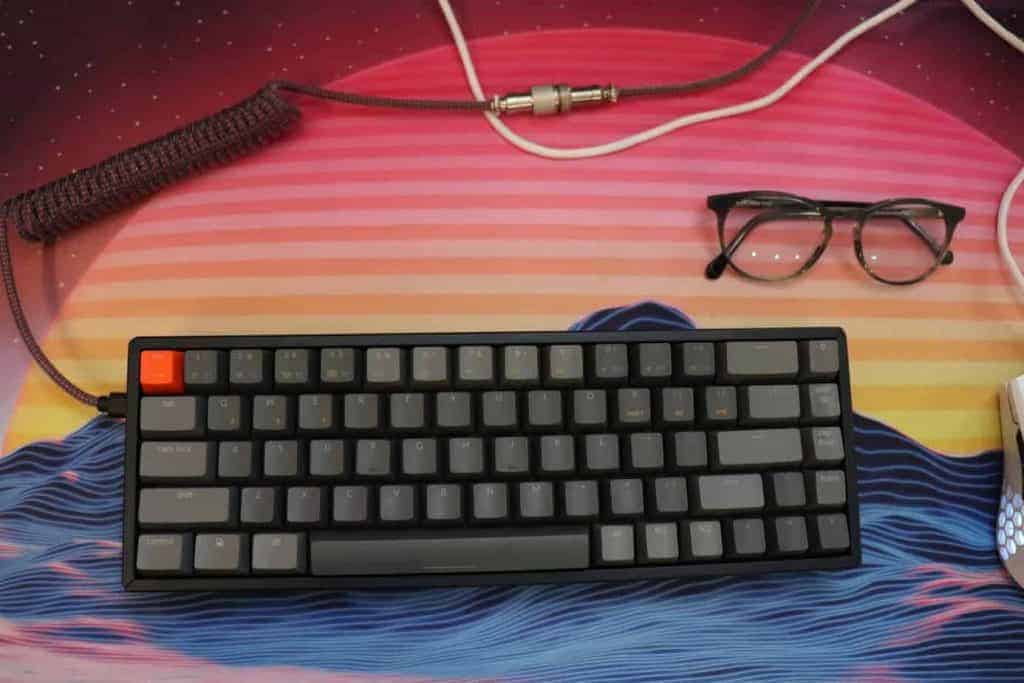 Finishing out the Keychron group, we have the smallest Keychron offering: the K6. A 65% keyboard, the K6 is ultra-transportable and also has the highly coveted Bluetooth 5.1.
Similarly to the other models, you can choose between an aluminum or plastic base, which is really just picking between light and easy transport or rigid structure. You can't really go wrong with either choice, but it is nice to have both options.
The keycaps on the K6 are definitely a con of the K6, they are made from ABS plastic but for some reason are especially thin. You can easily find a cheap set of PBT keycaps to replace the ones on the K6 if they bother you!
This model is hot-swappable, which probably distinguishes it most from the K4 and K2.
With a variety of optical and Gateron switches to choose from to get on your K6, you can definitely find something to match your favorite typing feel (smooth, clicky, tactile).
But the great thing about hot-swappable keyboards is that no matter what switch they come with, you can always replace them very easily.
The K6 is slightly shorter than most Keychron keyboards, so you likely won't notice wrist pain from typing on this keyboard. That being said, the K6 is still a little bit taller than most keyboards.
If trying to decide between the different sized Keychron keyboards is difficult, check out our article comparing these models: Keychron K1 vs K2 vs K4 vs K6 vs K8: What's The Difference?.
If you are looking to replace your small apple keyboard for a more fulfilling typing experience, the Keychron K6 would still give you that minimal, concise look while providing the added benefits of Bluetooth and hot-swappability.
9. Epomaker GK68X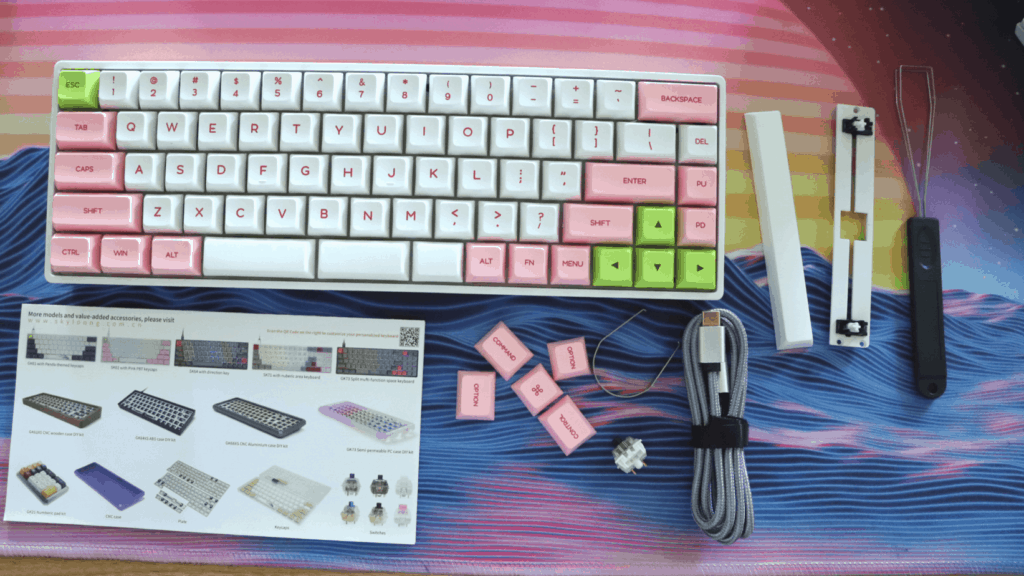 Next we have the Epomaker GK68X, a fun keyboard with tons of options for customization. With the capacity to change the layout of keycaps, programming, or even replacing the switches, you definitely have the freedom to create your ideal keyboard with the GK68X.
This keyboard has RGB lighting that can be customized with easy-to-use software. The Epomaker GK68X also has three programmable layers, a feature that's really helpful for gaming.
The GK68X has nice PBT keycaps, and they have a pleasing two-tone aesthetic with accent color keycaps (colors different depending on which model you choose).
One thing to note about the keycaps is that they are not shine-through, the legends are printed on.
Whats super interesting about this keyboard is the spacebar module, which allows you to break up the spacebar if you want to program specific keys in its place. A full spacebar is included however if you want to keep it traditional.
A difference between the Epomaker GK68X and other 65% keyboards is the location of the backspace.
On this keyboard, there is a dedicated tilde key (typically would be on second layer on a 65%), which displaces the backspace key a little over to the right. The changes to the format aren't bad, they just will take some adjustment.
Both Cherry MX and Gateron switches are available for the Epomaker GK68X, though the Cherry MX ones will cost a little extra.
The Gateron switches you can get are black, blue, red, and brown, the Cherry MX switches you can get are blue, brown, and red.
The GK68X is another hot-swappable keyboard, supporting all 5-pin switches.
We've already explained the benefits of hot-swap keyboards, but I will reiterate that they are definitely the way to go if you want to be able to change your switches easily.
The detachable USB-C cable on the GK68X is a very long, fancy braided silver cable with matching metallic accents. While this version will not work wireless, the Epomaker GK68XS does have Bluetooth.
This keyboard works with Mac and Windows, and even the software will be compatible with both systems.
The additional Mac keys included with the keyboard match the accent color, so you will definitely be all set for use right when you receive the Epomaker GK68X.
10. NiZ Plum Atom 68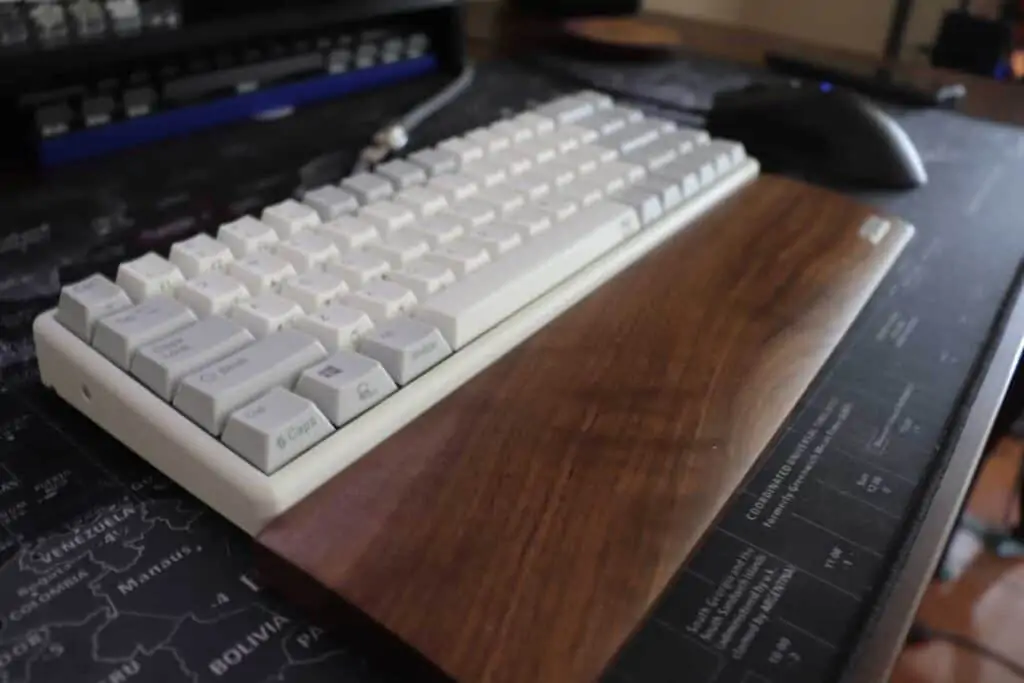 Closing out our list we have the NiZ Plum Atom 68, the only keyboard on this list with electro-capacitive switches. If you want to get the feel of Topre switches at a more affordable price, this keyboard is with looking into!
With a light grey and white two-tone keycap design and a white case, the NiZ Plum Atom 68 would definitely fit in looks-wise with your Mac. The 65% size would also lend to the minimal Apple aesthetic if thats what you are going for.
The keycaps on this keyboard are PBT, the best material for feel and durability. There are sublegends printed onto the keycaps to denote another layer of functions. Thankfully the keycaps are in a profile very similar to Cherry, which I think is the ideal typing profile to maximize comfort.
I love the feel of typing on this keyboard, it is both tactile and smooth. I am able to type very quickly while avoiding mistakes, really just an ideal situation. The typing experience on the NiZ Plum Atom 68 is truly excellent and satisfying. There are extra springs included if you would like to increase the resistance of the switches as well.
Let's talk about the stabilizers on this keyboard… they feel pretty smooth and aren't rattly, but the style makes changing out keycaps quite an annoying process! Rather than choosing typical cherry style stabilizers, Epomaker decided to go with hook-in Costar stabilizers. Taking keycaps on/off is thus a trying situation.
The white USB-C cable included is braided and pretty long, but the power port on the NiZ Plum Atom 68 is a little awkward.
The port is apart of the body of the keyboard and there is a corresponding cable management system, but it is a little over-complicated and won't work as well with custom cables.
This keyboard is obviously on this list for its Mac compatibility, and it comes with keycaps to modify for Mac use.
Keep in mind that the stabilizers make keycaps mods a little more difficult than usual, but once you have them switched out you can get to using the NiZ Plum Atom 68 with your Mac device.
The electro-capacitive switches distinguish the NiZ Plum Atom 68 from the other keyboards on this list, so if you are looking for this unique feel with your Mac computer be sure to check out this keyboard.
---
The Main Difference Between Mac and Windows Keyboards
While the keys on a laptop vs. stand-alone keyboard for any company differ slightly due to size limitations, Mac and Windows keyboards are consistently different. Let's go over a few of the major distinguishing features.
On Windows keyboards, you delete text using the "backspace" key, but on Mac, this key is denoted with the simple "delete."
These keys are in the same space and for the most part, have the same use.
The "fn" key on Macs can be used to uncover some key functions (such as changing some arrows to page up/down, top/bottom of page).
The most noticeable difference is in the Command/Alt/Windows keys located on either side of the spacebar.
"Command" is a Mac function used in many shortcuts, pretty much the equivalent of Windows "Ctrl" key. The "control" key on Mac is mostly for helping you make right clicks.
The "Alt" key on Windows serves to pull up the menus on programs, while in its place there is the "option" key on Macs, a much more random function key that can insert special characters into a document.
The Windows logo key on the other side of the spacebar brings up the start menu, and there isn't really a Mac equivalent key to this.
While these are the main differences between Mac and Windows keyboards, there are many more nuances and variations.
Technically any mechanical keyboard would be able to be used by a Mac with some adjustment, but it is much easier to use a keyboard that was made with Mac-users in mind.
Why Get A Mechanical Keyboard For Your Mac?
Mechanical keyboards simply provide a much more satisfying experience than Mac keyboards, and tend to have more advanced features to give you more options.
Mac keyboards have very low profile keys and the keyboard itself is super thin. Thus, the typing angle is usually pretty flat and the keyboard is not sculpted to your hands.
Many are drawn to this sleek appearance, but it is often more satisfying and comfortable to have higher keycaps with a more natural angle and hand placement.
Another great component of mechanical keyboards is the ability to choose different switches, which changes the feel of typing.
Mac keyboards actually have a pretty nice, uniform typing feel, but there are other options out there that you may like more for the type of work/gaming you are doing.
There are three categories of switches: tactile, clicky, and smooth, and there are many styles/variations produced to suit personal preferences.
Mechanical keyboards come in a whole array of color schemes, can have RGB backlighting, and may even have fun designs on them.
You can truly create any look, which is a major draw of mechanical keyboards.
Conclusion
If you have been searching for a mechanical keyboard to use with your Mac, I hope our list provided some guidance and will help you find a keyboard to fit your needs!
Aside from their Mac compatibility, the products we listed are well-loved in the mechanical keyboard community for their quality and performance.
All of the products we listed can also be used with Windows, so if you switch between the two operating systems know that you can still use the same keyboard.
We tried to complile a variety of options with different price points, features, and looks, so hopefully you found something you will want to use with your Mac.
As always, be sure to check out our in-depth reviews of each of these products if you would like to learn more.
Thanks for reading!