The HK Gaming GK61 is a fan favorite when it comes to recommending a good budget mechanical keyboard. But keep in mind that this specific keyboard has optical switches.
Let's dig into what makes this keyboard a great option for your setup if you're looking to find a compact keyboard with fast-performing switches.
You can see how the GK61 compares to other 60% keyboards in our roundup post.
The Verdict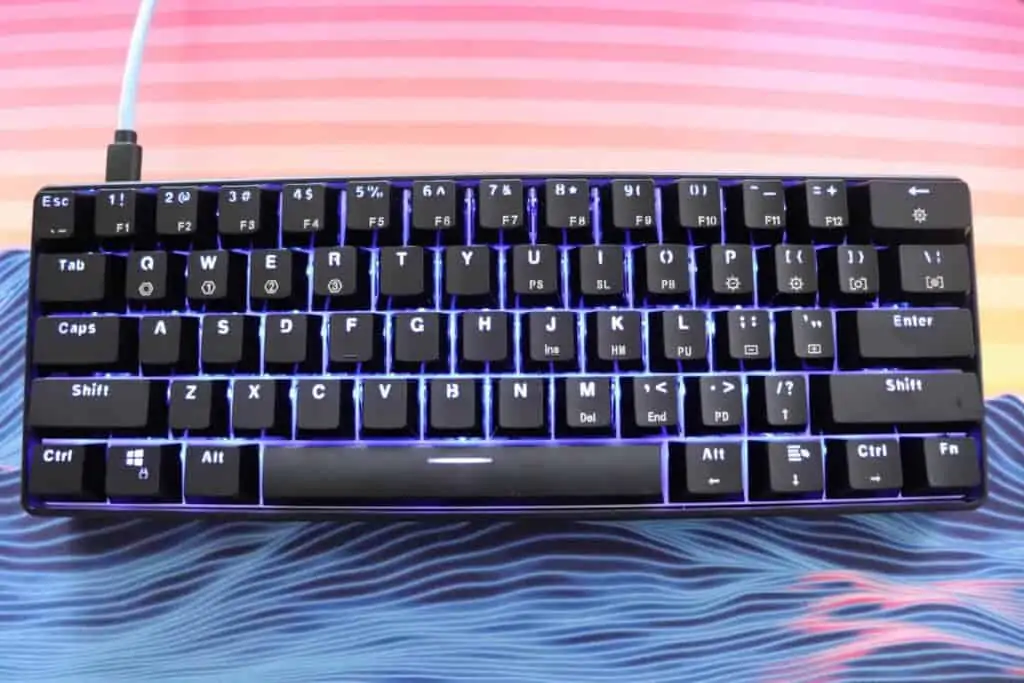 The HK Gaming GK61 is a great starter board for anyone who wants to improve their gaming performance or just dive a bit deeper into the mechanical keyboard world with their first mechanical keyboard.
It's also very budget-friendly and can be upgraded over time.
The GK61 is a 60% compact mechanical keyboard with hot-swappable optical switches, pre-lubed stabilizers, different RGB effects, and has different programmable layers for all of your needs.
For a budget mechanical keyboard, the GK61 offers many switch options and can be modified for a more premium feel if you want to upgrade in the future.
The GK61 can be found on Amazon for an affordable price.
---
In The Box
The GK61 comes with all of the accessories that you need to customize the keyboard to your liking.
This includes:
Aluminum switch puller – A switch puller allows you to conveniently pull out the switches currently in the keyboard, so that you can swap it out with new ones.
Plastic keycap puller – A keycap puller allows you to change up the keycaps with little effort on your part. However, we recommend you use a wire keycap puller such as this one instead to decrease chances of scratching your keycaps.
Braided USB-C cable – A braided USB-C cable has longer durability and can be straightened out to avoid kinks much easier than a rubber cable.
Keyboard – Of course, you'll have to find the keyboard within the box as well.
The add-ons are quite convenient for you, but I would've liked to see additional keycaps for Mac as the keyboard is Mac and Windows compatible after all.
---
Build Quality
The GK61 is made out of a thick plastic case and an aluminum plate. Manually attempting to flex the board does nothing. This board is quite sturdy and can withstand a fall, if it ever comes to that.
It also has a very clean looking case that supports the plate and PCB well. On the back, there are four rubber feet to prevent the keyboard from sliding around.
Unfortunately, there are no kickstands to adjust the angle that you use it at, but the case itself is slightly inclined for improved comfort.
Optical keyboards tend to sound quite hollow, but the GK61 sounds quite full. Adding some foam within the case would help reduce this hollow sound even further.
The aluminum top plate, where the switches are mounted to, is white and can be scratched quite easily when replacing your switches. However, the RGB reflects off of it and looks very nice in dim lighting.
The USB-C port is located on the top left of the keyboard in a slightly recessed area. This port will work with most custom USB-C cables. However, it is not flush to the case, which can add some difficulty to working with certain cables.
The Keycaps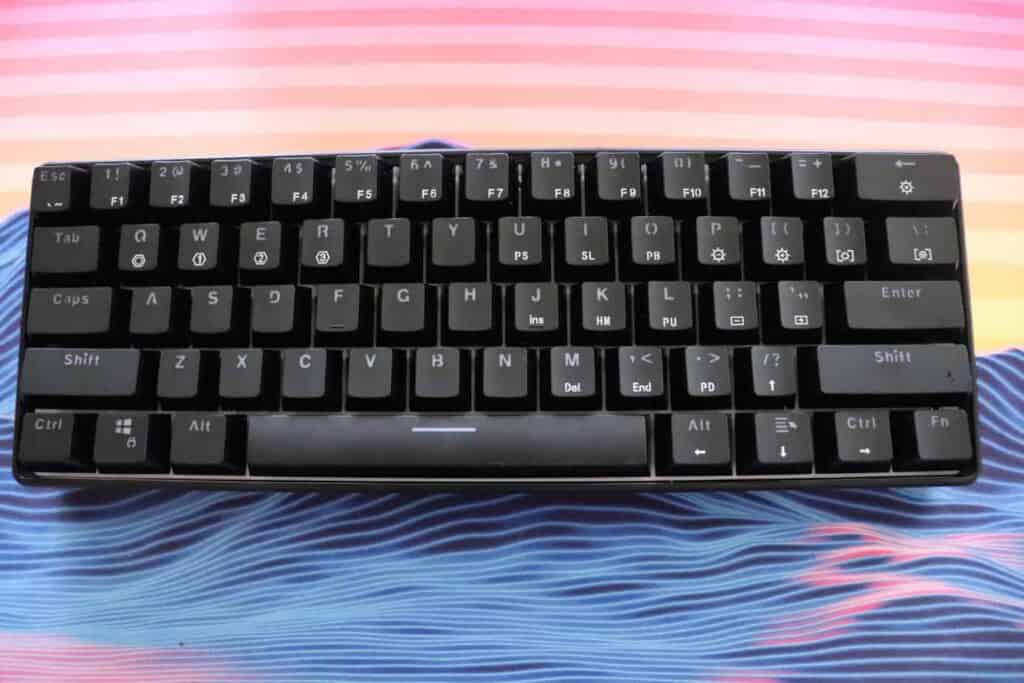 The keycaps on the GK61 are made out of ABS plastic with doubleshot injection molding.
This means the legends of the board will not ever fade because they're a different layer of plastic. However, the sub-legends will wear over time because they're laser-etched.
The keycaps are OEM-profile, which is commonly seen in most stock mechanical keyboards. OEM profile is a uniform profile that tries to reduce the distance between each row.
Because this is common, it's probably what you're already used to typing on.
The legends (the symbols and letters on each keycap) are stenographic, meaning that closed letters and symbols are separated. This is seen in letters such as O, P, B, and D.
Fortunately, the GK61 has a standard 60% layout with a common bottom row, which makes it extremely easy to replace the keycaps to a nicer PBT-plastic set that is more oil-resistant and has more professional legends.
For the price, these keycaps are not bad. However, over time, they will exhibit shine and feel more smooth to type on.
One thing that is very cool is that the tops of each keycap are textured, and the side walls are glossy.
Alongside this, the keycaps sit within the case walls and are not floating style. The switches are not visible, and the overall design is really sleek.
The Stabilizers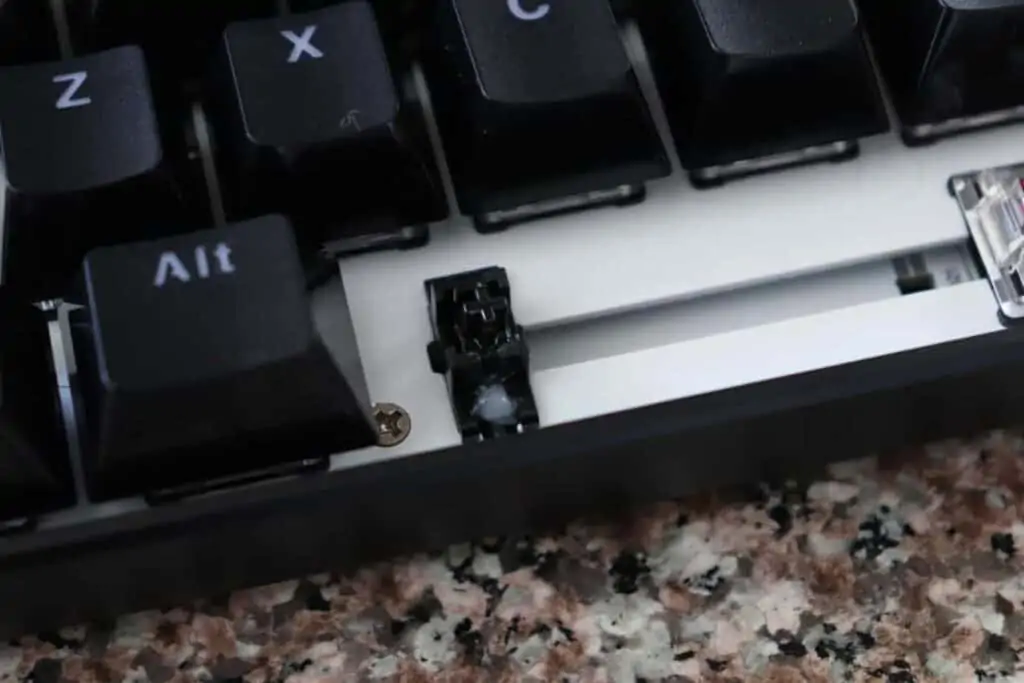 The stabilizers of the GK61 are plate-mounted, Cherry-style stabilizers. They are pre-lubed from the factory.
However, the lube appears to be overdone and messily applied. There are visible and larger globs of lube inserted between the stem and the stabilizer housing as well as on the stabilizer wire.
These stabilizers do sound better than other budget optical keyboards that we've reviewed, so the lube is doing something.
If you do have extra time, I recommend wiping off the factory lube and doing it over again yourself using our in-depth guide on how to mod stabilizers.
This will ensure a more consistent and improved sound and feel.
This is easy with the GK61 because it's a hot-swappable board. You won't have to desolder anything, just pull off the switch on top of each stabilizer and manipulate the wires out.
Stock, however, they are not at the bottom. I would put them somewhere in the middle, compared to all of the other boards we've tried and tested.
The Switches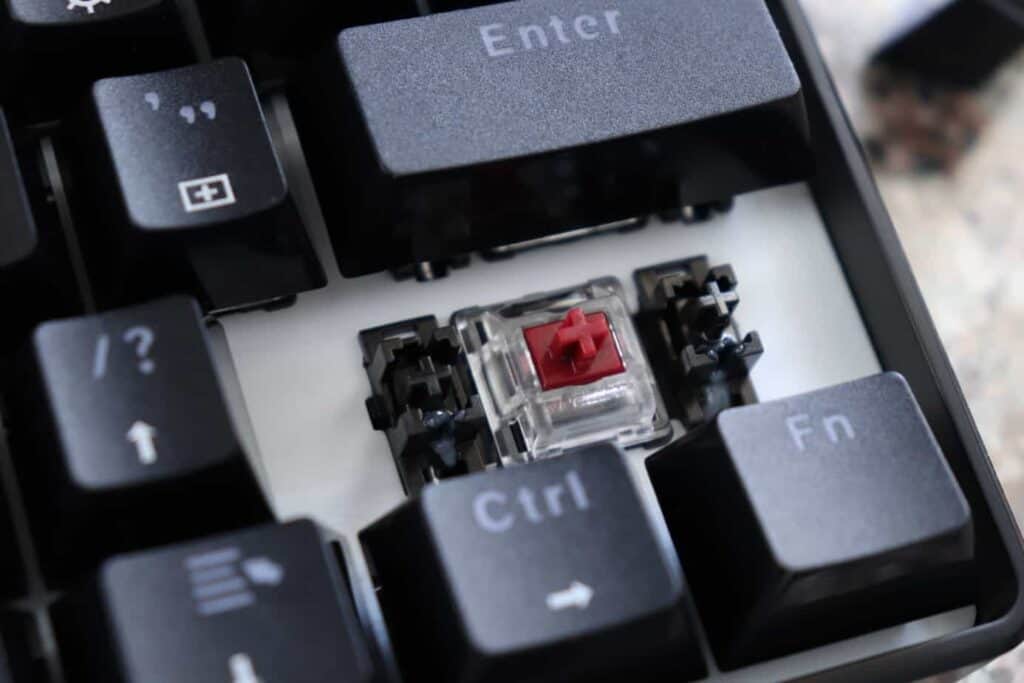 The switches available in the GK61 are Gateron Optical switches. They offer a wide variety of options:
Black
Blue
Brown
Red
Silver
Yellow
It's rare to see more options than just the usual three (blue, brown, red). This gives you more variety to pick from, in terms of spring weights and smoothness.
In our test version, the Gateron Optical Reds are quite smooth to the touch and are quite light as well. Compared to mechanical Gateron Reds, the stem is a slightly darker shade (so you can tell the difference between optical and mechanical).
We have an in-depth Gateron switch guide to help you pick between them and the subtle differences as well.
Additional Features
You might be thinking, but I'm not ready to sacrifice the arrow keys. Do not fear, because this keyboard makes it easy for you to access them, even on another layer.
The FN key is all the way in the far right with the arrow keys right next to it. This makes it possibly to use the arrows with just one hand, by holding the FN key with your pinky finger and manipulating those other keys around it to navigate.
Alongside this, the RGB effects can be accessed through the second layer too. You can change through the various effects using FN and backspace. Another option is to download their software and edit the lighting that way.
The keyboard has 3 different editable layers that you can program macros and key remappings on. This is really convenient if you do a lot of productivity work on your keyboard.
If you're using it just for gaming, there's a Windows lock available as well to prevent you from exiting your gaming screen during those crucial button-mashing moments.
---
Alternatives to the Product
There are many optical mechanical keyboards that are budget-friendly nowadays. They're all very similar, but they have slight subtleties such as keycaps, design, and features such as Bluetooth connectivity.
If you do want an optical keyboard, but you're not sure about sacrificing those arrow keys yet, perhaps look at the Epomaker SK64 (which is just as small as the GK61). We did a full review of the SK61 mechanical keyboard here.
If you're looking for a stock keyboard that feels and sounds amazing right from the get-go without any modifications, check out the Durgod Venus that we reviewed right here. It's not optical or hot-swappable, costs a bit more, but the stabilizers and switches just sound fantastic.
---
Conclusion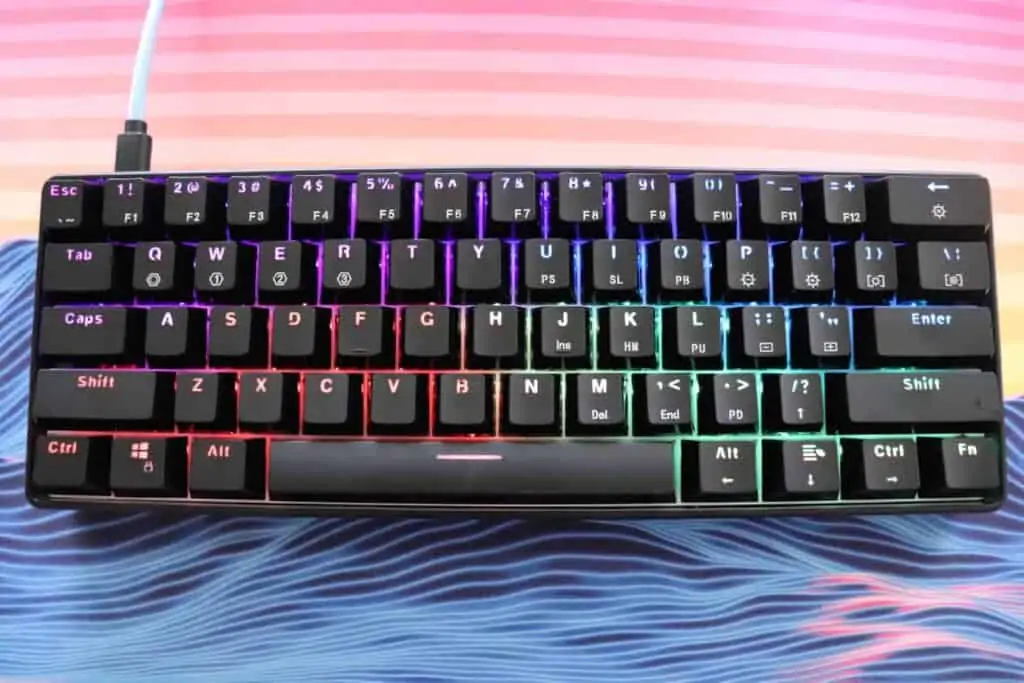 Overall, this keyboard is a great option for your first mechanical keyboard OR if you'r interested in trying out an optical switch for the first time.
Optical switches are faster when it comes to response time and make gaming, especially in games where reaction speed matters, a more pleasurable experience for you.
There are definitely some downsides to this board such as having ABS keycaps, no adjustable kickstand, and the messy factory stabilizer lube.
However, because it's hot-swappable, it allows you to do modifications such as lubing or replacing the switches, re-lubing the stabilizers, possibly even changing the case, or just adding foam within the case.
You can find the keyboard on Amazon with all of its switch options for an affordable price.
The possibilities are endless!