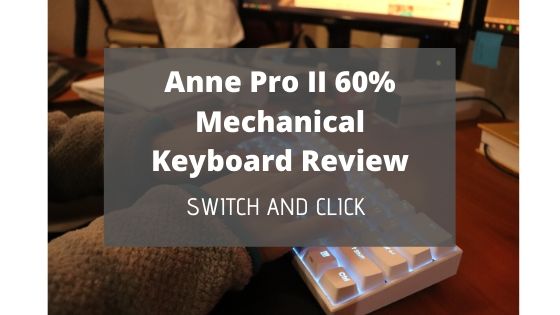 Overview
The Anne Pro II is a 60% wireless/wired mechanical keyboard that is loaded with features. A popular choice amongst mechanical keyboard owners, this keyboard has many customization options including the choice between several Cherry, Gateron, and Kailh switches. We ordered our Anne Pro II with Gateron Red switches.
Included with the purchase is a keycap puller, a red detachable USB-C cable and several colored keycaps you can use to customize and swap-out the keycaps that come standard with the Anne Pro II. It is also possible to order a black version of this keyboard.
Coming with Bluetooth capability to connect to four devices, the Anne Pro II makes it easy to connect to a device and start typing away.
Specifications:
$89
60%
1900mAh battery (8hrs)
Wireless or wired
Bluetooth 4.0
Switches: Cherry MX Blue, Cherry MX Brown, Cherry MX Red, Cherry MX Silver, Gateron Blue, Gateron Brown, Gateron Red, Kailh Box Brown Kailh Box Red, Kailh Box White
RGB backlight
Programmable keys
First Impression
Upon opening the box, you are greeted with a very sleek, sturdy, and compact keyboard. The keycaps have a nice font although the top row looks a little bit crowded since it includes the F1-10 keys as well. That's just standard for 60% keyboards though.
I'm impressed the keyboard comes with a keycap puller and several different colored keycaps. Those extras thrown in really add to the excitement when opening the box and opens up the possibilities to hundreds of different customization options. The keycap puller makes it effortless to remove and swap out the keycaps that came already-installed.
The detachable red colored USB-C power cable is also a nice touch. The red cable really looks agreeable with the all-white keyboard. Most keyboards come with a black power cable but the Anne Pro II sets itself apart from the competition by offering it in red.
The walls of the keyboard case are high profile, making all the keys look secure and safe. Upon doing a few quick key presses I'm really excited by the sound the keyboard makes, but we'll test that a bit more later.
The backside of the keyboard has the Anne Pro logo and the number 01. On a side note, I have no idea why the number 01 is on the keyboard since the model name is Anne Pro 2. Shouldn't it be an 02 on the back? The 01 may represent something else and I'm just unaware.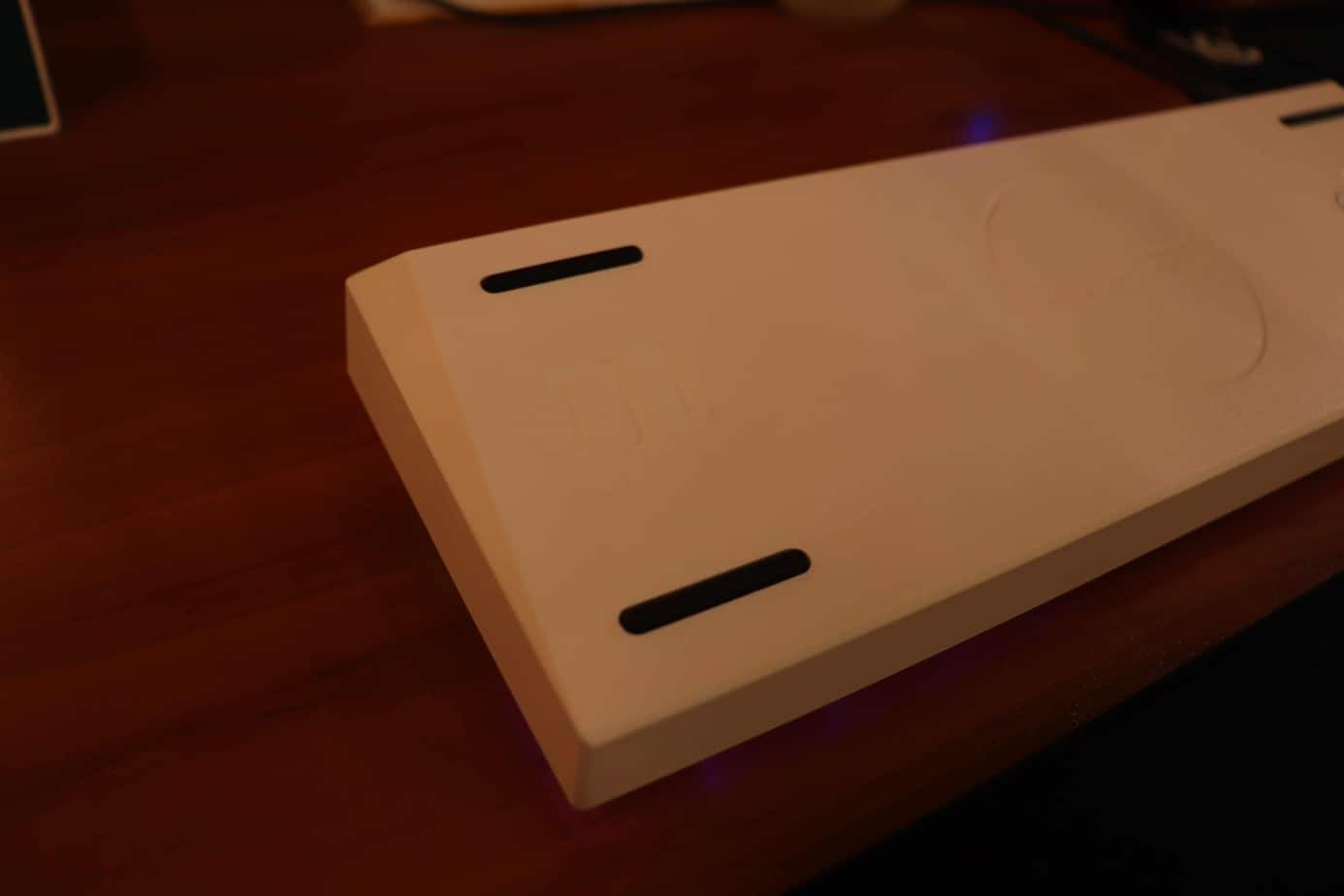 There are four rubber legs to keep the keyboard from sliding while typing which seem to do their job quite effectively so no need to worry about the keyboard moving around when you frantically type during a typing test. There is also a switch on the back to turn on the wireless capability of the keyboard. Overall, it seems like a standard mechanical keyboard configuration with a little extra aesthetic to it.
Design
The Anne Pro II is a 60% keyboard, meaning there is no num pad, arrow keys, or F keys. To access the F keys and arrow keys, you need to press more than one key at once to activate the lower layer. Overall, it has a clean aesthetic with white-colored keys and case.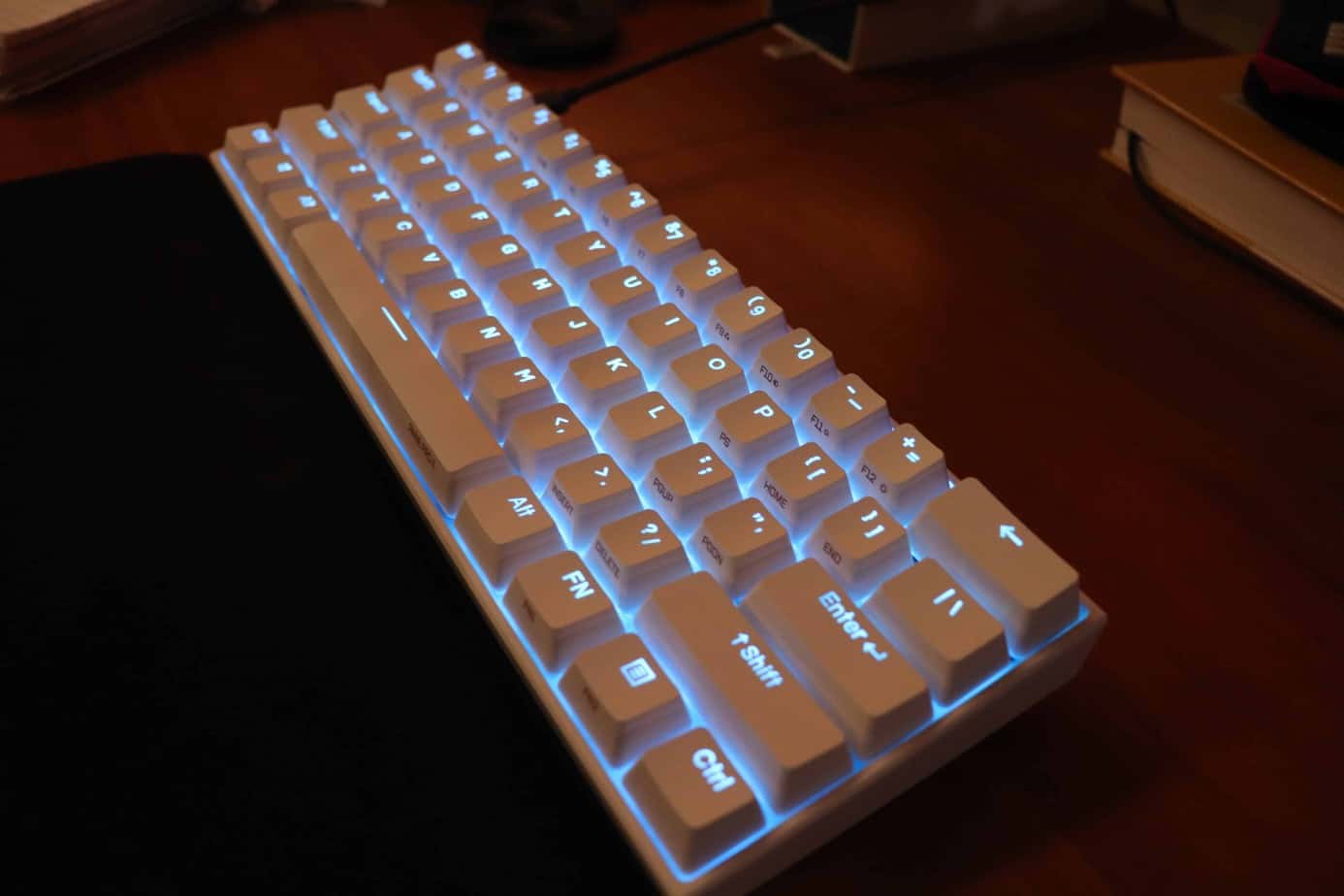 The keycaps are PBT plastic, giving them a grease-free look. But even though the keycaps are PBT, they do not have much of a textured feel and are quite smooth and slippery. I would've liked a more textured key, but that is just personal preference. I am a sucker for textured keycaps.
With several lighting options, the Anne Pro II makes it possible to change between different backlight colors so if you enjoy a fresh new color background every time you type with the keyboard, this feature is great for you. The different RBG backlight colors can be a little difficult to configure since the instructions are translated from Chinese and are a little difficult to follow.
Typing
The typing on this keyboard feels good. The keyboard is quite sturdy and secure even though it's a smaller keyboard, which makes typing feel better. Although I'll admit I am not a huge fan of 60% keyboards because I struggle to type on smaller keyboards due to wrist pain. My wife on the other hand really enjoys typing on the keyboard and recommends it.
The Gateron Reds have a nice acoustic when pressed and give the keystrokes a nice feel. Although, it was a little difficult to get used to typing with this type of switch since both of us are used to tactile switches, not linear. An improvement would be to lube all of the keys to make for an even-smoother switch.
What Makes it Special
If you enjoy customizing the features of your keyboard to get the look and feel you enjoy, the Anne Pro II is an awesome keyboard for you. The several different switch options, keycap customization, lighting options, and programmability allow you to really make this keyboard fit for you.
The fact that you can connect to four different Bluetooth devices and switch between them with ease is another nice feature. This feature is great if you want to connect your keyboard to your PC, cell phone, TV, or work computer and switch between all of them whenever you want. In addition, the Bluetooth feels reliable and there are no missed keystrokes, so the software is doing its job correctly.
Complaints and Problems
Complaint #1: Lighting Issue
On one specific lighting configuration there is an error where only half of the top row lights up and the rest of the keys flicker. I'm not entirely sure what causes this issue, whether it's the PCB or perhaps the software. The keyboard is fully functional regardless of this issue, but we expect better quality when it comes to buying a brand-new keyboard.
Complaint #2: Bad instructions
The instructions we're very poor and there's very little available about the keyboard on the company website. The instructions look like they were written in Chinese and then plugged into Google translate, stuck inside the box, and shipped off. It took a lot of tinkering to figure out exactly how everything worked on this keyboard. Seems like it wouldn't have been that difficult to put a little extra effort into the instructions and it would have made using the Bluetooth and figuring out all the different color options easier.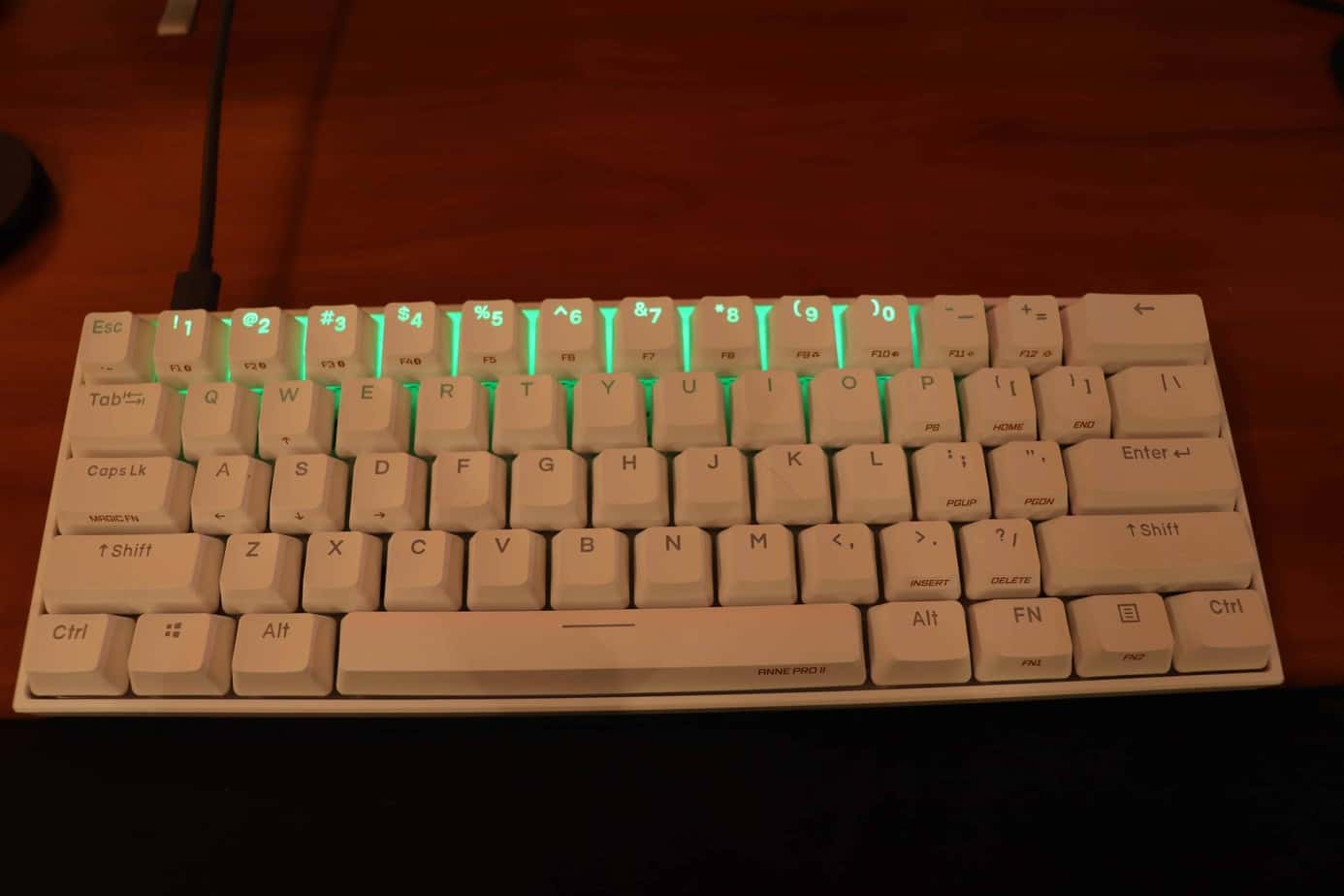 Complaint #3: Skips lines while typing
My wife noticed this issue while typing up a blog post. While typing, the keyboard will sometimes move her cursor up a line. It's almost as if the layered arrow keys were getting activated in some scenarios when it shouldn't have been. It only happened twice and we we're not able to recreate the issue, so we're not entirely sure what caused the issue or how to resolve it.
Complaint #4: Battery life
Another downside to this keyboard is the relatively short battery life. The battery is a 1900mAh which will only last for eight hours. Considering how this is a smaller sized keyboard, it does make sense that they would not want to install a larger battery to avoid weighing the keyboard down. But eight hours is a little on the short side and will require you to recharge frequently. Other wireless keyboards on the market with rechargeable batteries can last up to 72 hours.
Summary
By sheer popularity amongst mechanical keyboard enthusiasts, the Anne Pro II 60% keyboard is definitely a community favorite, so we had to review it. With both wired & wireless connection and a rechargeable battery that can last up to eight hours, this keyboard offers some of the best customization options out of the box without needing to assemble it yourself.
While there are some areas the Anne Pro II could improve in, such as battery life, lighting issues, and crappy instructions, overall this is an excellent keyboard for the price.
We'll go over the click test in our YouTube video review, so make sure to check that out as well.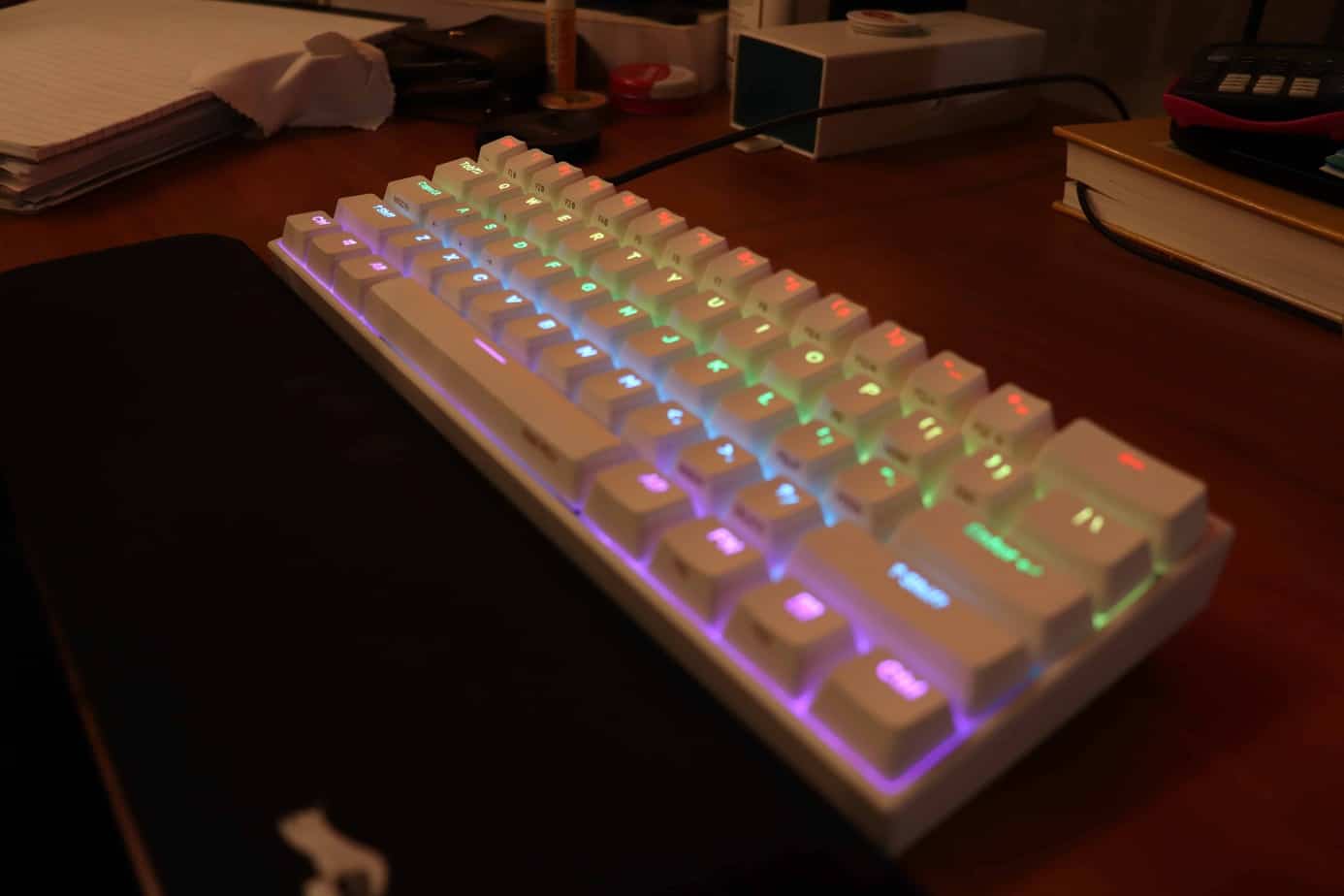 Thanks for reading, and as always, happy typing!