We spent the last several years carefully amassing 60% keyboards in order to provide you with the very best options.
Every keyboard on this list are tried and tested by our team.
After 100+ hours of testing keyboards, here is our curated list of the best 60% mechanical keyboards.
Hold onto your switches, this is about to get interesting.
---
The Best 60% Mechanical Keyboards – Our Favorites
---
1. GMMK Compact: Our Top Pick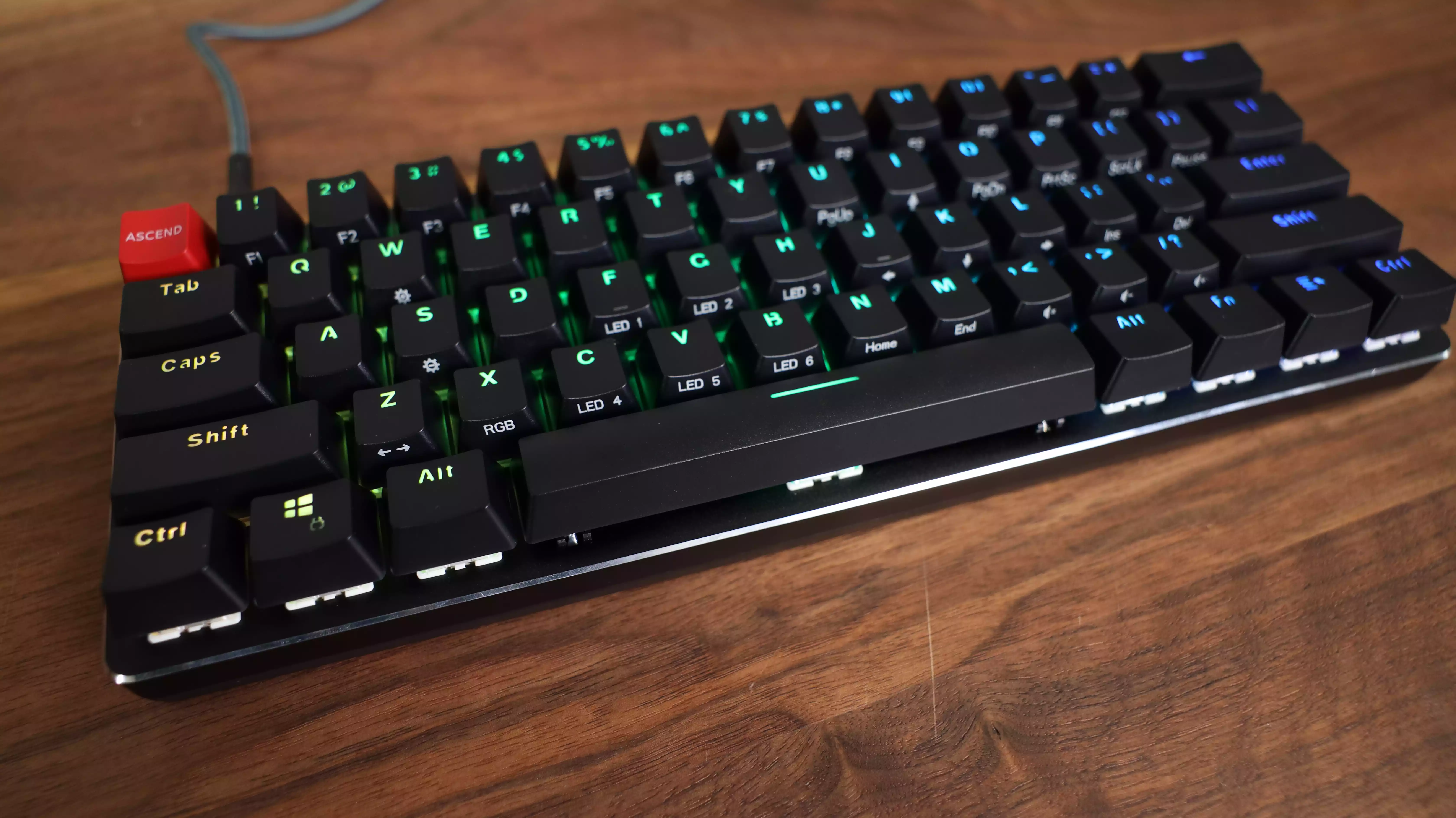 Out of every 60% keyboard on this list, the Glorious GMMK Compact checks all the boxes. It is customizable and can be modded to improve the sound and feel.
If you want to choose an option that will satisfy your 60% needs, this is the keyboard we recommend.
The GMMK Compact does everything very well.
The customizability of this keyboard is our favorite part. You can configure the GMMK Compact to fit your productivity and gaming needs.
The keycaps, switches, software, RGB lighting can all be customized to your specific preferences.
Need a keyboard that matches the rest of your setup? You can get colored keycaps and lighting to match that.
Need a specific setup for typing, gaming, or programming? Configure macros and key placements with the Glorious software.
Once you integrate this keyboard into your life, you'll find that your setup feels more efficient and customized.
A stylized Escape key is also thrown in which adds a nice touch to the design.
This keyboard is an excellent companion for whatever purpose you plan on using your keyboard for, whether that be work, gaming, typing, or programming.
If you want arrow keys, you can opt for the GMMK 2 instead, it's a 65% keyboard.
It would also be nice if the keyboard connected wirelessly, but you can't always have everything.
Top Pick
GMMK Compact
Customizable keyboard combined with amazing RGB and in-keyboard controls. Great for gaming and typing.
Check Price
As an Amazon affiliate, I earn a commission at no additional price to you.
2. Royal Kludge RK61: Best Budget 60% Keyboard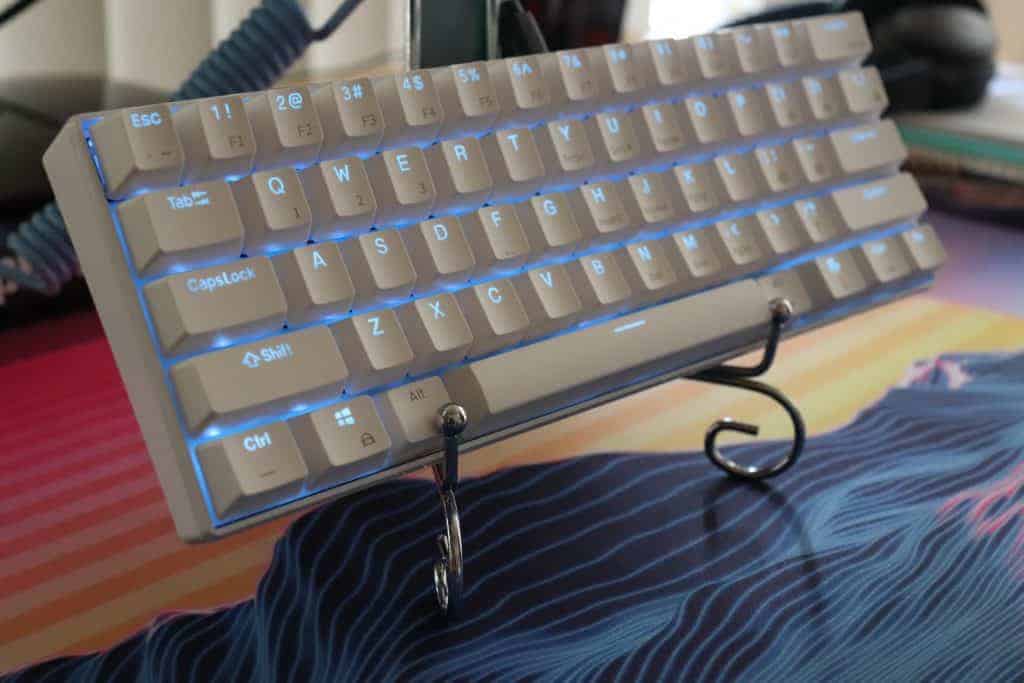 The RK61 is one of the most budget-friendly mechanical keyboards you can find, coming in at a low price.
This is our favorite mechanical keyboard under $50.
We included the keyboard at number two because for the price it's one of the best keyboards on the list.
The RK61 comes with Outemu switches, while not being the best, are an excellent option if you're looking for a cheaper keyboard. The switches have a lifespan of 50 million keystrokes.
The keyboard has some interesting features such as Bluetooth wireless connection. If you like to take your keyboard on the go or enjoy having a portable set-up, this RK61 can be a great choice.
That being said, we don't recommend gaming with a wireless connection as it results in extra input delay. Not the best for super competitive gaming.
In addition, the RK61 comes with easy to access lower layers printed onto the front side of the keycaps in a really easy to read way. The keycaps overall are high-contrast and satisfying to use.
The only downside is the keycaps are made from ABS plastic which tends to wear down more quickly than PBT, but they don't get the usual greasy shine found on ABS.
For a keyboard in this price range, you can't complain about the keycap material.
The RK61 also has a center-mounted detachable USB-C charging cable which makes it easy to charge and unplug. Plus with USB-C you don't need to worry about plugging the keyboard in upside-down. It's reversible.
A downside to the RK61 is the backlight only comes in a blue color which makes it look quite professional, but if you enjoy a multitude of colors a 60% option with RGB could be better.
Overall, we were impressed by the quality of the RK61 considering the price, but if you have a little extra to spend there are better options on the list.
The Budget Pick
Royal Kludge RK61 Wireless Keyboard
An excellent budget mechanical keyboard with RGB lighting and wireless connectivity (if you choose). The most bang-for-your-buck option.
Check Price
As an Amazon affiliate, I earn a commission at no additional price to you.
3. Wooting 60 HE: Best 60% For Gaming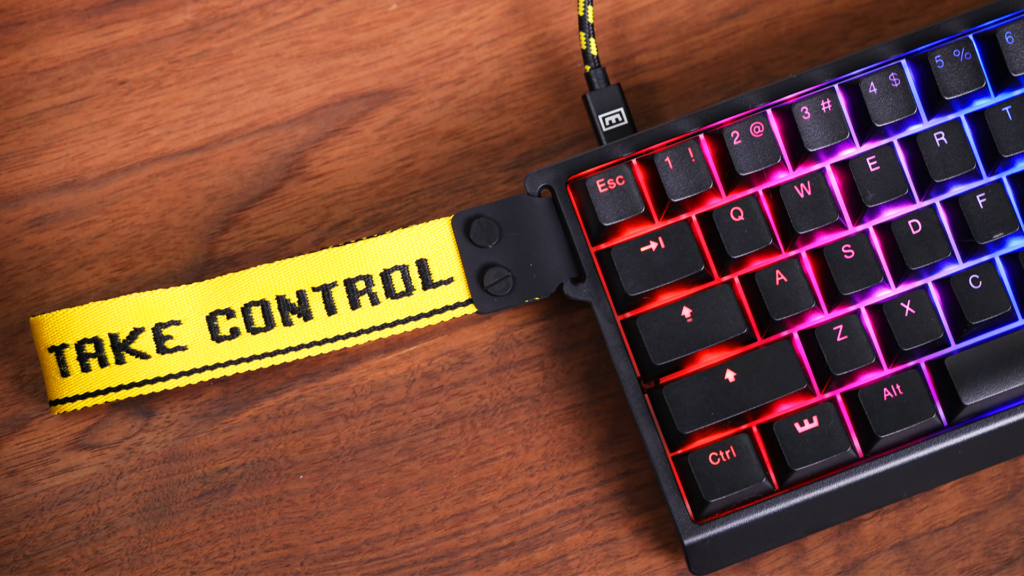 If you're looking for the best 60% gaming keyboard on the market right now, look no further (that was a mouthful).
The Wooting 60HE is gaining traction as the king of all gaming keyboards comes with all sorts of cool features.
The switches are analog and easily removable with the hot-swappable PCB. Perfect if you want to mod your switches or if one breaks. You don't have to replace your entire keyboard. Wooting sells extra switches and spring swaps for you.
It's worth noting this keyboard is NOT compatible with any other switches on the market, only the Wooting analog switches.
The analog switches offer more control and customizability than mechanical switches which make them a great option for gaming.
For that reason, this keyboard is quite popular for those that play Fortnite, Valorant, Apex, OSU, and other competitive games as the analog switches are great for supreme keyboard control.
The arrow keys are also very easy to access with the tap feature. Having them all located on the bottom-right side of your keyboard makes it easy to use them on the lower layer.
The keyboard lets you change the actuation distance all the way from 0.1mm to 4.0mm alongside a ton of other super cool features such as rapid trigger.
If you are playing games like racing games or GTA5, this keyboard is perfect since the analog switches act like joysticks.
The switches are pre-lubed, and the stabilizers sound great. This keyboard is miles ahead of its competitors in terms of its software and technology.
Wooting 60HE
Amazing technology combined with in-browser software for full control of your keyboard for competitive games.
Check Price
As an Amazon affiliate, I earn a commission at no additional price to you.
4. Keychron V4: Best 60% For Mac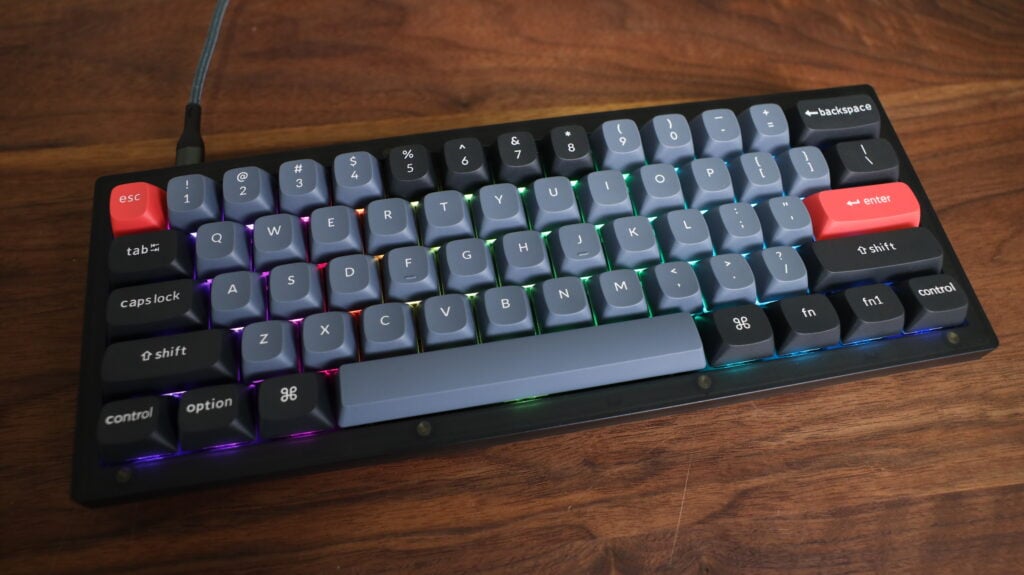 Keychron just kills it when it comes to keyboards for Mac. They have every size under the sun, with a variety of features depending on what you want.
The Keychron V4 is budget-oriented and priced under $100. For an upgrade pick with an aluminum construction and custom design, you can check out the Keychron Q4.
The hot-swappable sockets make the K4 extremely versatile as its super easy to remove the switches and try out a bunch of really cool mods.
The keyboard comes in a plastic case with a silicone sound dampening sheet at the bottom of the case. The overall case design is pretty good, but nothing special.
The PBT keycaps are high-quality. You know they won't wear down slowly over time and develop a greasy shine to them. Plus, the rough texture feels nice.
The keycaps don't shine RGB through them, but the PCB offers south-facing RGB LEDs, which look amazing at night. And if you're feeling spunky, you can find shinethrough keycaps for this keyboard for a nice light show.
This keyboard is prime for mods of any kind like tape mod or PE foam mod.
If you're looking to get a keyboard that you can easily mod and play around with, this keyboard is an excellent option.
If you don't, it also sounds and feels great right out of the box with its pre-tuned stabilizers and pre-lubed switches.
You can do a bunch of mods without needing to solder or desolder anything.
You can check out the Keychron K4 here on their website.
5. Razer Huntsman Mini: Best 60% with Optical Switches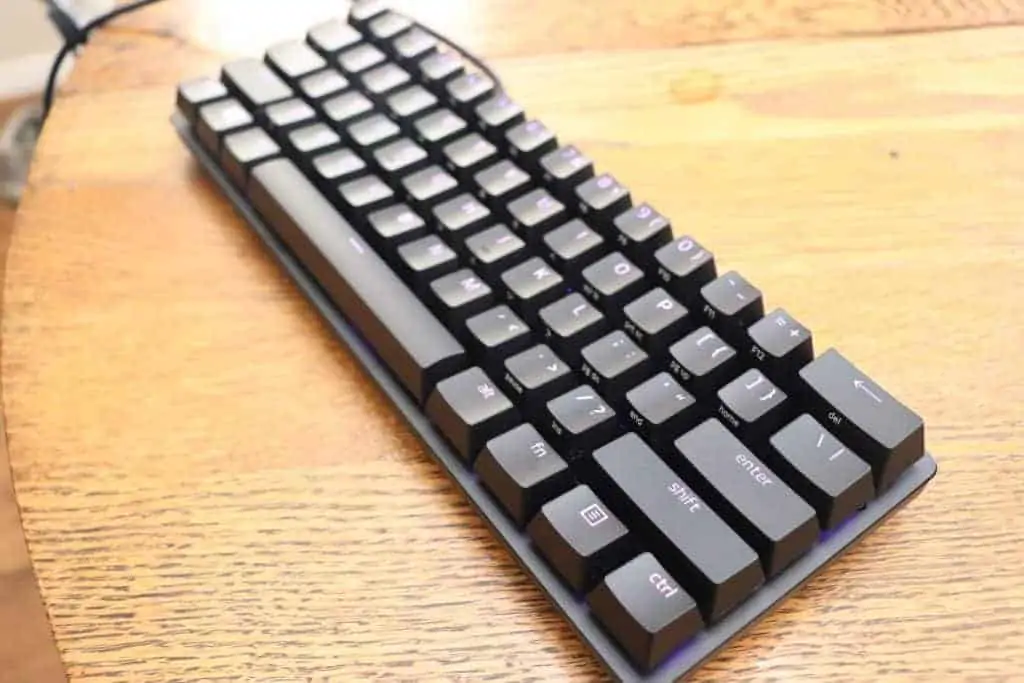 The Razer Huntsman Mini is a 60% keyboard that made some waves on its release.
The Huntsman Mini is the first 60% keyboard from one of the major keyboard producers. Not to mention, it comes out-fitted with optical switches.
The optical switches are screaming fast and the perfect fit if you're a hardcore gamer.
The response time on them is much faster than mechanical.
The only problem with the Huntsman Mini is it's not the best for anything other than gaming.
The stabilizers and switches are quite uncomfortable to use and type on. If you need to write essays for school or send out emails, we do not recommend this board.
The stabilizers are super rattly and the switches don't feel the best.
The overall case design is very light and flimsy, which makes it light to carry around in a backpack, but also feel kind of cheap.
This keyboard is perfect if you want a specialized keyboard just for gaming, but we can't really recommend it for any other purpose.
An upside to the keyboard is the PBT keycaps which have a very clean font on them. The material is satisfying to touch as well.
You also have RGB lighting which makes the keyboard light up your desk and illuminate the legends on the keycaps for easy typing/gaming in the dark.
You can find the Razer Huntsman Mini on Amazon. If you're a hardcore gamer, you can't pass up on this one.
Best for Gaming
Razer Huntsman Mini Optical Keyboard
A wicked fast gaming keyboard that can shave milliseconds off of your reaction time. Perfect for competitive gamers.
Check Price
As an Amazon affiliate, I earn a commission at no additional price to you.
6. Anne Pro 2: An Excellent Wireless Option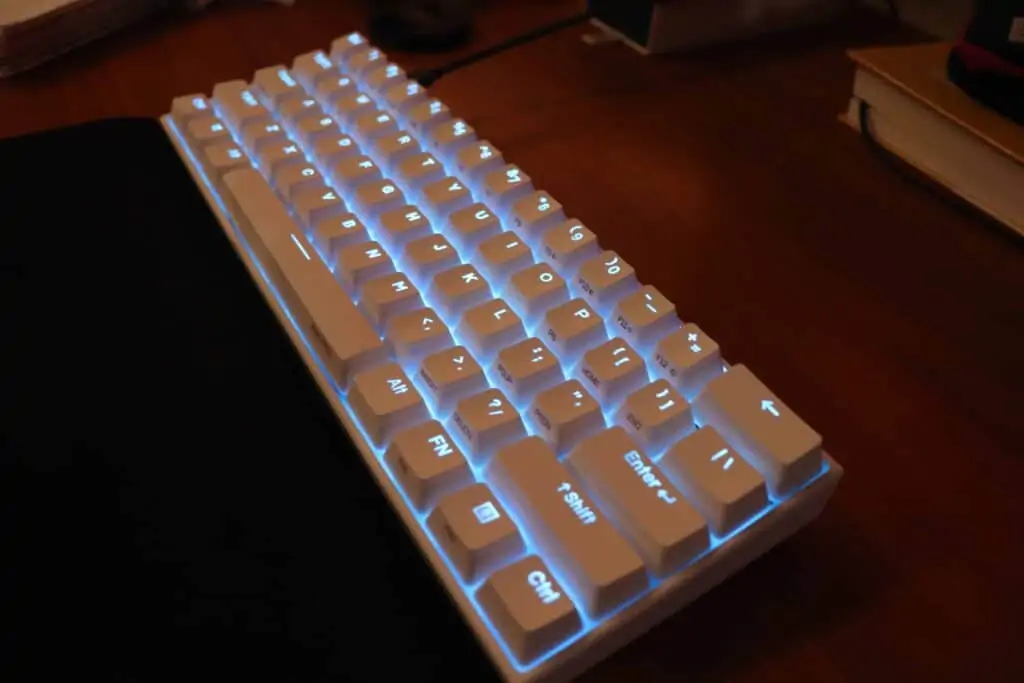 The Anne Pro 2 is one of the more popular mechanical keyboards on this list.
The keyboard was made to be a direct competitor to the Ducky One 2 Mini and it follows a lot of the same design choices.
Coming with replaceable colored keycaps, you are able to customize the look of the keyboard and go for a multi-color design that is sure to impress.
The keyboard comes with Bluetooth which is perfect for those who want to use their keyboard on the couch and don't want to be stuck using a desk. The Bluetooth was a little difficult to setup, but easy to use afterwards.
The Anne Pro 2 comes with your choice between Cherry MX, Gateron, or Kailh switches. We went with the Gateron switches because they are more budget-friendly and tend to feel the best.
While not being the most durable, Gateron switches tend to feel the smoothest (especially if you lubricate them).
In addition, the keyboard has an easily accessible lower layer which makes it convenient to use the less common keys.
The battery life is a little short, with a size of 1900 mAh.
The battery will usually last around 8 hours which is enough to get you through a work day, but you'll need to charge often.
Overall, the Anne Pro 2 makes for a decent option if you're looking for a keyboard that's similar to the Ducky One 2 Mini but for a slightly cheaper price.
Best Wireless
Anne Pro 2 Wireless Keyboard
A wireless 60% mechanical keyboard that comes with colored keycaps so you can customize the build to your style.
Check Price
As an Amazon affiliate, I earn a commission at no additional price to you.
7. Redragon Draconic K530: Surprisingly Fun to Use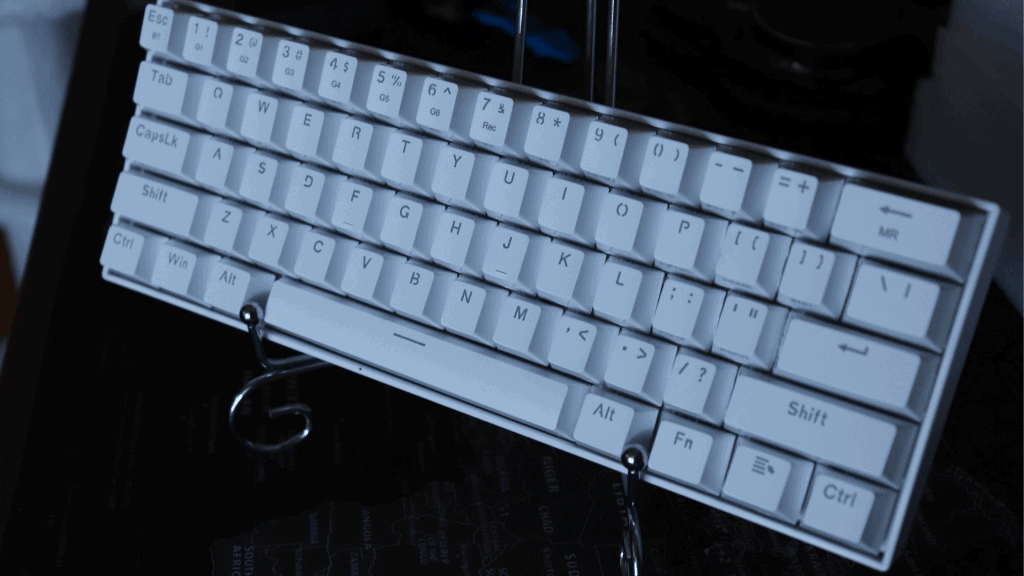 The Redragon Draconic K530 actually surprised us.
In the past, we've only used the budget keyboards from Redragon, such as the K552, K551, and K582. To our surprise, the K530 was quite impressive.
The keyboard comes with a wireless Bluetooth connection, perfect for taking your keyboard on the go. Also nice if you don't want to have to deal with pesky cable management.
The keyboard has a very sturdy build which makes it rigid and fun to use. I'm always a sucker for a keyboard with a nice build.
The PBT keycaps are also super interesting.
Instead of the typical PBT keycap design, these come with glossy sides that are smooth while the tops are a rough texture. Feeling texture differences is quite satisfying.
The switches are also hot-swappable which makes it easy to remove your switches and lube them or mod the stabilizers – all without needing to desolder.
If you're interesting in taking your keyboard to the next level, we have a ton of guides on how to mod your keyboard.
The switches in the keyboard are Redragon branded, but they are basically Outemu switches.
You can only use Outemu switch types on the keyboard, so unfortunately Cherry MX or Gateron does not work with the hot-swappable sockets.
Overall, the Redragon K530 is a great keyboard. We highly recommend it if you're looking for your next 60%.
8. Durgod Venus: Best 60% for Overall Design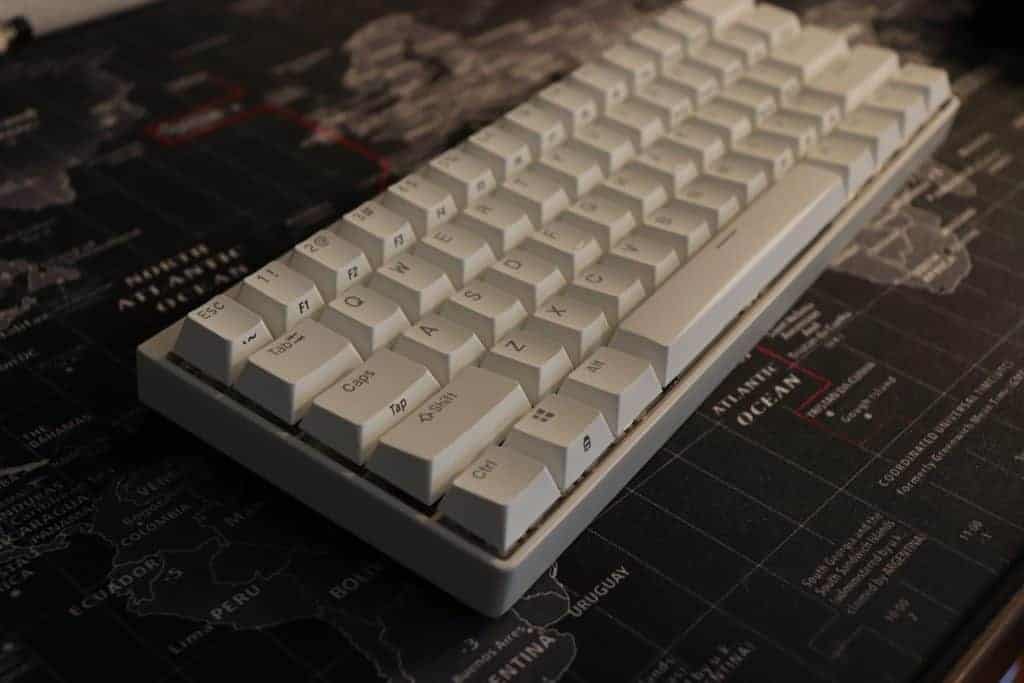 I'm not going to lie, I was blown away by the Durgod Venus.
This keyboard has the best typing experience of all the 60% keyboards on the list.
The Durgod Venus has buttery smooth stabilizers that make typing feel like a dream. The keyboard makes the perfect *thocc* sound we all want to acquire. The stabilizers are pre-lubed and have absolutely zero rattle.
You can find the Durgod Venus on Amazon, we highly recommend that you check this one out.
The keycaps are also a point of interest for me.
The keycaps are made from PBT plastic which is much more durable than the standard ABS, in addition, they come in the Cherry profile.
It's very uncommon to find a stock keyboard come with keycaps in the Cherry profile, usually it is OEM.
Cherry profile is different because it has a slightly lower profile and a more aggressive incline on the keycaps which make it more comfortable for gaming and typing.
I stand firmly by my belief that Cherry profile is the best and usually you have to buy the keycaps separately and replace them. Not with the Durgod Venus.
The case construction is quite impressive as well. The keyboard comes in a full aluminum case which makes everything feel really sturdy. There is no flex.
The RGB also really pops on this keyboard due to the white color. The RGB has a nice fuzzy glow to that really pops on your desk.
There were a few small nitpicks about this keyboard that I didn't like.
The case design has a small forehead which takes up precious desk space, in addition the power cable is recessed which makes it difficult to use a custom USB cable.
Best For Typing
Durgod HK Venus RGB Keyboard
The ideal mechanical keyboard for typing. Coming with a full aluminum frame, RGB lighting, and more, this keyboard feels premium.
Check Price
As an Amazon affiliate, I earn a commission at no additional price to you.
9. Ducky One 3 Mini – Best 60% for Style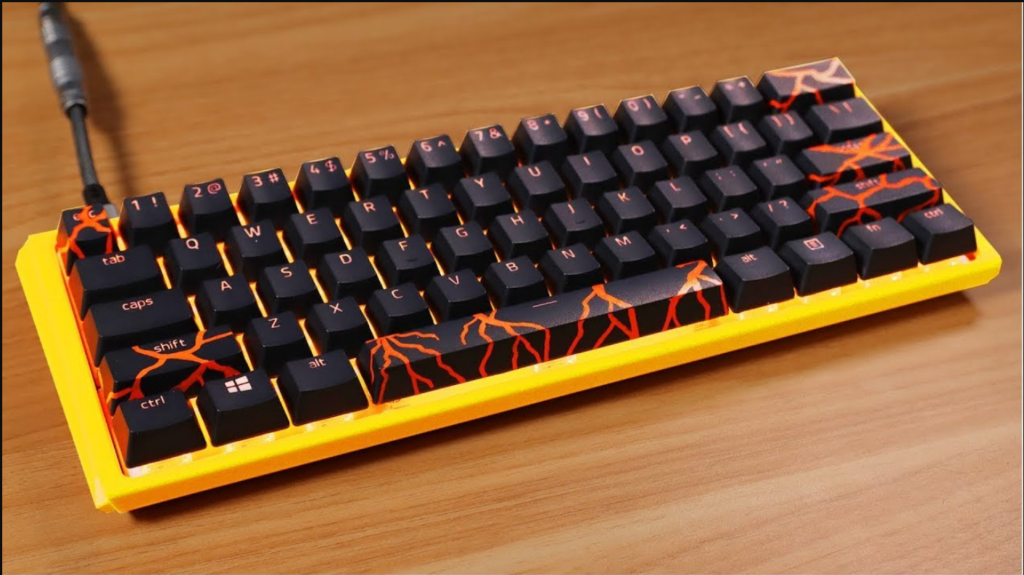 The Ducky One 3 Mini is Ducky's upgraded take on the classic Ducky One 2 Mini, which was the best 60% keyboard for many years.
It has high-quality PBT keycaps, so they'll last for many years and decades to come.
There's also onboard firmware and controls, so you can reprogram your keyboard and set up macros without downloading any additional software on your PC.
The RGB is amazing as it bounces off the white plate in the keyboard.
One significant upgrade Ducky made is that the One 3 Mini is now hot-swappable, so even if you don't like their switch selection, you can now modify it however you want without soldering and desoldering.
Inside the case, there's a thick silicone dampening pad to improve the acoustics of the keyboard. No more hollow case sound.
Ducky One 3 Mini
A 60% compact keyboard with a unique case design and PBT keycaps
Check Price
As an Amazon affiliate, I earn a commission at no additional price to you.
10. Epomaker SK64: An Interesting Layout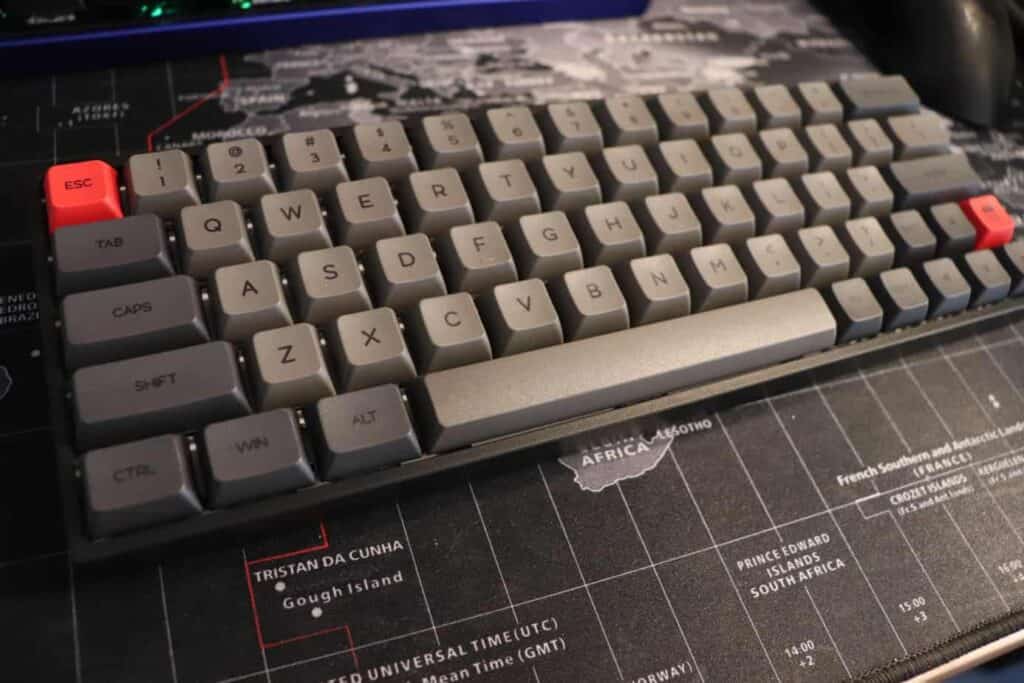 If you're looking for another optical option, the Epomaker SK64 could be a great pick.
The upside to this keyboard is the fact that it has dedicated arrow keys and a delete key. Both of which are not usually found on a compact 60% keyboard.
The SK64 also has hot-swappable optical switches which makes it super easy to remove and replace them with another optical switch variant.
You can easily mod the stabilizers or add foam inside the case if you're looking to improve the keyboard with no desoldering required.
The keycaps also come in a unique 3-color design which really spices things up a bit. Instead of the typical ABS black keycaps, the SK64 opts for PBT.
The shape of the keycaps is also slightly different. Instead of the sculpted profile, they come in a uniform shape.
Usually keycaps have a slight angle to them to make them easier to type on, but on the SK64 they are all the same shape and height.
This makes it a little strange to get used to typing on and I found it to be uncomfortable.
The keyboard also produces a hollow sound when typing, so it could really benefit from a desk mat or from stuffing foam inside of the case.
Overall, the keyboard is still a good option, especially if you like uniform keycaps and want dedicated arrow keys with optical switches.
11. Epomaker SK61: Cool Keycaps with Optical Switches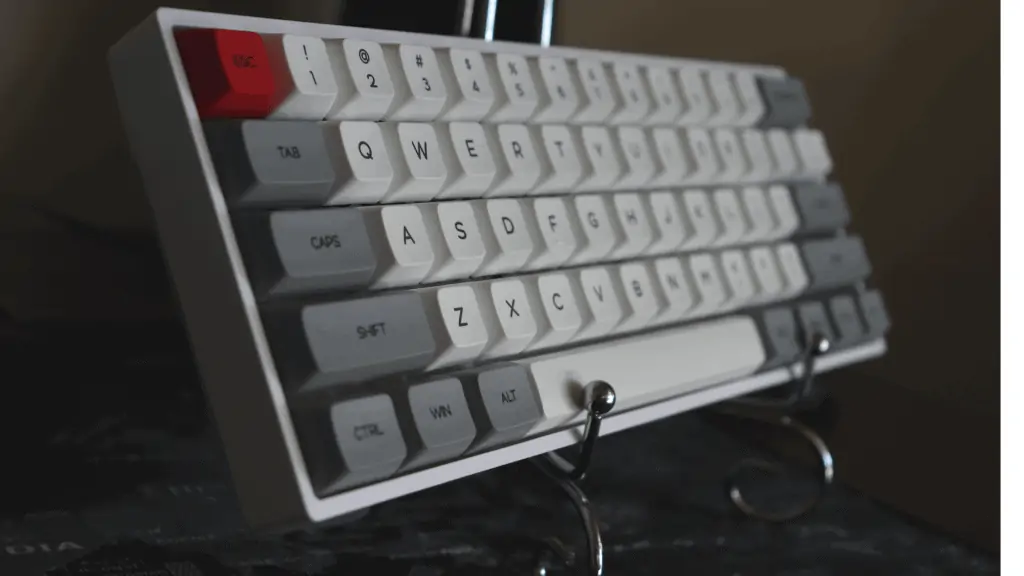 Similar to the SK64, the Epomaker SK61 is basically exact replica except the layout is different.
Instead of the dedicated arrow keys, the SK61 opts for the standard 60% layout. This makes the design slightly less unique in my opinion.
The keycaps come in a similar 3-color uniform profile design. This means all of the keycaps are the same height.
The keyboard is also Mac compatible and comes with additional keycaps so you can swap between Windows and Mac without needing to reprogram the software.
The switches are also optical and hot-swappable so you can change them out easily. Just beware the optical switches feel different than mechanical are have a hollow sound to them.
The keycaps also don't have any sub-legends to them so you can't see exactly what letters are on the lower layers. This makes it difficult to use keys that don't have a dedicated button.
Overall, the keyboard is still a good option, but it's hard to recommend it when you have the SK64 out there.
You can find the SK61 on Amazon for a good price.
---
What is a 60% Keyboard?
A 60% keyboard is a compact layout that does not come with the standard number of keys.
On a 60% keyboard there is no number pad, arrow keys, function row, or navigation cluster. This makes the keyboard size super efficient, lean, and will save you a ton of space on your desk.
A 60% keyboard is typically outfitted with the following parts:
Number of keys: 61
Stabilizers: 2u x 4, 6.25u x 1
Switches: 61
If you need a compact keyboard that you can use for working in a tight space or something that is super portable a 60% keyboard is an excellent option for you.
Just keep in mind, 60% can be quite uncomfortable to those who are not familiar with the layout. Not having access to so many normal keys can make it difficult to use at first.
After some usage, the layout size should get more comfortable.
Why Get a 60% Keyboard?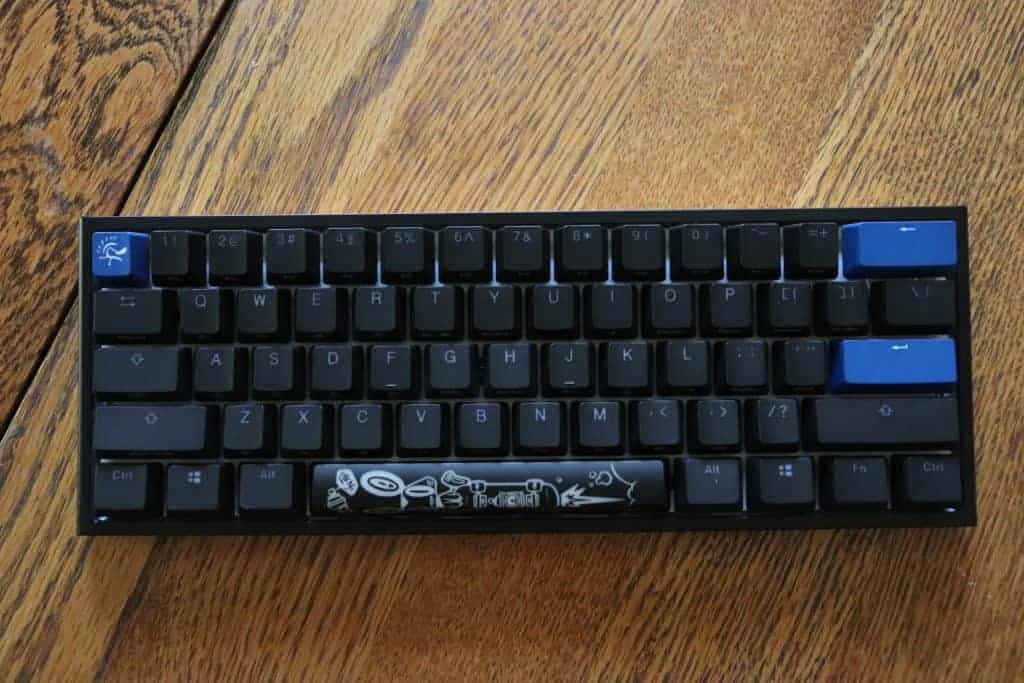 60% keyboards have been popularized recently, especially by gamers.
Many people like to game with their keyboards tilted which makes it difficult to use a large keyboard such a full-sized, because the number pad will hang off the desk.
Instead, gamers have opted for a smaller layout where they can tilt their keyboards and still have it rest fully on their desk.
Due to the rise in popularity of the keyboard size, it has become more accepted for every day usage as well.
Many enjoy the extra desk space and portability that comes along with a smaller keyboard. If you need to take your keyboard with you to a coffee shop or want to work in a small home office, a 60% keyboard will fit nicely in a small space.
60% keyboards are also much easier to build.
Instead of having to order all of the switches and parts for a massive full-sized keyboard, instead you can just get the parts for the smaller size. This makes it cheaper to build and saves time on the building process.
Which is a win-win.
There are a ton of benefits to 60% keyboards, it all depends on what you're looking for in your keyboard.
Are 60% Keyboards Better For Gaming?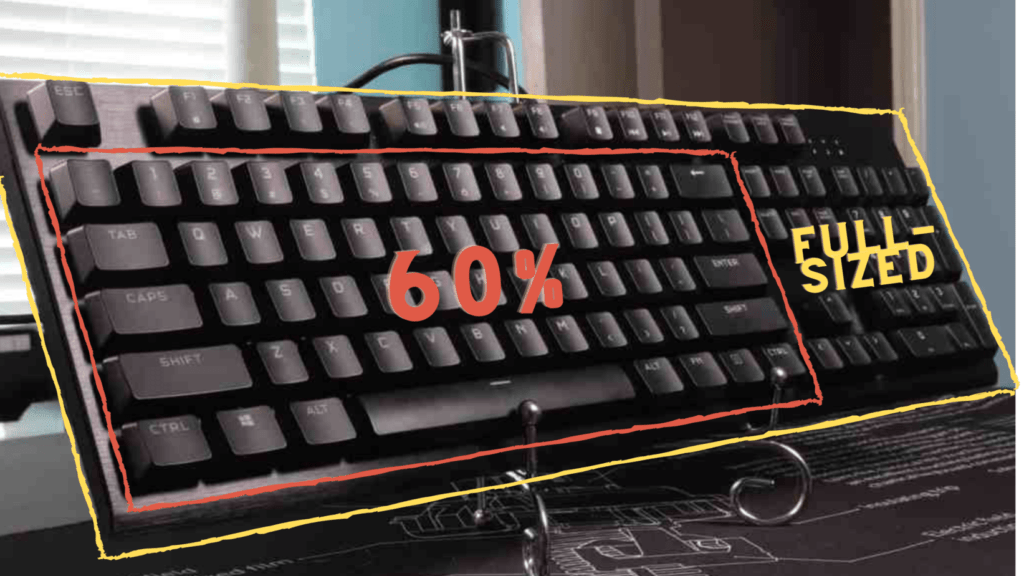 I'll just say it now. 60% keyboards are not always better for gaming.
While there are a few people who would really benefit from the smaller layout, most people should stick with larger sizes.
Easier To Tilt Your Keyboard
The people who benefit the most from 60% keyboards are those who tilt their keyboard when gaming. The smaller size of the 60% layout keeps your keyboard from hanging off of your desk.
Tilting your keyboard is a popular style that many gamers have adopted since the LAN days. The theory is that tilting the keyboard will save on desk space and give you more room to move your mouse.
A combination of a small layout and tilting your keyboard creates enough space for microphone and a nice cup of coffee.
Perfect if you have a tight workspace.
However, if you rely on easy access to the number pad or arrow keys when gaming, a 60% keyboard might not be the right choice for you.
Better Mouse Positioning
Another benefit is that you don't need to reach quite as far for you mouse when typing. Without the number pad and excess frame, you can position your mouse much closer to your typing position.
This is perfect for those who need to type quick messages and then grab the mouse quickly.
Many streamers enjoy this layout because it gives them back some much needed desk space and make it easier to reply to the chat.
If you're the type to play on a lower sensitivity and make long strokes with your mouse, the extra space created by a 60% keyboard will be well recieved.
You won't have to spread your hands apart as far when gaming leading to a more comfortable setup.
Better Portability
One of the most obvious benefits of a 60% mechanical keyboard is the smaller size.
This means your keyboard will be more portable than ever. It's super easy to unplug your keyboard, throw it in your backpack, and take it with you.
If you enjoy getting some work done in a cafe and hate using your laptop keyboard, a 60% might be a good option.
The smaller size means it takes up less space and will be much lighter than most larger keyboards. In addition, almost all 60% keyboards come with a detachable cable and even come with wireless connectivity.
The portability is extremely attractive when working from home or travelling as you can move from room to room without worrying about a lack of space.
Super convenient, right?
The Best Keycaps For A 60% Keyboard
60% keyboards have exploded in popularity with the release of keyboards such as the Ducky One 2 Mini, Anne Pro 2, GMMK Compact, and more.
We'll go over our favorite picks and break down why we chose each set.
1. HK Gaming Dye Sublimation Keycaps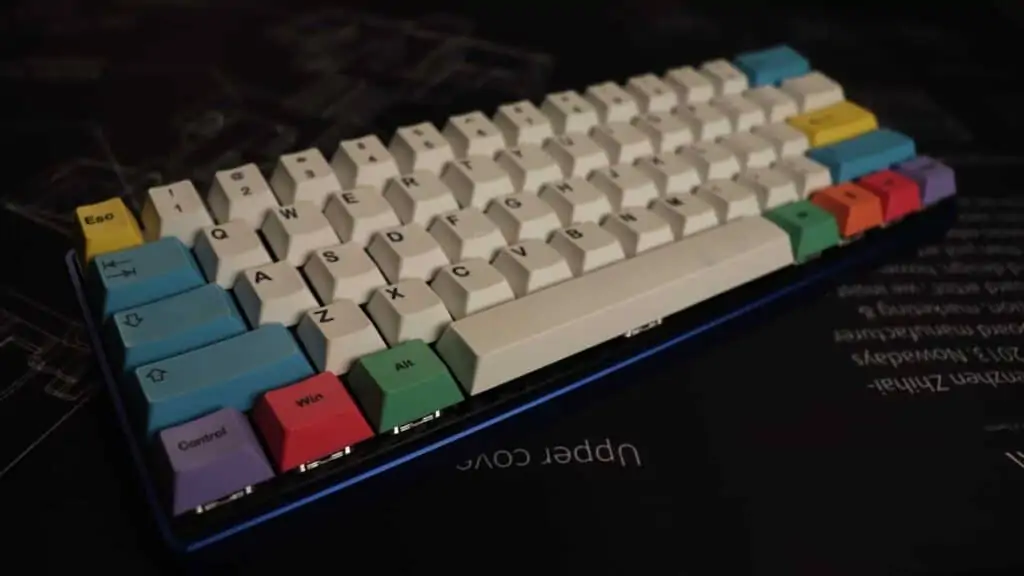 This keycap set is a personal favorite of mine. The bold, basic colors and white keycaps really pop. Not to mention, the Cherry profile is a nice touch.
On Amazon, it can be difficult to find keycaps in Cherry profile at such a low price. If you're looking for a Cherry profile keycap set on a budget, this is one of the best options.
Go from a thin set of ABS keycaps to these bad boys and you'll notice a huge improvement immediately.
The keycaps aren't without flaws though, as we noticed a few keys had uneven legends and were slightly deformed.
In the land of budget keycaps, this is normal, so we're not too upset about it.
You can find the HK Gaming keycaps on Amazon.
2. HyperX Pudding Keycaps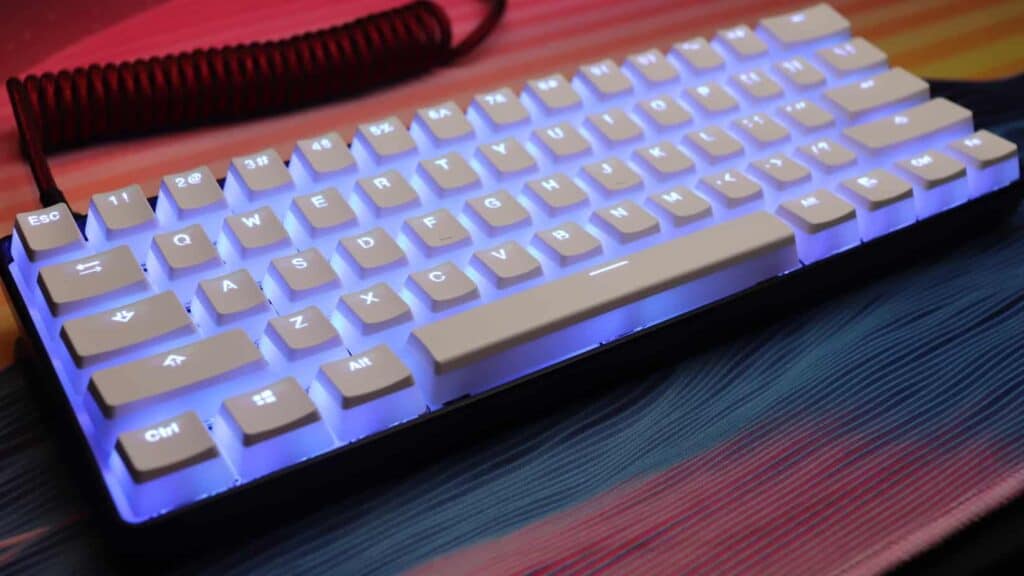 If you're an RGB fanatic, look no further.
The HyperX pudding keycaps are designed to allow the lights to shine through the sides of the keycaps for a bright setup.
You've never truly experienced RGB on a keyboard until you've tried pudding keycaps.
We picked these up a while back and have minimal complaints. The quality could be a little better, but for such a low price, it's to be expected.
We highly recommend these for a first keycap set if you don't want to spend too much.
You can find the HyperX pudding keycaps on Amazon.
3. Razer PBT Keycaps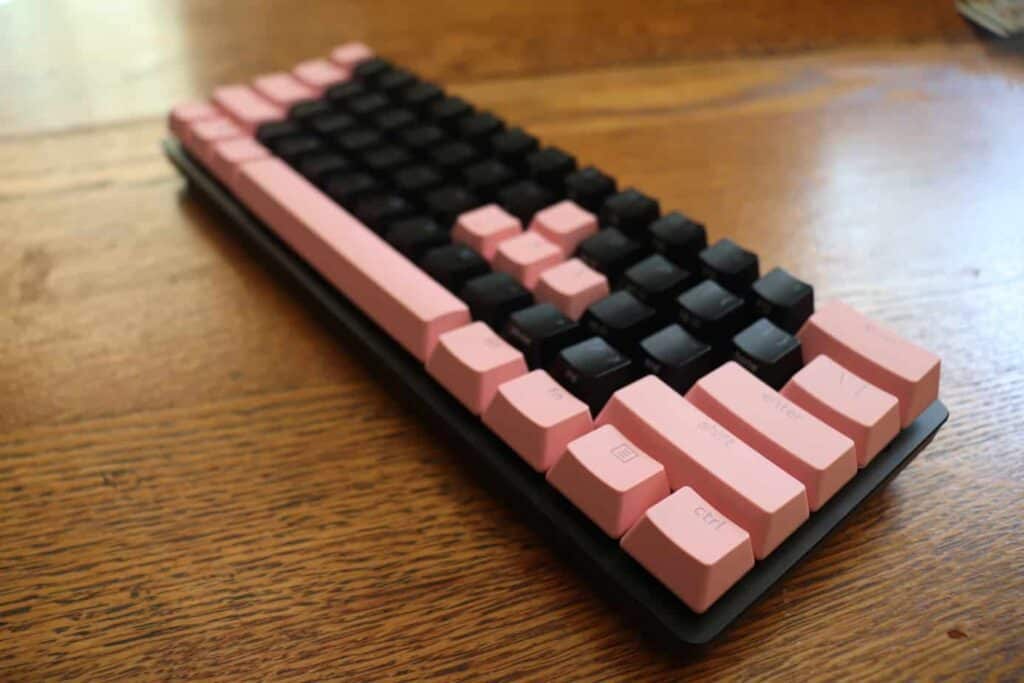 If you want to take your keyboard to the next level by improving the aesthetics and feel, a new set of Razer PBT keycaps can be a great investment.
Razer PBT keycaps makes upgrading to a new keycap set really affordable and easy, with a mix of different color options to create a unique style for your mechanical keyboard.
Most prebuilt mechanical keyboards come with ABS-plastic keycaps which shine quickly by attracting skin oils and fingerprints, while also feeling flimsy and thin.
Razer PBT keycaps solve this problem by making their keycaps out of a better material that thicker, rougher in texture, and lasts much longer.
We enjoyed mixing and matching the stock keycaps with the pink ones for a nice color mix.
4. YMDK Double-Shot Rainbow Keycaps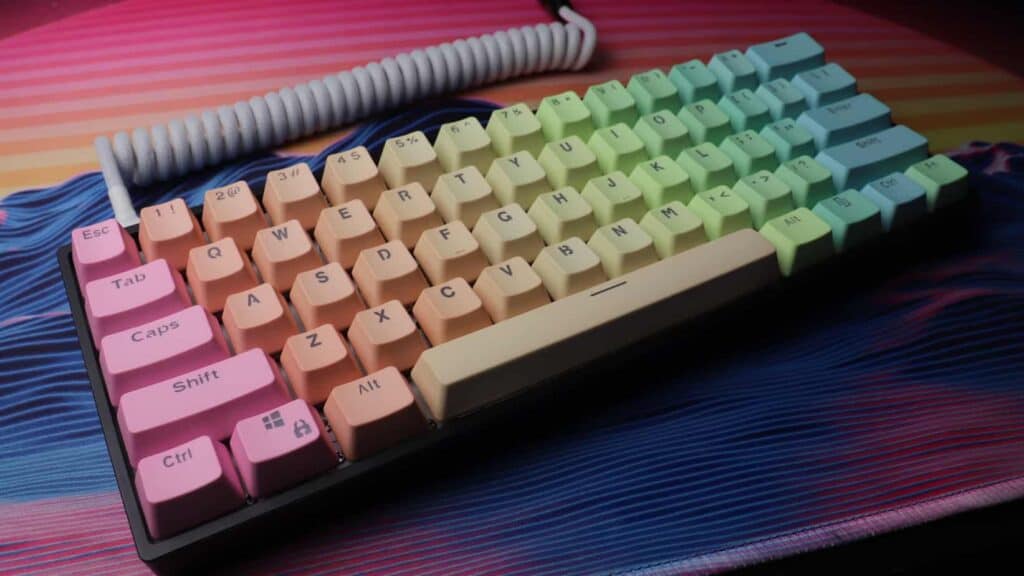 At the end of the rainbow is a pot of gold, but if your a keyboard enthusiast, it's the YMDK Rainbow keycap set.
Ok, not the best segue, I'll admit it.
The keycaps feature a multitude of colors that make you feel peaceful and relaxed, like you're looking at rainbow after a rainy day.
The double-shot design lets your RGB lighting really shine through, so you can add even more color to the mix if you're feeling it.
YMDK is known to make great budget keycaps for someone looking to amp up their keyboard. While this might be too colorful for some, it will be perfect for those who enjoy a bright setup.
The YMDK Rainbow keycap set is actually quite cheap, you can find it on Amazon.
5. Drop Skylight Keycaps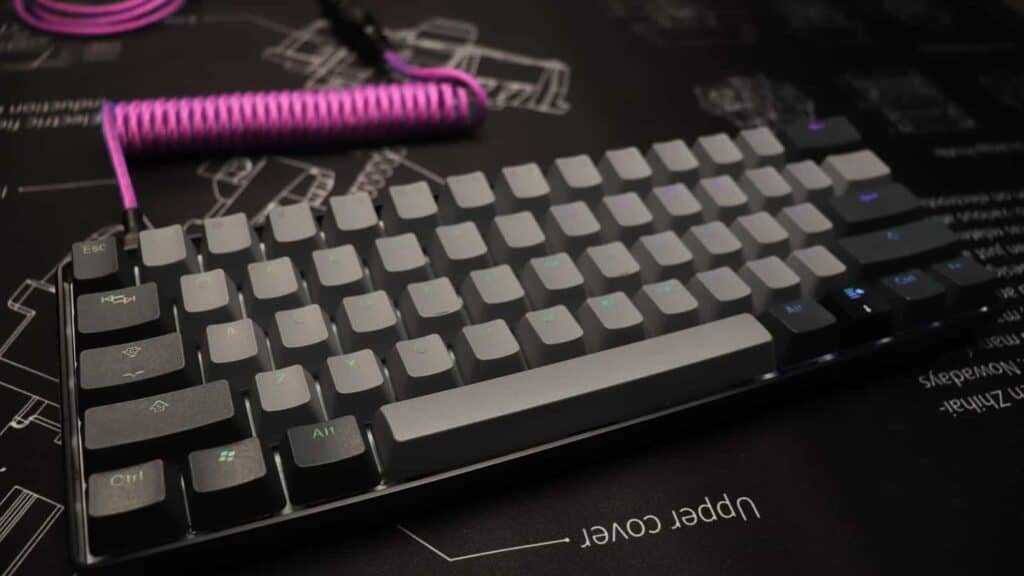 The Drop Skylight keycap set is basically a classic at this point.
In the past, you could only purchase this when you bought a Drop ALT or Drop CTRL.
Nowadays, you can buy it separately in a multitude of colors. These keycaps have a thick PBT plastic design and are very textured.
This set is a great option to spruce up your 60% keyboard and add a bit of intrigue to an otherwise boring keyboard.
This set should last you a long time before anything starts to wear away. You can find the keycap set on Drop, if you are interested.
Note: We may have lost one of the keycaps. Can you tell which one in the picture above?
Honorable Mention: Ducky Frozen Llama and Ducky Joker Keycaps
Ducky here, Ducky there, everywhere you look is Ducky. People seem to be absolutely hooked on their products.
When thousands of people own the Ducky One 2 Mini, it only makes sense to sell aftermarket sets, right?
Ducky offers a few sets in vibrant colors. You can either get the Ducky Frozen Llama set or the Ducky Joker.
Both options are made from PBT plastic and come in the OEM profile. Only difference is the colorway you choose.
Pick your poison. Both sets are super bright, but they definitely have a bold gamer feel to them.
---
What Keycaps Will Fit A 60% Keyboard?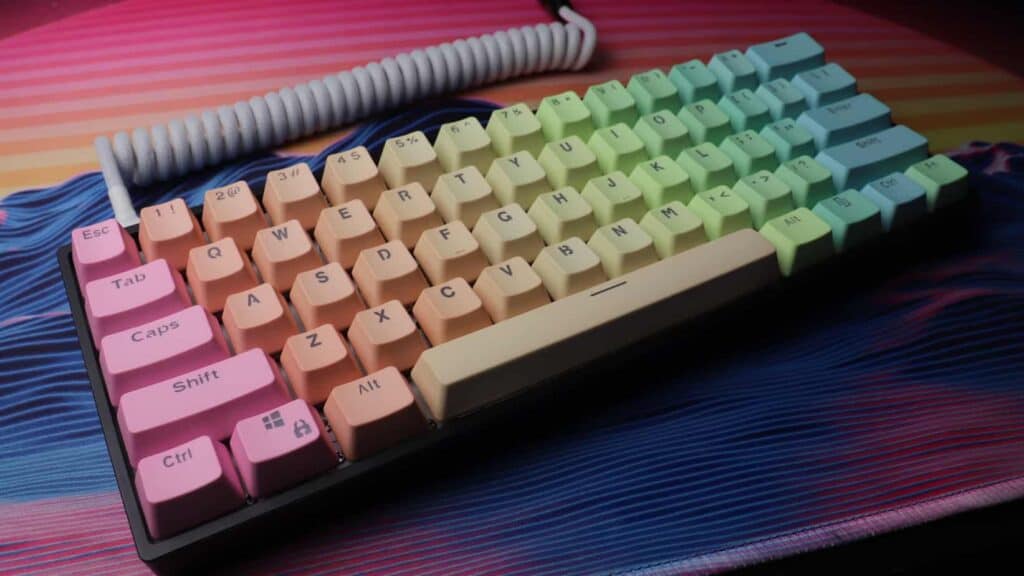 We'll teach you how to find the perfect keycap set for yourself (and your 60% keyboard). That way, if you're not happy with any of the recommendations listed, you can rest easy picking out a set on your own.
Finding out if a set of keycaps will fit your 60% keyboard is actually super simple.
Here is all you need to know.
Almost All Keycaps Work With A 60% Keyboard
Almost all keycap sets will work for a 60% keyboard, as long as they are compatible with a full-sized keyboard.
When you think about it, 60% keyboards have the exact same layout as the alphanumeric keys on a full-sized keyboard.
Take the image above. Simply chop off the function row and right side of the keyboard and your left with a 60% keyboard.
A keycap set that's compatible with a full-sized keyboard will fit perfectly on your 60%, you'll just have a few extra keycaps laying around afterwards.
If you have a 60% keyboard, you have an almost unlimited number of choices.
Picking out keycaps only gets complicated if you have a more niche layout such as 65%, 75% or an ortholinear keyboard. Then you need to worry about if they will work with your keyboard or not.
Check If Your Keyboard Has A Standard Bottom Row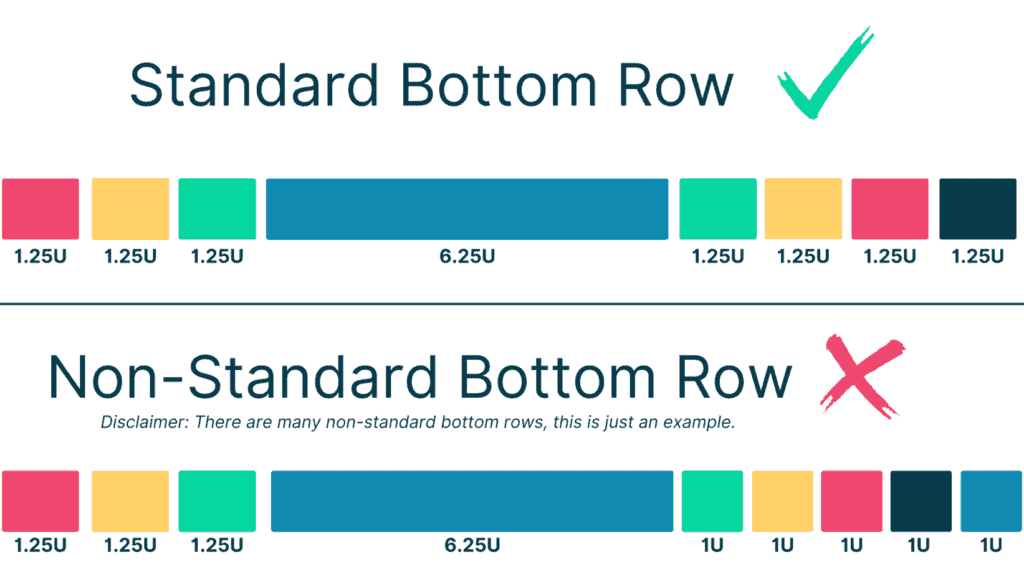 Typically, keyboards come with a standard layout. This ensures a universal fit when looking for aftermarket keycaps.
The only problem is, not all 60% keyboards fit this standard. Some have layouts that are tweaked slightly.
This can make finding a set of keycaps very difficult.
When checking if your keyboard has a standard layout, you can usually tell by looking at the bottom row.
If the bottom row has all 1.25u sized keys and a spacebar, you should be good to go.
Here's a few examples of 60% keyboards that have a non-standard layout. You'll need to be careful when shopping for these keyboards.
Keyboards such as the Blitzwolf BW-KB1, Epomaker SK64, or 65% layouts (Drop Alt, Ducky One 2 SF, etc) will require more specialized keycaps.
---
DIY Custom 60% Keyboards
If you're looking to build a custom mechanical keyboard, there are a ton of different options out there. We recently built the DZ61 from the Kebo Store and really enjoy it (actually typing this article on this keyboard).
The only major downside to the DZ61 is the micro-USB port, USB-C is better any day of the week.
But for a custom keyboard build under $200, you can't complain too much.
You can read all about the DZ61 build on this post, it will include all of the required parts and the step-by-step process.
60% keyboards are the most accessible layout and the easiest to build as there are a ton of different PCBs and build options.
For a 60% keyboard, you'll need the following components:
Case: The keyboard will be placed inside the case. Usually aluminum or plastic is used for the case.

PCB: The printed circuit board will register when a key has been activated. The type of PCB will determine if you need to solder the switches in and what sort of functionality the keyboard will have.

Plate: The plate is usually made of aluminum, steel, or brass, but you can opt for plate-less if you want. The plate improves the rigidity of the build.

Switches: The switches are entirely up to you. You can opt for linear, clicky, or tactile depending on you preference.

Stabilizers: You'll need to stabilize the larger keys to keep them from wobbling. We typically recommend screw-in stabilizers that have been modded.

Keycaps: The keycaps will give the build some style and you can choose what material and shape you want.
We highly recommend you explore custom keyboards as an option as they are a ton of fun to build.
Conclusion
We looked at a ton of 60% mechanical keyboards and picked out our top three. We have spent the last few weeks testing out all of these keyboards so we could put this list together for you.
Our favorite keyboards include the Ducky One 2 Mini, Royal Kludge RK61, and the Durgod HK Venus.
I believe that every keyboard on this list fills its own niche depending on what you might be looking for, but you really can't go wrong with any of the top 3.
If you need to save some money, the RK61 is an excellent budget option, while the Durgod HK Venus is perfect for those who type a lot.
The Ducky One 2 Mini is the all-around winner.
Happy typing!