The ultimate showdown of the switches has begun. We're going to go over what makes each switch brand unique and talk about which ones we think are the best based off of cost, performance, and how fun they are to use.
In general, Cherry MX are considered the best as they are the original switch design. Gateron, Kailh, Outemu, and Razer switches are considered clone switches, they copy the general design of Cherry MX switches but are usually offered at a much cheaper price.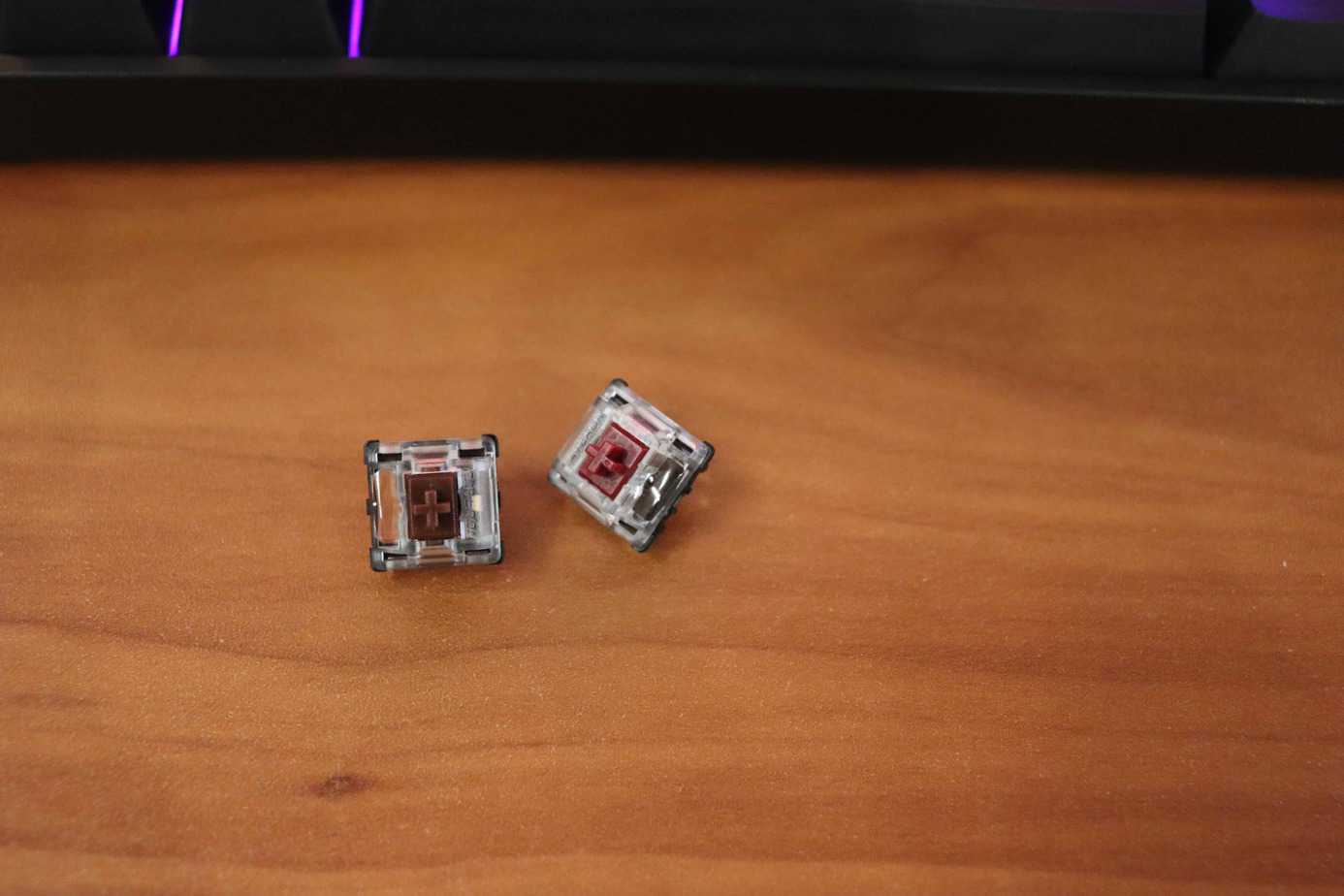 We'll go more into detail about each switch type and talk about what we like and dislike about each brand. We tested tons of different switches to give you an accurate comparison of what the switches feel and sound like.
Cherry MX Switches
Cherry held the original patent and rights for Cherry MX switches (full guide here) until the patent expired a while ago.
Now there is a ton of competition and several nearly identical switches being produced by many different companies.
Because they are the first, Cherry MX switches are regarded as the best and most durable switches.
Slowly over time, their status has fallen from being the only premium switch manufacturer, although they are still very quality. There is now some serious competition with other switch brands.
The basic rule of thumb is, you can't go wrong with Cherry MX switches. They are considered to be highly reliable and are the go-to switch for mid-range and higher-end keyboards.
Cherry switches are on the higher end for price, usually in the $0.50 – $1.00 range each depending on the quantity purchased.
Cherry switches are also rated for 100M keystrokes which is much higher than most switches, so they are extremely durable and last for a very long time.
For the purpose of comparison, I'm going to consider the Cherry MX switches as the baseline for performance and feel.
In general, when you look at the different clone switches such as Gateron, Kailh, and Outemu quality usually drops slightly. Not all of the time – but usually.
Cherry MX started the trend of naming different switch designs with different colors based on switch type, how heavy the springs are, and actuation differences.
For example, the Cherry MX Reds refer to linear medium-resistant switches and Cherry MX Browns refer to tactile medium-resistant switches. Cherry MX clones copy the same naming style so people will automatically understand what type of switches they are trying to sell.
Our favorite place to purchase Cherry MX switches is on the Kebo Store for a really competitive price.
Gateron Switches
Gateron switches are usually the first choice for if Cherry MX switches are not an option. We have a full comprehensive guide on Gateron switches, if you are interested.
If I had to choose a Cherry MX clone to go with, it would be Gateron.
In some situations, Gateron switches are even better than Cherry MX. They are very similar to Cherry MX switches except in some situation they feel smoother.
Unfortunately, Gateron's are not rated to 100 million keystrokes, but they differently bring a unique feel. Gateron's performance stands out when it comes to their linear switches, such as the Gateron Red & Yellows.
Their tactile switches fall short of Cherry, but their linear switches are buttery smooth and are a great option for gamers or people who prefer linear over tactile switches.
As far as spring force and travel distance, Gateron's are identical to Cherry.
The travel distance is 4 mm with an actuation force that changes based on each specific switch. We included some info on the bottom of the article with more detailed information about each switch.
The main difference with Gateron switches is the smoothness and the fact they're not rated quite as high for durability. Of course, with tactile switches the smoothness doesn't matter, but for the linear switches they come out ahead.
You can check the price of a wide variety of Gateron switches on the Kebo Store.
Kailh Switches
Kailh switches (full guide here) are interesting because on top of having a line of Cherry clones, they also have their own unique style switches.
They are mostly known for their BOX switches and Speed switches.
If you're looking for a switch that feels more stable, the BOX switches could be a great option.
If you're a gaming pro looking to eek out a competitive advantage, the speed switches are a good choice to give a slightly faster response on each keystroke.
As far as the Cherry clones from Kailh, they are not the best.
They tend to feel scratchy and are inferior to both Gateron and Cherry MX. If you're looking for a basic switch such as a Red, Brown, or Blue, I would recommend staying away from Kailh switches and going for a Gateron or Outemu switch instead.
If you're looking for something a little different, Kailh does have some really cool switches in their line-up.
The Kailh Box Whites and Box Jades are some of the best clicky switches out on the market right now, in my opinion. Just stay away from the direct Cherry clones that Kailh makes, as they are not the best by a stretch.
The Kono store is great place to look at prices for Kailh switches.
Outemu Switches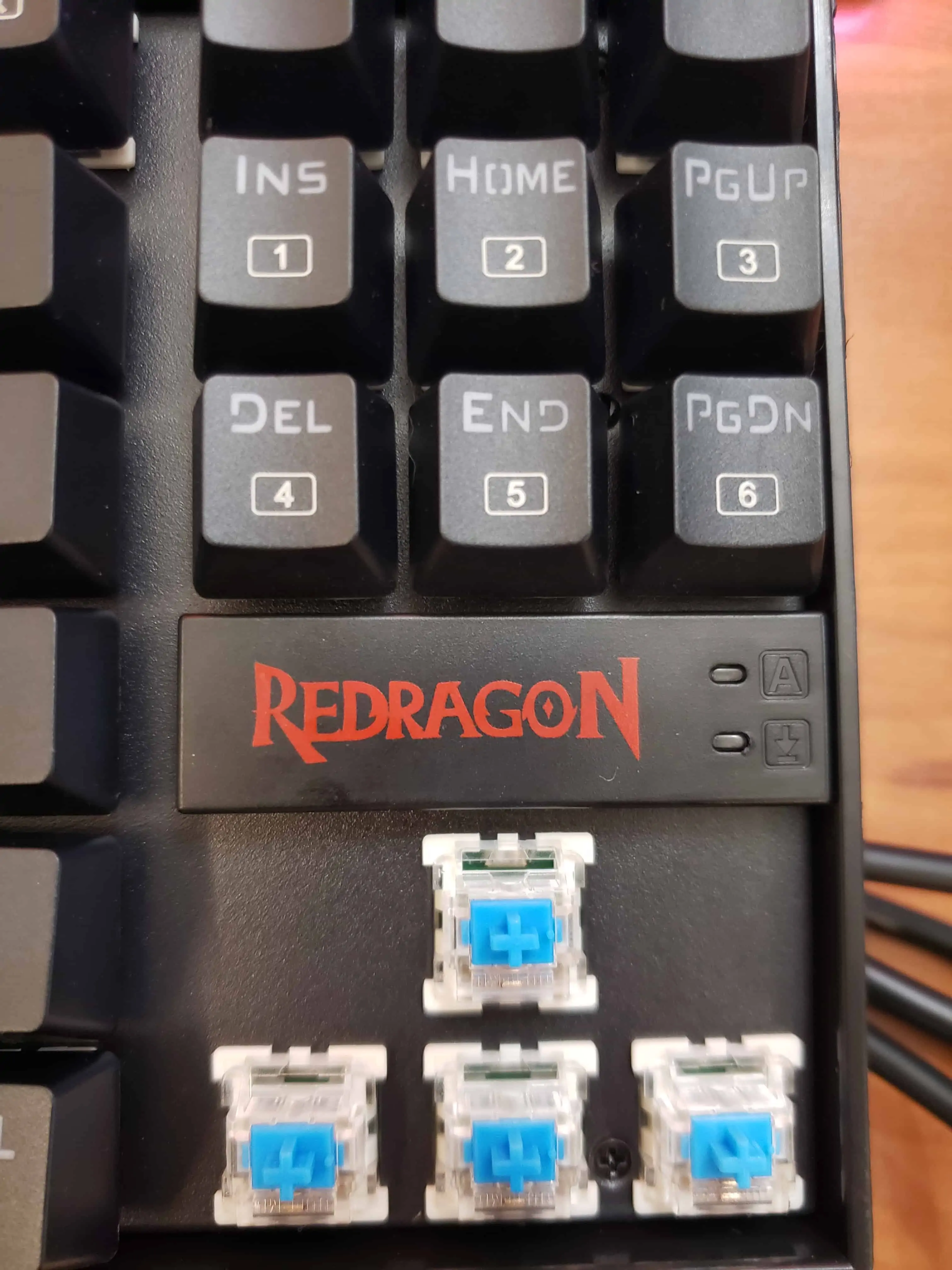 Outemu switches are usually found on budget keyboards and are the cheapest switches you can find, for the most part. Surprisingly, these switches feel quite nice despite the budget price.
You can read our full guide on Outemu switches here.
The only downside to the Outemu switches is they can feel somewhat rattly and shaky. I believe this is because the parts are not toleranced as precisely as Cherry MX switches which leaves a little bit of wiggle room.
Outemu switches also struggle for a lack of durability as they are not rated for 100 million keystrokes unlike Cherry MX.
Overall, Outemu switches are a great buy for the price but they definitely come with tradeoff.
They don't feel quite as good as Cherry MX or Gateron switches, but I do think they outperform Kailh's Cherry MX clones.
If you're looking for a budget mechanical keyboard, getting one with Outemu switches can be a great way to save on cost with minimal trade-off in performance.
In my experience, Outemu's Blue clicky switch is the best they offer, their other switches just aren't quite as good. If you're looking for a linear switch we definitely recommend you go with Gateron.
You check the price of Outemu switches here.
Razer Switches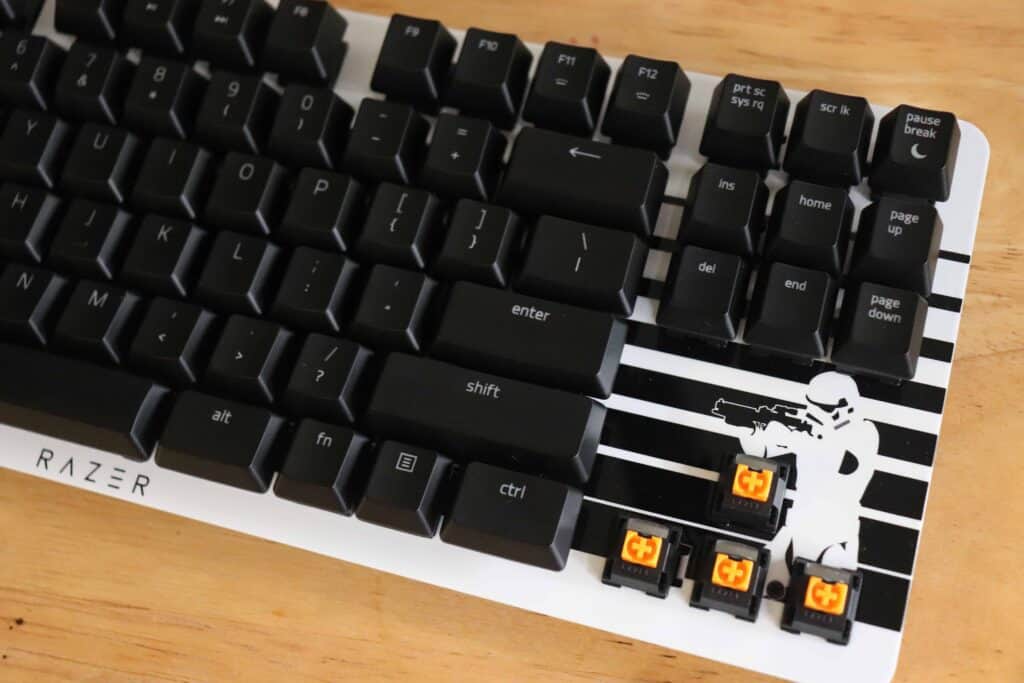 Razer is an extremely popular mechanical keyboard company that specializes in making gaming mechanical keyboards. They have their own lineup of mechanical keyboards and switches.
So, how do their switches perform compared to the rest?
Well, not great to be honest.
Razer actually sources a lot of their switches from Kailh and rebrands them, so their quality is on-par with Kailh.
From the Kailh section of the article I'm sure you're aware that Kailh does not do the best when it comes to their switch performance, so Razer switches by extension aren't that good either.
I should note that Razer does have unique specifications for their green switch to make it unique, so if you going to go with Razer, the green switch is your best bet.
Kailh is also not Razer's only supplier of switches, but since they won't publicly announce the other switch manufacturer we can assume their quality is on par or lower than Kailh.
Most gaming mechanical keyboards are actually quite low in quality and are only so popular because of the extremely effective advertising done by companies such as Razer and Corsair.
In our best 10 mechanical keyboards under $100, the gaming keyboards did the worst by far. So, it's not surprising that Razer would pay a switch manufacturer to rebrand their switches.
It's not that uncommon of a practice though, I know Logitech sources their switches from Kailh but claims them as their own design. Either way, Kailh switches do not perform that great so Razer does not do well when comparing switch performance.
You can read more about Razer switches here. Unfortunately, you can't buy Razer switches separately, but you can get them pre-installed on the Razer Blackwidow.
Overall Switch Performance Ranking
Cherry MX
Gateron (Linear switches may be better than Cherry)
Outemu
Kailh/Razer
What to Look for in a Switch?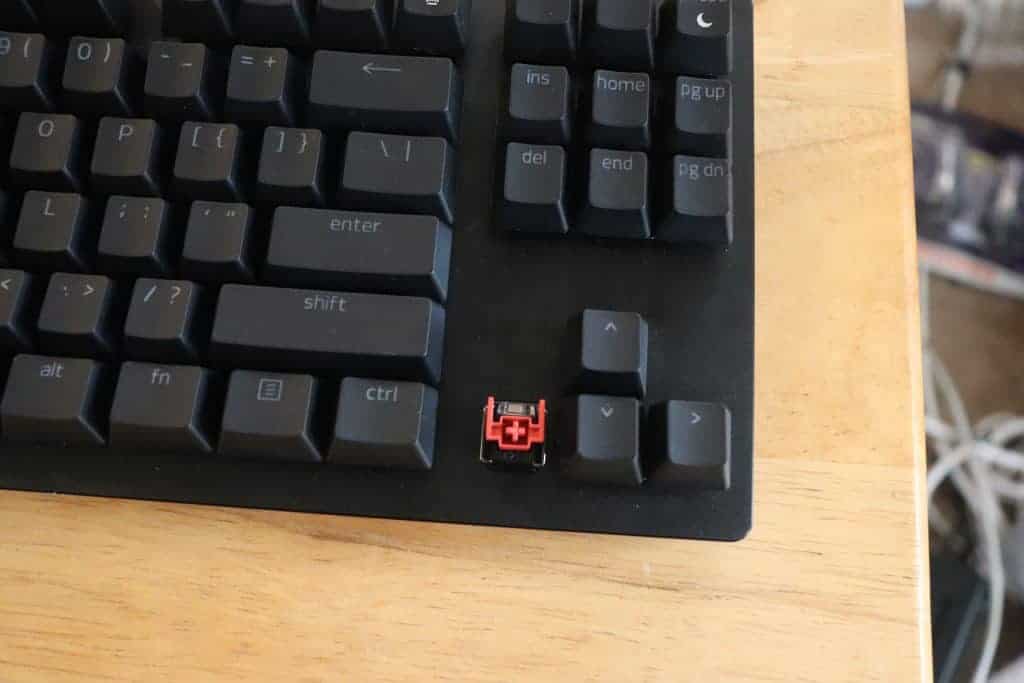 There are certain features that you need to look for when picking out a switch for yourself and a lot of it comes down to personal preference. The biggest factor is how the switch feels when typing and gaming, because ultimately that's what matters.
Other factors include features such as longevity, actuation, spring force, and travel distance. Depending on what you plan on using your keyboard for, you may want a different switch type that line up with that function. We'll break it down a bit more.
Longevity
If you're spending a decent chunk of money on a mechanical keyboard, you're going to want something that will last and work reliably for a looong time.
I still have my first mechanical keyboard from 2014 and it's still in great working condition, I just have other toys now, so I don't always use it. As mentioned before, to determine how reliable a switch is, you need to look at how long the switch is guaranteed to last for.
Cherry MX has a 100 million keystroke guarantee, so they are highly reliable. Other switches usually are in the 50 million range.
Other issues to look out for are key chatter; where you press the key once, but it gets registered twice.
This can be incredibly frustrating whilst typing as you constantly need to go back and correct the input at no fault from your own. Definitely check if your switch has this issue before committing.
Actuation Type (Tactile, Linear, or Clicky)
In the mechanical keyboard world, there are three main types of key actuation: tactile, clicky, and linear.
Linear refers to a smooth keystroke with no tactile feedback. This style of switch is usually preferred by gamers since the smooth actuation makes it easier to press the key fast and still register all of the keystrokes.
Tactile switches are a little different, in that they have a small bump which gives some tactile feedback with each keystroke. These types of switches are great for those that spend a lot of time typing and enjoy the tactile response.
Spring Force
If you tend to be a bit heavy handed when typing, a heavier spring could be a great option for you. The heavier springs offer support and resistance to your fingers, so if you slam your fingers down on the keyboard you are still able to type comfortably.
On the other hand, if you have smaller hands and/or type very lightly, a lighter spring may be better because a heavier spring will tire your fingers out. It's always a good idea to try and test several different switches out before buying your keyboard to figure out what feels the best for you.
Travel Distance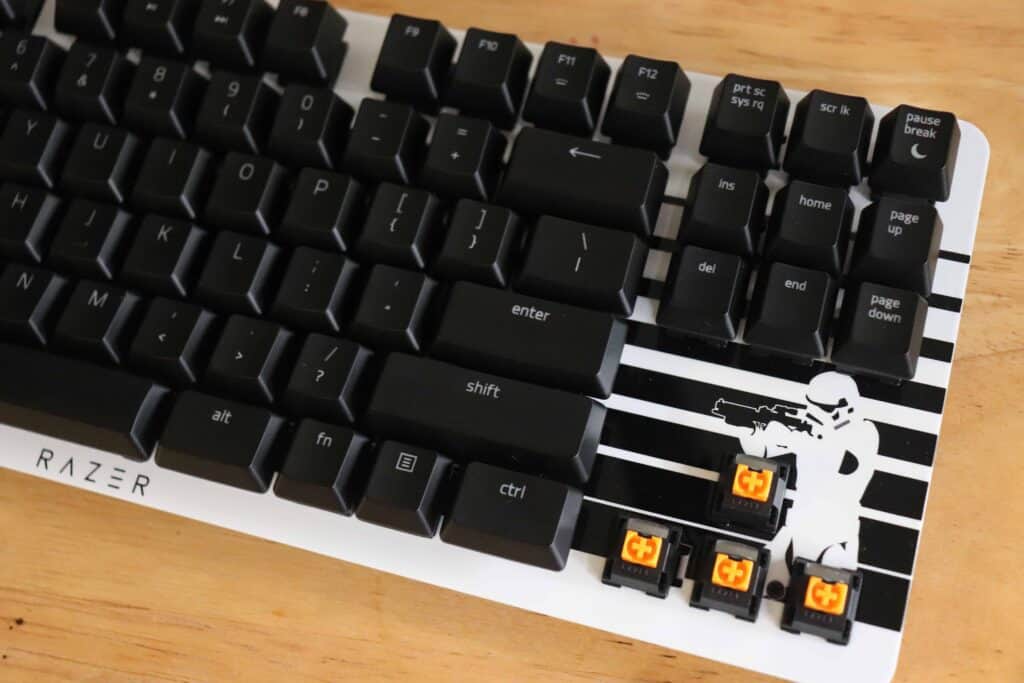 Travel distance refers to how far your fingers travel with each keystroke. The amount of travel distance is variable based on the switch type and model.
For example, "speed" or "low-profile" switches tend to have shorter travel distances.
The benefits of these types of switches include their more compact size, which makes them lighter and less bulky, and the fact that they can give a slight increase in performance with gaming since in theory your keystroke will register a millisecond faster.
Normal switches tend to have a longer travel distance and are much more enjoyable to type on. So there is definitely a trade-off when looking at a short travel distance switch.
Conclusion
The clone wars have come to end, we have ranked some of the most popular Cherry MX clones by performance and made several recommendations based on what we have found to be the best.
You cannot go wrong with the tried and true Cherry MX switches, but if your budget doesn't allow for them Gateron and Outemu's are the way to go.
Only go with Kailh or Razer if you absolutely need to.
Most keyboards will offer several different switch types when you order them so you might get the choice between different brands.
We included the more detailed switch specifications for each brand and switch, so make sure to check that out below.
There are so many different interesting and cool switches out there, so don't be afraid to try lots of them out before committing to a single type. We recommend getting a switch tester or going into an electronics store and trying few keyboards out before buying.
Switch Specifications:
Red
Black
Brown
Blue
Clicky and tactile switch

2.2 mm actuation distance
White
Clicky and tactile switch
Green
Clicky and tactile switch

2.2 mm actuation distance
Gateron
Clear
Red
Black
Blue
Clicky and tactile switch
Green
Clicky and tactile switch
Brown
Yellow
Kailh
Blue
Clicky and tactile switch
Brown
Black
Red
Green
Clicky and tactile switch
BOX White
Clicky and tactile switch

1.8 mm actuation distance
BOX Thick Navy
Clicky and tactile switch

1.8 mm actuation distance
BOX Thick Jade
Clicky and tactile switch

1.8 mm actuation distance
Speed Silver
Linear switch

1.1 mm actuation distance
Speed Copper
Tactile switch

1.1 mm actuation distance
BOX Red
Linear switch

1.8 mm actuation distance
Speed Bronze
Clicky and Tactile switch

1.1 mm actuation distance
BOX Heavy Burnt Orange
Tactile switch

1.8 mm actuation distance
BOX Heavy Dark Yellow
Linear switch

1.8 mm actuation distance
BOX Heavy Pale Blue
Tactile and Clicky switch

1.8 mm actuation distance
Kailh Speed Gold
Tactile switch

1.4 mm actuation distance
Kailh BOX Black
Linear switch

1.8 mm actuation distance
Outemu
Blue
Clicky and tactile switch
Brown
Red
Black
Green
Clicky and tactile switch

1.9 mm actuation distance
Orange
Tactile switch

1.9 mm actuation distance
Yellow
Linear switch

1.2 mm actuation distance