Are you looking for an affordable, compact, and portable keyboard with a switch that has a nice and short travel distance?
Well a low profile mechanical keyboard may be an awesome option for you. Perfect for gaming and for those who don't want to bend their wrists as much when typing.
---
The Best Low-Profile Mechanical Keyboards: Our Top Picks
| The Award | The Keyboard | Special Features |
| --- | --- | --- |
| Favorite Pick | Keychron K1 | Absolutely packed with features. |
| Best Low-Profile Mechanical Keyboard for Gaming | Corsair K70 | Extra-fast switches for gaming. |
| Best 60% Low-Profile Mechanical Keyboard | Cooler Master SK630/650/621 | Variety of different sizes available |
| Best Wireless Low-Profile Mechanical Keyboard | Logitech G915 Lightspeed | Super fast wireless connection |
Let's dive into our list and discuss why we chose each of these low-profile keyboards as our favorites.
---
1. Keychron K1: Best Wireless Low-Profile Keyboard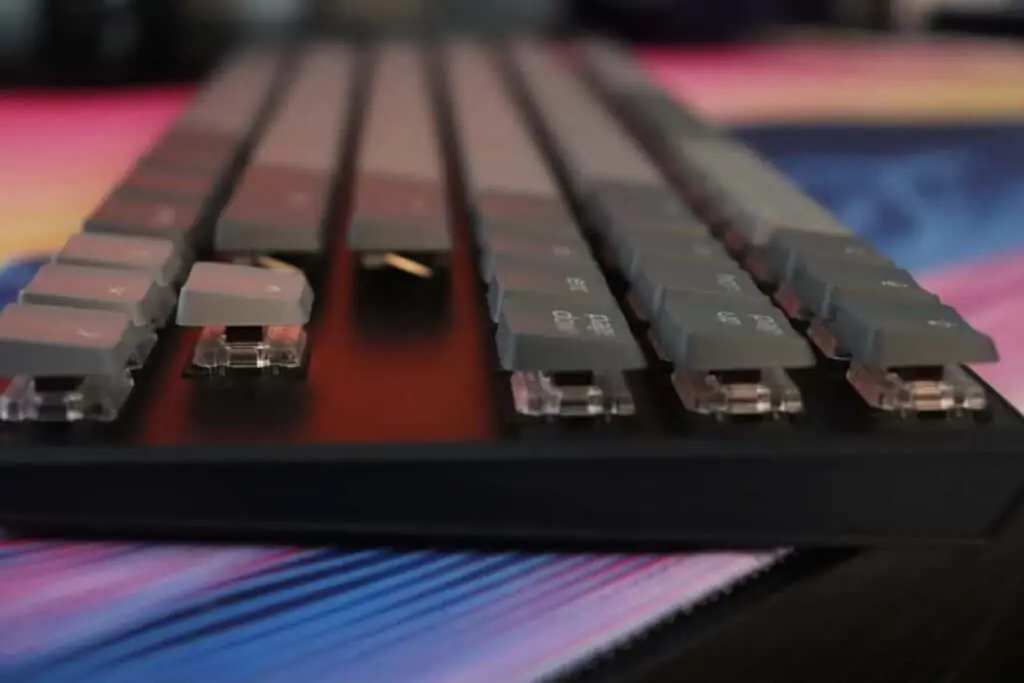 The Keychron K1 was produced by mechanical keyboard enthusiasts and the design reflects that.
Different Pricing Options
The keyboard comes with different scales of pricing options depending on the number of features you want.
You can pick from either 87-key or 104-key, white backlight or RGB backlight, and between Gateron Low Profile Blue or Red Switches. It comes in a black colorway.
There was recently a new version of this keyboard that was released with more switch options and the K1 was improved across the board.
Wired/Wireless with Mac & Windows Compatibility
This keyboard can be wireless or wired, and it is compatible with Windows or Mac, coming with specific keycaps for each operating system.
Simply use the toggle switch on the side to change between operating systems.
The K1 has an ultra-thin body at 18mm, uses a USB-C plug, and has media keys that work on the Mac as well.
Th Gateron Low Profile Blue switches have a total distance of 2.5mm, an actuation distance of 1.5mm, with an actuation force of 50g. Which make it a pretty basic low-profile switch that gets the job done well enough.
The Gateron Low Profile Red switches have the same total distance and actuation distance, but only requires 45g to actuate. The switches are exposed from the sides with the floating key design.
We have a more in-depth review of this keyboard on our site as well if you want more detail on this keyboard model.
The keycaps are very similar to Mac style keys, with the font and the flat keycap style design.
Wirelessly, it uses Bluetooth technology to connect to up to 3 devices which is great if you want to connect to your phone, tablet, and PC to switch between them seamlessly.
Without the RGB lighting turned on, the keyboard can last for days without needing a recharge.
Do you want RGB Lighting? It's up to you.
If you pick the RGB version, it comes with 18 different pre-programmed lighting effects.
The keyboard is primarily made from aluminum, and it feels sturdy.
Unfortunately, there is no programmability for RGB lighting, so you cannot make your own custom effects.
Overall, the Keychron K1 is an affordable keyboard that falls at a price point under $100, but still offers the slim low-profile look, wireless capabilities, and a clean look with backlighting.
You can find the Keychron K1 for a super affordable price on Amazon.
2. Corsair K70 RGB: Best Low Profile Keyboard For Gaming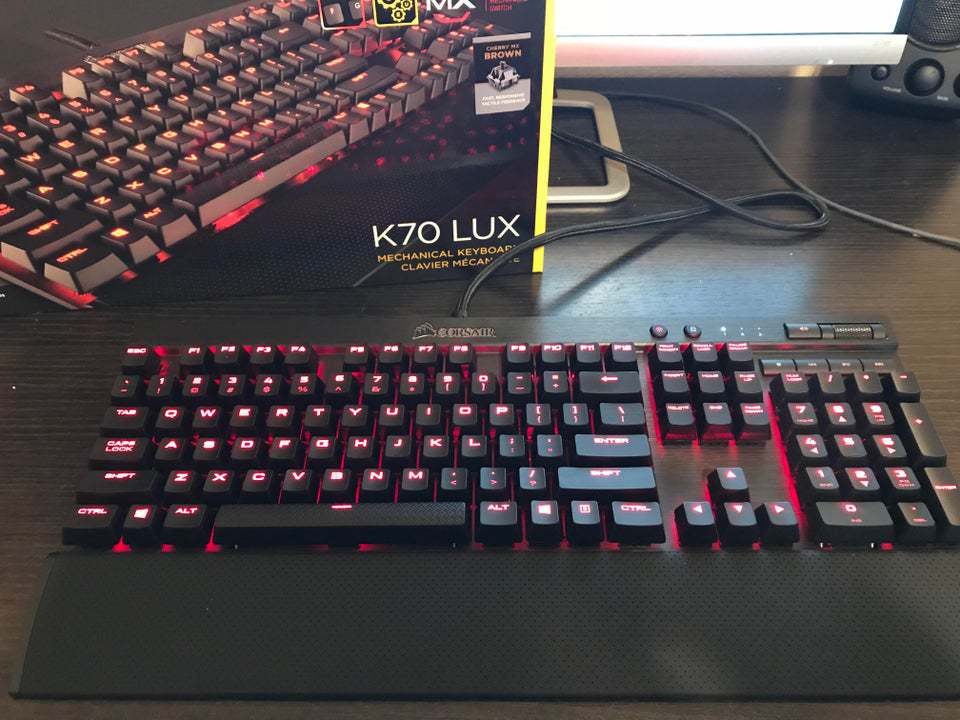 Introducing the Corsair K70 RGB MK. 2 Low-Profile version of the Corsair K70. It's everything the K68 has, except with low profile switches.
The keyboard is on the high-end side, so the price definitely reflects that.
The K70 has dedicated media keys at the very top of the keyboard including a volume scroll for easy quick change.
It has a mute button with dedicated play back controls.
Interesting Design and Features
There is a brushed aluminum frame with a USB passthrough on the back of the keyboard.
There are additional textured keycaps for the MOBA/FPS keys such as WASD, Space, Q and E.
It also includes a flat plastic wrist pad, that offers a little bit of support, but would be better if it was padded or textured.
The switches are Cherry MX Low Profile Speed switches. It looks just like a regular Cherry switch but around the cross stem is a ring of plastic.
Comparing the MX Speed to the MX Speed Low Profiles, they have a lower actuation distance which make them feel a bit different.
The MX Speeds have a travel distance of 3.4mm with an actuation distance of 1.2mm. The Low-Profile MX Speeds have a total travel distance of 3.2mm and an actuation distance of 1.0mm, so slightly less by 0.2mm.
With a low-profile switch, you should get faster reaction times when gaming, but the typing experience will be more uncomfortable due to bottoming out the switches easier.
The software is a huge download, but allows you to edit all the lighting effects and macros on the keyboard.
Many of the features remain the same as the K70 RGB Mechanical Keyboard that we talked about before when discussing the mechanical keyboards that Fortnite pros play on.
Perfect for Gaming
If you are excited about gaming on low-profile keyboards, this keyboard is probably your best bet.
The MX Speeds improve response time via shorter travel distance already, but the MX Low Profile Speeds take that a step further.
With the dedicated media keys and textured gaming keycaps, this keyboard will make your gaming setup look and perform its best.
You can check the price of the Corsair K70 on Amazon.
3. Cooler Master SK630/650/621 Low Profile Keyboard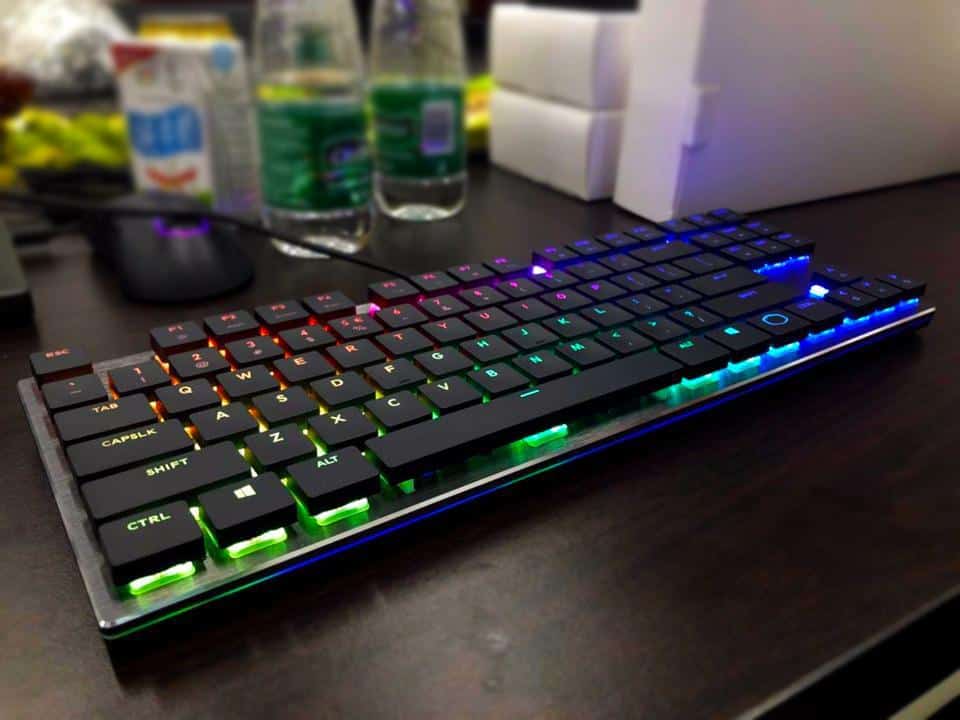 Comes In A Variety Of Different Sizes
Let's look at the Cooler Master SK630/650. Both of which are low-profile mechanical keyboards, except the SK650 is a full-sized keyboard with a number pad, while the SK630 is a TKL keyboard.
There is also the SK621, which is a 60% keyboard with Bluetooth.
These keyboards feature extra-flat keycaps and Cherry MX Low Profile switches, resembling a chiclet style keyboard with an improved feel.
Not Specifically for Gamers
While the overall appearance of these keyboards is not geared towards the gaming community, the keyboards offer easy on the fly backlighting adjustments, changing lighting modes, as well as recording macros.
The keyboards have no Cooler Master branding on them other than the right Fn key is now a subtle logo, just the outline of the logo without the words "Cooler Master" in between.
They both have full RGB lighting with over 15 pre-programmed lighting effects including:

Static, Rainbow Wave, Crosshair, Reactive Fade, Stars, Rain, Color Cycle, Breathing, and more. In addition, along the side of the frame is a thin lighting strip that can be customized as well.
Using the software provided, you can go even further with customization of lighting modes and macros.
Cool Features Included
The keycaps and switches together have a floating key design, where the switches and RGB lights are exposed underneath, allowing a bright visual experience to anyone interested.
Like other mechanical keyboards, these ones feature N-key rollover, with accurate keypress detection despite button-mashing or during gaming.
From a design perspective, the keyboard features a brushed aluminum back plate.
However, there is a plastic base that takes away from some of the rigidity. It has a wedged shape which raises the back of the keyboard slightly.
The TKL and 60% versions are extremely portable, fitting easily into backpacks and purses. Compared to other keyboards, the size is not super slim. However, due to the overall look with the flat keycaps, the short base, and the floating key style, the keyboard looks smaller than it is.
Some Downsides To The Coolermaster Line-Up
A downside is that the keyboard doesn't have any adjustment in keyboard angle. This means you're stuck with a flat typing angle – no other options.
The USB-C cable is detachable from the keyboard. It connects through to the backside. The cable is braided, which is a bonus benefit. It is more durable.
There is no USB passthrough. None of the three versions have media-keys or volume controls dedicated onto the keyboard itself. Through Fn keys, it's possible to do that.
Typing Experience
Despite the keycaps looking appealing, the flat shape makes it difficult to type on because you can have a hard time finding the keys that it needs to press.
There is no tilt of any keycaps, and the edges of each key is squared off and level with its neighbors. They try to reduce the distance between keys, so it may take some time to get used to the keyboard.
You'll most likely be making a lot of mistakes at first, but will eventually get used to it over time.
The Gaming Experience
Gaming with this keyboard is a better experience due to the short linear switches. You'll experience faster reaction times and a small boost to your competitive level.
The caveat is, the combination of the flat keys, the shorter travel distance, and the shorter linear switches makes this keyboard difficult to type on with speed and accuracy.
The sounds, compared to other keyboards, is also quieter. This is a very quiet keyboard, which you can take to the office without any trouble.
The SK Lineup from Cooler Master has a lot to offer. The only complaints I have is that the keycaps are flat and not curved at all and it has no angle adjustment for typing.
It's tough typing on a flat keyboard such as this because you have to float your wrists up, which can cause shoulder and upper trapezius fatigue over time.
You can find the Coolermaster SK600 line-up on Amazon by following this link, with all of the prices listed.
4. Logitech G915 Lightspeed: A High-End Option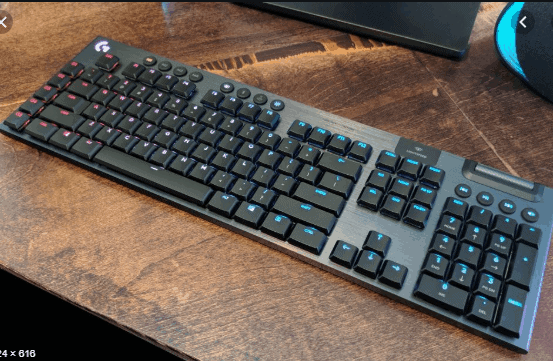 Quite Pricey, But Worth It
This keyboard is the most expensive board on the list, with a higher-end price that will make most blush.
The Logitech G915 Lightspeed Mechanical Gaming Keyboard is a full-sized keyboard, available on Amazon through this link.
One thing to note is that it comes in two versions.. The Logitech G815 is basically the same keyboard, but it has no wireless capabilities which allows you to save on some cash.
Features of the Logitech G815/915
Let's talk about some of this keyboard's features. The frame is a brushed aluminum with an aluminum frame. It has full RGB lighting and a thin lighting strip on the sides of the keyboard.
The keyboard offers three variations of switches, clicky, linear, or tactile. These switches are called GL Linear, GL Tactile, and GL Clicky switches.
For more information on the switches, Logitech has a great information page describing all of their switches with graphics and sound bites.
They all have a total travel distance of 2.7mm, an actuation distance of 1.5mm, and an actuation force of 50g making it a standard low-profile switch.
Despite being low profile, the footprint of this keyboard is big.
It has a column of 5 macro keys on the left side for you to program any macros you may need. At the top right of the keyboard, there is a volume wheel and dedicated media controls. The keyboard itself is 22mm tall.
Lots of Customization and Adjustability
At the top of the keyboard are different profile adjustments, macro keys, and lighting keys.
The keyboard is extremely thin compared to other keyboards. With the height adjustment kickstands, the back of the keyboard raises to the height of other keyboards.
The keycaps are curved which offer a nice typing experience.
They are ABS plastic keycaps that are extremely sturdy. One issue that people have encountered is breaking the keycaps when they're taken out.
The keycaps are hard to find because they're made specially for the GL switches, so be careful when taking the keycaps out and putting them back in.
If, however, you break a keycap, you can contact Logitech support because they do sell replacements.
The keycaps are bright and shine through nicely. However, only the top legends have light shining through. The other legends are a matte grey, which may be difficult to see in dim lighting.
Speedy Wireless Connection
It has lightspeed wireless, which is graded for a super speedy 1 ms performance for gaming, even wirelessly.
Many wireless keyboards require being connected to offer responsive registration of keypresses for gaming, but this one can be used wirelessly as well.
To connect using Lightspeed wireless technology, you must use the USB receiver in your laptop or computer.
The keyboard also offers Bluetooth technology that can connect to multiple devices such as your phone, which does not have a USB port. At 100% RGB brightness, the keyboard offers a long 30 hours of gaming wirelessly.
To recharge, simply connect the keyboard into your computer, which uses a Micro USB connector.
Despite being the most expensive keyboard on this list, it does offer the best features.
It has Lightspeed wireless technology, so you can game wirelessly, unlike other keyboards that connect via Bluetooth only.
Lots of Different Switch Options
This keyboard offers 3 types of switches of all types, macro keys, dedicated media keys, and more. It's a keyboard packed with features.
If you have the money for it and want a high-end wireless gaming keyboard with mechanical switches yet have a low profile look, this is the one for you.
Where to Buy the Logitech G815/915
You can find the Logitech G815 and G915 through this link for a competitive price on Amazon.
---
What are Low Profile Keyboards?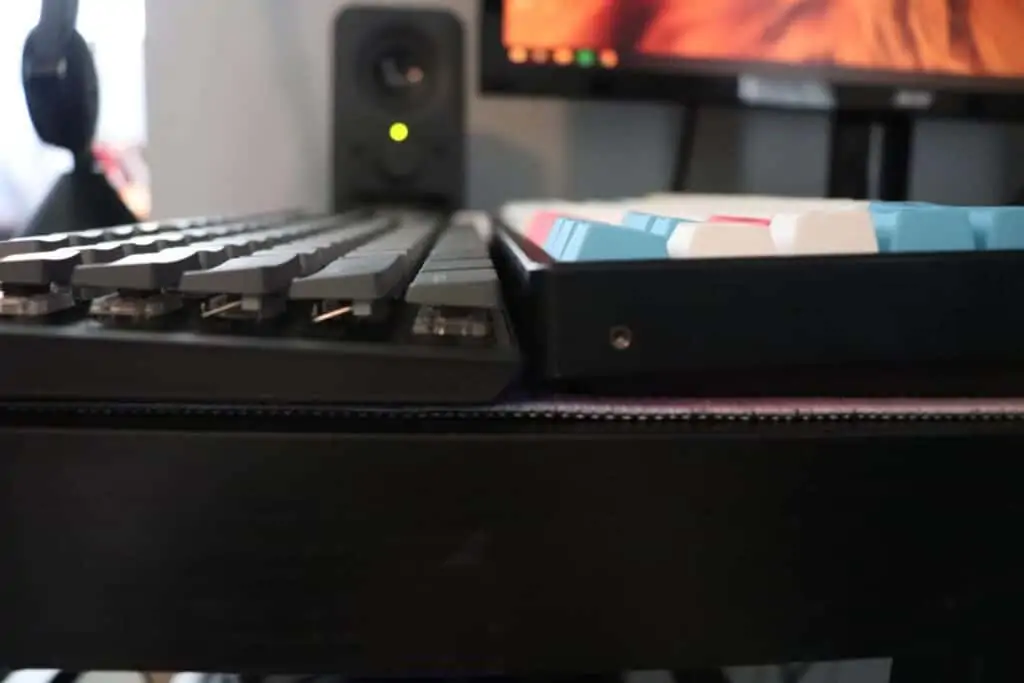 Low Profile keyboards have a shorter keyboard body and shorter switches. When a keyboard is called low profile, it may have either a short body with regular switches, regular body with low profile switches, or both.
Low profile keyboards most likely resemble the keyboards that are on most laptops, such as Macbooks or Chromebooks.
They have a short travel distance, but many still want to enjoy the benefits of having mechanical switches. A combination of those two features created the low-profile mechanical switch.
Two of the largest switch companies, Cherry and Kailh, have their own low-profile switches that are clicky, linear, or tactile.
Harder to Find
Because low profile keyboards are low in supply as there are not that many models out there that offer this feature, the price points for most low-profile keyboards can be higher than entry-level mechanical keyboards.
Differently Shaped Switch
Low profile switches have a differently shaped stem than the regular MX-style switches, so finding custom keycaps that fit these switches may be a problem currently. In the future, as we expect low profile keyboards to get more popular, more supply in keycaps may pop up.
Shorter Travel Distance
If we compare the original Cherry MX Red to the MX Low Profile Red, the total distance and actuation distances are much different.
The Cherry MX Red has a total distance of 4.0mm and an actuation distance of 2.0mm. On the MX Low Profile Red, the total distance is 3.0mm, and the actuation distance is 1.2mm.
For gamers, this may advantageous since the distance traveled is decreased, allowing increased response time.
Another general feature of low-profile keyboards is the keycap style. Many manufacturers have opted for a short and flat keycap that resemble a MacBook or a Bluetooth keyboard.
These low-profile keyboards may become more popular in the future as a travel keyboard that's slim and fits into a small carrying case without the keycaps or switches protruding out.
When Swithing a to Low-Profile Mechanical Keyboard
For people switching from keyboard typing to typing on mechanical keyboards, a low-profile keyboard might feel more at home compared to the regular mechanical keyboards that we talk about here.
Being low-profile is also beneficial for wrist position when it comes to ergonomics.
Due to the shorter nature of the switches or the keyboard itself, your wrist doesn't need a wrist pad or to extend/bend as much as before to be in a comfortable typing position.
Keep in mind, a lot of people find low-profile mechanical keyboard can feel strange to type on becasue the shorter travel distance may feel foriegn and you'll be typing with the same force as a normal keyboard.
This may lead to some finger pain and there will be a small adjustment window when switching to a low-profile keyboard.
Summary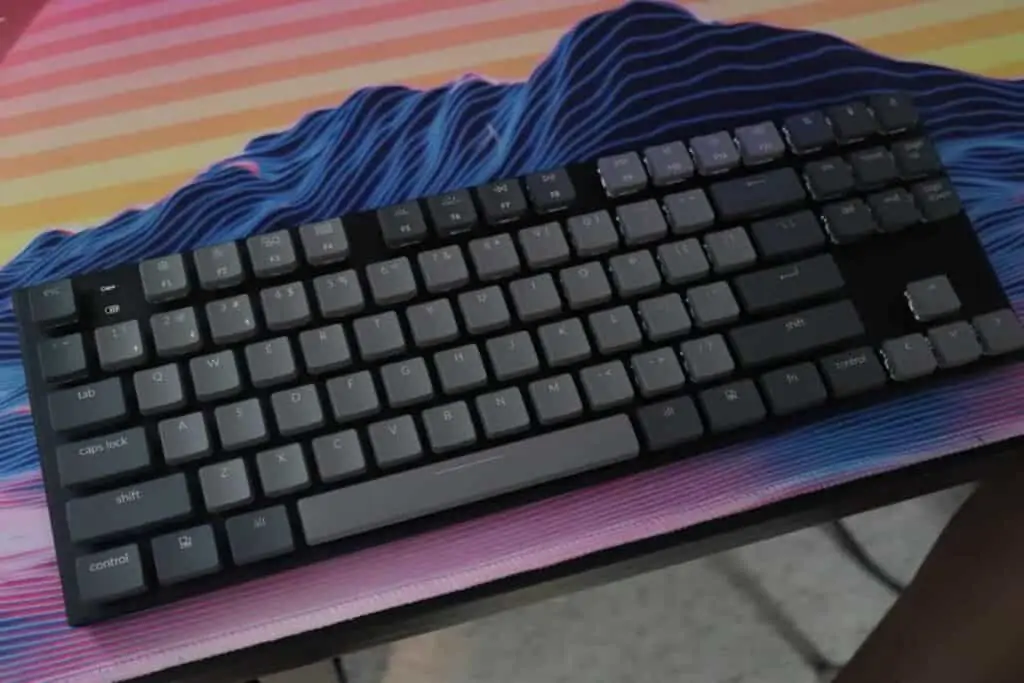 We've looked at four different low-profile keyboards: the Keychron K1, Cooler Master SK lineup (full-size, TKL, and 60%), Logitech G915 Lightspeed, and the Corsair K70 RGB Mk.2 Low Profile Gaming Keyboard.
They all have their own features, different sizes, lighting effects, different switches such as Gateron low profile switches, Cherry MX Low profile switches, Logitech GL switches, and the Cherry MX speed low profile switches.
For people looking for the style of chiclet keys but the feel of mechanical keys, low profile mechanical keyboards are what you are looking for. The total distances and actuation distances of all of these keyboards are less than the MX-style switches.
Happy typing!
Sources
Low-Profile Mechanical Keyboards Are Getting Really Good. Kotaku.com
The Best Low Profile Gaming Keyboard DOESN'T Exist! YouTube.com
Was the Hype Worth It? Cooler Master SK650 & SK630 Low Profile Keyboards YouTube.com
Checking out the LOW PROFILE Corsair K70 RGB Mk. 2 Gaming Keyboard YouTube.com
Logitech G915 Lightspeed Keyboard Review – Who Would Buy This? YouTube.com
Keychron K1 Slim Wirelesss Mechanical Keyboard – Unboxing & Review YouTube.com