Building a custom mechanical keyboard is a really fun project, but it can be difficult sorting through all of the different PCB's for a 60% keyboard.
Picking out the best PCB depends on what features you're looking for in a PCB. There are several different layouts, PCB types, RGB, underglow, and programmable options, so we'll explain the features of each type and where to buy them.
You can read about the best 60% mechanical keyboards if you want something that's already complete for you.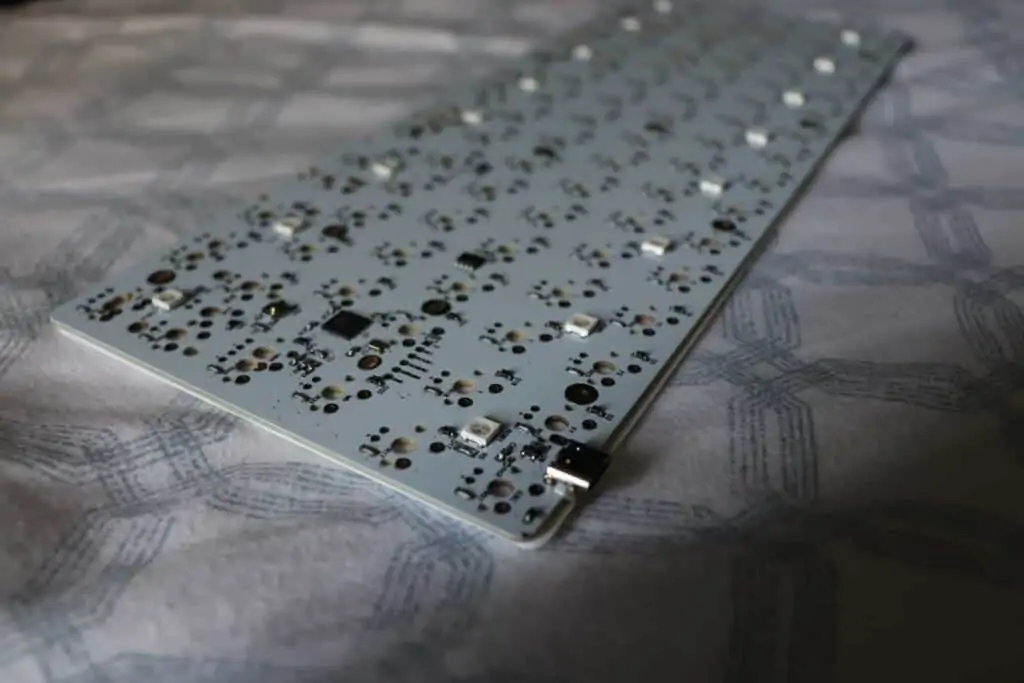 1UP RGB 60% PCB HSE (Hot Swap Edition)
The 1UP RGB PCB is an excellent option for those who need RGB underglow and a light show every time they start up their keyboard.
The best feature that comes with the 1UP PCB is the hot-swappable sockets which allow for easy installation and removal of switches without the need of soldering.
Hot-swappable sockets are perfect for those who don't have the time to learn how to solder or have the money and space for a soldering kit.
The 1UP PCB comes in standard ANSI layout, is fully programmable with QMK and VIA software, which allows you to remap your keys easily.
The PCB also comes with support for multimedia keys, which make changing your music on the fly a breeze.
You can get the 1UP 60% PCB on 1upkeyboards.com.
C³ 60% RGB 60% PCB
The C³ PCB is nother great option that comes with in-switch and underglow RGB lighting, perfect for an acryllic case or pudding keycaps that can really show off lighting.
The PCB is fully programmable up to 16 layers and supports 200+ media keys.
The keyboard comes with USB-mini port, which is a little outdated, but can be overlooked by most. Usually a USB-C port is preferred because the head is reversible and you don't need to waste time when accidentally plugging in upside-down.
The price of this PCB is a bit on the higher-end, which doesn't make it the best option, and there is no hot-swap sockets so you'll be stuck with soldering.
You can find the C³ PCB on thekey.company.
DZ60RGB V2 60% PCB
One of the most popular PCBs currently is the DZ60RGB from kbdfans.com.
The DZ60RGB V2 comes standard with RGB under glow and is fully programable with QMK firmware which are some really nice features to have. The RGB alone almost made me pull out my credit card.
In addition, the PCB comes with hot-swappable sockets, making it super easy to change out the switches (as mentioned before). More and more PCBs are coming with these socket types as they are super convienent and make it possible to build a keyboard in an hour after unboxing.
The DZ60 also supports a wide variety of key layouts such as a split space bar or the addition of arrow keys on the right side of the keyboard.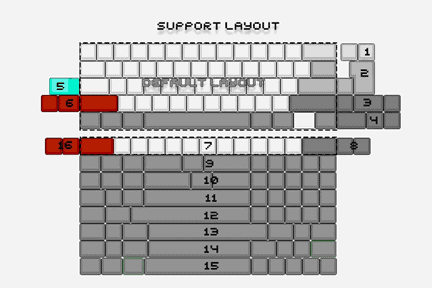 For power supply, you have the option to choose between a mini and Type C USB.
Based on my research this seemed like the most cost-efficient option that will fit most people's needs.
Zeal60
The Zeal60 seemed like another great option, coming with lots cool features such as individual RGB lit keys and pre-soldered LEDs, diodes, resistors, and controllers. With a nice gold/black aesthetic look to boot.
Once I saw the price tag, however, I couldn't look at this thing without my wallet hurting, but I suppose that's what you would expect from Zeal. If cost was not an issue though, I could see this one being a good option.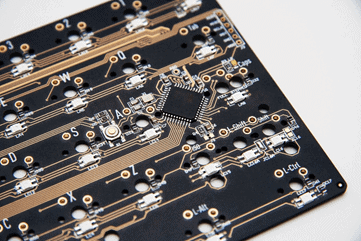 GH60
During my research I stumbled upon the GH60, apparently the OG of the mechanical keyboard PCB world.
This PCB was developed through community efforts with geekhack and is quite reliable.
Unfortunately, this model is now out of date and not the best option unless cost is really a factor in choosing a design. This model does not come with RGB underglow and requires you to solder a lot of the parts yourself.
The GH60 lacks a lot of the features that come standard on most PCBs nowadays, but there are some who may find it a great fit for their needs.
You can find the GH60 on kprepublic for $30, making it the most affordable option on the list.
Customizable PCB
I thought this was super cool, but does not exactly fit in my area of expertise. If you're skilled and more DIY-inclined, this option will be for you. Apparently, it is possible to build your own PCB board from scratch.
This is some next-level customizable, and if you're willing to put in the work (unlike me) it's totally possible to create some very unique keyboards.
What is a PCB?
The PCB (printed circuit board) gets placed inside the case and lets the switches communicate with your computer. Usually the PCB will be installed in the case, the switches will be attached to a metal plate that holds the switches, and then the switches will be soldered to the PCB.
Some keyboards do not come with a metal plate and the switches will be PCB-mounted instead of plate-mounted. You can read about the differences here.
Different PCB Sizes
There are a ton of different PCB sizes out there, you're not just limited to 60%. Back in the day, the options were more limited, but with the mechanical keyboard hobby exploding, there are a ton of different options.
Tenkeyless and 60% layouts are the most common size for building your own custom mechanical keyboard. But there are a wide variety of layouts available depending on what works best for you.
Quick run down of the different possible PCB sizes:
Full-Size: Comes with number pad and all of the keys.
1800-Compact: Smushs the numberpad and keys together.
Tenkeyless (TKL): Removes the number pad.
75%: No numberpad and places the navigational cluster vertically to save space.
65%: No numberpad or function row. Usually only half of the navigation cluster.
60%: No numberpad, function row, navigation cluster, or arrow keys.
40%: Only the alpha keys (A-Z) and some puncutation keys.
We have a more in-depth break down of the different keyboard sizes here.
60% keyboards are the easiest to build because they have the most options for PCBs, cases, and plates available, plus the layout is pretty standard accross each manufacturer unlike a 65% keyboard.
In addition, the smaller size makes it cheaper to buy switches and keycaps, so it is better for someone on a budget.
Hot-Swappable vs Standard PCB
There are two main types of PCBs, hot-swappable and normal.
A hot-swappable PCB allows you to add and remove switches without desoldering which can save a ton of time and money on soldering equipment.
Perfect for those who want a quick assembly upon recieving the parts or for those who aren't interested in learning how to solder.
Hot-swappable PCBs are becoming more and more common nowadays as people are starting to realize how convienent they are.
You can read about our favorite hot-swappable keyboards (pre-built), if you are interested.
Where to Purchase a PCB
Typically the PCB, plate, and case will come together in a kit ordered through a group buy or online store, but with a super common layout such as 60% it is more common to buy these components individually so you can mix and match different colors and materials for each part.
We included a ton of different options in this article, so you can find the perfect PCB for you.
Conclusion
There is no best 60% PCB out there, as each person will look for different features and pricing. We included lots of recommendations including the 1UP 60% PCB, C³ 60% RGB, DZ60RGB, and more.
If you're new to mechanical keyboards and not looking to learn how to solder, we recommend a PCB with hot-swap sockets as they are the most beginner friendly.
For those on a super tight budget, finding a GZ60 PCB will be the cheapest option, although they are not beginner friendly and lack a lot of the features that new PCBs will have.
Happy Typing!