When I first started learning about mechanical keyboards, I was overwhelmed by the number of choices when it came to picking out a set of keycaps for a 60% keyboard.
Does the layout matter? The design? The shape? So many different aspects about keycaps to understand.
Dozens of keycap sets later, I've mastered how to find the perfect set for a 60% keyboard, and I'm here to share a list of my favorite sets.
Let's get started.
---
The Best Keycaps For A 60% Keyboard
60% keyboards have exploded in popularity with the release of keyboards such as the Ducky One 2 Mini, Anne Pro 2, GMMK Compact, and more.
We'll go over our favorite picks and break down why we chose each set.
1. HK Gaming Dye Sublimation Keycaps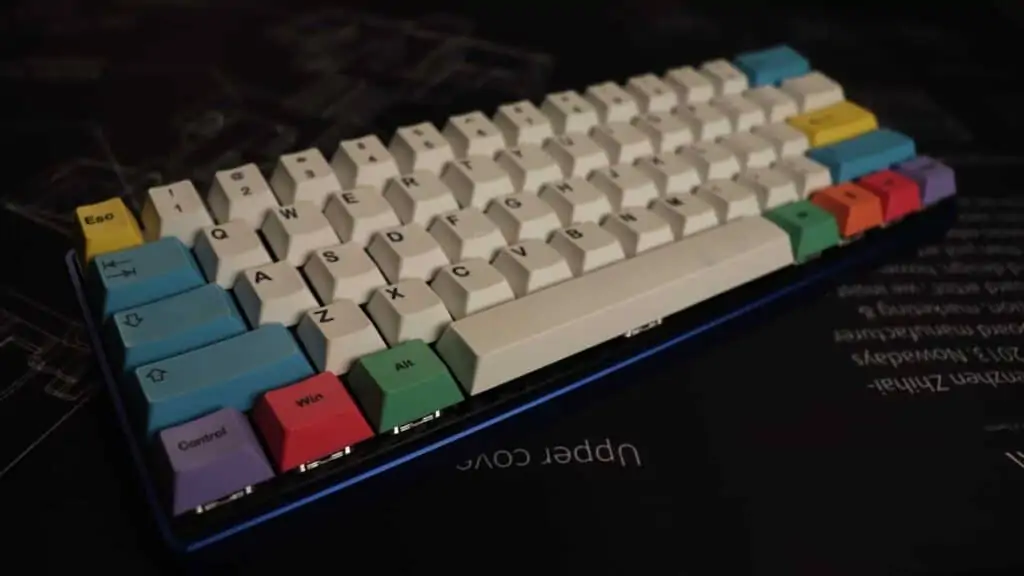 This keycap set is a personal favorite of mine. The bold, basic colors and white keycaps really pop. Not to mention, the Cherry profile is a nice touch.
On Amazon, it can be difficult to find keycaps in Cherry profile at such a low price. If you're looking for a Cherry profile keycap set on a budget, this is one of the best options.
Go from a thin set of ABS keycaps to these bad boys and you'll notice a huge improvement immediately.
The keycaps aren't without flaws though, as we noticed a few keys had uneven legends and were slightly deformed.
In the land of budget keycaps, this is normal, so we're not too upset about it.
You can find the HK Gaming keycaps on Amazon.
2. HyperX Pudding Keycaps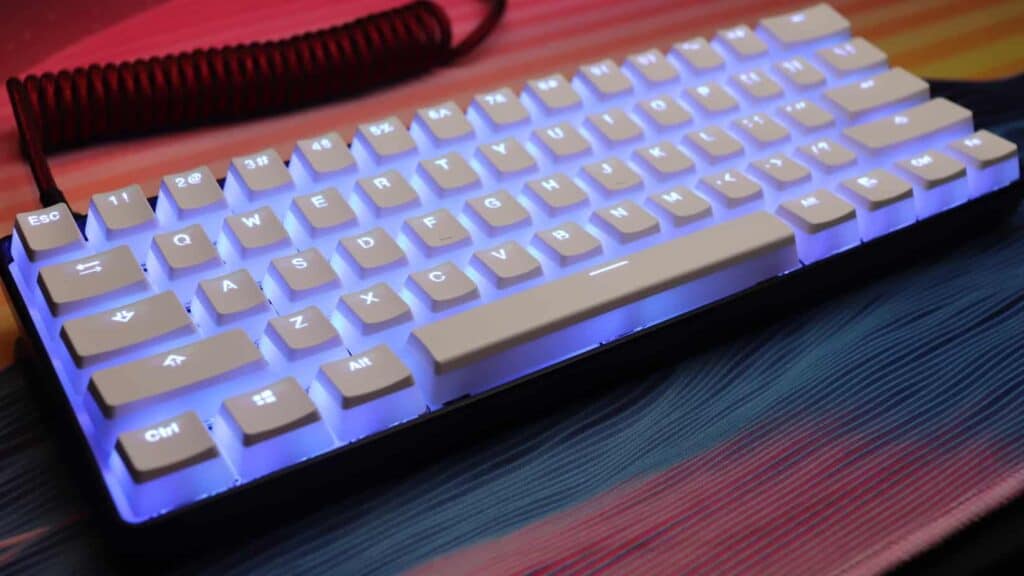 If you're an RGB fanatic, look no further.
The HyperX pudding keycaps are designed to allow the lights to shine through the sides of the keycaps for a bright setup.
You've never truly experienced RGB on a keyboard until you've tried pudding keycaps.
We picked these up a while back and have minimal complaints. The quality could be a little better, but for such a low price, it's to be expected.
We highly recommend these for a first keycap set if you don't want to spend too much.
You can find the HyperX pudding keycaps on Amazon.
3. Razer PBT Keycaps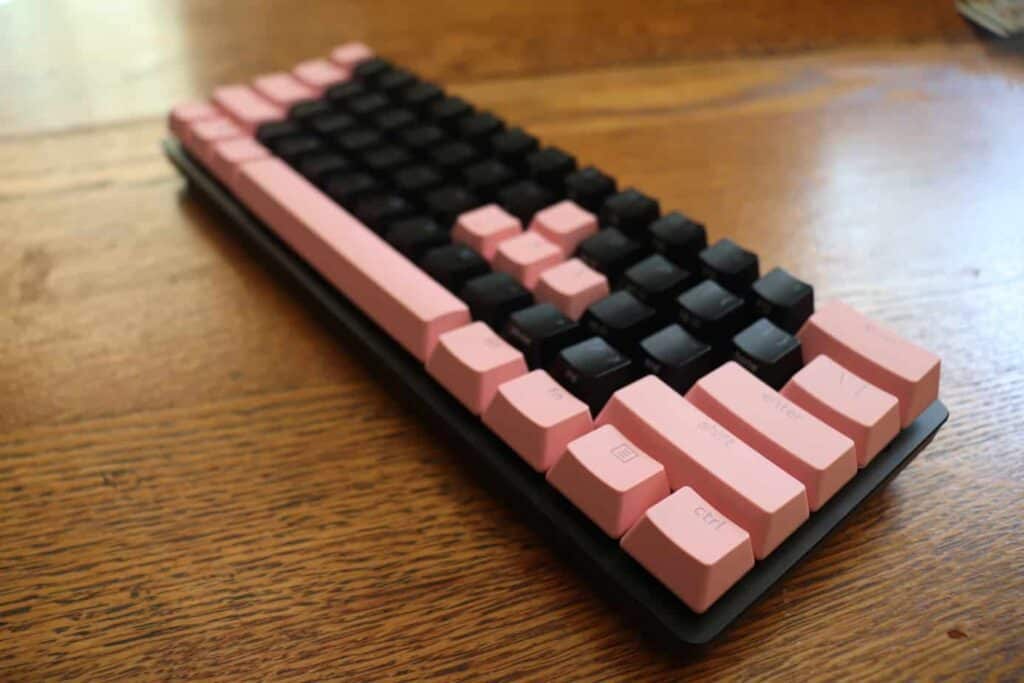 If you want to take your keyboard to the next level by improving the aesthetics and feel, a new set of Razer PBT keycaps can be a great investment.
Razer PBT keycaps makes upgrading to a new keycap set really affordable and easy, with a mix of different color options to create a unique style for your mechanical keyboard.
Most prebuilt mechanical keyboards come with ABS-plastic keycaps which shine quickly by attracting skin oils and fingerprints, while also feeling flimsy and thin.
Razer PBT keycaps solve this problem by making their keycaps out of a better material that thicker, rougher in texture, and lasts much longer.
We enjoyed mixing and matching the stock keycaps with the pink ones for a nice color mix.
4. YMDK Double-Shot Rainbow Keycaps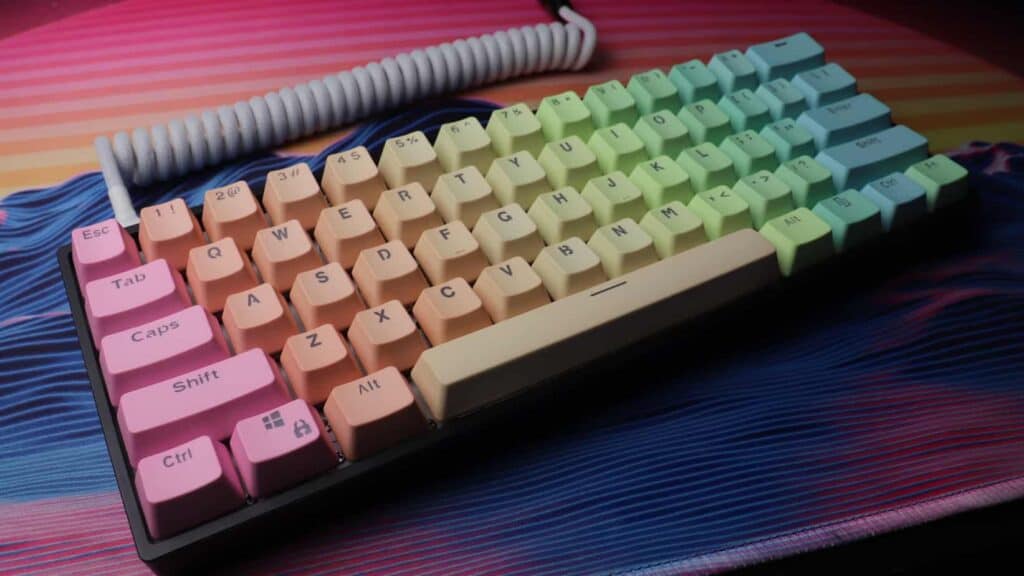 At the end of the rainbow is a pot of gold, but if your a keyboard enthusiast, it's the YMDK Rainbow keycap set.
Ok, not the best segue, I'll admit it.
The keycaps feature a multitude of colors that make you feel peaceful and relaxed, like you're looking at rainbow after a rainy day.
The double-shot design lets your RGB lighting really shine through, so you can add even more color to the mix if you're feeling it.
YMDK is known to make great budget keycaps for someone looking to amp up their keyboard. While this might be too colorful for some, it will be perfect for those who enjoy a bright setup.
The YMDK Rainbow keycap set is actually quite cheap, you can find it on Amazon.
5. Drop Skylight Keycaps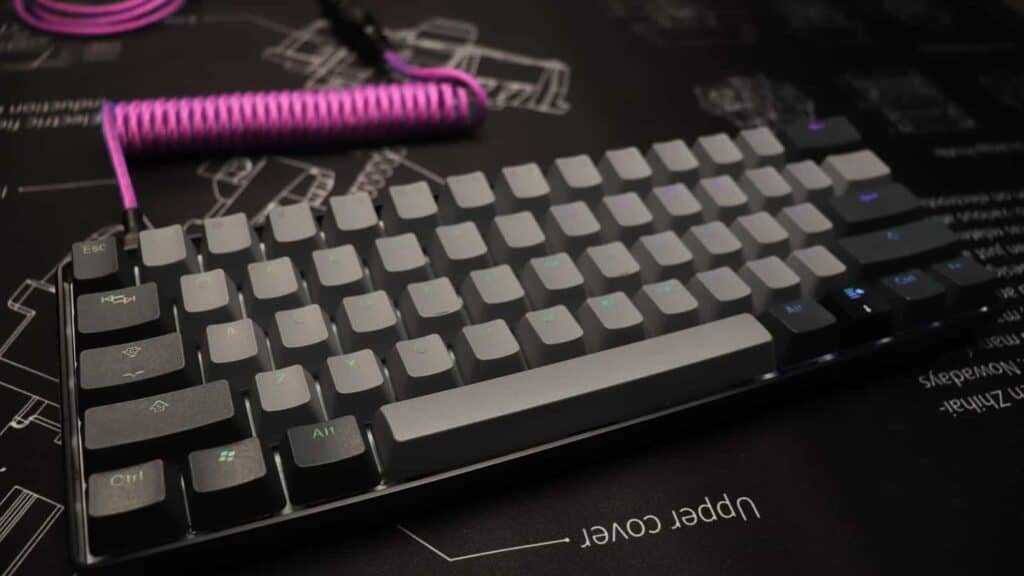 The Drop Skylight keycap set is basically a classic at this point.
In the past, you could only purchase this when you bought a Drop ALT or Drop CTRL.
Nowadays, you can buy it separately in a multitude of colors. These keycaps have a thick PBT plastic design and are very textured.
This set is a great option to spruce up your 60% keyboard and add a bit of intrigue to an otherwise boring keyboard.
This set should last you a long time before anything starts to wear away. You can find the keycap set on Drop, if you are interested.
Note: We may have lost one of the keycaps. Can you tell which one in the picture above?
Honorable Mention: Ducky Frozen Llama and Ducky Joker Keycaps
Ducky here, Ducky there, everywhere you look is Ducky. People seem to be absolutely hooked on their products.
When thousands of people own the Ducky One 2 Mini, it only makes sense to sell aftermarket sets, right?
Ducky offers a few sets in vibrant colors. You can either get the Ducky Frozen Llama set or the Ducky Joker.
Both options are made from PBT plastic and come in the OEM profile. Only difference is the colorway you choose.
Pick your poison. Both sets are super bright, but they definitely have a bold gamer feel to them.
---
What Keycaps Will Fit A 60% Keyboard?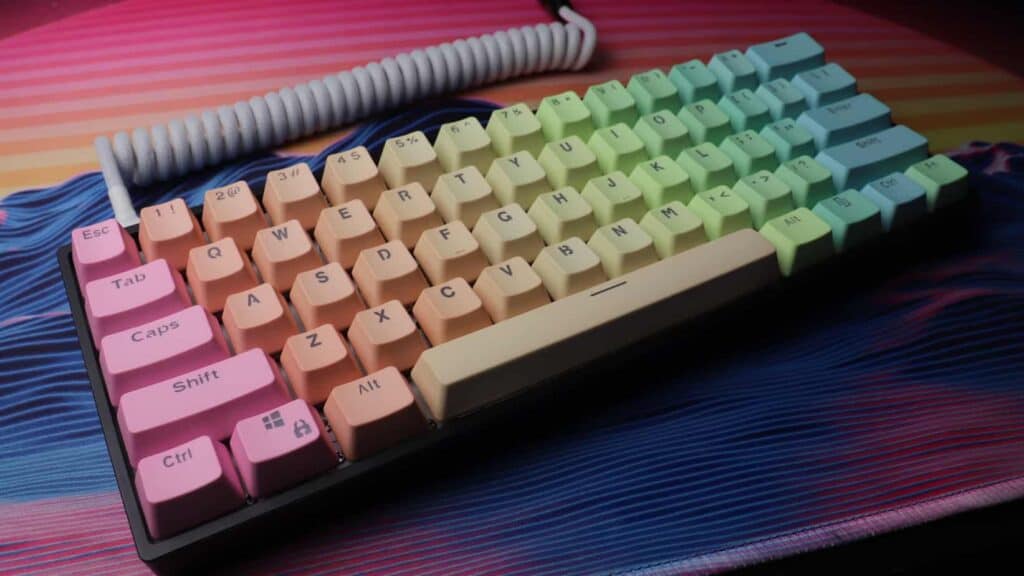 Give a person a keycap set and they'll be happy for a day.

Teach a person how to pick out a keycap set and they'll be happy for a lifetime.
I think that's how the saying goes? Cheesy intro aside, there's a bit of truth to that statement.
We'll teach you how to find the perfect keycap set for yourself (and your 60% keyboard). That way, if you're not happy with any of the recommendations listed below, you can rest easy picking out a set on your own.
Finding out if a set of keycaps will fit your 60% keyboard is actually super simple.
Here is all you need to know.
Almost All Keycaps Work With A 60% Keyboard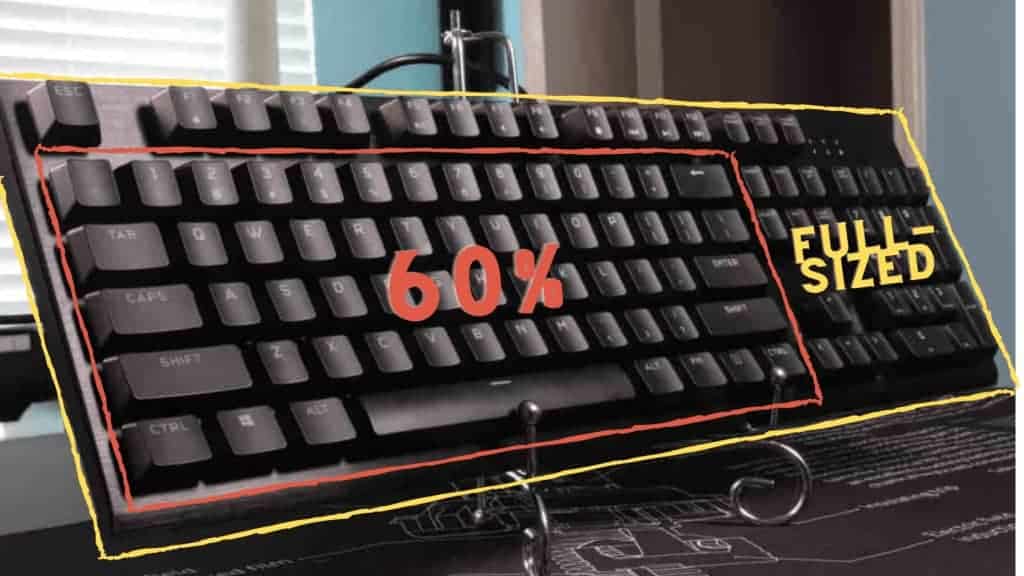 Almost all keycap sets will work for a 60% keyboard, as long as they are compatible with a full-sized keyboard.
When you think about it, 60% keyboards have the exact same layout as the alphanumeric keys on a full-sized keyboard.
Take the image above. Simply chop off the function row and right side of the keyboard and your left with a 60% keyboard.
A keycap set that's compatible with a full-sized keyboard will fit perfectly on your 60%, you'll just have a few extra keycaps laying around afterwards.
If you have a 60% keyboard, you have an almost unlimited number of choices.
Picking out keycaps only gets complicated if you have a more niche layout such as 65%, 75% or an ortholinear keyboard. Then you need to worry about if they will work with your keyboard or not.
Check If Your Keyboard Has A Standard Bottom Row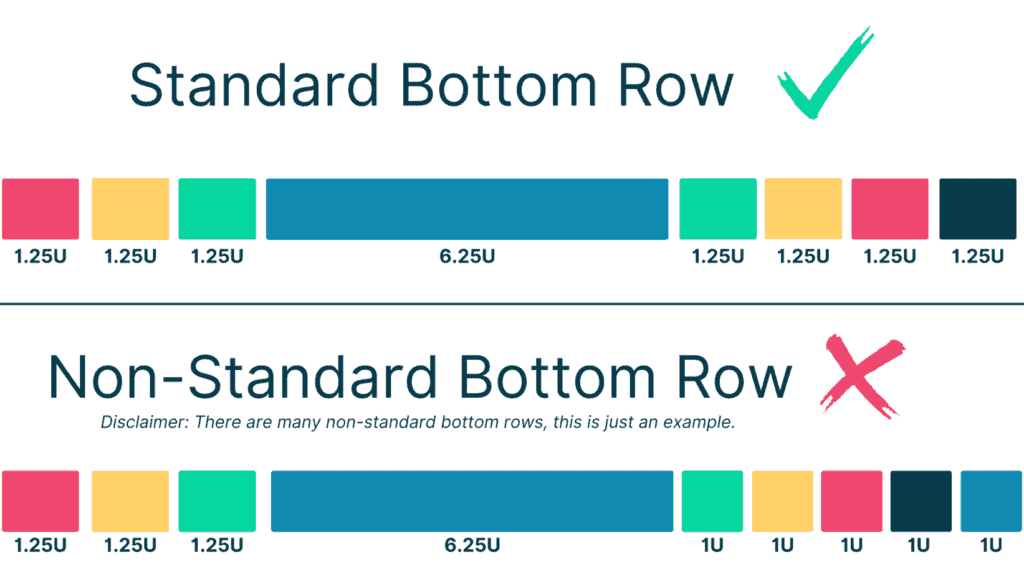 Typically, keyboards come with a standard layout. This ensures a universal fit when looking for aftermarket keycaps.
The only problem is, not all 60% keyboards fit this standard. Some have layouts that are tweaked slightly.
This can make finding a set of keycaps very difficult.
When checking if your keyboard has a standard layout, you can usually tell by looking at the bottom row.
If the bottom row has all 1.25u sized keys and a spacebar, you should be good to go.
Here's a few examples of 60% keyboards that have a non-standard layout. You'll need to be careful when shopping for these keyboards.
Keyboards such as the Blitzwolf BW-KB1, Epomaker SK64, or 65% layouts (Drop Alt, Ducky One 2 SF, etc) will require more specialized keycaps.
---
Where To Find Keycaps That Will Fit A 60% Keyboard
There are a TON of different places to find keycaps. Here is our full write-up on this subject.
You can find keycaps on massive websites such as Amazon or on smaller websites. The smaller websites will usually have more custom designs for higher prices, while Amazon will sell more generic, cheaper designs.
Here is a quick list of retailers, but there are dozens more out there. These are simply our personal favorites.
Amazon.com
First up is Amazon, which I'm sure everybody is aware of. Amazon typically only sells the cheaper keycap sets such as YMDK, but you can definitely find some higher-end keycaps if you're willing to look a little further.
Overall, the stock is pretty limited, but if you need a new set quickly, you should be able to find a cool design for your keyboard.
Amazon is the first place we recommend checking out if you need a simple upgrade.
You can find a low-price set of PBT keycaps to replace your factory ABS keycaps.. If you want the really nice keycaps, you'll have better luck on a different site.
Banggood is very similar to Amazon, where they pretty much exclusively sell the lower cost PBT sets, which can be an awesome upgrade for somebody with a set of factory ABS keycaps.
The amount of designs are pretty diverse too, I would say their selection is slightly better than Amazon. But if you're looking for a super nice set of keycaps, definitely check out some of the other sites listed below.
Drop has a ton of different keycap sets available on their website.
They specialize more in the mid-range keycaps, around the $50-100 mark. You should be able to find some higher quality PBT and ABS keycap variants in-stock or available for pre-order.
Drop has a decent selection of Mito, GMK, and other interesting brands for purchase, so don't be afraid to browse their offerings.
Mechanicalkeyboards actually has a pretty decent selection of keycaps on their site.
The website has several different brands available such as Tai-hao, GMK, and Ducky.
We definitely recommend browsing through their selection and finding what interests you.
Mechgroupbuys is where you go if you want to check out the latest and greatest group buys.
You should be able to find all sorts of brand-new designs by GMK and other vendors.
I would only shop here if you're willing to wait at least nine months for a new keycap set.
Be prepared to pay at least $100+ for each set, although if you find a good set, you could potentially flip the keycaps for a decent price later on for $300+ on /r/mechmarket.
Keycaplendar is very similar to mechgroupbuys, except it focuses primarily on tracking group buys for keycaps. You should be able to see all of the keycaps available for the next year or so.
Everything here will fetch a high price, but you are getting the latest and most unique keycap designs, so it makes sense. Just be careful when checking the vendor and do a little research before purchasing.
Here is another great site to track group buys from.
Very similar to mechgroupbuys and keycaplendar, keycapsets.com is all about looking at group buys and tracking when they end/start.
Each keycap set will show the amount of days that are left for the group buy and direct you to where you can enter the buy. Most are available through forums such as geekhack, which typically have the best designs in my opinion.
If you're not aware, the subreddit mechmarket is all about buying and selling aftermarket keyboards and keycap sets.
From this forum, you can purchase keycaps that have already underwent the group buy phase and you can find keycaps without needing to wait the long six to nine-month period.
Just be aware you'll often have to pay 2 or 3x the original purchase price of the keycap sets than if you bought it through the original group buy. Convenience has a high price in the mechanical keyboard community, but if you want an exclusive set of keycaps fast, this is the place to go. It's not uncommon to pay at least $300+ for a set of keycaps.
Tips For Choosing The Perfect Set of Keycaps
There are a few different factors to look at when choosing a set of keycaps. This will determine how long they last, how they feel, and more.
Here's a quick breakdown of what to look for:
The Material: ABS vs PBT Plastic
| ABS Keycaps | PBT Keycaps |
| --- | --- |
| Usually Cheaper | More Expensive |
| Shiny/Greasy | Matte |
| Smooth | Textured |
| Thinner (Not always) | Thicker |
| Quieter when typing | Louder when typing |
| Flexible | Brittle |
| Wears Over Time | More Durable |
When choosing a set of keycaps, one of the biggest things to look at is the material type.
With keycaps there are two main plastics: ABS and PBT.
PBT is considered a more durable option, it will wear down a lot slower than ABS keycaps.
ABS keycaps typically come standard on most keyboards. They are known to be cheaper, thin, and will develop a greasy shine to them after usage.
For this reason, most people will buy a pair of aftermarket keycaps to simply to upgrade from ABS to PBT.
There are many more differences as well, which we go over in detail in this article.
The Profile (Shape of the Keys)
Keycaps can come in a variety of shapes and sizes. From tall to short, thick to thin, and flat to round.
In the image above, we have five very different sets all lined up next to each other. You can see the difference in the shape of each one.
We typically recommend the Cherry profile if your new to aftermarket keycaps. They are slightly lower than OEM (the type most keyboards come with) and have a more aggressive typing angle.
This makes them comfortable to type on as you don't need to stretch your fingers quite as far.
If you're looking for something a little out there, the DSA or SA keycaps can offer both short/tall options.
It ultimately comes down to what you think will be the most comfortable for you.
You can read more about each of the different keycap profiles, if you are interested.
Manufacturing Method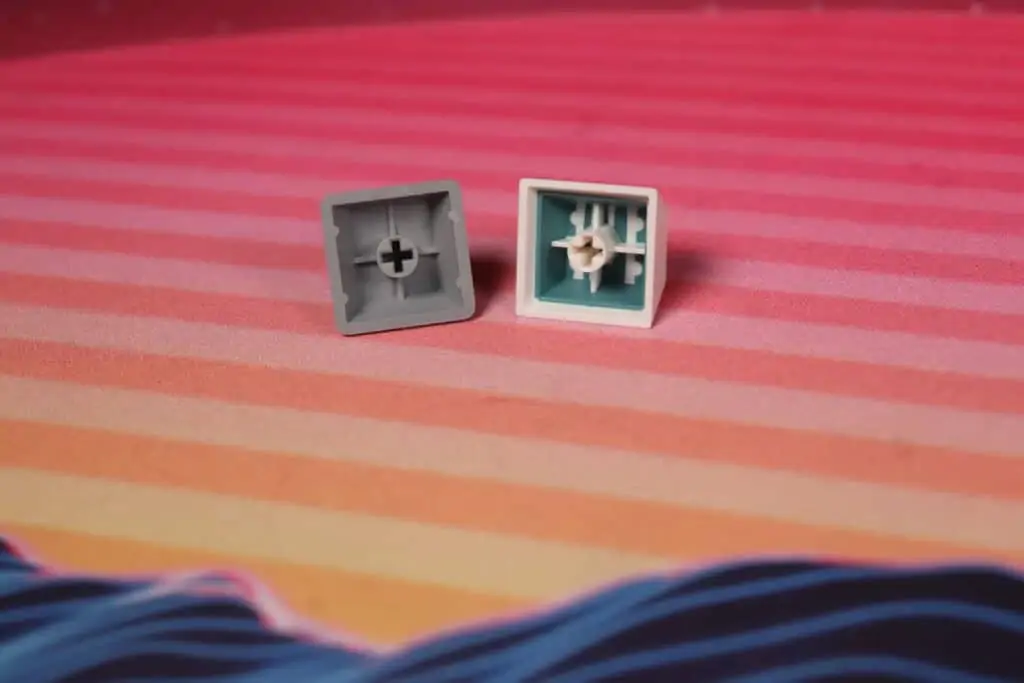 When it comes to the durability, the manufacturing method also matters.
There are two preferred styles of manufacturing for keycaps, double-shot and dye-sub.
In the photo above, the keycap on the left is made with the dye-sub process, which prints the legends onto the keycap.
This style does not work well with RGB lighting as the light will not illuminate the legends.
Double-shot refers to the keycap on the right. Two different colors of plastic are injection-molded to be formed into the proper shape. The interior color will be the legend.
Both styles offer excellent durability and feel.
You can read more about double-shot vs dye-sub keycaps here.
Conclusion
60% keyboards are an excellent option for gaming, typing, or whatever else you plan on doing. Luckily, they are compatible with the majority of keycap sets out there, so it's super easy to get an aftermarket set.
We walked you through the main facts you need to know before picking up your next keycap set.
Good luck and happy typing!