For many people, especially gamers, a 60% keyboard is the perfect combination of size, function, and aesthetics.
Luckily, you can find a few really good 60% mechanical keyboards all under the low price of $50. We have in-depth reviews of most keyboards, so you can read those for more information.
Let's dive into our picks.
1. Geek GK61 60% Mechanical Keyboard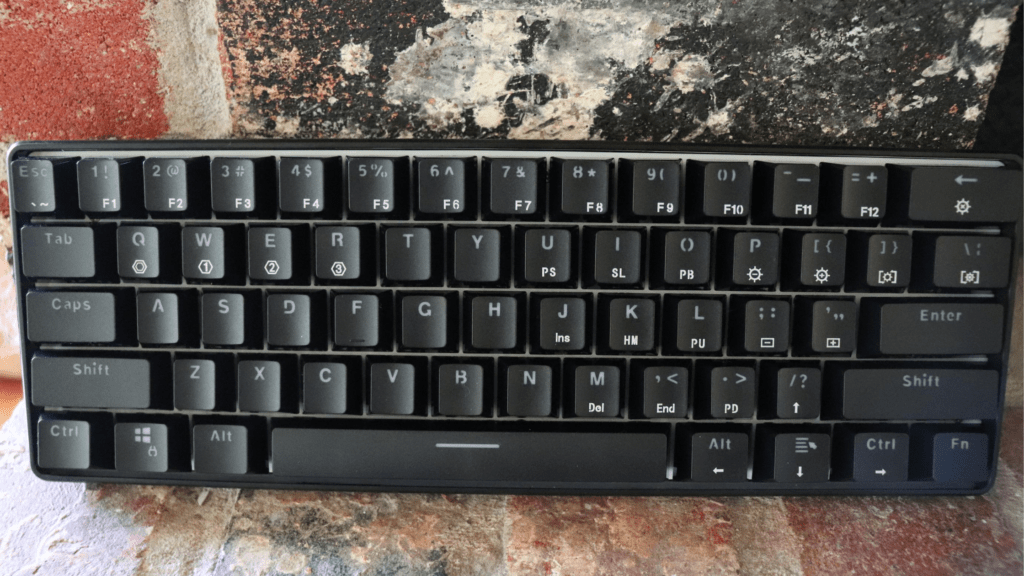 First up on the list is the Geek GK61. The GK61 keyboard comes in black and white colorways, so you can pick the what sort of aesthetic you want to go with.
Comes with Optical Switches
This keyboard offers Gateron optical switches available in black, blue, brown, or red. Gateron switches are known to be smoother than Cherry MX switches and the tactile bumps are more tactile.
More details on Gateron switches. If you want true mechanical actuated switches, this keyboard is not recommended.
Sleek Design: Case & Keycaps
The case is made of a combination with glossy and textured plastic. There is a fixed angle that's higher in the back. There are four rubber feet, but no kickstand.
The GK61 comes in the standard ANSI layout, which means if you want to switch out the keycaps, it'll be quite simple and quick. Unlike another keyboards on this list, this one doesn't have dedicated arrow keys.
They are accessibly on another layer though, if you need it, which is pretty standard on a 60% layout. The keycaps have a glossy finish on the sides with ABS plastic with double-shot injection.
What Makes the GK61 Special?
To my surprise, this keyboard comes with a switch puller, which means that it's hot-swappable. Hot swappable keyboards are cool because you can test out different switches without having to desolder the switches. Making it easy to pull out and change out the switches to a new switch.
The keyboard only accepts other optical switches, most likely from Gateron, so you can't throw in any switch you might want to test, or at least not the usual MX style switches. It's best to know what kind of switches you want to use this keyboard with before buying, especially if you do plan on using its hot-swappable capabilities in the future.
Cool Lighting Effects and a Sneaky Speaker
Using only the keyboard buttons, it's possible to easily change between different effects without using any additional software. Although there are pre-programmed lighting effects, you can also use the software to customize it however you want. Any of the keys can be changed however you would like. The software isn't visually pleasing, but it's functional.
You can use your keyboard as a speaker as well. When typing to some jams, the keyboard can play some nice beats. This can be nice when using a laptop with quiet speakers or just wanting to show your friends something cool and a little weird too. The spacebar speaker is quite unique and little bit of gimmick, but pretty cool overall. The GK61 also comes with a braided USB-C cable.
Should you Get the Geek GK61?
The GK61 ranked number #1 on our list due to the unique hot-swap capability, something rarely found on a budget keyboard of this price. We recommend this keyboard to anyone looking for a 60% keyboard under $50.
If you're not a fan of optical switches, however, the GK61 is not recommended because normal mechanical switches do not work with this keyboard. In which case we recommend the next keyboard on the list.
Where to Get the Geek GK61?
You can find the Geek GK61 for an affordable price on Amazon.
2. Dierya DK61 60% Mechanical Keyboard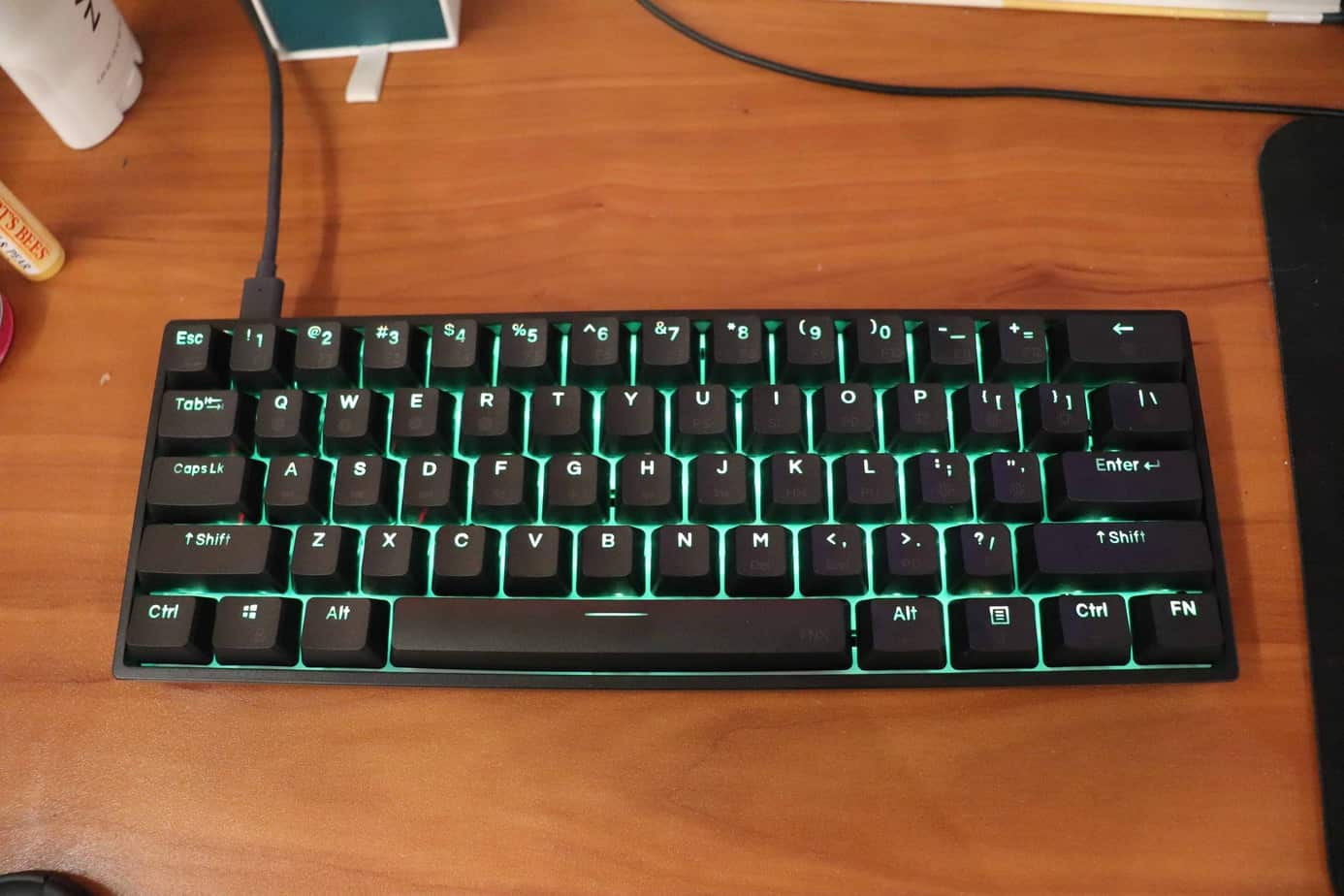 The Dierya is a newer keyboard in the 60% world that has been bringing some real competition to the market. The DK61 is one of their budget keyboards that we found performed really well.
Pretty Cool Design
The case and keycaps are made in a sleek black design, with a gamer aesthetic. If you're looking for a white colorway, there is nothing available at this time.
Since the keyboard comes in a standard layout, you could install a new set of keycaps.
Your Choice of Outemu Switches
The DK61 is available in 4 different switch types: browns, blacks, blues, and reds.
The switches are manufactured by Outemu, which advertised as being a Cherry MX equivalent. Ideally we would've preferred Cherry MX switches, but considering the keyboard is in the budget category, Outemu makes sense.
You can read our comparison of different switch brands here.
Doubleshot ABS Keycaps
The keycaps are made of a doubleshot ABS plastic in the standard OEM profile. The doubleshot keycaps allow the RGB to shine through and illuminate the legends. The keycaps also come with 2 extra decorative keycaps for a little pizazz.
Other Awesome Features
This keyboard comes with a braided USB-C cable right out of the box. This stands out from all the other keyboards on this list and extends the lifespan of the cord longer.
The sides on the keyboard are low, so the RGB lights and the switches are visible. It gives a nice aesthetic when looking at the keyboard from the side or far away.
The angle of the keyboard is less than others, but they offer two kickstands on the back so you can choose to be flat or be angled. On most 60% keyboards, there are no dedicated arrow keys, but this company decided that arrow keys are a must-have.
They shifted some keys around and were able to fit all four arrow keys. Rather than having to move to another keyboard layer, just reach those fingers over and move.
The keyboard comes with Bluetooth 4.0 technology and is compatible with Windows, Mac, iOS, and Android. It's effective up to 10 meters, hop on the couch or bed and use it with your laptop/PC.
Should you Get the Dierya DK61?
If you're looking for a budget 60% keyboard with mechanical switches and not optical, I would recommend the DK61.
For the same price as others on this list, you get a braided USB-C cable that I know I'll enjoy, the option to use a kickstand or not, and 2 decorate keys as well. The fact that the keyboard comes in Bluetooth is also a nice bonus for portability and going cordless.
Althought the aesthetic is slightly different, I enjoy being able to see the RGB lighting and the switches. It's also much easier to pull over keycaps by hand instead of using a keycap puller when there's space. Plus, it's easy to clean too.
On the downside, it's harder to carry this keyboard places without a dedicated safe space since the keycaps are so exposed. And possible dust could get under the keycaps more easily, just as easily as it is to clean.
Where to Buy the DK61?
You can find the DK61 on Amazon for a competitive price.
3. Royal Kludge RK61 60% Mechanical Keyboard
The RK61 is one of the highest rated 60% keyboards and is well known to be a great budget option within the mechanical keyboard community. Let's go over some the features and explain why this keyboard ranked #3.
Different Colorways: White and Black
It comes in two colors, black or white, allowing you to customize which one fits better with your overall desktop aesthetic. I personally prefer black because white requires more constant cleaning.
Imitation Cherry MX Switches
For your personalization, you get three options for the switches: brown, blue, and red. The switches are a knockoff Chery MX switch, I believe they are either Outemu or Content. The colors have similar functions to the Cherry MX ones. So, reds are linear, blues are clicky, and browns are tactile.
This difference will be noticeable, but you are getting essentially the same functions for a much lower price. You'll just experience some extra rattling and scratchiness.
Overall Build Quality and Typing Experience
The case is made up of plastic, but it is sturdy enough that it doesn't bend much. The stabilizers on the space bar cause wobble, which isn't ideal when typing for a long period of time, but it's bearable. On the upside, the switches are stable and do not shift much when typing.
The keycaps are made of ABS plastic instead of PBT (different kinds of plastic where ABS is of lower quality). Over time, these keys will develop a shiny look to them over time. The keyboard does not have a kickstand option, but it is angled higher in the back than the front, allowing an ergonomic curve.
RGB and Bluetooth Features
The RGB option can be programmed using software. For a personal look, you can change the colors of each key based on what you want. It does come with pre-programmed visual effects for convenience.
In addition, the keyboard can be wireless via Bluetooth connections. It's able to connect to multiple devices, up to 3. When lounging on the couch, watching shows on Netflix, and looking up different shows, go wireless and set it on the arm rest.
When it's time for a different show, reach over, grab it, and type in some things. Power at your fingertips without moving your body. However, If you're planning on gaming wireless, there's many testimonies of lag which can lower your gaming performance.
Should you Get the RK61?
For someone wanting to type casually, this can be a great starter budget keyboard. You get to dive into the world of mechanical keyboards without making your wallet/bank account sad in the process.
The keyboard is stable, the switches give you the longevity and benefits of mechanical keyboards without the high price tag, and the RGB settings let you customize it for your look.
For the price, this keyboard is a great option! It's half the price of the popular keyboards above but offer much of the same functionality.
Where to Get the RK61?
You can find the RK61 for a steal through this link to Amazon.
4. Motospeed CK62 60% Mechanical Keyboard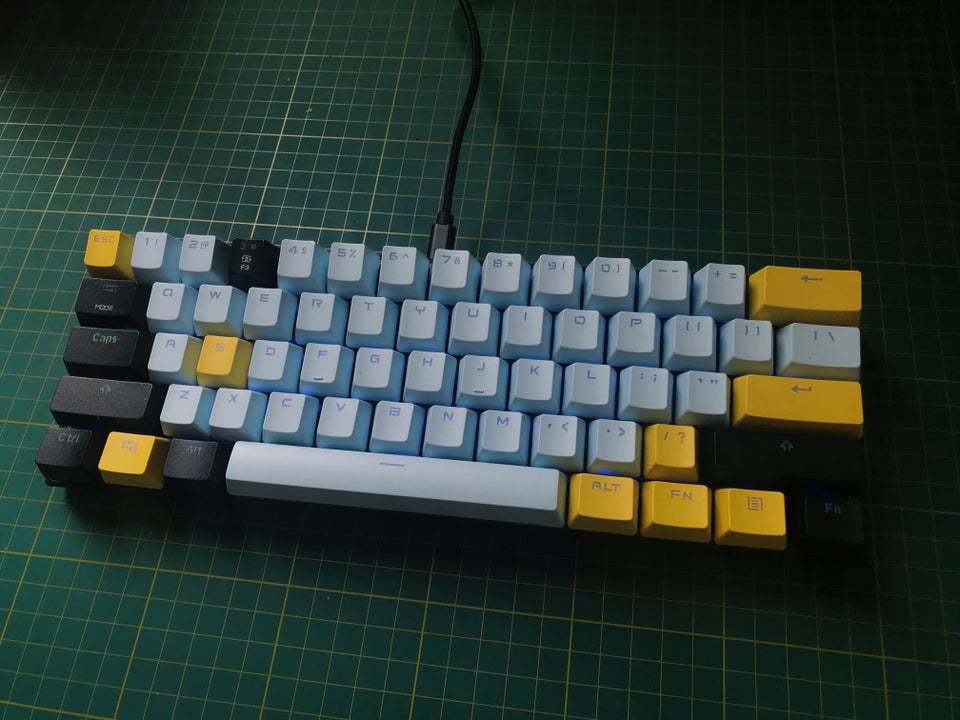 Photo by u/pablitoguacamole
Black and White Colorways
There are two color options: black or white. With any aesthetic, these two options are classic. The keyboard has RGB features so if your theme is white and purple, this is possible with a white keyboard and purple RGB lighting.
Few Switch Options
There are two switch options: blue switches (clicky) or red switches (linear). Unfortunately there is not tactile switch option, so it may be a dealbreaker for some of you.
The brand of these switches is Outemu. They advertise as having medium resistance and crisp, tactile feedback. For more information on these switches, check out our guide here.
ABS Keycaps and USB-C Connectivity
The keycaps on this keyboard are made of ABS plastic and double-shot injection methods. Like the other keyboards discussed here, after long-term use, ABS plastic keycaps develop a shiny, grimy feel.
Like most modern keyboards, it uses a USB-C cable to connect to your computer. The cable is 1.5 meter and is a basic cable.
Cool Features: Lighting Effects and Bluetooth capabilities
This keyboard supports wired or wireless mode and can connects using Bluetooth 3.0 technology. Connecting is an easy process up to 3 devices. The keyboard is compatible with Windows/Mac/iOS/Android, so basically everything except gaming consoles.
The battery life is expected to last up to 10 hours without needing a charge in between. Like other batteries, however, the battery life will decrease over time. When gaming, you'll probably want to go wired and avoid noticeable lag.
The RGB lighting offers 19 different pre-programmed effects. These effects can be switched between using keys on the keyboard.
Should you get the Motospeed CK62?
This keyboard has wonderful features such as RGB lighting, Bluetooth/wireless capabilities, and doubleshot injected ABS keycaps. At the price, the Motospeed would make a great first keyboard.
If you're looking for a tactile switch, this keyboard is not a great choice. The linear and clicky options are great if that is what you're looking for in a keyboard.
Where to Get the Motospeed CK62?
You can find the Motospeed CK62 on Amazon.
What is a 60% Keyboard?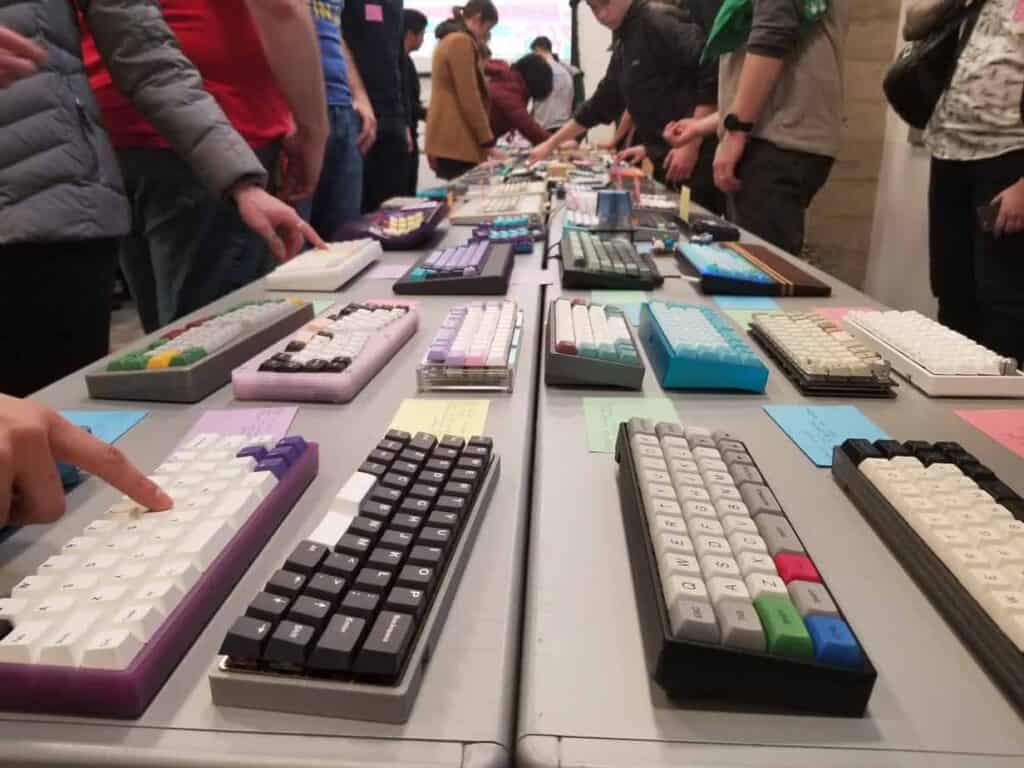 60% keyboards are popular in the gaming and mechanical keyboard enthusiast keyboard community. Not quite a common as TKL or fullsized, but there are a lot of different 60% keyboards available online. Due to their small, compact, and symmetrical shape, they are the most common size for custom keyboard builds.
Cheaper to Buy & Build Yourself
Because of their smaller size, it can be relatively cheap to buy switches and keycaps for custom builds, plus there are a variety of different PCB layouts and case designs specifically for 60% keyboards. Pre-build keyboards are also quite cheap as well, you can find pretty good deals if you're willing to drop to the 60% keyboard size.
Might Be Too Small For Some
A 60% keyboard may be outside the comfort zone for most people, the lack of arrow keys, navigation cluster, number pad, and function row, may make typing feel like a whole new skill to learn. People who buy and use 60% keyboards should know what they are getting into before buying. For some people, it won't impact their typing experience too much, but fair warning to those who want to try the size out.
Are 60% Keyboards Under $50 Worth It?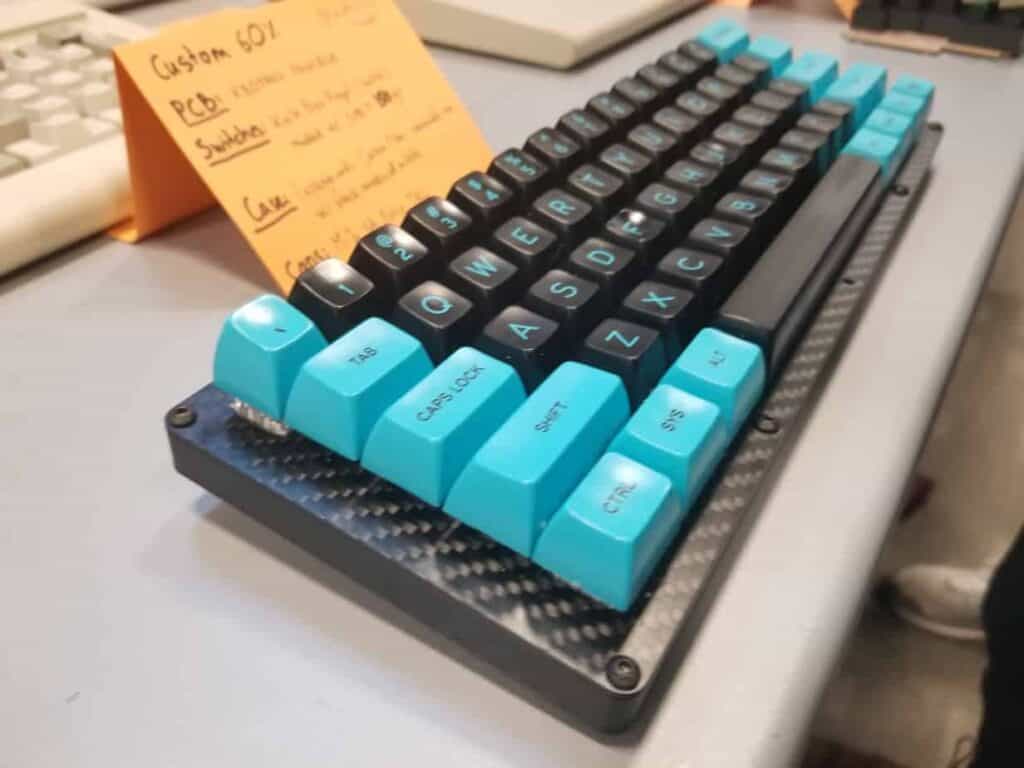 The most popular 60% keyboards now are the Anne Pro 2, Glorious GMMK, Ducky One 2 Mini, and the Vortex Pok3r. However, these are pricey. You want the quality, yet you don't have the money or don't want to shell out to purchase these keyboards. And that's totally OK! There are some awesome keyboards under $50 on this list that will work great for gaming, typing, or working.
A 60% keyboard under $50 does have a few shortcomings you should be aware of. The switches in a budget keyboard are never going to be Cherry MX, which are rated for 100 million keystrokes. Most the time you'll get Gateron or Outemu switches instead, which only last for 50 million keystrokes if you are lucky. Because of this, the overall durability of the keyboard might not be quite as good.
Another issue you may run into is slightly lower build quality. Usually keyboards under $50 are constructed entirely out of plastic, which leads to a more flexible case and is easier to break. In addition, the sound and feel of the keyboard won't be quite as good.
Nonetheless, a budget keyboard can work excellently for the purposes of gaming and typing, just be aware of the possible issues you may run into.
Is a 60% Keyboard Good for Gaming?
Ever since Fortnite swept the gaming world, 60% keyboards became incredibily popular. The compact layout saves space on your desk so you have more room to move your mouse around, leaving only the essential keys.
The 60% layout makes it easier to angle your keyboard when gaming, so you can find the ideal keyboard position without worrying about space. In addition, 60% keyboards are cheaper so they are easy to modify and upgrade to your preferences.
The main downside to a 60% keyboard is the lack of arrow keys. For most people this may not be an issue, but if it is, we recommend you check out our favorite 65% keyboards. Although most games only use WASD, some still prefer to use the arrow keys.
60% keyboards also don't have a number pad, navigation cluster, or function row, so if you use these keys on a daily basis, 60% may not be the layout size for you. We have a full keyboard size guide if you want to research all of the different keyboard sizes.
Conclusion
We talked about four different keyboards that cost under $50. The keyboards come with great features such as being hot-swappable, Bluetooth and wireless capabilities, braided USB-C cables, and more.
My personal winner was the Geek CK61 keyboard because it offers brown switches, USB-C braided cable, and hot-swappable. The Gateron switches are also superior to Outemu as they feel more smooth. The only issue is the keyboard only accepts optical switches.
My runner-up would be the Dierya DK61 because it has a 60% layout but offers dedicated arrow keys. It has a different aesthetic that lets you see the RGB lighting and switches much better along with a braided USB-C cable, a kickstand, and extra decorative switches.
The other ones are good as well, depending on what you're looking for. Thank you so much for reading, and happy typing!
Disclaimer: The prices are always fluctuating, but at the time of writing this article, all of the keyboards on the list were under $50. Switchandclick.com participates in affiliate programs with Banggood, Amazon, and Mechanicalkeyboards.com.