If you are clicking on this article about the best 75% keyboards, it means you are a cultured individual who understands the finer details in life.
You want better, you need better, and 75% keyboards will deliver. They strike the perfect balance between the tight 60% keyboard size and the bulky full-sized keyboard, making it perfect for optimizing performance and space.
Now, let's walk you through our curated list of very best 75% keyboards. All of which, we have hand-tested ourselves.
The Best 75% Keyboards: Our Top Picks
We'll go more into the details and features of each of the keyboards to help you decide what the best keyboard for you might be.
---
1. Keychron Q1 Pro – Our Favorite Pick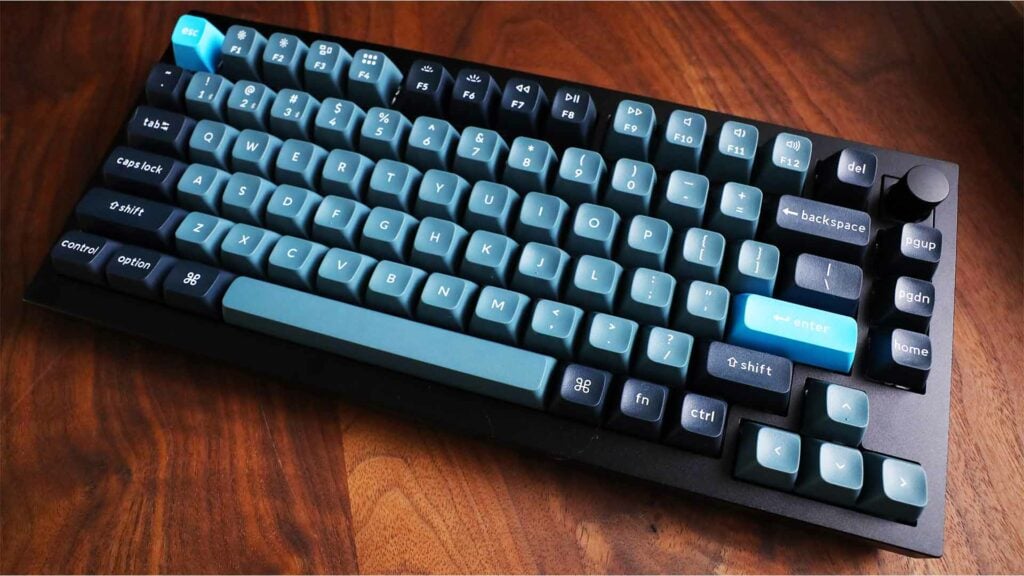 This is no doubt the number one recommendation for 75% keyboards (and for all keyboards!).
With the Keychron Q1 Pro, the keyboard comes fully modded and assembled in the quality of a custom keyboard!
You don't need to get your fingers dirty at all.
The only hard work you'll be doing is:
Unbox keyboard
Plug keyboard in
Yep, that's it.
You get a nice-sounding and feeling keyboard right out of the box.
There are very few keyboards that require no modifications. And the ones that do exist out there cost more than double what the Q1 Pro costs.
The Q1 Pro is 75% in size, so it has all of the function row, arrows, nav keys (sort of), and if you're feeling spunky, you can get a knob.
Do you need Bluetooth? The Q1 Pro delivers.
The keycaps won't get all nasty and oily, since they're made of PBT plastic, a thicker and more durable material.
If you want a buttery smooth typing experience, you're in luck. The keyboard comes with pre-lubed switches, which makes each key press feel so much better. Plus, you don't ever have to take your keyboard apart, pry open each switch, and brush lube inside it yourselves. Ick, that is such a dirty process.
The keyboard has also mastered the art of "the bounce".
The Q1 Pro delivers on a flexible and bouncy typing experience. It's so much easier on the hands and finger joints. And it sounds spectacular. Your keyboard isn't going to be producing that nasty ringing ping when you type fast, like I know you do.
It's able to do this from two main features:
The PC (polycarbonate) plate. It's thinner and more flexible, so when you do type on it, it's not as harsh of a feeling as typing on a steel place.
The gasket mounted case. Small pieces of rubber (the gaskets), are placed in the case to improve the sound and feel on each keypress.
And in case you're wondering… yes, there is a Delete key. Thank the heavens.
If you want to buy a really nice keyboard and then never think about keyboards again, the Q1 Pro is the go-to option.
You can read a more in-depth review here.
You can check out the Q1 Pro.
2. Keychron V1 – The Budget King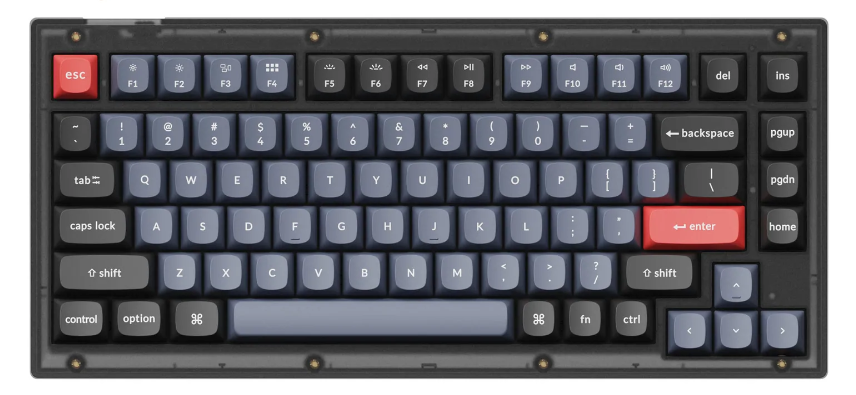 Hmmm, another Keychron product… I'm noticing a trend here.
Yes, Keychron makes really good keyboards. Lucky for us, they happen to have another 75% keyboard, but at a WAY cheaper price.
And for those of us balling on a budget, the Keychron V1 is #1 option by FAR.
Plus, you get options.
If you're feeling spunky, and want to build your keyboard, you can go for the barebones kit which comes in at $64.
OR
If you want a quality keyboard without any assembly, that you simply plug-in and go, there is a fully-assembled version for $84.
Either way you go, they are both great options.
Compared to other keyboards at this price, Keychron hasn't skimped out on any details.
The typing sound is not hollow like other plastic keyboards out there because Keychron gives you a silicone dampening pad inside the case to improve its acoustics.
There's RGB options, which you can modify with in-keyboard combinations. Or turn it off, if RGB isn't your thing. The option is there.
They're also super responsive keyboards for gaming with 1000Hz polling rate. You won't feel any input lag when playing your most competitive games.
If you opt for the knob version, keep in mind that it's programmable. The keyboard comes with it programmed to volume up/down and mute for the press.
But the entire keyboard is QMK and VIA compatible, which means you can reprogram all the keys, layers, and customize it to the way you want.
For an entry into the world of custom mechanical keyboards, the Keychron V1 is an excellent choices.
If you pay a bit more, these kits can come pre-assembled with pre-lubed switches and durable PBT keycaps. So if you aren't interested in shopping around, this is a really convenient option.
Keychron's website also sells keycaps and switches from various companies too, so you can get all of your parts from a single website. And only pay shipping once.
The only downside to this keyboard is the less custom-feel to it, but hey, for a prebuilt it's really dang good.
If you're interested, definitely check the Keychron V1 or any of their V-series keyboard kits.
3. iQunix – The Best Looking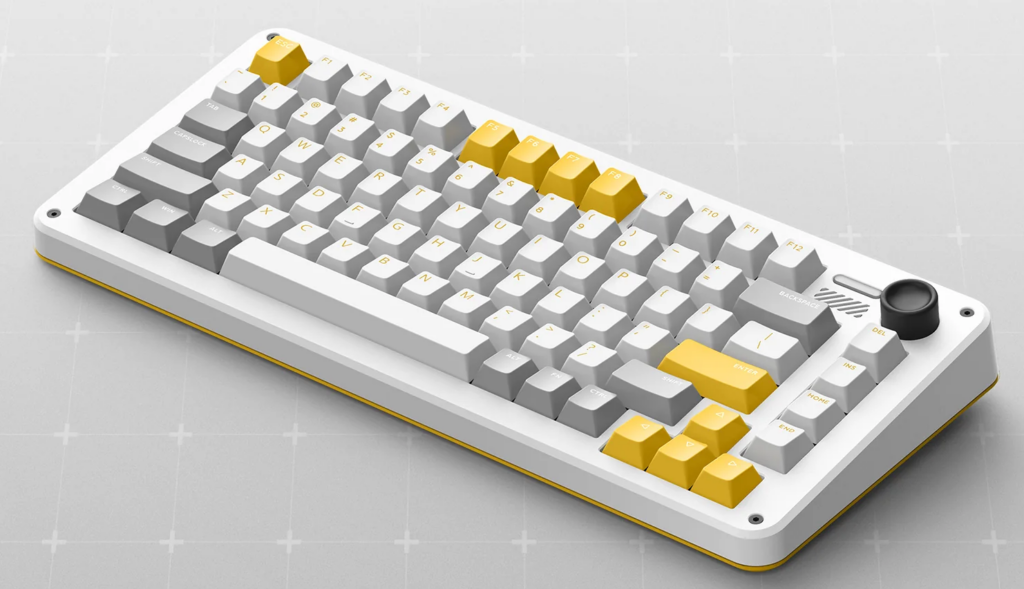 The iQunix 80 series is a new duo of 75% keyboards from iQunix: The A80 Explorer, L80 Lime, and the newest most-noteworthy ZX75.
The iQunix 80 series gets the pick for best looking 75% keyboard by providing the most premium options in a prebuilt offering. Offering a well-designed case made of premium Polycarbonate plastic, two levels of sound-dampening foam, Tri-mode connectivity, high-quality keycaps, and hot-swappable sockets.
The Polycarbonate plastic offers a sturdy build quality with a pleasing deeper sound than ABS plastic cases.
The case features sound-dampening foam both in the bottom of the tray-style case as well as between the PCB and plate. This will give help minimize hollowness and resonance, and is a feature absent in even more expensive luxury boards.
The plastic case also allows for a stronger and more stable wireless connection than with a metal case.
The iQunix 80 series keyboards offer 3 modes of connectivity: wired USB-C, Bluetooth 5.0, and fast 2.4ghz wireless. The polling rate offered in Bluetooth is 125hz, but is rated at 1000hz polling in wired and 2.4ghz modes for a faster 1 millisecond response time appropriate for gaming and general button mashing.
The case lacks a place to store the receiver which is disappointing, but the performance is solid for a wireless keyboard.
Hot-swappable sockets are what really push this keyboard over the edge. A new addition to iQunix boards, Hot-swappable sockets give you modularity in that you can remove, modify, and replace the included switches without the need to solder or de-solder.
Whether you want to lubricate and film your switches or swap them out for something entirely different, you can do so with ease by choosing a board with hotswap.
The 5-pin hotswap sockets means that you can use any 3-pin or 5-pin Cherry MX-style switches you choose. The sockets place the LED in a North-facing orientation which means that thicker Cherry-profile keycaps may colide with your switch housings.
The benefit of North-facing switches is that they work well with backlit keycaps, but many backlit keycap sets don't support the 75% layout.
The stabilizers are "costar" style rather than "Cherry style", so you won't be able to modify them to the same degree, or use the same keycaps without included adapters.
The provided keycaps are a Dye-sublimated PBT keycap in OEM profile. This means that you won't have any issues with interference or collision, the keycaps will resist becoming shiny and slick over time, and the legends won't rub off either.
The A80 and L80 share the same list of features, and differ only in the design of the case, as well as the angle at which the Function-row is presented. The L80 features a larger forehead, while the A80 has a taller forehead which angles the Function-row and is more reminiscent of "battlestation" keyboards. Both keyboards have Vintage inspired designs in fun colorways.
If you're looking for a premium, feature-rich 75% keyboard with unique design and room for customizing, look no further than the iQunix 80 series mechanical keyboards.
You can find the L80 here.
4. GMMK Pro – The Best for Gaming
The GMMK Pro is a game-changing contender in the custom mechanical keyboard space, and is one of the best widely-available in-stock 75% keyboard on the market.
Glorious is known for shaking up the community, and the GMMK Pro is no different. The GMMK Pro offers a full-aluminum case with gasket-mounting, case and plate foam, pcb-mounted stabilizers, encoder knob, and South-facing LEDs.
The gasket-mounted case offers a solid build quality while still maintaining a flexible, dampened typing feel that can feel much more satisfying than a stiff tray-mounted case that is common for all of the keyboards in this list.
The added case and plate foam improve the typing sound by dampening and eliminating metallic resonance and hollowness that may otherwise be obvious when your switches are lubed and stabilizers modified.
The included stabilizers are PCB-mount screw-in stabs for the best rattle-free experience.
Encoder knobs are becoming more common on keyboards, and for good reason. The included encoder knob is handy not only for volume and media control, but for productivity and workflow control as well. Functions like zoom, rotate, pan, scroll, and scrub can all be programmed to the encoder knob to increase efficiency in work and play.
The South-facing LED's really set the GMMK Pro apart from the competition. Cherry-MX style switches were not originally designed to be North-Facing, which causes interference when typing on the Home-row with Cherry-profile keycaps.
When a PCB uses South-Facing LED's, the issue is eliminated, and allows for the use of thicker Cherry-profile keycaps without interference or collision. While it may not be ideal for fans of backlit keycaps, the addition of South-facing LEDs, premium materials, and gasket mounting system are clear features that push the GMMK Pro clearly into the enthusiast space.
You can find the GMMK Pro here.
5. Royal Kludge RK84 – Budget Honorary Mention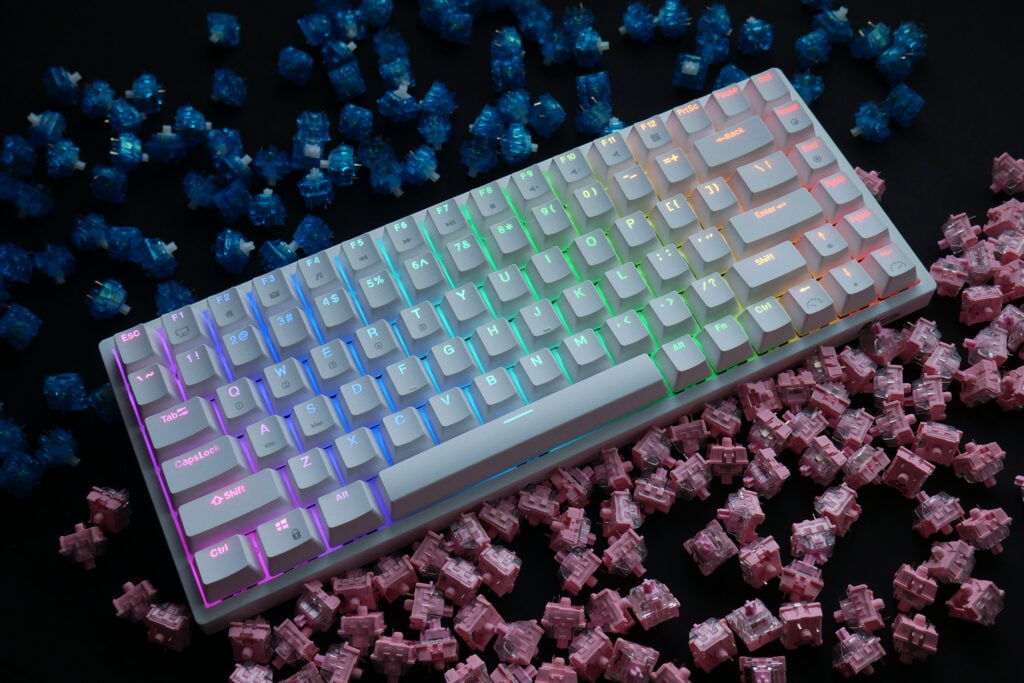 The Royal Kludge RK84 is a budget board packed with features that make it one of the best value 75% keyboards available. The RK84 offers a convertible ABS plastic case, Tri-mode connectivity, per-key RGB, and Hotswappable sockets featuring TTC switches.
While the case may not be made of higher quality Polycarbonate plastic or be quite as designed as the IQuinix above, the RK84 maintains the essential features for a fraction of the cost.
The RK84 is made of white ABS plastic and the convertible design lets you choose between a high-profile case, or remove the plastic bezel for a low-profile, "floating keycaps" design that shows off the switches and lets the RGB shine through brilliantly.
Two USB-A ports on the rear give you dual USB-passthrough for added convenience.
The Tri-mode connectivity makes a return for added convenience. Unlike the IQuinix 80 series, the RK84 does feature a storage port for the 2.4 ghz wireless receiver.
Also unlike the IQuinix 80 series, the wireless connection is not quite as strong or stable, with the 2.4ghz receiver requiring a very short range and clear line of site to maintain a clear signal.
Using a USB extension is recommended when choosing the 2.4ghz mode, but the availability of all 3 modes is a rare convenience on an entry-level keyboard.
A huge battery allows you to use your RK84 in Bluetooth or Wireless modes for weeks depending on how much you use the RGB lighting.
Hotswap is available on the RK84 which allows you to modify your keyboard easily.
The TTC switches are a fairly good budget options and feature a gold plated spring and leaf, and are comparable to Gateron switches. The TTC+K Brown switch option is noticeabley more tactile than Brown switches offered by Cherry MX, Gateron, and Kailh.
Lubing the TTC switches and supplied stabilizers will improve the overall typing experience, and the process is made simpler with the hotswap sockets and plate-mounted stabilizers.
The Royal Kludge RK84 is the perfect choice for a budget keyboard packed with premium features like hotswap and Tri-mode connectivity.
Find the Royal Kludge RK84 for a great price on Amazon.
6. Epomaker EP84 – Another Great Option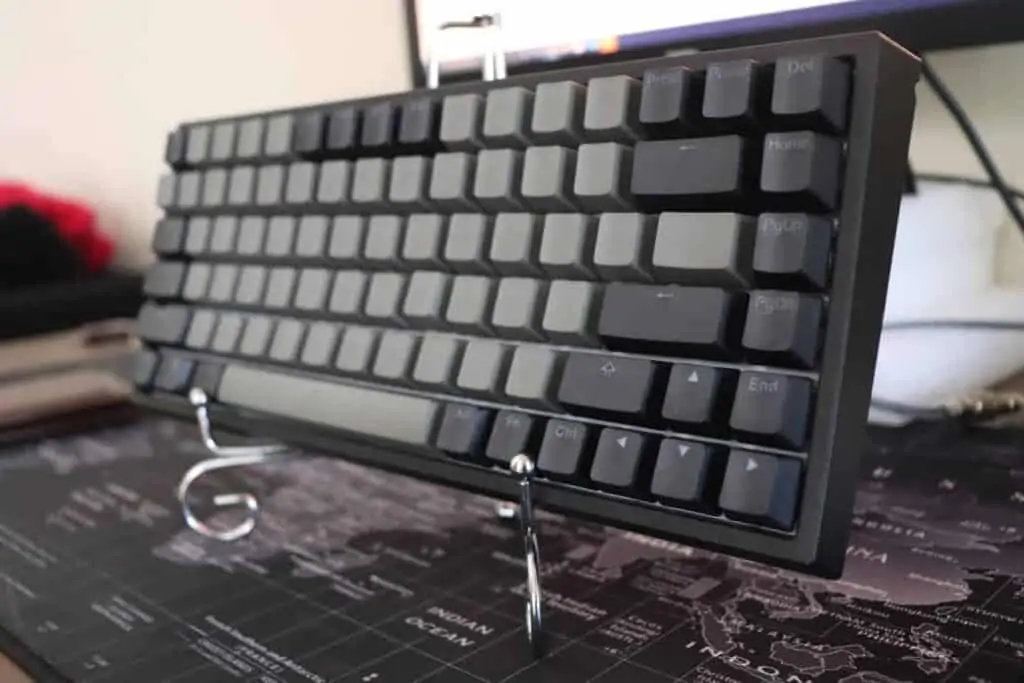 The Epomaker EP84 is a wired 75% keyboard that comes in both soldered and hotswap varieties.
The EP84 is similar to the KC84 and RK84 in many ways including overall case design and layout. The PCB also sports 5-pin hotswap sockets in a North-facing orientation and now even includes a layer of plate foam.
PBT plastic keycaps in OEM profile are once again included to avoid interference and show off the different RGB lighting.
The Epomaker EP84 is offered with all black or white case and double-shot keycaps in a matching colorway, which lend themselves well to the overall brilliance of the RGB.
The EP84 does not have its own software, but it has been known to work with the KC84 software as well.
If you're looking for a reliable entry-level keyboard with hot-swappable switches, check out the Epomaker EP84.
For even more lighting, the HS84 offers all of the features of the EP84 in a frosted translucent ABS plastic case.
Just be mindful of your switches.
A big difference between these two boards lies in the configuration of the LEDs lights. The HS84 uses SMD lights that sit on top of the keyboard's PCB, making it impossible to use switches without a large slot cut-out for the LED. The EP84 does not suffer from this flaw.
Read the full review here.
And you can find the EP84 here.
7. Keychron K3 – Best Low-Profile Option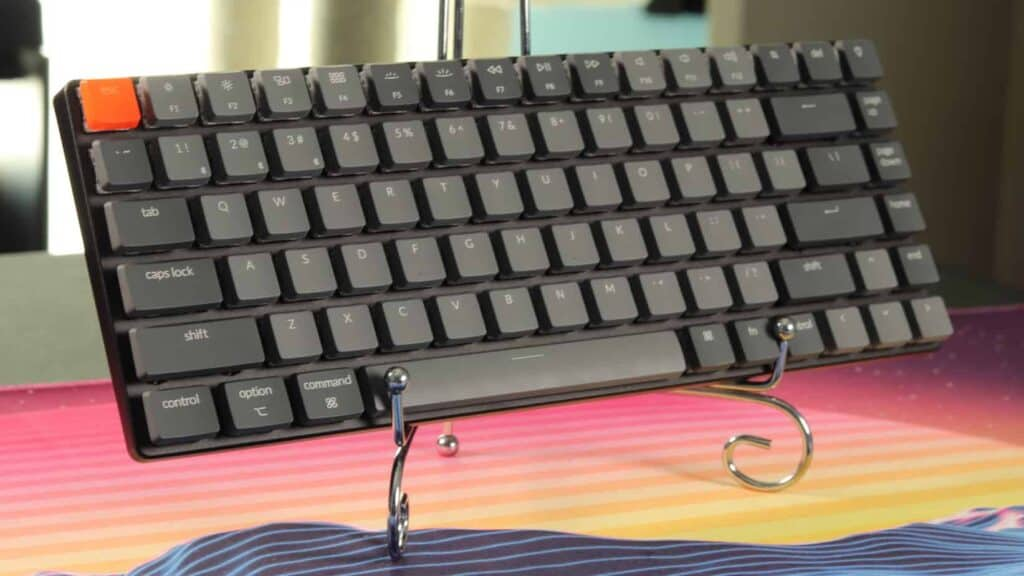 One of the newest members to the Keychron Family, the Keychron K3 is touted as the first Low-Profile, Optical, Hotswappable keyboard offered on the market. While the K3 keyboard is innovative, the execution may leave a bit to be desired.
The Keychron K3 is offerred in several different options:
Soldered Mechanical White
Soldered Mechanical RGB
Hotswap Optical White
Hotswap Optical RGB
Though the mechanical switch version does not include hotswappable switches, the Optical low-profile switches do support hotswap and are the first of their kind.
Innovation does not come without its downsides, and the K3 switches are no different. The Optical Low-Profile switches have been known to be overly sensitive, with even the lighest touch and minimal travel to cause an actuation.
While the switches are hotswappable, your switch choices are limited to the Keychron switches, and may not offer an option that feels right for you. The clicky switches seem to be the most consistent option.
The switches all include Cherry MX style cross stems, but standard keycaps are incompatible with the low-profile switches.
The low-profile design of the K3 is excellent for ergonomics, allowing for more natural angle in the wrists, but the flat nature of the keys and shortened travel distance may take getting used to for those who don't type on laptops for a living.
Get the K3 for a great price from Keychron.
8. Keychron Q10 – Best in Ergonomics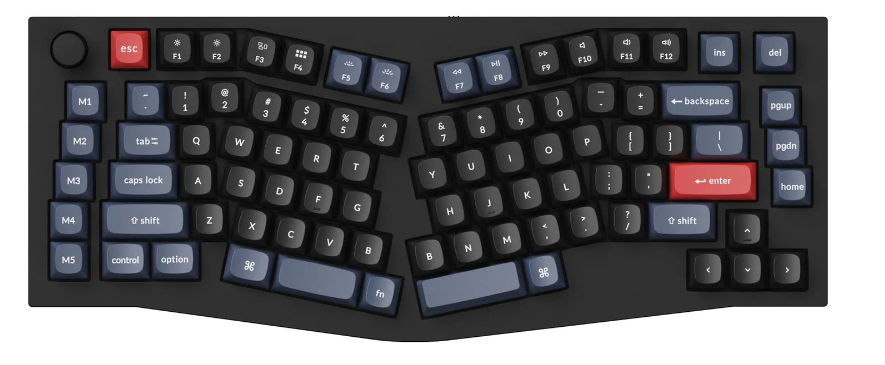 Are your wrists are tired and achy? Do you feel older by the minute?
Well, this might the solution to the daily wear-and-tear we experience sitting at our desks all day typing, gaming, and programming.
The Keychron Q10 is a 75% ergonomic "Alice" style keyboard that is made in a way that is less stressful on the wrists.
As someone who uses this layout a lot, I'll admit, it's not a magic bullet, but it does help A LOT.
And I like to swap between this and my normal keyboard when I'm feeling extra beat up.
The Q10 keyboard also has a robust build quality to boot, with a variety of pre-lubed switch options, different case colors, gasket mount, and sturdy aluminum design.
Not to mention hot-swappable switches, if you ever want to try something new.
You can check out the Q10 on the Keychron official website.
What is a 75% Mechanical Keyboard?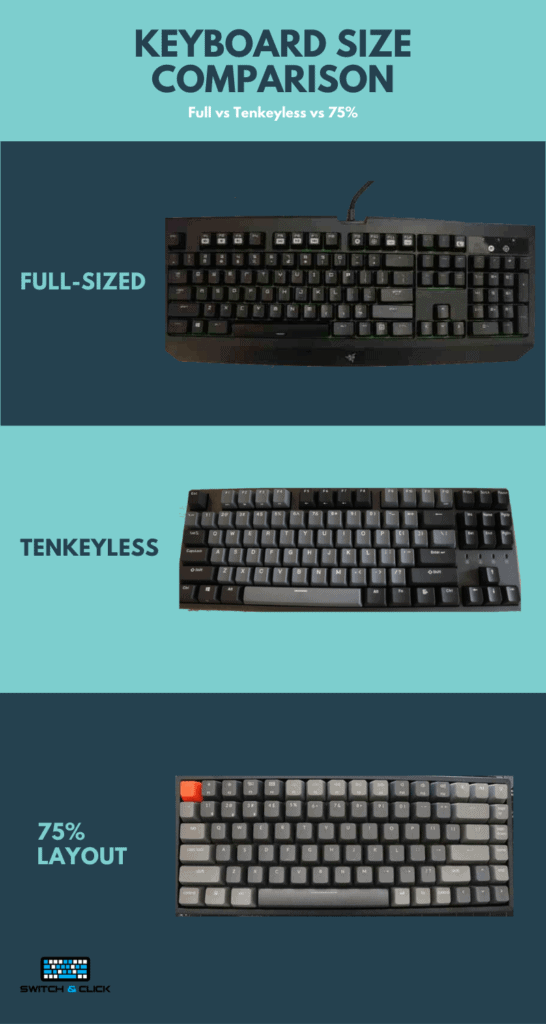 There are a ton of different mechanical keyboard sizes (size guide here), so it can get a little confusing keeping track of all the differences between the layouts.
A 75% mechanical keyboard is a more compact version of a tenkeyless board without having to get rid of any of the keys.
Like tenkeyless layouts, a 75% keyboard does not have the number pad which makes the keyboard much smaller.
A More Efficient Layout
Without the number pad, you hand also doesn't have to travel as far to reach the mouse, so it can make it faster to go back and forth between clicking and typing.
It does have the drawback of making data entry slower because you won't be able to enter numbers quite as fast.
The navigational cluster is formatted in a much different way then TKL and full-sized boards. Instead of being placed in the a 3×3 format, the keys are aligned vertically to save space.
By smushing them all together, you end up with a more square-shaped board packed with keys.
Comfort vs. Compact
Using a 75% keyboard may be a little awkward at first because you'll need to get used to the different placement of the delete, home, and insert keys. Luckily, these aren't used too much anyways, just beware it may take you a little while to get used to the more compact layout.
In my opinion, the 75% keyboard utilizes space in a much more efficient space than other keyboard layouts without removing any features that feel necessary.
The next size down, 65% keyboards, get rid of the function row and the entire navigation cluster, so it can be quite difficult to make that jump.
With 75% keyboards you're not sacrificing much for a more compact keyboard. For that reason, I think 75% mechanical keyboards are a great size.
BEWARE: New Keycaps Might Not Fit
NOTE: This is only an issue if you want to replace the keycaps AFTER you buy your keyboard.
As a heads up for you 75% keyboard lovers, some 75% keyboards feature non-standard layouts (which means it's different than normal keyboards), so unless you get keycaps made for this specific sized keyboard, the new keycaps you buy will not fit.
For example, on a 75% keyboard, the shift key on the right side tends to be smaller than a normal keyboard. In addition, the keys on the top right of your keyboard, such as Insert, PgUp, PgDn, Delete, and End tend to be in a different order on different rows, the shape of the keys might not look right.
Keycap manufacturers have gotten a lot better about this in the recent years, and many will add additional keycaps that will fit.
But it's always safe to double-check.
Conclusion
75% keyboards are an absolute gem, they attempt to maximize comfort and portability to save precious desk space.
We hope you found this list of some killer 75% keyboards useful, we try to review these keyboards in the most unbiased way possible and provide the best keyboard reviews for you.
Overall, we were impressed by all the keyboards on this list, but we would like to see more keyboard companies start producing 75% keyboard layouts because they are such a fun size to use.
As always, happy typing!