There is a small fanbase in the mechanical keyboard community that absolutely love 75% mechanical keyboards.
They are a nice balance between the ultra-compact 60% keyboard and the bulky full-sized keyboard, the only problem is they are quite difficult to find.
We decided to put together a list of the best 75% mechanical keyboards to help you pick the perfect one out.
---
Best 75% Mechanical Keyboards 2020:
Qisan Magicforce 82: Best Budget 75% Mechanical Keyboard
Keycool 82: Best 75% Mechanical Keyboard for Gaming
Keychron K2: Best Wireless 75% Mechanical Keyboard
Vortexgear Race 3: Best High-End 75% Mechanical Keyboard
Epomaker NIZ Plum: Best Topre(ish) 75% Mechanical Keyboard
Drevo Excaliubr: Best 75% Mechanical Keyboard with RGB
We'll go more into the details and features of each of the keyboards to help you decide what the best keyboard for you might be.
6. Qisan Magicforce 82 Key
Barebones & Simple
The Qisan 82 is a pretty barebones keyboard, but if you're looking for a relatively cheap mechanical keyboard with the 75% layout, this may be the one for you.
This keyboard comes with Gateron Brown switches, which are a knockoff of Cherry MX's. Usually for a cheaper keyboard such as this one, the switches will be from Chinese brands such as Gateron or Outemu.
White & Blue Design
The keyboard comes with Blue backlighting and a white case design that offset each other for an interesting aesthetic. The keyboard features the floating keycap design, which looks clean and professional, something that can be used in the office.
Should you Get the Qisan Magicforce 82 Key?
The Qisan Magicforce 82 is the perfect choice for someone looking to purhase a simple no-frills keyboard in the 75% layout. The keyboard is affordable and gets the job done, would be an excellent choice to upgrade your rubber dome office keyboard to a mechanical one. You can find the keyboard on Amazon here for an affordable price.
5. Keycool 84
Cool Design Choices
The Keycool 84 is an interesting keyboard, that is on the higher end. The keyboard has custom keycap designs that come in several different colors based on your preference. You can choose between Blue/Grey, Black/Red, and White/Blue designs. The keycaps are PBT which makes them a bit higher quality than some of the other keyboards on the list.
Cherry MX Switch Options
The Keycool 84 lets you choose between Cherry MX Red and Brown switches, so if you enjoy linear or tactile switches, you should be able to get the feel you want. We would like to see more switch options, considering the price the keyboard is going for, but you can't always get what you want. A Cherry MX Blue would be a nice addition for those who prefer the clicky noises.
Should you Get the Keycool 84?
Overall, the Keycool 84 has a very nice aesthetic and works great. If you want a keyboard with genuine Cherry MX switches and some awesome colorways without worrying about the features, the Keycool 84 is a great choice. You can find the Keycool 84 on Amazon with a lot of different purchase options available.
4. Epomaker NIZ Plum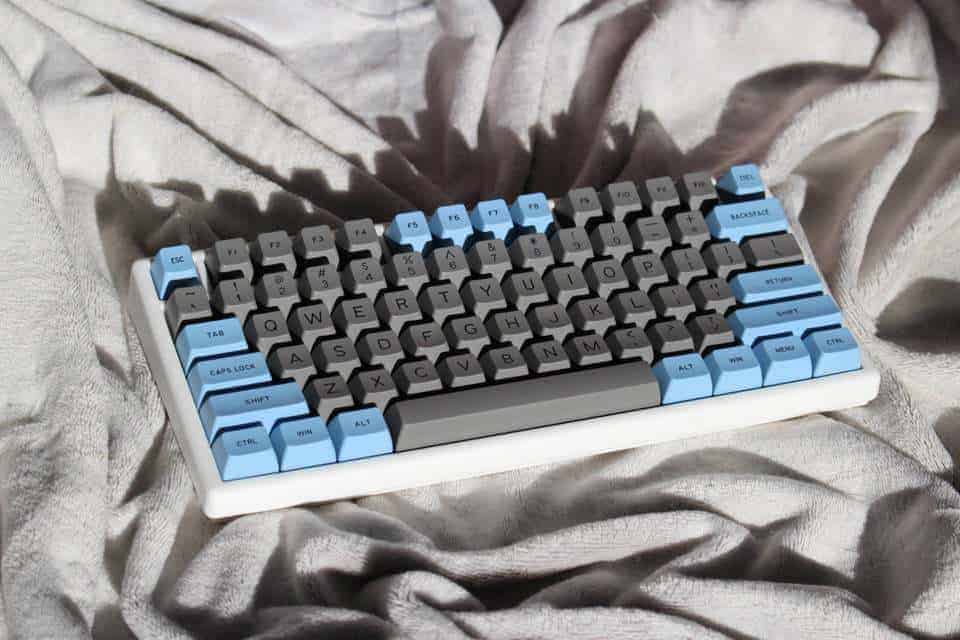 Clean White/Gray Design
Coming in hot at number 4 is the Epomaker NIZ Plum, this is where the list really starts to get interesting. The Plum features a super clean white and gray design, that is reminiscent of the old IBM buckling spring keyboards. The keyboard has a retro look to it, but don't be fooled, it comes with all the bells & whistles of a newer keyboard.
Electro-Capacitive Switches
The NIZ Plum has some really unique switches that are acuated through an electro-capacitive force. Very similar to Topre switches, these switches are tactile and feel slightly better than a Cherry MX Brown switch. The electro-capacitive switches have some of the coolest sound on the market as well.
Packed with Useful Features
The list doesn't end when it comes to the features inside this board, but I'll attempt to list them all out. The Plum has PBT keycaps, fully programmable keys, anti-ghosting, six-key rollover, and adjustable feet.
Should You Get the Epomaker NIZ Plum?
The NIZ Plum is the perfect keyboard for someone looking for something a little different. The electro-capacitive switches are fun and sound really nice, making this a good keyboard to try something new. You can find the NIZ Plum on Amazon for a suprisingly low price considering the switch type.
3. Keychron K2
Well-Built and Reliable
The K2 features a thick plastic/aluminum case with a high profile design and gray/light-gray design that looks professional and aesthetic. The company that makes the K2, Keychron, also makes lots of other unique layout models. They have a 65%, TKL-compact, and low-profile models. The company really specializes in the different niche layouts and they do a great job with the K2.
Packed with Awesome Features
The K2 is a mechanical keyboard with wireless functionality, which can connect to 3 devices at once making it quite easy to toggle between devices. The keyboard also has an impressive battery that can last up to two weeks. The K2 is functional with Windows and Apple operating systems, and located on the side of the keyboard is a sliding switch that makes it easy to toggle between the different operating systems.
Our only mild criticism of the K2 is the thickness, it can make it difficult to type on without a wrist rest and can cause some fatigue after typing for a while. On top of that, the USB-C power cable connection was on the left side of the keyboard which is a little awkward to plug in. Usually the port is located on the backside of the keyboard.
Should you Get the Keychron K2?
For Mac users, the Keychron K2 is perfect recommendation. The compatibility with both operating systems is very handy and the Bluetooth Wireless connection is super convienent. You can find the Keychron K2 on Amazon for a super affordable price.
2. Vortexgear Race 3
Excellent Aluminum Design
Vortexgear 3 comes with an anodized aluminum case that feels sturdy and heavy. This makes the keyboard feel solid and very stable when typing. The keyboard also comes with some nice custom PBT keycaps designs, so the layout is unique and does not get those shiny grease marks that ABS keycaps get.
Convenient Features
The keyboard comes layered with COLEMAK and DVORAK, so if you are an expert at typing with these layouts, you'll enjoy how easy it is to switch between them. On top of that, you have the option between Cherry MX Brown and Blues so you can decide between loud and tactile or quiet and tactile switches.
The only downside we found to this keyboard with the USB plugin did not feel very secure. We also found a lot of complaints from reviews about how for some people the plug would fall out after some light usage. Be careful if you're keyboard has this issue as well, because it sounds like some of have manufacturing issues.
Should You Get the Vortexgear Race 3?
The Vortex Race 3 is an excellent keyboard for someone who holds build quality above all else. You can't beat the anodized aluminum frame and the dye-sublimated PBT keycaps, you'll just need to be prepared to pay a little extra. You can find the Vortex Race 3 on Amazon for a competitive price.
1. Drevo Excalibur
Sleek Design and Build
The Drevo Excalibur comes in either black or white case designs with a floating keycap design. The build looks sleek and very compact. When purchasing you'll have the option between several different Cherry MX switches including the Black, Blue, Brown, and Red switches. It's always nice to have a pick between several switch options, because it really allows you to customize the feel of the keyboard for your own specific tastes.
Big Bold Legends on Keycaps
The legends are big and bold colored, and look like they're designed with the gamer in mind, which may be perfect for some and a little overwhelming for others. If the keycap design is a dealbreaker, it wouldn't be too crazy to buy another keycap set online for $20 and swap them out. This keyboard only has white backlighting, so if you enjoy RGB lighting you're out of luck.
Should you Get the Drevo Excalibur?
Overall, this is a great keyboard for the price and does everything well. The build quality is nice with the sleek plastic and aluminum design and the keyboard is really fun to use. You can find the keyboard on Amazon for a mid-range price using this link.
What is a 75% Mechanical Keyboard?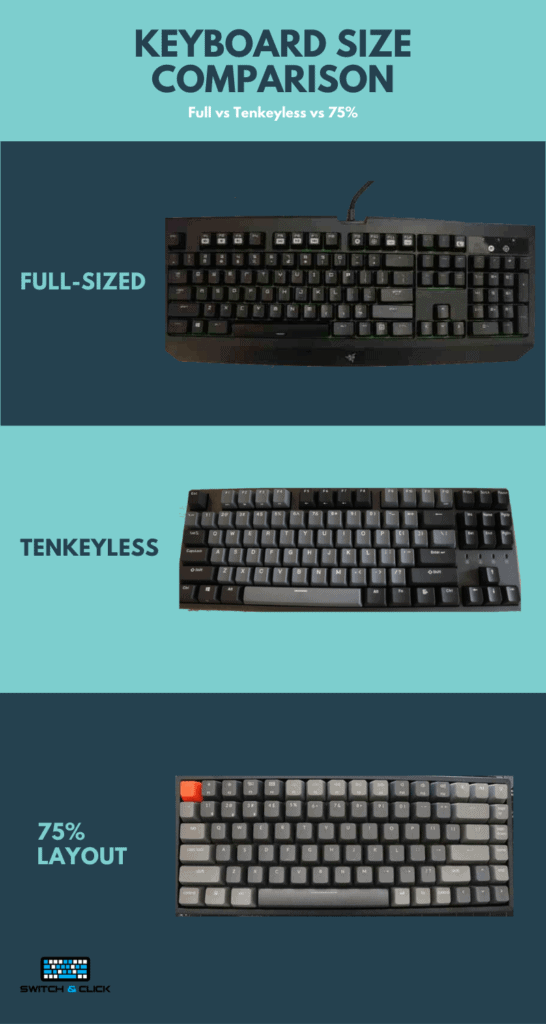 There are a ton of different mechanical keyboard sizes (size guide here), so it can get a little confusing keeping track of all the differences between the layouts. A 75% mechanical keyboard is a more compact version of a tenkeyless board without having to get rid of any of the keys. Like tenkeyless layouts, a 75% keyboard does not have the number pad which makes the keyboard much smaller.
A More Efficient Layout
Without the number pad, you hand also doesn't have to travel as far to reach the mouse, so it can make it faster to go back and forth between clicking and typing. It does have the drawback of making data entry slower because you won't be able to enter numbers quite as fast.
The navigational cluster is formatted in a much different way then TKL and full-sized boards. Instead of being placed in the a 3×3 format, the keys are aligned vertically to save space. By smushing them all together, you end up with a more square shaped board packed with keys.
Comfort vs. Compact
Using a 75% keyboard may be a little awkward at first because you'll need to get used to the different placement of the delete, home, and insert keys. Luckily, these aren't used too much anyways, just beware it may take you a little while to get used to the more compact layout.
In my opinion, the 75% keyboard utilizes space in a much more efficient space than other keyboard layouts without removing any features that feel necessary. The next size down, 65% keyboards, get rid of the function row and the entire navigation cluster, so it can be quite difficult to make that jump. With 75% keyboards you're not sacrificing much for a more compact keyboard. For that reason I think 75% mechanical keyboards are a great size.
Conclusion
75% keyboards are an absolute gem, they attempt to maximize comfort and portability to save precious desk space. We highly recommend the Drevo Excalibur, Vortexgear Race 3, and the Keychron K2 depending on the price range and features you are looking for. The other options, Qisan Magicforce 82, Keycool 84, and Epomaker NIZ Plum all make for excellent choices as well.
We hope you found this list of some killer 75% keyboards useful, we try to review these keyboards in the most unbiased way possible and provide the best keyboard reviews for you. Overall, we were impressed by all the keyboards on this list, but we would like to see more keyboard companies start producing 75% keyboard layouts because they are such a fun size to use.
As always, happy typing!