Still using an old office keyboard for gaming?
It's time for an upgrade- this affordable mouse and keyboard combo will transform your gaming experience with its RGB lighting and fun clicky switches.
Let's get into why we have this keyboard and mouse combo ranked on our list of best under $50.
The Verdict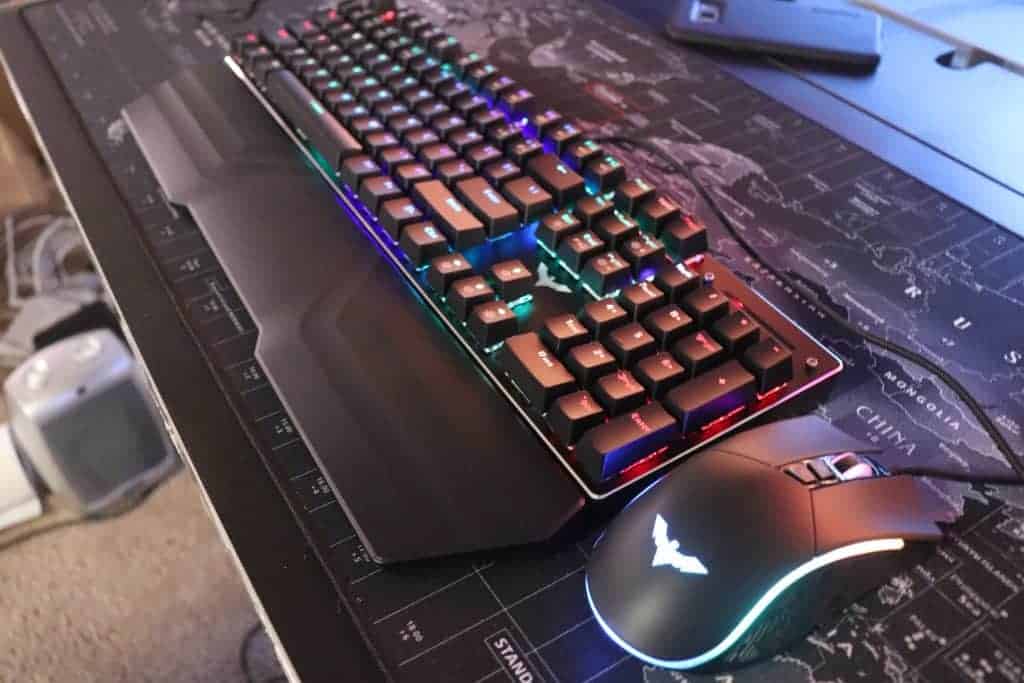 If you have been a mechanical keyboard user for awhile, this Havit combo may not be for you unless you are looking for a super affordable gaming keyboard.
To be frank, you aren't going to get a premium typing experience or special features.
But is this keyboard and mouse set worth the price? I think it can be.
This budget, full-size keyboard is best suited for those first-time mechanical keyboard buyers looking to transform their typing experience.
With RGB lighting in both the keyboard and mouse, the Havit combo provides a lot more room for customization than any standard office keyboard would.
The Content switches and strange stabilizers on this Havit keyboard aren't the greatest, but are justified by the price.
A new mechanical keyboard user likely won't be too put off by these downsides, as the feel is already much different than a normal keyboard.
If you would like to learn more about this keyboard and mouse combo, you can find it on Amazon for a great price.
---
In The Box
While most mechanical keyboard companies thrown in a extra keycaps, a keycap puller, or a sticker, Havit keeps it simple with this keyboard and mouse combo.
They don't include any additional pieces with the keyboard and mouse other than a wrist rest. At least you have the basics covered, I suppose.
It would have been nice to see a keycap puller or stickers or something, but it's not a huge deal.
---
Build Quality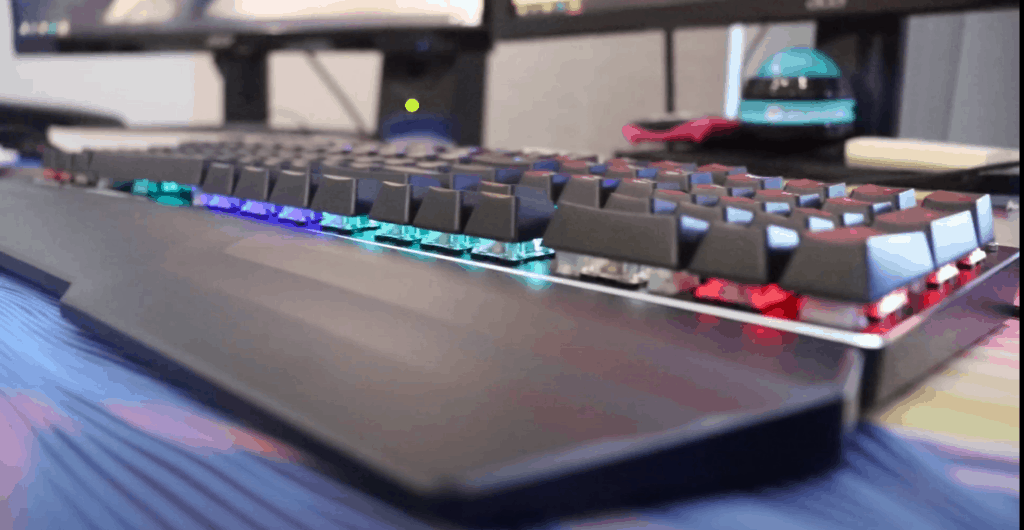 The Havit keyboard is built with an aluminum top plate and plastic casing, so it is pretty sturdy. As a full-size keyboard, the Havit takes up a lot of space, especially with the addition of the wrist rest.
With RGB lighting and tons of onboard functions and legends, the Havit fits the "gaming" aesthetic. The keyboard and mouse are all black, but I wouldn't call it simple, once the lighting gets going this duo takes on a ton of personality.
With 14 lighting presets and endless customization options via software, the Havit keyboard lets you add your own flair- definitely one of the advantages to getting a mechanical keyboard in lieu of a standard office keyboard.
A simple plastic, angled wrist rest is attached to the Havit keyboard, which I honestly found to make typing really comfortable. The rest is a little difficult to take on and off though.
If the angle of the keyboard is insufficient for you, there are kickstands on the bottom to raise the keyboard. There strangely aren't rubber stops on the kickstands though, so it might slip around a little when you type with them out.
Coming out of the middle of this keyboard is a thick braided USB cord.
The cable is non-detachable, which is often the case of budget keyboards.
If you are purchasing a full-size keyboard, you probably aren't planning on transporting it often anyways, so a detachable cable isn't needed.
The Switches
This keyboard only has a single switch option: Content Blue switches.
As a newer switch brand, not much is known about these, but I found them to deliver the standard clicky and loud typing experience that blue switches are known for.
Blue switches are definitely fun to use, especially if you are purchasing the Havit as a first time mechanical keyboard user.
The noise level is quite significant though, so you may not want to bring this keyboard to an office setting or anywhere you will be around other people.
The Stabilizers
The stabilizers on the Havit are definitely an area that needs some work.
To be fair, most low-price keyboards have poor stabilizers, but the ones on this keyboard are especially loud and rattily.
I'm also not sure what style stabilizers are used on the Havit, the design is very strange.
Most keyboards use cherry-style stabilizers, but the ones on this keyboard have a much different design.
The Keycaps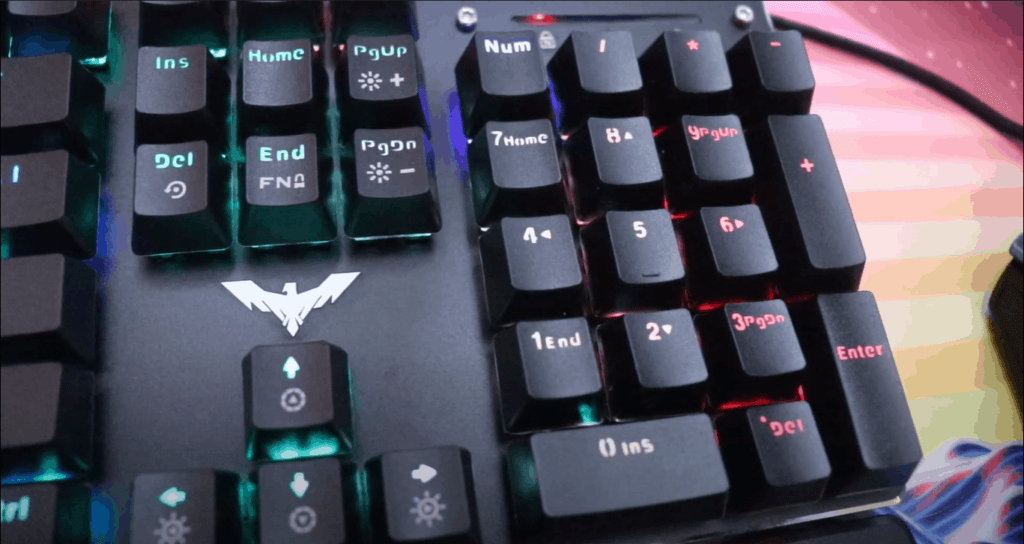 The keycaps on the Havit keyboard are made of ABS plastic, which means they have a pretty smooth feel to them.
ABS plastic is a cheaper keycap material often found on budget keyboards, so they are likely to attract grease and become shiny with use.
The legends on this keyboard aren't my favorite, Havit went with a bold, game-y font and some of the keycaps appear crowded.
The keyboard has tons of helpful sub-legends such as media keys, macro buttons, and Windows lock, but the layout is a tad overcomplicated.
For the most part, the legends are well illuminated with the RGB lighting, but a few of the number keys don't light up as nicely.
The Mouse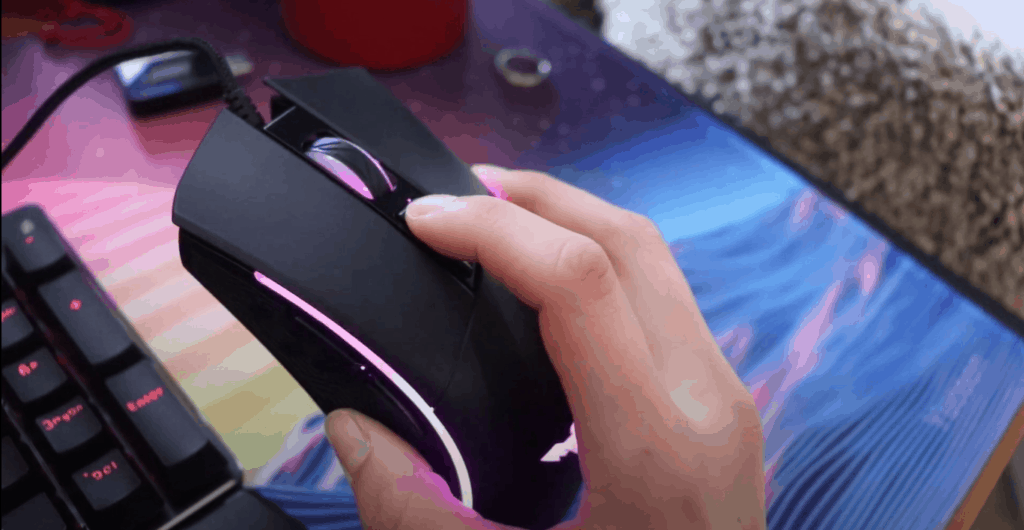 Now let's discuss the Havit mouse.
With a shine-through logo on the front, a lit scroll wheel and textured sides, this is not your average mouse.
This mouse has a two buttons on the top, a light button and a DPI button. The lights actually change at different DPI settings too.
DPI (Dots Per Inch) is basically the mouse's sensitivity to movement, the higher the DPI the more pixels your cursor will travel when you move the mouse.
The scroll wheel on the top is silent, which I appreciate because I find loud scroll wheels annoying. There are also two buttons on the side of the mouse and the obvious right and left click buttons on top.
One thing that distinguished this mouse from most others we've tried is the pretty strong traction, it doesn't move around very smoothly. This traction could also be due to our desk mat though.
Similarly to the keyboard, the mouse colors can be programmed and changed via the software.
I chose a rainbow-like setting from the software and it looked pretty cool.
---
Alternatives to the Product
If this Havit mouse and keyboard set isn't exactly what you are looking for, I've provided a few alternatives that are also great for beginners and under $50.
Redragon Surara K582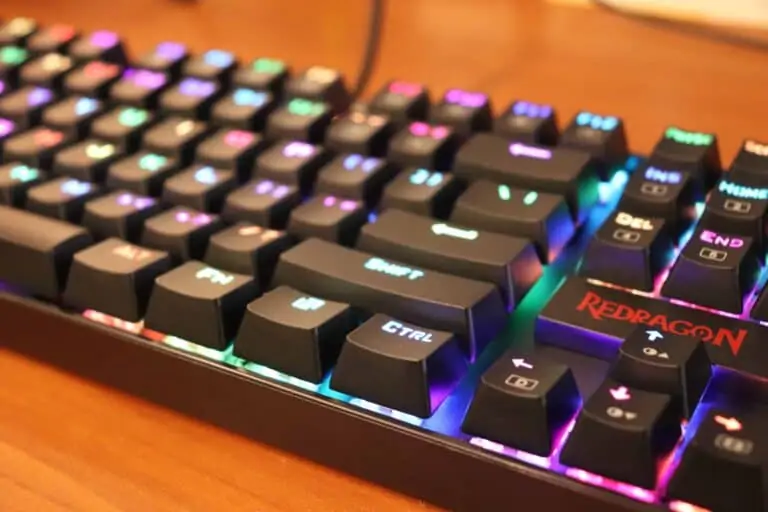 Similarly to the Havit keyboard, the Redragon Surara K582 is a full-size gaming keyboard that provides comprehensive RGB lighting.
The K582 has Outemu Red switches, which are linear and smooth, very different from the clicky and tactile feel of the Content Blue switches.
I found the stabilizers on the Redragon keyboard to be pretty nice, which is definitely a rare find on keyboards at this price point.
Many prefer to have a keyboard with a smoother typing experience for gaming, so if you think the clicky feel of the Havit keyboard would be too much, the Redragon Surara K582 is definitely worth checking out.
Tecware Phantom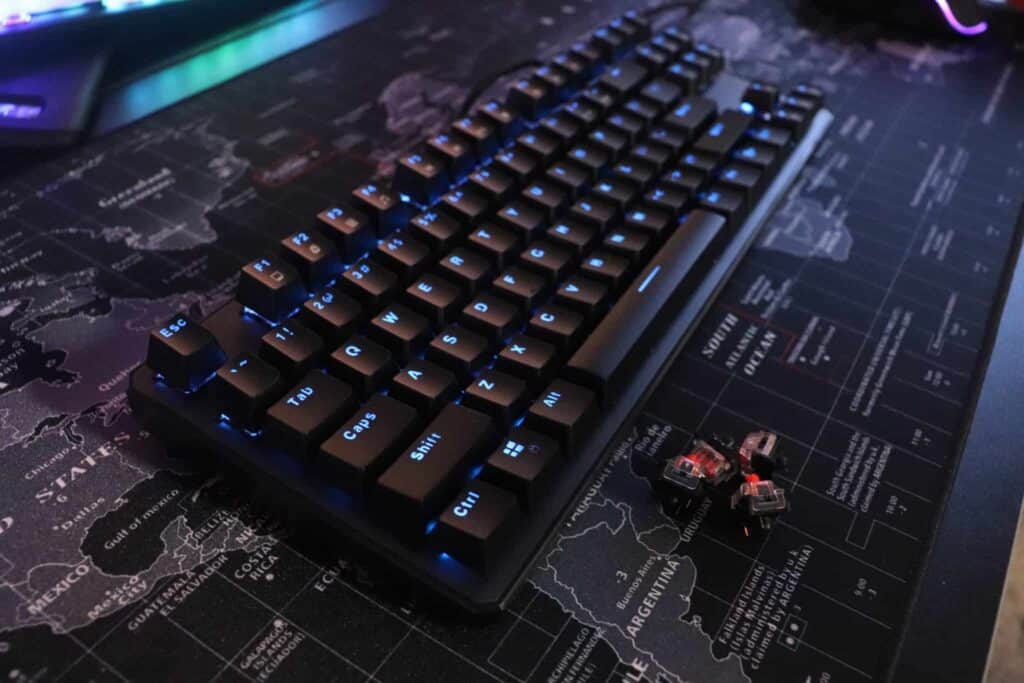 We always recommend the Tecware Phantom to those seeking a budget mechanical keyboard, because it is honestly the best you can get at this price level.
At the tenkeyless size, the Tecware Phantom is more compact than a full size keyboard. With RGB lighting, good stabilizers, a solid build, and a few Outemu switch options, this checks off everything you could want in a budget keyboard.
But the Tecware Phantom is also hot-swappable, which is honestly why this keyboard has everyone in awe, typically you have to pay a lot more to get this feature.
With a hot-swappable keyboard you can easily change out the switches, which is perfect for a mechanical keyboard newbie to figure out what they like best.
You can find the Tecware Phantom on Amazon for a really good price.
---
Conclusion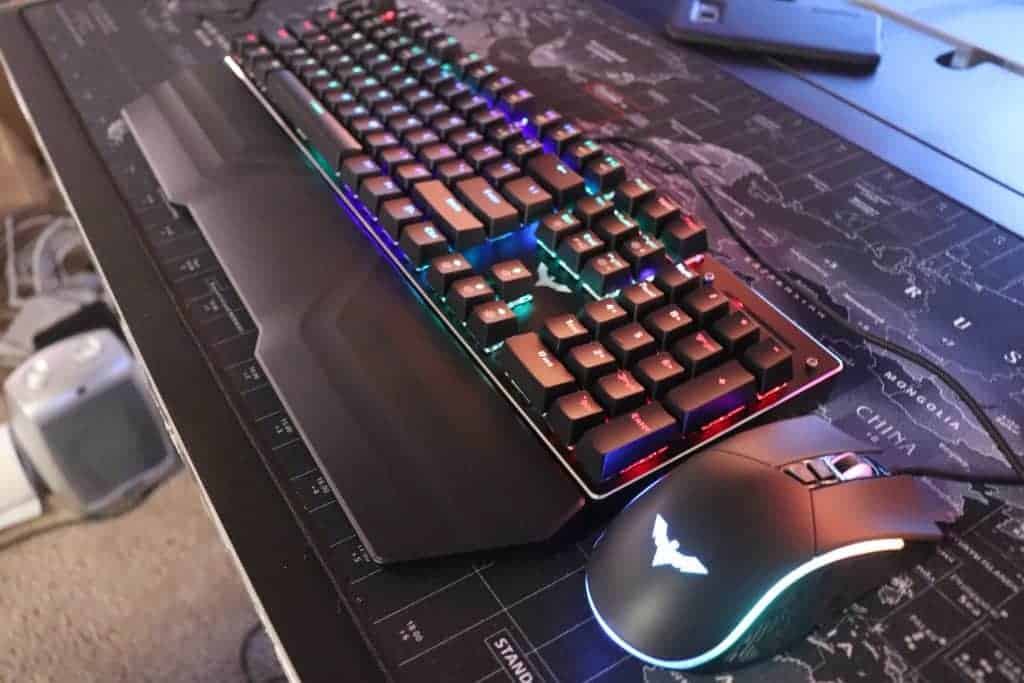 While I wouldn't suggest this keyboard for a long-time mechanical keyboard user, it is certainly a great option for a beginner looking to get a new gaming keyboard and mouse for a low price.
What I like about this Havit combo is that you receive all of the necessary components to revamp your desk set-up in one purchase.
It is unlikely that you would be able to get a separate mechanical keyboard, wrist rest, and mouse for under $50.
While downsides to this keyboard include the super loud stabilizers, ABS keycaps, and a non-detachable cable, these are all pretty standard on cheap keyboards.
The great mouse quality, nice wrist wrest, and RGB customization possibilities make this keyboard worth it.

Remember to check out this keyboard if you are interested!