Redragon is a commonly known brand for producing high-quality budget mechanical keyboards.
This keyboard was included in our favorite mechanical keyboards under $100 list.
Let's take a closer look at the Redragon K552 Kumara.
Appearance: Size, Design, Build Quality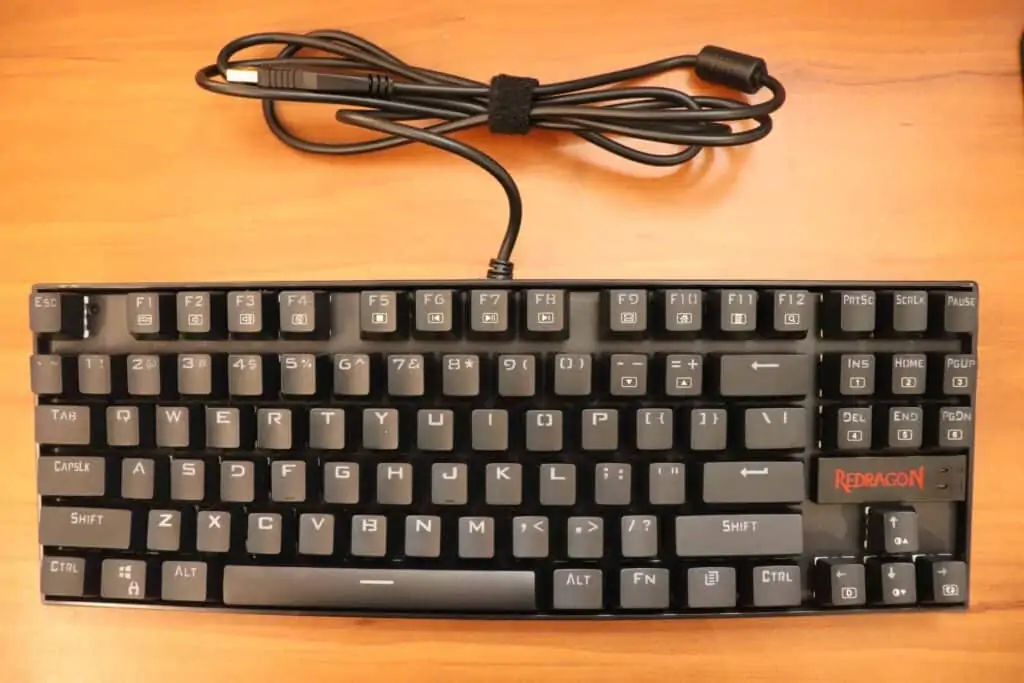 The Redragon K552 is a tenkeyless mechanical keyboard. This means that it doesn't have a number pad, which makes it convenient for gaming. Your arms get to be closer together on your desk, allowing you to play with a better posture.
It has 87 keys. The keyboard has a base incline to promote typing naturally. The case is all black. Redragon states that the base is made from metal and then covered in ABS plastic. This can be felt by how heavy the keyboard is in comparison with mechanical keyboards with full plastic case. It is a sturdy keyboard with a simple design.
On the back of the keyboard are two rubber feet at the bottom of the keyboard. It has a kickstand on either side of the keyboard with rubberized coating for additional grip when crazy things are happening in-game. Without the kickstands being out, the keyboard moves around easily.
The grip is one of the things that I noticed first when I start typing and using this keyboard. It was moving around everywhere on my desk. Only when I pulled out the kickstands did the moving become minimal.
However, this limits the adjustability in typing/gaming angle. For it to be still, I must have the kickstands down.
It has a non-detachable USB cord that attaches to the middle top of the keyboard. It's a 6-foot rubber cable. Out of the box, it has many kinks that needs to be manually bended to straighten out.
On the front, there is an extruding box above the arrow keys with a non-subtle branding. On the box is where the Caps Lock and Scroll Lock lights are.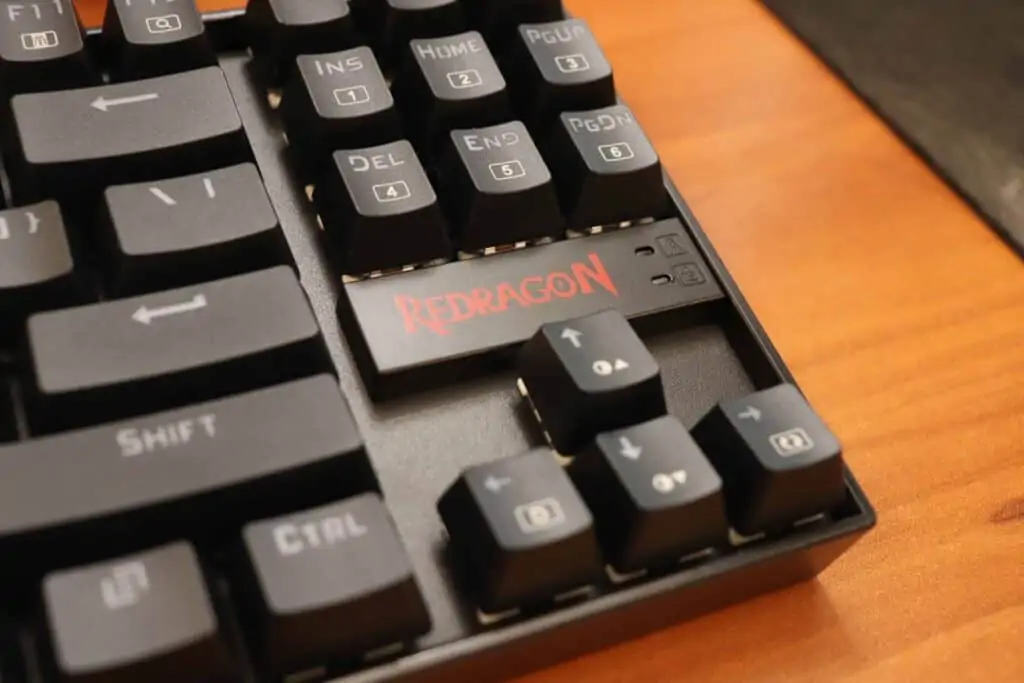 The side walls of the keyboard are relatively short, and the RGB lighting can be seen easily. Many of the single keys such as the arrow keys and function keys have a small exposed area where you can see the switches and the RGB lighting through the switch.
For quick reference, the keyboard size is:
Length: 14 inches (355mm)
Width: 4.875 inches (125mm)
Highest height: 1.5 inches (35mm)
Lowest height: 1.125 inches (30mm)
The font for the legends is questionable, but it can be attractive. The arrow key legends are aligned to the left of each key. We go more in-depth in the keycaps and legends below.
Redragon offers this keyboard in different colors and backlight options:
There is no USB pass-through, audio jack, detachable USB cable, or braided cable, but all these special features are not expected of a mechanical keyboard with this price.
One feature that we are not testing is the waterproofness of this keyboard. They boast splash-resistance, but there is no IP-rating. If you're drinking water and have a little splash or soups, the keyboard will probably be fine.
The switches have some gaps in them that will let water into the keyboard's electrical components, so definitely don't dunk this keyboard into the bath or wash it in the sink.
I've splashed it with a little bit of water on my fingertips, and that's easily wipeable. Stay away from large amounts of water that would rise over the switches and enter them.
There are multi-media keys on the function row. Other cool features are that you can start a new window, open the internet, open a calculator, and open search on your PC using some of the keys in the function row. For gamers out there, it's possible to lock the Windows key, so that when you're gaming, you won't accidentally exit out of the game window.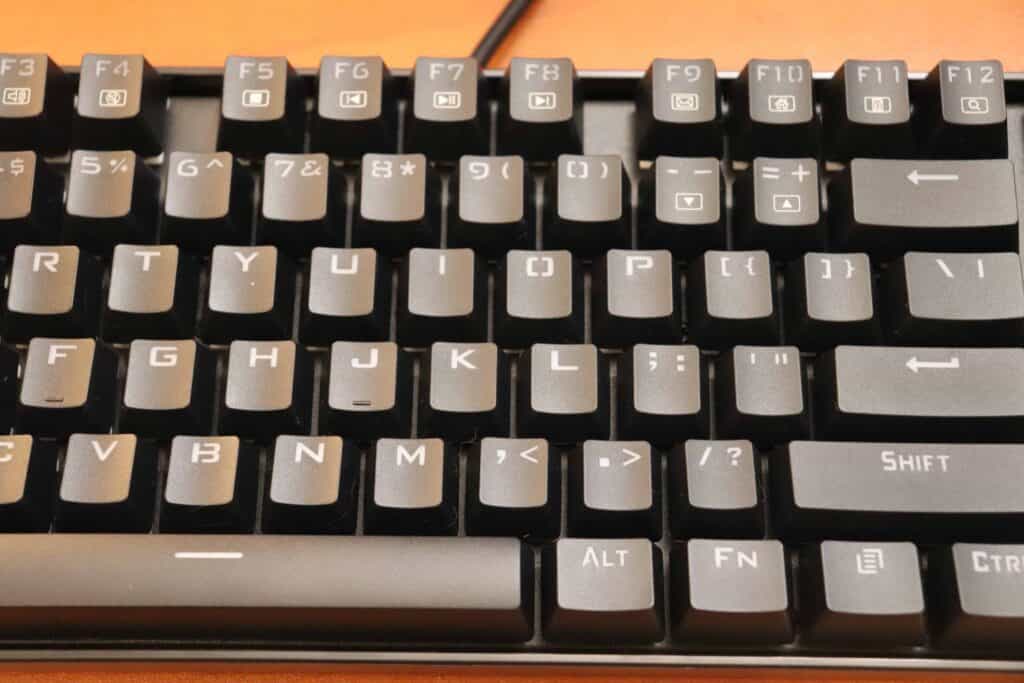 The Function keys are:
F1: Launch the music player. I got Groove music.
F2: Volume down
F3: Volume up
F4: Mute
F5: Stop
F6: Last track
F7: Play or pause
F8: Next track
F9: Opens email. Mine opened another internet window.
F10: Homepage
F11: Calculator
F12: Windows search
Switches and Sounds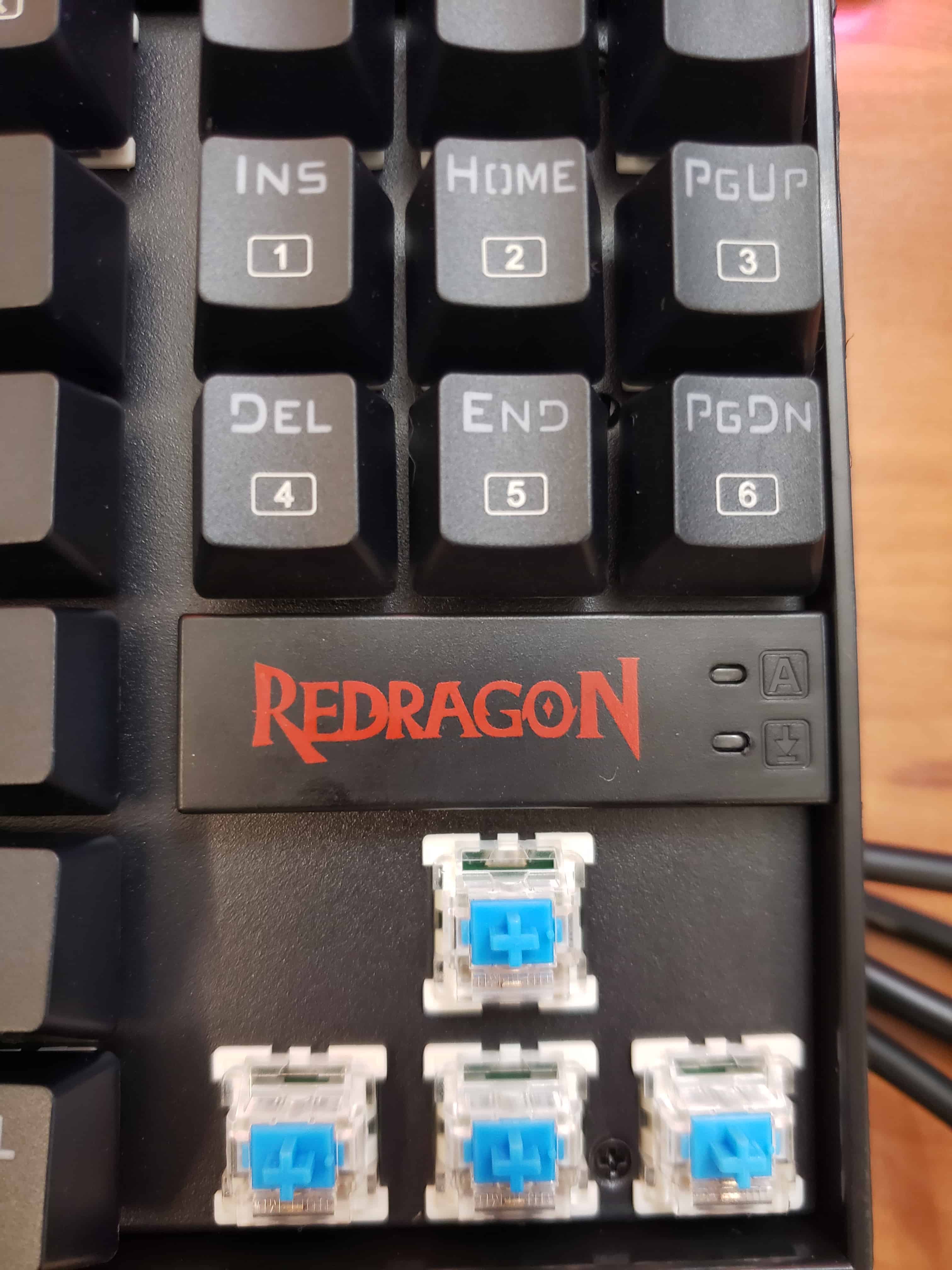 The Redragon K552 offers only one switch option: the Oetemu Blue variant. They are Cherry MX Blue clones. These switches are very similar to Cherry MX in terms of switch rattle, sounds, and typing experience overall.
The Oetemu switches tend to be more cost-efficient. They're common on budget keyboards, but they still offer the same switch performance as Cherry MX. Perhaps the durability is not as good because Cherry MX boasts 100 million keystrokes for their switches.
Cherry MX Blues have a total travel distance of 4mm with an actuation at 2mm and an actuation force of 55g. The tactile even happens at 1mm.
Oetemu Blues have a total travel distance of 4mm with an actuation at 2.7mm and an actuation force of 46g. The tactile even happens at 2mm.
Oetemu Blues are a bit slower than Cherry MX Blues in terms of the tactile event and the actuation. They are lighter, however, so that make them easier to press.
This keyboard is loud. We'll include a typing test at the end of our review video below. It's not the best keyboard if you're planning on gaming late nights with people around or trying to sleep. The stabilizers are a bit rattly, but it's like many other keyboards. They are Cherry-style stabilizers and easy to take off with the included keycap puller.
The switches are very reliable. There were no missed keys. The tactile feedback is very accurate. One gigantic complaint I have is the ringy sound that occurs when the keys bottom out. It echoes off the case and rings through quite loudly. This occurs louder for bigger keys such as Enter.
Keycaps and Legends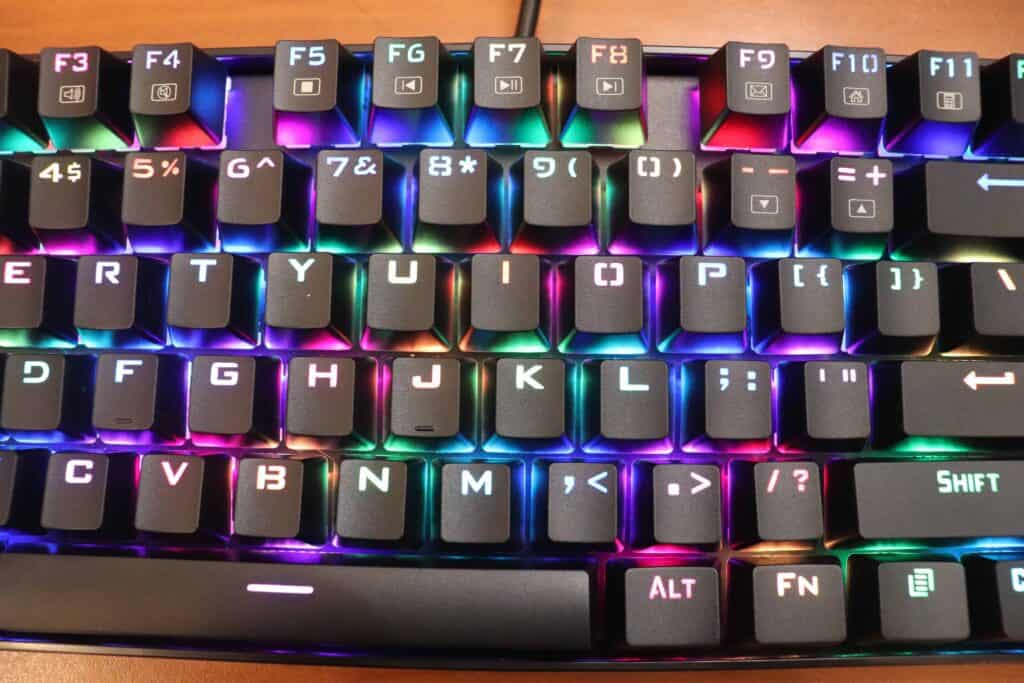 The keycaps and legends are a common complaint among other buyers of this keyboard. The keycaps are made of cheap ABS plastic. Compared to our Razer Blackwidow that's over 6 years old, these seemed more matte and less shiny.
Over time, though, ABS plastic is expected to get shiny. Compared to our HyperX Alloy Origins Core, the keycaps are much smoother and less grippy.
The legends are a simple font. They're geared towards gamers. The 2nd symbols on the numbers are aligned side-by-side instead of the number being on top of the symbol. This makes it easier to see the symbol with the backlight on.
This keyboard has a standard layout, so changing the keycaps out is no problem. That could increase the price though.
The RGB lighting shows through nicely on every key. Even with the backlight completely off, the keycap legends are easy to read, unlike the Drop CTRL with the backlight off.
The Verdict
| | |
| --- | --- |
| Pros | Cons |
| Price is low and affordable at around $35. | Non-detachable USB cable. |
| Tenkeyless compact design | Rubber feet don't keep keyboard in place when on flat incline |
| Adjustable height with kickstands | Branding is not subtle, protrudes from board above arrow keys |
| 6 pre-programmed lighting effects | Ringy switches due to plastic case, echoes |
| Decent stabilizers, minimal rattle | Gamer-focused fonts for the legends |
| Different functions built into function row and Windows lock | Arrow key legends are aligned to the left instead of in the middle |
| Sturdy build with aluminum baseplate | Very generic keyboard design, not special. |
The Redragon K552 is a popular first mechanical keyboard for many people. It offers the mechanical switches sound and feel at a low-cost budget price tag of $35.
We do not recommend this keyboard because at about $20 more (about 3 hours of work at minimum wage in Texas OR 1.33 hours at minimum work in Washington state), you can get better mechanical keyboards such as the Blackwidow X Tournament Edition that currently is on sale at $55.99.
The Blackwidow X Tournament Edition is worth it and has awesome features and benefits. They feature clicky Razer green switches which last forever (my 2014 Blackwidow TE has lasted me more than 6 years) and are super clicky if you like that.
It has no backlight, however, but does have 10-key rollover and anti-ghosting. There's a gaming mode, on-the-fly macro recording, and a braided fiber cable (non-detachable).
Another Recommendation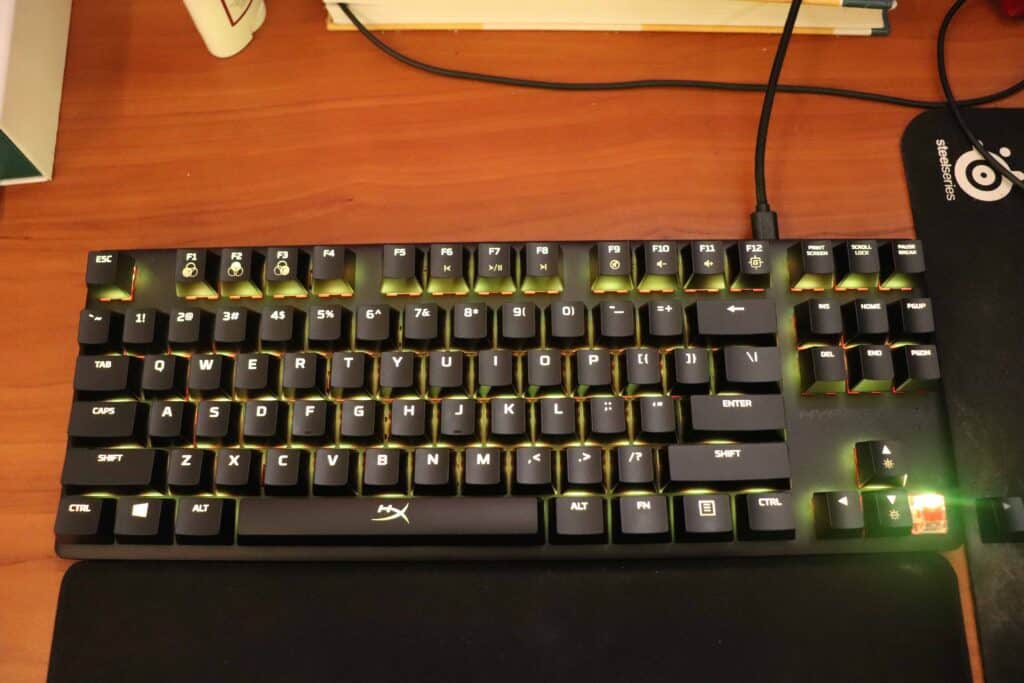 Another good recommendation is the HyperX Alloy FPS Pro, at $69.99. We've bought, reviewed, and kept a close version of this keyboard, the HyperX Alloy Origins Core.
The difference is that the HyperX Alloy Origins Core has a USB-C detachable cable, HyperX linear red switches, and RGB lighting. The HyperX Alloy FPS Pro has a detachable micro-USB cable (braided, which is cool), a choice between Cherry MX red or Cherry MX blue switches, and only red backlight.
They both feature a tenkeyless design with a full aluminum case, which makes it very sturdy and beautiful to look at. It has N-key rollover and anti-ghosting for gamers.
The HyperX Alloy FPS Pro also comes with a keycap puller and 8 additional red colored keycaps if you're into that. And a carrying case to bring your keyboard to the office, work, tournaments, or your friend's house.