When I was looking for my first mechanical keyboard, I remember looking everywhere trying to find one that wasn't too flashy, I just wanted a keyboard that was simple with no-frills. Eventually I found the right keyboard, but to make your journey a little easier, I put together a list of the best simple no-frills mechanical keyboards available on the market.
The best simple no-frills mechanical keyboards are keyboards without RGB lighting or distracting designs, instead you want a keyboard without backlighting or just simple white lighting. We recommend the Durgod K320, WASD Code V3, Leopold FC980M, MK Night Typist, or Vortexgear Cypher as ideal options.
Let's dive into our list and explain why out of hundreds of mechanical keyboards, we feel these are the best simple no-frills keyboards available. We'll compare price, durability, aesthetics, and much more.
1. Durgod K320 TKL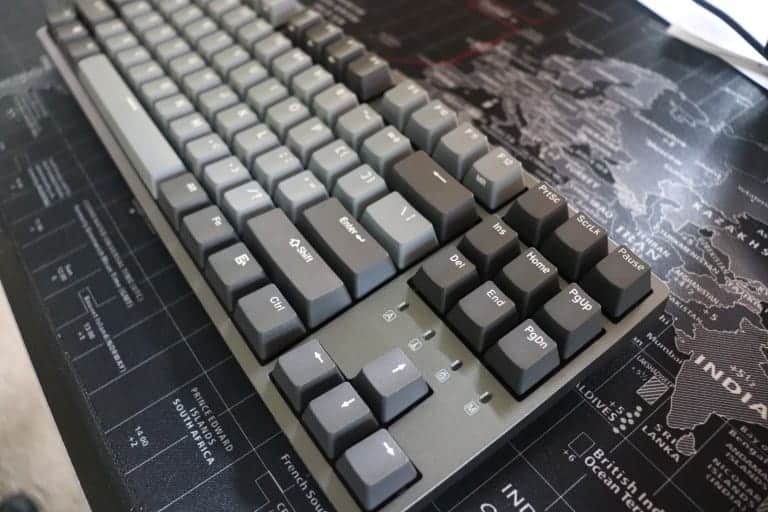 If you're looking for a simple no-frills mechanical keyboard with an awesome typing experience, the Durgod K320 Taurus is a perfect fit. The keyboard has a compact tenkeyless layout and is great to type on and is in the mid-range for price. The case material is made from plastic with a metal plate, which does not flex at all and feels very sturdy. The back of the keyboard has a center-mounted USB-C port with routing assistants to direct the cable left or right.
Fun Typing Experience
We ordered our Taurus K320 with Cherry MX Brown switches which are tactile with a slight bump. The K320 was an absolute pleasure to type with and we found it to be a great keyboard overall. The keyboard came with PBT keycaps in a black and grey color design that looks simple and clean. The stabilizers made a nice *thunk* sound when typing. It's really hard to beat the typing experience of this keyboard. The back of the keyboard has a few power cable routing aids and kickstands that offer two different additional height settings. Definitely the sound and experience you would expect with a no-frills keyboard.
Detachable USB-C Cable
The USB-C power cable is detachable and plugs directly into the middle of the backside of the keyboard, and the head of the power cable is designed with some small notches so it can slide into the port and be held in place. This design seemed unnecessary and sort of clunky, the cable routing aids on the back were also difficult to use. If Durgod just went with the standard port on the left side of the keyboard it would have been much simpler and better in my opinion and would fit the no-frills requirement slightly better. The power cable compliant is sort of a nitpick and won't bother most people.
Our Verdict of the Durgod Taurus K320
The Taurus K320 is an excellent keyboard that has a clean design, feels very sturdy, and is very enjoyable to type on. We would definitely recommend you check this keyboard out, you can find the product listing on through this link on Amazon. The keyboard is another great option that would work well in an office environment and comes with several different silent Cherry MX switch types to help you from irritating those around you with those juicy mechanical keyboard sounds. There is a full sized version of the keyboard as well if you are interested. The K320 keyboard actually ranked #2 on our favorite mechanical keyboards under $100, so this keyboard is a steal at its current price.
2. WASD Code V3 (TKL/Full)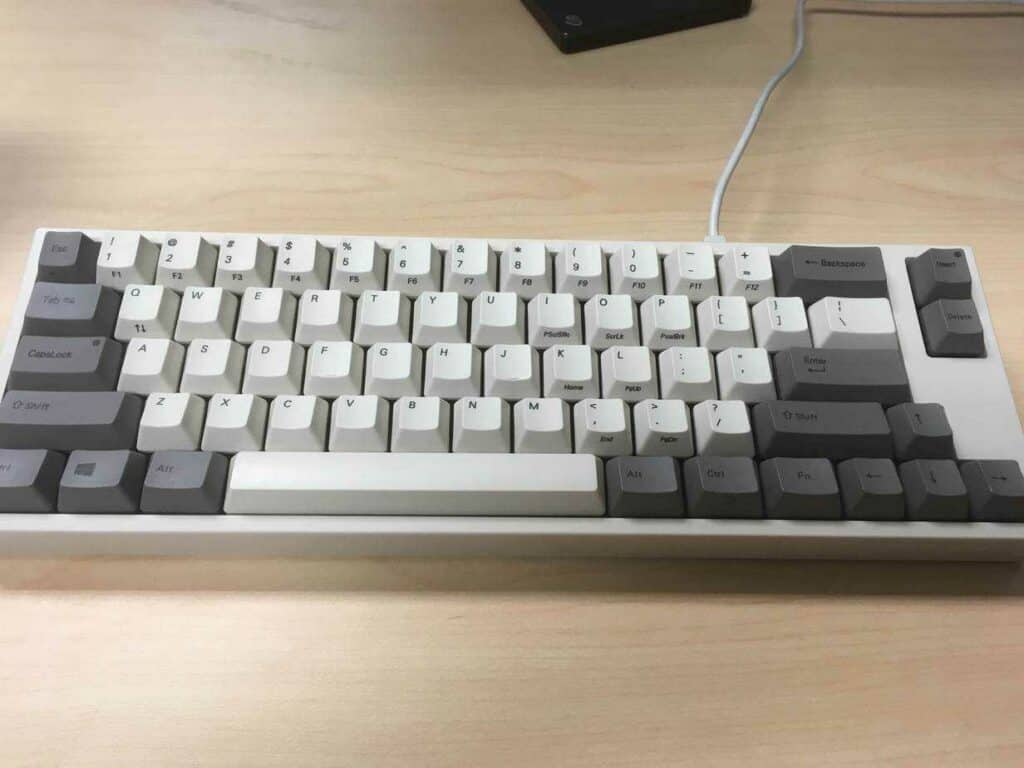 The WASD Code V3 is a super sleek, professional mechanical keyboard that fits perfectly under the "no-frills" category. The simple and solid colors of the Code V3 make the keyboard perfect for an office environment or any place where you don't need bright RGB lighting or the gamer aesthetic. A perfect keyboard for engineers and software developers or anyone who wants to bring the comfort of a mechanical keyboard to work with them.
Awesome Customization Options
The Code V3 has loads of different ways to make the keyboard feel personalized and unique to you. When purchasing a Code V3, you get to choose between a different materials and colors for the case including black plastic, white plastic, anodized black, anodized gray, or anodized silver. You can also get sound dampeners to limit the decibel output of the keyboard to make it more suitable for working around others. On top of that, you also can choose what color keycaps and design you would like. You can make this keyboard as boring or as colorful as you desire.
Cherry MX Switch Lineup
The WASD Code 3 allows you pick from the entire Cherry MX lineup, so you can get a switch with the perfect actuation for you, without worrying about the quality of the switch. Cherry MX switches are guaranteed up to 100 million keystrokes so they'll outlive all of us. We definitely recommend a linear or tactile switch for a no-frills keyboard.
Great Features
The WASD Code 3 has all of the best features you would expect from a no-frills mechanical keyboard at this price range. This includes a detachable USB-C cable, clean white RGB, and no loud or super visible branding. On top of that, the keyboard has macros, is fully programmable, and different adjustment settings depending on which angle you would like to type at, but without looking like it does. It looks like a Honda Civic that's hiding a screaming McLaren engine underneath.
Should You Get the WASD CODE V3?
The CODE V3 is perfect for someone looking for a mechanical keyboard they can use in a professional setting without having to worry about super loud switches, bright RGB lighting, or distracting "gamer" colors. The detachable USB-C cable also make the keyboard super portable and the customization really sets this keyboard apart from the pack. You can find the WASD Code V3 through this link on Amazon for a competitive price, or through this link to the WASD website.
3. Leopold FC980C/980M (1800 compact)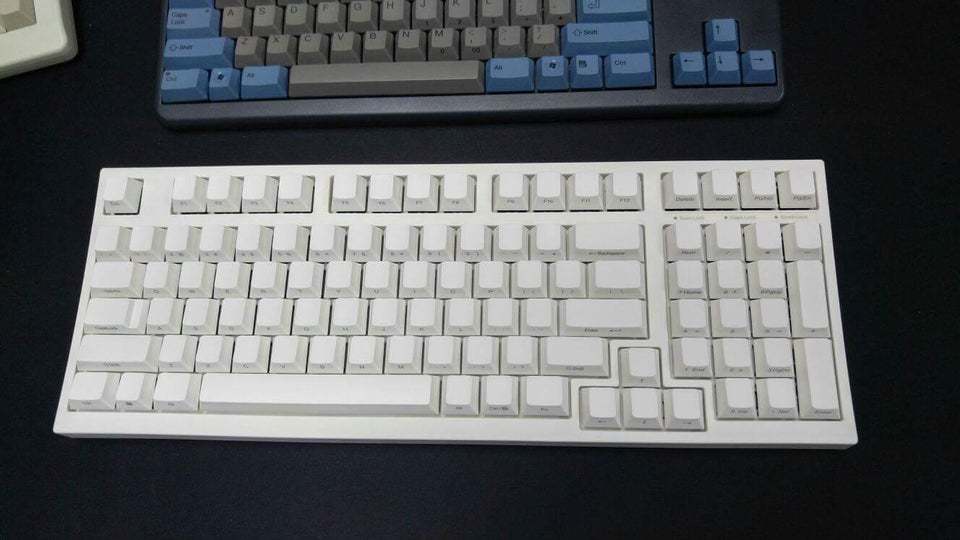 The Leopold FC980M/C is an 1800 compact keyboard that comes in several different unique colorways, all of which strike a great balance between stylish and professional. The different colors include black, blue and gray, white, and gray. The Leopold is definitely on the higher end for a no-frills keyboard, but the design looks very professional and is one of our favorite keyboards, so I decided to include it on our list.
Possible to Get Topre Switches Instead of Cherry MX
As you can see the keyboard doesn't come with the standard Cherry MX switches, but instead come with Topre. What the heck are Topre switches? Topre switches are an electrocapacitive switch design that feels very similar to a tactile switch, but slightly better in my opinion. We have an article that explains what exactly a Topre switch is, you can read about it here. Topre switches are more expensive than Cherry MX switches, so if the Topre switch is outside of your price range, it is possible to get the Leopold with a normal Cherry MX switch. Here is a sound clip of the Leopold FC980M with MX Silent Reds. Here is a sound clip of the FC980C with Topre switches.
1800-Compact (96%) Size
The Leopold 980 series has a super unique layout and size, in fact it is quite difficult to find keyboards in this layout. An 1800-compact keyboard is somewhere between a tenkeyless layout and full-sized. Instead of having the standard home cluster, those keys are removed and replaced with the number pad. Basically, you end up with the smallest keyboard possible that still has a number pad. This makes this size great for someone who needs a number pad but wants to save on space.
PBT Keycaps and Mini-USB
The Leopold 980 keyboards come with dye sublimated PBT keyboards with black/white legends depending on which keyboard color you go with. They have a detachable cable design with a mini-USB port. It also has four DIP switches on the back to swap key functions like Ctrl, Alt, Fn, etc.
Where to Get the Leopold 980M/C?
The best place to order the Leopold 980M/C is on mechanicalkeyboards.com. They offer the most diverse selection of designs and switches. I'll link a few different keyboards below so you can check them out for yourself.
Leopold FC980C Black
Leopold FC980C White
Leopold FC980M Black
Leopold FC980M Ash Yellow
4. MK Night Typist (Full sized)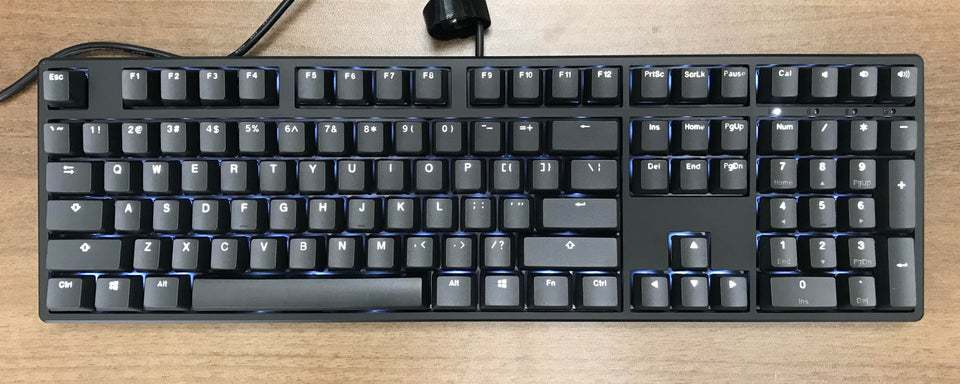 The MK Night Typist is a gem of keyboard that most people don't actually know about. The keyboard has a pitch-black design with a warm white backlighting that looks simple but is also very sleek. At first glance this keyboard could be mistaken for a normal office keyboard, but once you take a closer look you realize the attention to detail that was given by the designers of the keyboard.
Awesome Features
There are some pretty cool features included with the Night Typist, but you wouldn't be able to tell just by looking at it. This keyboard is basically a Swiss Army Knife, it has 10+ built-in layouts, programmable layers, media keys, macro keys, and 4 dip switches. The amount of technology packed inside this keyboard is great for someone who loves to customize their keyboard and take full advantage of the different features.
Kailh and Cherry MX Switches
The MK Night Typist comes with several different switch options available including the Cherry MX Blue, MX Brown, MX Silent Red, and Kailh BOX Whites. The Silent Red switch would be a great option for working in a public setting as the keyboard would be quiet and smooth to use. The Kailh BOX White switches are our favorite clicky switch, but for a no-frills keyboard, the BOX White switch may be a little loud.
PBT Double-Shot Keycaps
The keyboard comes with some sleek dark black PBT keycaps that are extra durable and won't get greasy or shiny over time. In addition, the keycaps allow the warm white lighting to shine through the keycaps to illuminate the legends better. No distracting colors, just black with shine-through capabilities.
Should you Get the MK Night Typist?
The MK Night Typist is a great keyboard for someone who really likes using the different programmable layers of their keyboard, macros, and dip switches. The Night Typist fits the no-frills aesthetic really nicely, although it has some extra features under the hood. You can find the MK Night Typist on mechanicalkeyboards.com for a competitive price.
5. Vortexgear Cypher 65%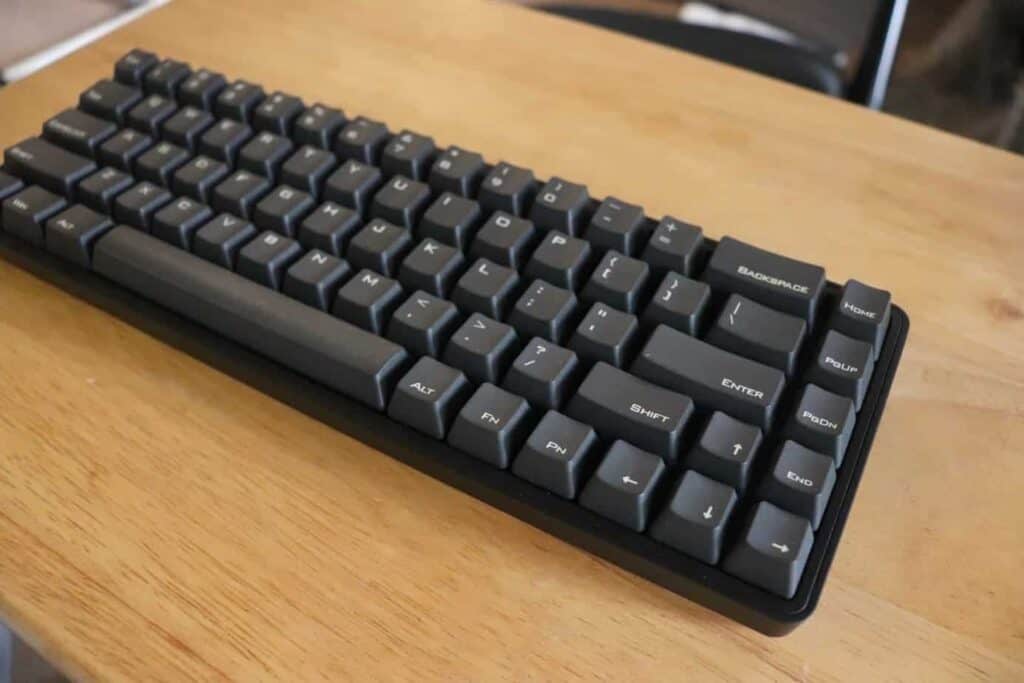 The Vortexgear Cypher is a clean and simple 65% mechanical keyboard. We reviewed this keyboard a while ago on our YouTube channel and had some pretty positive things to say about the keyboard. The Cypher features a black case with a plastic body and laser etched PBT keycaps. The cable had all of the basic features you could want on a no-frills keyboard: nice typing experience, detachable USB-C cable, and PBT keycaps.
Clean 65% Layout
The Cypher has the elusive 65% layout, which is somewhere between tenkeyless and 60%. A 65% keyboard has no number pad, function row, or home cluster, but still has the arrow keys. The size makes it a great keyboard for portability and space-saving, while also being comfortable to use, the 65% layout is a size that is often over-looked when it is the perfect size for a lot of people.
Cherry MX Switches
The Vortexgear Cypher comes with Cherry MX Blue, Brown, or Silver switches so you have the option to choose between linear, tactile, and clicky switches. Most keyboards don't come with the option of Silver switches, which are often used for gaming. We would've liked to see more switch options though, to give the user a bit more variety to choose from.
Should you Get the Vortexgear Cypher 65%?
The Vortexgear Cypher is a super simple yet satisfying keyboard to type on. The build quality is very nice with secure and non-rattly stabilizers. Finding a simple, no-frills keyboard with the 65% layout is a hard find, which makes this keyboard the perfect niche board for someone looking for those two qualities. The Vortexgear Cypher 65% ranked #3 in our favorite mechanical keyboards under $100, so it is a great deal for the price. You can find the Vortexgear Cypher on Amazon through this link for an affordable price.
What does "Simple and No-Frills" Mean?
According to Google dictionary, this is the definition of no-frills:
"Without unnecessary extras, especially ones for decoration or additional comfort."
That definition is pretty simple, but what does no-frills mean in the context of a mechanical keyboard? A no-frills keyboard is a keyboard that has all of the benefits of a mechanical keyboard, but without all of the extra non-essential features that have nothing to do with the overall performance of the keyboard. These non-essential features include bright RGB lighting, very colorful designs, loud and distracting switches, etc. Instead we look at durability, typing experience, and how well the keyboard works in general.
Why Get a No-Frills Mechanical Keyboard?
Many people love the popular gaming keyboards, the designs are exciting, captivating, and have a certain wow-factor. But there are also other people who can't stand the gamer aesthetic and would prefer a keyboard that just works super well. Instead of a bright distracting keyboard, they want a basic keyboard they can use at the office or a coffee shop without attracting too much attention. A keyboard that looks sleek, with solid colors and works perfectly that doesn't make too much noise is perfect for a lot people.
Should a No-Frills Mechanical Keyboard have Lighting Effects?
In general, RGB lighting is something you should avoid if you're looking for a simple keyboard. The lighting is an extra feature that is not really need for the user experience and can be irritating to those around you. Granted, with most keyboards you can turn off the lighting effects or change the color to something more neutral but paying extra for a feature can be a waste. If you find the lighting helps you see the key legends better, you can opt for a white-backlit keyboard instead so the keys will be easier to find in the dark. For a no-frills keyboard you should avoid RGB lighting.
Best Switch for a Simple No-Frills Mechanical Keyboard?
There are three main switch types: clicky, linear, and tactile, but which one is the best for a no-frills keyboard? Let's go over each switch type and talk about if it is suitable for the office or not. With the switch type, the main thing you want to look at is sound. A loud clicky switch might not be exactly what you're looking for. When I imagine a no-frills keyboard, I think of a quiet linear or tactile switch that you can stealthily type away on without disturbing anyone else. A linear switch has a smooth actuation without any bump. A tactile switch is relatively quiet with a small tactile bump. These two switch types are your best bet for a no-frills keyboard.
Why Get a Mechanical Keyboard at All?
If you're looking for a no-frills keyboard, why get a mechanical keyboard when you just as easily get a basic windows or mac rubber-dome keyboard? Well, the benefits of a mechanical keyboard are quite hard to ignore.
With a mechanical keyboard you get some amazing features such as N-key rollover, better build quality, switch customization, and improved durability. A mechanical keyboard will feel much better than a rubber dome and will last much longer as well.
Conclusion
That about does it for our favorite simple, no-frills mechanical keyboards. Finding a board that is built precisely with quality parts can be very difficult. We hope the five mechanical keyboards fit exactly what you were looking for. We recommended the Durgod Taurus K320, WASD Code V3, the Leopold 980, MK Night Typist, and Cypher 65.
We made sure to include keyboards in a wide variety of different sizes and colors to help you find the perfect keyboard. A simple no-frills keyboard will work great in any situation whether it is home-use, typing in the office, or any other public space.
Happy Typing!