Introduction
Typing, something we all do every single day. Whether we're gaming, in the office, working from home, or even instant messaging some old friends on Facebook or other social media websites. Typing is an important everyday task. Mechanical keyboards, however, have always been linked to gaming. But that's not the only thing they're good at. Mechanical keyboards can also improve your typing experience and possibly even make you type faster.
Many of today's mechanical keyboards are made with gaming in mind. In this article, we'll look at the top keyboards that were designed specifically for typing or programming. When you're typing, you'll use more than just the WASD keys, spacebar, and maybe sometimes Q and E, possibly even the number keys for macros and skills.
When you're typing, switch type matters. Which switch type would be the best for typing? That's up to you. There are three types of switches: linear, tactile, and clicky. Many of you are probably familiar with the Cherry MX switches, primarily the reds, browns, and blues.
Out of those three, many prefer using the tactile brown switches due to their tactile feedback as you're typing, telling you exactly when the keypress registered. Some others prefer the linear reds, however many prefer linear switches for gaming. It is a preference. It's up to you to decide which switches are best for you.
My husband and I prefer the tactile brown switches to type in because we do like the tactile feel. Too often, when we're typing on linear switches, we happen to skip a letter and must go back to add it in.
Let's move on to the keyboards themselves.
Five of the Best Mechanical Keyboards for Typing
Okay, now that you've figured out your preferred style of switches, let's move on to looking at the keyboards themselves. We've done thorough research and ended up compiling a list of five of the best mechanical keyboards for typing. Each one will have their own strengths and weaknesses. In the end, we'll round up our first choice, a runner-up, and some honorable mentions.
Ergonomic Mechanical Keyboards
Before jumping into a list of keyboards, I would like to emphasize the importance of ergonomics while typing. While the following keyboards are super cool looking and awesome, I'd like to mention that ergonomic keyboards are always an option to consider because you are doing primarily typing. Make sure you find a keyboard that is comfortable for you to type in the long-term. We've compiled a list of ergonomic mechanical keyboards with special features that make them better than regular mechanical keyboards and did the research on that already.
Daskeyboard Model S Professional
Daskeyboard is a maker that specializes in professional keyboards for working professionals to improve typing efficiency.
The Daskeyboard Model S Professional comes with Cherry MX Brown or Cherry MX Blue (both switches with tactile switches, but blue is clicky and loud), and it comes at $119.99. It is a full-sized keyboard with 104 keys. Currently on Amazon, it has a 4-star rating with over 1500 reviews.
Some of the features of this keyboard is that the Model S Professional can be bought for either Mac or Windows. The only major difference between the two keyboards is they have the operating system-specific keycaps.
The keycaps have laser-etched legends to prevent fading over time. As mechanical switches are meant to last over 100 million keypresses, the other parts of the keyboard are expected to last that long as well. Printed legends on keycaps will fade over time, but not these ones.
It has media controls, for convenient play/pause and volume controls for music and videos. It has full NKRO (N-key rollover), so you can type as fast as you want to with each keypress registering accurately every time.
It requires 2 USB ports or 1 USB port and 1 PS/2 port. The keyboard also has a USB port at the top of the keyboard for convenient connections with USB drives, headsets, or mice.
Compared to other Daskeyboards, this one does not have a volume knob. Their other keyboard, the Daskeyboard 4 Professional and Ultimate both have a volume knob on the top right.
One downside to using this keyboard is that without proper lighting, it will be difficult to see the legends as they do not have any backlight of their own. The board has 4 rubber feet at the bottom. They have two kickstand feet with one option to increase the typing angle.
Another downside is that if you would like to take the board apart, the screws are below the rubber feet. Once you take the rubber feet off, you might be not able to put it back.
There are other downsides such as ABS plastic keycaps and plastic case compared to PBT plastic.
Das Keyboards also makes other models such as the Das Keyboards 4 Professional and Ultimate (which has blank keycaps).
Happy Hacking Keyboard (HHKB)
HHKB makes several different keyboards, all of which are relatively similar. The Happy Hacking keyboard's design first emerged in 1992 by Professor Eiiti Wada. The HHKB is light and compact with a 60% layout with 60 keys. It easily fits in your bag for easy transportation and saves space on your desk.
Unlike the switches that we've been looking at, the HHKB uses special switches that use electrostatic capacitive keys called Topre switches. These switches are extremely smooth to press with no chattering. They also offer a quiet sound. It offers a different feel than MX-style switches.
Topre is a Japanese manufacturer of keyboard mechanical switches. These electrostatic capacitive switches in the way that they are non-contact type switches. They have an average of 45g actuation force and can last over 50 million clicks.
It uses rubber domes or cups, which it is not like a regular membrane keyboard. This is what happens when you press a key. The plunger will move down when you press it, causing the rubber dome to collapse, which has a spring inside. The spring interacts with a capacitive sensor on the PCB which creates the actuation. The tactile bump isn't distinct or clicky like it is on Cherry MX switches. The force can range instead of being exact.
Each rubber dome and conical spring is easily replaceable if one happens to break as they are all their separate parts.
The HHKB is primarily all plastic. It is a light and compact 60% keyboard. It has two open spaces on the bottom left and bottom right spaces with the brand being on the bottom right side. It has a clean design in stealth black or grey.
The bottom of the keyboard has two rubber feet and 2 flip-out feet with 2 different angles. The back of the keyboard offers 2 low-powered USB drives, which you can connect mice or USB ports. However, being low-powered, it won't be able to power headsets.
There are six DIP switches on the back as well. The bottom of the keyboard explains exactly what each DIP switch does.
The layout of this keyboard is non-standard with the FN key being on the same row as the Shift key. It may be difficult to get used to this layout. The backspace is also lower than it normally is by one row, so it sits right above the Enter key.
A downside is that there are empty spaces on the bottom of the keyboard that are unused. Why not add 2 keys there instead of empty space? The CapsLock is also not a dedicated key. Instead, it exists on another layer. Where the CapsLock currently is, there is a Control button instead.
Overall, it takes time to get used to this layout. However, once people have gotten used to this keyboard, others were not able to switch back to the regular layout without feeling disadvantaged.
The Pro Hybrid Type-S model and the Pro Hybrid can connect to PCs wirelessly via Bluetooth or via a USB-C cable. The Pro Classic is only able to connect via USB-C.
The Pro Hybrid Type-S and the Pro Hybrid both are fully programmable. You can make your own custom keymaps using their keymapping software. The curvature and layout of the keyboards reduce hand and finger fatigue because you leave the home row keys much less often due to the closer Backspace.
The keycaps are PBT plastic with dye-sublimated key legends that never fade. You can also choose to have blank keycaps rather than printed.
Now for the price: The HHKB ranges from $190 to $280, depending on which model you pick.
WASD V3 87-key Mechanical Keyboard: First-Place Winner, Customizable with a lot of options
WASD Keyboards is almost a decade old and have been specializing in custom mechanical keyboards for quite some time now. They focus on exceptional customer service and finding new ways to improve the users' keyboarding experiences. They are a small team of mechanical keyboard enthusiasts.
WASD Keyboards was founded in 2011 by people within the mechanical keyboard enthusiast community. They have many different keyboard layouts such as the WASD V3 104-key, 105-key, 87-key, 88-key, VP3 61-key and 62-key layouts. Each of these models can be customized to however you like. However, they also have pre-picked keyboards such as a CODE V3 87-key Cherry MX Browns Mechanical Keyboard.
We'll be focusing on the TKL 87-key custom mechanical keyboard. I would really like to point out that they are all customizable to your own preferences and designs. However, the pre-made ones are awesome too. They even have special keycaps such as the GMK Tokyo Nights or the GMK Skidolcha, and much more. I invite you to check out their selection.
The prices range from $100 for a barebones 61-key keyboard (without keycaps, but does come with case, PCB, stabilizers, and switches) to $290 for a full-sized, 104-key keyboard with GMK keycaps and switches.
Let's look at the switch options: Cherry MX browns, blues, reds, black, clear, green, silent red, silver, and Zealio 67g. We list the actuation force and distances of these switches within our comprehensive guide to every mechanical keyboard switch.
If we build a custom one, it lets us change the colors of the keycaps of the alphanumeric keycaps separately than the modifiers to a variety of different colors.
We can also change the Legends to whatever we choose: US International, Mac Dvorak, Mac Colemak, Mac, Colemak, Workman, Turkish, Russian, Modern, Lowercase, Large Font, Korean, Hebrew, Programmers Dvorak, Dvorak, Classic, Centered, Arabic, and other Photoshop specific ones. I choose the Vintage Cherry legends.
Also, you can add O-rings for $25 more.
I love the customizability from this company. They care about your typing experience. They also offer a ton more switch options, and we all know how important switches are to our typing experiences.
Matias Quiet Pro Mechanical Keyboard: For Those That Prefer Quiet
This is advertised as the world's quietest mechanical keyboard. The Matias Quiet Pro comes out at $149.95 USD and it uses Quiet Click mechanical switches. They give you a tactile feedback without the unnecessary noise.
We've talked about all the different ways you can make your mechanical keyboard more quiet, but this keyboard already comes pretty quiet straight out of the box.
The website does a good job at showing you the differences between Cherry MX switches vs. Matias Quiet Pro switches. The Quiet Pro switches are a modified Alps switch, a very popular switch within the mechanical keyboard enthusiast community.
At the back of the keyboard are 3 extra USB 2.0 ports to plug in anything from card readers, charging phones or headphones, mice, USB drives, or headsets.
The keycaps are ABS plastic with laser-etched legends that will never fade off. They keycaps are also sculpted so that your fingers fit on them nicely. You'll be able to feel each key instead of them being flat.
Other features that show you that these people care about productivity is dedicated volume controls. When you're at the office typing away, listening to your jams, when suddenly someone comes up to your desk. You can easily press mute or volume down, have a conversation, and then go straight back to work without having to switch screens.
It also has a dedicated tab button on the number pad for those who do a lot of work within spreadsheets. It also has full NKRO.
It has two legs underneath it to provide a slightly scooped silhouette when typing. It also has a 6-ft long USB cable. Unfortunately, this keyboard has no wireless capabilities.
Filco Majestouch-2 TKL Mechanical Keyboard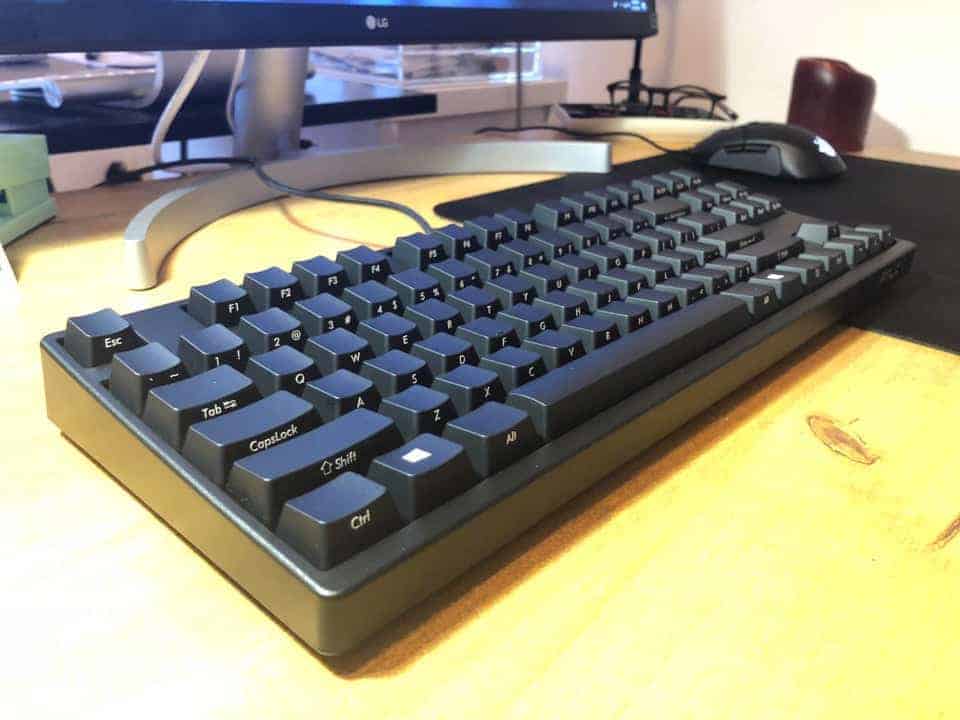 Last is the Filco Majestouch-2. This is a tenkeyless keyboard, which means that there is no number pad. If you do a lot of number entry, they also sell a full-sized version.
The TKL version currently costs $139.54 on Amazon. It currently has a 4.5 star reviewing with 241 ratings.
It has NKRO just like the other keyboards. This is a common feature on almost all mechanical keyboards.
This keyboard comes in all black with keycaps that have legends on the front rather than on top. There are different switch options: Cherry MX Brown, Blue, Black, or Red.
It connects via a USB port, but it also can connect to PS/2 with an adapter. The keycaps are all black as well.
On a desk, this can look like any typical keyboard. However, on a closer look, they are beautiful. It's super slim and sleek.
This keyboard is not as special as the other keyboards on this list, despite its high price point. A long time ago, this may have been a good keyboard.
There are 4 rubber feet at the bottom and then 2 kickstands that have rubber pads on them as well for maintained stability with the feet up.
An advantage of this keyboard is that you never have to worry about the legends fading. Your fingers probably will never lay a hand on the legends because they are on the front. The keyboard is solid and sturdy.
Summary
We've covered 5 different keyboards that are meant for typing rather than gaming. With that being said, if you like to use gaming keyboards to type, more power to you.
I am not a believer that keyboards are made for specific things. However, one thing that I think these "typing" keyboards are good for is looking good in the office without standing out too much. None of your coworkers will come up to you when you bring your keyboard to the office saying, "Oh not another mechanical keyboard with the loud clicks. I hate those."
No, you'll take out a simple, yet sleek keyboard with mechanical switches that will be relatively quiet.
We've looked at the Das Keyboard Model S Professional Mechanical Keyboard, WASD 87-key custom mechanical keyboard, the Filco Majestouch, Matias Quiet Pro, and the Happy Hacking Keyboard. All of which are very good keyboards with ranging price tags.
Now, typists, get out there and find your keeb.
If you have any questions that you would like us to answer, leave us a comment down below. Or questions or concerns. Or anything, really.
Before you go, I'd like to ask you what are you using for your daily driver at the office or at home? I'd love to know!
Happy typing!
Sources
Das Keyboard Model S Review (Cherry MX Blue) YouTube.com
What is Topre Switch Hobgear.com
Mechanical Keyboard Guide WASDKeyboards.com
Filco Majestouch Ninja Tenkeyless Cherry MX Blue Mechanical Keyboard Unboxing Linus Tech Tips YouTube.com