With the world of mechanical keyboards exploding, there have been a ton of new options to pick from for writers.
If you're a new to the world of mechanical keyboards, it may seem a bit overwhelming.
The rabbit hole is deep, and all you want is to get typing, so we've made you a guide to 8 of the best mechanical keyboards for writers in 2020.
---
The Best Mechanical Keyboards for Writers – Our Picks
| Award | Keyboard | Special Features |
| --- | --- | --- |
| Best No-Frills Keyboard | Durgod K320 Taurus TKL | Under $100 with Cherry MX switches |
| Best Keyboard with USB Hub | Das Keyboard 4C TKL | Detachable ruler, USB hub, and PBT keycaps |
| Best Wireless Keyboard | Keychron K2v2 | Bluetooth 5.1, RGB lighting, and aluminum frame |
| Best Stabilizers for Typing | Varmilo VA87M | Pre-lubed stabilizers, white backlight, colorful designs |
| Best Tactile Feel for Typing | Realforce R2 TKL | Topre switches, ergonomically curved keycaps |
| Best for Typing Accuracy | Epomaker Niz Plum Atom 68 | Electrocapacitive switches, lightweight, compact layout |
| Best for Ergonomics | Kinesis Freestyle Pro | Split design with optional tenting kit |
| Best for Split Spacebar | Epomaker GK68X | Split spacebar module, hot-swappable, and Bluetooth option |
We've compiled this list of some of the best keyboards for writers to help you make a more informed decision.
From features and quality to ergonomics and efficiency, here we will cover some of the best keyboards for writers that money can buy.
---
1. Durgod K320 Taurus TKL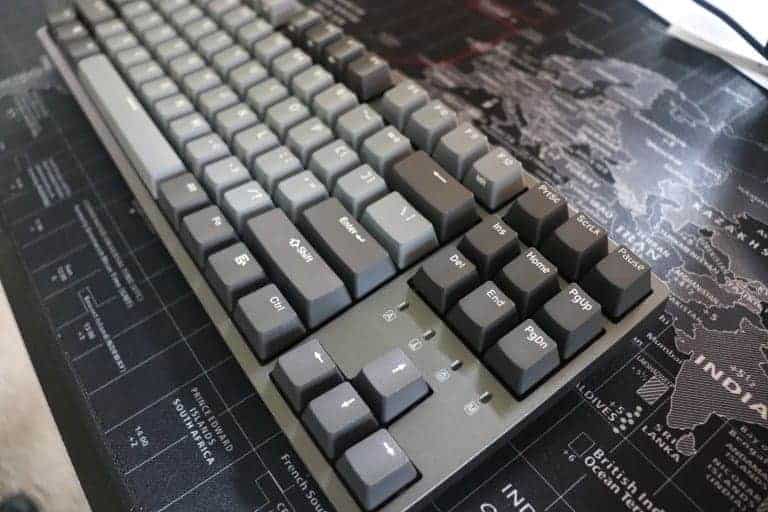 Durgod is a famililar name in the mechanical keyboard world, and usually with that name you get a no-nonsense keyboard with excellent build quality and some of the best factory stabilizers available in a prebuilt option.
And did we mention the price is right?
The keycaps included with this are Cherry profile, which are slightly shorter than OEM, but may provide you with a more comfortable typing experience. They are Doubleshot PBT plastic keycaps with clean legends and excellent shine-through backlighting.
They won't shine or smooth as quickly as ABS keycaps, and often provide a more pleasing, deeper sound when typing. The legends won't rub off over time, and work well in both brighter and darker work environments.
There is no backlight though, so you won't be able to rely on that for increased wpm or fps.
There is a ton of customization for lighting, macros/hotkeys, and keymapping via Durgod Zeus software.
The Durgod Taurus comes in a a variety of Cherry MX Switch variants:
Cherry MX Red, Black, Brown, Blue
Cherry MX Silent Switches if you need that extra level of silence, featuring silicone pads that help dampen not only bottom-out, but the unavoidable top-out as well.
Cherry MX Speed Switches if what you are looking for is quicker,shorter actuation/travel distance and potentially faster typing speeds.
The stabilizers are pre-lubed and are excellent for a pre-built. They will not be rattly or distracting for those long hours behind the keyboard.
Build quality is excellent, and the design is minimalistic while still looking good. A very work-safe keyboard option for $100.
Included with the keyboard is not only a USB-A to USB-C cable, but a USB-C to USB-C as well, so if you have a Macbook or Notebook that only only utilizes type-C, you are good to go.
The Durgod K320 Taurus is ideal for anyone who wants a premium-feeling keyboard that won't break the bank. With several switch choices available, you are sure to find one to meet your needs.
2. Das Keyboard 4C TKL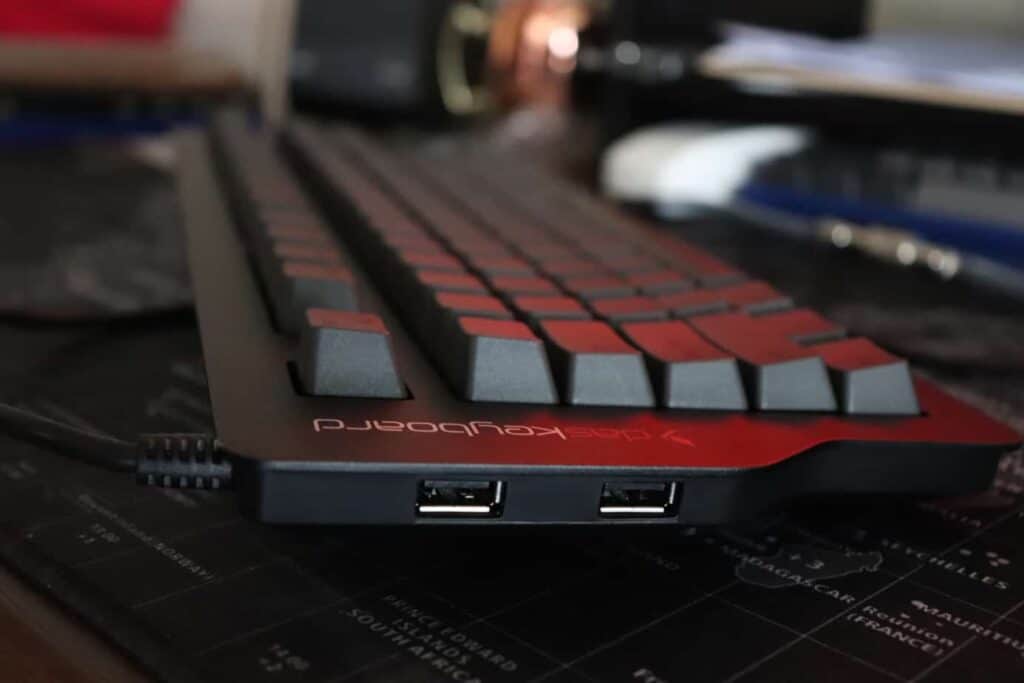 Das Keyboard is a well built TKL keyboard from a company well known for serious keyboards for serious typists.
One main standout of this keyboard is the fact that it provides not one but two USB pass-through ports for charging and peripherals. This is perfect for anyone using numpads/macropads, wireless mice that use a reciever, and even streamers using a stream deck or microphone.
If you find yourself lacking convenient, open USB ports on your PC or wall outlets, look no further. Just plug your two devices directly into the keyboard and you're good to go.
The 4C TKL also includes a ruler attached to the back of the keyboard. It is meant as an additional riser in the back, but is obviously also a useful tool should you need to measure, reach, or scratch anything.
This keyboard only comes with Cherry MX Brown switches, a switch which is usually geared for typists or writers who like tactility but not noise. They provide a soft bump which should be enough for most writers.
You won't have to worry about which switch is right for you, because Das Keyboard has made the decision for you; one that many writers agree with.
The keycaps are PBT keycaps which should provide a better sound and feel while typing. They won't get as shiny or as slippery as quickly as ABS.
The design of the 4C TKL is not particularly extreme but is also not typical of a typical "work-safe" keyboard. The top panel is shaped with an extended lip on the side which carries the branding and houses the two USB ports.
A "safer" design perhaps would have implemented the ports on the rear next to the cable.
It does not include RGB nor a detachable cable, but if you do not move around much, it really is not much of a concern.
This keyboard is going to be more ideal for writers that need fewer choices but more expansion via the USB ports.
3. Keychron K2v2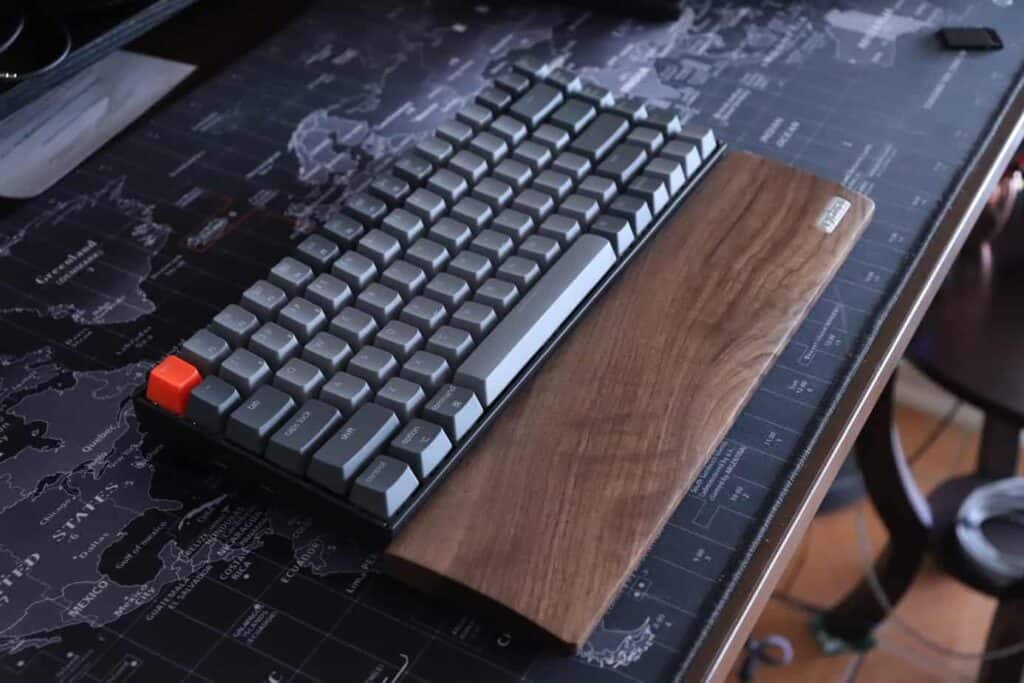 The Keychron K2V2 is a wireless 75% keyboard that features Bluetooth and increased Mac OS support right out of the box.
K2V2 is an improvement on its predecessor, and a popular choice in the world of wireless Bluetooth keyboards.
The 75% form factor gives you all the functionality of a TKL without the wasted space. This means a shorter distance for your fingers to travel while typing, which may make for a more efficient experience.
The keycaps here are laser-engraved ABS keycaps in OEM profile. While this makes the overall height of the K2 a little on the tall side, with an added wrist rest it proves to be a non-issue.
There is also a K2V2 option that comes with improved PBT keycaps.
Build quality is acceptable for a keyboard of this price, and is better with upgrades.
By default it comes in a plastic high-profile tray-style case, but you have the option of including an aluminum frame to help reinforce and add weight to the keyboard.
An aluminum plate ensures your switches are stable, and a large battery provides wireless power for days on end. You won't have to be tethered to your desk or or be forced to use your stock Mac keyboard any longer.
You can outfit this keyboard with your choice of Gateron red, blue, and brown switches. We have a full guide on Gateron switches, if you want to learn the differences.
You also get a choice of backlighting, with a more office appropriate white backlight or the fully customizeable RGB option.
While you can program the lighting via the Keychron software, the macros and hotkeys unfortunately are not.
Keychron are currently working on software that will enable this functionality. If you're using Windows OS, check out the program "Autohotkey" if you need to program macros or do any remapping.
The Keychron K2V2 is an excellent choice for those who want efficiency, functionality, and Bluetooth capability.
If you need hot-swappable sockets for more convenience in trying out switches, check out the K2 Hotswap, an updated version of this keyboard which also comes with improved double-shot ABS keycaps.
4. Varmilo VA87M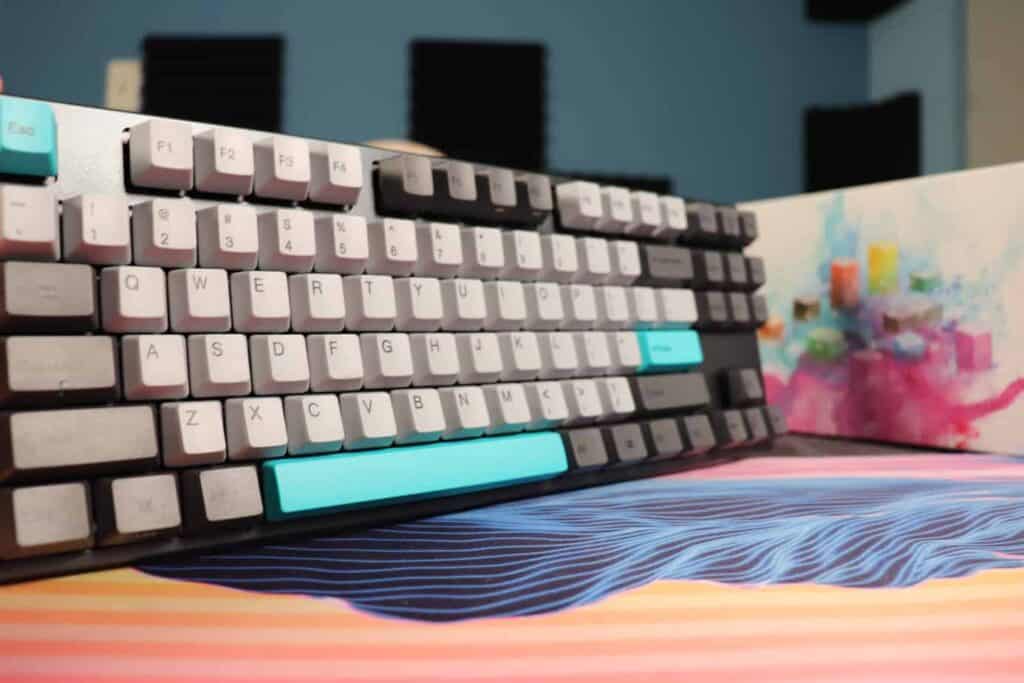 Varmilo is one of the mainstays of the TKL space.
If you have read the Wirecutter roundup for best mechanical keyboards of 2020, you may have noticed that this is the keyboard that came out on top and bested the Leopold.
So what makes the Varmilo VA87M so great? Well, one big reason is the stabilizers. They come pre-lubed from the factory, and the lubing is done well.
There is no wobble whatsoever, even on the spacebar, which provides for a satisfying, thocky sound.
If you have ever typed on stock stabilizers on pre-built keyboards before, you know how annoying and distracting a rattly stabilizer can be.
It comes in a huge variety of colorways and build-outs to customize it to your needs. The keycaps are color-matched to the case of your choosing, and there are many themed variants.
They are Dye-sublimated PBT caps, so should last for quite a long time but may be difficult to see in darker environments depending on the colorway (especially the Black-on-Grey).
Some variants of the VA87M also come in White LED, RGB LED, and non-backlit options.
The switches and LEDs are in a south-facing orientation, which allows for greater compatibility with thick Cherry profile keycaps like GMK.
This does mean that any keycaps you get with back-lit legends on the north end of the keycap may not be as bright as you were expecting.
This keyboard comes with your choice of a variety of Cherry MX Switches, including MX Silent, MX Speed Silver, and MX Clear variants. We have a full guide on Cherry MX switches, if you are interested.
A sturdy, simple case and convenient detachable cable round out the features on this excellent keyboard.
The Varmilo VA87M is ideal for those who want the best quality in a well-designed keyboard with several switch choices.
5. Topre Realforce R2 TKL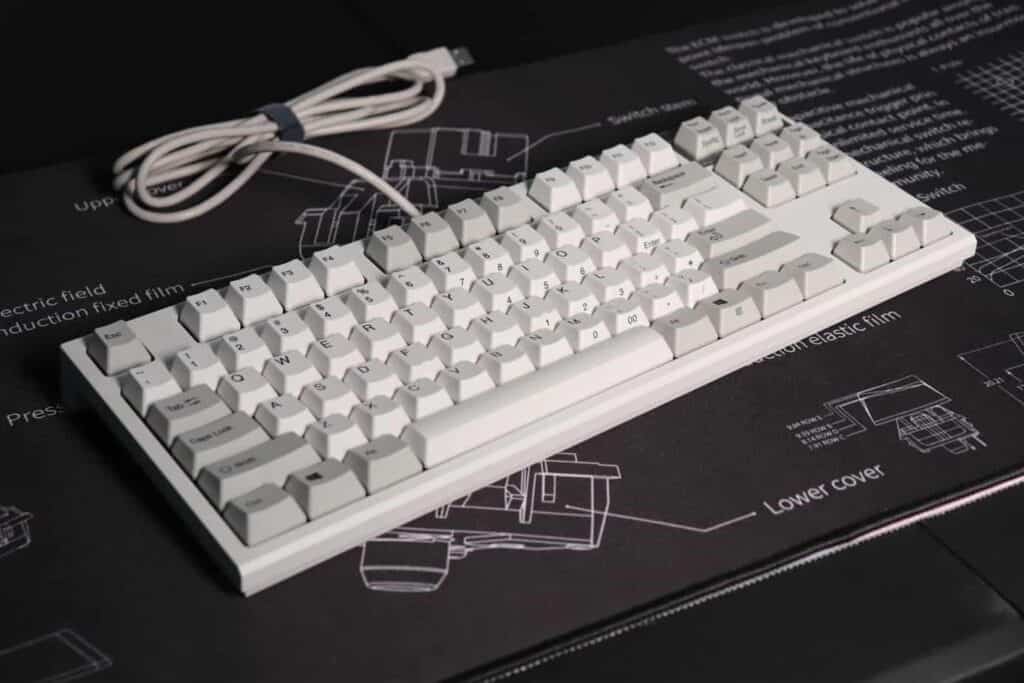 If you are a serious typist or keyboard user, you may have heard of the famous Realforce R2 and the infamous Topre switch.
Topre is a classic tactile option, but it isn't really mechanical at all. Rather, it is an "electro-capacitive" switch that makes uses of rubber domes and a conical spring.
The result is one of the most tactile options that you could choose that also prevents chattering. Key chatter is when the switch sends multiple false actuation when you only press once.
If you have ever experienced double-inputs on a keyboard, then you have been visited by the Ghost of Keyboard Chatter. Spooky.
Needless to say, this is an important feature to have if you value accuracy and speed. Correcting mistakes made by the hardware should be the least of your worries.
Tactility, which this keyboard provides generously, can be an important factor for typing. Not only to confirm your keypresses and actuations, but also for overall typing satisfaction.
The Realforce TKL Features Topre switches in 30g, 45g, and 55g spring weights distributed across the keyboard depending on which finger a typist is most likely to use.
Instead of having to choose your own spring weight, they have been arranged in a very thoughtful manner that should be the most comfortable layout possible. That is, if you are a touch-typist.
This keyboard is all about old-school. From the look to the feel and build, you can tell that this board upholds tradition. Its case is a classic silhouette while also not feeling fairly well designed.
The cable is not detachable, but should not prove to be a big issue unless you intend to transport it often.
Sometimes there is no school like the old school, and this keyboard proves that.
The Realforce R2 TKL is ideal for real typists who want real tactility and value function over form.
6. Epomaker Niz Plum Atom 68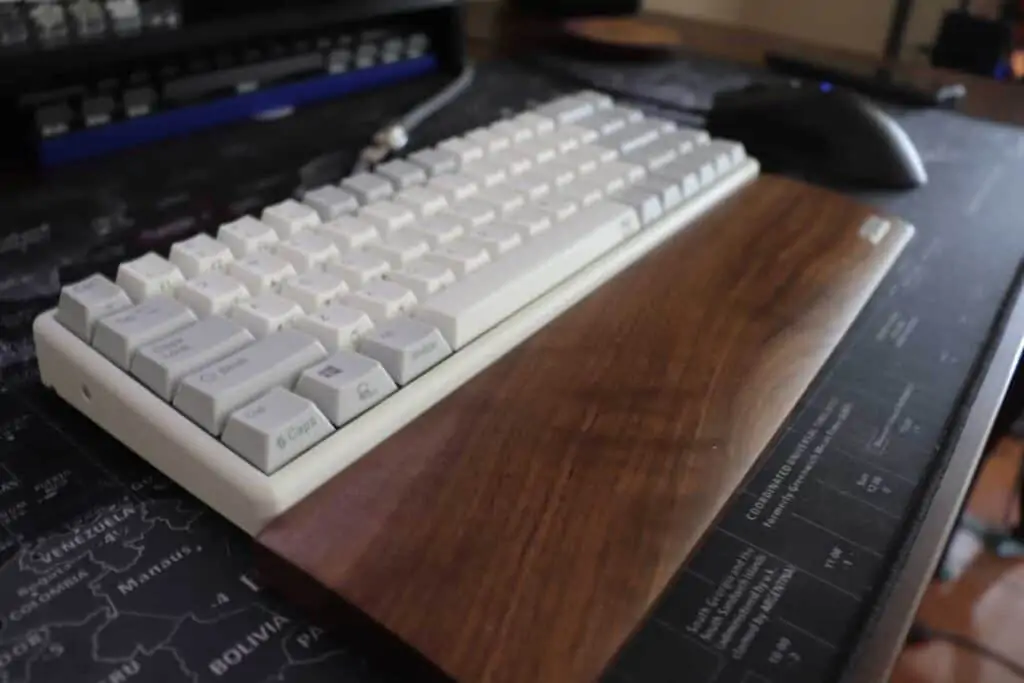 Speaking of electro-capacitive rubber dome switches, the Niz Plum Atom 68 houses a Topre-clone in a smaller form factor and more affordable price.
This keyboard succeeds in many areas where the Realforce may fail.
While the R2 TKL offers multiple spring weights in its keyboard based on which finger you might use, the Niz Plum Atom gives you the choice.
At 35g, these springs are all weighted like the lightest Topre switches on the R2. What Epomaker does next may surprise you.
Also included in the box are additional springs that you can add on-top of the rubber dome underneath each keycap. Each spring adds an additional 10g of weight, making any key you add them to a total of 45g.
Being able to adjust your spring weight on the fly is invaluable. Rather than being tied to one spring weight, or multiple weights across the board, you can adjust them yourself how you see fit, to match your needs on your own terms.
The included silencing o-rings installed on the top of the stem also provides dampening on the top-out, a feature similar to Silent switches.
The stem sliders here are also made of POM, a premium "self-lubricating" plastic that is great for switch smoothness.
Speaking of the stems, Epomaker also decided to make these switches with Cherry-style stems, giving you even more customization by being able to use your favorite keycap sets on it. Very thoughtful for a "clone" design.
While they may not be as heavy as the 55g Topre switches, weight is not necessarily a factor when it comes to speed and accuracy.
What you can be sure of, is that these keys will be easy to use and oh-so-satisfying.
Choosing this option gives you the best of both worlds. You may find that with ease-of use and tactility comes speed and accuracy, and with all of these factors you could break your own personal best records.
As a writer, it is not only important to have a high WPM, but high accuracy as well so you aren't wasting time correcting mistakes. Who needs RGB when you have amazing tactile rubber domes?
Well, maybe you do! The Epomaker Niz Plum is offered in both non-backlit and RGB versions to give you that added level of custom flair. As if your typing experience couldn't get any more satisfying.
If you are looking to try Topre switches but don't want to break the bank, this is the keyboard for you.
The Epomaker Niz Plum Atom 68 is ideal for anyone looking to try the top tactility of Topre, but with the enthusiast features that a mechanical keyboard provides.
7. Kinesis Freestyle Pro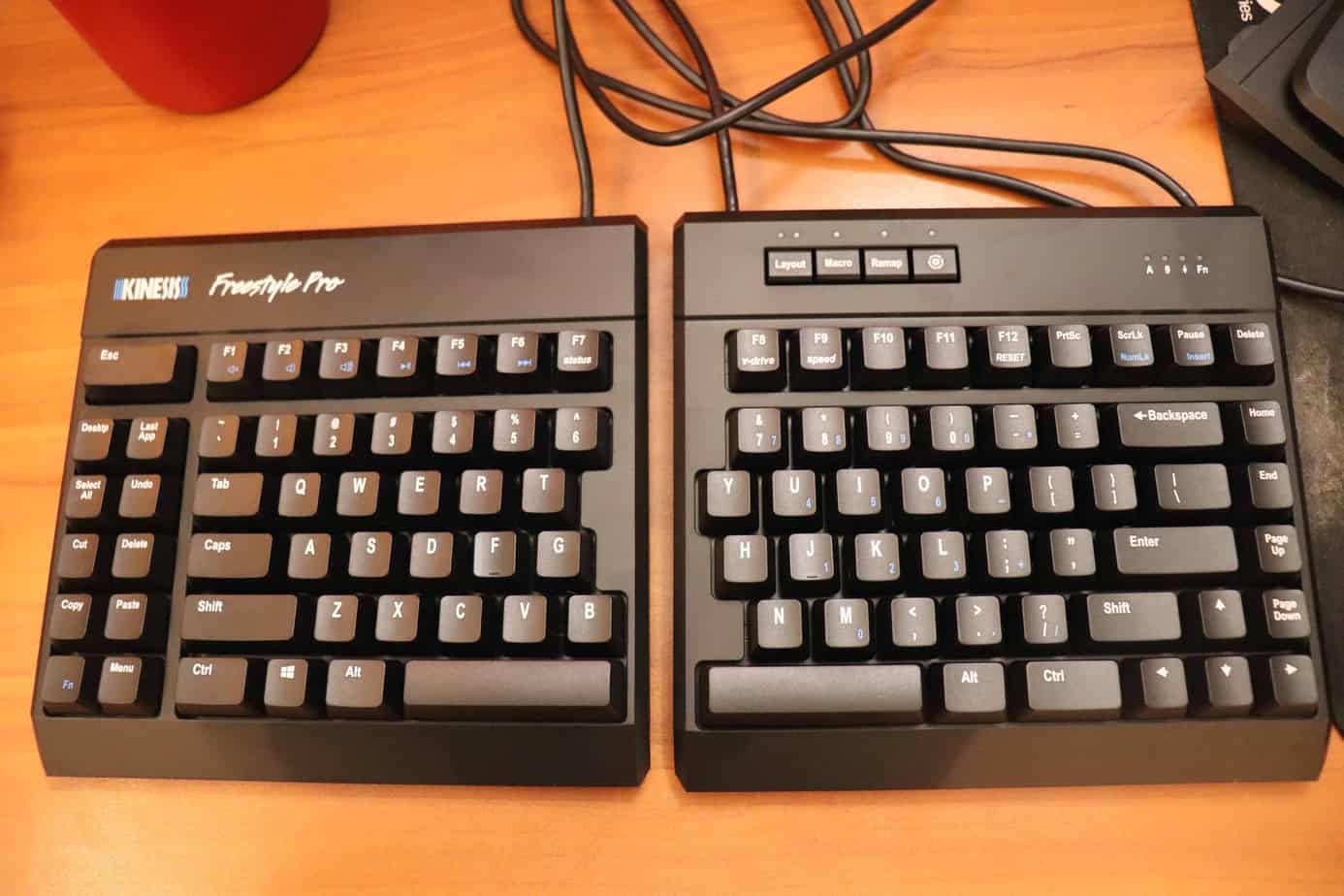 The Kinesis Freestyle Pro is a little different from the rest of the ones in this list. This is an ergonomic split keyboard.
Split keyboards are meant to give you more natural typing experience by allowing your arms and hands to be less pronated and more shoulder-width apart, decreasing risk for RSI and internal rotation, and improving overall posture.
This keyboard actually allows you to extend the distance between each hand to about 20 inches.
If you need this increased distance and halve the necessary desk space, then this is perfect for you. It may be nice to be able to stretch out your shoulders if you need.
You have the option to include wrist-rests and lift kits for "tenting" of the board, or having each half angled so that your hands are less pronated. The Lift Kit allows you to choose between 3 different angles, but is a separate additional purchase.
For such a premium price, it would have been nice to see the Lift Kit included with the Freestyle Pro. It does seem like a very essential part of the design.
The keyboard is fully programmable and has a number of extra hotkeys to provide increased functionality while typing. You are able to program layers and macros directly from the keyboard itself.
This keyboard comes with Cherry MX Browns or Cherry Silent MX Reds. You don't get much choice here, but the options are very considerate ones. Browns for that soft tactility, and Silent Reds if you need to be more considerate in a shared working environment.
Possibly the best feature of this keyboard is how customizeable and programmable it is. Not only can you record your own macros, but also switch between Windows, Mac, and DVORAK layouts.
You can even program your own layouts, all directly on the keyboard itself without the need of software or drivers.
This keyboard won't be for everyone, and the tenting angles may take some getting used to, but the programmability of the board makes it a very tempting option.
The Kinesis Freestyle Pro is ideal for those searching for a more ergonomic split keyboard, that also packs a ton of power and potential through its programmable PCB.
If you are looking for more of a gamer-oriented keyboard with programmable macro keys, check out the Freestyle Edge, which is essentially the same keyboard with different function keycaps and unprogrammed hotkeys.
8. Epomaker GK68X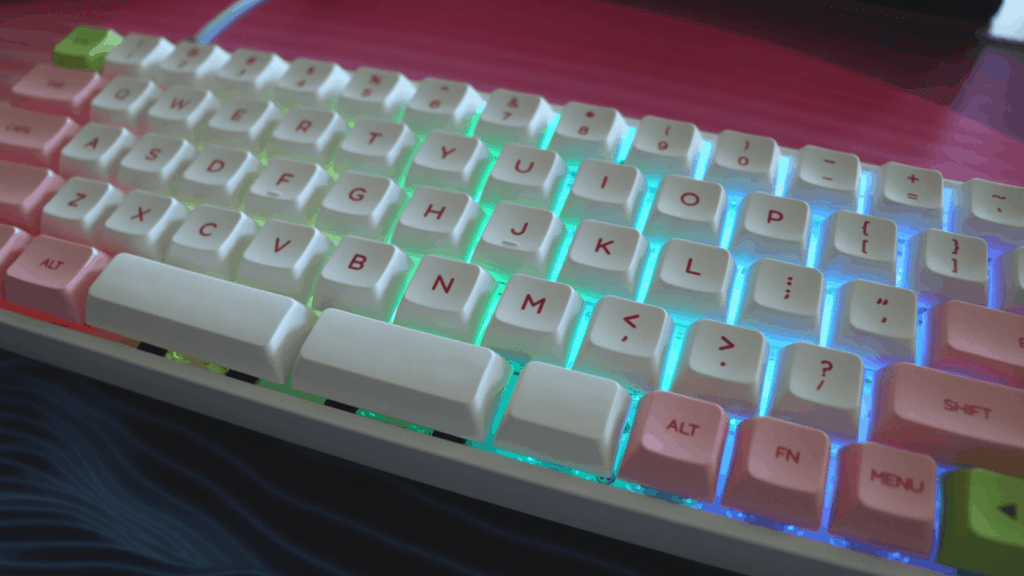 Rounding out our selections is the Epomaker GK68X. Epomaker offers a 65% layout with hotswap and an option for Bluetooth (model GK68XS).
This is one of a few Epomaker products to include the option for a split spacebar.
You may question why you would need two different buttons for your spacebar, but it essentially provides you with 3 buttons instead of 1.
If you find you only use one finger or thumb for your spacebar, the other buttons can be programmed to any other modifier or macro you like. While this could take a little getting used to, the added potential to your workflow is too significant to ignore.
With the potential to boost your productivity and functionality exponentially, the split spacebar makes the GK68X a real contender for writers looking to improve workflow.
This keyboard is also hot-swappable and uses 5-pin PCB-mount sockets with North-facing LED's. This will give you much more choice in terms of switches and keycaps, especially if you want to show off the RGB.
While you have a choice between Gateron switches, you now also have the option to use any mechanical Cherry-style switch you like.
A detachable USB-C cable is included so you can charge the battery and use your keyboard in either wired or wireless mode.
One thing that you should be aware of is the slightly changed layout. While all 65% layouts like this are slightly nonstandard, Epomaker decided to change the position of the backspace, moving it one unit to the right and adding a tilde in its place.
This may take some getting used to at first, and you may find yourself fumbling around those two keys trying to press backspace.
Also unlike other some of our other choices, you get a few options for your case. You can choose between both ABS plastic case as well as a robust aluminum case. Epomaker also may add wooden case options in the near future.
Be sure to check out Ruby Jackson's Extended Instruction Manual for tips on how to better utilize the GK68X's functionality.
The GK68X and GK68XS are ideal for anyone who needs a solid split spacebar keyboard with Bluetooth wireless option and tons of modularity in the form of hotswap, interchangeable keycaps, and multiple case options, backed by the quality Epomaker Customer Support.
---
What Makes a Mechanical Keyboard Good for Writers?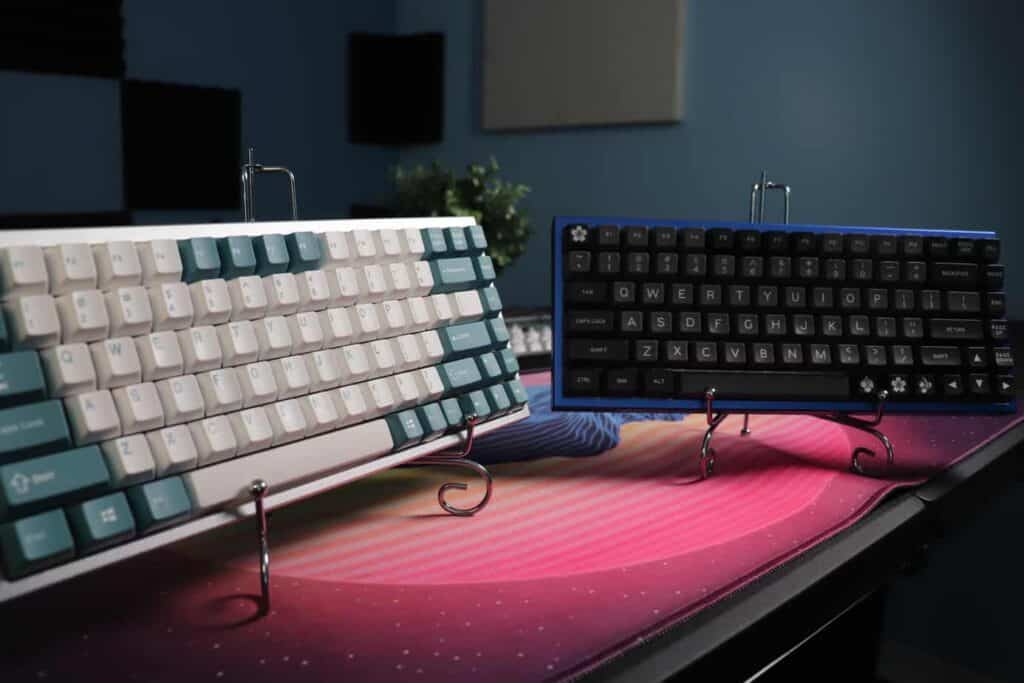 When looking for a mechanical for the purpose of writing, there are some important factors to consider however.
The Switch Type
Will you choose linear, clicky, or tactile switches? Or the rubber dome to rule them all?
While this is entirely preference, writers and typists usually prefer clicky or tactile switches due to the feedback and satisfaction they provide.
Linear will offer the most smoothness, and for some this is even more satisfying, but may lead to more typing mistakes if you use a lighter spring weight.
The Spring Weight
Another big factor of the how the switch feels will be the spring weight.
If a spring is too heavy, you may feel pain or soreness in your fingers as if they got a workout.
If a spring is too light, you may feel fingertip pain from bottom-outs, or see a drop in your accuracy from typos if you aren't used to the weight.
Finding the right weight for your fingers and typing style is crucial in regards to comfort.
The Total Travel Distance
The third important factor for switches is travel distance.
Most people are used to the 2mm actuation, 4mm travel that traditional Cherry-style switches provide.
Recently and ever increasingly, however, manufacturers have been creating "Speed" switches that offer greatly decreased travel distance.
While these are more "gamer" oriented, some speed-typists prefer the shorter travel required for actuation.
Your mileage may vary, but for most writers the normal 2mm/4mm travel is perfectly fine.
The Keycap Profile
The profile refers to the shape and height of the keycaps on your keyboard.
The profile or silhouette of your keycaps plays a big role in how your hands and fingers interact with the keyboard, specifically in height and ergonomics.
With OEM being the norm, there are multiple profiles available now ranging from the taller SA sculpted profile, to shorter Cherry and DSA Profile caps, and even low-profile Chiclet-style caps.
Coupled with the height of your keyboard's case, the profile may either cause you to glide over keys with ease and grace, or cause you to fumble around like your fingers are drunk. Changing may take some getting used to, though.
Keycap Material
One of the big debates is keycap material, mainly ABS vs PBT.
ABS is much more common, and is typically associated with greater color accuracy, vibrancy, and saturation.
The downside of ABS is that it often quickly develops a shine to the material, as well as develop a slick surface from finger oils and skin chemistry.
If you look for ABS, double-shot is preferred so the legends to not fade.
PBT tends to be a more flexible material, and is typically associated with a deeper sound and a surface that won't shine or slick as quickly as ABS.

The downside of PBT is the lack of color accuracy that ABS has, and the potential of warped keys (especially spacebars) during the curing process of the keycap's production.
If you look for PBT keycaps, go for double-shot or dye-sublimated keycaps for long lasting legends.
Customization and Upgradability
If you see yourself wanting to upgrade or experiment with your keyboard, modularity is a good feature to look for.
This usually means hotswap sockets to change switches, cherry stems for keycap compatibility, and whether there are more options for compatible cases.
Layout & Size
Last but not least, we have the layout. We will cover this more in the next section, but you should look for the layout which best suits your needs and makes you the most efficient.
What Layout is Best for Writers?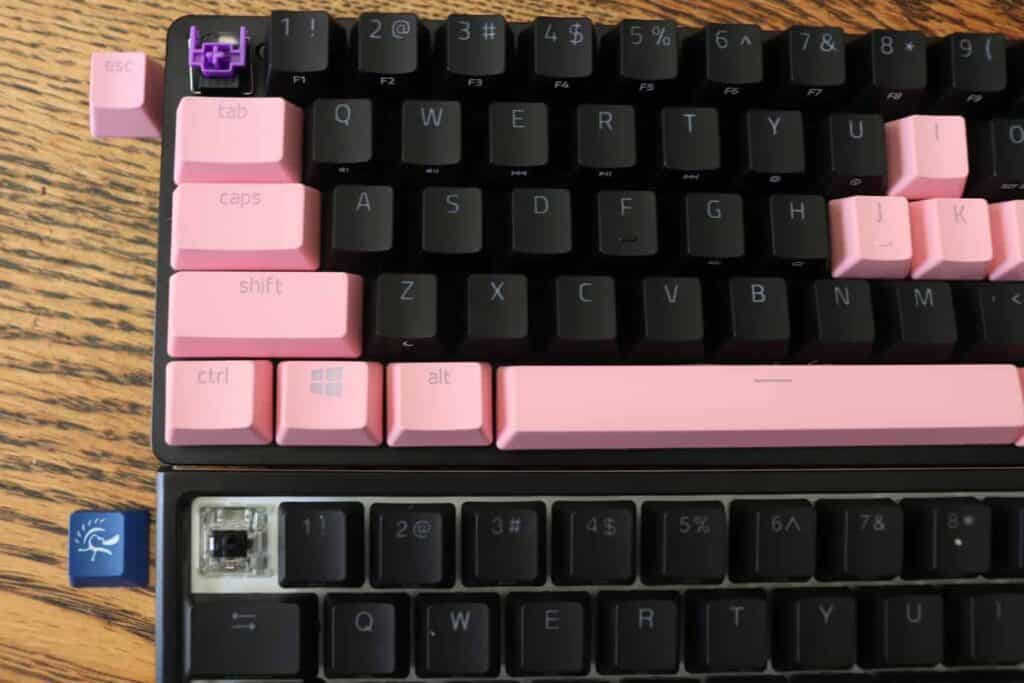 The popular choices range from TKL to 65% since most writers don't necessarily need a numpad, but do like arrows and navigation keys as well some extra desk space.
Here is a quick guide to layouts to help you make the best choice for you.
With A Number Pad?
Fullsize 100% – This is your standard 104 key layout.
96% layout – Fullsize minus a few keys and no wasted space.
1800 layout – Fullsize with extended numpad and no nav cluster.
Southpaw– this moves the numpad to the left side, bringing your mouse closer to center and giving your left hand more functionality.
Don't Need the Number Pad?
TKL– Fullsize without the numpad. Standard layout.
75% – TKL minus a few keys and no wasted space.
No Function Row Required?
65% – 75% layout minus the function row. Alphas, numbers, spacebar, modifiers, arrows, and navigation column in a compact form factor.
60% – TKL minus the function row, arrows, and navigation cluster. Heavy use of function layers. Standard layout.
A bit of a masochist?
40% / Planck – No numbers, just alphas, spacebar, and modifiers. Heavy use of function layers.
Conclusion
With so many keyboards and so many options, it can be intimidating to choose the right keyboard for you, and make the best choice with your money.
We tried to compile a fairly comprehensive list of keyboards we felt were ideal for typists and writers, that covers a wide variety of use cases.
Paired with the tips listed above, we hope this will help you determine the best keyboard for your needs.