Do you have a special someone in your life who loves keyboards? Chances are, if you're reading this, you are that special someone.
So why not treat yourself?
Here are our favorite gifts for keyboard enthusiasts and lovers, because you deserve it.
The Best Gifts For Keyboard Lovers
When looking at keyboard gifts, you have the usual suspects: keycaps, switches, custom cables… yawn.
Here are a few more creative options to stimulate your keyboard needs.
1. Keyboard Stands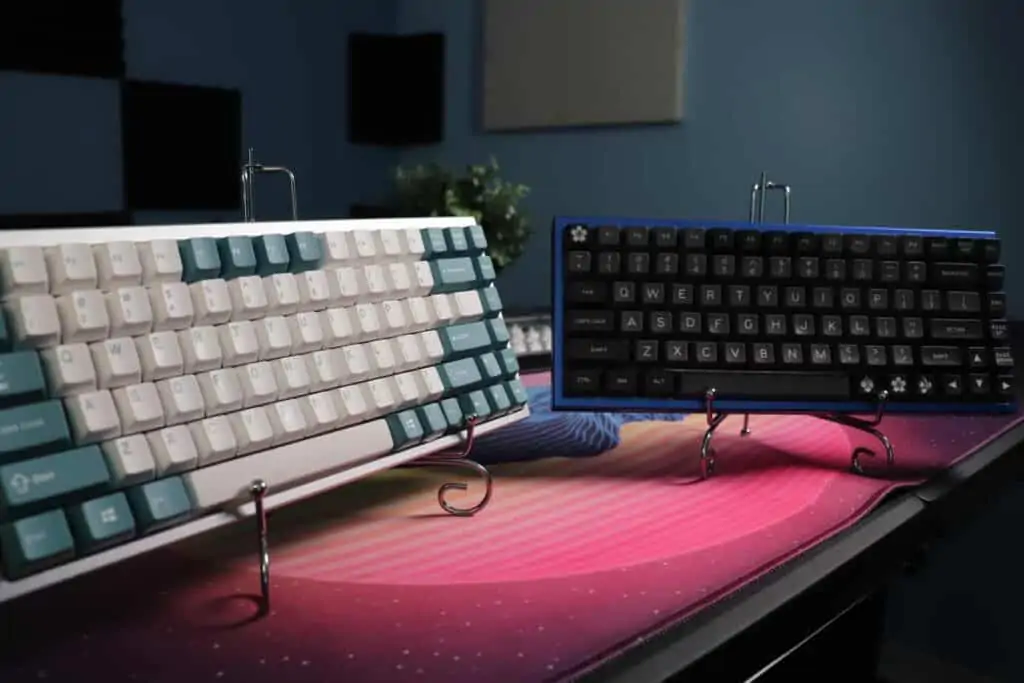 One thing that's common amongst all keyboard enthusiasts is that they love showing off the goods.
If you're anything like me, you've got more than one keyboard tucked away in the closet, hiding in shame.
It's time to bring them out to shine.
A keyboard stand allows you to prop your keyboards up and show them off to the world.
I like to display them on the wall like fine China dishes.
Speaking of which, you can buy dish stands and repurpose them for keyboards. It actually works great.
If you're a bit more fancy, you can buy stands made for the purpose of keyboards, but that's not always needed.
They make for great photos and for entertaining guests (who am I kidding?).
If you're looking for a cheap set of keyboard stands, here is what I recommend.
2. Keyboard Waffle Iron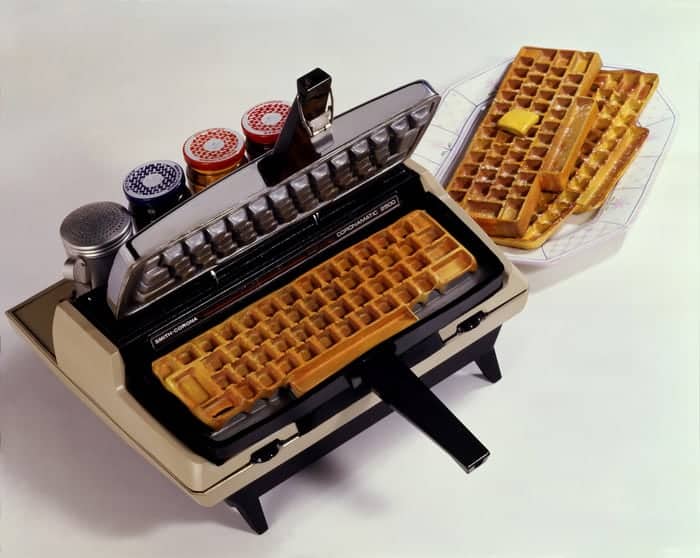 While being more of a gag-style gift, there are a few special people out there who might actually appreciate this monstrosity of a present.
I'm not entirely sure about where to buy such a thing, as it's been out of stock on Amazon for a few years now, but you might be able to scoop one up if you look good enough.
Based on the reviews, I don't think you can actually cook with this waffle maker as it seems leave behind an aluminum dust residue on your waffles.
So perhaps it's not the best present?
But then again, who doesn't want waffles that are cooked into a keyboard shape? (Even if it leads to food poisoning).
Either way, it's interesting.
3. iFixit Toolkit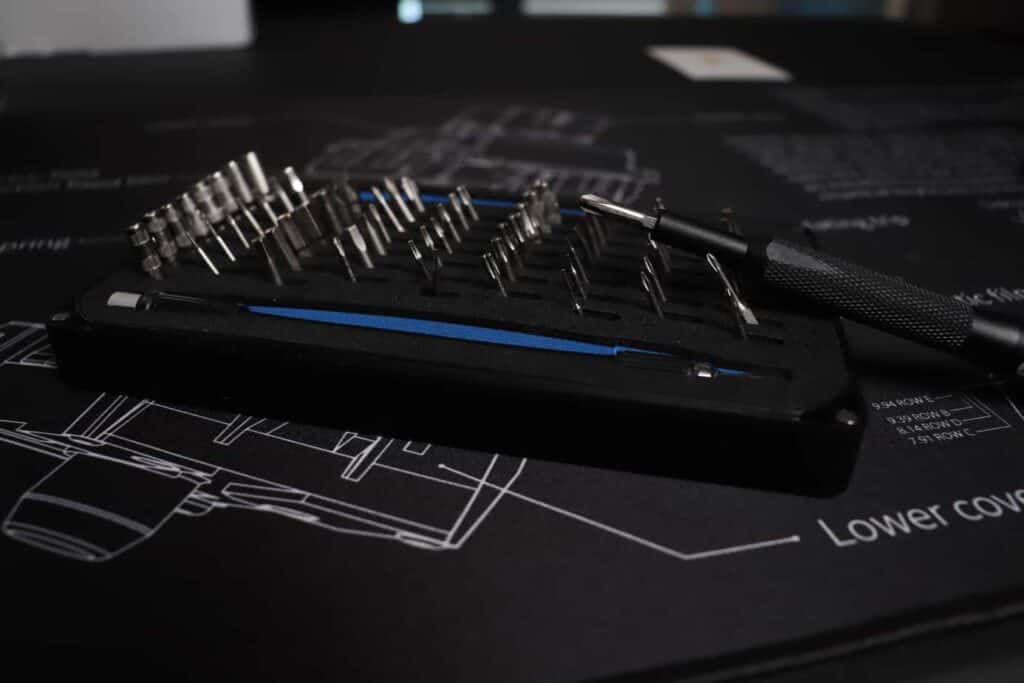 The tools that you use can massively improve your keyboard building experience.
If your screwdriver set is a mess of missing parts and worn down tips, it may be time for an upgrade.
For that reason, I highly recommend the iFixit Toolkit.
Coming with dozens of helpful tools, you'll have everything you would possibly need in your arsenal of tools.
This is a great present for keyboard enthusiasts and PC builders alike. The number of times the toolkit has saved me from a trip to Home Depot pays it price in dividends.
I use mine on a weekly basis and can't recommend it enough.
4. May Pad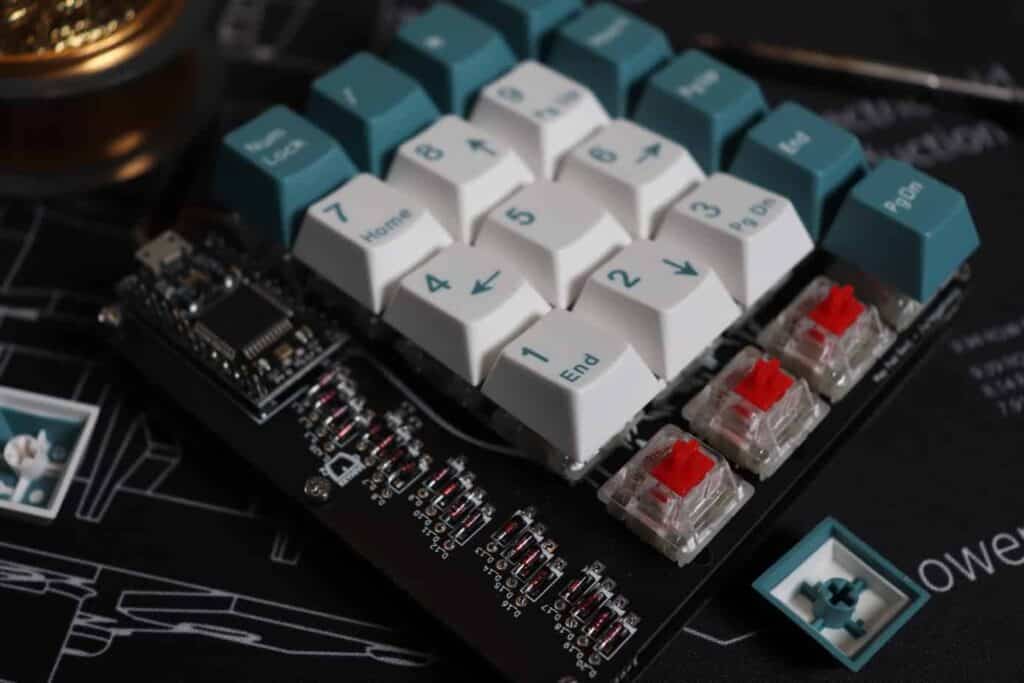 Are you scared of soldering?
The thought of accidentally breaking a high-end keyboard probably races through your head when you picture yourself soldering.
As a great way to learn how to solder in a low-stress environment, the may pad offers hands-on practice.
You can solder the diodes, switches, and lights onto the PCB to fine tune your technique. A perfect way to gain confidence before soldering your over-priced custom keyboard.
Of course, you'll need soldering equipment before you order this, so I recommend checking out our guide on the best soldering equipment for your keyboard.
Soldering is one of those skills that's a lot of fun to practice and is incredibly rewarding, so it's time to get started.
You can find a may pad on keyhive.xyz.
5. Keyboard Lube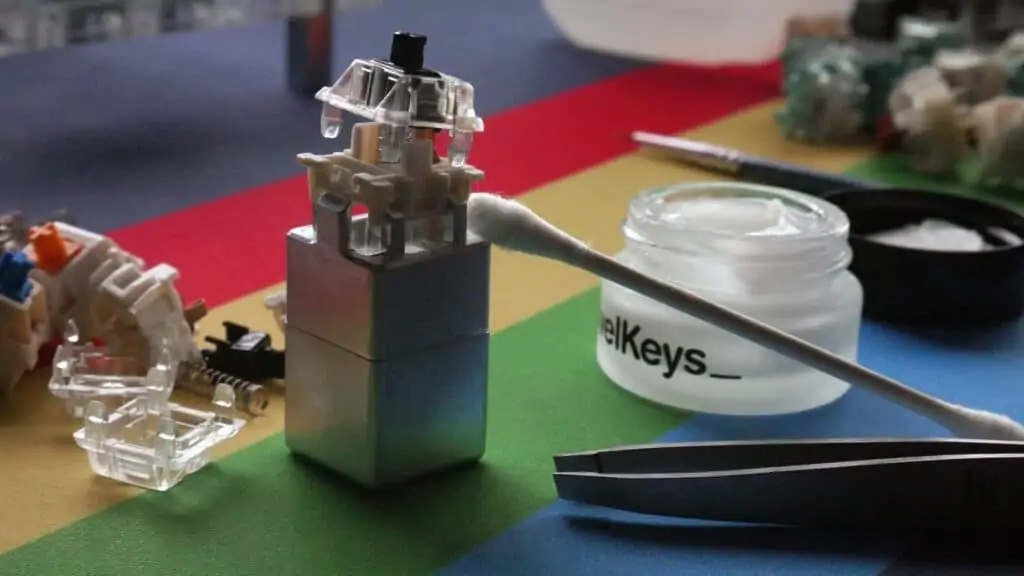 I'm sure there are dozens of jokes that could be made about keyboard lube, but let's not kid ourselves, we are all adults here.
We don't want to create any friction.
Lubricant is a great gift for your special someone yourself.
Get rid of that scratchy feeling on each keystroke and make your entire setup feel better than ever. Not to mention sound better too.
You just need to be willing to roll up your sleeves and get to work with a little DIY keyboard action.
Don't be afraid to show your keyboard a little love this holiday season.
If you need a little help on choosing the best lube for your keyboard, make sure to check out this guide.
---
The Basics
If those gift ideas were a little out there for you, there is nothing wrong with the good ole basics.
A new set of keycaps or a hot new keyboard will be enough to get any keyboard enthusiast giddy, so here are our recommendations.
6. A New Set Of Keycaps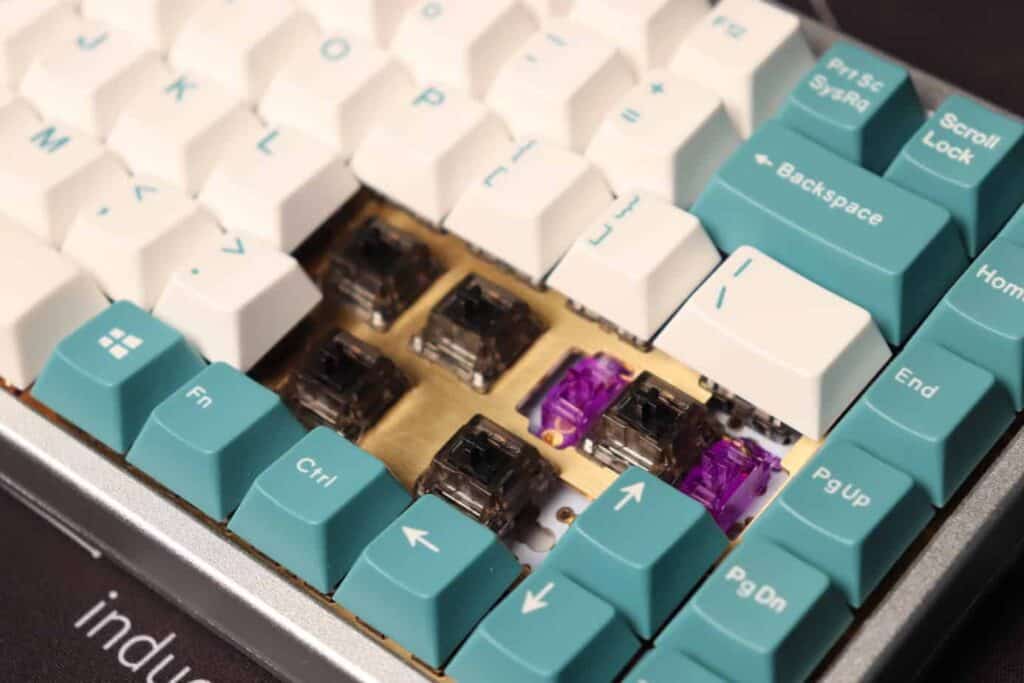 If your old set of thin ABS keycaps aren't cutting it anymore, it could be time for an upgrade.
For a good set on a budget, there are several PBT keycap sets on Amazon that will make your keyboard feel brand new.
The improved feel, durability, and aesthetic tie everything together. But there are higher-end options out there.
If you have a bit more to spend, you could always look at sets such as GMK, ePBT, and more. With these you'll be getting more precise tooling, better designs, and parts with a high re-sale value.
Pretty cool stuff.
Now is a great time to make your keyboard feel unique and stand out from the crowd.
Here is our guide on the best keycaps right now.
7. Custom USB Cable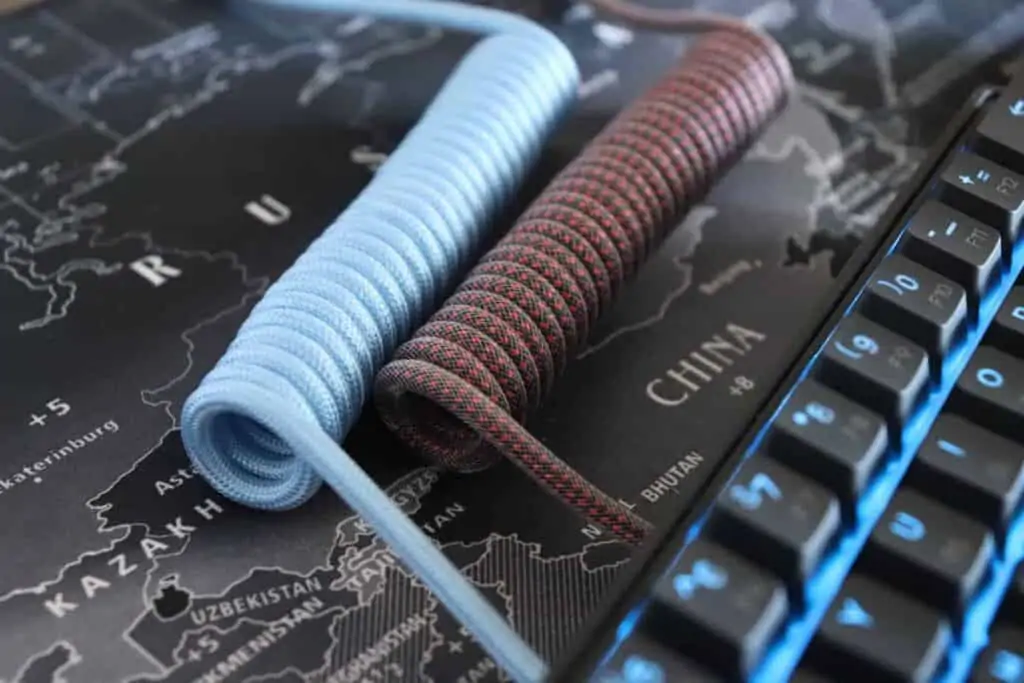 One of my personal favorites are custom USB cables.
You can really spruce up your setup with a plethora of different designs, including: coiled cables, aviators, and more.
Nowadays, there are a ton of different options out there, so there is no shortage to choose from.
Just pick something that's in your price range and would fit your setup perfectly.
There is a wide range of options, with my personal favorite being the cable from Thok.click.
If you want more information of the best custom USB cables, check out this article.
8. Artisan Keycaps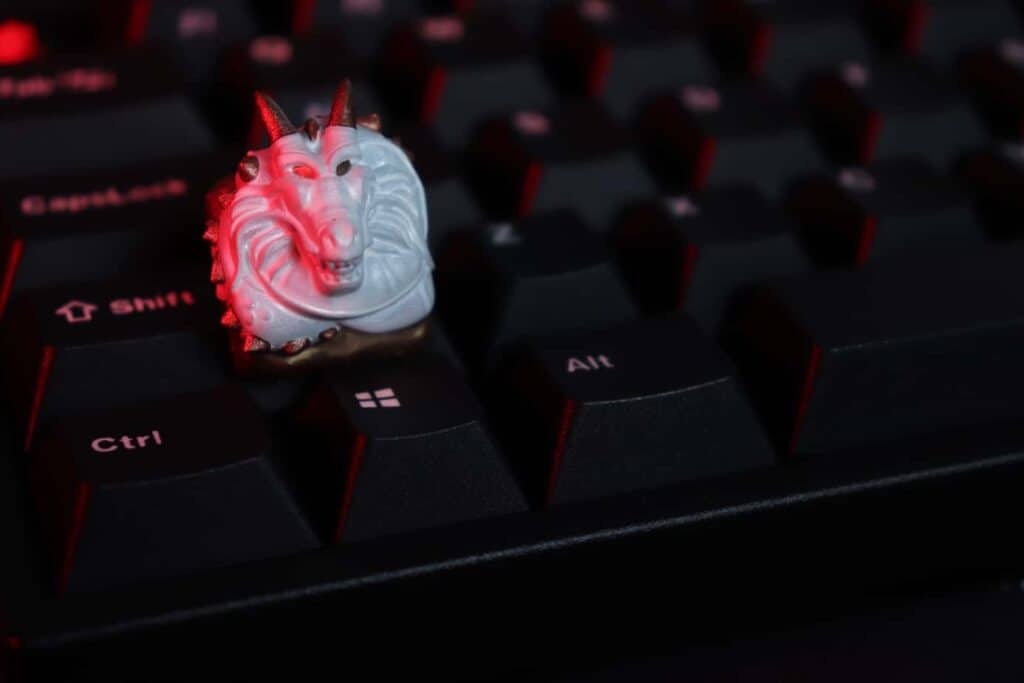 Artisan keycaps allow you to put that final personal touch on your keyboard.
That one little accent keycap can change the whole design and make it pop.
With artisan keycaps, there number of customized designs out there is staggering.
If you're willing to shop around a bit and shell out some dough, you can get highly personalized keycap that only you have.
Or get your favorite character from a TV show, movie, or video game.
It's really up to you.
Most people place a single artisan on the escape key, but you can replace as many keys as you want.
Here is our guide on the best places to buy Artisan keycaps.
9. Desk Mats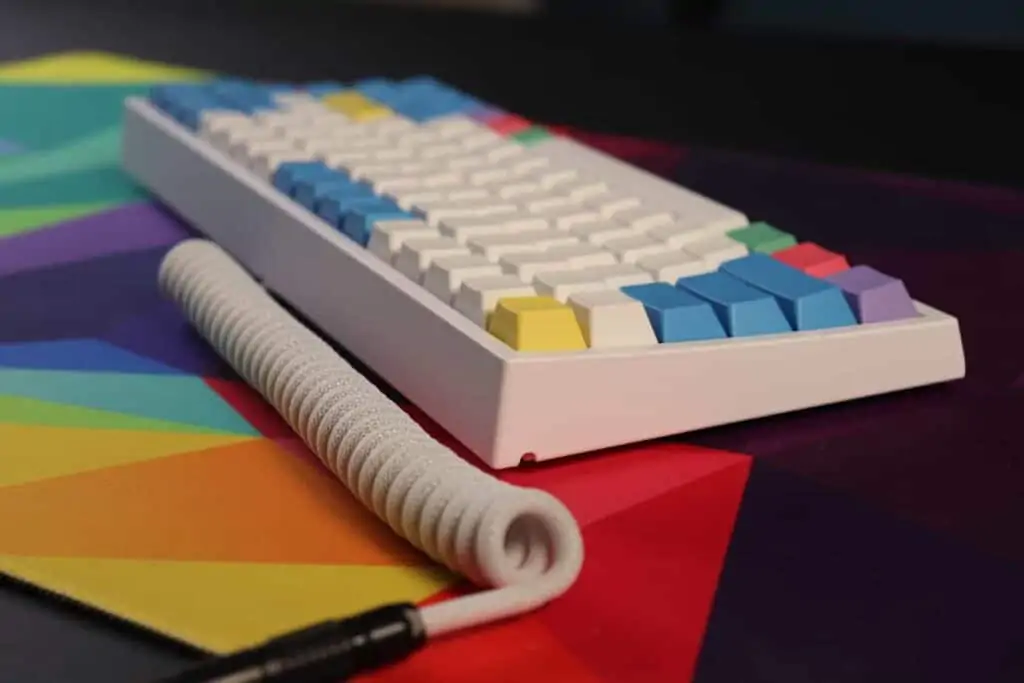 When it comes to desk mats, I have a bit of a problem.
Similar to keyboards, you can buy deskmats in a variety of different colors, materials, and more. There's just something about them that makes me open my wallet.
While not being the best for hardcore gamers as a regular mouse pad does the trick, they are a great way to snazz up your setup.
In addition, they make your keyboard sound better and dampen the noise output of the items on your desk.
Talk about multipurpose.
There are a ton of different options on Amazon, with our list of favorites here.
You can also buy more custom made designs through group buys and on smaller websites.
Conclusion
We all know that keyboard enthusiasts are a bit strange, me definitely included.
But they deserve to be treated special sometimes too.
As the saying goes, the best way to get the heart is through your… erm… peripherals?
Good luck and happy holidays!