If you are looking for an affordable and reliable TKL keyboard, look no further than the iKBC CD87. With PBT keycaps, nice stabilizers, and a hefty build, this keyboard is sure to impress.
Let's get into our review of the iKBC CD87!
The Verdict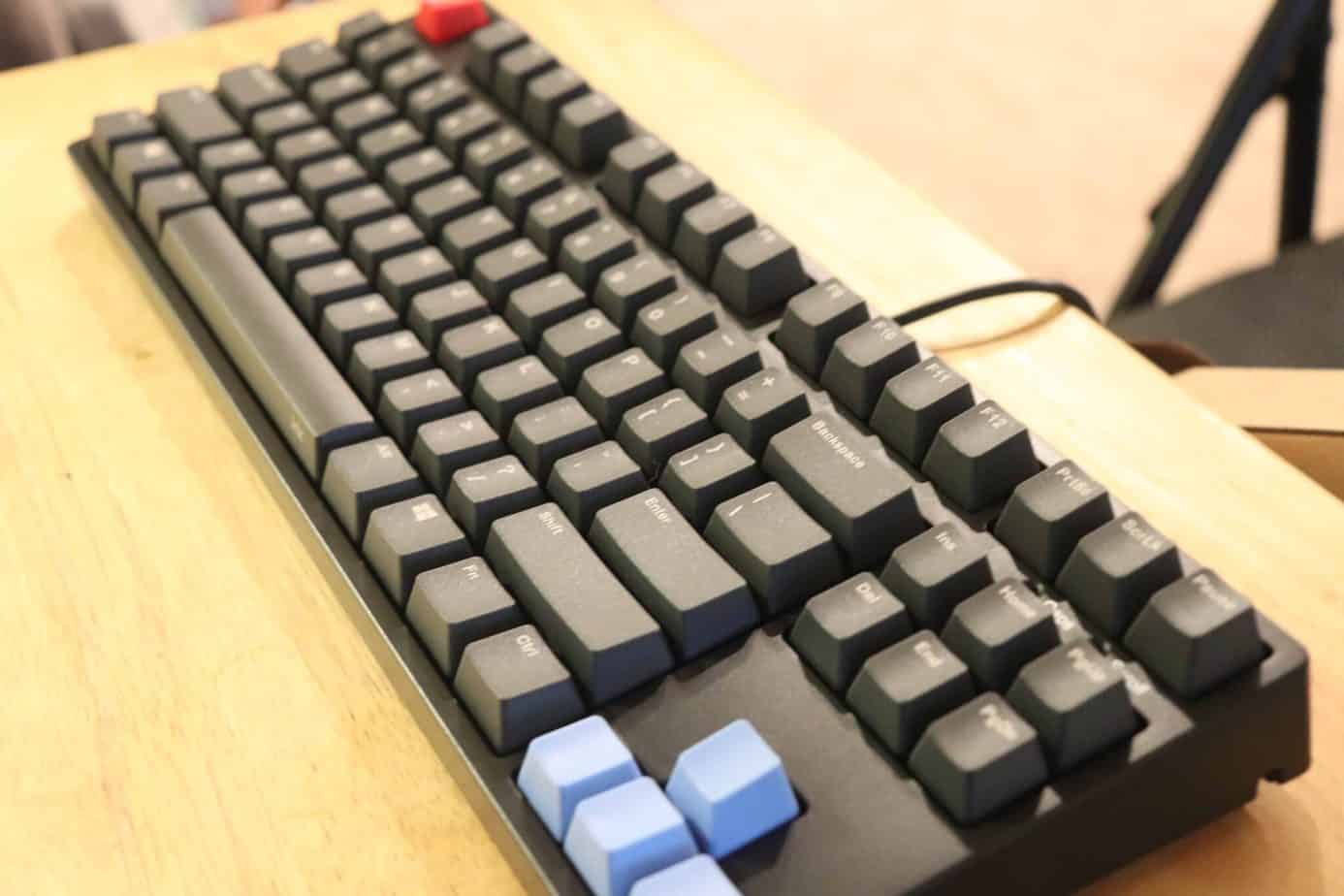 With high quality components and and steadfast build, the iKBC CD87 brings a lot to the table for a budget friendly keyboard. This keyboard delivers a stable, nice-sounding typing experience that would be suitable for all uses.
Don't let the standard design of the iKBC CD87 fool you, this keyboard is extremely functional and we enjoyed it so much that we included it in our ranking of The Best Mechanical Keyboards Under $100.
Its rare that you will find a TKL keyboard with PBT keycaps, a no flex build, Cherry MX switches, and nice stabilizers at this low of a price!
While a downside to this keyboard is the non-detachable power cable, you can purchase the version with Bluetooth (and thus a detachable cable) at a higher price point.
If you are interested in purchasing or finding out more about the iKBC CD87, be sure to check it out on Amazon.
---
In The Box
If you order the iKBC CD87, it will come with more than just the keyboard itself.
Typically mechanical keyboards come with a couple of extra items that help you with maintenance or setting up your keyboard.
What you will find in the box with the iKBC CD87 are:
Additional keycaps: To add a pop of color to your keyboard, 10 additional keycaps (5 blue, 5 red) are included. These keycaps do have different profiles, so just make sure you pay attention when putting these on!
Wire keycap puller: A long keycap puller comes with the iKBC CD87 to make changing keycaps quick and easy.
---
Build Quality
With a metal back plate and thick plastic case, the iKBC CD87 is quite solid and heavy. There is no flex to this keyboard at all.
This version of the iKBC CD87 has a non-detachable cable, but there is a cable routing system that allows you to choose to feed your cable out of the right, left, or middle of the keyboard.
There is a Bluetooth version of this keyboard that has a detachable cable, so it was a bummer that they don't have this feature with both.
Regardless of having Bluetooth, a detachable cable would allow for easier transport and use of custom cables.
A nicely angled case design makes typing on the iKBC CD87 comfortable, but it additionally has adjustable kickstands if you want to make it sit higher.
The iKBC CD87 only comes in a single, all black color.
With a simple yet professional design, this keyboard keyboard appears super sleek.
I usually dislike when companies put branding on their keyboards, but the IKBC logo on the spacebar is small and tasteful.
The Switches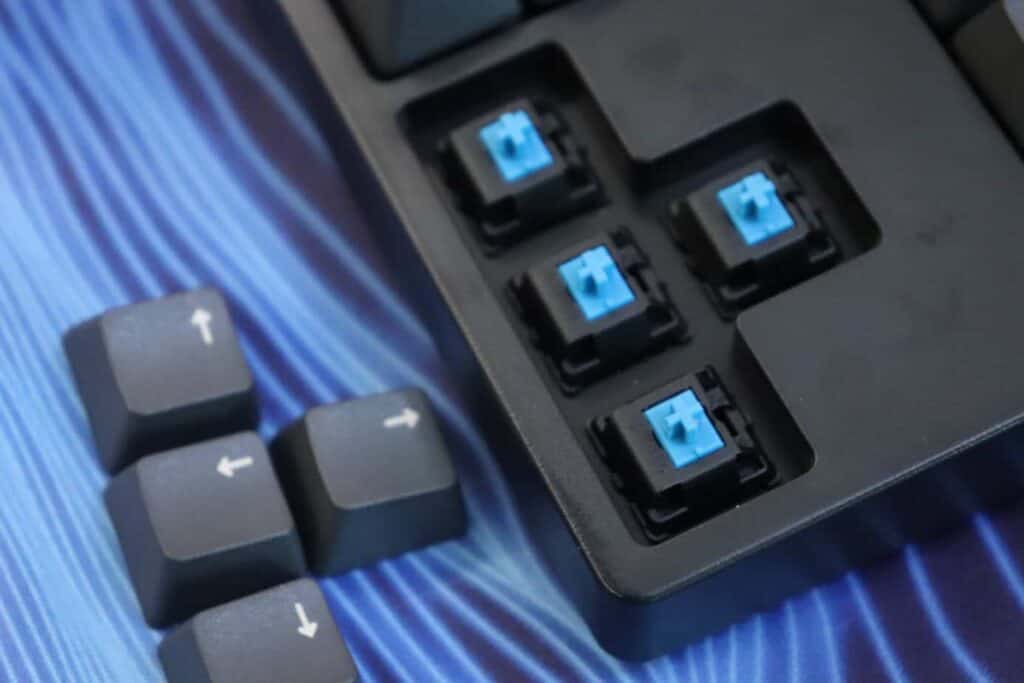 We got the iKBC CD87 with Cherry MX blue switches, which have a really satisfying clicky sound.
While I really enjoy the sounds and typing experience of these switches, it can get really annoying for those working around you!
I would not recommend bringing a keyboard with blue switches to the office.
Luckily, the iKBC CD87 has other Cherry MX switch options so you can pick what will work best for you.
The available colors are: brown, red, blue, and clear. Cherry MX brown and clear switches are tactile, which will be less noisy than the blues but produce moderate sound.
Browns have less resistance than the clears, so if you are a lighter typist the browns may be the way to go. The red switches are linear, so these will be much smoother and by far the quietest option.
If you would like to learn more information about the different switch colors and their feel, check out our comprehensive article about Cherry MX switches.
The Keycaps
The keycaps on the iKBC CD87 are made from PBT plastic, which is the preferred material of mechanical keyboard users.
PBT keycaps usually feel more matte and are more resistant to oils than their ABS counterparts.
ABS keycaps are found more commonly on budget keyboards, so the fact that the iKBC CD87 has PBT keycaps at its price point is awesome!
The legends are in a white font, just simple and uncomplicated. Since there is no backlighting, its nice to have a high contrast between the keycap and font color.
In the standard OEM profile, the keycaps on the iKBC CD87 are sculpted to let your hands rest in a comfortable position.
Just remember, that the extra blue and red keycaps are also sculpted differently. Just make sure to pay attention to that when putting them on so it matches the profile.
The Stabilizers
The stabilizers sound really nice on the iKBC CD87.
At this price point you can pretty much expect sub-par stabilizers, so it was a nice surprise that these weren't rattily.
The spacebar and larger keys sound crisp when pressed, indicating that the stabilizers were probably factory lubed. Stabilizers can make or break a typing experience, so I was pleased with quality found on the iKBC CD87.
Mac and Windows Compatible
This keyboard is compatible with both Mac and Windows, which is helpful for those who switch between devices. To make the keyboard fully suitable for Mac use you will have to change some key functions, but that can be done pretty easily.
Bluetooth Option
We have the wired version of this keyboard, but at a higher price point, you can get this model with Bluetooth. Having the Bluetooth capability is really useful, and that also means greater portability with a detachable cable.
This version also has DIP switches on the back, which allow you to enable other "modes" on the keyboard. This may be useful for setting and quickly accessing a preferred gaming mode.
---
Conclusion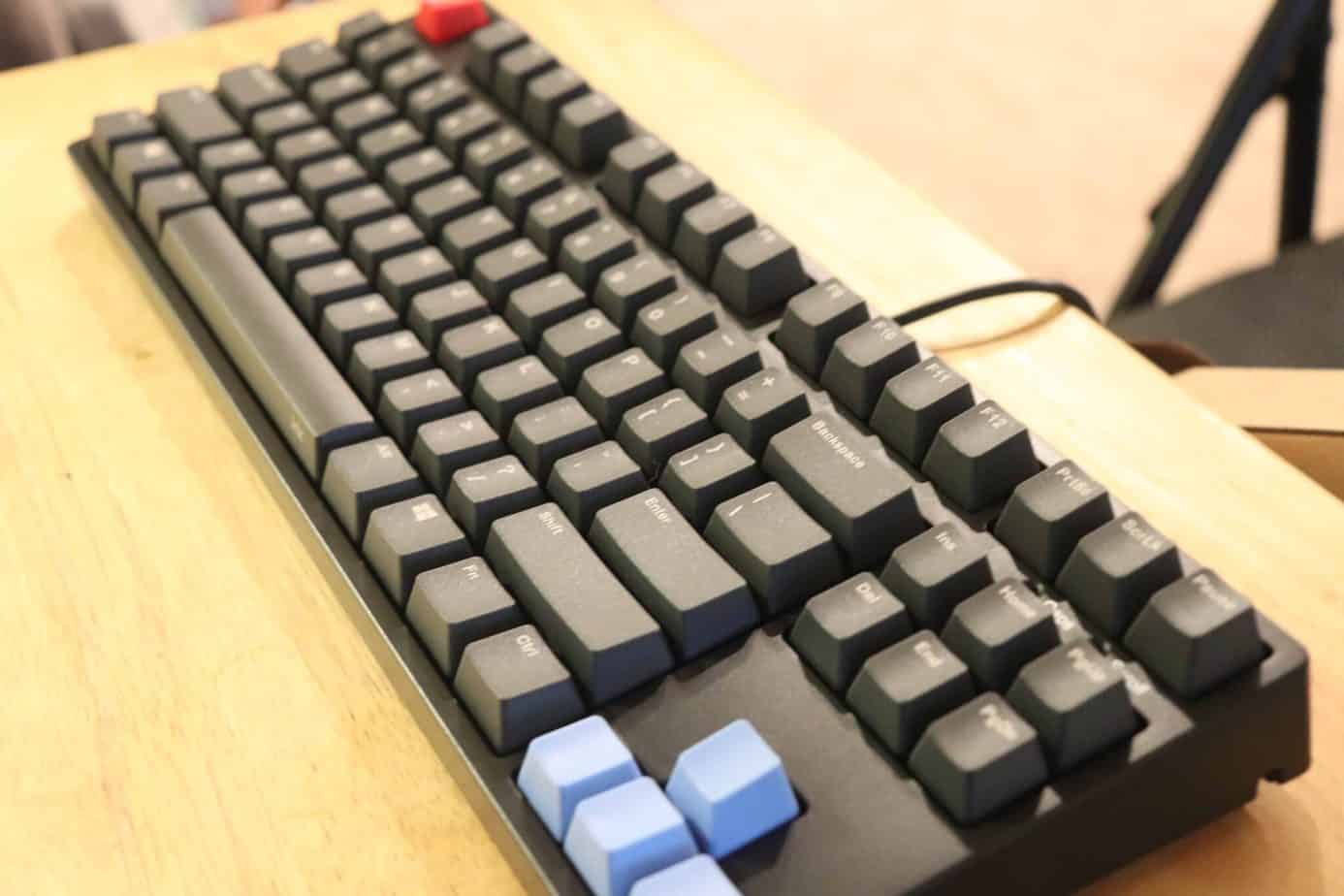 If you are on the hunt for a lasting and sturdy keyboard, the iKBC CD87 may be for you. Every aspect of this keyboard is simply well-made, setting the standard pretty high for budget keyboards.
The only downside, which is hard to even pin as a downside at this price point, is the non-detachable cable. This is only a minor inconvenience in that it reduces the portability of the keyboard.
We liked the Cherry MX blue switches on this keyboard, but again they may not be best for office use. I'm sure that the other switch options would sound and feel just as great.
I really like how the extra keycaps offer some options to brighten up and add personality to the keyboard, but if you want to keep the simple look you can.
We've already said it, but the iKBC CD87 is just super dependable and great for a budget keyboard.
Remember to check out this keyboard on Amazon to learn more!