SteelSeries is a company focused around making gaming peripherals such as keyboards, mice, and headsets. Today we're going to take a closer look at their keyboard lineup and rank them based on price, features, quality, sound, and how they feel.
The Steelseries Apex Pro is a mechanical keyboard with omnipoint switches. The Apex 7 is mechanical with Red, Blue, or Brown switches. The Apex 5 is a keyboard with hybrid switches. The Apex 3 is a rubber-dome keyboard with a plastic case. The Apex 7 and Pro come in full or tenkeyless sizes. While the Apex 3 and 5 only come in full-sized layout.
We'll dive a bit deeper into why we ranked the keyboards the way we did and talk about the unique features of each model to figure out which may be the best keyboard for you, based on your budget and preferences.
1. SteelSeries Apex 7
Let's kick off the list with our favorite keyboard from SteelSeries and work our way down to the worst. The results may surprise you, as the most expensive product does not rank number one – and for good reason. We'll explain our entire thought process for how we chose the best SteelSeries keyboard.
Our Favorite Keyboard from SteelSeries
The Apex 7 is the best keyboard from SteelSeries, in our opinion. The Apex 7 is a mechanical keyboard that comes with your choice between a Red, Blue, or Brown SteelSeries-branded switch. The keyboard also comes in two different layout sizes: tenkeyless(TKL) or full-sized. We preferred the more compact TKL layout as it fits better on a smaller desk and looks more aesthetic with a slightly squarer shape to it.
Well-Constructed
The Apex 7 has an aluminum top plate and volume wheel with a plastic back. The keyboard feels well-constructed although it does have a slight flex to it. The Apex 7 also have USB-passthrough so you can plug an additional USB port into it. The stabilizers feel good and they are not too loud or shaky sounding.
Should You Buy the Apex 7?
The keyboard is priced in the mid-to-high range, but we feel it could be great pick for someone who needs a gaming keyboard that's loaded with different features and won't be moving it around too much as the non-detachable cable makes it difficult to take with you on the go. You can find the SteelSeries Apex 7 on Amazon through this link for a pretty competitive price.
2. SteelSeries Apex 5
The Apex 5 is an interesting keyboard from SteelSeries, as the keyboard is quite unique with a hybrid switch. The Apex 5 is only offered in the full-sized layout and similar to the Apex 7, has the aluminum top plate build with the plastic back. The build is actually more impressive on the Apex 5 as the keyboard is in a lower price range, but is the exact same – minus the USB passthrough.
Hybrid Switch: Part Mechanical, Part Rubber Dome
The hybrid switch is a cross between a mechanical switch and rubber dome switch, which I assume SteelSeries made so they can save on cost and offer a "mechanical" keyboard at a slightly lower price range. Surprisingly, the hybrid switch is actually quite nice, it emulates the feel of a Cherry MX Blue and is loud and clicky. The only downside to the hybrid switch is the durability is not rated as quite as high. The hybrid switch only lasts for 20 million keystrokes in comparison to Cherry MX's 100 million. But in a Pepsi Challenge, it may be difficult for someone to tell the difference between the two, which is saying a lot.
Should you Buy the Apex 5?
Being the hardcore mechanical keyboard enthusiast that I am, I have a little trouble recommending the Apex 5. You can find a nice true mechanical keyboard in the same price range as the Apex 5, without having the sacrifice the quality and feel of a true mechanical switch. On the other hand, if you really like the feature of the SteelSeries keyboard but can't afford the Apex 7, it wouldn't be that bad of an option. It's really difficult to find a keyboard with he OLED screen and volume wheel on other keyboards.
You can find the Apex 5 on Amazon through this link if you are interested.
3. SteelSeries Apex Pro
Pricey…But is it Worth It?
The Apex Pro is the flagship product from SteelSeries and is by far the most expensive keyboard they offer. So you may be wondering, how the heck did this keyboard rank #3? Well it all comes down the Omnipoint switches offered on the Apex Pro. As a whole, we didn't feel like the Apex Pro was good enough to be listed at its current price point. The non-detachable power cable and ABS keycaps really hurt this keyboard, as they should be better on a keyboard at this price point.
Omnipoint Switches: Breakthrough in Switch Design or a Dud?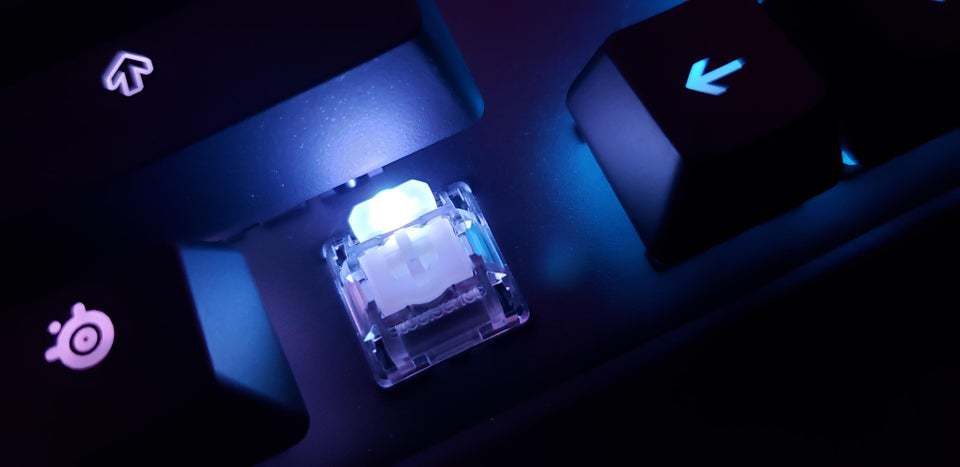 The Omnipoint switches were by far the biggest selling point of the Apex Pro. These switches are super interesting with an adjustable actuation distance based on what you want. You can choose any one of the 10 preset settings, between extremely responsive and more in the normal range. So, do these switches make a difference? The short answer is yes… but no.
You can definitely notice a difference when the actuation distance is in the shortest range, everything feels extremely fast and responsive but also very strange. It definitely takes some time to get used to, but overall I don't think it would have too much of an effect on your gaming performance. The only situation I can think of where it may be better, is if you're competitive gamer and spend a lot of time adjusting to these switches, then you might get a <1% increase in game. The fact that you get to customize the actuation distance is pretty cool though and I'd like to see how SteelSeries more fully develops its design.
Omnipoint Switches vs Cherry MX
Based on the cost the Omnipoint switches are way more expensive than Cherry MX switches, but they do allow you to change the actuation distance of the switch. The Omnipoint switches may give you a slight improvement (<1%) in gaming after you've had a lot of time to get used to them.
Should You Buy the Apex Pro?
The only reason I could recommend this keyboard to anyone is if you really want to get your hands on the Omnipoint switches. Besides that, there really isn't anything special about the Apex Pro and in a lot of ways the features don't match the price point – in a bad way. Maybe if SteelSeries ever decided to upgrade to PBT keycaps, a full aluminum frame, and detachable USB-C cable I would recommend buying it. Anyways, if you are interested, you can find the Apex Pro on Amazon through this link.
4. SteelSeries Apex 3
Coming in last place is the Apex 3. The Apex 3 is a rubber dome keyboard with a plastic case, coming only in the full-sized layout. The Apex 3 ranked last on the list because there is really nothing special about it except for the standard features on all of the SteelSeries keyboards. The fact that the keyboard is rubber dome, but still priced like a low-range mechanical keyboard makes it very difficult for me to recommend this keyboard.
Not to mention, the case is entirely plastic which really downgrades the overall quality in my opinion. If you're looking for a keyboard in this price range, I would recommend a cheap mechanical keyboard instead, you'll find the durability and lifespan is much longer and you still get the individual switch design. The keyboard is water resistant though, so if you have a habit of spilling liquid on your keyboard this may be for you.
If you want the scroll wheel, macro keys, and media keys but don't have the budget for the Apex 5 or 7, then I would recommend you get the Apex 3, otherwise the keyboard is just not worth it. You can find the Apex 3 on Amazon through this link for a pretty cheap price.
Should you Get a Keyboard from SteelSeries?
Before we dig into the list, let's talk about SteelSeries as a company. Does SteelSeries make quality products? For the most part, companies that focus on making peripherals for the purpose of gaming tend to have products that are not very great quality that are also overpriced.
SteelSeries, however, actually makes quality products and I would recommend you at least consider them for your next mechanical keyboard purchase. We would say they definitely beat out companies such as Razer or Corsair, who are definitely guilty of not-so-good products.
The Similar Features of Each SteelSeries Keyboard
All of the keyboards from SteelSeries come baseline with a few features, let's talk about those now so we can really talk about what makes each keyboard unique in the next section. All of the keyboards come with a sleek dark grey aesthetic and floating keycap design, that looks slim and not too bulky. They all come with six programmable keys that you can load with your own custom macros and loads of different RGB settings.
Really Cool Additions
The keyboards have a very nice, magnetic, soft-feeling wrist rest. This is by far the nicest wrist rest I've ever seen come standard with a keyboard. In the top-right of the keyboard there is an OLED screen with a volume wheel to adjust your sound-levels, RGB, brightness, all on the fly.
The only outlier is the Apex 3 which does not come with the OLED screen. I found this to be very helpful for changing music while playing games or working on a full-screen application.
Some Features Fall Flat
The keyboards have a non-detachable power cable with a few different routing options underneath to help with cable management. The power cable is very thick and difficult to route, it would have been way better if they went for the detachable USB-C cable route instead. But I do understand why they would need it on the keyboards that have USB-passthrough.
The keycaps are slightly disappointing, they are constructed with ABS plastic and over-time they develop a greasy shine to them. If SteelSeries ever went for a more high-quality PBT keycap instead of the ABS, they would vastly improve their entire keyboard lineup.
Quite a Nice Keyboard, Overall
Overall, the general design of each keyboard is very nice and well thought-out from a functionality and aesthetic standpoint. The keyboard has good bones but there are definitely some areas they could improve, and we do think the keyboard has the potential to be great.
Conclusion
Today we took a deep dive and ranked all of the keyboards offered by SteelSeries and talked about what features really make the company unique. Overall, SteelSeries make high quality and long-lasting mechanical keyboard products, but we found the Apex 7 to be the best keyboard they offer by far. The Apex 5, Apex Pro, and Apex 3 were all decent keyboards as well, but they really didn't stand out in anyway for one reason or another.
The Omnipoint switches from SteelSeries were quite interesting as well, with their adjustable actuation distance, but it can really hard to justify the cost of them. From now on, we're just going to recommend people buy the Apex 7 with standard mechanical keyboard switches, although we do appreciate SteelSeries attempts to innovate in the mechanical keyboard field.