So, you are on the prowl for just the right membrane keyboard that checks all the right boxes. You are in luck because membrane keyboards, unlike their mechanical counterparts, are readily available and usually budget-friendly.
If you want the best all-around non-mechanical membrane keyboard, with a culmination of the best features, the Logitech K345 is the best choice. However, other factors come into play when purchasing the best one for you, such as price-point, portability, noise-level, key travel, and aesthetic.
Let's break down the features of some of the best membrane keyboards on the market, and you can decide what you value most.
1. Best Overall: Logitech MK345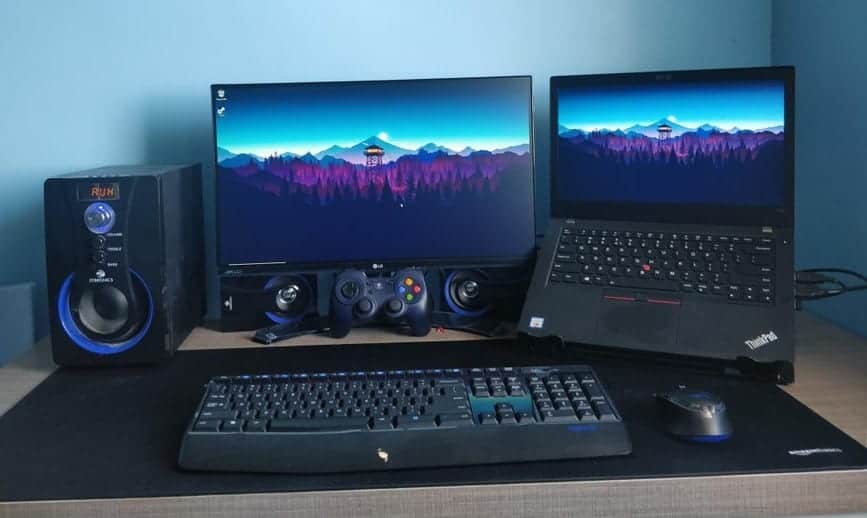 Logitech is no stranger to the keyboard department, as they have a wide array of choices for consumers with different necessities. The MK345 proves to be one of its top-selling models, as it is a perfect blend of comfort, size, and durability.
It is no mystery as to why the MK345 is so revered in the realm of keyboards. This widely popular wireless keyboard/mouse combo is well loved by consumers. So, what is it about the model that makes it a top contender? It checks off the list for what most consumers need a keyboard to do and does them with minimal fuss or hang-ups.
You can find the Logitech MK345 on Amazon for a super competitive price.
Dependability and Durability
Logitech touts an impressive four-year-long battery life in regards to the MK345 keyboard. This is provided by two AAA alkaline batteries that are generously included in the packaging. If you encounter issues with the keyboard, Logitech stands by its products by providing a 1-year limited hardware warranty and excellent customer support channels. It is also spill-resistant, as an added bonus. The inevitable coffee, tea, or water spills are no match for this rugged keyboard!
Comfort
The MK345 makes comfort while typing its top priority due to its generously sized, textured palm rest. If you tend to type for hours at a time, your wrists will thank you for this addition. At the bottom of the keyboard are two plastic feet, which help for height adjustments and are perfect for those who prefer to type with their keyboard propped up. Lastly, the familiar layout and tactile keys make the typing experience an enjoyable one.
Additional Features
This full-sized keyboard comes equipped with 12 function keys that can enhance the way you interact with media. Play, skip, rewind, fast-forward, and pause audio/video without having to think about touching your mouse with this keyboard! The MK345 is fully wireless, which helps versatility and declutters your work area.
Price
With all of its standard, modern features, the Logitech MK345 sits at an average price point. Four years of battery life, a comfortable typing experience, and durable design make this keyboard a bargain buy. You can find the MK345 here on Amazon.
Alternative Non-Mechanical Keyboards
The aforementioned Logitech MK345 is a great buy for those who desire a swiss army knife product. However, some buyers may value certain features more than others.
For example, a blogger who spends countless hours typing at a desk may prefer a more ergonomic design. Serving as a contrast, a minimalistic individual will most likely prefer a more compact, low-profile design. Others may simply want the most budget-friendly option and are content with disregarding the bells and whistles other options have.
Because consumers desire specific needs out of their keyboards, I have compiled a list of alternative, non-mechanical keyboards that are the best in certain functional areas.
2. Best in Ergonomics: Logitech Ergo K860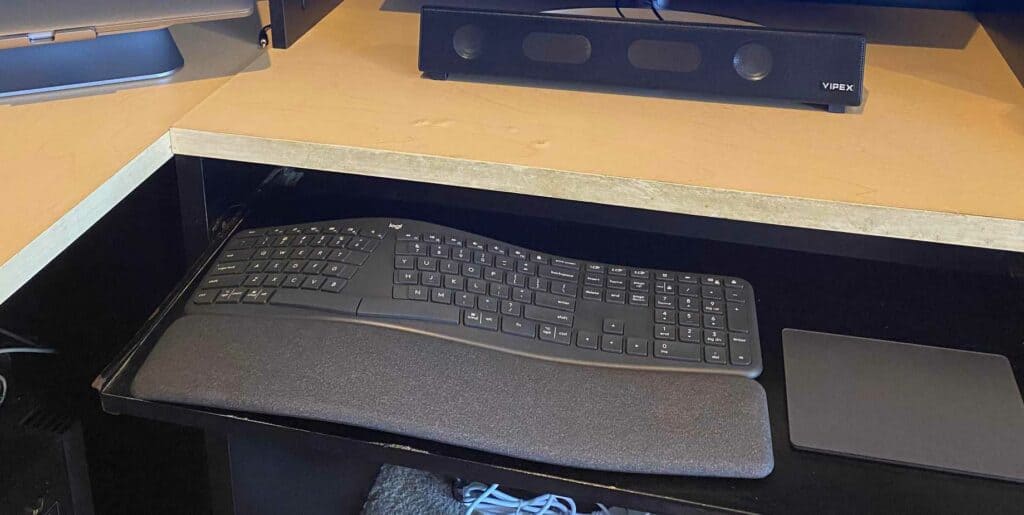 Yet another Logitech product makes the list and with great reason! For those who spend countless hours typing, an ergonomic keyboard is a must-have to cut down on strain on the muscles for longer typing sessions. Though it is one of the pricier entries in this segment, your wrists will thank you in advance because it prioritizes comfort.
The center of the Logitech Ergo K860 's keyboard is slightly raised, which helps reduce tension to forearms and wrists. The K860 features a split down the center, and according to an article on Kenesis, allows you to rotate the shoulders outwards to promote a natural typing position. There are several other comfort-related features which make the K860 a great purchase for those who value ergonomics.
You can find the Logitech K860 Ergo on Amazon for a competitive price here.
3. Best In Portability: Apple's Magic Keyboard
For those who are constantly on the road, in and out of airports, and always seem to be on the go, Apple's Magic Keyboard does wonders. Measuring at a respectable 10.98 inches in length and a .16-.43 width, this ultra-thin keyboard slides in and out of backpacks effortlessly. It weighs in at a mere half-pound, making it as light as a feather. Comfortably sit in train stations or coffee shops without occupying a lot of real estate thanks to the low-profile design.
The only caveat the magic keyboard faces is that the battery is rechargeable via USB to Lightning connection, which may not be a huge hassle if you use an existing USB port on your laptop/tablet to charge it. But, this keyboard sits towards the higher end of the price spectrum but is well worth it for those who need a reliable – yet portable – keyboard.
You can find the Apple Magic Keyboard on Amazon through this link.
4. Best in Price: Logitech K120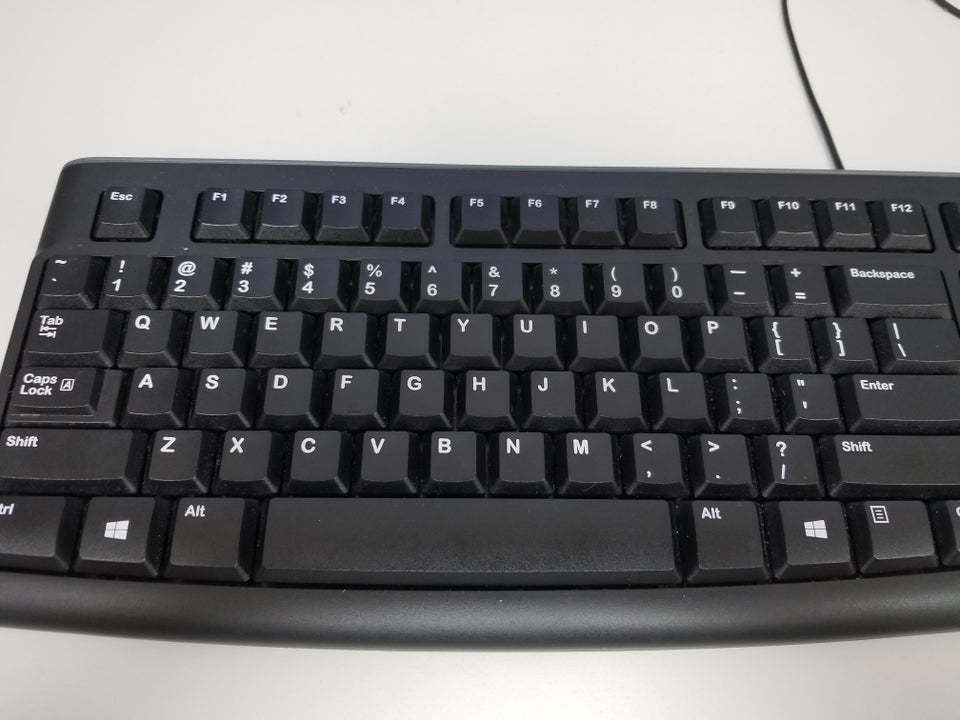 The K120 is a bargain buy for the keyboard shopper who needs a robust keyboard that "gets the job done" without all of the added bells-and-whistles that other entries in this list come with. It lacks some of the fancier options that previous entries had, such as audio controls or a palm rest, but it remains a dependable piece of hardware.
Usually found under $20, the K120 is a budget-friendly keyboard requiring a simple wired connection via USB to get started. The keycaps are just as, if not, more sturdy than some other entries on this list and it also features spill resistance. Because the connection is wired rather than wireless, you will rarely run into connectivity issues that occasionally find themselves present in wireless keyboards.
The Logitech K120 may be inexpensive, but by no means is it incapable. Those value both practicality and functionality, look no further. The Logitech K120 can be found on Amazon for a super affordable price.
5. Best in Gaming: Razer Cynosa Chroma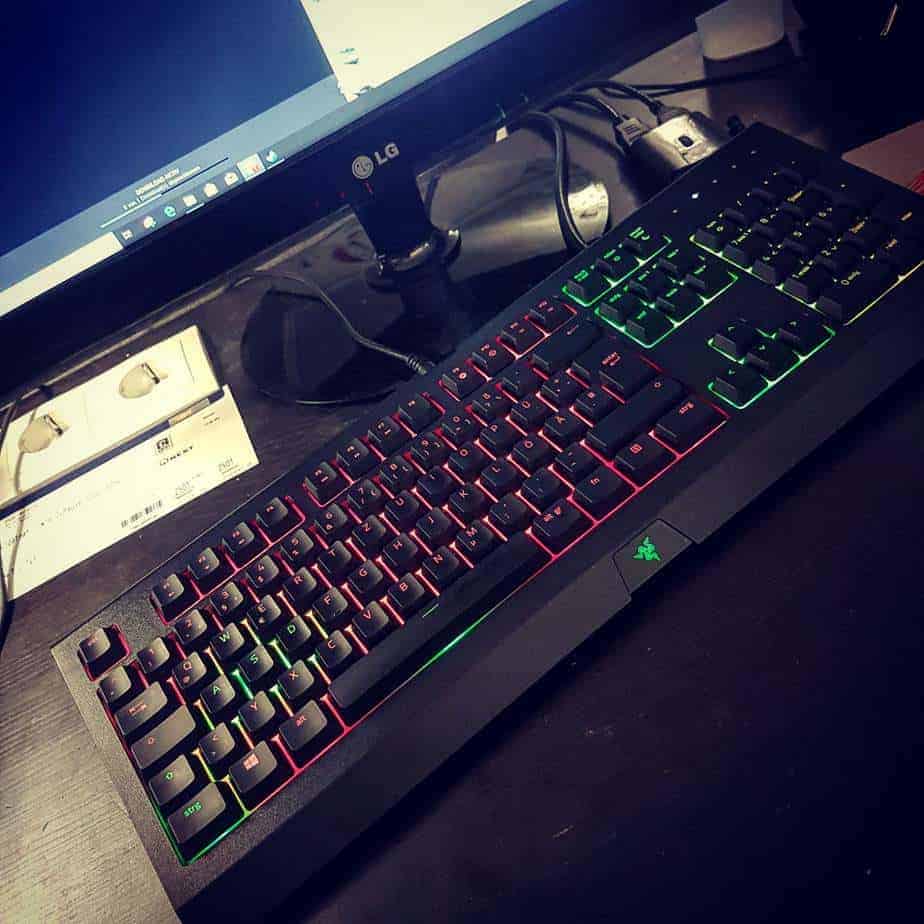 Those in the gaming community may prefer mechanical keyboards for their tactile feedback and accuracy, thanks to the springs located beneath each keycap. Although the majority of gaming keyboards are mechanical, they may not be preferred by some. For that reason, the Razer Cynosa Chroma is a great choice for the gamer who would rather opt-in for the non-mechanical alternative.
It comes standard with many attractive features that help make your gaming experience be a seamless one. It is membrane-based, which makes for a quieter typing experience than mechanical keyboards.
The keys themselves are cushioned with a soft material, which makes each keystroke comfortable. Even with the cushioned, membrane-based keys, they are still tactile and help ensure accuracy- a must for core gamers.
What's more is that there are 10 keys with the "rollover" feature, which TechTerms defines as detecting all keystrokes regardless of how many are pressed at the same time. This is critical in PC games, which require many different inputs simultaneously. 
The Razer Cynosa Chroma is no slouch in the design department, either. This flashy keyboard comes with a fully lit, customizable keyboard. The colorful lighting underneath the keys, or underglow lighting, can be customized into 22 different color variants. It is singlehandedly the most eye-catching model out of all the others listed.
The Razer Cynosa Chroma can be found on Amazon through this link.
Why Get a Non-Mechanical Membrane Keyboard?
You might be wondering, why the heck is a blog all about mechanical keyboards giving out membrane keyboard recommendations? Well, not everyone prefers mechanical keyboards, and there is nothing wrong with that. While many enjoy the unique feel of mechanical switches, other still prefer the rubber dome tactile actuation. In addition, membrane keyboards can be found for a lower price and loaded with features.
While there are several silent switch options for mechanical keyboards, membrane keyboards tend to be quieter. If you're looking for a keyboard that you can stealthily type on, a membrane keyboard will almost always be silent. In addition, membrane keyboards are standard for offices and public settings.
If you want a keyboard that is super professional and won't stand out in the workplace, getting a higher-end membrane keyboard could be a good pick if you don't want your coworkers asking about why you have a mechanical keyboard.
There are several reasons why someone would want a membrane keyboard over a mechanical and I won't attempt to judge them (too much). At the end of the day it's all about picking a keyboard that will work for you.
Choosing the Best Membrane Keyboard
Whether you're ready to spend only a few dollars or bigger budget, there is a non-mechanical membrane keyboard for you. While the Logitech MK345 is still our favorite, many others boast unique features well worth checking out. The most important aspect of choosing a keyboard is looking at how the keyboard will be used.
For example, if you plan on using a keyboard for gaming, you'll want a keyboard that has features such as N-key rollover, low response times, and anti-ghosting. If you need a keyboard for the office you want to make sure it doesn't have any bright colors, distracting light effects, or is too loud. Picking the perfect keyboard for you is all about maximizing application, style, and performance.
Conclusion
Picking out the perfect membrane keyboard in a world where everyone loves mechanical keyboards can be tough. To help you out, we put together a list of the best membrane keyboards to aide in the process of picking out a keyboard. For an all-around membrane keyboard, you can't go wrong with the Logitech MK345, but if you're looking for something that fills a certain application better, we also included our recommendations for gaming, ergonomics, portability, and price, so there is a membrane keyboard out there for everyone who wants one.
Happy Typing!