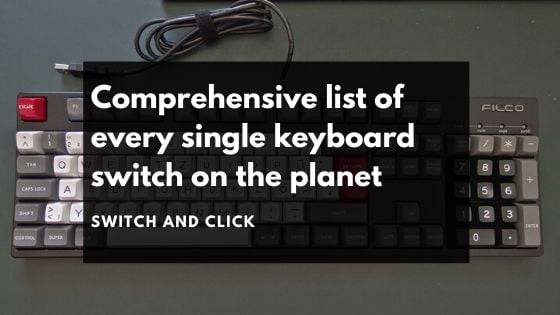 If you're new to the world of mechanical keyboards or even an enthusiast then you must know looking at hundreds of different switch types can get a bit overwhelming.
No matter where I looked on the internet, I could not find a comprehensive list that had all of the switches. Whether it's Cherry MX, Gateron, Kailh or any other type of switch it's quite difficult to sort through all these brands and find the switch that has the right feel for you.
The purpose of this post is to compile a list of all the different types and give a brief description of each switch. Search below to find info on every single switch you can possibly find.
Tip: If you're looking for a switch in particular, CTRL + F is your friend.
Ace Pad Tech
Hall Effect Linear

Linear contactless switch
Actuation force of 0.60N

Hall Effect Clicky

Clicky and tactile contactless switch
Actuation force of 0.60N

Hall Effect Tactile

Tactile contactless switch
Actuation force of 0.60N
Red

Linear switch
Actuation force of 0.45N
2 mm actuation distance
4 mm travel distance

Silent Red

Linear switch
Actuation force of 0.45N
1.9 mm actuation distance
3.7 mm travel distance
Sound dampened

Low Profile Red

Linear switch
Actuation force of 0.45N
1.2 mm actuation distance
3.2 mm travel distance
Shallow profile

Low Profile RGB Speed

Linear switch
Actuation force of 0.45N
1.0 mm actuation distance
3.2 mm travel distance
Shallow profile

Speed Silver

Linear switch
Actuation force of 0.45N
1.2 mm actuation distance
3.4 mm travel distance

Nature White

Linear switch
Actuation force of 0.55N
2 mm actuation distance
4 mm travel distance

Black

Linear switch
Actuation force of 0.60N
2 mm actuation distance
4 mm travel distance

Silent Black

Linear switch
Actuation force of 0.60N
1.9 mm actuation distance
3.7 mm travel distance
Sound dampened

Linear Grey

Linear switch
Actuation force of 0.80N
2 mm actuation distance
4 mm travel distance

Brown

Tactile switch
Actuation force 0.45N
Tactile force 0.55N
4 mm travel distance

Clear

Tactile switch
Actuation force 0.55N
Tactile force 0.65N
2 mm actuation distance
4 mm travel distance

Tactile Grey

Tactile switch
Actuation force 0.80N
Tactile force 0.80N
2 mm actuation distance
4 mm travel distance

Blue

Clicky and tactile switch
Actuation force 0.50N
Tactile force 0.60N
2.2 mm actuation distance
4 mm travel distance

White

Clicky and tactile switch
Actuation force 0.70N
Tactile force 0.80N
4 mm travel distance

Green

Clicky and tactile switch
Actuation force 0.70N
Tactile force 0.80N
2.2 mm actuation distance
4 mm travel distance

Viola

Linear switch
Actuation force 0.45N
Tactile force 0.75N
Cheaper
2 mm actuation distance
4 mm travel distance
Flaretech (Wooting)
Red

Optical and linear switch
Actuation force 0.55N
1.5-3.6mm actuation distance
4 mm travel distance

Blue

Clicky and tactile switch
Actuation force 0.55N
1.8mm actuation distance
4 mm travel distance
Tactile and audible feedback at two points

Black

Linear and optical switch
Actuation force of 0.60-0.80N
1.5-3.6mm actuation distance
4 mm travel distance
ALPS Fuhua (Fukka)
Green

Tactile and clicky switch
Actuation force 0.50N

White

Tactile and clicky switch
Actuation force 0.65N

Black

Linear switch
Actuation force 0.60N
Fraly
Blue

Tactile and clicky switch
Actuation force 0.60N
Gateron
Clear

Linear switch
Actuation force 0.35N
4 mm travel distance

Red

Linear switch
Actuation force 0.45N
4 mm travel distance

Black

Linear switch
Actuation force 0.60N
4 mm travel distance

Blue

Clicky and tactile switch
Actuation force 0.60N
4 mm travel distance

Green

Clicky and tactile switch
Actuation force 0.80N
4 mm travel distance

Brown

Tactile switch
Actuation force 0.55N
4 mm travel distance

Yellow

Linear switch
Actuation force 0.50N
4 mm travel distance
Greetech
Blue

Clicky and tactile switch
Actuation force 0.50N
4 mm travel distance

Brown

Tactile switch
Actuation force 0.45N
4 mm travel distance

Red

Linear switch
Actuation force 0.45N
4 mm travel distance

Black

Linear switch
Actuation force 0.55N
4 mm travel distance
IBM
Buckling Spring

Clicky and tactile switch
Actuation force 0.65N
Kailh
Blue

Clicky and tactile switch
Actuation force 0.50N
2 mm actuation distance
4 mm travel distance

Brown

Tactile switch
Actuation force 0.45N
2 mm actuation distance
4 mm travel distance

Black

Linear switch
Actuation force 0.60N
2 mm actuation distance
4 mm travel distance

Red

Linear switch
Actuation force 0.50N
2mm actuation distance
4 mm travel distance

Green

Clicky and tactile switch
Actuation force 0.60N
2 mm actuation distance
4 mm travel distance

BOX White

Clicky and tactile switch
Actuation force 0.50N
1.8 mm actuation distance
3.6 mm travel distance
Dust resistant

BOX Thick Navy

Clicky and tactile switch
Actuation force 0.77N
1.8 mm actuation distance
3.6 mm travel distance
Dust resistant

BOX Thick Jade

Clicky and tactile switch
Actuation force 0.66N
1.8 mm actuation distance
3.6 mm travel distance
Dust resistant

Speed Silver

Linear switch
Actuation force 0.50N
1.1 mm actuation distance
3.5 mm travel distance

Speed Copper

Tactile switch
Actuation force 0.50N
1.1 mm actuation distance
3.5 mm travel distance

BOX Red

Linear switch
Actuation force 0.50N
1.8 mm actuation distance
3.6 mm travel distance
Speed Bronze

Clicky and Tactile switch
Actuation force 0.50N
1.1 mm actuation distance
3.5 mm travel distance

BOX Heavy Burnt Orange

Tactile switch
Actuation force 0.60N
1.8 mm actuation distance
3.6 mm travel distance

BOX Heavy Dark Yellow

Linear switch
Actuation force 0.70N
1.8 mm actuation distance
3.6 mm travel distance

BOX Heavy Pale Blue

Tactile and Clicky switch
Actuation force 0.60N
1.8 mm actuation distance
3.6 mm travel distance

Kailh Speed Gold

Tactile switch
Actuation force 0.50N
1.4 mm actuation distance
3.5 mm travel distance

Kailh BOX Black

Linear switch
Actuation force 0.60N
1.8 mm actuation distance
3.6 mm travel distance

Kailh ML Chocolate Red

Linear switch
Low profile
Actuation force 0.50N
1.3 mm actuation distance
2.8 mm travel distance

Kailh ML Chocolate Brown

Tactile switch
Low profile
Actuation force 0.50N
1.3 mm actuation distance
2.8 mm travel distance

Kailh ML Chocolate White

Clicky switch
Low profile
Actuation force 0.50N
1.3 mm actuation distance
2.8 mm travel distance
KBT
Blue

Clicky and tactile switch
Actuation force 0.50N
4 mm travel distance

Brown

Tactile switch
Actuation force 0.45N
4 mm travel distance

Red

Linear switch
Actuation force 0.45N
4 mm travel distance

Black

Linear switch
Actuation force 0.55N
4 mm travel distance
Logitech
GL Tactile

Tactile switch
Actuation force 0.60N
1.5 mm actuation distance
2.7 mm travel distance

GL Linear

Linear switch
Actuation force 0.60N
1.5 mm actuation distance
2.7 mm travel distance

GL Clicky

Clicky and tactile switch
Actuation force 0.60N
1.5 mm actuation distance
2.7 mm travel distance
Matias
Click

Clicky and tactile switch
Actuation force 0.55N
2.2 mm actuation distance
3.5 mm travel distance

Quiet Click

Clicky and tactile switch
Actuation force 0.55N
2.2 mm actuation distance
3.5 mm travel distance
Dampened sound

Linear

Linear switch
Actuation force 0.35N
2.2 mm actuation distance
3.5 mm travel distance
MOD
H Tactile

Tactile switch
Actuation force 0.62N
4 mm travel distance

H Linear

Linear switch
Actuation force 0.62N
4 mm travel distance

L Tactile

Tactile switch
Actuation force 0.45N
4 mm travel distance

L Linear

Linear switch
Actuation force 0.45N
4 mm travel distance

M Tactile

Tactile switch
Actuation force 0.55N
4 mm travel distance

M Linear

Linear switch
Actuation force 0.55N
4 mm travel distance
Outemu
Blue

Clicky and tactile switch
Actuation force 0.60N
4 mm travel distance

Brown

Tactile switch
Actuation force 0.55N
4 mm travel distance

Red

Linear switch
Actuation force 0.50N
4 mm travel distance

Black

Linear switch
Actuation force 0.65N
4 mm travel distance
Green

Clicky and tactile switch
Actuation force 0.50N
1.9 mm actuation distance
4 mm travel distance

Orange

Tactile switch
Actuation force 0.45N
1.9 mm actuation distance
4 mm travel distance

Yellow

Linear switch
Actuation force 0.45N
1.2 mm actuation distance
3.5 mm travel distance

Clicky Optical

Clicky and tactile switch
Actuation force 0.40N
1.5 mm actuation distance
3.5 mm travel distance

Linear Optical

Linear switch
Actuation force 0.40N
1.0 mm actuation distance
3.5 mm travel distance
Topre
30g

Tactile switch
Rubber dome
Actuation force 0.30N
1.5 mm actuation distance
4 mm travel distance

35g

Tactile switch
Rubber dome
Actuation force 0.35N
1.5 mm actuation distance
4 mm travel distance

45g

Tactile switch
Rubber dome
Actuation force 0.45N
1.5 mm actuation distance
4 mm travel distance

55g

Tactile switch
Rubber dome
Actuation force 0.55N
1.5 mm actuation distance
4 mm travel distance

Silent 45g

Linear switch
Rubber dome
Actuation force 0.45N
1.5 mm actuation distance
4 mm travel distance
Varmilo
EC Sakura

Linear switch
Actuation force 0.45N
2 mm actuation distance
4 mm travel distance

EC Ivy

Clicky and tactile switch
Actuation force 0.50N
2.3 mm actuation distance
4 mm travel distance

EC Rosery

Linear switch
Actuation force 0.55N
2 mm actuation distance
4 mm travel distance
ZealPC
Tiffany Blue Tealios

Linear switch
Actuation force 0.67N

Blue Zilents 62g V2

Tactile switch
Actuation force 0.62N

Orange Healio

Linear switch
Actuation force 0.67N

Zealios 62g V2

Tactile switch
Actuation force 0.62N

Zealios 65g V2

Tactile switch
Actuation force 0.65N

Zealios 67g V2

Tactile switch
Actuation force 0.67N

Zealios 78g V2

Tactile switch
Actuation force 0.78N

Blue Zilents 65g V2

Tactile and silent switch
Actuation force 0.65N

Blue Zilents 67g V2

Tactile and silent switch
Actuation force 0.67N

Blue Zilents 78g V2

Tactile and silent switch
Actuation force 0.78N