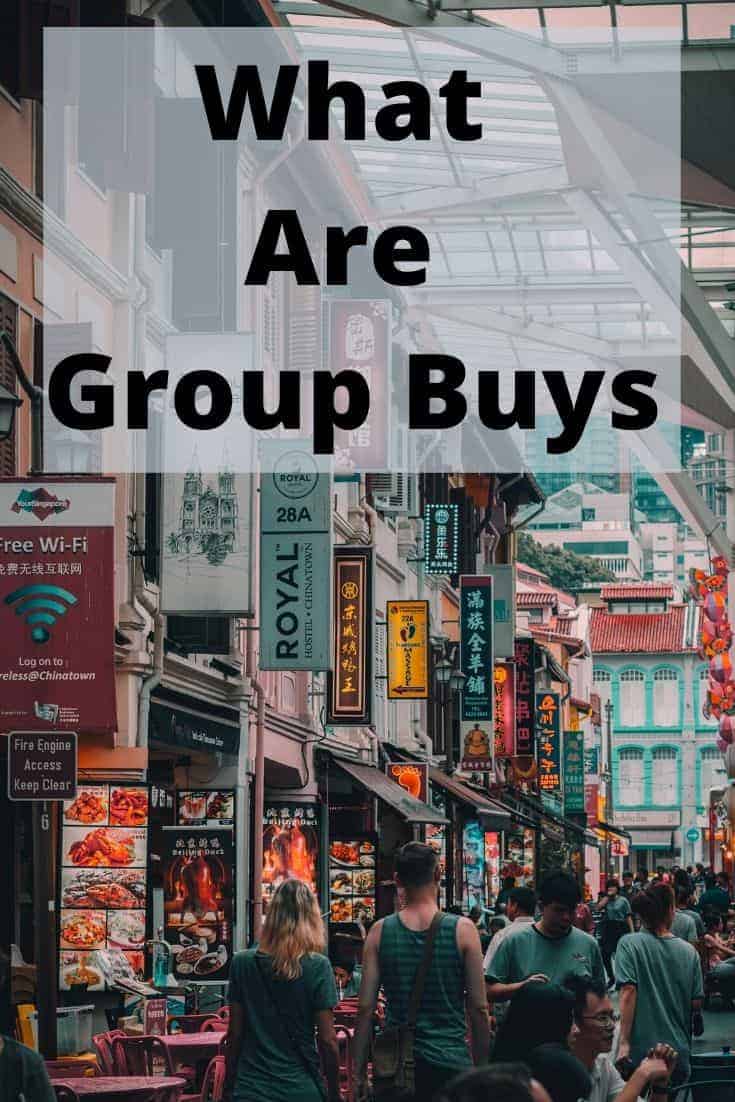 What is a Group Buy?
In this new series that will be highlighting group buys within the mechanical keyboard community, we will be going over their ending dates, and the products themselves.
First of all, what is a group buy?
A group buy is when a group of people get together and pay ahead of time for a product that will be made and delivered later, usually with a set deadline. This can result in small savings and opportunities to buy items that are custom designed by people within the community or to access items that aren't available in many stores.
Group buys can be set up by hobbyists to make keycap sets, cases, keyboard kits, and anything else they so choose to. Specific websites, such as Drop (formerly Massdrop) organize group buys on an easily accessibly platform. Other places to look for group buys within the mechanical keyboard community include GeekHack, /r/Mechmarket, KBDFans, and other small hobbyist makers such as tinymakesthings and Qlavier. Some companies start up their own Kickstarter pages to fund their product, and in return, promise you get that product in the future.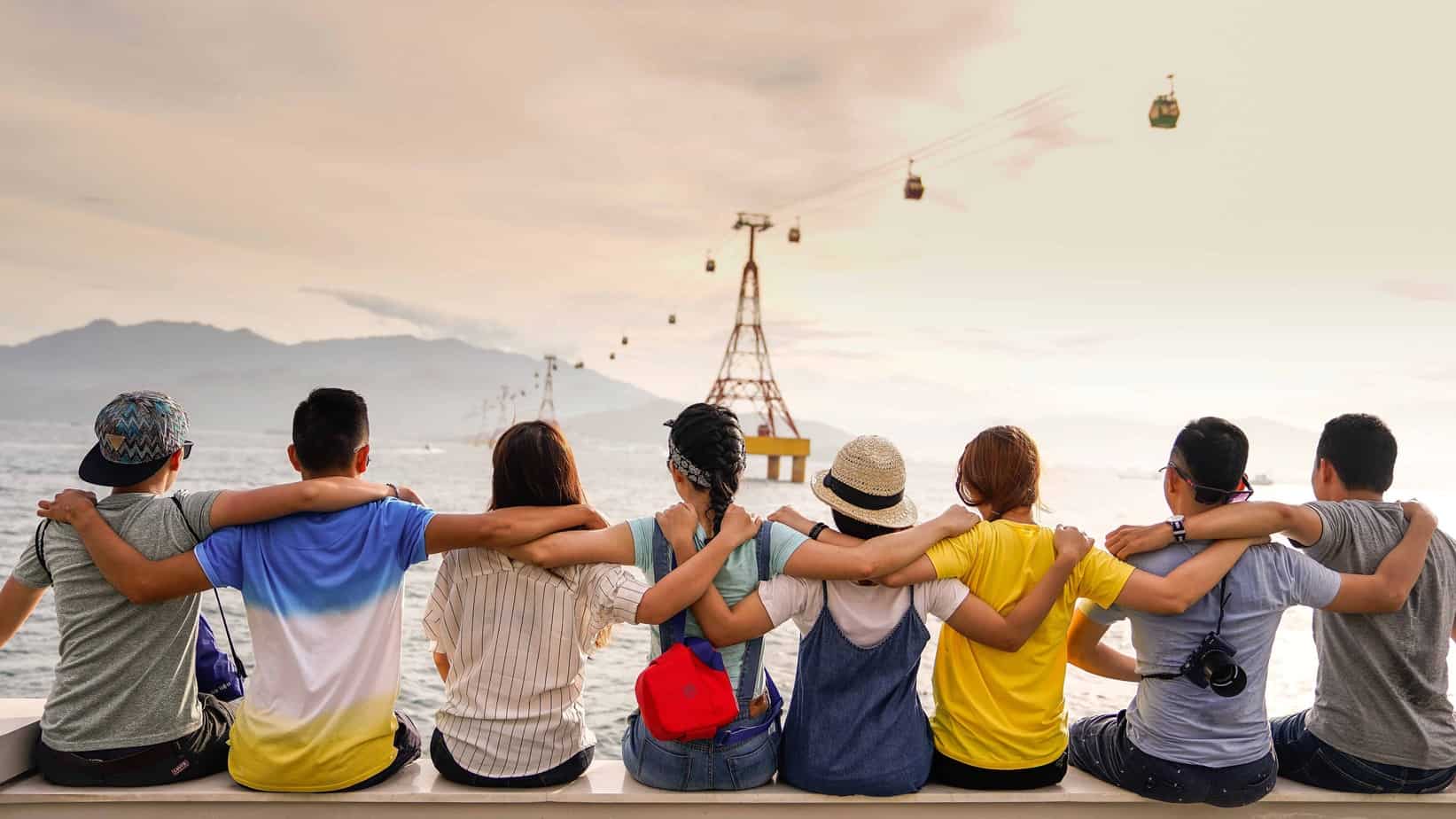 Things to Look Out for Before Joining a Group Buy
Make sure you ask a LOT of questions.
Because some group buys are organized by the seller themselves instead of companies such as Drop, you must be careful to not get scammed or cheated. We, at Switch and Click, take no responsibility if you do join a group buy that ends up being not what you expected it to be.
Know what the product is, what exactly the features are, if there are pictures of the products from multiple angles. Also ask others within the community if they're also looking forward to said product and what they know about the group buy.
Know the reputation of the group buy leader/seller.
This is along the lines of asking a lot of questions. Within the community's discussion boards, ask whether the buy or leader is reputable.
Have they done group buys before?
Did they deliver the product in good quality and on time?
Were there any previous complaints about them?
Make sure the person has good standing within the community, so that you know their product is backed by their personal integrity and reputation.
If the group buy leader or seller is doing their very first group buy, then they have a higher change of being delayed, not being prepared, not being good at communication with their customers, and not being experienced with the logistics such as shipping, packaging, and organization.
Understand that your group buy will take longer than you expect.
Many group buys that are organized by small groups or people are likely to take a longer time than they think they will get it done.
According to a survey between community members of the mechanical keyboards subreddit completed in 2015, 19% of group buys took longer than expected. The times delayed, however, ranged from weeks to even years.
The survey results and source will be linked here to the person collecting the data. I'll attach the picture below for quick reference.
A more recent discussion documented peoples' experiences with specific group buys within the past year.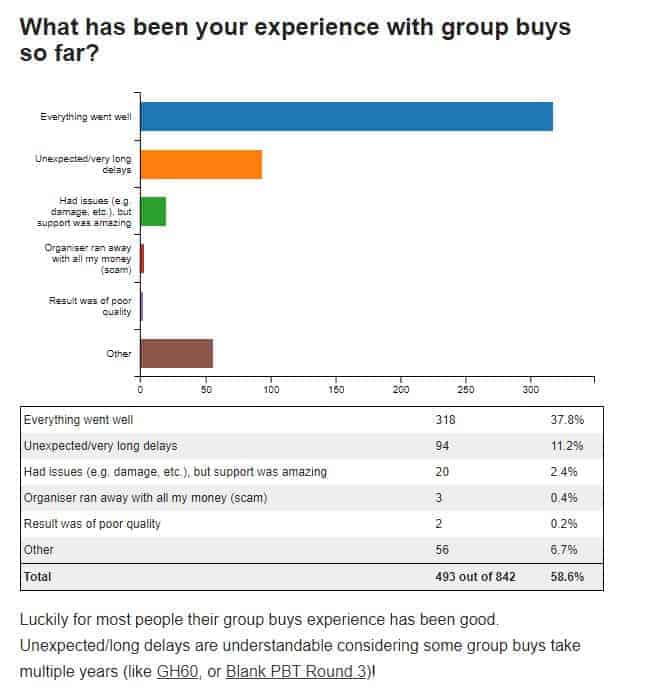 Know That The Money You Spend on a Group Buy Might Amount to Nothing
Some group buys, unfortunately, end up in disaster and failure. I'm not telling you to not participate in them at all, I'm saying to be cautious and really think about the situation before putting in your money.
Some of these buys could be outright scams with the seller or leader intentionally taking money from people with no intention of producing and giving them any product at all.
Sometimes, it may just be a lack of organization and experience which results in a failure.
According to the study above, in 10% of all group buys, the seller does not fulfill the orders of the buy. It could be due to many factors: illness, an accident, moving, depression, literally anything.
Drop (formerly Massdrop)
Drop teams up with designers and collaborates to come up with products that the community will like. They also feature third-party products after looking at polls and discussions for products the people want most.
The Drop team will contact the manufacturers and try to establish a connection to obtain those products. Other products, that the community did not pick out, are products that the manufacturers recommend, or they're selected by community managers.
For certain products, they only last a certain amount of time on Drop until the group buy closes. For third-party products, they last an average of 5-7 business days with one price. These are called runs, which are product offerings from Drop and third-party products. The selection of these product varies, so make sure to check their website regularly.
When the run ends, Drop places the order with the vendor. For you to get the product, the vendor can either ship directly to your front door or ship everything to Drop, who will then ship to you.
In the future, we plan on collecting information on Drop group buys, taking note of their end date, product details, estimated shipping, reviews, and more to make sure that there is a place where
Summary
Overall, group buys are a great opportunity to invest in a maker and product that is limited and not in most stores. But, on the other hand, there are many things to be aware of when going into a group buy.
Make sure you are cautious, don't just throw your money into them, ask a ton of questions regarding the reputation of the seller or leader and the product itself.
Keep in mind that it could take a really long time, even years, to get your product after committing your money into a group buy. Even reputable sites such as Drop can be delayed with product fulfillment.
Sources
Drop Drop.com
/r/MechanicalKeyboards Reddit.com
Disclaimer: Drop is an affiliate link. Clicking and purchasing through the link will not result in any extra charge to you, but we will get a small kickback in return for your purchases.