The Corsair K68 mechanical keyboard was released to the public in early 2018 on the Corsair website.
Coming in at a competitive price, the K68 is a mid-level priced keyboard and overall not too expensive.
It is a full size keyboard, which means it includes the arrow keys and num pad. The keyboard also comes outfitted with additional media keys to change brightness levels, sound, and fast forward/pause.
Overview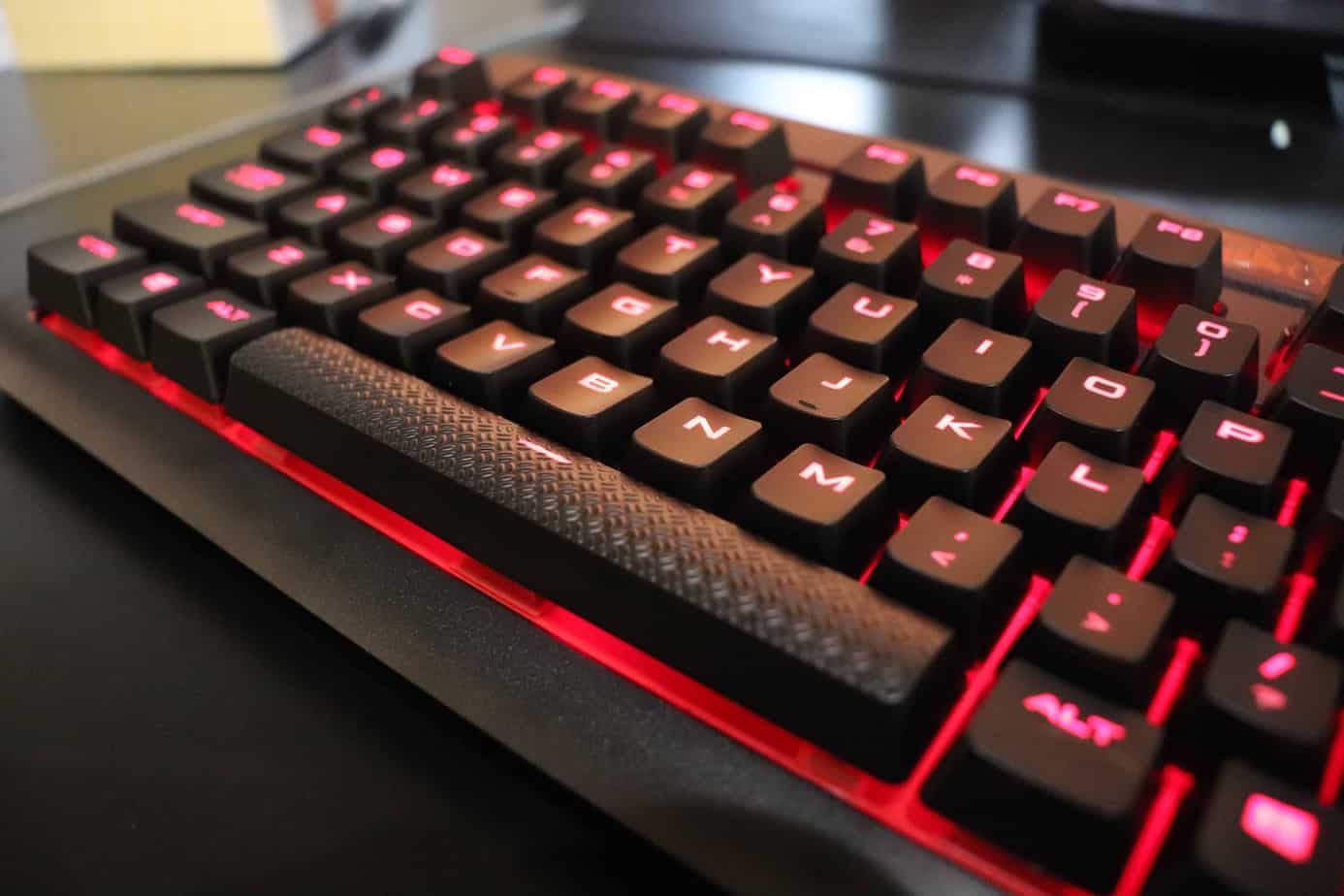 The specific model we are reviewing today comes outfitted with red back lighting and Cherry MX Red switches.
It is possible to upgrade to RGB back lighting but will cost an additional $10 and allows you to swap out the switch type to Cherry Blue or Cherry Speed, but keep in mind those switches are only available with the RGB model.
The switches are not hot-swappable, making it much more difficult to take out or swap them out post-purchase unless you're willing to re-solder back in place.
The power cable is a non-detachable USB-A port with no available option to switch or upgrade. The cable is protected by a small black sleeve.
Marketed as dust and spill resistant, this keyboard can withstand some soda or water spilled on it from time to time and is easier to clean.
While it's not the fanciest keyboard in the Corsair lineup, it's quite impressive.
You can find the Corsair K68 on Amazon for a mid-range price.
Specifications
104 keys
Cherry MX Red switches
Weight: 1.12 kg
Wired with no wireless connection available
Adjustable height
Spill/dust resistant
Non-detachable USB 2.0 Type A connection
Media keys
ABS plastic keys
Textured space bar
Included with keyboard:
---
Read Other Corsair Reviews
Corsair K100 Review: The Flagship to Rule Them All
Corsair K95 RGB Platinum XT Review: An Absolute Tank
Corsair K100 RGB vs K95 RGB Platinum XT: Battle of the Flagships
Corsair K60 Low Profile Review: Excellent for Gaming
Corsair K60 RGB Pro SE Review: Are Cherry VIOLA Switches Even Good?
---
First Impressions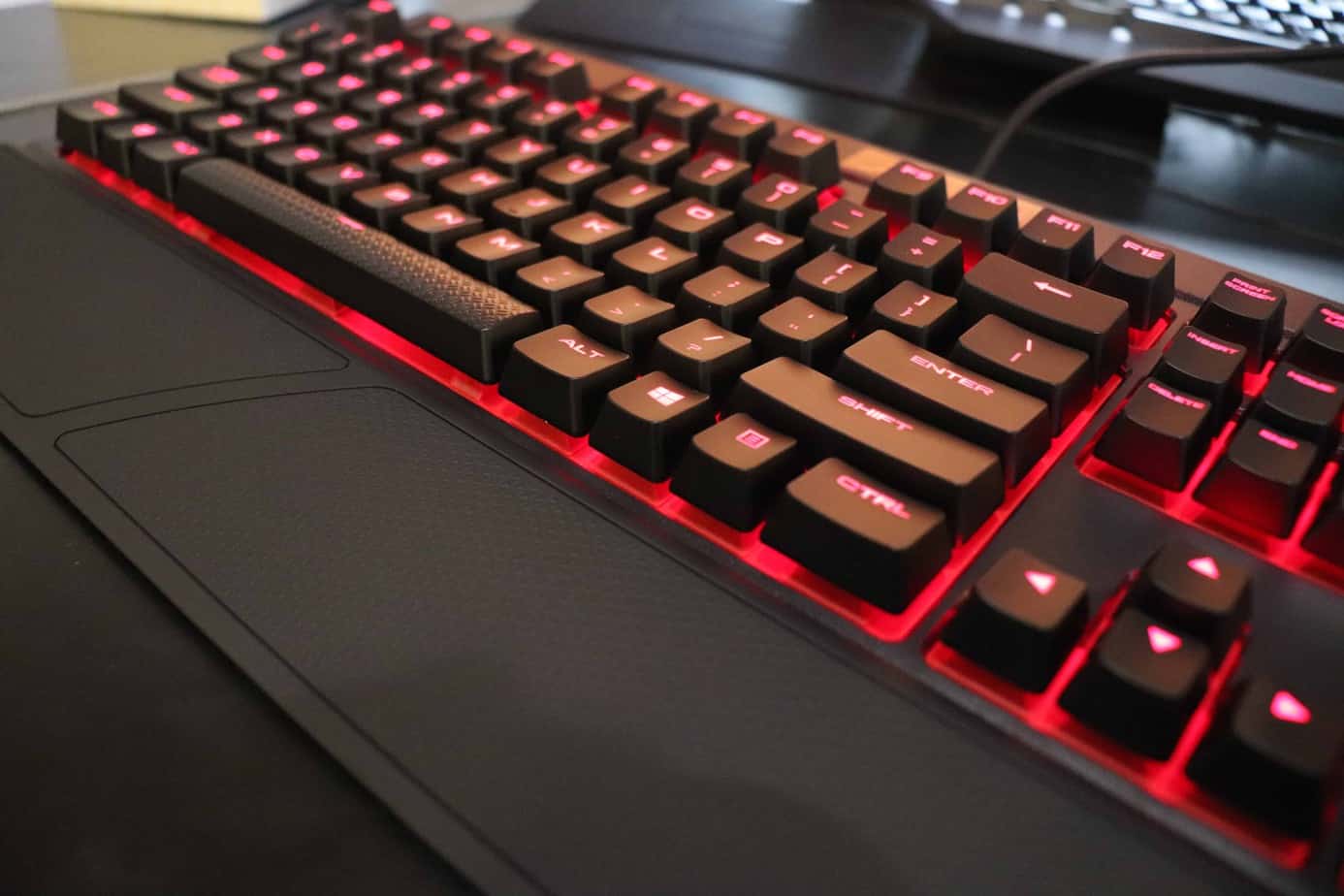 Upon opening the box, I am impressed by the overall aesthetic of the keyboard.
The case is black with a silver corsair logo at the top. Underneath the keys is red colored rubber that pairs nicely with the black case. The font on the keycaps is large and visible, but also has a nice sleek style to it. The space bar has a nice textured feel that I really enjoy.
As I go to plug the keyboard in, I can't help but be disappointed by the lack of detachable power cable and the fact that I'm limited to a USB-A cable with no option for USB-C.
The keyboard feels outdated in this regard and would expect the next model Corsair to release to have the ability to customize this a bit more.
The K68 comes shipped with a detachable wrist pad so I decide to install it to the keyboard before using it for the first time.
The wrist pad feels like it is made of cheap plastic and is quite thin so I question how much wrist support it actually provides. The only upside I can think about this part is that it's relatively easy to install to the keyboard. 
Corsair would have been better off not including this part with the keyboard, because it makes the overall quality of the product feel cheaper and less robust. If they want to include a wrist pad, I would expect it to be made of better material and actually provide wrist support.
After plugging this keyboard, I'm quite surprised by how bright the red backlighting is and quickly turn it down. If you enjoy typing in the dark at night without any lights I can see how this might make it easier to see the keys.
I am not a fan of the red backlight, but this is only a personal opinion so I will not hold it against this product. Although I do have to say, the product looked more sleek and better overall before I turned it on and was blasted by the red lights.
Overall I'm not too impressed with this keyboard, yet.
The Typing Experience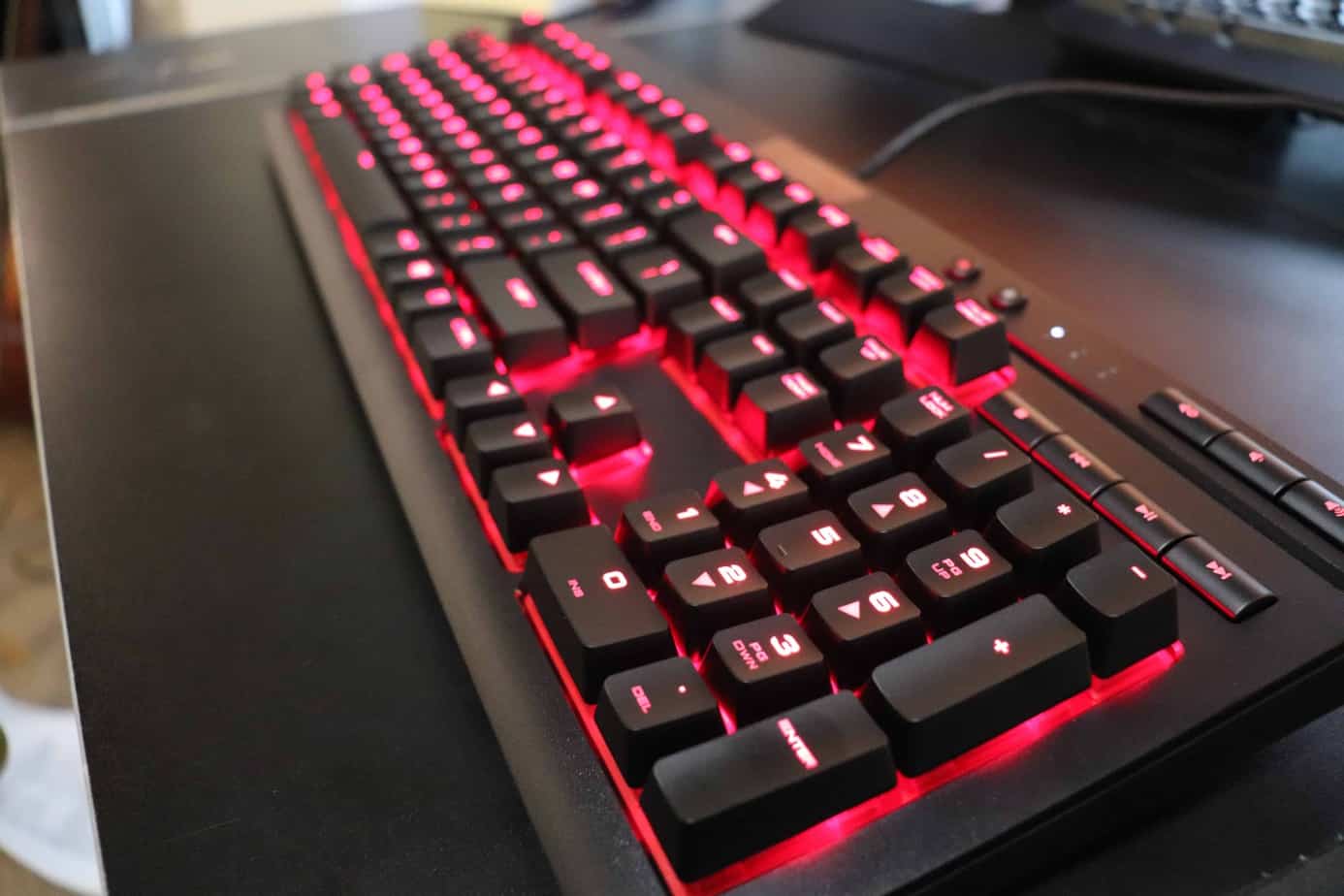 The Cherry MX Reds are pretty standard for a keyboard of this price range so I won't go into detail about them too much. Basically, they are a linear tactile switch made specifically for fast typists and gamers.
You can read more about them here.
The switches are covered are in a red rubber membrane that helps quiet and dampen the sound of the switches when they are actuated.
Overall, the rubber adds a nice aesthetic to the keyboard and is effective at lowering the decibels outputted. Unfortunately the rubber adds a mushy feel to the keys and a bit of friction when attempting to actuate the keys.
The stabilizers on the K68 feel a bit wobbly, the spacebar and enter keys will lean a bit if you gently press on the corners. These could really benefit from some custom modifications to improve the feel, but I'm not sure how difficult it would be to mod this keyboard considering the switches are not hot-swappable. I would look into a band-aid mod or even clipping the stabilizers.
After typing on this keyboard for a while, I noticed a clinging noise when pressing on specific keys and it slowly started to drive me crazy. The keys produce a high-pitched metal ringing noise each time they are pressed.
Honestly, this is a deal breaker for me and cannot see myself using this keyboard for more than the purpose of reviewing it. I'll try to capture that sound on camera during the click test.
What Makes The Corsair K68 Special
Overall, I feel like this a relatively generic keyboard with decent quality, which is what you can expect for a mid-range priced keyboard such as the Corsair K68.
I am impressed by the overall aesthetic of the keyboard and I enjoy the textured space bar. The media keys are also nice to have, but some people don't like/need them.
Complaints and Problems
I have three primary complaints about this keyboard.
Complaint #1: The Ringing noise
First and foremost, the ringing noise this keyboard produced was unbearable. I am not sure if this was a defect with my specific keyboard or if other people have experienced it as well.
But I am going to give Corsair the benefit of the doubt and assume that it was a factory defect. If you have experienced this problem as well, please leave a comment below.
Complaint #2: The wrist pad
The wrist pad is thin, made of cheap plastic, and provides little to no support. While being relatively easy to install, it provides little value at all. Corsair should not have even included this with the product as it cheapens everything else.
Complaint #3: The rubber on the switches
While nice for noise dampening and improves the overall look of the keyboard, this rubber makes it difficult to feel the actuation point on the Cherry Reds. It was a good idea, just not implemented in a great way by Corsair.
Complaint #4: Non-detachable cord
As I mentioned above the power cord is non-detachable and only available in USB-A. As someone who likes to customize this part, I am not a fan of the direction Corsair took in regards to making this cord non-detachable.
Complaint #5: ABS plastic
The keycaps are made of a cheaper ABS plastic that tends to wear our and look greasy after a lot of use. PBT would have been a superior plastic to use, but considering this is a mid-range keyboard, my expectations aren't too high about the quality of the plastic.
Summary
Overall the Corsair K68 is a relatively affordable mechanical keyboard and although I have quite a few complaints, the quality of the keyboard isn't bad and would make for a decent first mechanical keyboard.
The keyboard has a nice aesthetic to it, with a mix of red, black, and grey colors. That being said, I would definitely not recommend this to a keyboard enthusiast or purchased as a gift for someone that already owns a mechanical keyboard.
Anyways, that it for the review.