Out of the box, this keyboard is an upgraded essential for your workstation.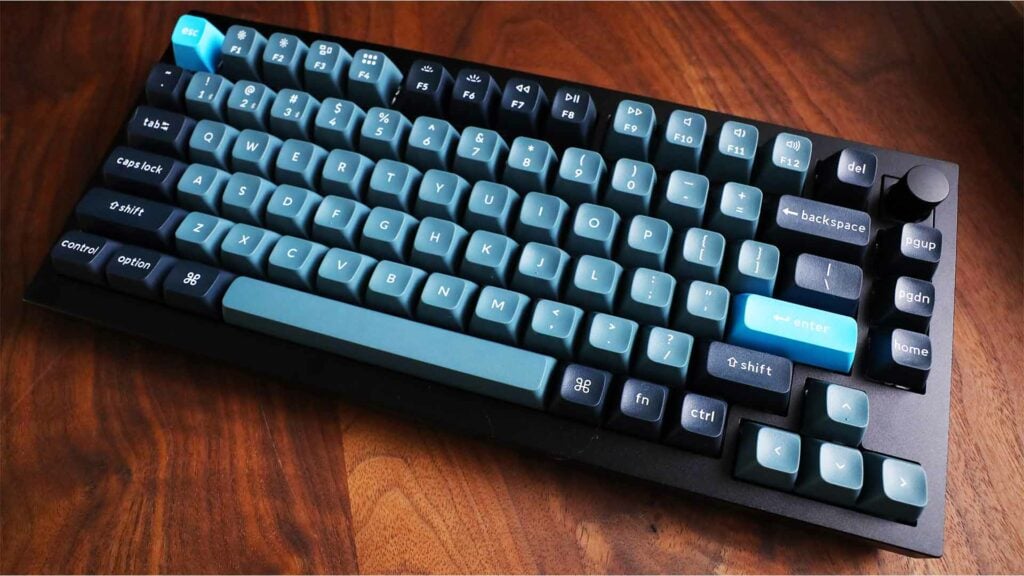 Finally, Keychron has taken their flagship keyboard and enhanced it.
Many jobs today require you to type.
Did you know that people spend 42.7% to 82.2% of their workweek just typing?
In a 40 hour workweek, that's 17 to 32 hours per week.
Many productive people are starting to realize that it is ridiculous to use a free or cheap keyboard for the majority of their working hours.
And this is where custom mechanical keyboards come in.
They make you type faster. Sound better and look better.
But most of all, they let your peers know that you care about yourself to invest your hard-earned cash into your typing device.
It's no use having a kick-ass computer if you don't have a quality keyboard to help you get things done.

Das Keyboard
It's not good enough just to spend money though. Many custom keyboards require you to spend at least 4-6 hours tinkering with it to level it up to meet your standards of what makes a nice keyboard.
Along with long hours, you'll get your fingers dirty with lubricants with strange names (Krytox 205g0) and grease marks all over your work desk.
No one wants that. Trust me, I would know.
I've built, modded, upgraded, and customized over 100 keyboards.
It takes a toll on your hands, your upper body muscles, and your closets. Because to tinker with a keyboard, you need to keep keyboard supplies and random accessories in your storage areas.
The Keychron Q1 Pro saves you time, space, and money.
You don't have to do anything to the Q1 Pro out of the box, not unless you want to.
It sounds like light raindrops falling on top of your roof in the middle of a spring rainfall.
Airy yet impactful enough to derive a feeling of satisfaction in every keystroke.
But if you don't like this sound, then by all means, tinker away.
Keychron gives you all the tools you need to take it apart:
switch puller
keycap puller
screwdriver
additional parts
The process is very quick.
Remove the keycaps.
Pull out the switches.
Unscrew the case screws on the back of the keyboard.
We just talked about time and space. What about money?
$199 isn't cheap. But it's worth it.
It's true. $199 is a lot of money.
Especially for simple as mundane as a mechanical keyboard.
It just sits on your desk.
There are cheaper keyboards out there, many of which fall under $100.
But if you look closely, there's a reason the Keychron Q1 Pro is priced this way.
Many mechanical keyboards don't last as long. Their keycaps tend to get oily quick.
The Q1 Pro uses PBT keycaps, which prevents oil smudges from getting all over your keycaps. You've seen it when that happens, haven't you? What was the thought that went through your head? "Man his fingers must be really dirty."
This won't happen to you with these keycaps. They're made of thick plastic with a sleek and clean design.
Made to complement any workstation, whether it be more subdued or vibrant.
You have three signature colors to pick from
Carbon black case with light and dark grey keycaps with aquamarine accents
A silver grey case with light and dark grey keycaps with purple accents
A crispy white case with white and light grey keycaps with apple red accents
To go on, the case is made of high-quality aluminum.
You haven't experienced a nice keyboard until you can say your keyboard is made of all metal.
Through meticulous trial and error, Keychron has created a robust yet lightweight case design that is CNC'd in their factory with strict quality standards.
Side tangent: CNC is the process of getting a big block of metal and slowly chipping away at it (through the process of drilling, milling, spinning, etc.) until it becomes the way you intended. It's all done via programs and automated tooling.
No longer are the days when you just have a plastic piece of keyboard on your desk that moves every time you try to type something important.
The Q1 Pro stays in place with its hefty weight and durable rubbery feet.
A custom mechanical keyboard, which takes hours to build and months (or years) to get to your door, might not even be this good.
I've built 100+ custom keyboards, and I still make mistakes.
The best way to get a good keyboard is to buy a good keyboard.
Choosing to build one comes with uncertainty.
It might not end up sounding good.
It might not even work.
It takes forever.
Is it worth it?
The Q1 Pro gives you a subtle satisfaction on where you spend your money.
So yes, you could absolutely spend your money on a $75 keyboard.
It wouldn't be as durable.
It wouldn't stand out amongst the crowd.
It won't spark a conversation with your peers and family members.
High-quality mechanical keyboards will never be cheap.
And that's something to be thankful for.
Because you'll always get what you pay for.
To get one for yourself or a loved one, check out the link to the Keychron Q1 Pro here.