Many would credit Razer with the resurgence in popularity of mechanical keyboards over the past decade. As a company, they have been at the forefront of making gaming mechanical keyboards.
Primarily marketed towards gamers trying to up their competitive level, Razer keyboards are quite popular. The real question is, are they worth the price?
Are Razer Keyboards Worth the Price?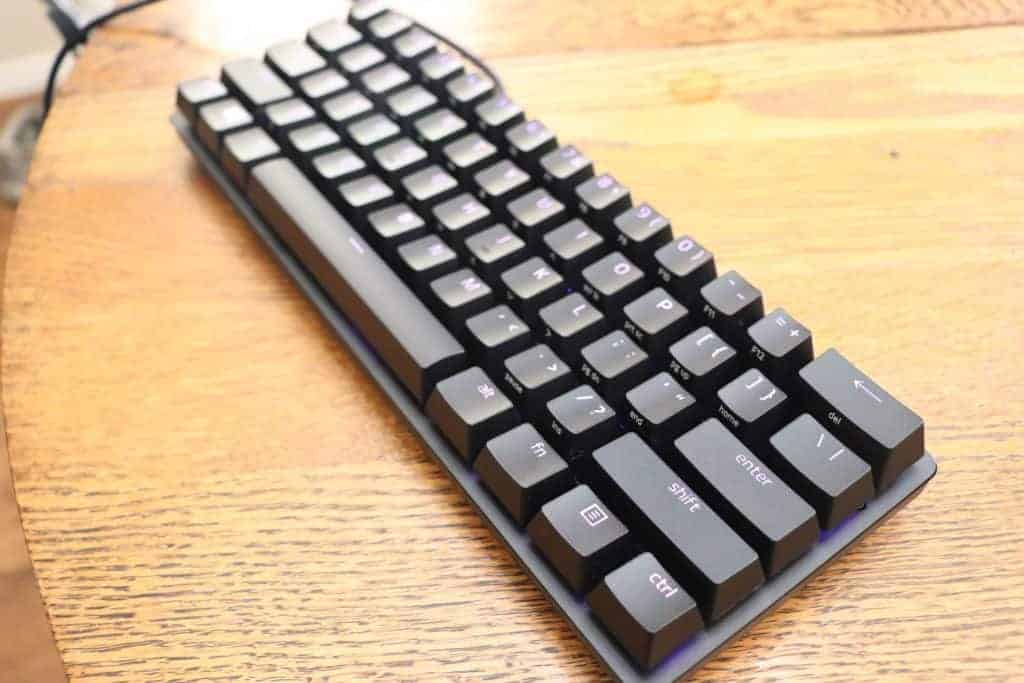 Razer has several keyboards in their lineup, all ranging in cost and features. The keyboards are made for the purpose of gaming and typically have RGB lighting, gamer fonts, and several different switch types.
To decide whether Razer keyboard are worth it or not, is definitely tricky because everybody usually looks for different features in a keyboard. While being pricier than their competitors, Razer does offer some great keyboards for the purpose of gaming.
The main downside to Razer is the typing experience on their keyboards is lackluster. Instead of using the typical Cherry style stabilizers, Razer uses their own design, which tends to rattle more and feel uncomfortable. In addition, their switches (optical and mechanical) tend to feel scratchier than Cherry MX or other switch manufacturers.
If you plan on using your keyboard for typing essays or writing long responses on forums, going for a more typing-friendly keyboard instead of Razer would be a better option.
Razer keyboards are a good buy if you plan on using them primarily for gaming, as their keyboards have all of the right features to improve the gaming experience.
Although, they can be tough choice when there are other great gaming keyboard manufacturers such as Ducky, HyperX, and SteelSeries.
A Look at Razer as a Company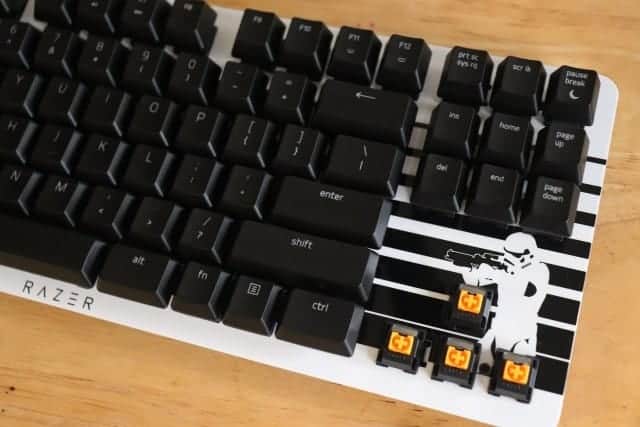 One of the First
Razer is one of the first keyboard manufacturers that really hopped on the mechanical keyboard train and started selling them for the purpose of gaming.
Because of how long they have been in the game, Razer has a reputation for being a reliable keyboard manufacturer and they leverage that reputation to charge a premium on their keyboards.
Fast Shipping and In-Stock
With Razer keyboards manufactured in the US, they have fast shipping time and are typically in-stock year round.
This makes them a great option if other places are out of stock or if you have trouble trusting companies that are based out of China or Europe. They offer great support when it comes to issues with their keyboards.
Razer does things a little differently than other keyboard manufacturers. Instead of using Cherry MX switches and Cherry style stabilizers, they developed their own parts so they could control the entire keyboard building process.
Not the Best Switches or Stabilizers
In my opinion, their switches and stabilizers are not the best and tend to struggle when matched up against companies such as Cherry.
Their stabilizers have a strange construction which makes them difficult to mod and improve for keyboard enthusiasts, not to mention they feel quite rattly.
The switches are also scratchier than most and don't have quite the same durability as Cherry MX switches, which can last for 100 million keystrokes. None of their keyboards come with a hot-swappable function, so it's hard to remove and replace switches, as you would need to solder & de-solder.
Extremely Tough and Durable
We've used Razer keyboards back in 2014 starting with the Blackwidow Tournament Edition. Based on our experiences, we will say Razer keyboards are tough.
We put that keyboard through some ridiculous stress testing, including dropping it off our 3rd story balcony, running it over with our car, and throwing it in the dishwasher.
From all the trials and tribulations we put it through, the keyboard came out working perfectly fine. I'm pretty sure that the 2014 Razer Blackwidow will outlive us all.
Of course, Razer has a more diverse lineup now, and we've gotten our hands on most of them, so let's go over the current lineup and we'll give our recommendations on which keyboards are the best.
The Current Razer Lineup
Razer has large amount of keyboards available nowadays, so we'll go over their main keyboard offerings and talk about the features and what we think of all their products.
Razer Huntsman (Mini, TE, Elite)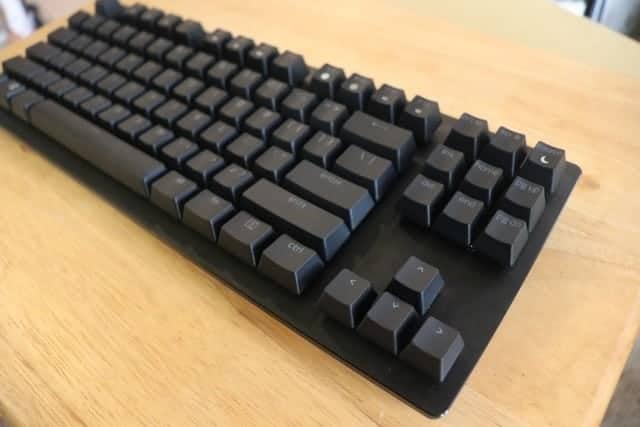 The Razer Huntsman is Razer's attempt to build a next-gen keyboard that is all about making you a more competitive gamer.
These keyboards come with optical switches that actuate via light, which in theory should improve reaction time and therefore your competitiveness.
The switches are currently offered in a tactile or clicky type.
Razer Branded Switches and Stabilizers
Each switch has its own stabilizer bar to keep it level and to reduce wobble on each keystroke. Which we can atest to from trying out the Huntsman and the Huntsman Mini. The Huntsman made our favorite keyboards under $100 list.
Although we don't fully agree with the marketing behind these switches (we think they are just as fast as normal mechanical switches), they are impressive since it shows Razer is willing to continuously improve their products.
Nice Build Quality
The Hunstman comes with PBT keycaps which is a big upgrade over the standard ABS keycaps, as they improve durability and don't develop a greasy shine to them over time.
In addition, the Huntmans is constructed with an aluminum top plate to make the keyboard more rigid and has a detachable USB-C cable which makes it super easy to unplug and swap out with a different keyboard.
Different Product Offerings
The Huntsman has multiple keyboards under the same umbrella including the Hunstman Elite, Huntsman TE, and the Huntsman Mini. All of which come with the optical switches. The main differences between these products are the size and some of the features, which we'll talk about.
The Huntsman comes in a 60%, Full-sized, or Tenkeyless (TKL) layout depending on if you want a compact, large, or medium-sized keyboard. The main difference between each layout size is the numpad is removed on the TKL layout and the 60%.
The 60% keyboard also does not come with arrow keys, function row, or navigation cluster, which makes it super compact and easy to take on the go. We have a full review on the Huntsman Mini if you're interested.
The Huntman Elite is Razer's fanciest version of the keyboard which comes with a plush magnetic wrist pad and dedicated media keys to really take the keyboard to the next level.
Who is the Razer Huntsman For?
The Razer Huntsman is the perfect keyboard for the ultra-competitive gamer. The optical switches can be a good choice for fast reaction times. Just beware, this keyboard is quite uncomfortable to type on.
The Razer Huntsman can be purchased on Amazon through this link.
Razer Blackwidow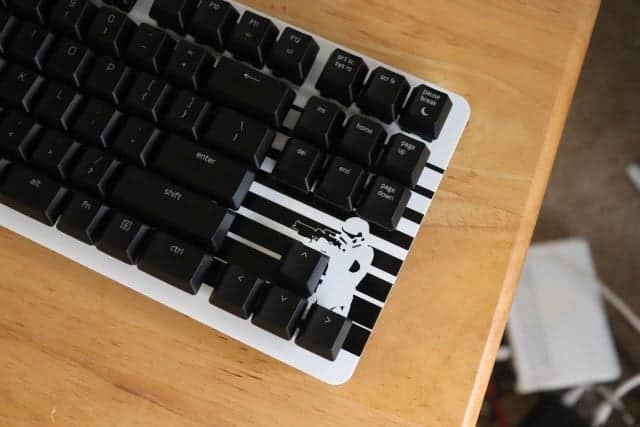 Good Ole' Mechanical Switches
The Razer Blackwidow is part of Razer's original keyboard offering, which has the standard Razer-branded mechanical switches.
These switches come in either an Orange, Green, or Yellow color, which basically translate to tactile, clicky, and linear actuation types.
The mechanical switches come with an 80 million keystroke lifespan which is just short of Cherry MX's 100 million lifespan.
The Blackwidow has a ton of different variations depending on which features or switch type you need, so we'll just go over the basic product offerings.
Different Form Factors & Features
You can either get the Blackwidow in a full-sized or tenkeyless form-factor depending on if you need a number pad or not. In addition, you can choose to get full RGB, white LED, or no lighting depending on your budget or preferences.
There is also an option with dedicated media keys if you need to change your settings on the fly. If you're a big Star Wars fan, there is an even an option to get the Blackwidow in a Star Wars theme, which we reviewed in the best mechanical keyboards under $100.
Who is the Razer Blackwidow For?
If you need a keyboard that is decent for gaming and typing, the Blackwidow is your best bet. This keyboard resembles a normal mechanical keyboard the most and feels the most comfortable. Not to mention the Star Wars theme is pretty cool.
You can check the price of the Blackwidow on Amazon through this link.
Razer Ornata V2
Cyborg Keyboard: Half-Mechanical, Half-Membrane
The Razer Ornata V2 is a hybrid keyboard, meaning it's half-membrane half-mechanical.
The switches have a tactile mechanical switch feel to them but actuate similar to a rubber dome keyboard, which is quite interesting. They don't last quite as long as the optical or normal mechanical switches.
Lots of Convenient Features
The keyboard comes with some interesting features including customizable RGB lighting, which allows you to easily change the colors and get the perfect lighting setup. Great for gaming at night.
The wrist rest is magnetic and made of a nice plush material, which makes it super easy to attach and remove and is quite comfortable on the wrists for long gaming sessions.
In addition, the keyboard has dedicated media keys, including a volume wheel, which makes it easy to adjust music without having to exit your game or change your place in a video without needing to reach for the mouse.
Who is the Razer Ornata V2 For?
Overall, the Razer Ornata V2 is a decent keyboard, but at the current price it's hard to recommend because the keyboard does not have real mechanical switches. At a similar price range, you could buy another keyboard from a different company that has all the same features and will come with genuine mechanical switches.
You can find the Ornata V2 on Amazon through this link.
Conclusion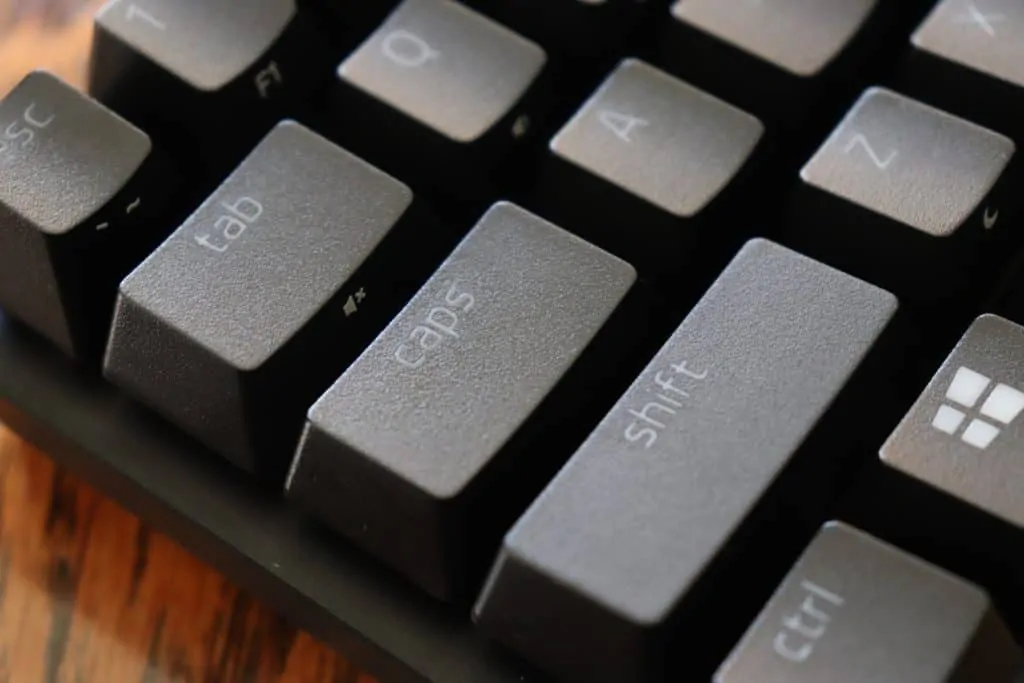 Razer is a large company that makes all sorts of products for gamers, today we took a closer look at their keyboard lineup, with a focus on the mechanical and optical variations.
Overall, Razer keyboards can be worth it for the price even though they are on pricier end. When you buy a Razer keyboard, you pay for the product but also the brand recognition and support that comes from a big comany.
If you need a keyboard strictly for the purpose of gaming we recommend the Huntsman, Huntsman Mini, or Huntsman TE, depending on which size keyboard works the best for you.
If you need a keyboard for typing and gaming, the Blackwidow is your best bet since it comes with several different mechanical switch options that are much better to type on than the Razer optical switches.
Overall, we're not personally big fans of Razer's products, simply because we value an enjoyable typing experience above all else, and Razer keyboards are not made for that purpose.
It's also really hard to justify going for Razer when we could just as easily get a cheaper keyboard from other great companies such as HyperX and Ducky. Razer keyboards are not made for the enthusiast, but rather for someone new to mechanical keyboards looking to improve their gameplay.